We use affiliate links. If you buy something through the links on this page, we may earn a commission at no cost to you. Learn more.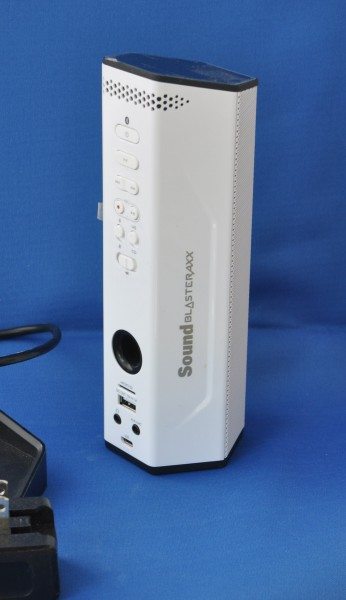 Portable sound and power. That's what it's all about today, it seems. Everyone has enough storage, or knows how to access it in the cloud. Everyone knows you need several cases and bags for all your stuff in varying situations. Now, it's how to hear music (or whatever) in your chosen working area, and how to stay in places devoid of power outlets. SoundBlaster, the venerable audio hardware company, set out to do both – and much more – with their Sound BlasterAxx AXX 200. I was sent a test unit for review, as well as the separate charging base, and have put them through their paces. Pretty spiffy bit of kit, I'll have to say.
Note: Images in this post may be tapped or clicked for a larger size.
The speaker portion is a hexagonal tower 7.25″ high on the short end, and 2.5″ across the base. I said the "short end" above, because the top slants at an 11° angle from the surface the column is standing on. This top surface is covered in a black touch-enabled control panel for volume and other features. The volume is controlled by a simple slider that runs from short side to long side, through eight degrees of volume. Here, you may also mute the speaker, mute the mic, answer the included speakerphone, and, with an iOS device, engage Siri. There are also buttons for noise canceling and the SBX effects, as well as a "Voice Focus" mode for speakerphone use with groups. More on these special features later. There is also an NFC tap-to-connect spot near the 2 o'clock position from the top control face, if your device supports it.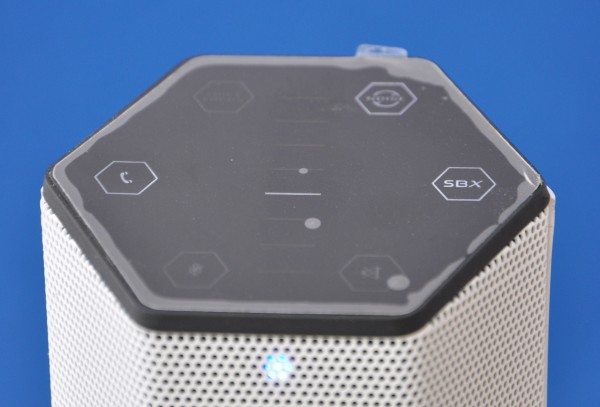 On the back, the tall side, is a series of buttons and ports. At the top is a set of holes for the microphone. Under that are Power, Play (there's an MP3 player included), forward/back toggle, record, and hard sliders for muting the mic and engaging shuffle or repeat. Lastly, there's a megaphone button. Toward the bottom of this face, there is a passive bass port less than an inch in diameter, a microSD card slot, a 5V 1A USB out port (through which you can charge your device), a headphone jack, and an AUX/Mic port for wired connectivity. Near the base is a microUSB port for charging the unit.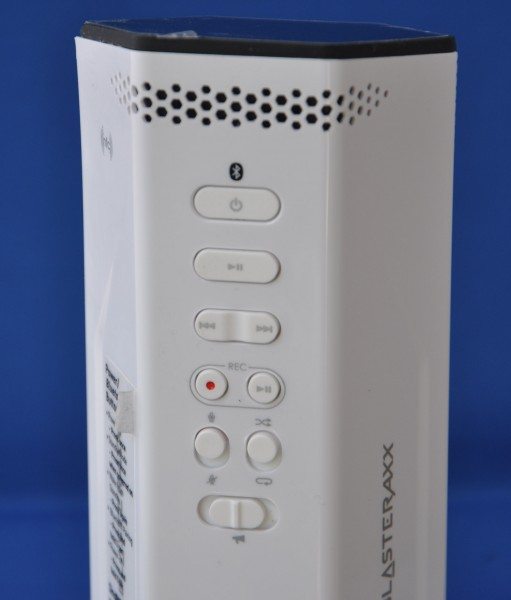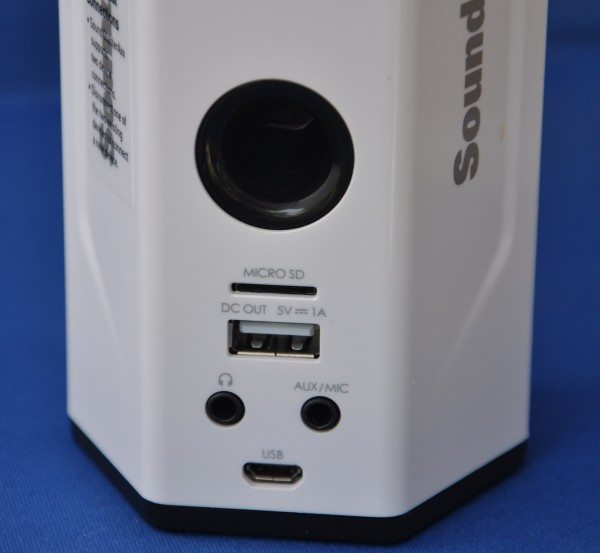 On the bottom, under a rubber dust cover, is an indention that has contact points for connecting to the charging base (sold separately). It will charge perfectly fine from the included USB cable and the included wall charger or from a computer port, but having the dedicated spot may be a nice addition for having near the door to the deck, or in the game room, where you could easily grab it and move to a different area. The connection is strictly gravity – no clicking or sliding involved. Bluetooth pairing is easy and standard, and you can pair to two different devices. Then you can disconnect or reconnect to them at will. The docking station comes with a second charger and USB cable, and adapters for international use. Both items include a smooth vinyl drawstring bag with a plush lining for storage or travel.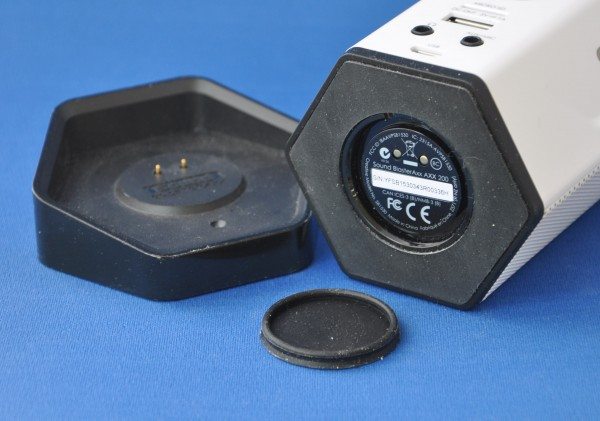 The freely downloadable apps include Sound Blaster Central, where you can find more information about all the features, enable a music player that you can then use to access your device's music, set a wake-up alarm or several, and access user manuals for not only your product, but the entire line of Blaster speakers. Another in the trio of freebies is SB remote, which, true to its name, allows you to do everything on the touch interface (and then some!) from where ever the paired device is. No running over to the speaker when a call comes in, or if you want to change the volume level or play a different song. Last in the batch of apps is one called Voice FX. Here's where things get weird. Remember that megaphone button on the back? Well, it turns out that you can amplify your voice through the AXX by holding this button and speaking into the microphone. Great if you're announcing the winners of the horseshoe competition at the family picnic, or the quarter's sales figures at the company team building event. But what if you could sound like an Alien? Or an Orc? Or a Munchkin? Or you may change your voice to be Elderly, a Scrappy Kid, or a Robot. And, if you've always wanted to test how you'd sound as a different gender, you can do that as well. Cute, yeah. Useful, hmmmm……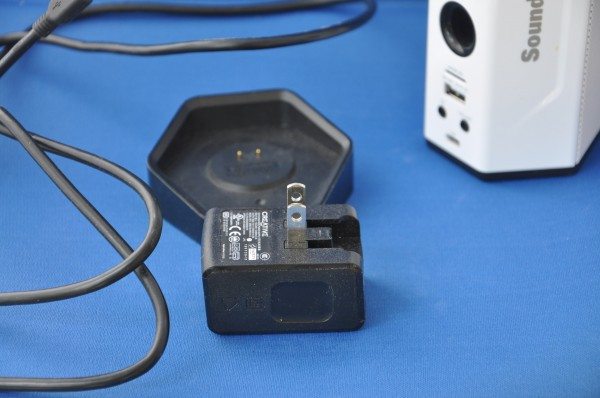 I regularly listen to music around the house with a Bluetooth speaker. Whether I'm on the deck, in my office, or in the family room, there's a pretty good chance I'm listening to something if I'm not actively working. Having a speaker that sits on such a small footprint while delivering larger-than-typical sound is nice. What I was surprised by was the short distances at which the connection would sometimes fail outdoors. We were painting a new shed a few weekends back (well, my Lovely Bride was painting, and I was holding the ladder on the uneven ground to protect her life…) and the Sound BlasterAxx AXX 200 was on the deck, maybe ten feet away. This is outside, with nothing but air in between. My iPhone 5s was in my back pocket, with no case, and the speaker was on its charging stand. If I set the phone next to the speaker, all was fine, but if I moved, even a little, the sound broke up and was hard to listen to because of stops and starts. I couldn't tell if it was that the phone was vertical to the speaker, or because of the metal ladder or what, but it definitely was not OK. Inside, this rarely happens. It's only happened when the source is pocketed and I'm outdoors, but I thought I'd mention it, in case it's a thing. Other than that scenario, the sound was great. Sitting on the front porch, reading the news on my iPad and listening to music was not a problem.
Overall, this unit functioned very well, and with such a small footprint, did not get in the way like some long, low speakers can. At the $299 suggested retail price, it's a bit of a stretch, but I've seen it regularly at $150 or so online. At that price, it's a pretty good deal.
Visit Creative Labs for more info.

Product Information
Price:
SRP $299, online price averages $150
Manufacturer:
Creative Labs
Retailer:
various online as well as brick and mortar
Requirements:

Sound to be amplified or recorded

Pros:

Small footprint with visible control panel
Megaphone, charging, and recording features
good battery life
Can be synced to two sources

Cons:

Can be flaky when using outdoors with moving source
Many features means confusing usage for some things