We use affiliate links. If you buy something through the links on this page, we may earn a commission at no cost to you. Learn more.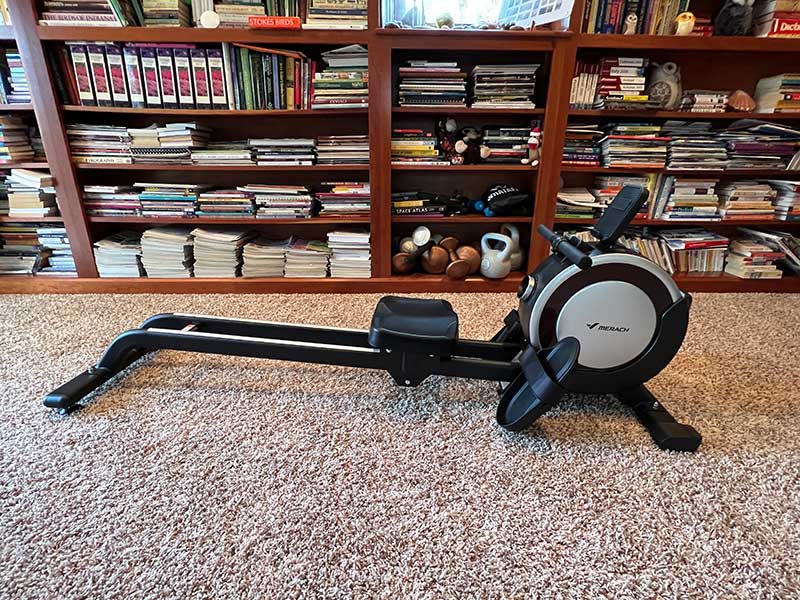 REVIEW – I've been on a 4 day per week workout schedule for many years now. By workout, I'm talking about weight-based workouts because I also walk 20 minutes 2x a day Monday through Friday on a treadmill. When it comes to my workouts, I've used a Boflew, had a short-lived gym membership at Planet Fitness (this was well before the pandemic), and more recently, my equipment of choice has been a budget level TotalGym with some resistance bands thrown in when I get bored. Boredem is the operative word there. Just like with gadgets, I can get bored using the same fitness equipment day in and day out. So when the offer to review the Merach Q1 intelligent magnetron rowing machine, I thought it would be a fun change of pace. Let's see find out!
What is it?
The Merach Q1 intelligent magnetron is a rowing machine that uses magnets instead of air, water, or hydraulics for resistance.
What's in the box?

Merach Q1 intelligent magnetron rowing machine
Assembly tools
AC power adapter
Manual
Assembling the Merach Q1 intelligent magnetron rowing machine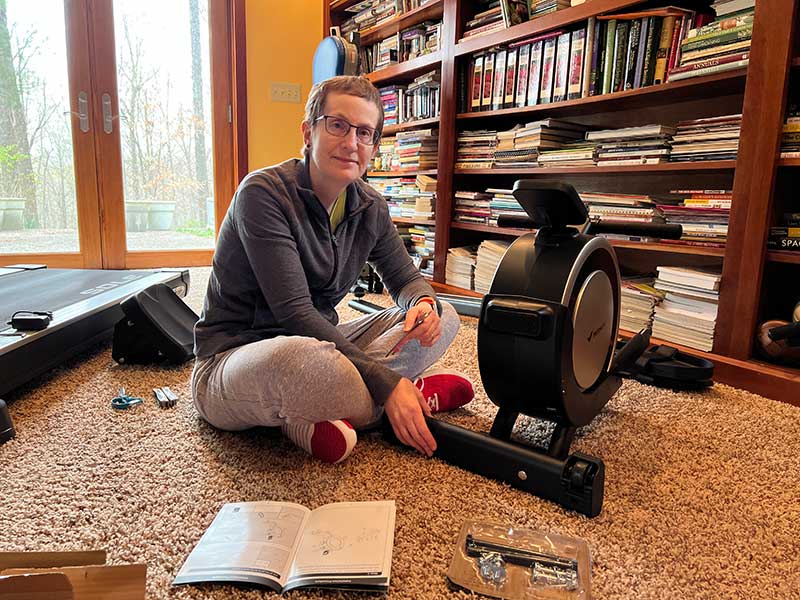 Before you can begin using the Merach Q1 rowing machine, you will need to assemble it. Don't worry though, it's not a difficult process and it's easy to fully assemble it yourself as I did by following the step-by-step instructions.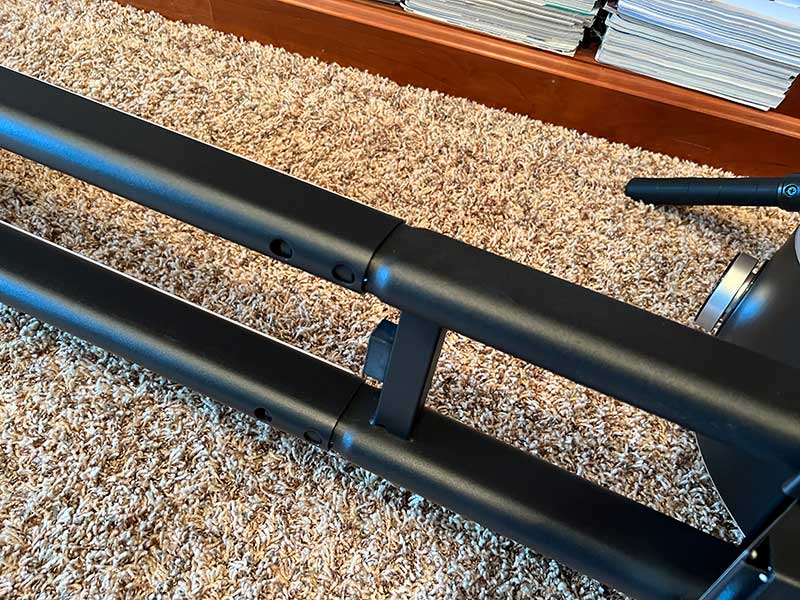 The only step in the assembly that had me worried was connecting the rails to the main unit. I wasn't able to slide the rails together enough for the screw holes to be accessible.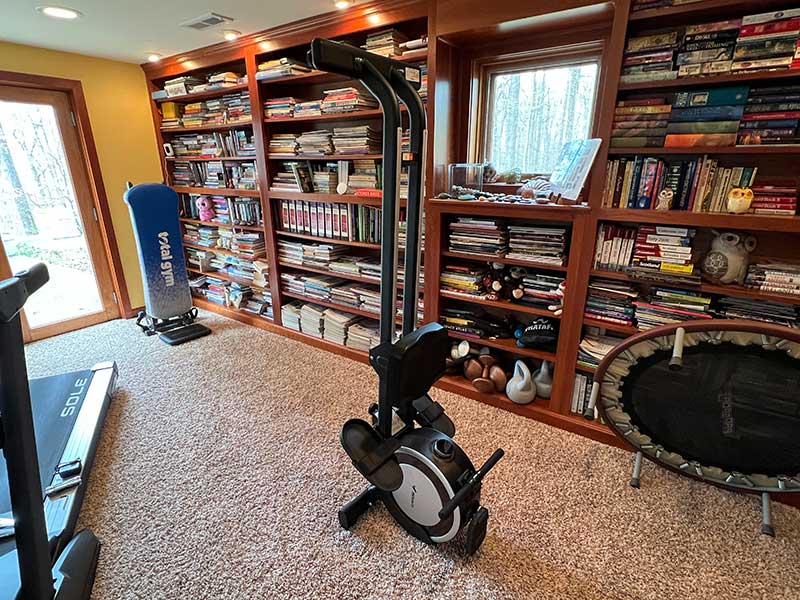 But then a light bulb went off in my head and I raised the machine on its "back" so that I could pull down from the top of the rails with my body weight. This made it easy to seat the rails. Also, in this position, you can roll the rower into a corner and leave it sitting up and out of the way.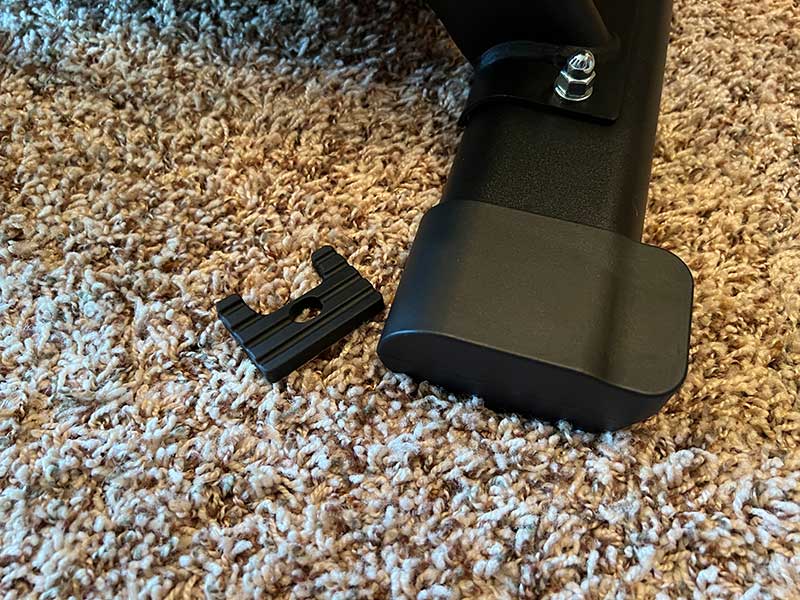 There are two stick-on treads/feet on the bottom bar with the wheels. One of these stick-on pads falls off whenever I try to move the rower. The adhesive isn't very strong so it needs to be glued in place. Not a big deal, but I thought it was worth mentioning.
Design and features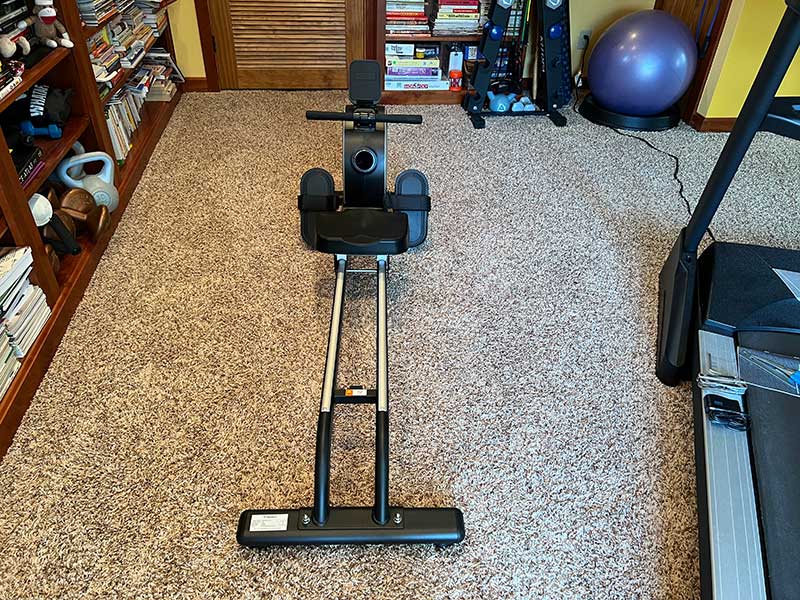 Once the Merach Q1 rowing machine is fully assembled, you're ready to start using it.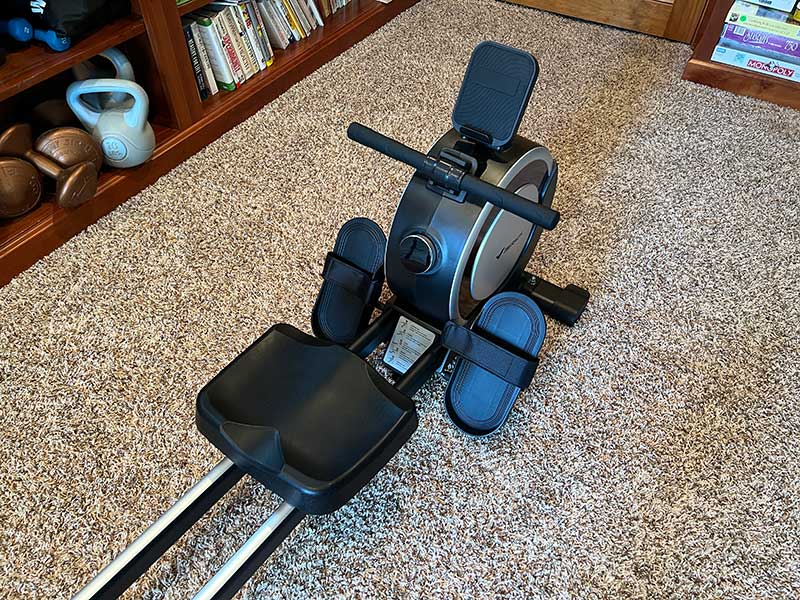 The Q1 features a comfortable sliding seat, Velcro foot straps, and an adjustable phone stand.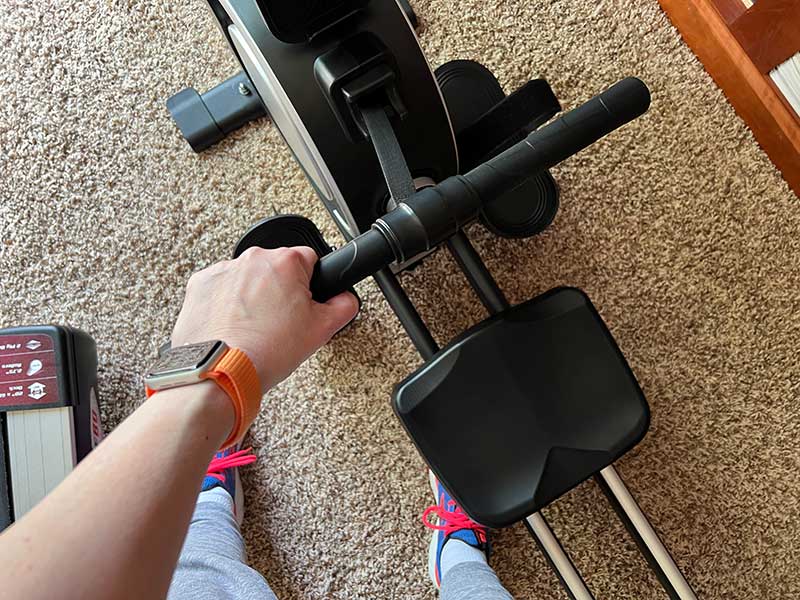 The Merach Q1 also features a handle / oar that you use to perform the rowing action. The handle has a rubber covering that makes it comfortable to grip. A strap is attached to the handle that is also attached to the flywheel inside the unit.
This rower also features an electronic control knob that communicates with your phone and the Kinomap app via Bluetooth.  The display built into the control knob shows speed, duration, distance, calories burned, resistance level, and stroke rate.
The Kinomap app
You can use the Merach Q1 magnetron rowing machine without an app, but the app makes this exercise machine a lot more fun and it helps to track your performance and improvement over time.
The only issue is that the Kinomap app is only free for 14 days. After that, you have to pay a subscription of 11.99 Euros per month. Merach will soon be offering its own app which will be $9.99 USD for the 1st year and then $19.99 USD per month. This kind of annoys me. I hate it when you buy a product and have to spend even more money to take advantage of all the features.
The Kinomap app lets you choose from all kinds of training sessions, scenic rowing sessions, and more.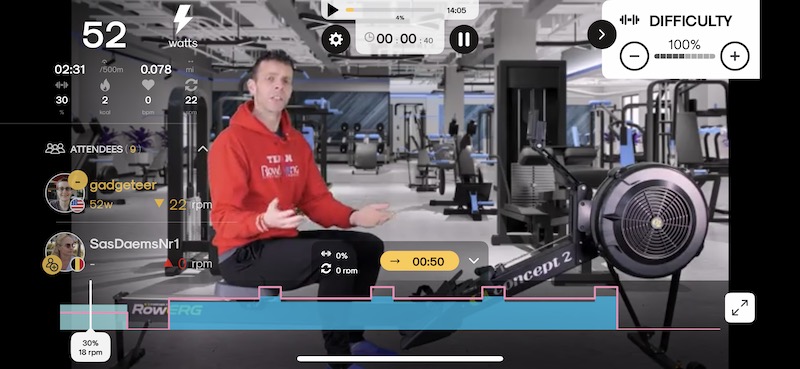 The app connects to the Q1 rowing machine via Bluetooth to control the resistance during training sessions.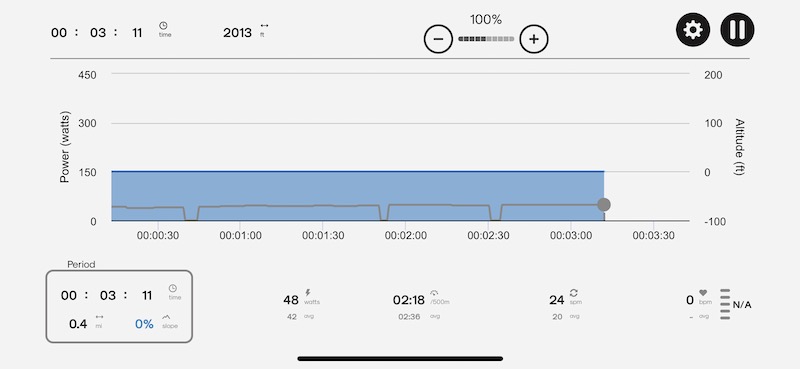 You can then see the real-time stats of your session.
If you don't use the app, you can use the control knob to change the resistance and view your real-time stats.
Row row row your (virtual) boat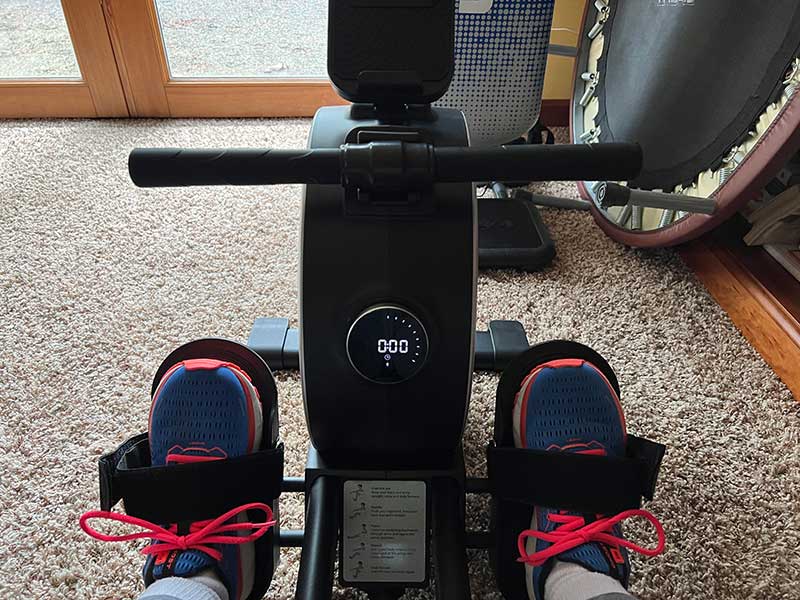 Getting started with the Merach Q1 rowing machine is as easy as sitting on the sliding seat, securing your feet to the foot pedals, pressing the control knob to turn on the unit, and either using the Kinomap app or manually adjusting the resistance by rotating the control knob.
See it in action
I've never used a rowing machine like this one before so don't comment on my form because I know I'm not that great at it yet. Even with my bad form, rowing on this machine gets my heart rate up within a couple of minutes and I can easily work up a good sweat.
I will mention that I'm 5'6″ and I'm thinking that the rails on this machine may not accommodate someone who is really tall. That's just a guess though.
What I like
Easy to assemble
Quiet
Able to stand it up out of the way when it's not being used
Kinomap app controls the rower's resistance levels
What I'd change
Include a free subscription to the app
Rails may be too short for some people
Final thoughts
I've been curious about rowing machines for quite a while and was excited to try the Merach Q1 magnetron rowing machine when it was offered for review. I like that it was easy to assemble and that the app gives you a wide variety of rowing sessions. I also like that the machine is quiet and won't bother people when you're working out even if they are in the same room as you. I do wish that the app did not require a subscription. Given that this unit is over $500, you think they could throw that in for free.
Price: $539.99
Where to buy: Amazon
Source: The sample for this review was provided by Merach.