We use affiliate links. If you buy something through the links on this page, we may earn a commission at no cost to you. Learn more.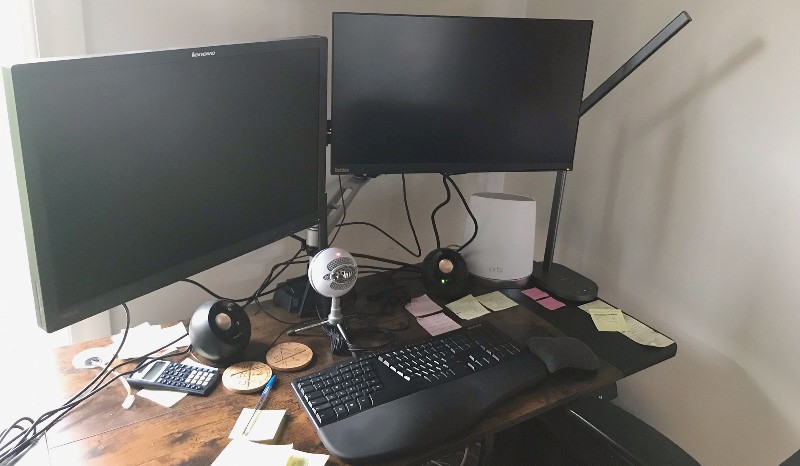 REVIEW – Are you still perfecting your home office setup? Did you recently upgrade to a convertible desk like we did earlier this year? If so, then you might be thinking of investing in monitor arms to keep your screens firmly in place and just where you want them. The dual-monitor arm from Vari is one to consider. 
What is it?
Vari's dual monitor arms stabilize your computer monitors while also giving you the freedom to extend, swivel and pivot them to adjust for different lighting and usage.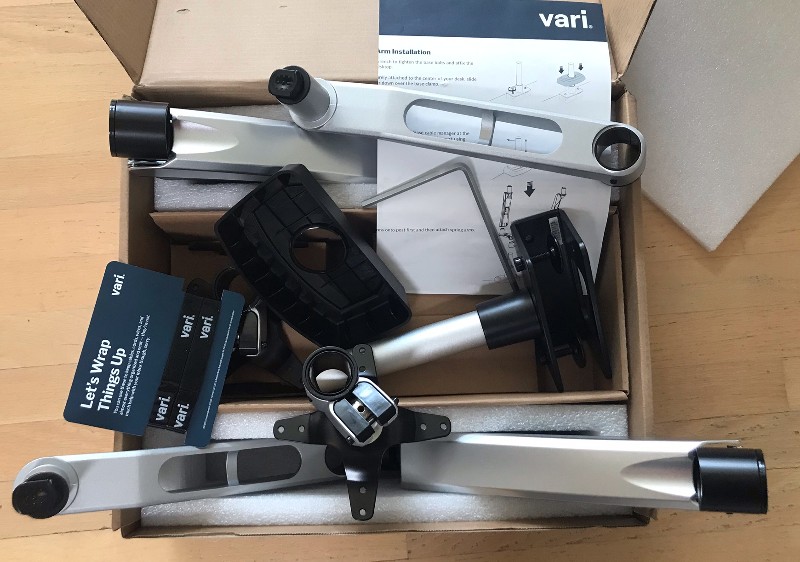 What's in the box?
Base/post and cover

2 spring arms

2 swivel arms

2 monitor brackets

Installation hardware and tools (post collar/quick release; small, large and handled hex keys; 8 monitor screws)
Hardware specs
SKU: 48003

Weight loads: One arm 19.8lbs max; Pole max load 44.1.b

Recommended monitor aspect ratio: 16×9

Monitor size: 27 inches or less

VESA compatible display mount: 75x75mm and 100x100mm

Angle: 100 degrees

Pivot: 360 degrees

Swivel: 360 degrees

Pan: 240 degrees

Tilt: 105 degrees

Extension: 23.2 inches

Verticle: 10.6 inches

Lift: 5.9 inches
Design and features
Setup
The Vari dual-monitor arm mount come in several pieces, so first, you need to unpack and unwrap them. 
One really nice feature of this product is that it comes with not just all of the hardware you need (including extras) but also all the tools you need, too.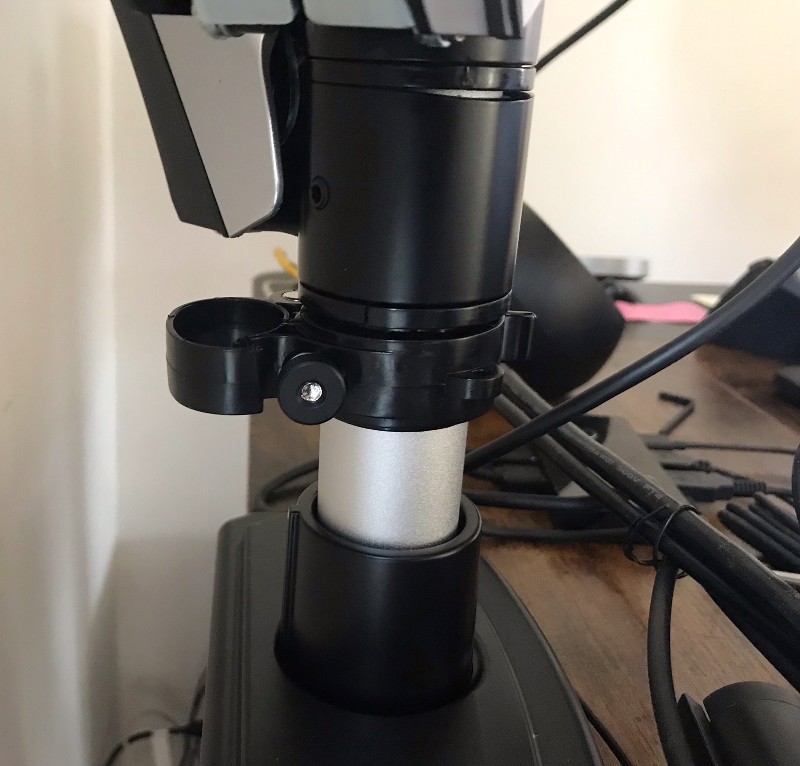 You start by tightening the bolts to attach the base to your desk, and then slide the base cover over the base clamp. Then you position the post collar and tighten it with the quick-release cable at your desired height. 
Then you slide the swivel arms onto the post, and then you attach the spring arms.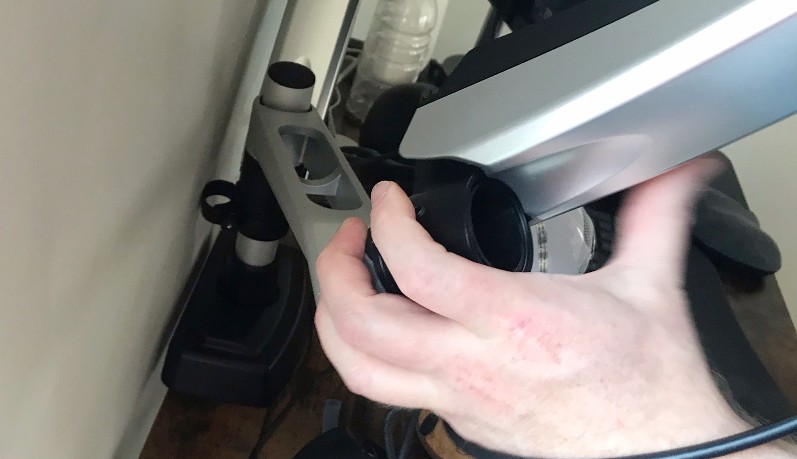 Once the posts and arms are in place, you need to attach the brackets on the back of your monitors with the monitor screws. You can do this manually or with a flathead screwdriver.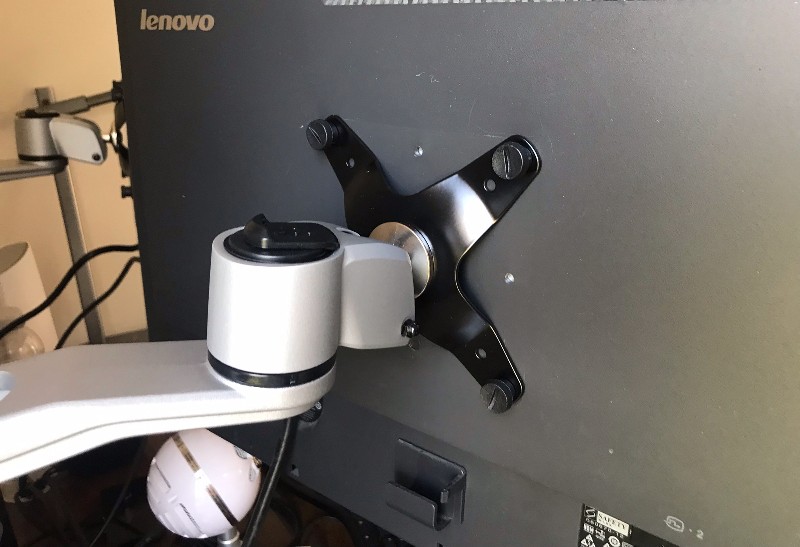 To attach the monitor to the spring arms, you put the monitor display facing up and slide it onto the top post of the spring arm until it clicks into place. Repeat with the second monitor. And then you can adjust as you like.
Overall it was easy to put together.
Performance
It's important to note that this dual-monitor arm is intended for monitors 27 inches or less. Each arm can hold up to 19.8lbs and the pole has a maximum load of 44.1lbs.
The spring arms are designed to hold monitors 5.5 to 9.9lbs. If your monitor is too heavy or too light, you can adjust the bolt inside the spring arm to adjust the tension.
Another watch-out is to have enough room at the back of your desk for clearance. If you have a desk that's not very deep, you may end up feeling like the monitors are too close. If your desk is against the wall (as ours was), you'll probably have to move your desk away from the wall for them to fit.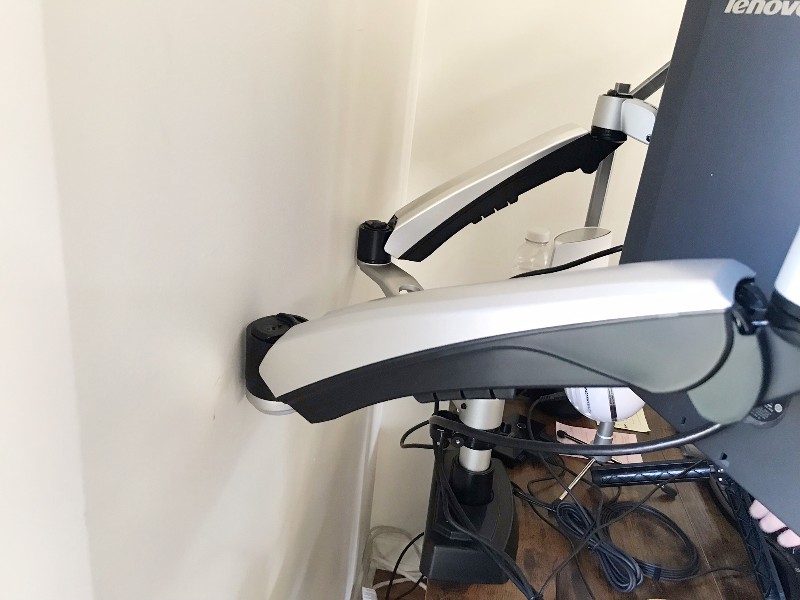 Our main goal with the Vari dual-monitor arm was to fasten the monitors securely to the desk when it moves between standing and sitting height. It definitely does this.
What's really nice about this monitor mount is that it's nice looking and very adjustable. The arms extend and contract, swivel, and tilt, so you can easily move them as you change position or if your lighting changes by the hour or the season.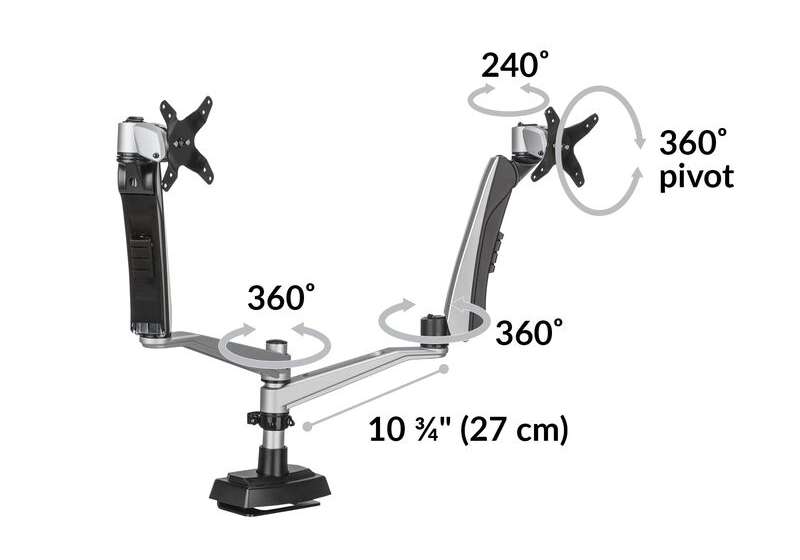 What I like
Lots of adjustment options

Easy to install
What I'd change
Ideally, the design wouldn't force you to use so much space behind your desk (such as a telescoping arm or longer main stem)
Final thoughts
The Vari dual-monitor arm is a good addition to any WFH office set-up, just make sure they offer the height, weight, and clearance you're looking for.
Price: $275.00
Where to buy: Vari website and Amazon
Source: The sample of this product was provided by Vari