We use affiliate links. If you buy something through the links on this page, we may earn a commission at no cost to you. Learn more.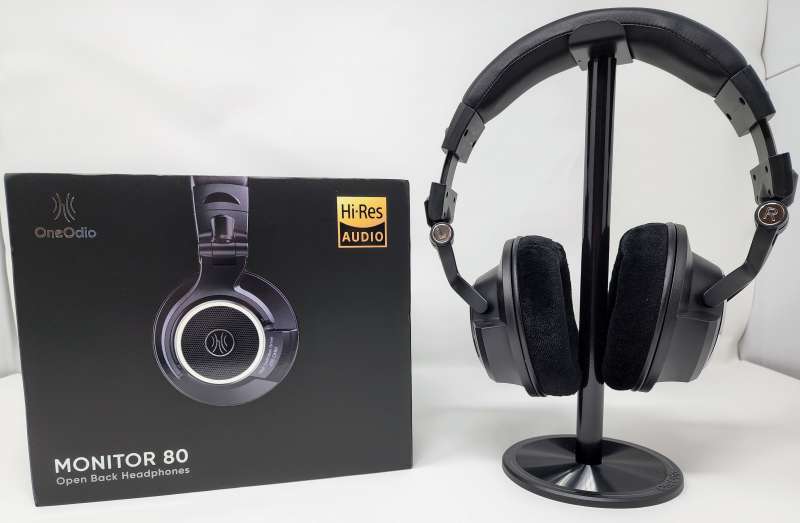 REVIEW – If you've done any professional audio mixing, been a DJ or consider yourself an audiophile, you probably know just how expensive a quality set of open back monitor headphones can be. A decent entry level pair will set you back around $150 to start, and as you turn towards the pro side, north of $500.  Yeah, you can get some basic versions on the Internet for around $100, but plug those into your rig and quickly you'll see why they are cheap.  OneOdio is trying to meet the market with the Monitor 80, a budget set of cans that sounds good, too.  Are they on target or do they make a "thud" on landing?  As always, read on to find out…
What is it?
The OneOdio Monitor 80 headphones are an open back design headphone that target the emerging professional or budget-conscious audiophile.  The key part of the previous sentence is "open back".  For those who don't know, the most common headphones you see for sale are what's called "closed back" – among these are brands like Beats and Bose.  This type of headphone keeps the outside out of your hearing (with or to some extent without noise cancellation) and tend to seal tightly around your ear.  This design yields results that are somewhat less natural-sounding but are perfect for an environment where you don't want to share your music with everyone else – say, for example, when commuting or in the office where you don't want your co-workers to know you listen to Barry Manilow.
In contrast, open back headphones allow air to pass through (usually) the speaker driver.  The end result is that music tends to be clearer and more natural sounding, but because of that open nature everyone around you gets to share in what you are listening to.  And because outside sound enters through the driver, these are less than desirable when you are on a plane or in a very noisy environment.
What's in the box?

OneOdio Monitor 80 headphone
A hard shell carrying case
A coiled cable (full extension just shy of 9 feet) with a 3.5mm jack for your device on one end and a quarter inch plug for the right ear cup
A straight cable (about 9 feet as well) with a 3.5mm jack on both ends (plugs into left ear cup)
Instruction manual
Design and Function
Let's start on the right side.  At the bottom of the right ear cup of the OneOdio Monitor 80 headphones, there is the 1/4 inch plug used with the coiled cable.  If you are a DJ or mixing a podcast, this is probably the connection you will use most often.  The cup is made of plastic, probably to help keep the weight of the headphones down – by itself, the Monitor 80 is about 10.5 oz, so you're not going to feel like you've strapped cinder blocks to your head.  Here's the right side: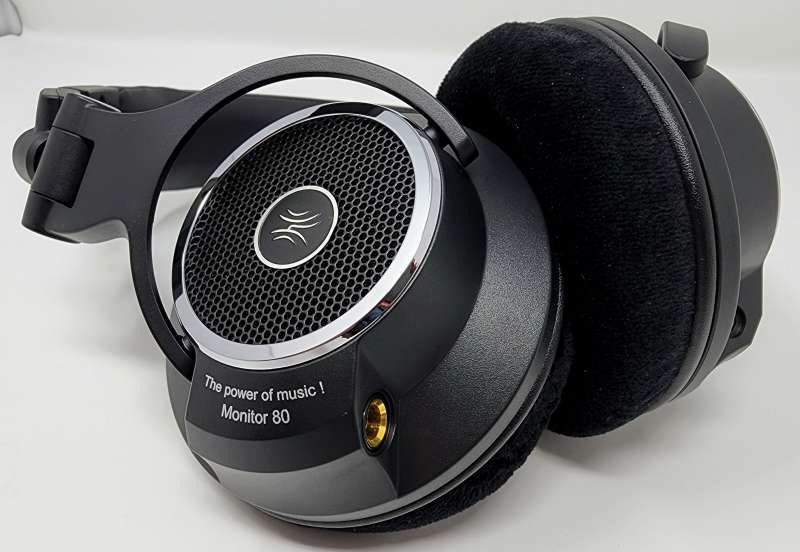 The left side is pretty much the same – except the jack on this side is 3.5mm, so probably something you'd plug into the dongle which plugs into your phone.  The cups themselves are made from velvet as opposed to faux leather or vinyl – not something I would want to use in 90 degree/95% humidity, but darn comfortable indoors.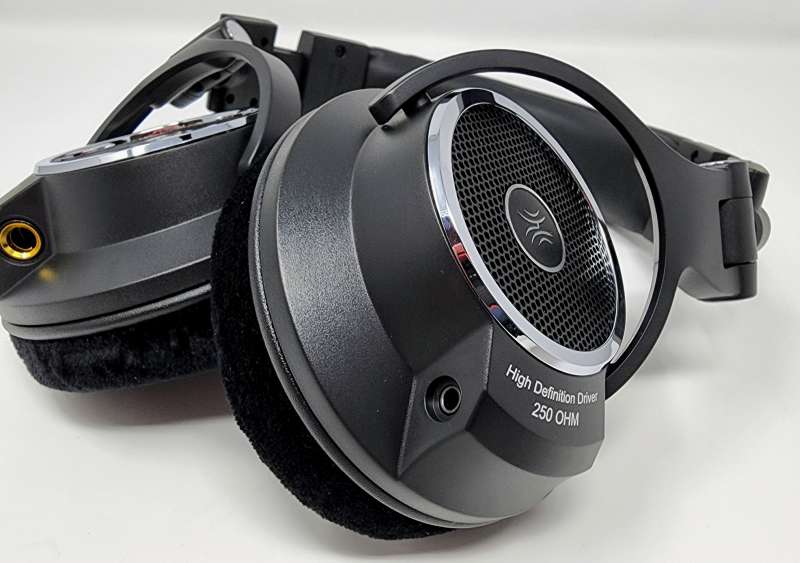 And everything neatly packs away in the hard shell case, ready to go: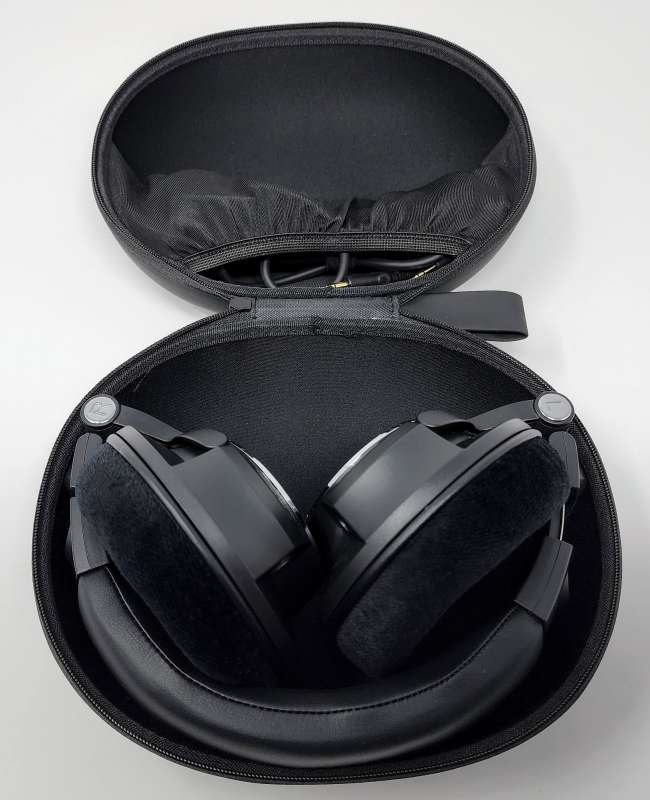 OK, so enough about plugs and weight.  How does the OneOdio Monitor 80 headphones sound?
At this price point, these are the best monitor headphones I have had the opportunity to work with.  The box says they are high definition audio, and after trying these out for the last month, I have absolutely no doubt about the claim.  My go to for audio work has been the Beyerdynamic DT990 priced a good $50 higher than the Monitor 80.  The comparison ends there.  The ear cups on the Monitor 80 swivel 180 degrees, and for me, that means they track with almost all head movement.
And the sound!  While recording an audio track for a training video, I had the OneOdio Monitor 80 headphones plugged into my Samson Q9U mic, and as great as that mic is at suppressing plosions, I could hear some micro-plosions in the monitor while recording.  At first, I thought it was a problem with the Monitor 80 (maybe a bad cable or connection, or the jack on the mic didn't like the headphones), so I listened to the recording with the headphones and could still hear it.  But when I plugged my daily use headphones in and listened again, I could no longer hear them.  While these micro-plosions didn't affect the recording, I just found it amazing that the Monitor 80 picked up the frequency and faithfully let me know what was really going on.
Music sounds great, too.  Whether it is the bass-heavy Joy by Santana and Chris Stapleton, Wig Wam's Do You Really Want to Taste It (weird, but then it was the title song in Peacemaker and has some great highs) or Neil Diamond's Sweet Caroline live, it feels like each and every note is clear and crisp, no frequency dominates (bass doesn't cancel highs in the same measure) and in the case of the live performance, the audience was present but didn't subtract from the performance even when singing along.
Who are these for?
Great question.  Really depends on what you want to use them for.  Let's start off with the easy one – simply enjoying some music.  As good as the OneOdio Monitor 80 headphones sound plugged into a phone, plugging them into a USB DAC (Digital to Analog Converter) with an amplifier that is connected to my computer really made these shine.  I am 100% certain that I would never use these in a crowded or noisy room and would favor these over wireless headphones when listening at home (no wireless dropouts), so maybe for personal enjoyment, these are for the times when you are alone and really want to immerse yourself in something.
On the other hand, if you (like I do on occasion) do ANY sort of pro audio work, I would not hesitate in telling you to buy these.  If you are DJ'ing an event, these will undoubtedly help you find the right mix points in transitions.  If podcasting is your thing, these are going to help you spot problems and resolve before post, so hopefully, you'll have fewer unusable sessions.  And if you spend most of your time in post processing, the frequency range in the Monitor 80 will help you balance and build the best possible output.
What I like
The sound is spectacular – no muddiness, crisp across all frequencies and no one range dominates
The build quality is great
They are comfortable enough for marathon sessions
What I'd change
Add a 1/4 to 1/4 inch coiled cable to the box to make plugging into a mix board possible without an adapter
Final thoughts
To be honest, I went into this review thinking that the OneOdio Monitor 80 headphones looked nice but in the end would be no different than the other bargain brands.  So what a nice surprise it was when these headphones blew me away.  The OneOdio team apparently knows how to pack great audio into an affordable package.  Let's put this in perspective: my son is launching a podcast of his own on recruiting in the healthcare field.  When he was visiting a couple of weekends ago, I showed him the Monitor 80 and let him use the headphones over the weekend.  Sunday night when we were about to leave for the airport, he asked me if he could have them after my review was done.  I love my son, but he went home with the DT990's.  I'm keeping these.
Price: $99.99 (marked down from $120.99)
Where to buy: OneOdio
Source: The sample for this review was provided by OneOdio.