We use affiliate links. If you buy something through the links on this page, we may earn a commission at no cost to you. Learn more.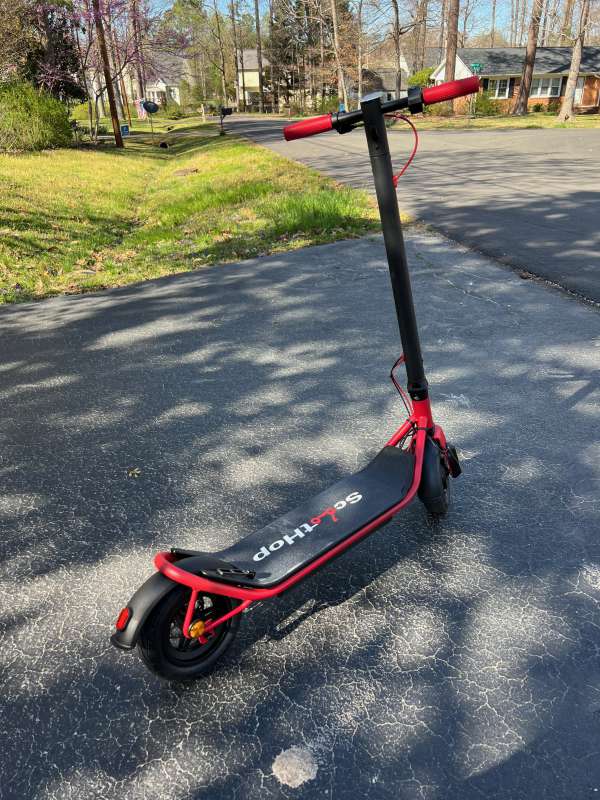 REVIEW – Unless you've not walked around in a city or college campus town in a while (I know, there's been a pandemic and all), you'll know that electric scooters are a thing. There are companies that rent them, and there are many companies that sell them directly to end-users. One such company is ScootHop, and they sent me their full-sized adult model B1 in red with 10″ tires. They also make scooters for kids that are smaller and less powerful, and there's a yellow model like the one I tested.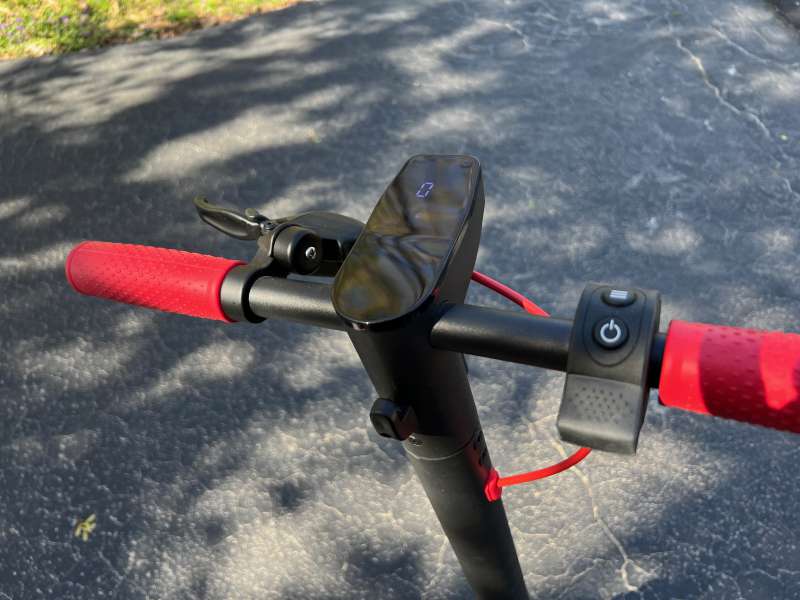 What is it?
The ScootHop B1 is a foldable electric scooter with three levels of speed control, a rear disc handbrake, and an integrated headlamp and brake light. And a little bell.
Design and features
For those unfamiliar with the concept of a scooter – where have you been? A scooter has two inline wheels, separated by a deck that the user stands on. The front wheel is hinged and steered by a pole rising from that hinge with a handlebar, which the user holds for stability and steering.
On the ScootHop B1, the handlebar sits about 47″ off the ground, and the deck is about the same length from axle to axle. The deck is 7.5″ wide, and covered in a grippy "popcorn"-textured vinyl that will allow riding with almost any type of footwear. (It's like the treads you can get to apply to stairs or other places that need a sure grip.) There is a hook just below the battery/speedometer on the handlebar stalk, and a swing-up catch back near the rear wheel that holds the steering column when it is folded down. You can grab the locked steering column like the handle of a toolbox and carry it to your office or lift it into a car trunk.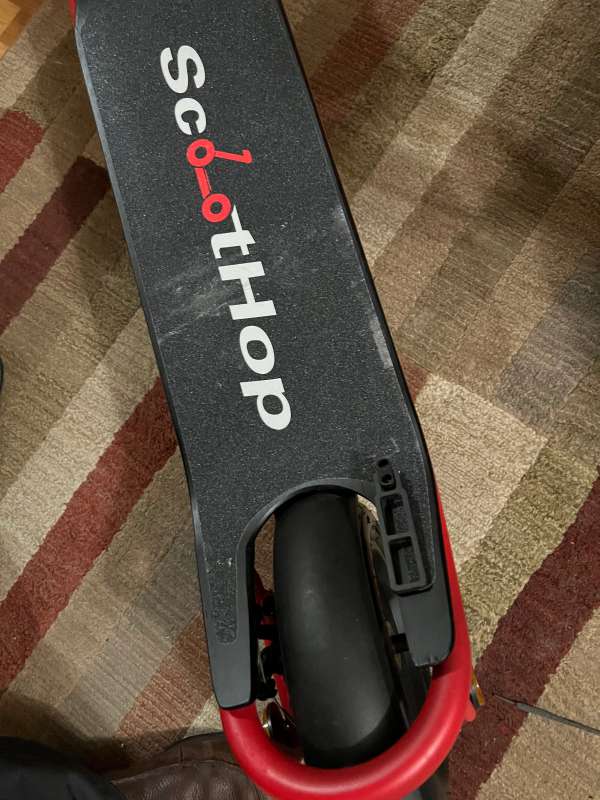 I've been a bike nerd for a long time. When bike-share came to my city, I was all over it. Then, slowly, but surely, the bikes were replaced by scooters. Until I was sent the ScootHop B1 electric scooter, I had not availed myself of the opportunity to ride one. I've made a video of my initial ride on a scooter for posterity.
A scooter takes much less commitment than a bike. You don't climb aboard, you just step on. Having never "scooted" before, I found the experience very freeing. Also, the overall "footprint" of the scooter is less than that of a bike. You can put it in a car more readily and ride it on many of the same surfaces as a bike. It would get a bit tedious to go all day, however, but getting from the car to a restaurant and then to a theatre or music venue seems fine. A bike lock would be a good thing unless you want to just fold it up and carry it inside!
If you're not in a town that has rental scooters, or you just want the freedom to jump on whenever you want to, the ScootHop B1 electric scooter could offer a very freeing method of getting much further along your way with less effort than walking. There are three speed modes or levels that you can switch between. They are Low – up to 10 kph, Medium, up to 20 kph, and Max, up to 25 kph. The manual (and common sense!) suggest starting in the low mode, with the white indicator under the speedometer, until you get used to how the ScootHop B1 handles. Medium and Max are indicated by a yellow or red dot, respectively.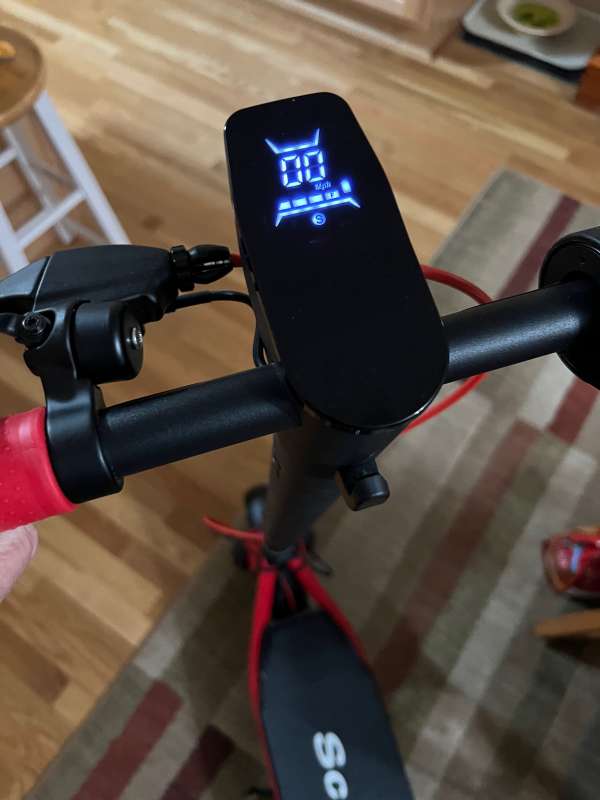 Something I did not realize is actually a safety feature of electric scooters: the electric boost doesn't kick in immediately like the throttle on a car or some modes on eBikes. You have to be going a bit under your own power, then press the throttle. At that point, the motor will take over. This prevents accidents at low speed before you have good balance, or accidentally having the scooter take off without a rider!
There was a discussion in one of the other reviews about scooters, so I checked how the tires on the ScootHop are filled. There are inflation valves on both tires, but, due to tolerances, they are inline with the spokes. They're not difficult to get to, but not as easy as your normal road bike. My air compressor nozzle clamps down on these just like it does on mower tires.
The ScootHop B1's large, 10″ pneumatic tires soften the roadway a good bit. You will still feel the large bumps, but it's not as severe as having, say, rollerblade wheels that amplify every bump and piece of gravel you roll over. The long wheelbase makes for a sleek riding experience. (I guess I'm comparing the smoothness to roller skates here, because I've not ridden a bike in a good while that had a shorter wheelbase!) It is a bit bulky if you're not riding it and having to carry it through a crowd of people, but it's much less bothersome than having to move a bike through the same types of areas. And, if you don't fold the scooter up, it can be pushed or manually scooted along with pedestrian traffic without hardly catching anyone's attention. The full fenders prevent getting sprayed by street water while riding.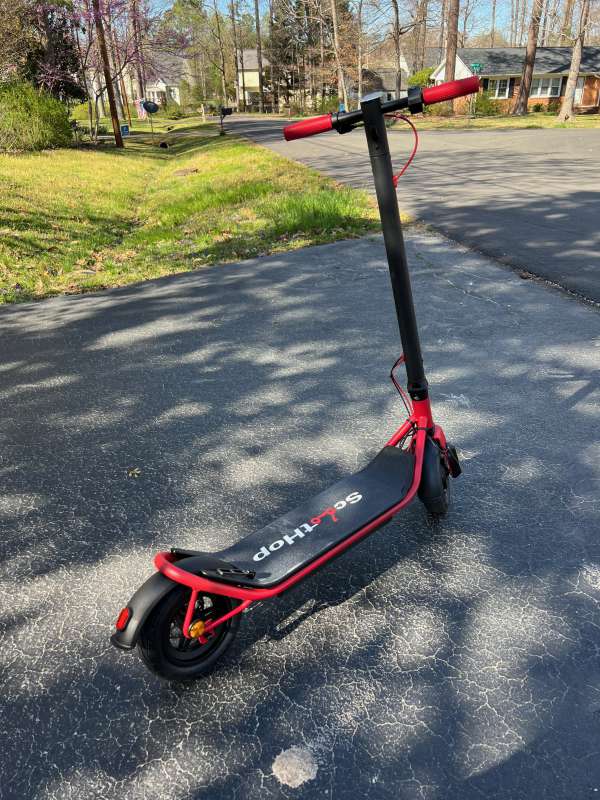 The ScootHop B1's battery seemed to last forever, possibly because after a ride, I'd usually plug it in. The cover over the battery port means no water or grit gets in. If you've been riding after rain, however, you may want to clean the area before opening the port for charging. Dirt and mud can get thrown up into that area easily, and between the port cover and the kickstand hinge, there are plenty of nooks and crannies for debris to stick to. While I'd like to see the plug moved to a less exposed area (say, the rear underside of the deck, just in front of the rear wheel), it's not enough of a hassle to rate the scooter down on. The weatherproof flap stays in place securely.
The ScootHop B1 electric scooter has a front headlight you can turn on from the same two-button menu you use for turning things on and changing between speed levels. On the rear fender, there is a red taillight that is also a reflector. It glows brighter when you're braking, too. On the left, beside the brake lever, there is another smaller lever, that will sound a single ding of a bell, to alert folks in front of you of your presence. Not as much fun as the old-fashioned tra-ling-a-ling of those bells from our childhood bikes, but effective. It's pretty loud.
I see folks out around town riding without helmets, and I've been known to do that as well. While it's true you're not going to be riding at bicycle speeds, falling off can be harmful to your head, knees, and elbows. Also, be aware that this thing can get into auto mode just by holding down the throttle for 5 seconds or so, and it will cruise along at the top speed of the level you're at until you hit the brakes. This is a bit – um – exhilarating the first time it happens. Just remember, always brake before jumping off.
Setup
The ScootHop B1 electric scooter arrives with the handlebar assembly detached from the steering column so that it can fit into a more compact box. There's a single 4-wire connector to plug in, four screws to mount the handlebars, and it's ready to go. There's an external battery charger that plugs into a port just in front of the kickstand.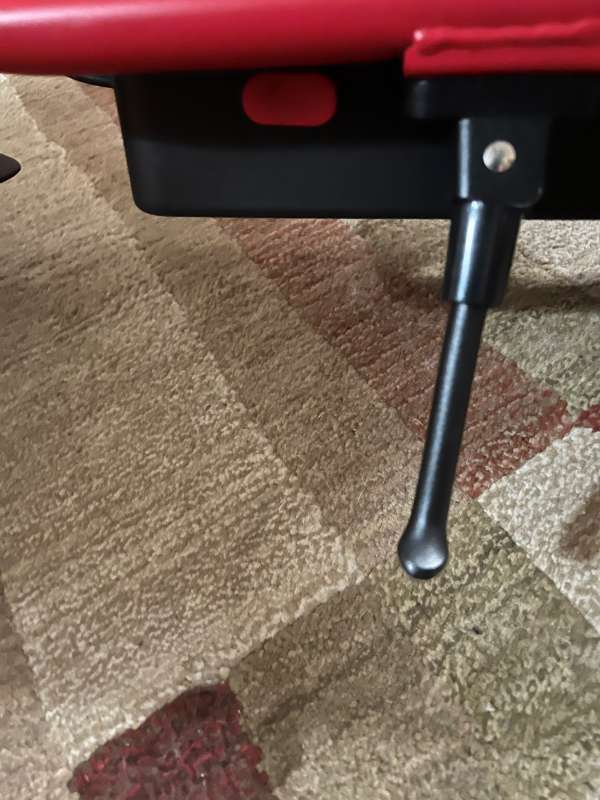 What I like
Foldable
Integrated headlight and braking light
Heavy-duty frame and wheels
Quick, powerful takeoff
Regenerative braking
What I'd change
Final thoughts
I've wanted to try electric scooters since before the pandemic started. They looked like such fun, but my daughters were always worried I would fall and break something. When the opportunity to review the ScootHop B1 scooter presented itself, I couldn't hold back. I'm glad I volunteered for it because it's a lot of fun. With three different speed tiers, you can have a little control over the level until you feel better. The video here shows my first ride, and the excitement I felt after getting aboard and not crashing. If you can ride a bike, you can scoot on one of these. The kids in the neighborhood still give me strange looks, but I'm having fun!
Price: $349.99
Where to buy: Amazon
Source: The sample of this product was provided by ScootHop.