We use affiliate links. If you buy something through the links on this page, we may earn a commission at no cost to you. Learn more.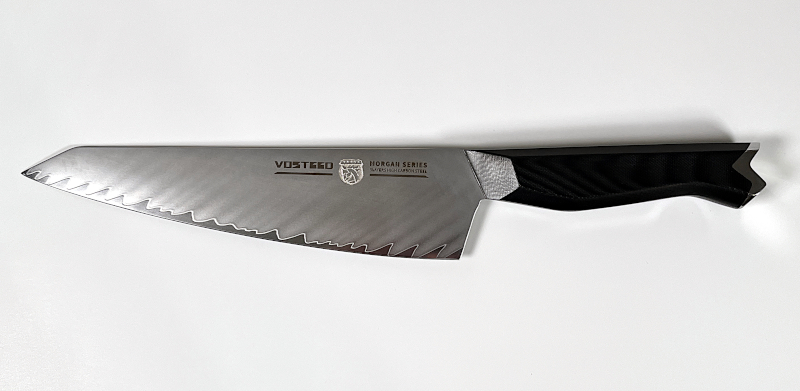 REVIEW – The most important knife in any kitchen is the chef's knife (aka the cook's knife).  Described as "the workhorse of the kitchen," it's a versatile utility knife used for cutting and chopping, slicing and dicing, everything from vegetables to fruit to meat.  If you find yourself spending a lot of time doing prep work in the kitchen, whether of necessity or simply for the joy of cooking, then the first place that you'll want to spend some money to upgrade your kitchen tech is on a good chef's knife.  In this review, I'll be looking at the 8-inch Morgan chef's knife from Vosteed.
What is it?
The Vosteed Morgan Chef's Knife has an 8-inch blade and features a full-tang construction, a stainless-steel alloy with strong edge retention, a G10 handle, and a k-tip style tip.  The Morgan series of knives are strongly influenced by Japanese knife design, and they are the original knives that launched Vosteed Cutlery.  "Vosteed was founded in 2021, with the aim of creating durable, high-performance, unique cutlery products with its collaborators and users."
What's in the box?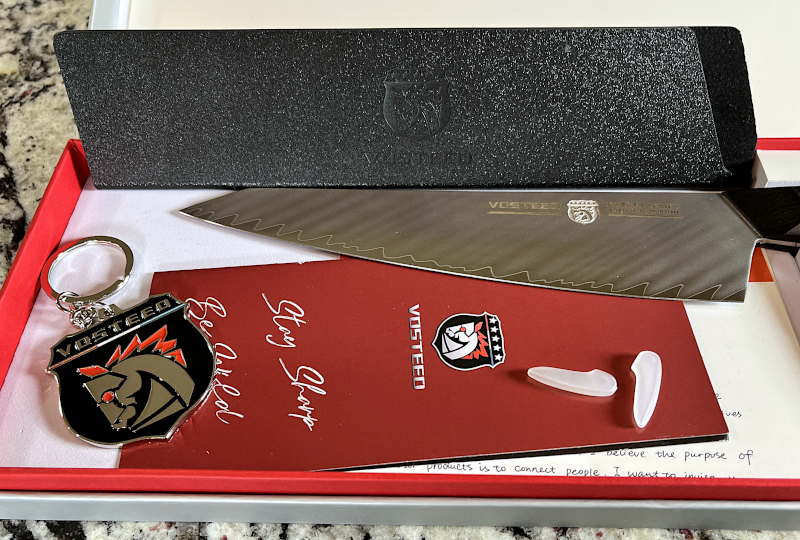 Vosteed Morgan Chef's Knife
Protective sheath
A pair of tip protectors
Knife guide
Welcome letter
A Vosteed keychain
Hardware specs
Weight: 7 ounces
Length: 8-inch blade, 5.11-inch handle
Material: 9Cr18MoV steel blade, G10 handle
Design and features

The Vosteed Morgan Chef's Knife was designed by Yue Dong, who is known for his EDC knives.  According to Dong in his interview with Knife News, the challenge of creating a kitchen knife is that they demand "more engineering than design;" in other words, they are tools first and works of art second, the opposite of most EDC knives.  Rising to the challenge, Dong managed to bring a fair amount of design into the engineering of the Morgan knives.  He took the standard profile of a Western chef's knife and injected into it the geometry of an Eastern kitchen knife.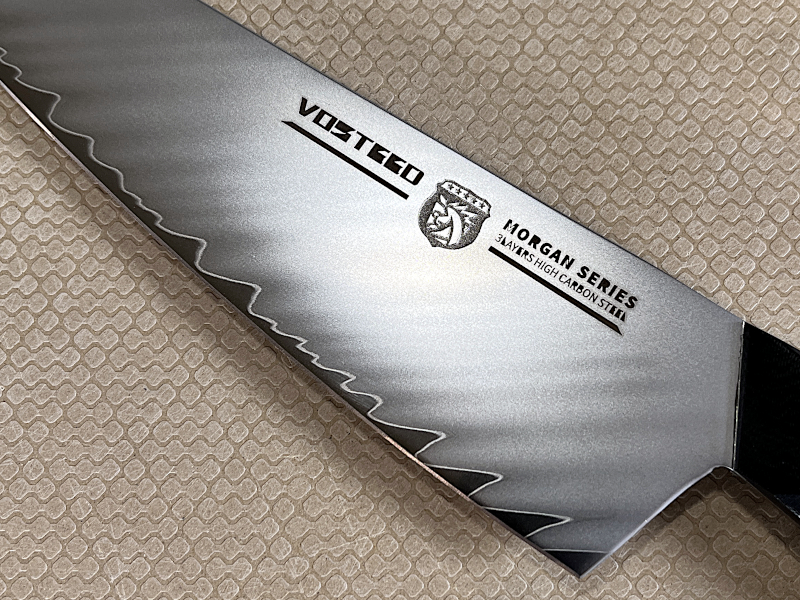 The gently curving blade is accented by a pronounced hamon line, giving it a conspicuous katana vibe.  By the way, Vosteed confirmed that this is a natural hamon line, not artificial, which is super cool.  They noted that the knife is triple-laminated, made of a three-layer steel whose core layer is 9Cr18MoV.  This is a high-end stainless-steel alloy that contains 0.9% carbon and 18% chromium and is known for its strong edge retention, hardness, and corrosion resistance.  The Rockwell hardness is 58 to 60, which is fairly typical for a quality kitchen knife; it's hard enough to retain its sharp edge, yet not so hard as to be brittle.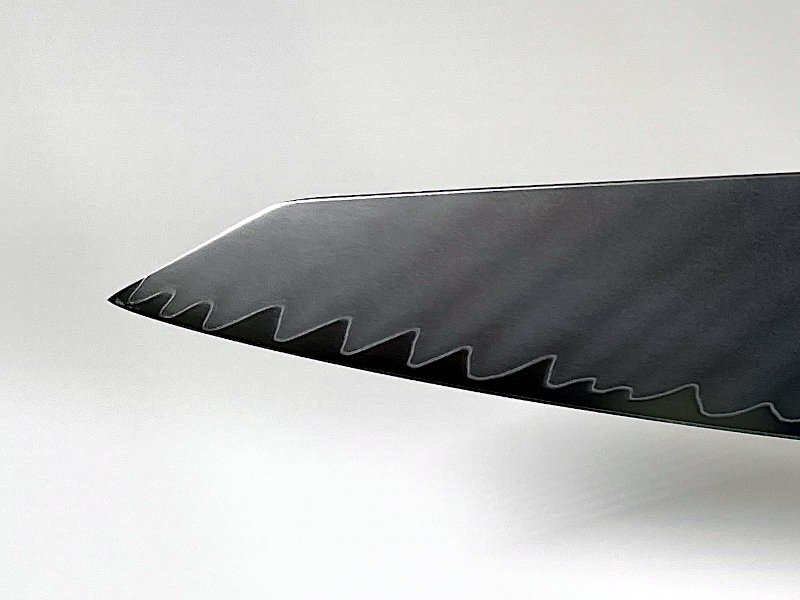 The tip of the Vosteed Morgan Chef's Knife is in a style known as k-tip; it comes from the Japanese word kiritsuke, which means to slit open.  This style of the tip is used in preparing Japanese cuisine, where it's used to finely slice vegetables or slices of raw fish, and adds to the strong Eastern look of the knife.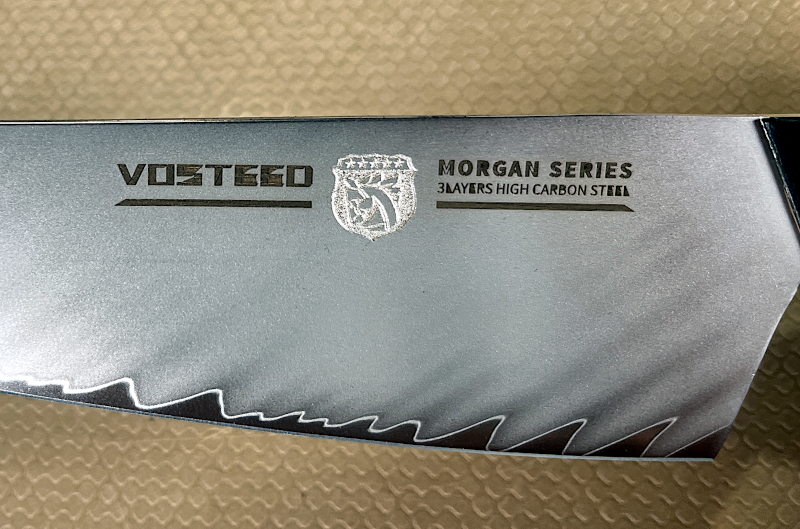 The Vosteed logo is etched onto one side of the knife, and Dong's logo onto the other side.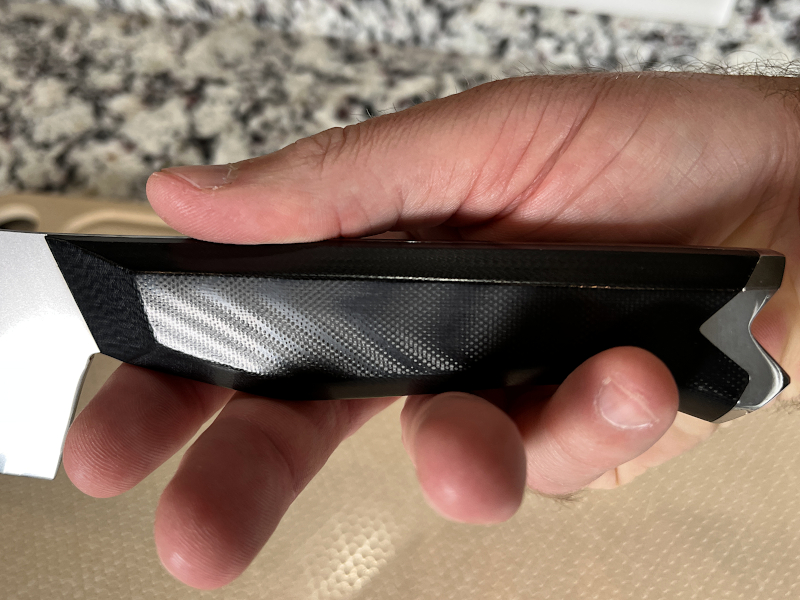 The black handle is made from G10, a "thermoset plastic laminate" that is often used for knife and gun handles as well as (interestingly) for circuit boards.  This material is valued because it keeps its shape, even when hot or cold, is difficult to break, and is relatively lightweight.  A more technical explanation of how it is created can be found here.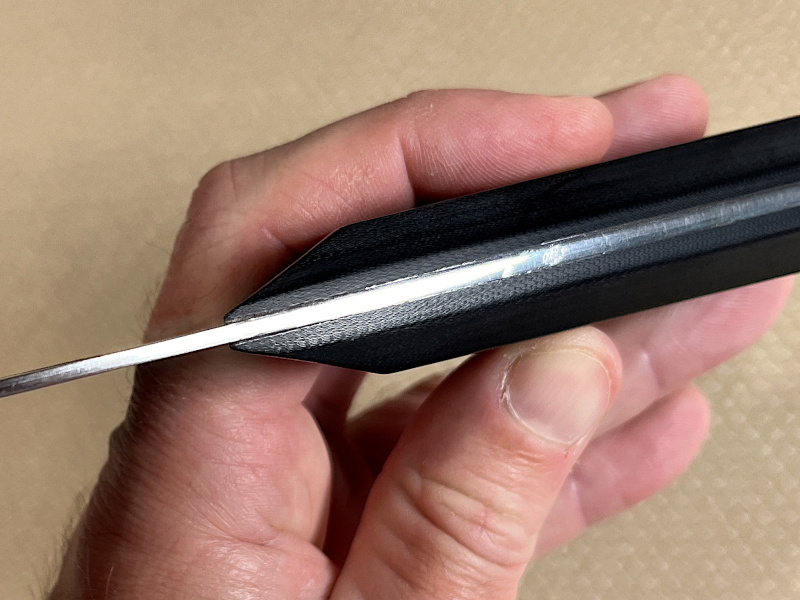 The G10 material is overlaid onto the full tang design, and the tail has a distinctive notch.  The result is a chef's knife that is both very functional (in a European way) and aesthetically pleasing (in a Japanese way).  It certainly has a lot more style than most kitchen knives in the sub-$100 category.
Installation and setup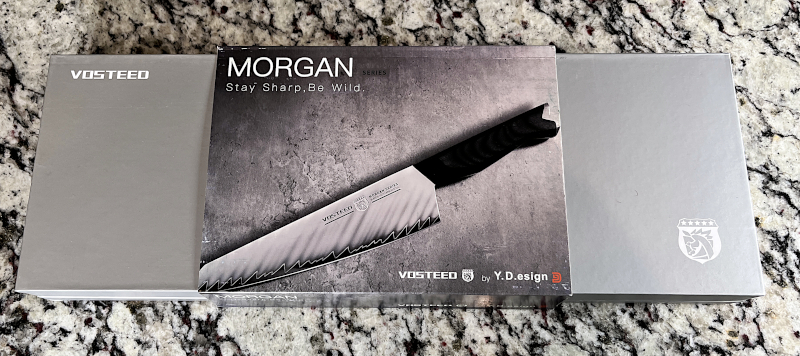 The Vosteed Morgan Chef's Knife came well-protected in a nice, sturdy box with custom, foam inserts.  There's no real installation or setup for the knife, other than removing the extra plastic and washing it once before use.
Performance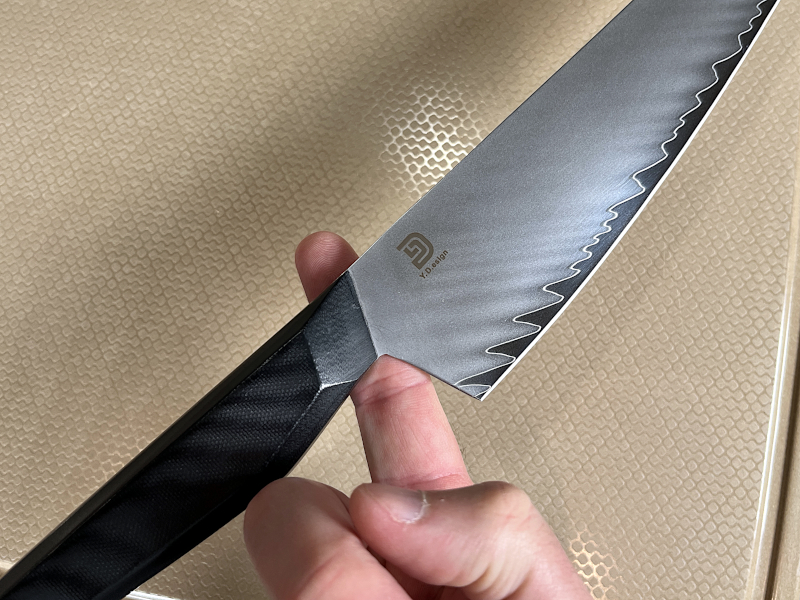 A chef's knife is designed to be used in a rhythmic, rocking motion, thus it needs a curved blade that is balanced with the handle.  On the Morgan, the handle is slightly heavier than the blade, but I still found it to be well-balanced.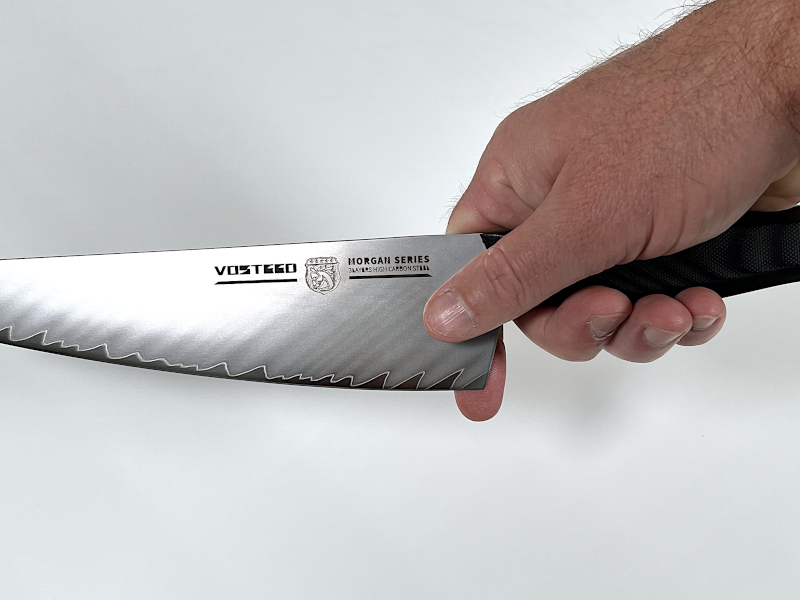 A chef's knife can vary anywhere from 6 to 10 inches with 8 being the most popular size.  The blade is intentionally large, allowing a chef to get more slicing done for each motion.  The goal is for the knife to be very comfortable in the hand, which allows for smooth and efficient rhythm.
The ultimate test of the Vosteed Morgan Chef's Knife, of course, is in how well it works in the kitchen.  I created the 1080p video below while prepping for dinner one night.  One caveat:  I am not a professional chef; at best, I'm a part-time cook at home.  It's unlikely that I'm using the knife perfectly, so this video only shows how it worked for me.
Now that I've used the knife several times to prepare dinner, what do I think about it?  I like this knife a lot.  It's sharp and cuts through meat and veggies without any problem.  The handle is quite grippy, even when wet, and is noticeably easier to hold than the metal-handled knives from IKEA that we have.  The knife is well-balanced and easy to use in a rhythm.  Functionally, Vosteed's Morgan is everything I want in a chef's knife.
The styling, on the other hand, is more of a personal choice.  If you appreciate an Asian influence in your décor, you'll probably like the way this knife looks.  Personally, as someone who just got a custom-made katana, I'm all for the Japanese design that Yue Dong has brought into the kitchen.
My wife also used the Vosteed Morgan Chef's Knife several times, and she really likes how sharp it is.  For her, it was great for larger jobs, like cutting ham or watermelon.  She is, however, a bit on the shorter side (5'4"), and she often wished that she had a 6-inch version of this knife, especially for smaller tasks like cutting celery and dicing onions, as 8-in blade felt a bit too big for her.  Perhaps Vosteed will make one that size in the future.
Extra Features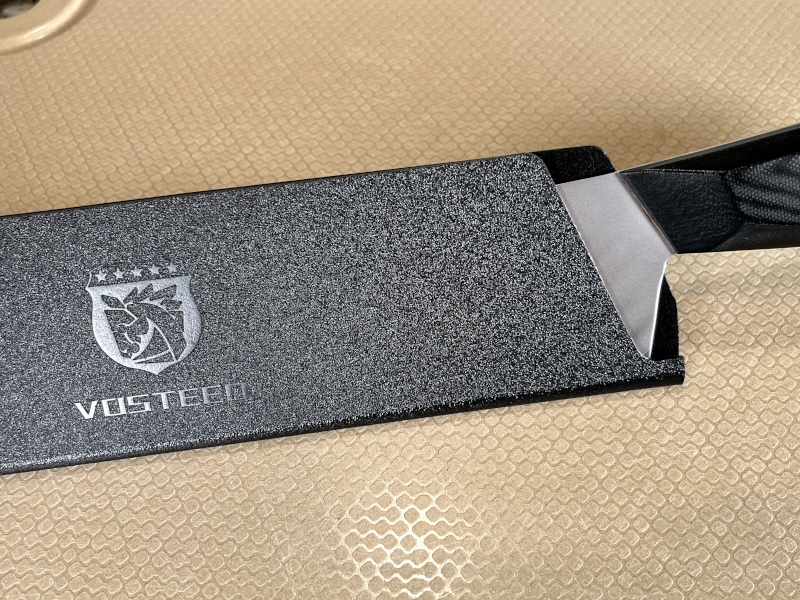 The chef's knife comes with a sheath for storage in a drawer.  It's hard plastic on the outside and lined with something that feels velvety on the inside.
If you like the style of this knife, Vosteed sells two others in the series, a 7-inch santoku and a 5-inch utility.
What I like
Quality construction materials
Japanese-influenced design
Well-balanced, comfortable, and sharp
Affordable
What I'd change
Final thoughts
I found the Morgan chef's knife from Vosteed to be a solid and comfortable 8-inch chef's knife.  Its stainless-steel alloy will maintain its sharp edge well, and its G10 handle is easy to keep a good grip.  The knife feels balanced in my hands and easy to use in repetitive slicing tasks in the kitchen.  The knife's design is strongly influenced by Japanese knives, which I personally find appealing.  If you're looking to upgrade your chef's knife, or perhaps to buy one for the first time, and if you like the design, then I commend the Morgan chef's knife to you.
Price: $59.00 or $149.00 in a set of three knives
Where to buy:  Vosteed's online store (chef's knife alone, chef's knife in a set)
Source: The sample for this review was provided by Vosteed.