We use affiliate links. If you buy something through the links on this page, we may earn a commission at no cost to you. Learn more.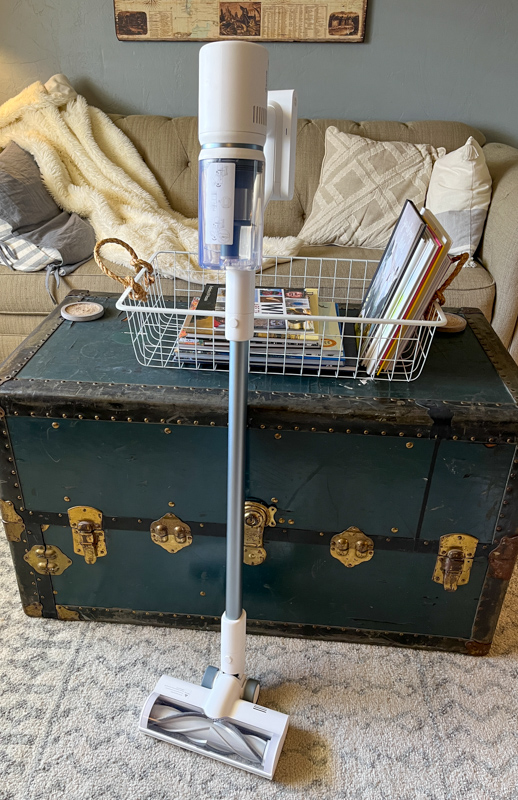 REVIEW – We've been using the same cordless vacuum for years, and I thought it was completely adequate. I'm glad Dreametech sent over their P10 Cordless Stick Vacuum for review, because if I'd tried this out at a friend's house I would probably have bought one myself!
What is it?
The Dreametech P10 Cordless Stick Vacuum is a cordless stick vacuum, best for hard floors or thin carpets. It has an easy-empty dustbin, washable filter, and 2-in-one corner tool attachment to supplement its main motorized brush head.
What's in the box?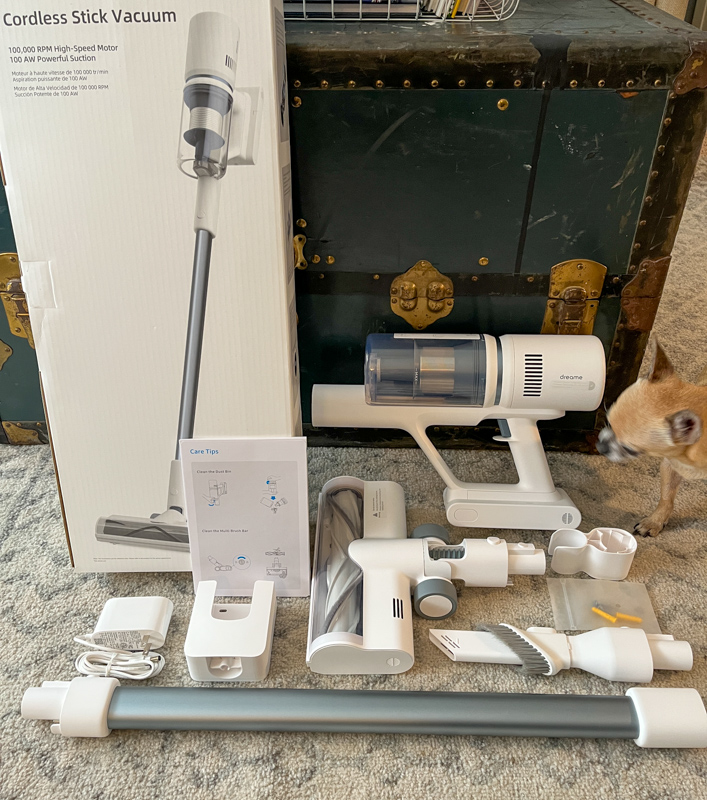 Dreametech P10 Cordless Stick Vacuum
Multi-surface brush head
2-in-1 crevice nozzle with clip
AC charging adaptor
Wall mount and hardware
Hardware specs
Rated power: 350 Watts
Battery capacity: 14,000 mAh (7 cells * 2000 mAh)
Weight: 3.59 pounds
Charge time: 2.5 hours
Filter: washable
Max runtime: 50 mins at lowest setting
Suction Pressure: 20kPa
Suction Power: 100 AW
Dust bin capacity: 0.13 gal (0.59 liters)
Design and features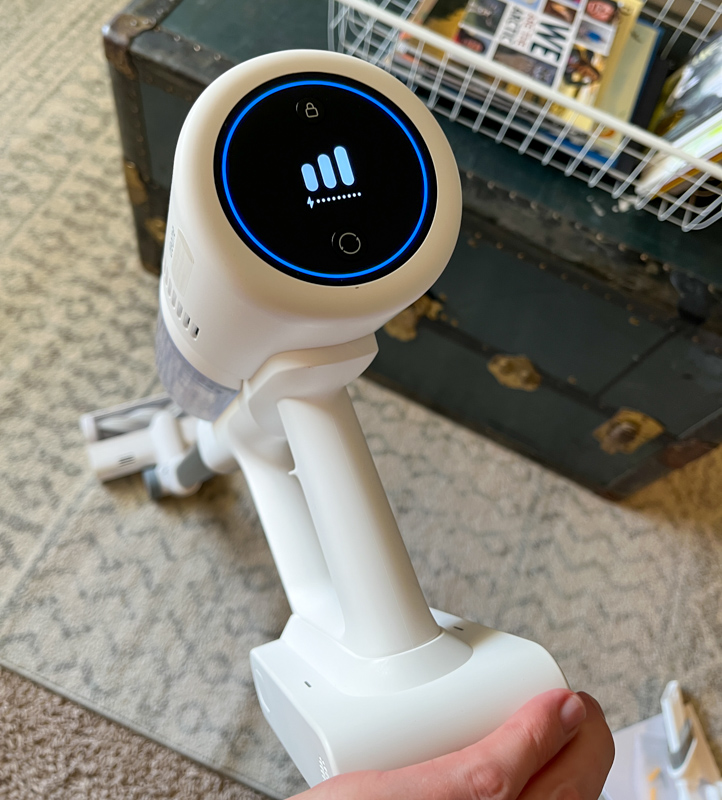 The Dreametech P10 Cordless Stick Vacuum has a bright LCD display on the top of the unit indicating suction level (3 levels) and battery status. Buttons can lock the vacuum and change the power mode (hold trigger to operate versus click trigger to turn on/off).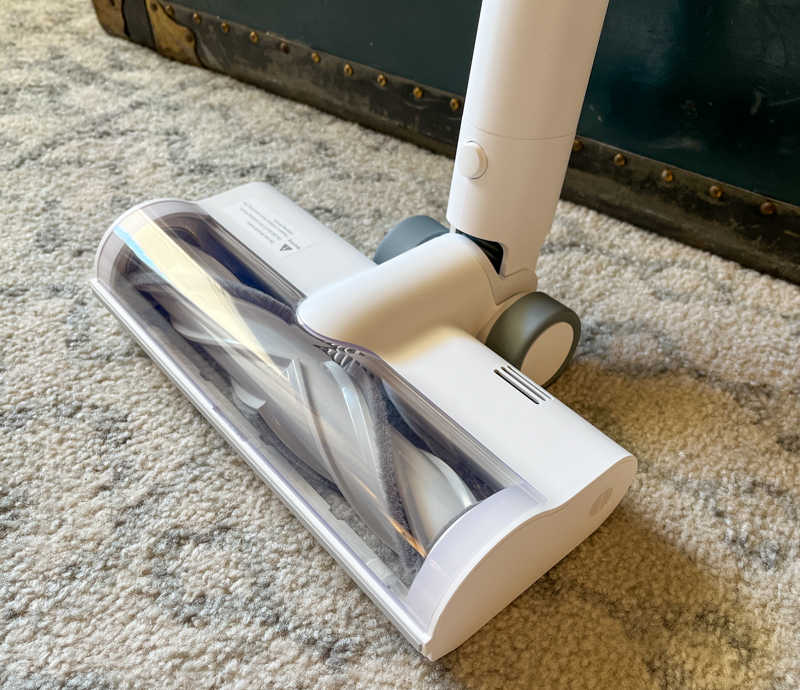 The main motorized brush head has a bristled rotating head with a transparent top so you can see what's being sucked up. Wheels in the back make it easy to operate, and the handle tilts pretty far side to side relative to the vacuum's head, allowing for lots of maneuverability.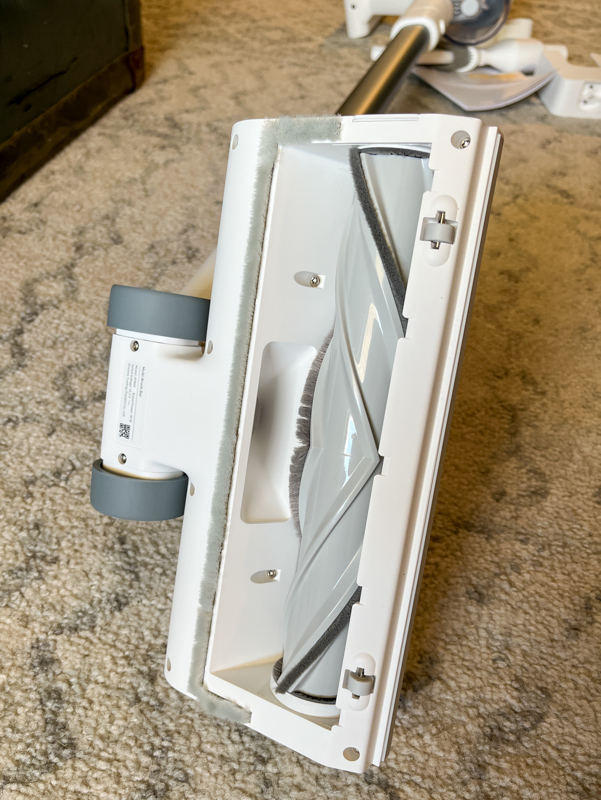 Above is a shot of the underside of the motorized multi-surface brush head.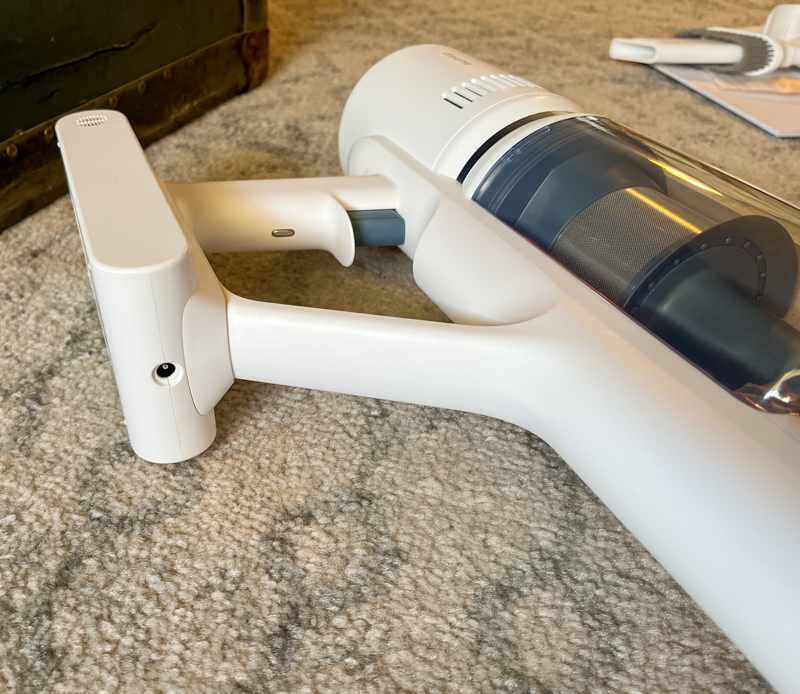 The trigger is easy to squeeze while using, and in the above shot you can also see the charging port. The non-removable battery is in this lower casing as well.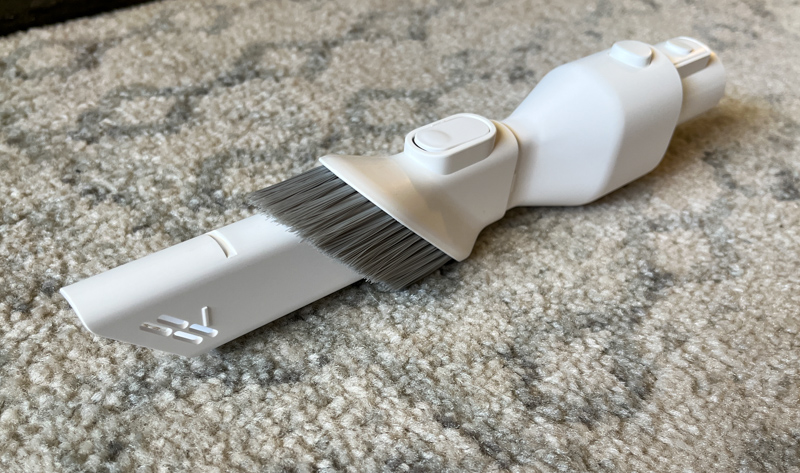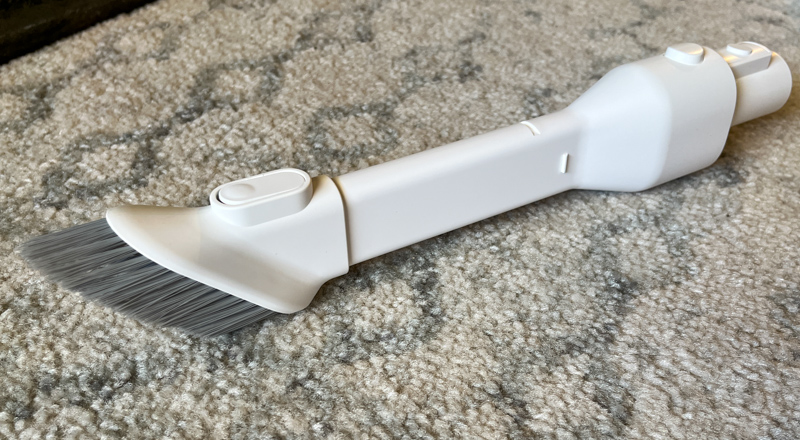 The preceding two shots show the corner tool, which has a sliding brush section so you can use it with a brush or without.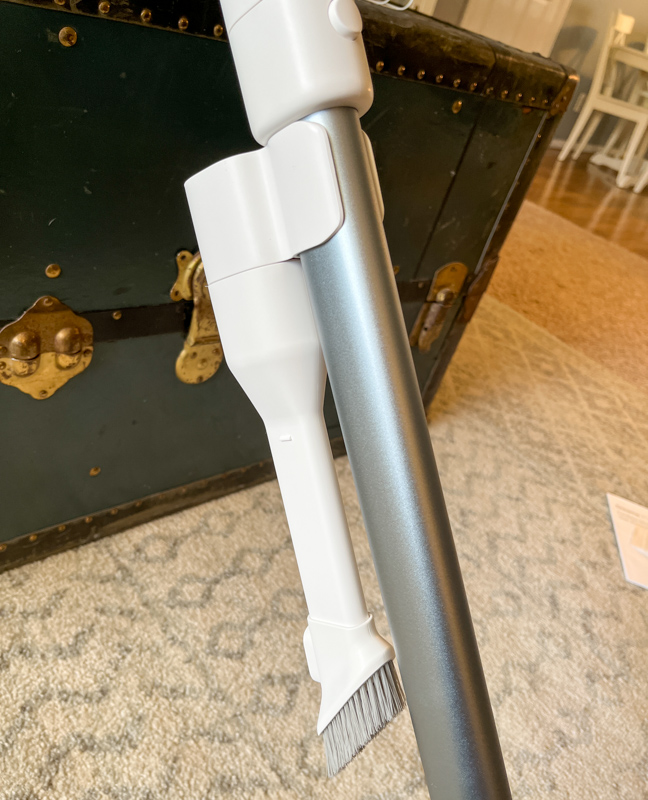 The corner tool can be clipped to the Dreametech P10 Cordless Stick Vacuum with the included attachment clip, I love this so you don't lose the attachment.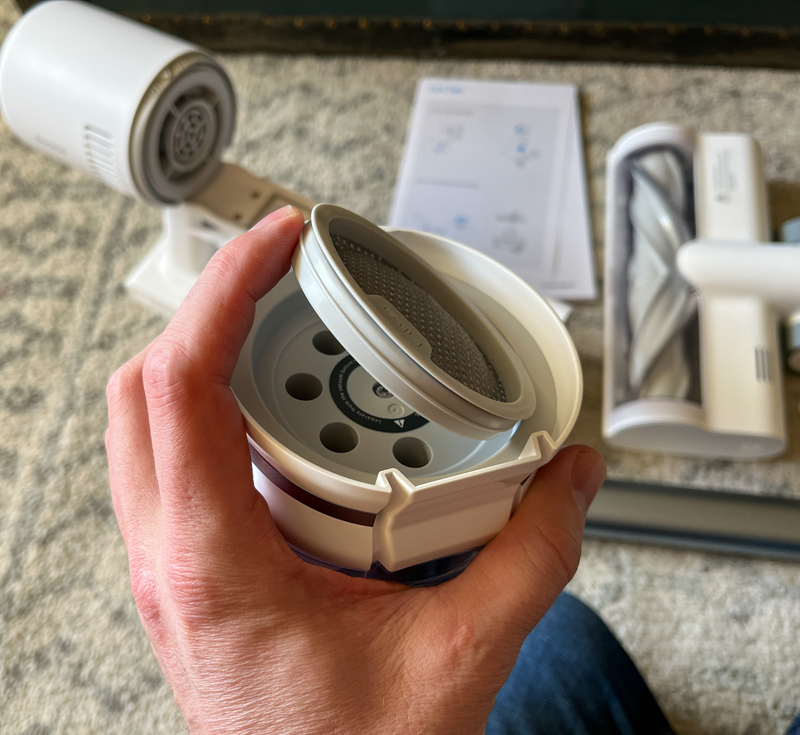 Above is the filter, which can be easily popped out and rinsed (be sure to dry thoroughly before re-inserting).
Installation and setup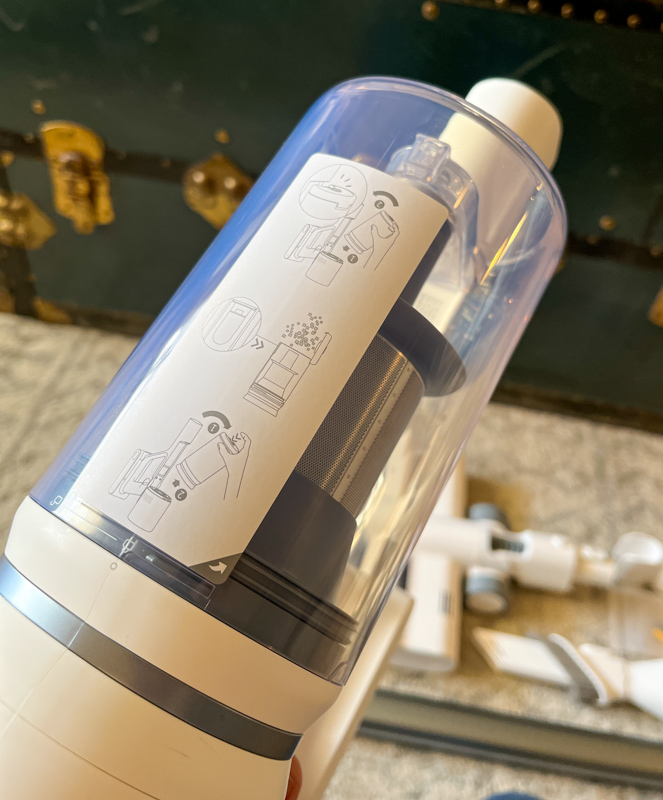 Dreametech's manual and a large sticker make setup and installation a breeze.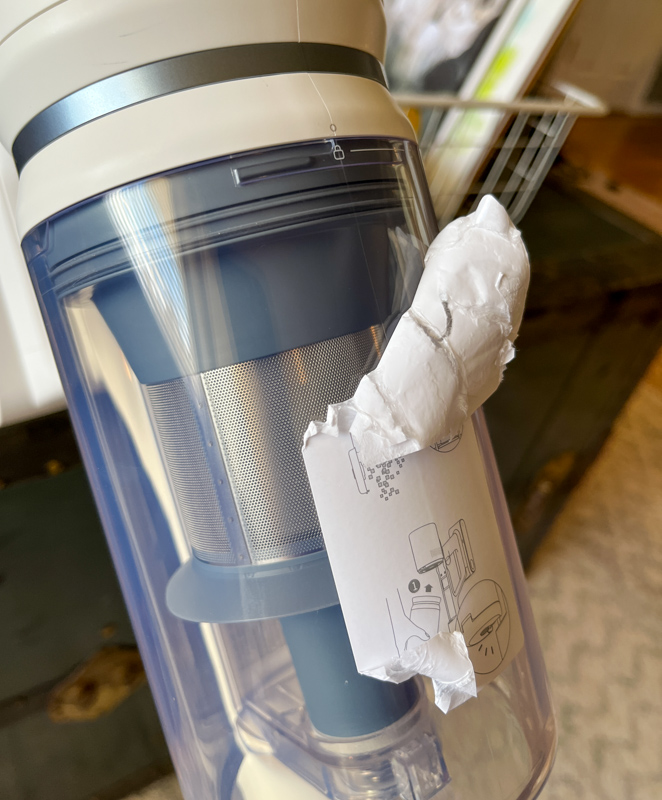 However, said sticker was a pain to remove, I hate it when manufacturers use these older stickers instead of easy-peel options.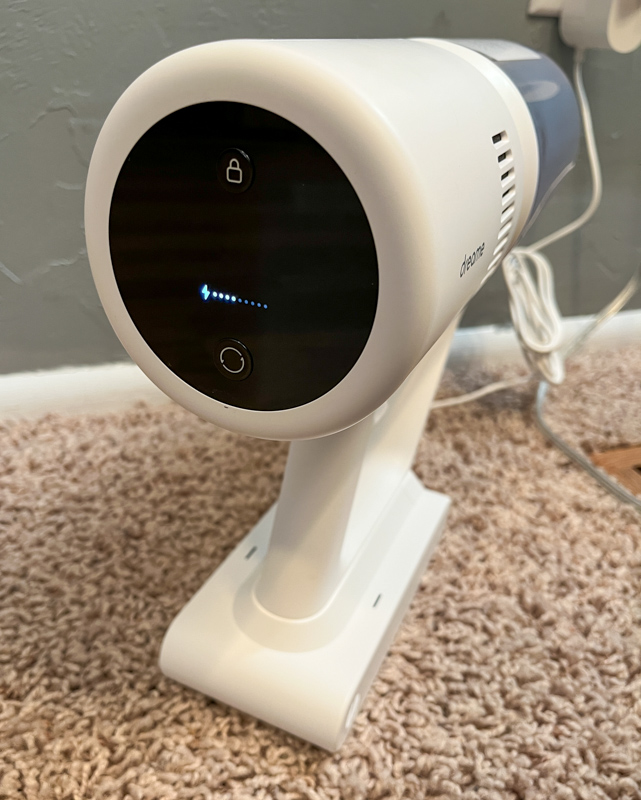 Next up, I charged the device. It was half charged out of the box, and took about an hour to top off (Dreametech says 2.5 hours to fully charge from empty).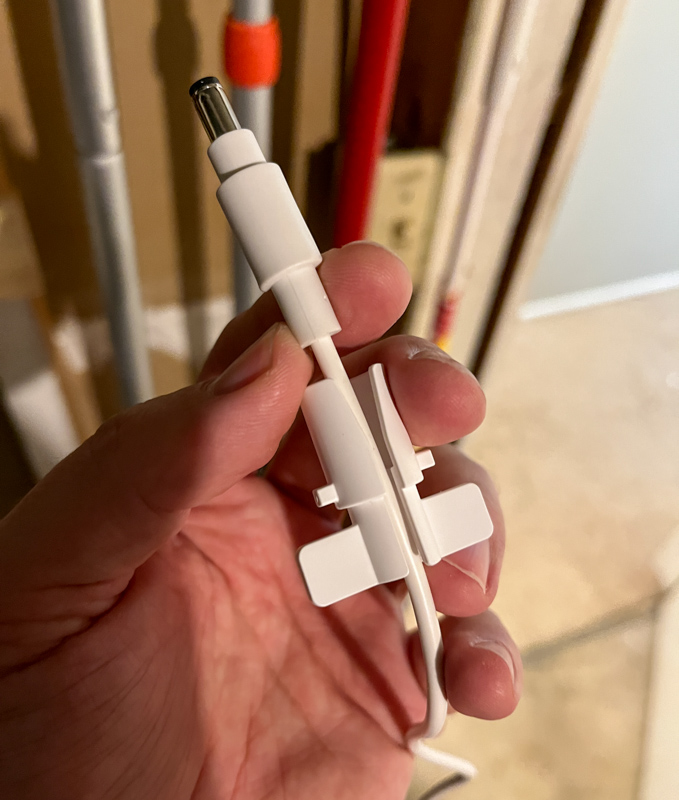 The included wall mount was also easy to install, you simply slip the charger's DC output port into the plastic clip above, then twist that into the wall mount housing. Once installed you can simply slide the vacuum into the wall mount and it starts charging while being stored.
Performance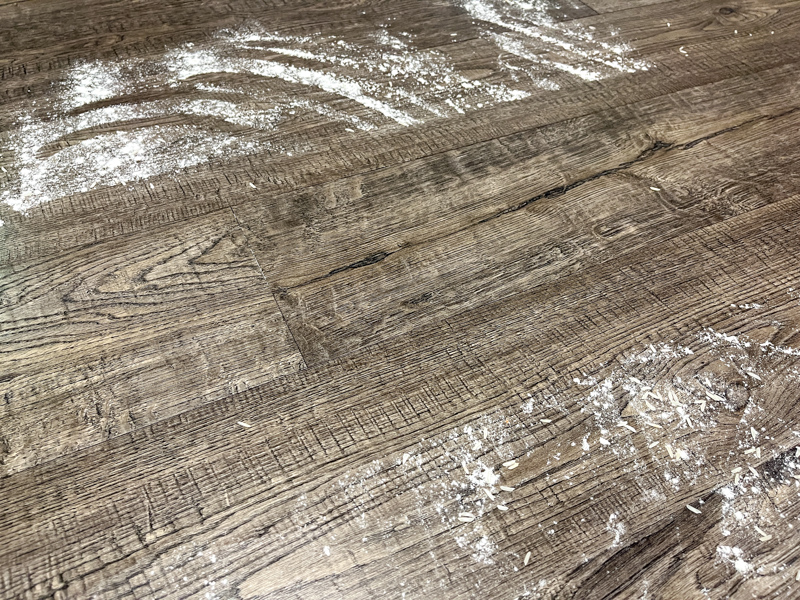 I started testing the Dreametech P10 Cordless Stick Vacuum with a bit of a torture test: flour and rice spread on the floor. As you can see in the shot above, when I went over it with one pass at the highest suction setting, it did a great job of getting the flour and all but a few grains of rice. Multiple passes finished the job, but some of the rice grains were thrown at high velocity directly behind the vacuum, ending up in random spots on the floor. This wouldn't be a common issue unless you spill rice or rice-sized things a lot. For dust and hair, it didn't spread anything around at all. Here's a shot of the rice and flour test in action: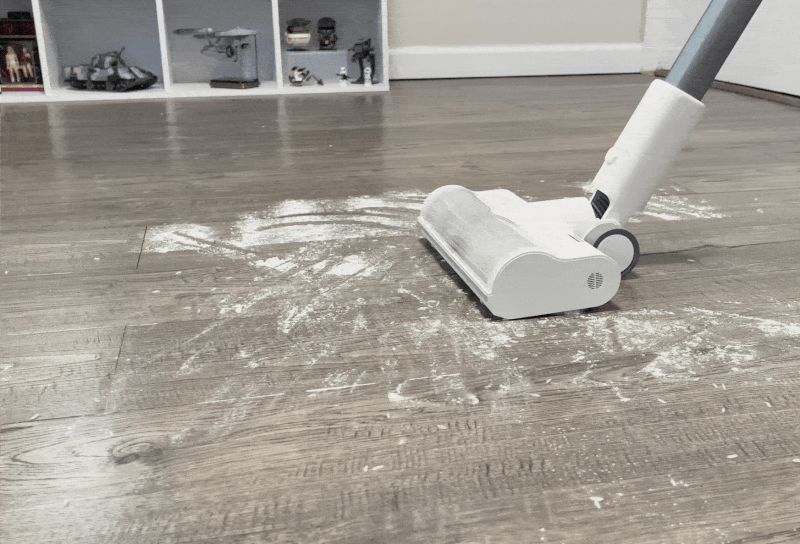 The corner tool did a great job of getting stuff the vacuum misses along baseboards. I especially like that you can use both the corner tool and the main brush-head in short handheld mode or in the long configuration (to clean floors without crouching). This makes the Dreametech P10 Cordless Stick Vacuum perfect for cleaning upholstery, furniture, cars, and other things that regular corded vacuums struggle with.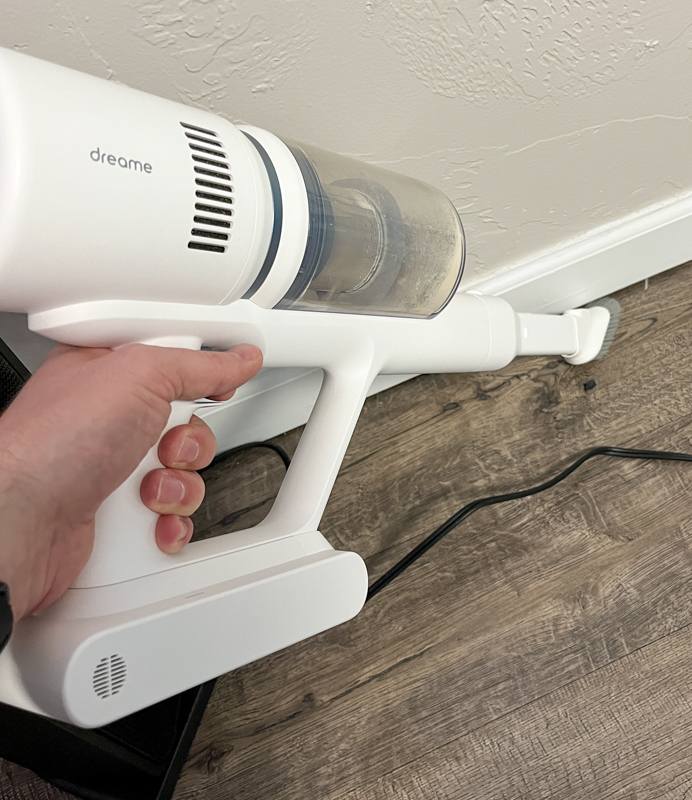 The dust bin is much easier to remove and empty compared to my old handheld vacuum. A simple button on the bottom releases the dustbin, then you twist it to separate the filter top half from the transparent dustbin bottom half and just dump it.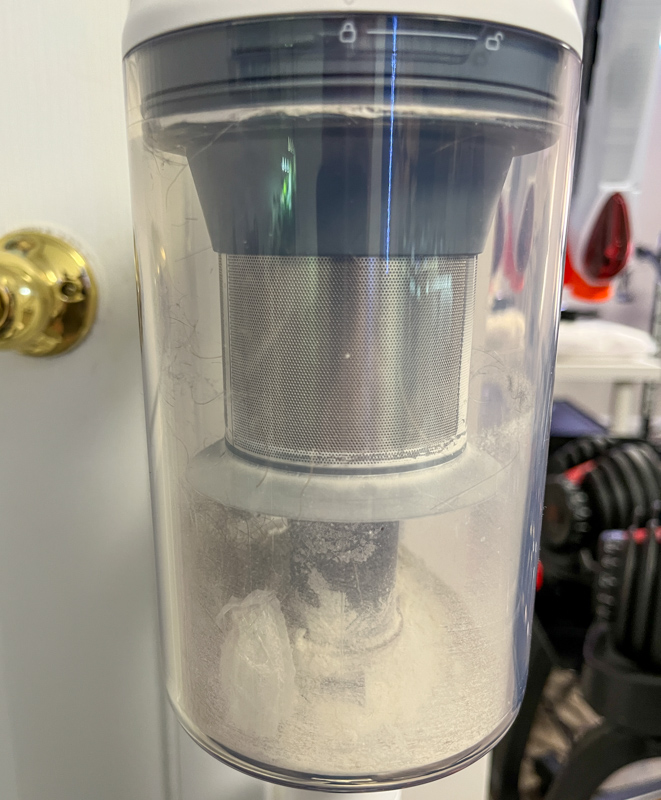 I was able to clean multiple rooms and our main floor (which is mostly hardwood) at full power while only using about 30% of the battery. Unless you live in a mansion, the Dreametech P10 Cordless Stick Vacuum should be good for most of your floor cleaning needs.
What I like
Strong suction
Bright and easy-to-read LCD screen
Long battery life
What I'd change
A tool-head that's between the corner attachment and full brush-head size would be nice for some jobs.
Large instructional sticker that was hard to remove
Final thoughts
This is a great little vacuum that exceeded my expectations across the board! With long battery life, powerful suction, and good ergonomics, I'm very happy with the upgrade to the Dreametech P10 Cordless Stick Vacuum over my old cheap model.
Price: $229.00
Where to buy: Dreametech and Amazon
Source: The sample for this review was provided by Dreametech