We use affiliate links. If you buy something through the links on this page, we may earn a commission at no cost to you. Learn more.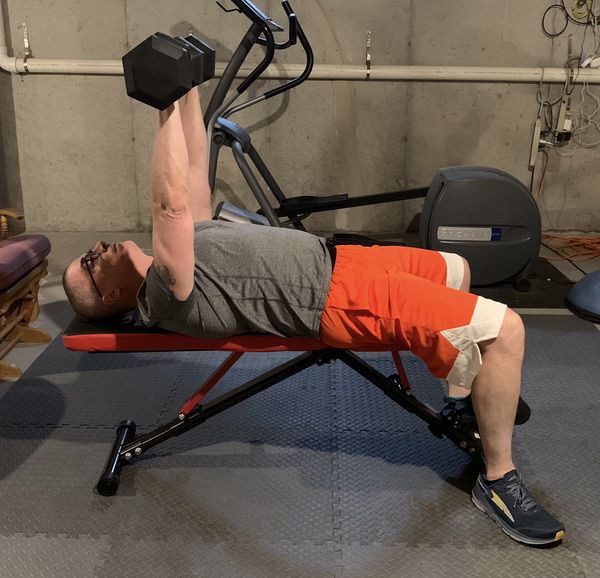 REVIEW – If you're tired of that creaky old budget weight bench but don't want (or need) a big rig for your workouts the Flybird Adjustable Weight Bench may be your jam. Don't let the compact size fool you; it's a tough and flexible little beastie that you can fold & stash away when you are done lifting the heavy things. Let's do some work. To the review!
What is it?
The Flybird Adjustable Weight Bench is a compact weight bench that can be folded up for storage.
What's in the box?
You get the Flybird Adjustable Weight Bench and an instruction sheet.
Hardware specs
18.8″ tall by 46.5″ long by 13.8″ wide (flat bench mode).
Folds down to 10″ tall by 30.1″ long by 13.8″ wide.
30 pounds total weight.
3 seat positions (0, 12 and 20 degrees).
8 back positions (-30, -9, 0, 24, 38, 52, 70 and 90 degrees).
700 pound weight capacity.
Breathable PU leather seating (2″ padding).
Design and features
The Flybird Adjustable Weight Bench experience begins with assembly… or lack thereof. It comes in the folded position. Unfold the bench, screw on the leg stabilizer, and insert two pins to lock the bench. Boom. Done. You're working in 5 minutes including the time it took to take the bench out of the box!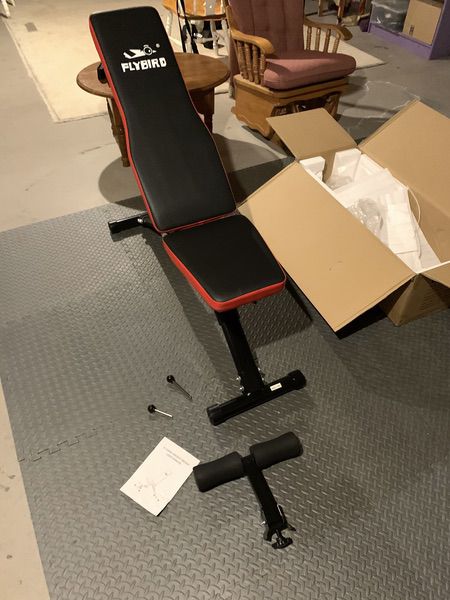 Build construction is pretty great. You've got solid construction throughout with a beefy frame that can handle a surprising 700 pounds despite the compact size. It's got a full-sized seat and a tapered back panel that allows for a full range of movement when you're doing your thing.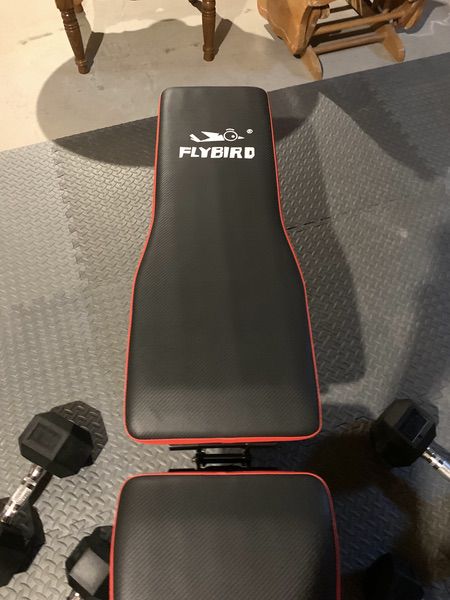 The pad is 2″ thick, wrapped in PU leather for a comfortable base.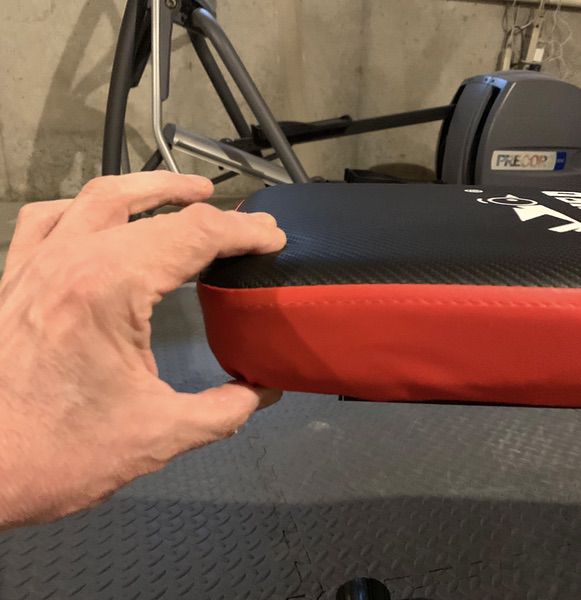 The Flybird Adjustable Weight Bench allows you to adjust the angle of both the seat and the back panel by pulling the spring loaded knobs. The bracket then slides up or down the frame and locks in place at the next available slot.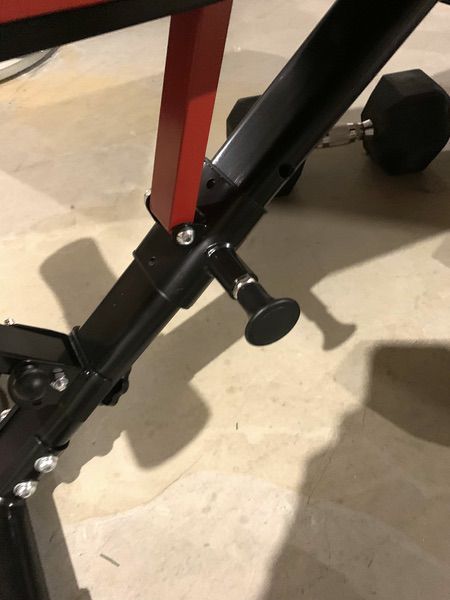 This gives you a full range of position options depending on what you're working that day. Here's your fully flat bench.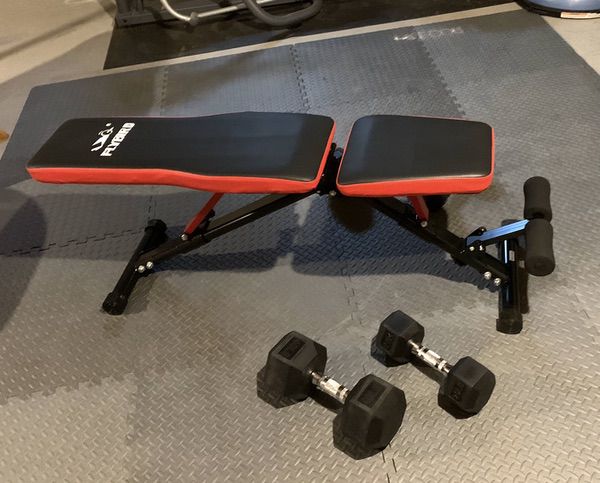 The seat is adjustable from 0 degrees (flat position) to 20 degrees.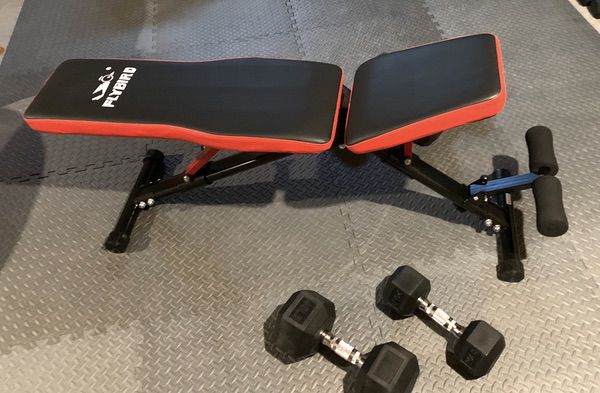 The back panel of the Flybird Adjustable Weight Bench has 8 different positions from a -30 degree decline to a 90 degree vertical.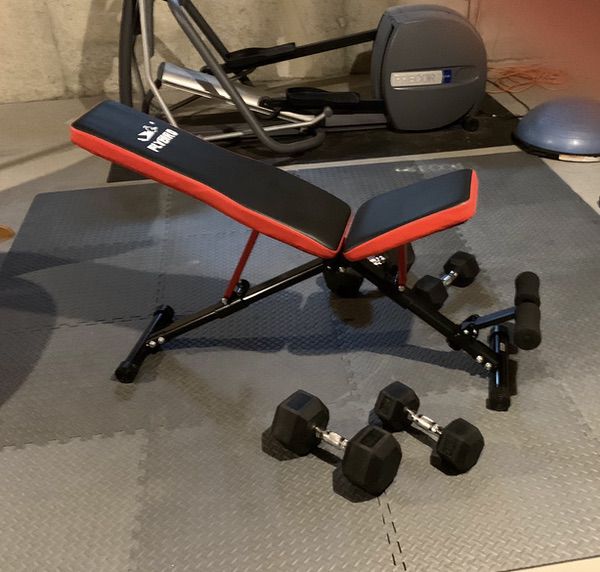 I have it at the 70 degree position here, with the seat raised to the 12 degree position.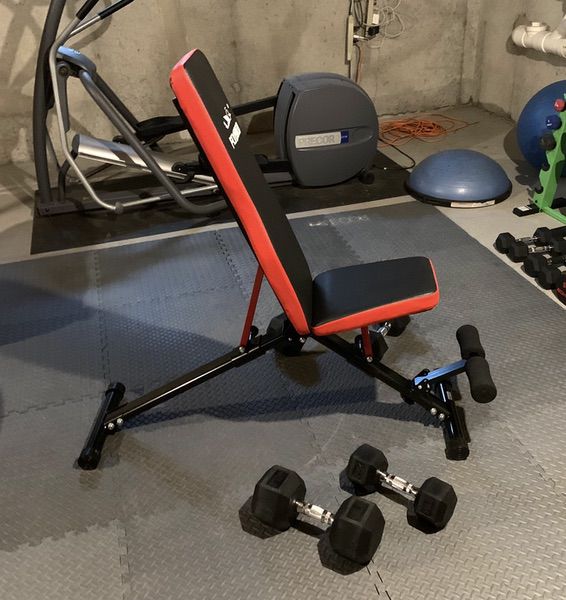 Here's the decline position for reference (-30 degree back pad and 20 degree seat position).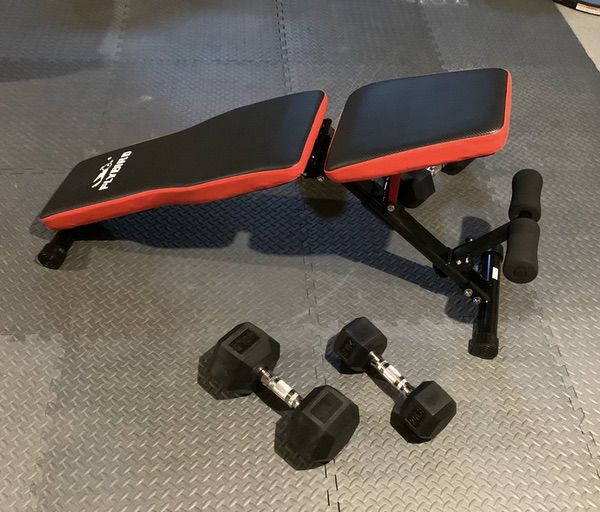 The Flybird Adjustable Weight Bench's leg stabilizer/foot pad is also adjustable. This doesn't use a spring loaded knob. It uses a removable pin that you reinsert at the desired position.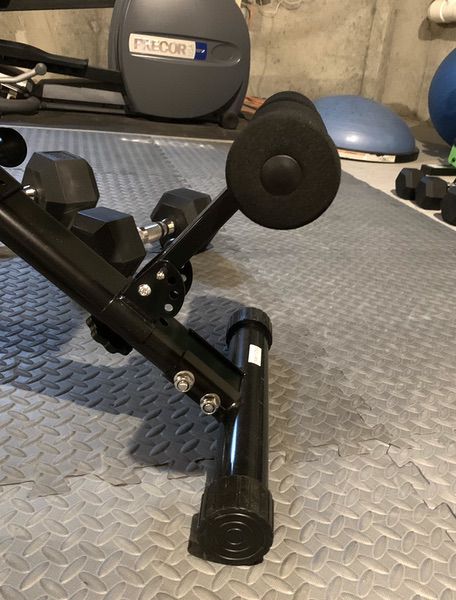 One of the neat features of this bench is that it can be fully folded for storage. Slide both the back pad and the seat to their lowest positions. Remove one of those pins that sits at the base of the back pad to unhinge the frame…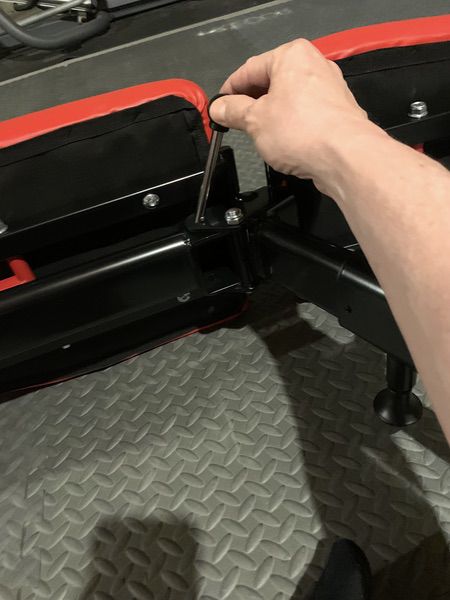 … and the bench collapses to 30″ wide by 10″ tall. With a total weight of roughly 30 pounds, it's easy to move into a corner or closet if you're pressed for space in small areas.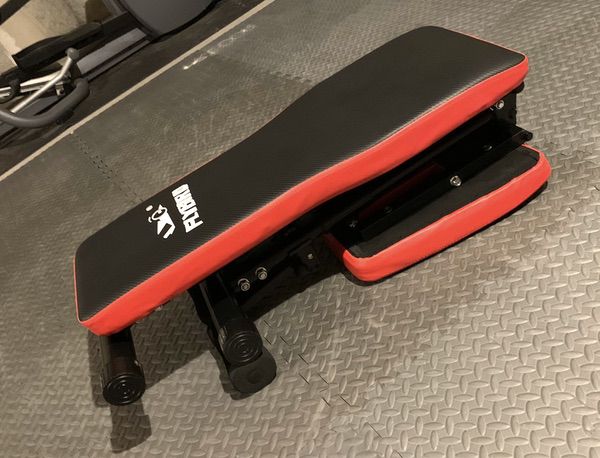 Performance
The Flybird Adjustable Weight Bench is ideal for small spaces given its compact size, but the stable base and beefy build make it ideal for whatever you're planning in your workouts. I don't go super-heavy with my weights anymore (because I'm old), and I primarily use dumbbells (40 pounds max) at home. That feels like the sweet spot for this bench.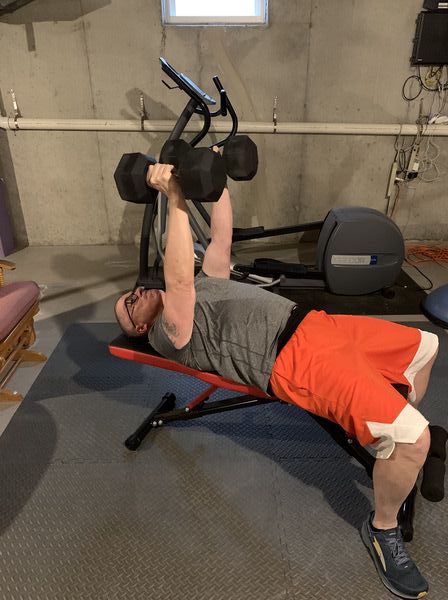 I like the quick-switch modes for adjusting the back and seat positions based on what I'm doing. You can change your angles in seconds as you move from set to set.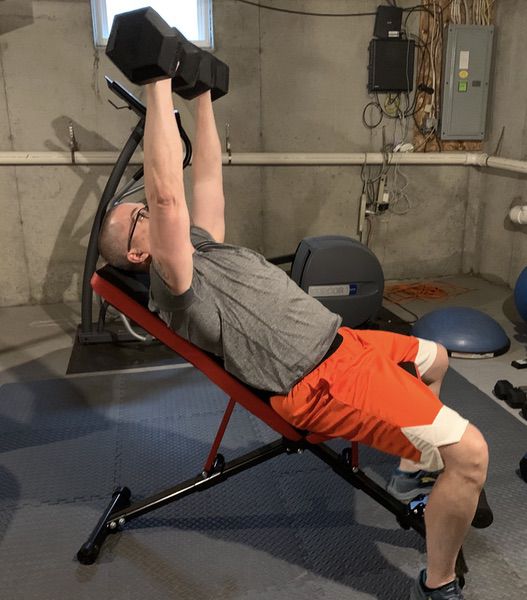 The Flybird Adjustable Weight Bench is proportioned for up to 6'2″ humans. I'm 5'10" for reference, and have no issues with comfort or concerns about stability after using it 3-4 times a week during my test period.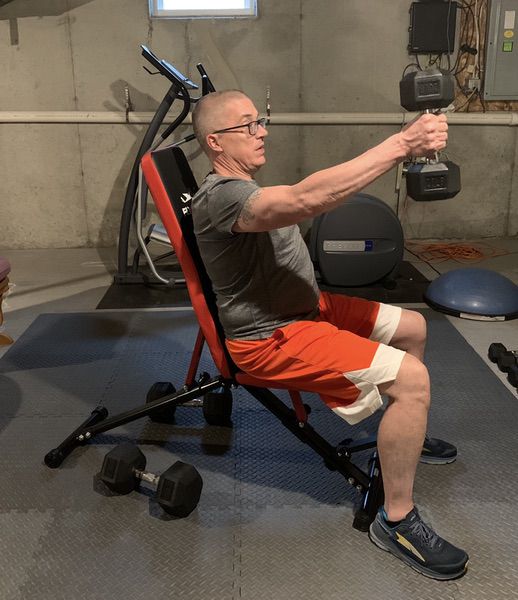 The bench seat adjustment is particularly nice. I always feel like I'm gonna slide off if the seat is flat and I'm working at higher angles. The 9 degree adjustment in the bench gives you *just* enough angle to feel stable.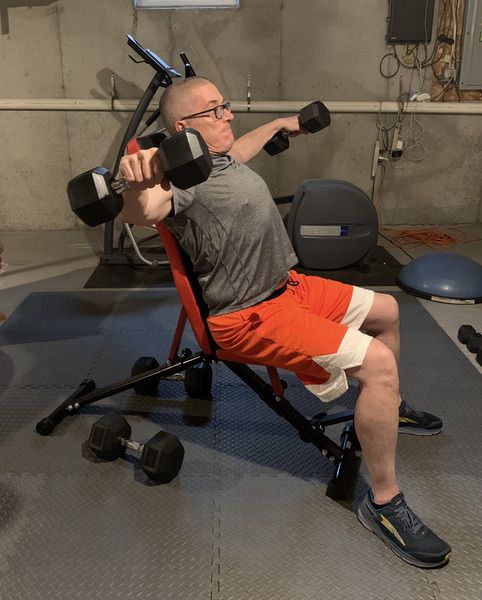 The pad itself is also well-designed with a tight-fitting cover, giving you plenty of cushion for comfort without a lot of give that would make you feel like you're bouncing around.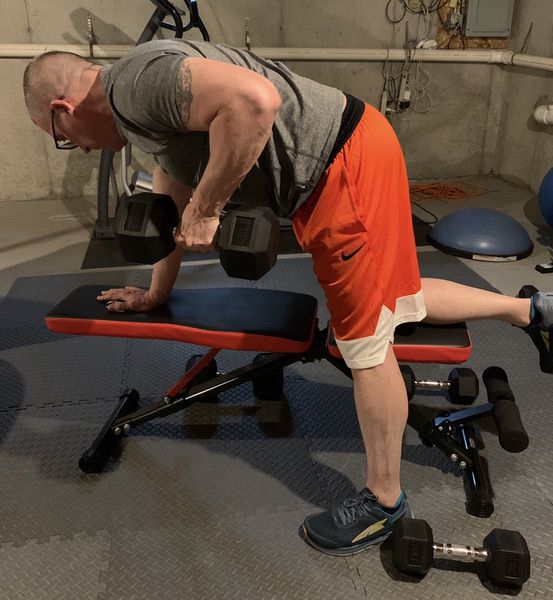 If there's one negative point about this Flybird Adjustable Weight Bench for me, it's the leg stabilizer/foot pad. The bar on that pad is short and narrow, which makes it rather ineffective if you're trying to keep yourself from sliding off the bench while doing decline work. I find that I have to get my lower legs at an awkward angle to get them locked in there.
What I like
Well built, solid assembly
Easy to adjust with multiple back and seat angles
Collapsible for easy storage
What needs to be improved
Leg stabilizer/foot pad is short and narrow; I don't find it particularly useful
Final thoughts
I'm really enjoying the Flybird Adjustable Weight Bench. The adjustable nature of the bench gives me the flexibility to lift heavy things at all angles, while the solid build feels stable and secure. I suspect that heavy lifters will want more (a bigger bench, a barbell rack, etc.). But if you're a home workout enthusiast who wants a solid, versatile bench for regular weight training I think you'll be happy with this one. You'll REALLY love it if you're in a tight space like an apartment or home office. The ability to fold and stash the bench is a great bonus feature.
Price: $219.00
Where to buy: Flybird Fitness Web Site and Amazon
Source: The sample of this product was provided by Flybird Fitness.