We use affiliate links. If you buy something through the links on this page, we may earn a commission at no cost to you. Learn more.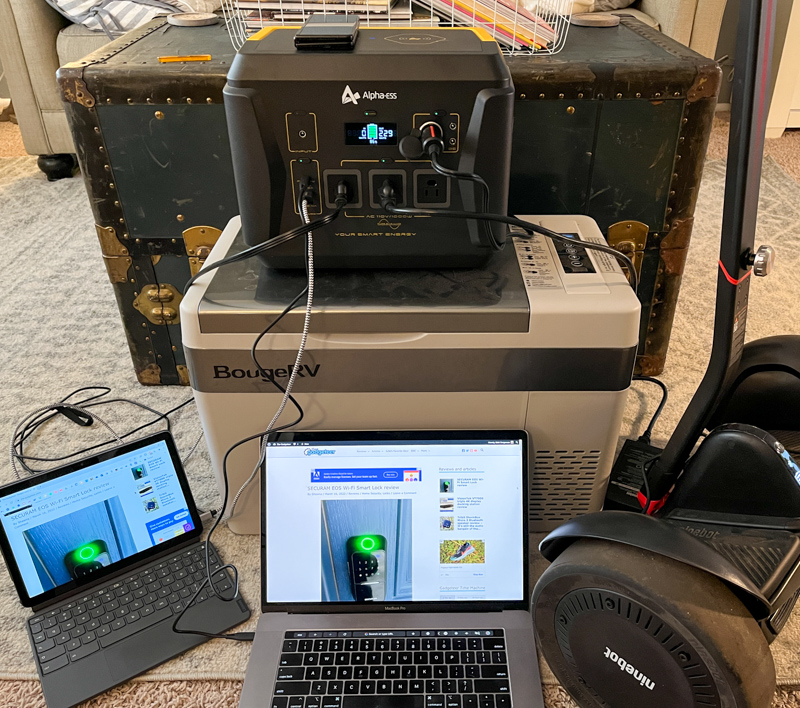 REVIEW – The world of power stations is one of choices: How many devices do you need to charge? How many watts will they pull? How long do you need them to run? If your answer to these was "quite a few", "up to 1000 watts", and "1 hour to multiple days depending on the load", then the AlphaESS Portable Power Station AP1000 might be perfect for you!
What is it?
The AlphaESS Portable Power Station AP1000 is a large battery, capable of powering quite a few devices through regular AC 120 Volt outlets as well as USB-A and USB-C, wireless charging, and DC output options (including a car DC plug, referred to by millennials and older generations as a cigarette lighter plug).
What's in the box?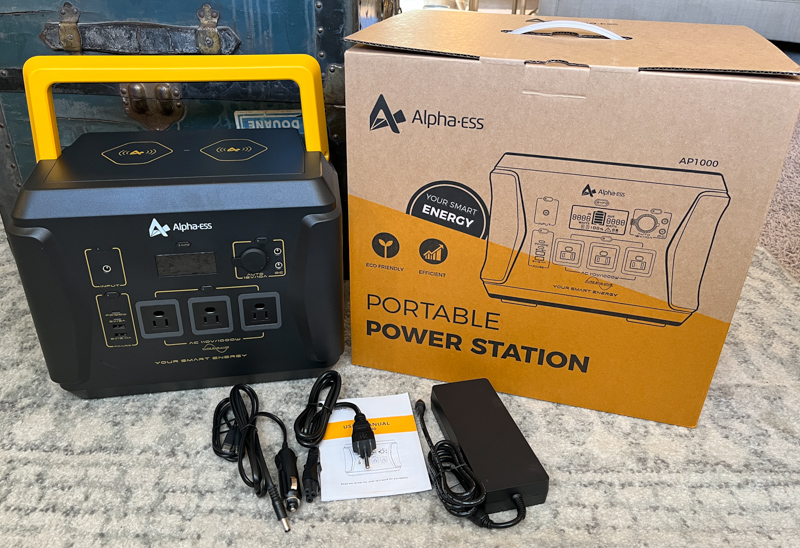 The AlphaESS Portable Power Station AP1000 itself
180 Watt AC charger
DC charger (for charging from a car or DC source)
USB C-C power delivery cable
Manual
Hardware specs
Wattage: 1036 watt hours (288Ah, 3.6V)
Battery chemistry: Lithium-ion
Lifecycles: ≥1000 cycles to 80%
Dimensions: 13.5 x 10 x 10.5 inches
Weight: 25 pounds / 11.35 kg
Voltage (AC): 110 Volts
Frequency: 60 Hz
DC Input (1): DC5525 Port, 12-24V, 180W(MAX)
AC Output (3): 110V, 50Hz/60Hz, 1000W (2000W Peak)
DC Output (3): 1*Car output: 12V⎓10A(Max); 2*5.5mm*2.5mm DC outputs: 12V⎓10A(Max)
USB-A Output (2): 5V/2.4A (each)
USB-C Output/Input (1): PD 100W(5V⎓3A, 9V⎓3A,12V⎓3A,15V⎓3A, 20V⎓5A)
USB-C Output (1): 5V/3A (non-PD)
Wireless Charging (2): 10W each
Operating Temperature: 32°F-104°F / 0°C-40°C
Design and features
The AlphaESS Portable Power Station AP1000 is pretty typical for this class of product with a variety of inputs and outputs all on the front of the device, wireless charging and a handle on the top, and an LCD info screen on the front.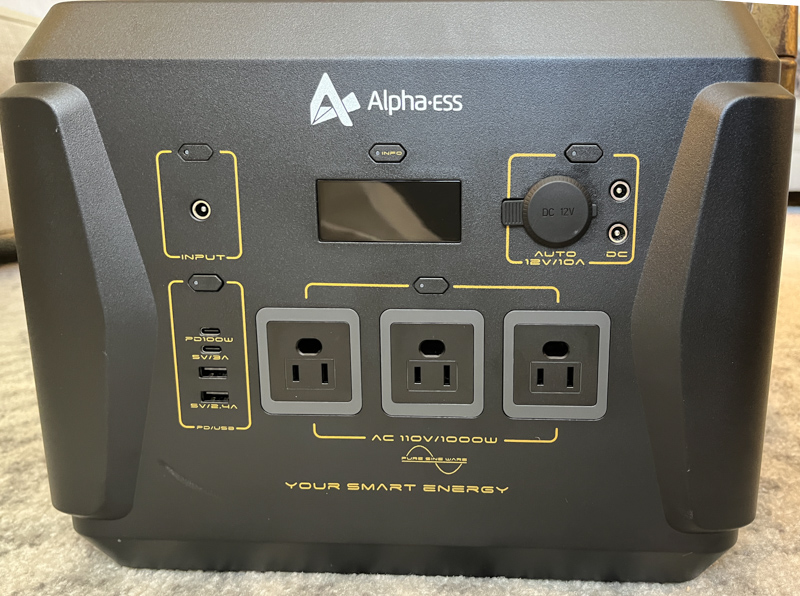 Accessories include both a DC and AC charging cable and a USB-C to C power delivery cable (for laptops and similar devices).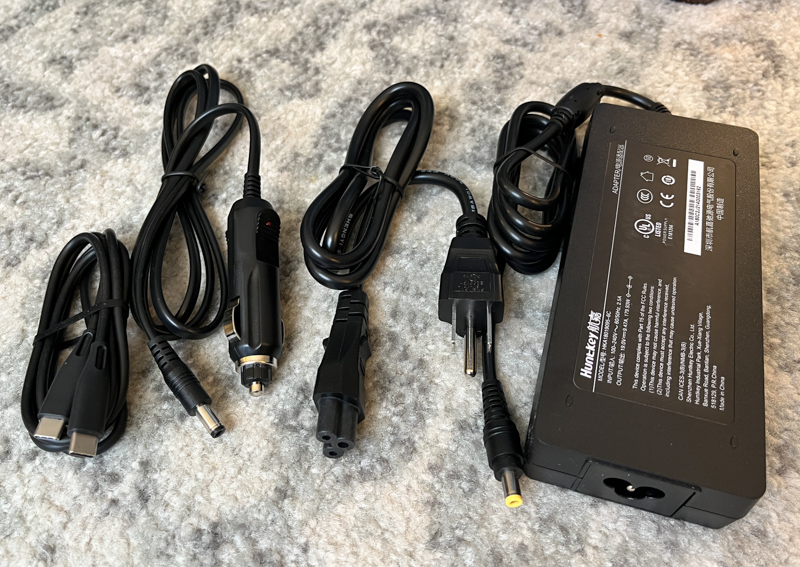 The two wireless charging pads on top can pump out a decent 10 watts each, but figuring out how to turn them on required a thorough manual read, there are no markings or hints on the device itself to help you figure it out (it requires a double press on the Info button)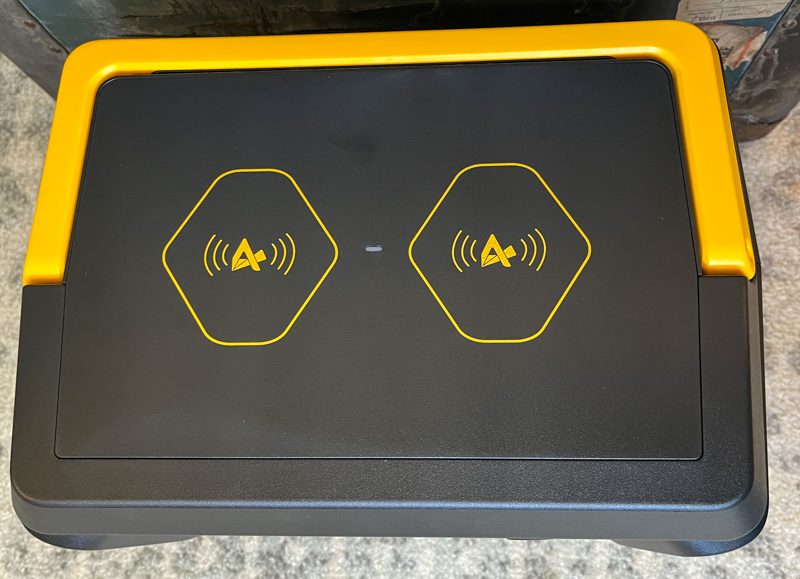 The bottom sports some hefty rubber feet, which keep the device nice and stable on hard surfaces.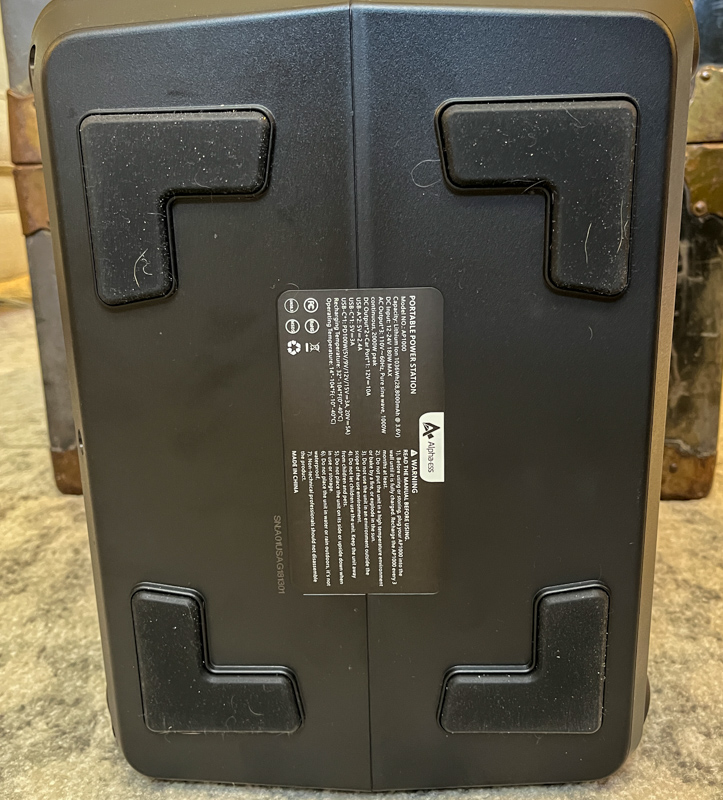 On the back of the device is an emergency light, which has 3 levels of brightness (very bright at the highest setting) as well as an SOS setting (which seems like it would blink SOS in morse code for days).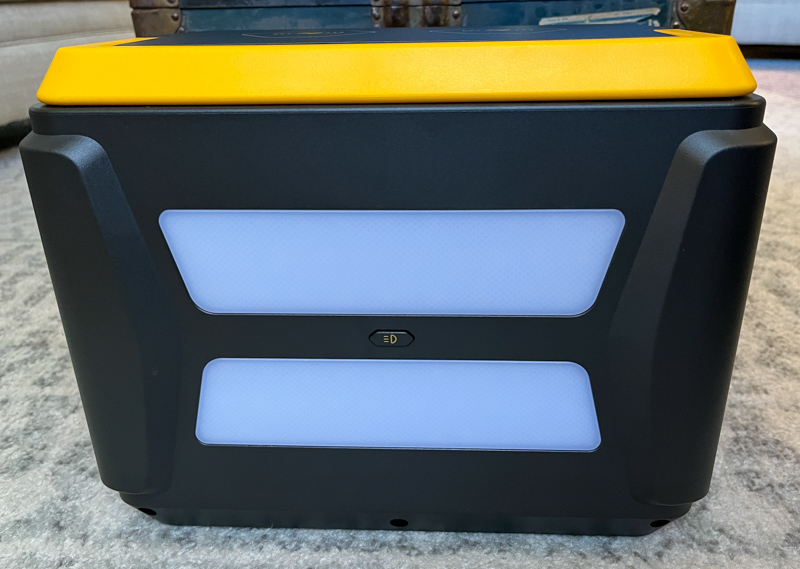 The info screen itself is easily readable and can be toggled on and off with a simple press of the button.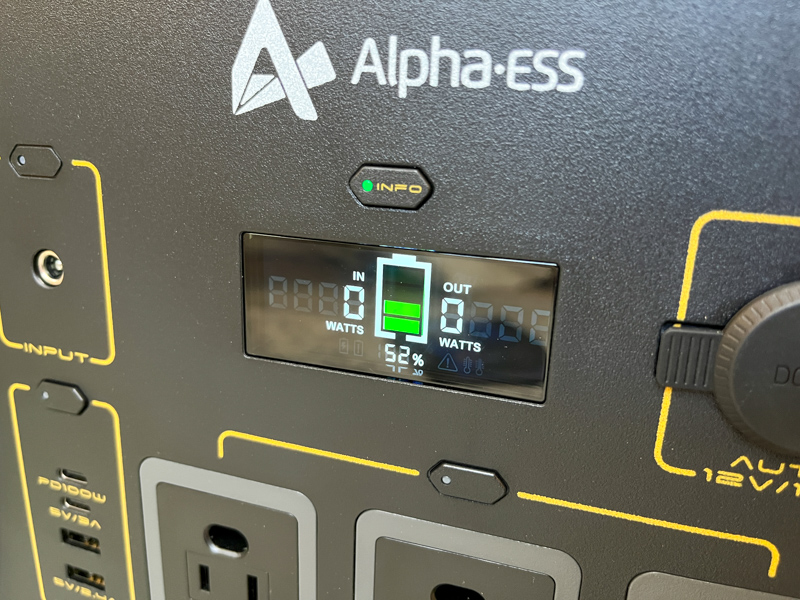 Installation and setup
Charging the AlphaESS Portable Power Station AP1000 is as easy as plugging it in, but with the option to charge via DC as well as with the included AC adaptor. I'll start with the slowest charge option and work to the fastest: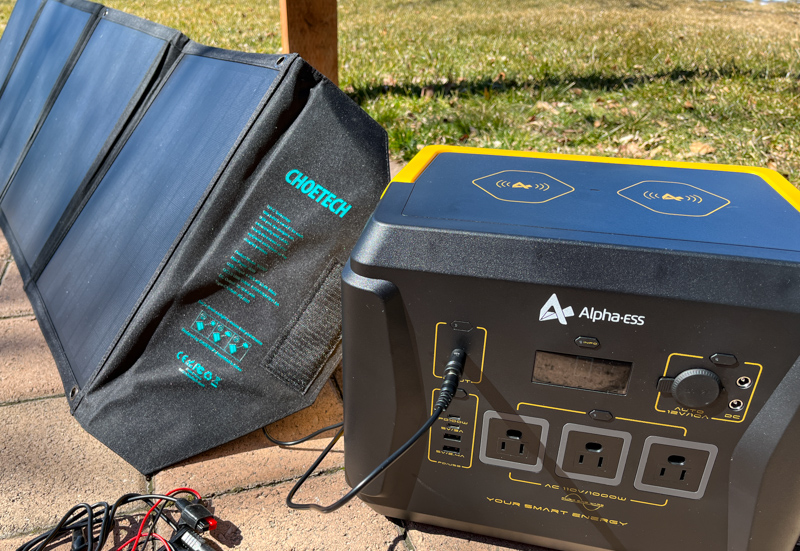 Solar (at least the solar panels I have) was the slowest charging option. I was only getting 20-40 watts out of the Choetech Portable Solar Panels that I reviewed previously, but this was due to the limited spring sunlight in Utah during the test period.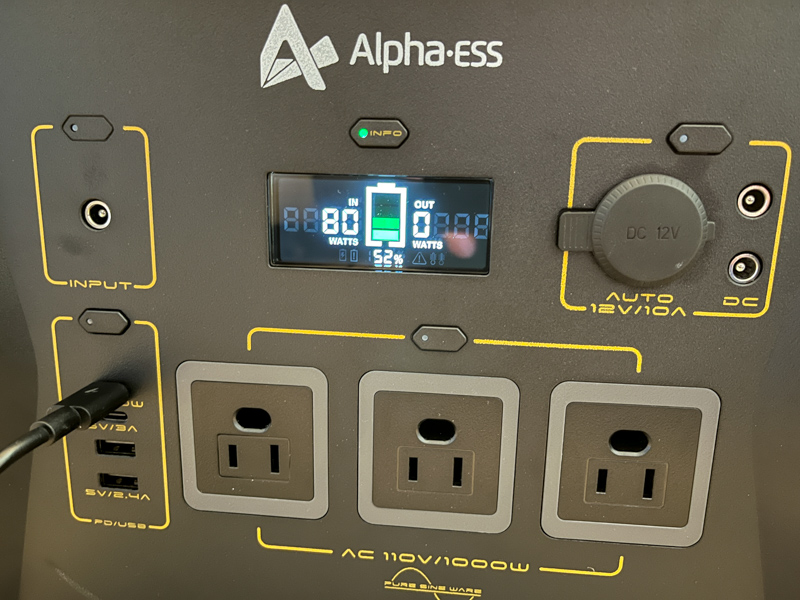 Next up is USB-C power delivery charging. My 80 watt-rated PD charger read at exactly 80 watts input on the AlphaESS.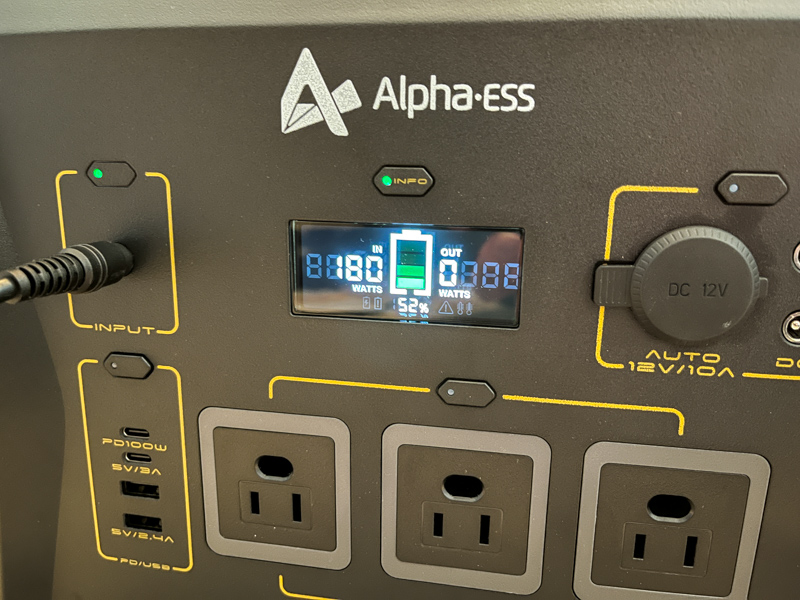 The included AC power brick pumps out a nice 180 watts, which would charge this entire battery in just over 5 hours (according to my back-of-napkin math).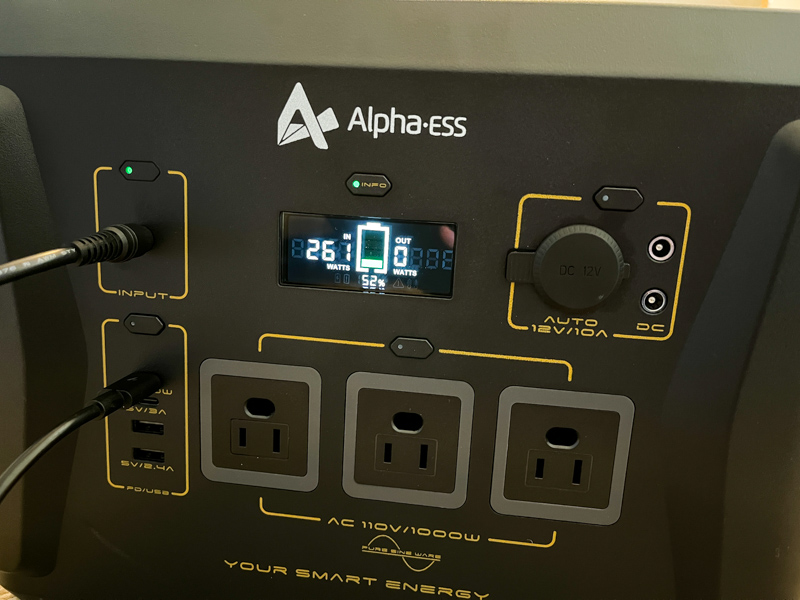 But if you're really wanting the fastest charge, simply combine the included AC input and add a USB-C power delivery input as well, which can charge this battery at a very nice 260 watts which would cut the charge time down to just over 4 hours.
One final note here is that the handle makes for an easy way to transport this 25 pound battery. I wouldn't mind carrying it from a car to a campsite, and it was easy to move from room to room (unlike some larger units I've tested in the past). I wouldn't want to go hiking with it though.
Performance
The AlphaESS Portable Power Station AP1000 lived up to all of the rated specifications and I didn't have any issues during testing. I started by testing load with a space heater that likes to hit peak voltages near 2000 watts when started and then pulls 1000 watts continuously when on High.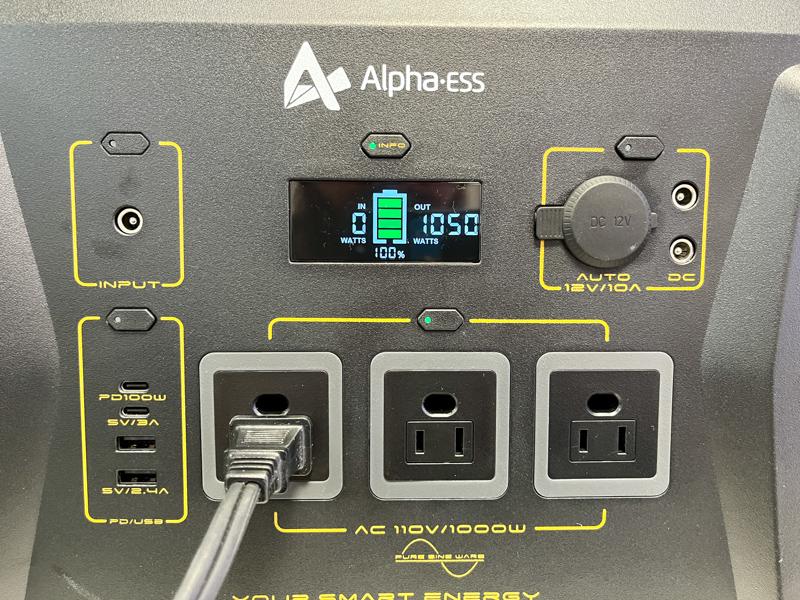 As you can see above, the Alpha ESS did just fine under a few watts over its rated load and didn't shut down with the peak wattage hitting it when the heater kicks in. This has been a problem with other batteries that I've tested, so I'm glad they're not claiming higher wattages than they can handle here. The battery capacity of ~1000 watt hours makes estimating the runtime quite easy: a 1000 watt device will drain the battery in about an hour (in my testing it shut off at 54 minutes). If you're using something like the BougeRV portable refrigerator/freezer that I have from a previous review, it could last days (on freezer mode it was drawing 40 watts only when the compressor kicked on, which was ~15 minutes per hour at ambient room temperature, which roughly means up to 4 days on this battery).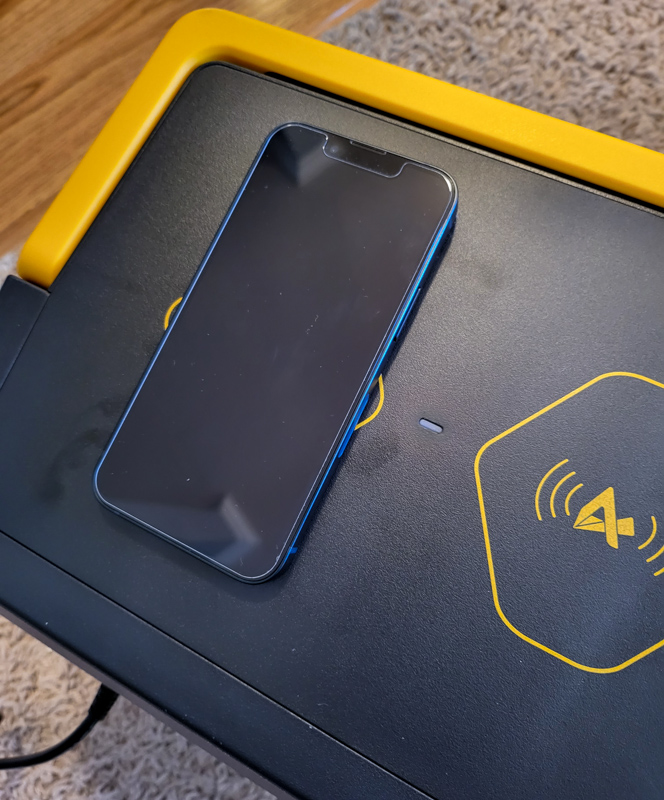 I tested every output and input port, and all worked as expected. In one test I was charging two laptops, a tablet, two phones, the portable freezer/refrigerator, and the Segway scooter that I reviewed last year.
The one area where this unit wasn't as good as my previously reviewed Bluetti AC200P power station was long term storage. This is due to the battery chemistry, lithium-ion batteries simply lose more charge over time than LiFePo4-based battery cells. While the Bluetti would take weeks to drop single percentage points, this Alpha-ESS unit was dropping 1-2% per day over the review period when not in use. This isn't a big deal, but if you store it long term you'll want to set yourself a reminder every few months to recharge it.
I also tried to insert this power station into my electronics closet (for battery backup in case of brief power outages to keep the internet up), but it has an auto-shutoff when the power draw is low or none, and this kicked in and shut everything down a day into my experiment (the internet router was drawing only a few watts at times, and this resulted in the AlphaESS unit shutting down to conserve battery, even though it was also plugged into the wall outlet for charging. I wish AlphaESS had disabled the auto-shutoff if plugged in. On this theme, I could see this being a major annoyance if you were trying to set up a solar/battery combo for power for an RV/cabin/tiny-home. The unit will always accept the power from the solar input without intervention, but if there are moments where no power is drawn from the unit for too long then it will shut itself off.
What I like
Good amount of power while still small enough to carry fairly easily
Healthy output port selection
Wireless charging and USB-C PD outputs
What I'd change
ETA-to-dead on the info screen
Disable auto-shutoff on outputs when being charged
Final thoughts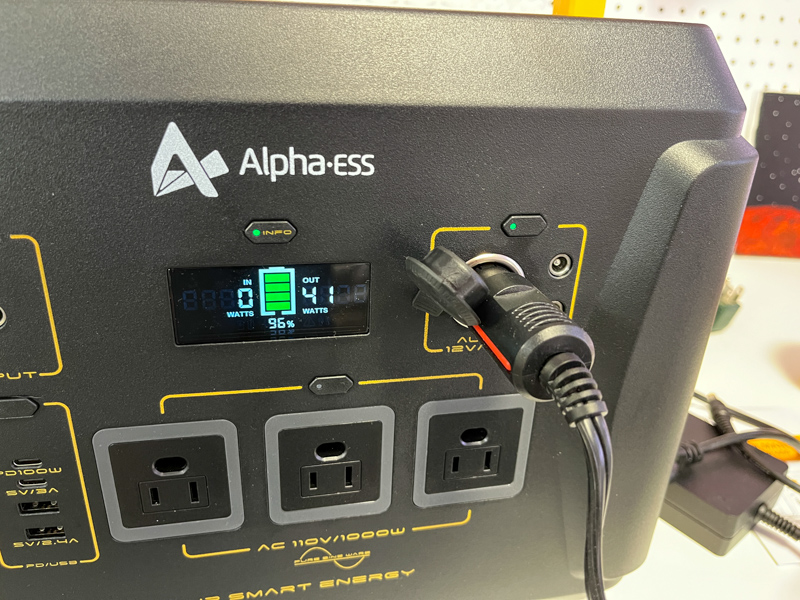 There are tons of options these days for portable "battery generators". The AlphaESS Portable Power Station AP1000 would be a good pick as long as you need portability or multiple outputs with at least 1000 watt-hours of battery and/or 1000 watts sustained load. This unit seems well built, and I didn't have any issues during the review period, though time will tell for reliability and battery longevity.
Price: $899.00 ($-100 coupon clip on Amazon at time of review)
Where to buy: Amazon
Use 20% off code ALPHAESS (code is valid ifrom 04/19/2022 11:59PM PDT to 04/27/2022 11:59PM PDT)
Amazon's $100 clip coupon will expire in 24 hours.
Source: The sample for this review was provided by AlphaESS