We use affiliate links. If you buy something through the links on this page, we may earn a commission at no cost to you. Learn more.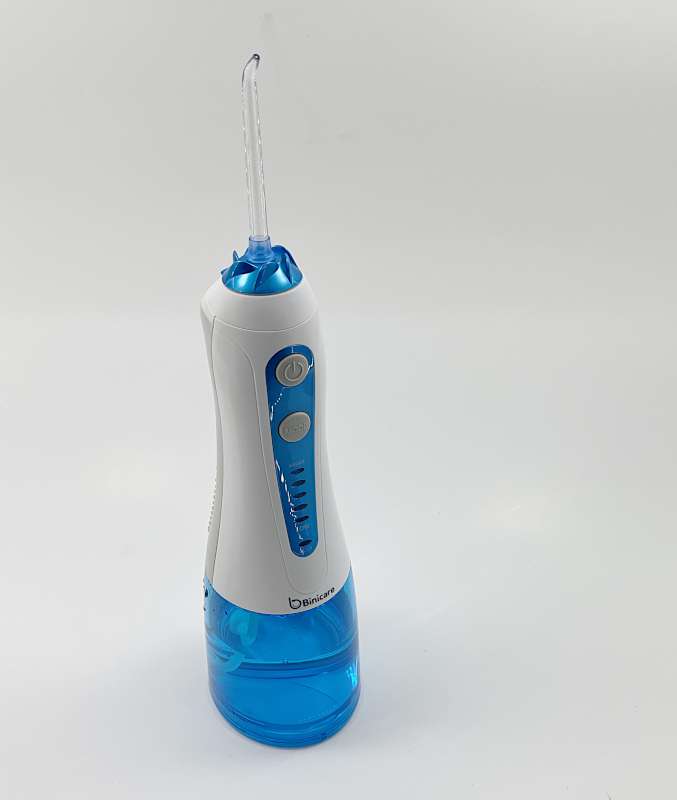 REVIEW – Quick!  Name one thing that you really should do more often but don't really want to!  For me, the answer to that question is, "Floss my teeth."  I know it's healthy, but I just don't like to do it, and my oral hygienist is forever having to remind me to floss every day.  I'm hoping that the Binicare's Water Flosser will make this task a little bit easier.
What is it?
Binicare's Water Flosser is a battery-powered "oral irrigator" that comes with four different types of tips and five speeds.  It has a detachable reservoir and a rechargeable battery.  Binicare is an oral-care start-up whose motto is "smile with confidence."
What's in the box?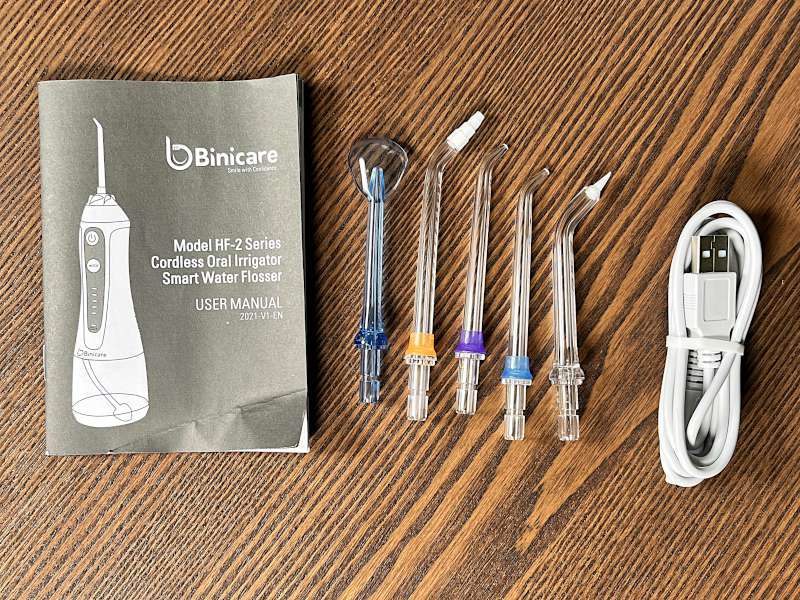 Water flosser with reservoir
Five tips
USB charging cable
User manual (with 4 pages of English instruction)
Hardware specs
Reservoir: 10 fluid ounces
Rating: IPX7 (works even when submerged)
Battery: 2500mAh lithium (rechargeable)
Pressure: From 30 to 130 PSI
Size: 12 x 3.5 x 3 inches
Colors: White, blue, or purple
Design and features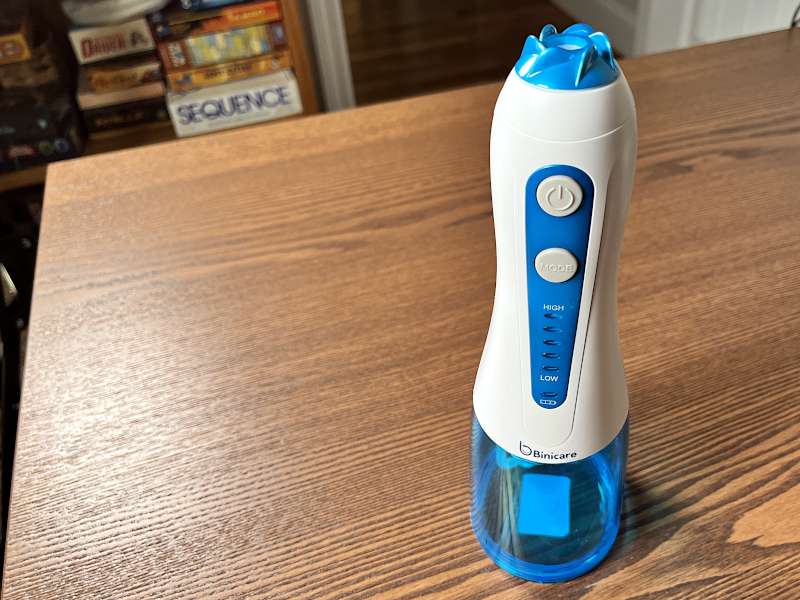 Binicare's Water Flosser has a design that is very typical of this type of gadget.  The base is a water reservoir; the mid-section is the motor and the controls; and the top is the jet from which the water squirts out.  Holding the flosser is somewhat awkward, as the entire thing is rather large, especially when compared to a toothbrush.  Binicare has tapered the middle section and added some bumps on the back that make it easier to hold steady.
Installation and setup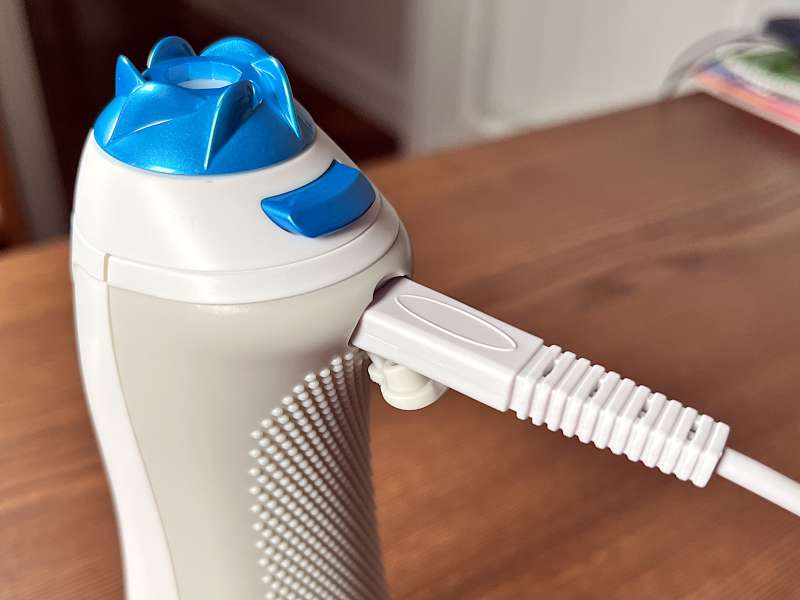 Once I removed everything from the box, the first thing I did was skim through the manual.  The font is eye-blinding small, but it's well written and easy to understand.  The second thing I did was charge the flosser.  I plugged one end of the supplied charging cable into the charging port of the flosser and the (antiquated) USB-A end into the back of my trusty Soundcore Wakey.  Binicare did not include a charging cube.  The blue battery LED began flashing to let me know that it was charging, and when it was done, the LED turned solid blue.  The manual estimates that it will take 3-5 hours to charge, and my charging times fit within that range.
After charging, I pressed the button to detach the reservoir, so I could wash it.  While I'm glad that Binicare included a hole on top where I can wash it, it's really small.  I can't get a wash cloth in there.  The reservoir is not dishwasher safe, so the best I could do was put in some soap and swish it around with hot water.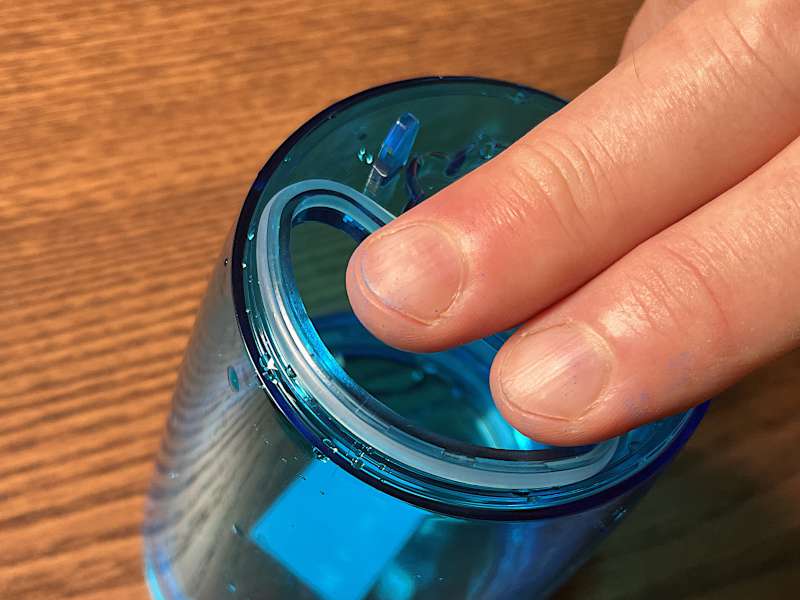 When I touched the rim of this hole, blue dye came off my finger, which is really worrisome.  If I'm unable to perfectly clean this, I have no idea what kind of harmful chemicals I might be squirting into my mouth when I use the flosser.  Binicare needs to do a significantly better job cleaning their reservoirs before they ship.  Additionally, I would like to see them redesign them such that the entire bottom comes off, so that I can properly wash them, and they need to make them dishwasher safe.  These would give me confidence that they can be properly cleaned.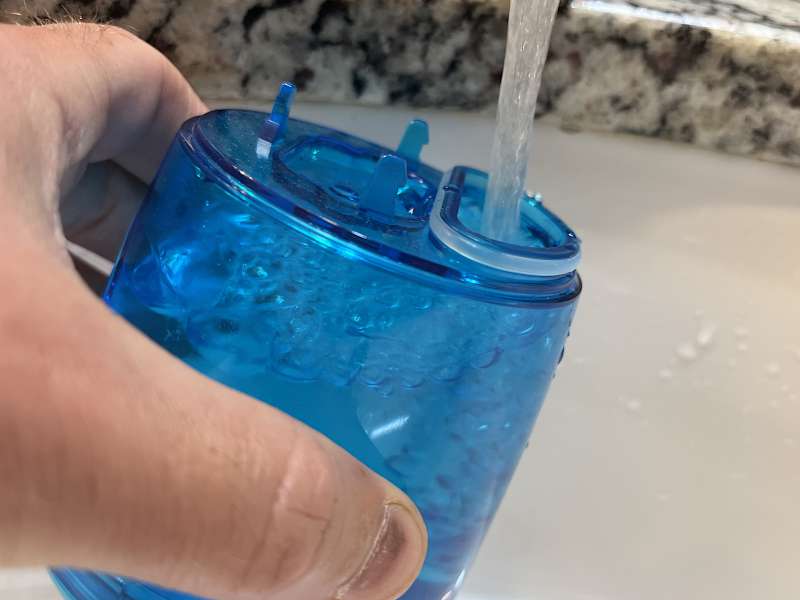 There are two different ways to add water.  One, there's a small hole in front, which I use if the reservoir is already attached.  Two, the larger hole on top is what I use then it's not attached.  As I always leave the reservoir off to dry, I always use this second way to add the water.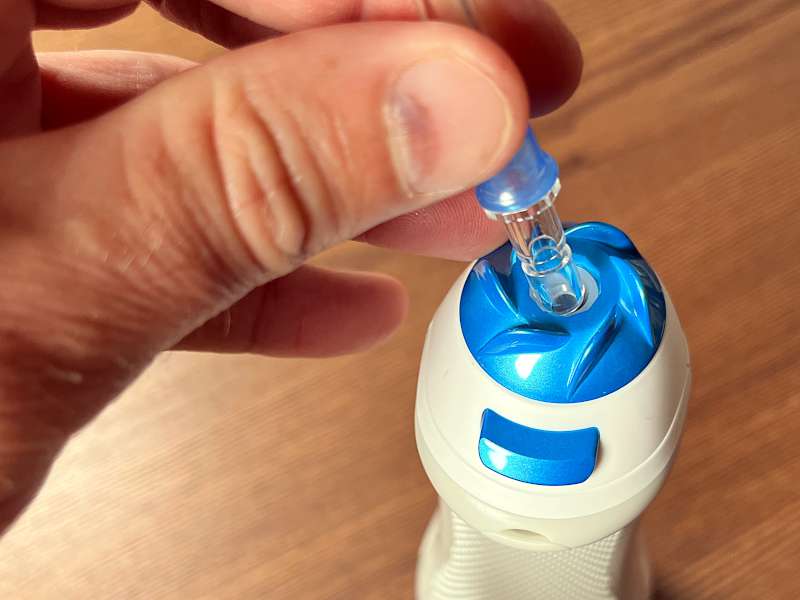 Adding a tip is super easy.  All I had to do was select and press it firmly into the hole on the top of the flosser until it clicked.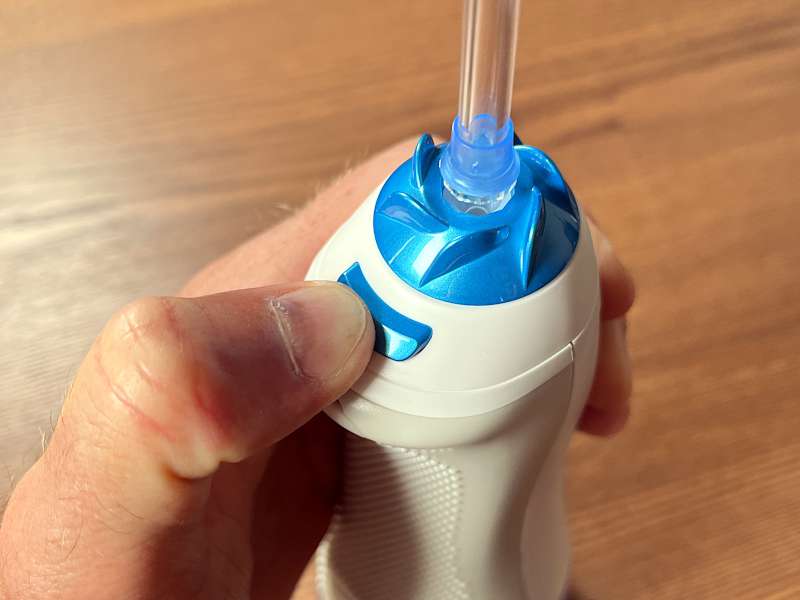 To remove a tip, all I have to do is press the blue button.  Once a tip is inserted, it can be rotated in any direction.  This is handy, because I tend to change orientations depending upon whether I'm cleaning the front or the back of my teeth.
Performance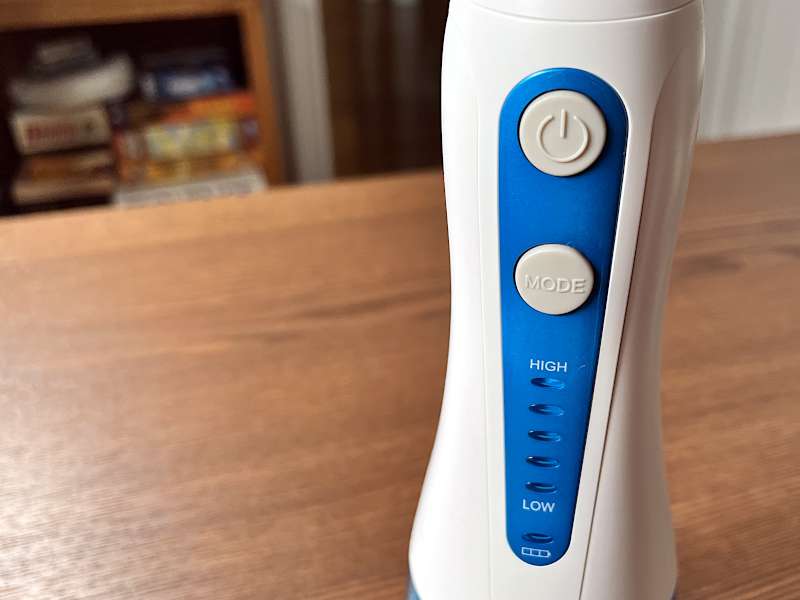 The flosser is pretty easy to use.  First, I select a charging mode.   Second, I put it in my mouth near my teeth.  Third, I press the power button.  Water begins squirting out of the tip!  While it's easy to use, I found it a bit challenging to avoid making a mess.  I'm trying to concentrate on cleaning while my mouth is slowly filling up with water.  When I'm ready to spit, I have to remember to turn off the flosser before removing it from my mouth, else I'll shoot water all over the bathroom.  And I have done that!  It just takes a little practice.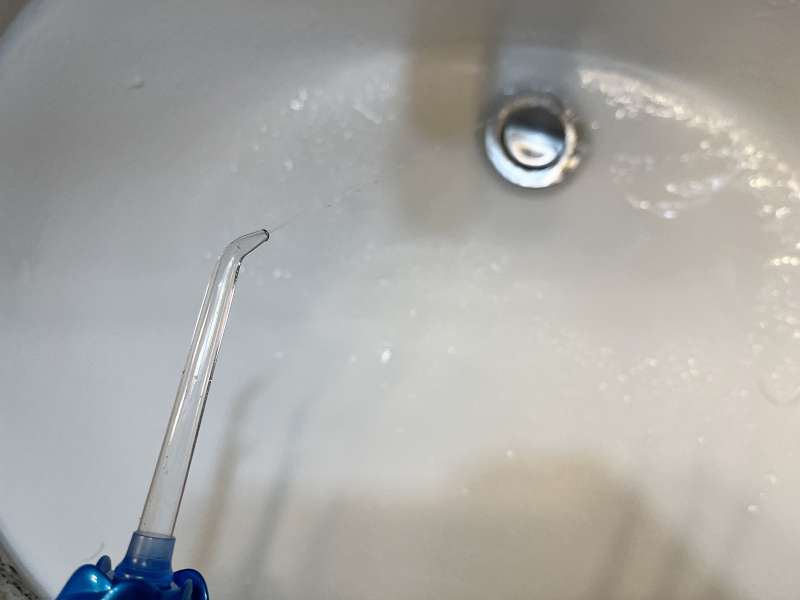 Binicare's flosser has five different "speeds," or levels of pressure at which the water comes out.  The manual recommends starting at the lowest setting and working your way up.  I should have followed this; instead, I started at the middle level, which was painful.  The lowest level is the only one I use, and I find the other levels to have too much pressure.
This is the first time that I've used a water flosser, and I'm happy with how well it works.  I typically use it before brushing my teeth at night, and it always manages to dislodge some food.  I most often squirt the front of my teeth, but when I've just eaten, I do the back as well.  Actually, this is when this gadget shines the most:  It's almost time for bed, and I want a snack.  I chow down, but now it's time to brush my teeth, and there's food everywhere.  The water flosser does a great job of cleaning out my mouth so that I can brush.
Although I like this flosser, I decided it would be good to have a professional opinion, so I called my dentist's office to see what they thought.  Their official position is both good news and bad.  The good news is that they approve of water flossers and encouraged me to use one.  The bad news is that water flossers are not a replacement for brushing my teeth (at least twice a day) or flossing (at least once a day).  The water flosser is not an improvement over traditional flossing, nor it is a replacement for it; it's a supplement.  While the water flosser is better than nothing, I need to keep on flossing the old-fashioned way.
Binicare's water flosser comes with four different types of tips
The standard tip just squirts water out, and this is the one that I use all the time.
The periodontal tip has a sharp edge that is useful for cleaning out food stuck in the gums.
The orthodontic tip is a bit smaller, so it's helpful for people with braces.
The tongue cleaner tip is supposed to help me, well, clean my tongue. I don't get this one at all and never use it.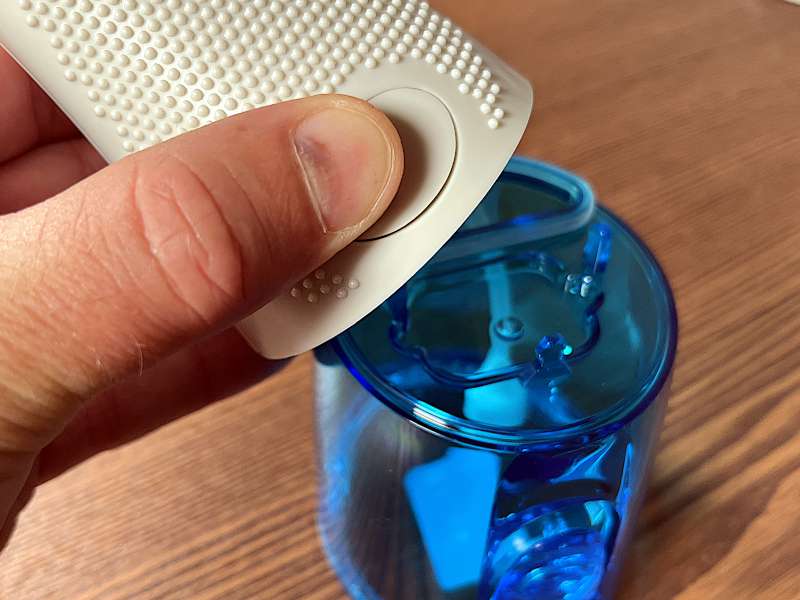 One of the concerns that I have about the water flosser is the reservoir.  Specifically, I'm concerned that over time scum will build up in there, similar to the problem I have with my Guru Nanda Halo XL Humidifier and Diffuser.  Thus, I really appreciate that the reservoir is detachable.  After using the flosser, I always detach it, shake at all the remaining water, and let it air dry.  Over the four weeks that I've been testing it, there hasn't been any problem with buildup or scum.
The manual says that one charge should last about 25 to 30 days of normal use, and I think that's about right.  I rarely need to recharge.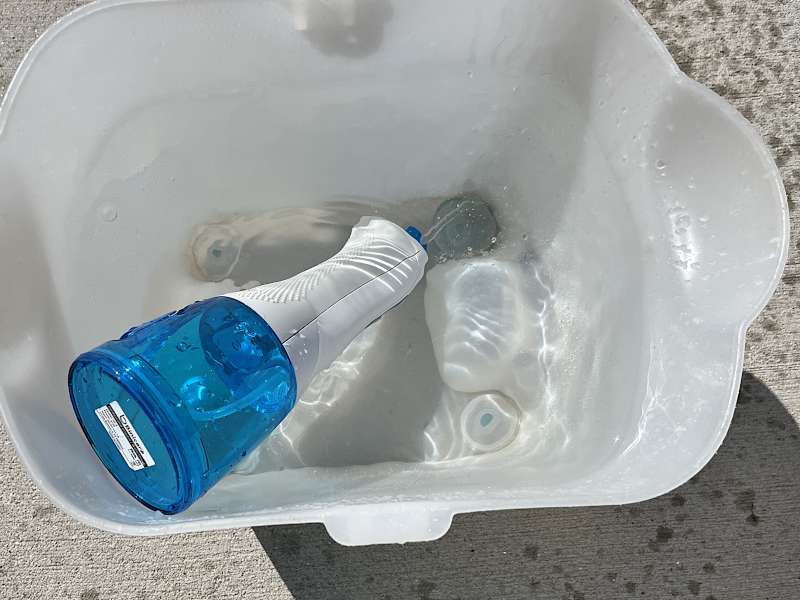 Binicare's Amazon page boldly asserts that their water flosser has an IPX7 rating, which means that it will work even when completely immersed in water.  I tested this and found that it worked just fine.  If you drop this flosser into a sink full of water, it won't be a problem.
Looking around Amazon, I see that there's a host of similar products, and Binicare's price point is pretty consistent with the others.  This includes the Phylian water flosser that Julie recently reviewed.
What I like
Plenty of pressure to clean my teeth
Detachable reservoir
Easy to control and use
What I'd change
Clean all the chemicals from the product before shipping
Make the reservoir easier to clean and dishwasher safe
Final thoughts
Binicare's Water Flosser is a handy gadget for cleaning your teeth and gums, a good supplement for dental floss and a toothbrush.  It's battery-powered, comes with five tips, and recharges with USB-A.  While at 12 inches tall, it's not a small gadget, it's still easy enough to use once you get the hang of it.  I found that it did a fine job of removing extra food from between my teeth, and the detachable reservoir is easy to fill and even easier to empty and air dry.  The only concern I have is the unknown blue chemical that stained my fingers when I touched the rim of the larger hole of the reservoir.  Binicare could make this good gadget even better if they would clean it properly before shipping and if they could make the reservoir dishwasher safe.  Despite this, I'm glad to have this water flosser sitting beside my bathroom sink, where I use it a few nights every week.  If you're looking for a little extra help keeping your teeth and gums clean, I recommend that you take a look at this gadget.
Price:  $30.59
Where to buy: Binicare and Amazon
Source: The sample for this review was provided by Biicare.