We use affiliate links. If you buy something through the links on this page, we may earn a commission at no cost to you. Learn more.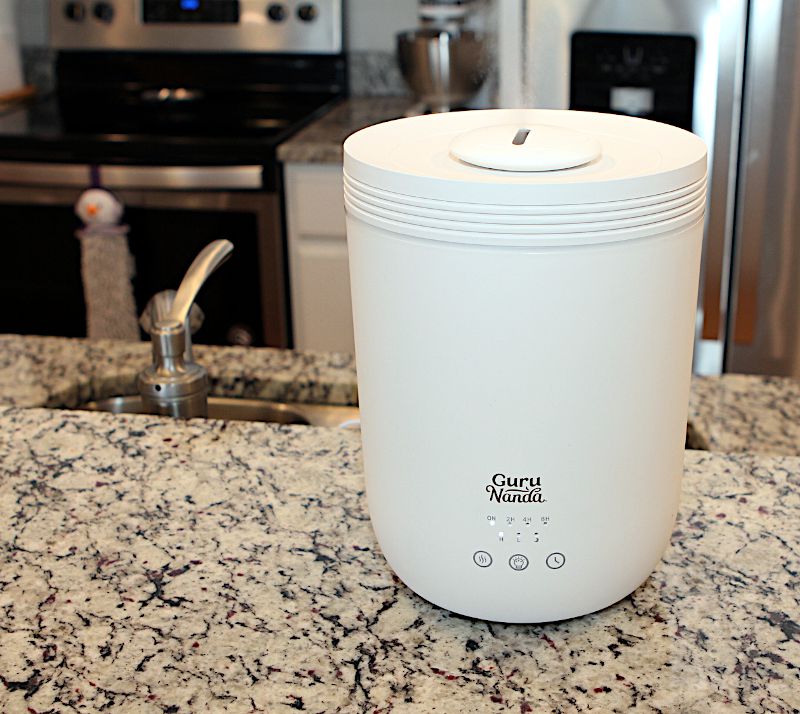 REVIEW – It's that time of year again.  It's cold at night, and the central heat is running more often than not.  This means the air in our house is very dried out, and my skin tends to get irritated.  One solution to this problem is to run a humidifier in the house, which I normally do from December to March.  For this review, I have been testing a new humidifier by Guru Nanda.
What is it?
The Halo XL is an ultrasonic humidifier that also functions as a diffuser and a nightlight.   It has a 2.2-liter capacity, allows the addition of essential oils, and can be filled from the top.  Guru Nanda was founded by Puneet Nanda as an extension of his practice of Ayurveda, an Indian healing art.  The company, headquartered in California, is committed to delivering pure and natural essential oils.
What's in the box?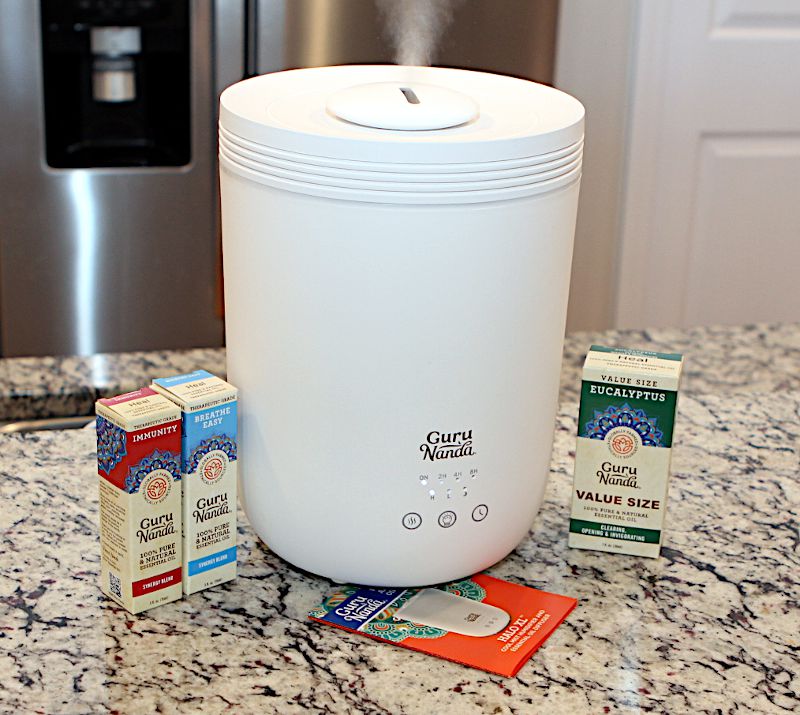 The humidifier
Three bottles of essential oil (immunity, breathe easy, and eucalyptus)
A user guide with 12 pages of English instruction
Hardware specs
Capacity:  2.2 liters
Speeds:  high, low, and off
Light:  high, low, and off
Timer:  2, 4, or 8 hours
Dimensions:  10 x 7.5 x 7.5 inches
Design and features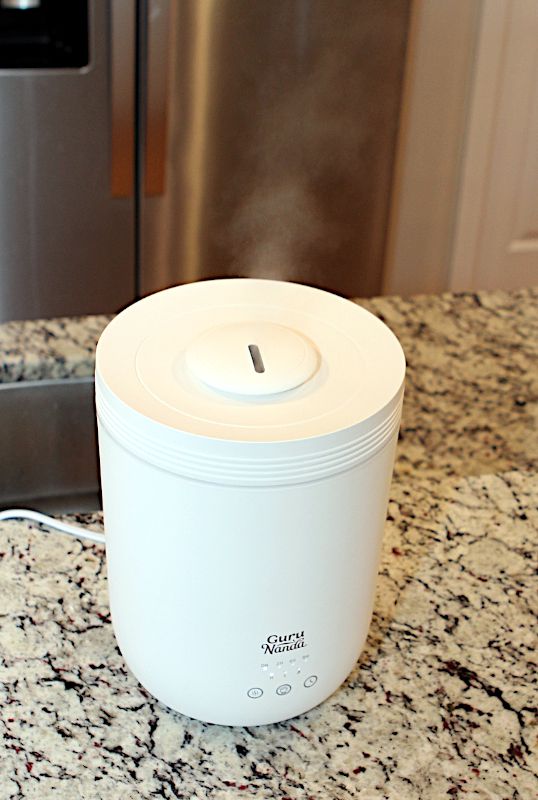 The Halo XL is a small, white cylinder and looks like a gadget that EVE would own.  There are a set of grooves around the top edge, and the sides gracefully taper down to the bottom.  The mist escapes from a slot on the top, and there is a set of capacitive touch controls on the front.  It's an aesthetically pleasing design, one that would look nice in any room in my house.
Installation and setup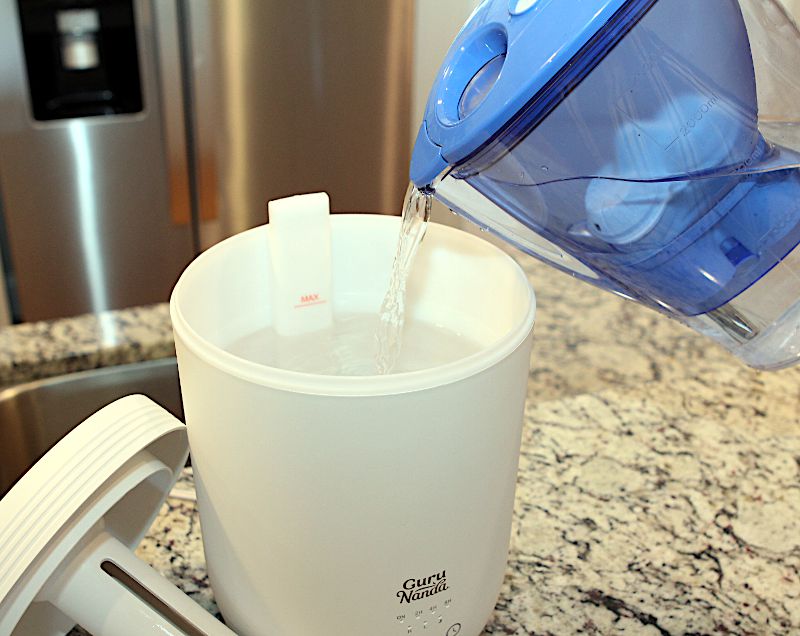 Setup was simple.  I removed the humidifier from its packaging, slipped the top off, rinsed it out, and set it on the counter.  I keep a pitcher full of filtered water handy, so I poured that into the humidifier, making sure that I kept it just below the max fill line.  I put the top back on and then pressed the mist button.  The mist began jetting out of the top.
Performance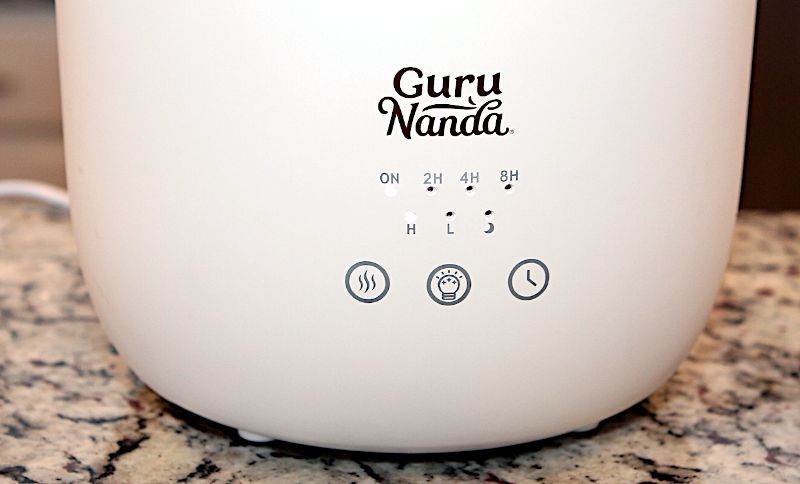 There are three buttons that control the functionality of this gadget.  The first button is the mist button, which sets whether the humidifier on high, low, or off.  The Halo XL is an excellent humidifier.  The fine particles of mist come out nearly vertically from the mist outlet on top; on high, it shoots up 27 inches and on low around 20 inches.  The angle is not adjustable.  I found that running it non-stop on low was more than sufficient to keep my house comfortably humid.  Some humidifiers have problems with condensation or splashing, but I did not experience any problems with the Halo XL.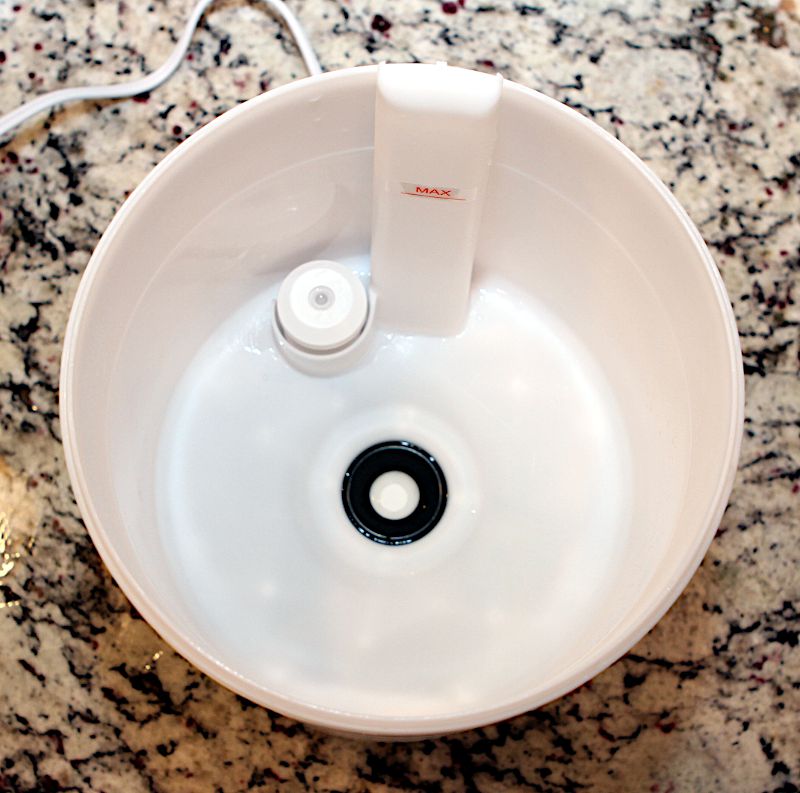 The container only holds 2.2 liters of water, which is rather small compared to some other humidifiers.  On low, it runs for just over 24 hours before running out; this means that I have to re-fill it at least once a day.  As I'm using filtered water, I usually re-fill it twice a day, once in the morning and once in the evening.  Perhaps the most convenient thing about this humidifier is that it can be filled by pouring water in the top.  The previous humidifiers that I've used required me to pick up the container, take it to the sink, turn it upside down, unscrew a cap, and then pour the water in.  The Halo is so much more convenient.
After running for several days, I began to notice that mold or mildew or something was beginning to form inside the humidifier.  The "open top" design makes it easy to clean nearly all of the inside of the container, but there are a few places that are hard to clean, like the nooks and crannies around the water sensor and inside the air pump duct.  As a side note, the circular piece on top of the humidifier pops off, allowing some access to the air pump duct, make it easier to clean.  The manual gives basic maintenance instructions, but it doesn't cover how to clean these hard-to-reach places, a glaring omission.  I used Guru Nanda's contact page and asked them what to do, and they replied with these very helpful instructions:
Add water to the diffuser up to the max line.
Pour 15 drops of white vinegar and leave it for 10 minutes.
Turn the diffuser on and let it mist for 5 minutes.
Turn off the diffuser and throw away the water.
Wipe it with a clean dry cloth and cotton swab to reach tight areas.
You can also air dry it for at least an hour.
I am very pleased with their response, though I recommend doing this outside rather than inside, as the stench of vinegar is likely to be strong and unpleasant.
The Halo XL is reasonably quiet, though not perfectly so.  I can faintly hear it throughout the kitchen and living room.  It's not, however, so loud that it's distracting in any way.  It's a cool mist humidifier and doesn't have a warm mist capability.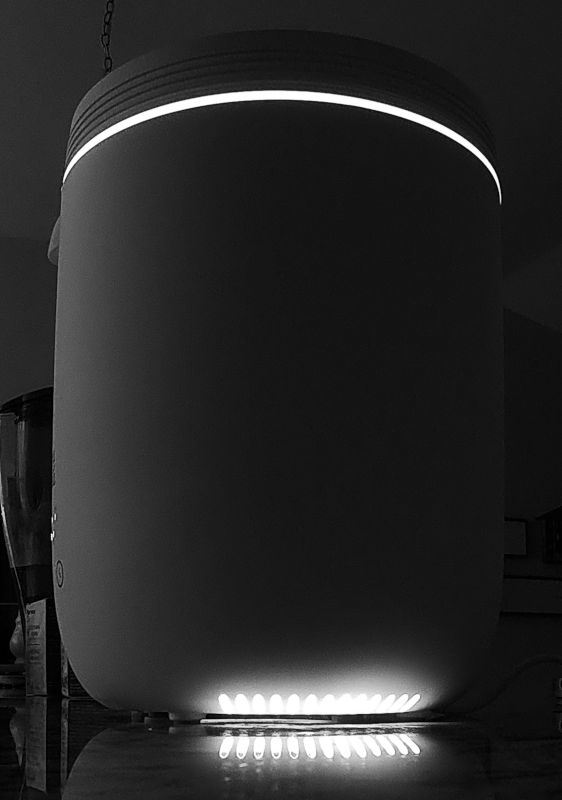 The second button is the light button, which sets whether the nightlight is on high, low, or off.  A ring of light gently glows around the top of the container and more light emits from vents on either side at the base.  It's a very soft light, even on the higher setting, and perfectly suited for a nightlight.  It fits in well with the rest of the Halo XL's aesthetically pleasing design.  As it sits on the bar in my kitchen, I don't really need this feature, but I think it would be handy if the humidifier were used in a child's room.
The third button is the timer button, which sets an automatic timer that turns off the humidifier after two, four, or eight hours.  I run the Halo XL non-stop, so this feature isn't really important to me, but I tested it, and it works.  I think it would be very helpful in an apartment or a smaller house where I wouldn't need for it to run all day.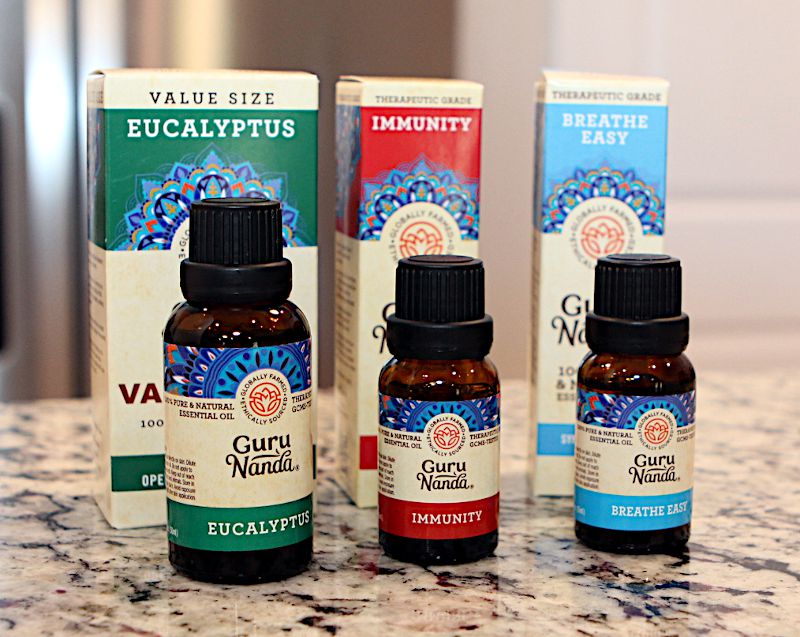 The primary focus of Guru Nanda is to sell essential oils.  Their website provides a lot of information on the types of oils they sell, where they buy from, and so on.  Given their business focus, it's not surprising that the Halo XL also functions as a diffuser.  When I slide the top over, put in a few drops of oil, and slide it back on, I instantly begin to breathe in the scent.  After a few minutes, the scent will permeate most of my house, even into the bedrooms.  Guru Nandu sells a wide variety of oils on Amazon.  The user guide recommends adding 10 to 15 drops of oil at a time, which seems about right for the three oils that Guru Nanda includes with the Halo XL.  The dosage might vary, however, with different brands of oil; I tried some from Norwex, and found them to be much stronger and thus required half as many drops.  While Guru Nanda's essential oils won't help to prevent COVID, they may have other therapeutic benefits, and the Halo XL does a nice job diffusing them.
What I like
Pleasant design
Open top for refilling
Soft night light
Effective diffuser
What I'd change
Final thoughts
The Halo XL is a combination humidifier, nightlight, and essential oil diffuser.  It's quiet, easy to refill and clean, and looks great on the bar in my kitchen.  I've been running it non-stop for three weeks, and it's done a fine job of humidifying the dry air in my house.  My favorite feature is the ease at which I can add more water.  If you're in the market for a humidifier, I recommend that you take a look at this product from Guru Nanda.  If you're a fan of essential oils, then you have a little extra motivation to consider this gadget.
Price: $99.99
Where to buy:  Guru Nanda's online store and Amazon
Source: The sample for this review was provided by Guru Nanda.