We use affiliate links. If you buy something through the links on this page, we may earn a commission at no cost to you. Learn more.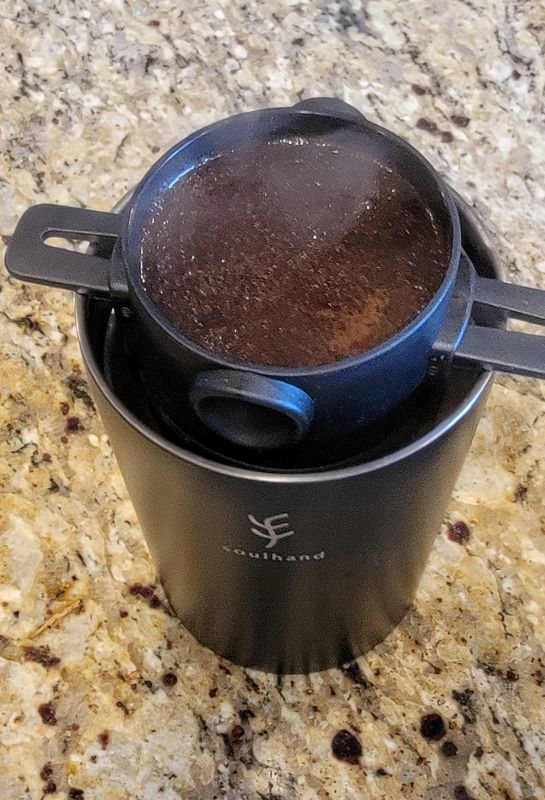 REVIEW – Life is too short for bad coffee. Hotels are not known for good coffee.  These two facts are the reason I try to travel with my own coffee gear when I'm on vacation.  I don't need fancy coffee, I just need coffee that doesn't suck, and I need it before I emerge from my room and attempt to interact with other humans.  Will The Soulhand USB Electric 5 in 1 Travel Coffee Grinder be my new "must pack" item?  You must read to find out.
What is it?
A rechargeable, battery powered, conical burr coffee grinder, with a stainless steel filter and insulated cup that you can use to make coffee with when you are traveling or camping.

What's in the box?
Coffee maker and grinder
Coffee scoop
Charging cable
Storage case
Manual
Specs:
Stainless Steel
Black
Weight: 2.02 lbs
Dimensions:  11.02 x 4.57 x 5.53 inches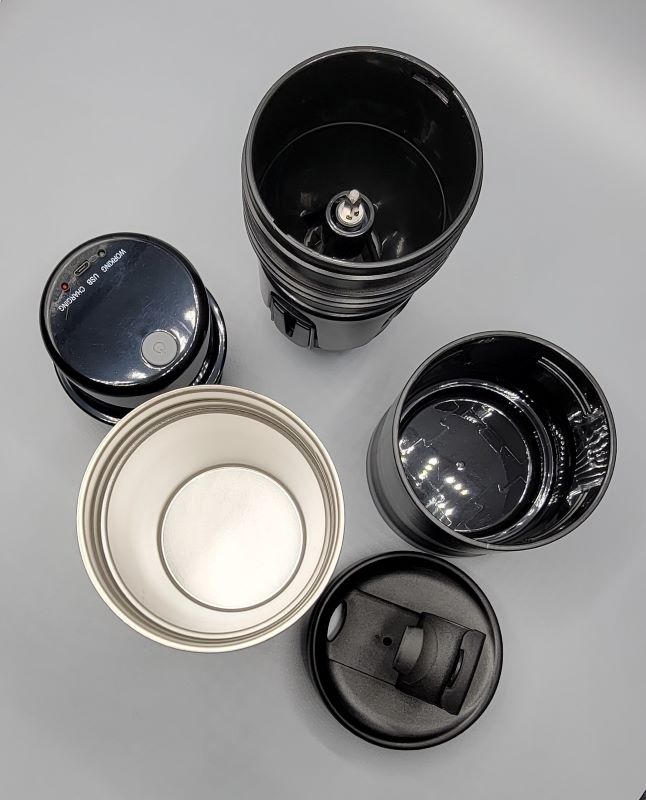 Features:
The Soulhand USB Electric 5-in-1 Travel Coffee Grinder is marketed as an all in one solution to your mobile coffeemaking needs.  It comes in a case that might be made of carbon fiber (it looks like carbon fiber but the description on the website says it is "exquisite leather," and while it is exquisite, it is not leather).  The coffee maker is a fascinating and beautifully engineered set of equipment with which to brew the perfect cup of coffee.  The set consists of six separate pieces that unscrew and slide apart from each other. It sort of reminds me of those Russian nesting dolls.
Once I unpacked the equipment I set the grinder to charge.  The 1200 mAh battery will power the grinder seven or eight times before it needs recharging, so it should take you through a morning's worth of coffee and then some.  There is also a handy "low battery" light that tells you if you need to charge.  Note that the charging cable doesn't come with a wall adapter —  you'll have to bring your own.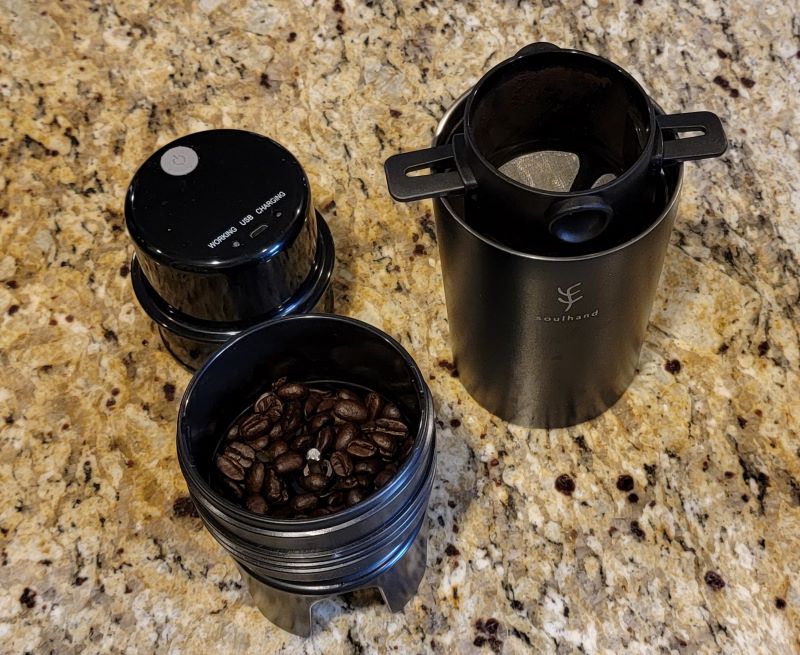 It was pretty easy to figure out how the pieces set up to create a coffee grinder, a pour-over filter, a travel coffee cup and a second cup in case you have a friend with you.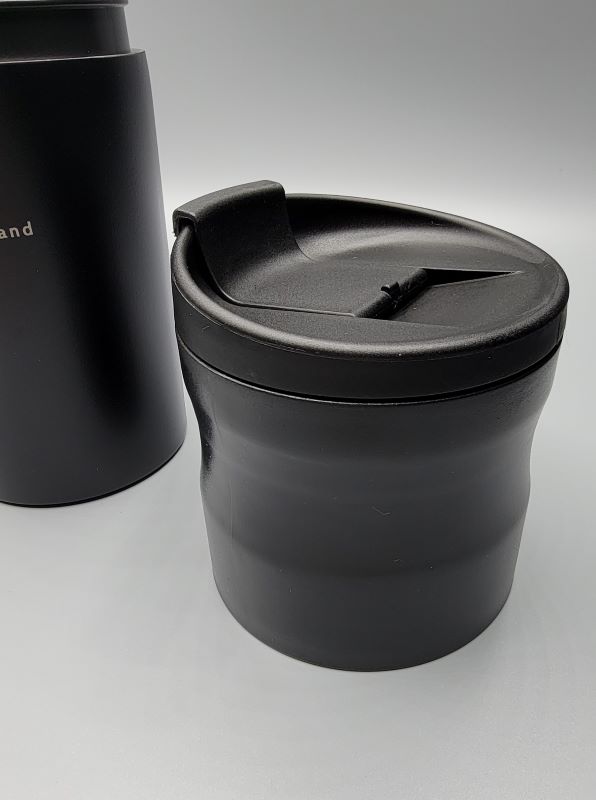 The secondary cup is referred to as a "drip kettle" on the Soulhand website, because if you an immersion heater you could theoretically boil water in the cup and use that to pour over the grounds.  However, that brings up a good point:  boiling water is not one of the 5-in-1 functions and as I did my research it seems some people find that surprising.   In Europe and Asia there is often an electric kettle in your hotel room, and I think that's why there's no mention on the product website of the fact that you need another device to boil water.  In the US it's less common so plan accordingly.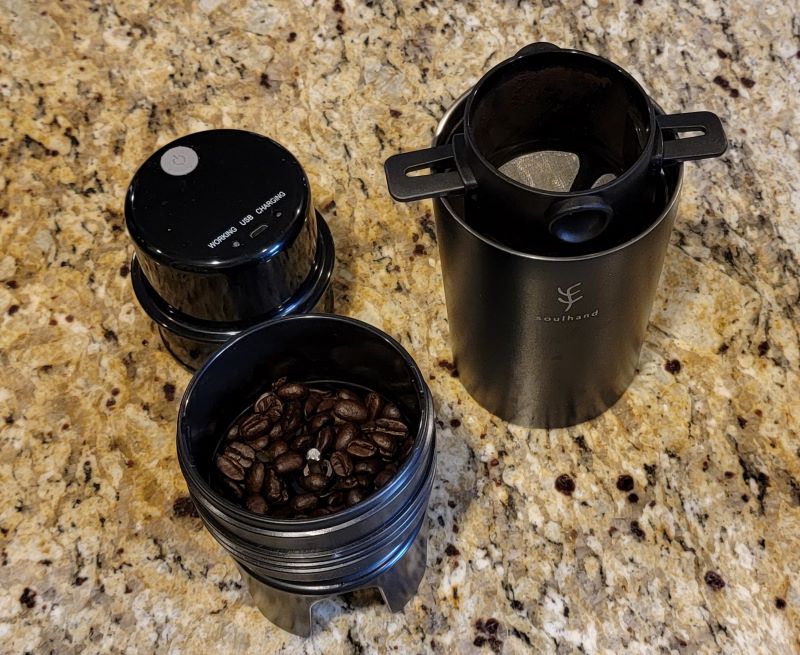 Luckily I'm testing this product in my house so I set up the cup, the filter and the grinder and spooned in my coffee beans.  I then turned on the grinder and made the rest of my breakfast.  Then I ate the rest of my breakfast.  Then I waited some more, and then the grinder was done.  I'm exaggerating a little, but for two scoops of coffee it took about 7 minutes.  Now, I grant you, I like a strong cup and I use a lot of beans.  If you can get by with fewer beans it probably takes less time. My full size grinder cranks out enough for a whole pot in under thirty seconds, so it kind of surprised me that it took so long to grind a relatively small amount.  Now that I am aware time issue, I think the move if you were in a hotel room would be to get the grinder going early, maybe while you're showering or something.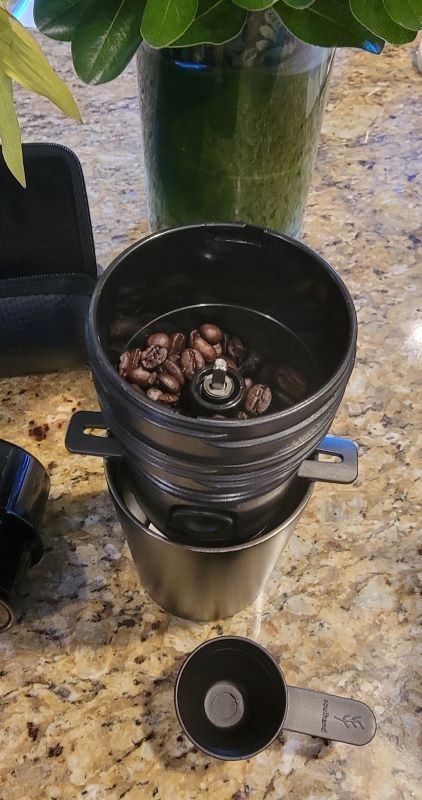 I was impressed by the grind quality.  It made some nice medium grounds and seemed very consistent.  You can adjust the grind size to five different settings by turning a dial on the bottom, and the conical burrs will do their job without overheating the beans.  The grinder turns off by itself when it's out of beans, and I don't think you'd wake anyone if you were using it in a hotel bathroom or if you were showering – it's less noisy than a hairdryer.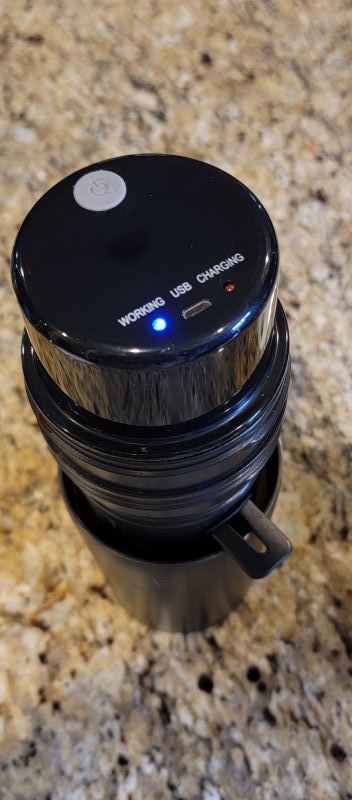 I heated my kettle and flipped out the "wings" on the side of the filter that allow it to perch on top of the coffee cup.  I started the pour and found another limitation:  the double mesh stainless filter, while great, doesn't accommodate that much water once the beans are in there.  You really need to pour, wait, pour, wait and pour again.  It's not a bad thing, since bitter coffee comes from letting the beans and water mingle too long, but again, if you're in a rush this is not for you.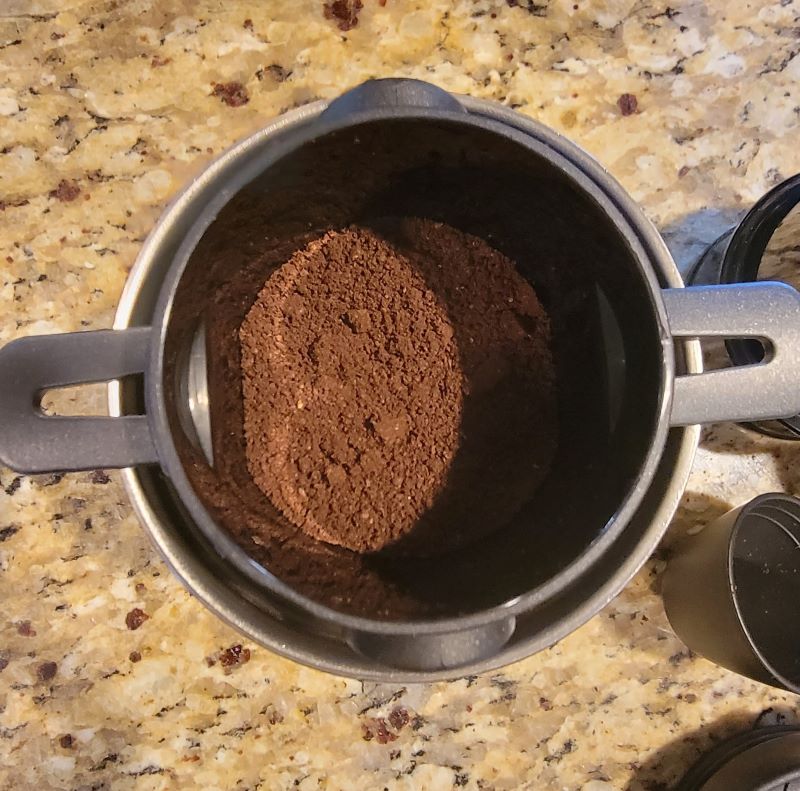 The finished cup of coffee was great and the travel cup with flip top lid is indeed leakproof.  I could imagine popping this in my briefcase or bag and heading out to my morning adventure.  I also liked the rubberized ring on the bottom of the travel cup because it stayed put on the arm of my favorite chair.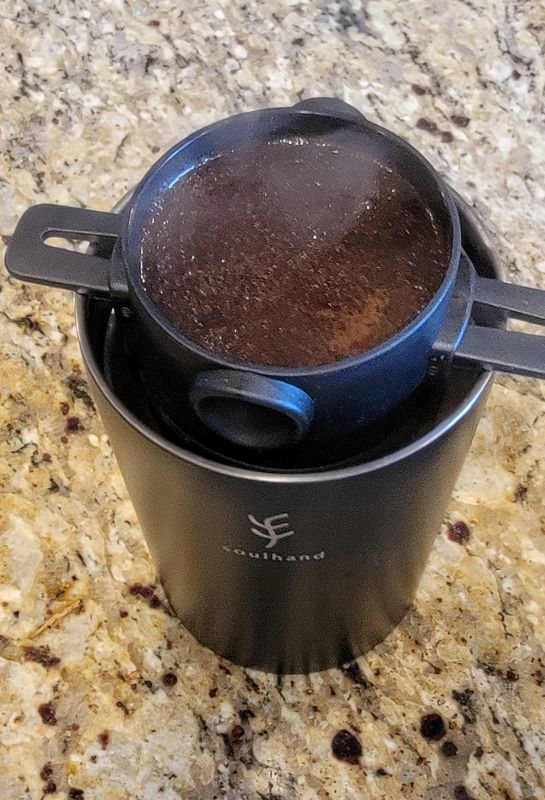 Clean up was super easy.  The filter rinsed clean and you can perch it on one of the cups so it is dry for your next use.  Would I bring it on a trip?  I would if weight isn't an issue.  It's a solid piece of machinery but at two pounds, it could get heavy in your bag.
What I liked
Cordless and rechargeable
Makes great coffee
What I'd change
It could be a quicker process…
It's heavy
Final thoughts
I really liked this coffee maker and I think that even though it's not the quickest way to make coffee, real coffee aficionados know a good cup is worth the wait.  And for a germaphobe like me, it's the best way for me to avoid the mysterious history of in-room coffeemakers!
Price: $59.99
Where to buy: Soulhand and Amazon
Source:  The sample for this review was provided by Soulhand