We use affiliate links. If you buy something through the links on this page, we may earn a commission at no cost to you. Learn more.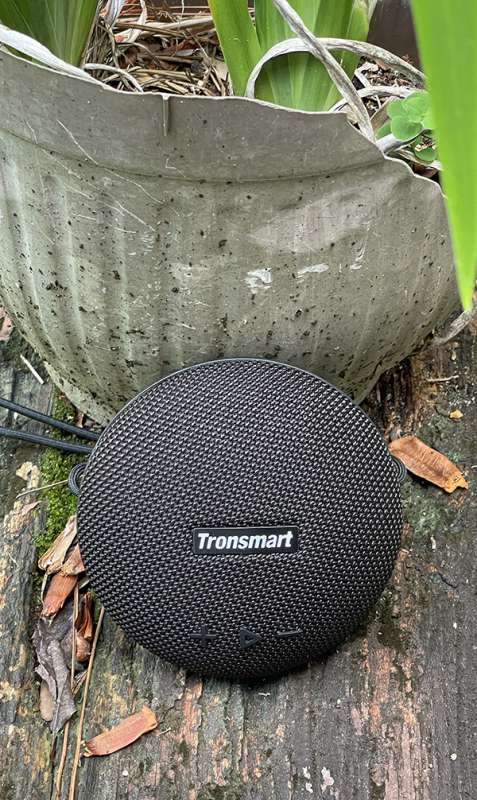 REVIEW – Have we finally reached the saturation point with portable Bluetooth speakers yet? It seems that new ones are popping up every week—and boy, are they now cheap! However, despite the number of Bluetooth speakers I've reviewed over the years, I've yet to grow tired of them. There's just something about quickly grabbing a speaker to take to the kitchen, shower, or back yard and listen to a music playlist or a new audiobook I'm wrapped up in. They don't even have to be the "best" sounding speaker out there as long as they fill that immediate need for convenience. Many speakers fill this need—among them, the Tronsmart Splash 1 Portable Wireless Speaker. 

What is it?
The Tronsmart Splash 1 Portable Wireless Speaker is a squat 4-inch round Bluetooth speaker made for carrying around both indoors and outdoors. Its IPX7 rating means it can be submerged in 3 feet of water for 30 minutes with no damage. It comes with an adjustable lanyard, a USB-C charging cable, and mini plug AUX cable if there's no Bluetooth available (a rarity, today).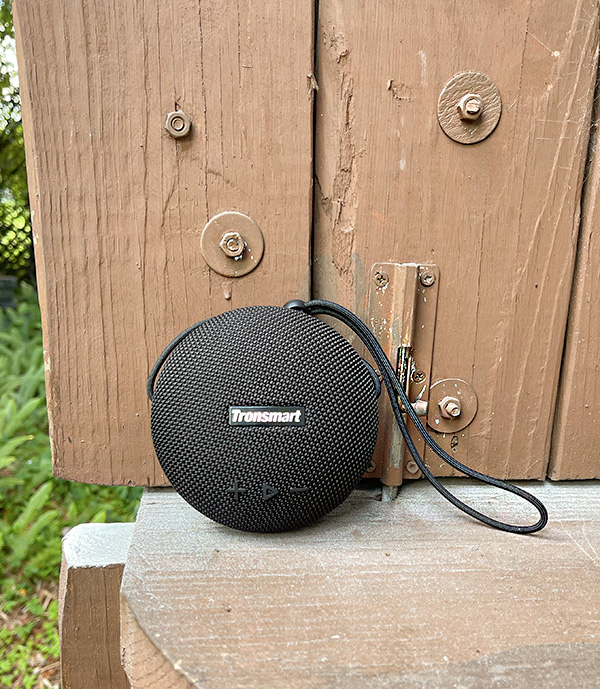 The Splash 1 sports 15 watts of power driving two speakers with a passive radiator for enhanced bass. Bluetooth 5 ensures a stable signal up to 60 ft. distance. It will play for 24 hours on a 2 hour charge. The Splash 1 can be paired with another Splash 1 for true Left/Right stereo.

Specs
Color: Black
Bluetooth: 5.0
Power: 15 watts
Water Resistance: IPX7
Play Time: 24 hours per charge
Size: 4.4 x 4.4 x 2.13 inches
Weight: 9.17oz

In the box
Splash 1 Speaker
User Manual
Warranty Card
Type-C Cable
Aux Cable
Lanyard

Design and features
It's easy to get the audio companies Tronsmart and Tribit confused. Both are portable speaker makers specializing in affordable speakers that sound better than their price would indicate. The round Splash 1 is similar to the squarish Tribit StormBox Micro. They both have easy-to-understand touch buttons on the top grills. Both sound similar—the StormBox micro has a bit more bass while the Splash 1 sounds clearer. Each speaker's audio approach has both pros and cons. More on that later in the review.

If you're a fan of distracting disco lights, Tronsmart has your speaker. The Splash 1 has narrow slits of multicolored lighting at the rear of the speaker. Seven repeating colors change every second. I never could figure out how to either make the colors stop blinking or turn them off entirely. I'm too old for disco. Between those two narrow blinking light shows sit two ports—USB-C charging and a mini plug AUX port. The ports are protected by a thick waterproof cover.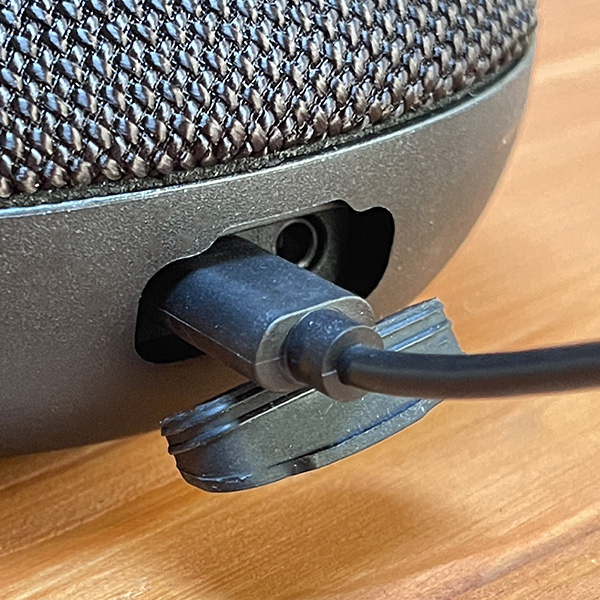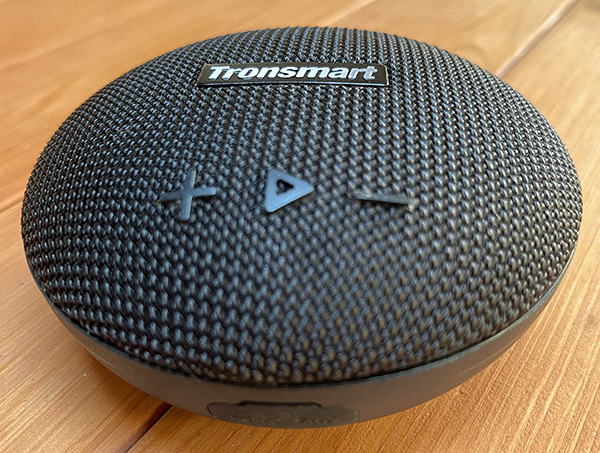 The opposite side of the speaker has four battery-life indicator lights placed between an on/off button and an "M" menu button that serves many functions depending on how it's pressed. Each function is controlled by how long the button is pressed, whether it's for stereo pairing, speaker reset, or Bluetooth/AUX switching.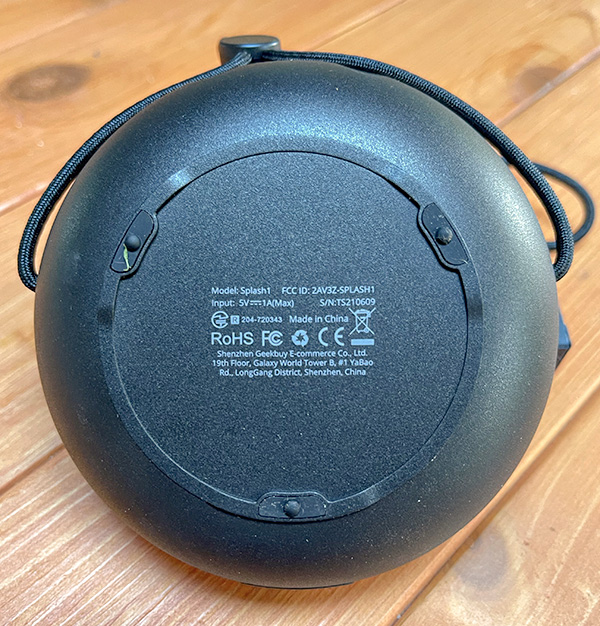 The Splash 1's base has protruding non-slip feet that help keep it in place, no matter the volume. It can also be easily hung by the included lanyard from a coat hook, tree twig or whatever. The top grill of the speaker is wrapped in a tough-feeling cloth. Despite its cheap price, the speaker should be able to handle rough treatment in the outdoors.
The Splash 1 speaker's manual can be frustrating. I appreciate the use of icons (such as the previously mentioned stereo pairing) to explain the functions, but Tronsmart provided no guide explaining what the icons stand for. You're just expected to know what they mean. Maybe I'm not that smart, but I had to go searching online for answers found not on Tronsmart's site. I shouldn't have to do that.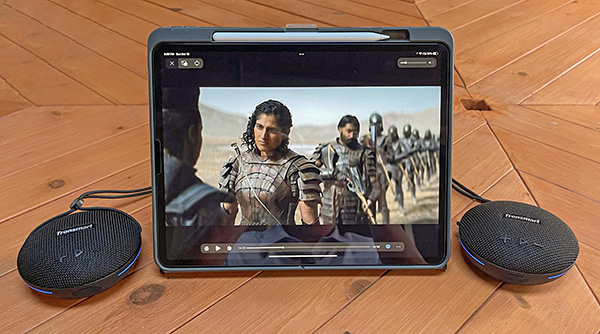 The Splash 1 speaker can be paired with another Splash 1 speaker for true Left/Right stereo. No matter how good any small speaker may sound, adding a second speaker for real stereo always sounds better. Tronsmart provided two speakers for this review to test this stereo effect. It works and sounds great while widening the audio soundstage quite a bit.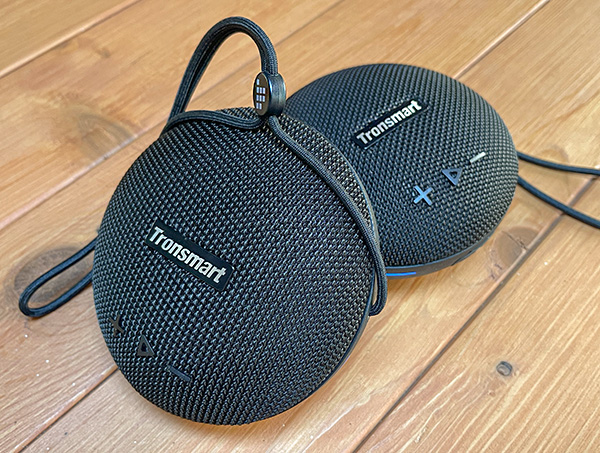 The downside to the stereo pairing is the setup as (barely) explained in the manual. Only after learning what the stereo icon looked like in the manual, could I follow the instructions—except it didn't work at first. I kept fiddling with the buttons and re-doing the button sequence until it finally worked. I have no idea what I did differently that did the trick. Setting up for true stereo is way more convoluted than it needs to be. But when it works, it works great.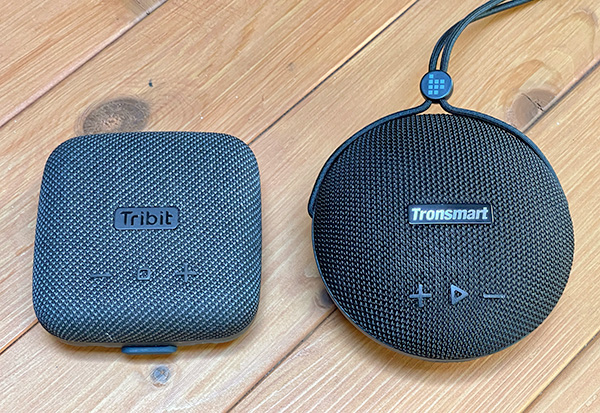 While listening to the Splash 1 speaker, I couldn't help but compare it to the Tribit StormBox Micro, a speaker I previously called the audio bargain of the year. I carry the StormBox from room to room when cleaning the house or doing dishes. It's become my "daily driver" speaker. The Splash 1 is a bit larger, but the StormBox Micro feels more solidly built. However, the Splash 1 basically has the same features at almost half the cost of the StormBox—which is inexpensive itself!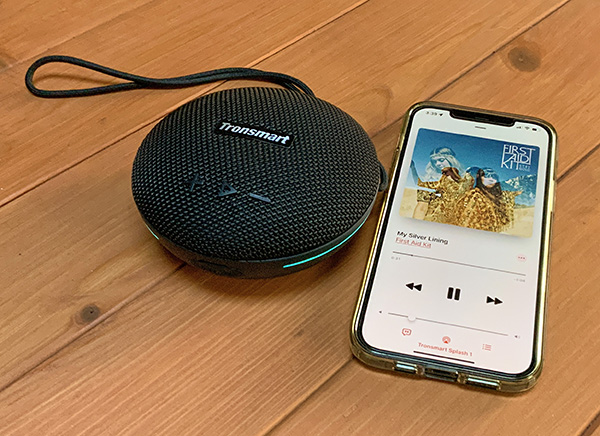 As I mentioned earlier, the sound quality of the Splash 1 is clearer than the StormBox, but lacks a heavier bottom end. If you're after more bass, the StormBox is a better choice. If you use this type of speaker for audiobooks, news/sports, or talk radio and don't care that much about heavy bass, the clear-sounding Splash 1 wins. Tronsmart includes what they call SoundPulse technology—basically, its digital sound processing (DSP)—an audio trick to give audio more presence. However, after doing an audio test switching SoundPulse on and off, I could not tell the difference at all.
Honestly though, we are talking small portable speaker here, not hi-res audiophile quality. In this range of speakers, price counts for a lot! It's here that the Tronsmart Splash 1 wins by a mile.

What I like
It's cheap!
Can be paired with another speaker for true Left/Right stereo
Sturdy build
Bluetooth 5
USB-C charging
Waterproof
Clear audio

What I'd change
Lose the disco lights
Bass is a bit weak

Final Thoughts
As much as I like the Tribit Stormbox Micro, I'd be hard-pressed to not buy the Tronsmart Splash 1 speaker instead. Why? At $30, I can buy two Splash 1 speakers for only $10 more than one StormBox. In my world, money talks.
Price: $29.99
Where to buy: Amazon
Source: The sample of this product was provided by Tronsmart.