We use affiliate links. If you buy something through the links on this page, we may earn a commission at no cost to you. Learn more.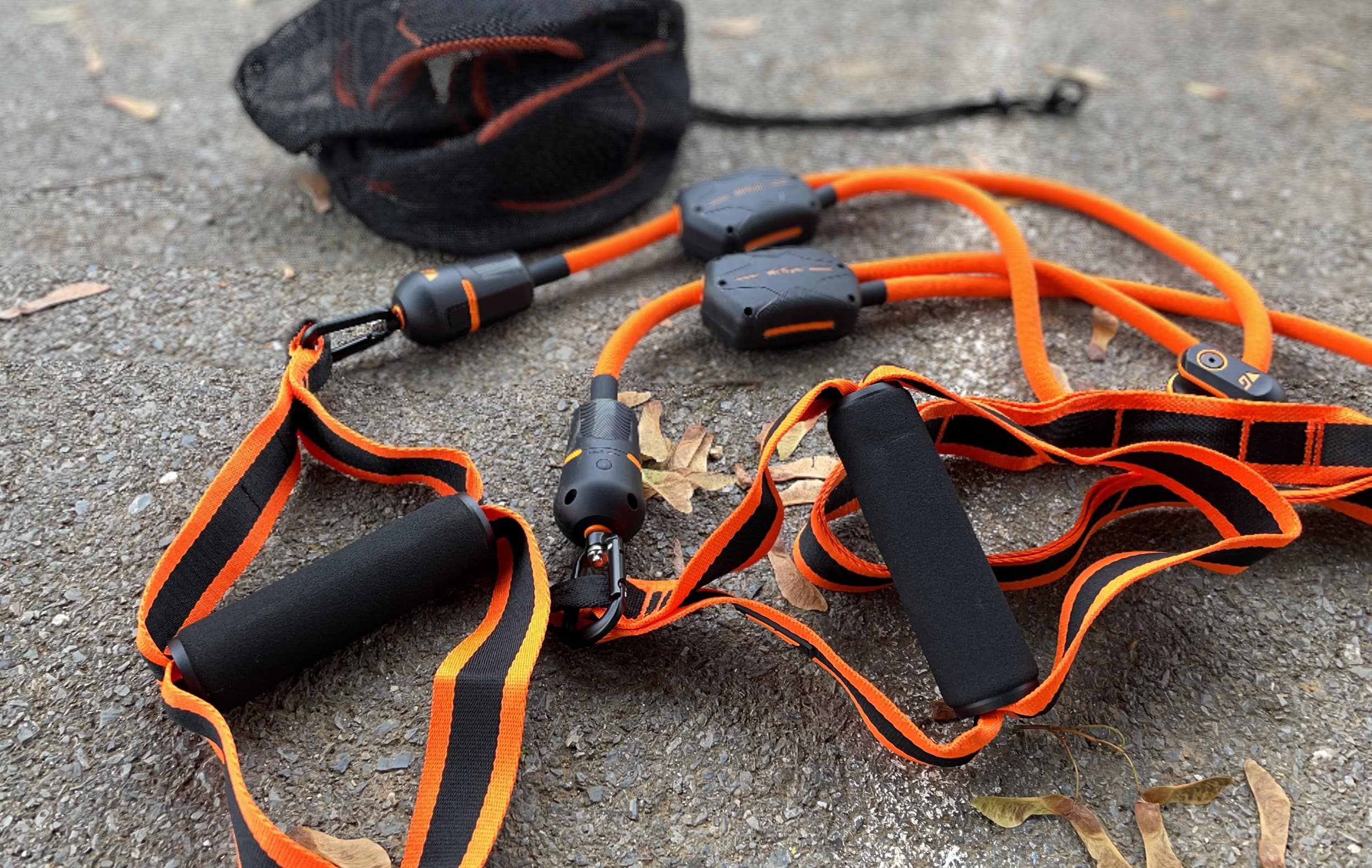 REVIEW – The WeGym Smart Resistance Band System claims to be a portable full-body workout in a tiny bag. I had the opportunity to take these bands for a month-long spin — or stretch, rather — and here are my thoughts.
What is it?
The WeGym System is a highly-portable set of resistance bands that offer multiple exercises and can be used virtually anywhere. There are sensors embedded near where the handles attach to the bands that track reps and motion data.
What's in the box?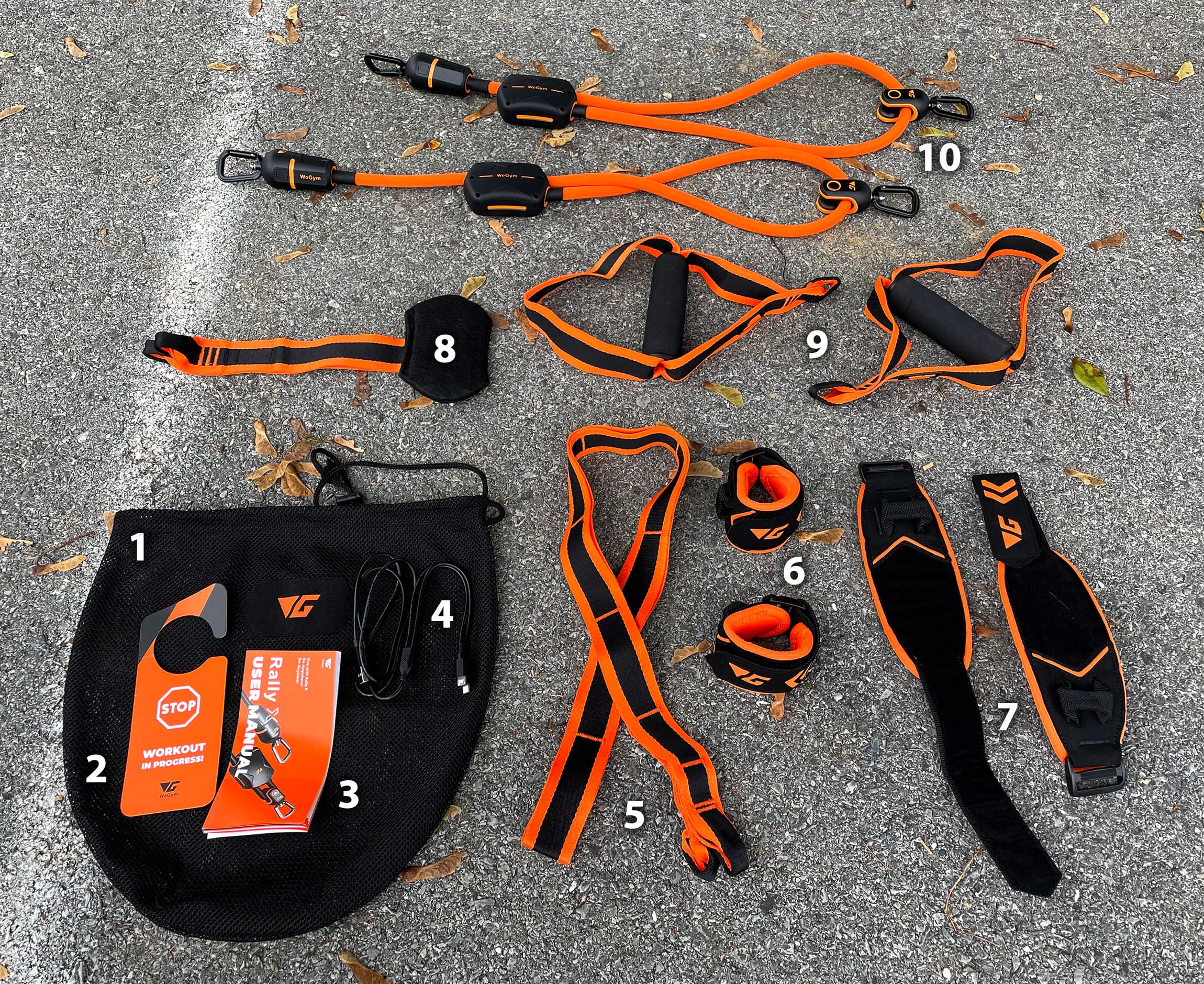 Mesh Carry Bag
"Workout in Progress" door hanger, so no one hilariously opens the door, leading to a quick slap in the face with the bands and anchor
Quick start instructions
USB Charging Cable with 2 micro-USB ports at one end for simultaneous charging of both bands
Suspension strap
Wrist Bands (x2)
Ankle Bands (x2)
Door Anchor
Handles (x2)
Resistance Bands (x2)
Hardware specs
Bluetooth connected, USB rechargeable, last for 42 hours after only 2 hours full charging
App intelligent tracking and customized courses
Adjustable resistance — the resistance ranges of the orange, hybrid and black ropes are 6.640lbs, 7.755lbs and 8.861LBS respectively
Free mode, suspension mode
Auto sleep mode
Portable design, waterproof, suitable for travel, outside and at-home use
1.1kg total weight
12-month warranty
Design and features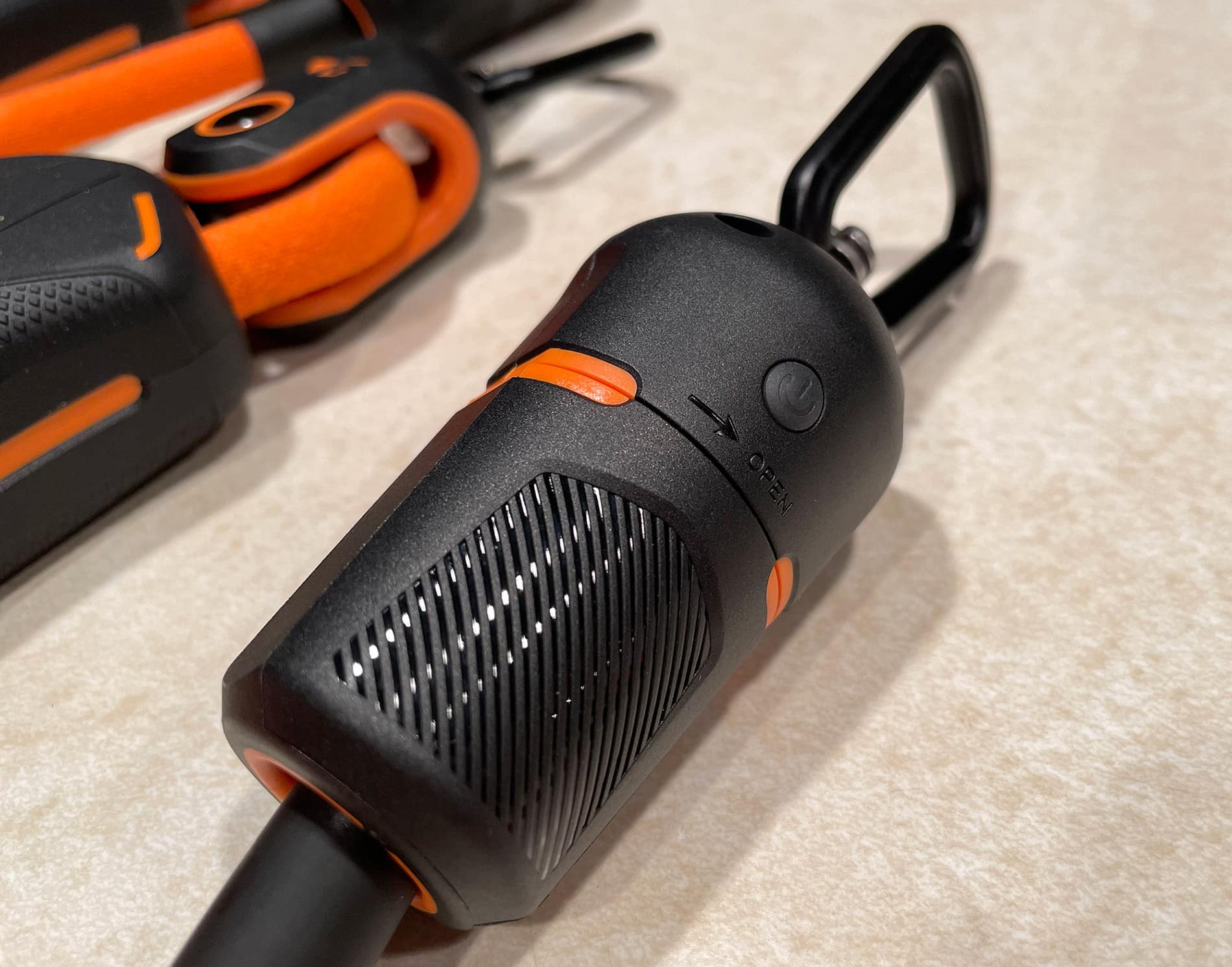 The WeGym resistance bands might look a little intimidating at first glance until you get a feel for what each piece does. There's actually very little learning curve. Primarily, you'll be using the bands, handles and one of the two anchor attachments, depending on what is at your disposal… such as a closable door or a heavy/immovable object like a pole or rail.
Everything that comes with the WeGym system easily fits into the provided drawstring mesh bag and weighs about 1kg.
The equipment is sleek and "sporty" looking with its black and bright orange design. I like the thick padding on the handles, and the bands and straps seem extremely durable.
I was given the orange bands to review, which offer a maximum resistance of 40lbs. There are two other levels that go to 55lbs and 61lbs of resistance. There are pulleys in the middle of the bands that offer an adjustable range of resistance… set the pulley to allow for the longest length, and you have low resistance, move it the other way to shorten the band, and you have the maximum resistance.
I noticed that the pulleys do seem to drift slightly in between workouts, as the stretching of the bands shifts the them toward the middle. I'm not sure how that can be improved, but it was enough to make me aware of that drift and readjust the pulleys every other rep.
The only other note I would make on the design has to do with the wrist and ankle straps. They seem on the smaller side, in my opinion. Not on me, I've got thin wrists and ankles, anyway, but I could imagine them getting a bit tough to attach for larger individuals. And believe me, you want these straps to be secure.
Let's move on to the setup.
Setup
In order to get the most out of the bands, you need to download the app from the App Store or from Google Play. After an initial charge of 2-3 hours, simply pair the bands in the app itself and you're ready to go.
It's useful to spend some time getting acquainted with the app and where things "live" in the menus. You can even watch your way through a few workout sessions to get an idea of what you're in for. Plus, you can quickly skip around in the sessions to preview the individual exercises.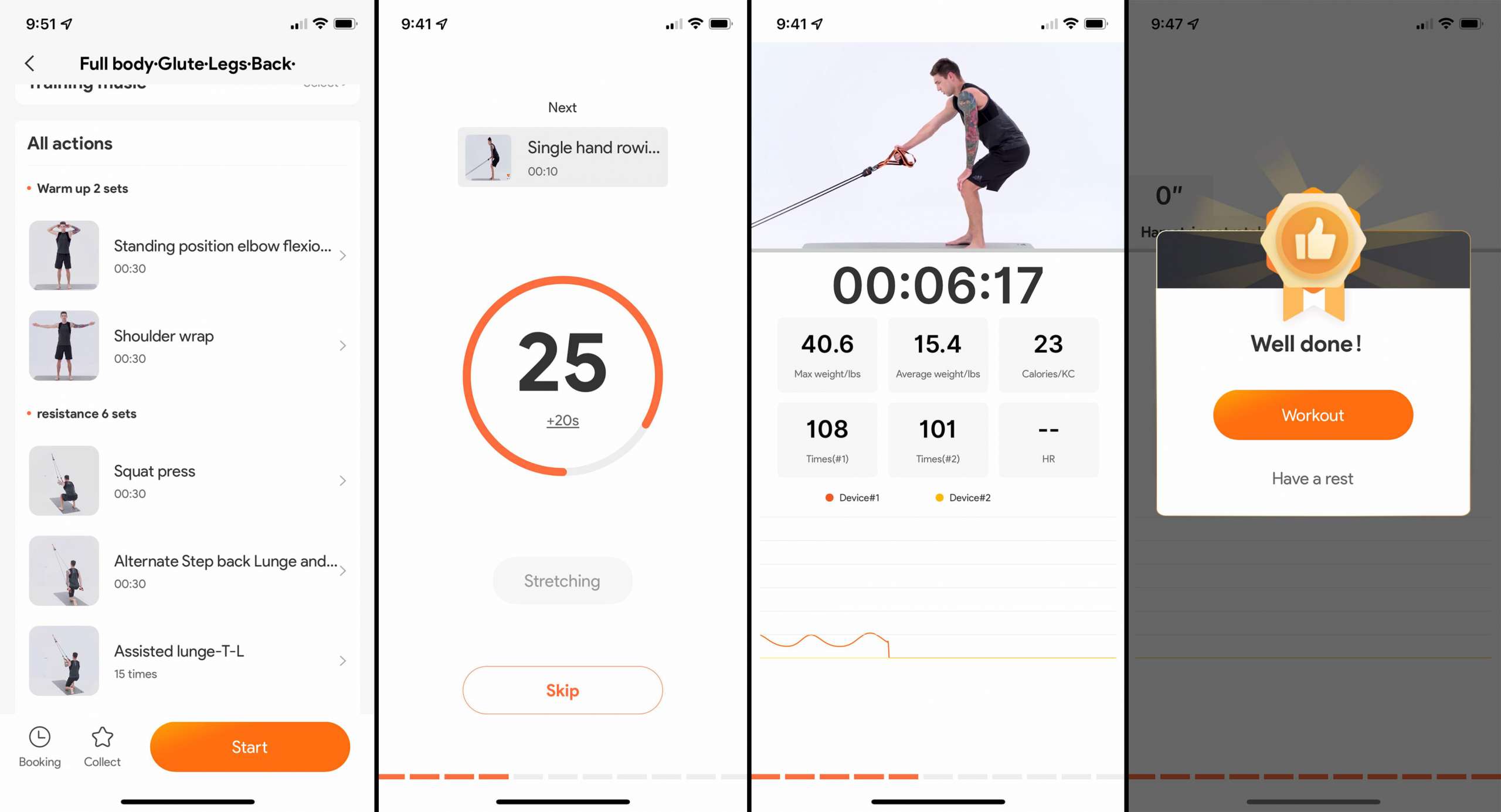 Attaching the anchors is easy. For the door, simply find an entryway with plenty of clearance, slide the anchor strap over or under the door, give the strap a little tug to pull the pad against the opposite side of the door, and close it. It didn't seem to matter which side of the door I used the anchor on, but I imagine it would be better to anchor the strap on the "pull to close" side of the door rather than the "push to close" side, so the pressure is distributed against the doorframe rather than the latch.
In my house, at least, I couldn't find a door to attach the anchor to in the "pull shut" configuration. All my doors either open into the house, so I'd be outside if I pulled the door shut behind me, or open into rooms, so I'd be in a cramped hallway. It still worked just fine.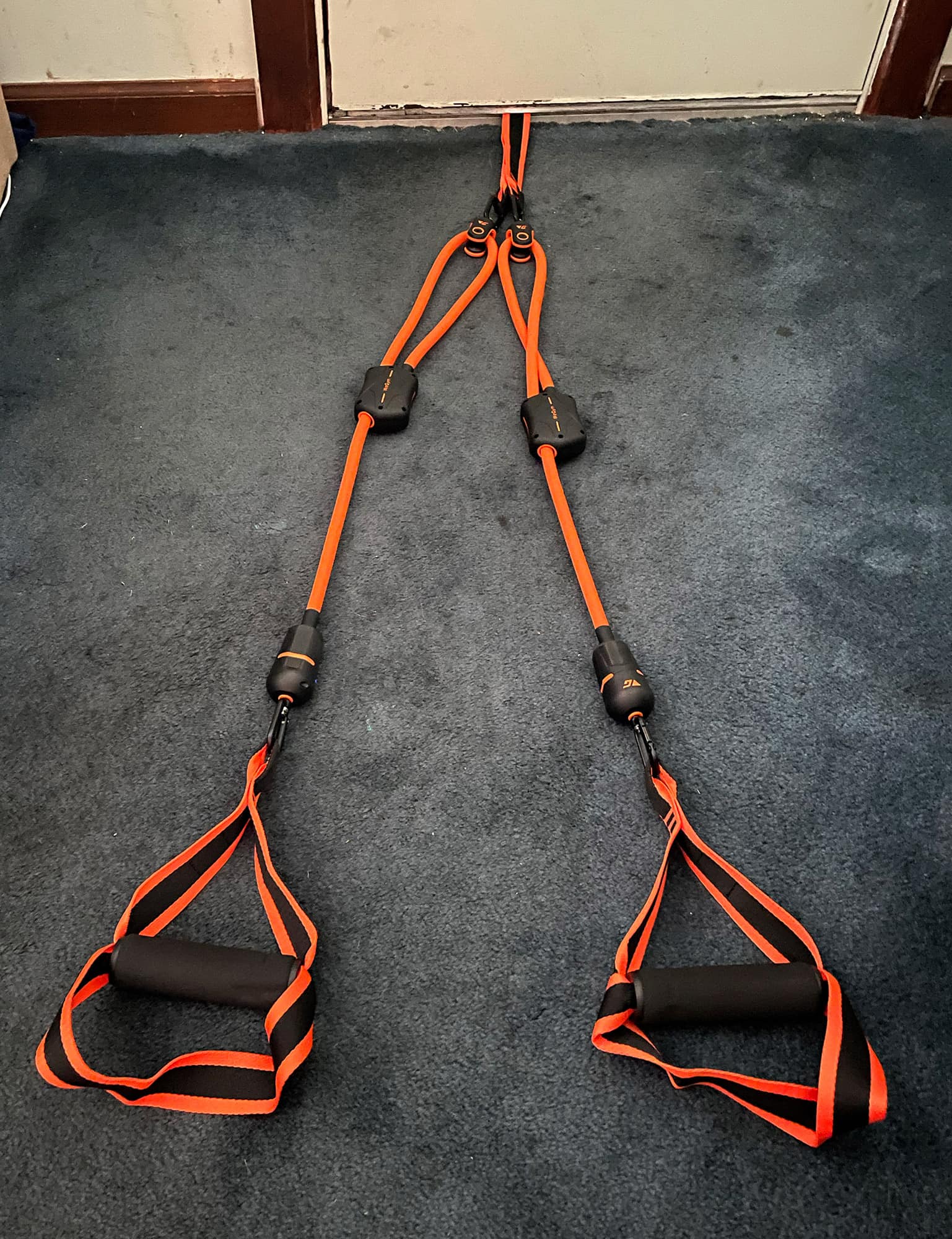 I found the other anchor is good for wrapping around something about the thickness of an in-ground basketball pole. There are several stitched segments in the anchor strap to easily thread the strap through itself and tie a single knot, securing it around the pole or rail. I could see attaching it to a fence, pipe or signpost… anything you could feel comfortable leaning your full body weight against would work.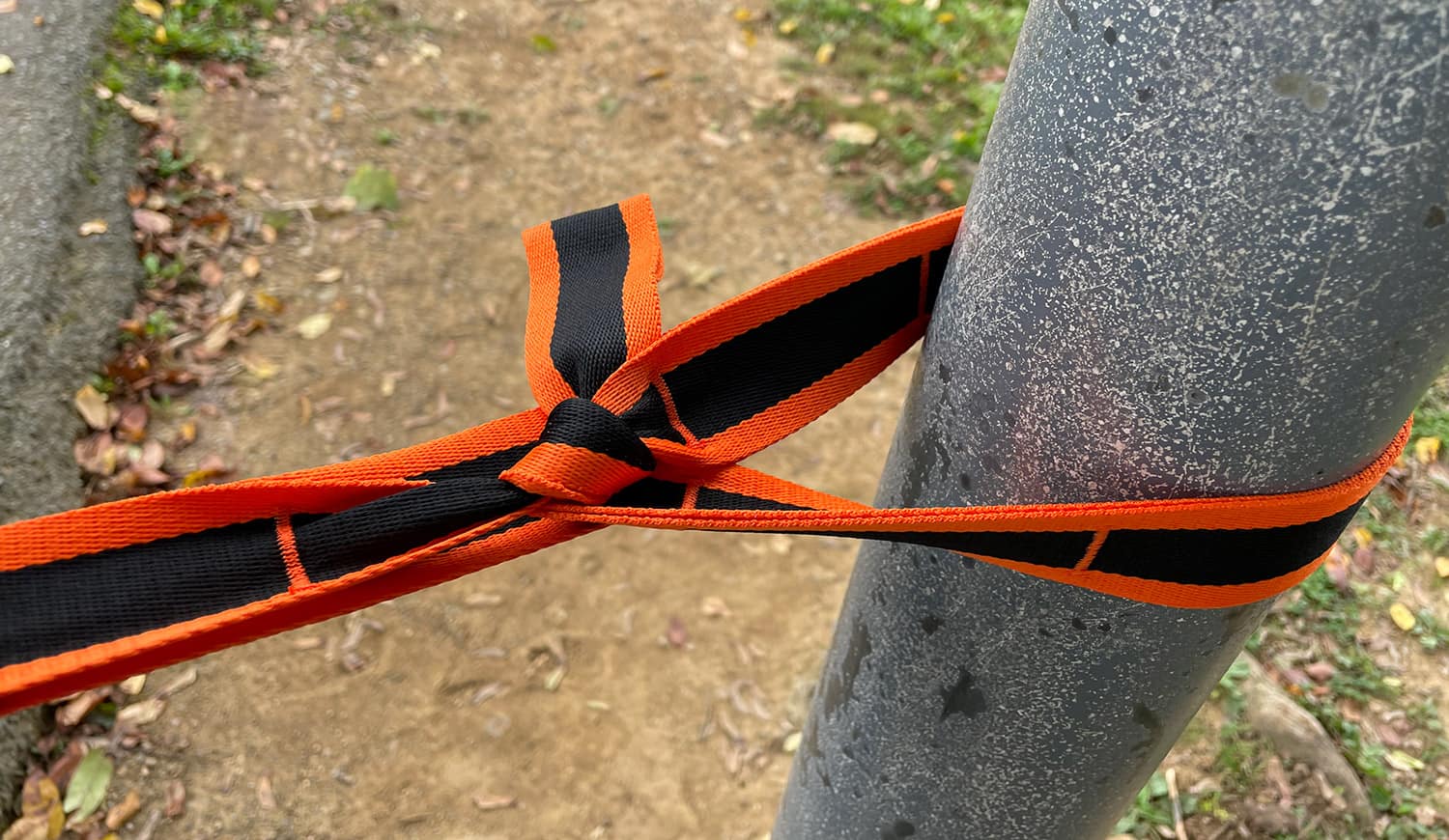 The bands attach via carabiners to loops in the end of the anchor straps and handles or wrist/ankle straps, quickly and easily.
The entire setup process could take literally 2 minutes, from bag to workout-ready. Next, we launch the app to start the session.
Performance
All of the workout activities are initiated in the WeGym app. It might be difficult to know just what to do, initially, without some guidance and workout suggestions. Fortunately, the app does a good job of telling you what equipment you need and if you'll be attaching the bands to a high or low anchor point.
Fortunately, the workouts are ordered in a way where you don't have to switch up the high or low anchor points, as it would be disruptive to have to change that mid-stride.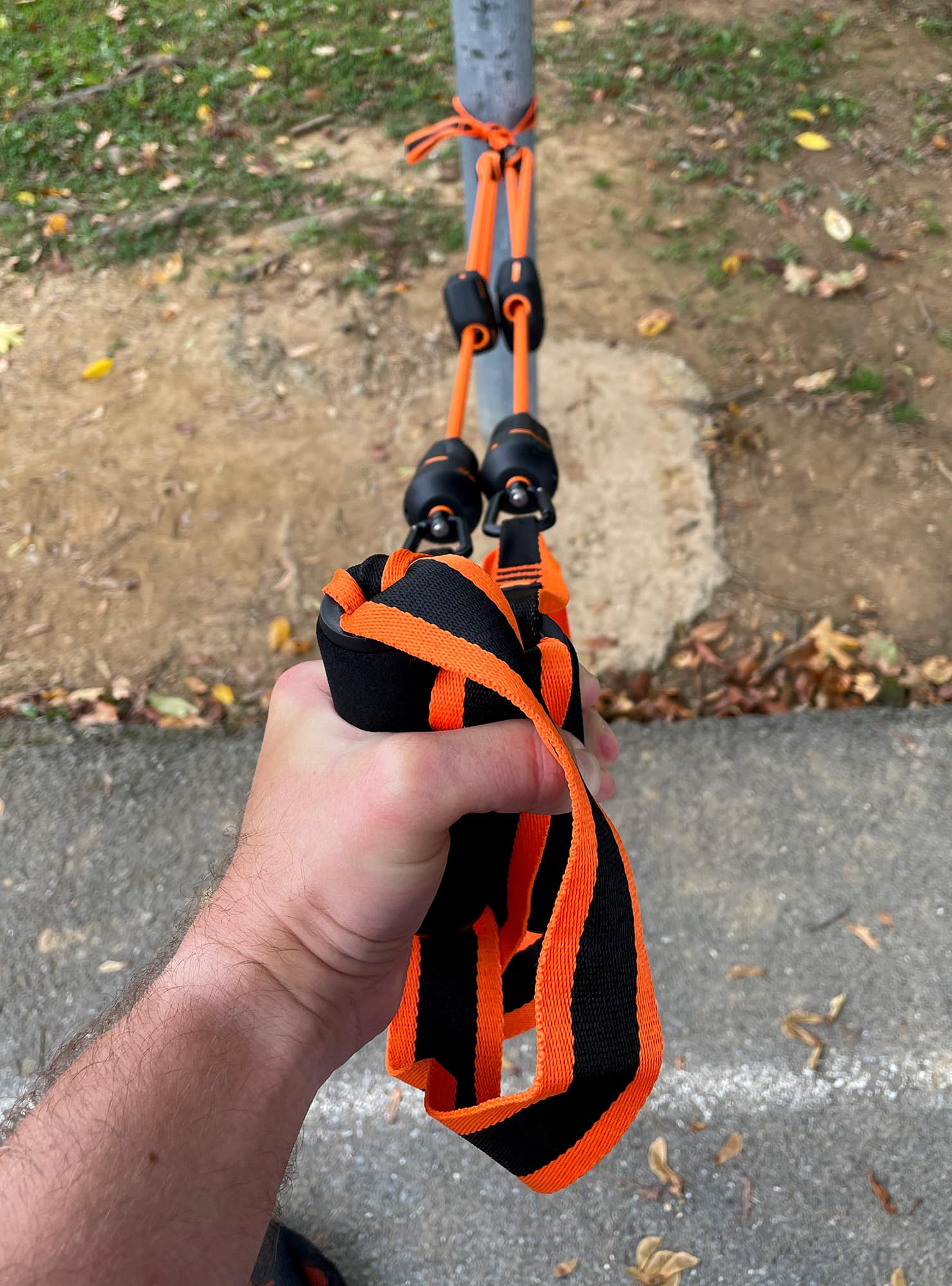 The preset workouts are often a combination or stretching, resistance band aided activities, and free body exercises like pushups or sit-ups. Each exercise in the session is set for about 10-15 reps with a period of 20 seconds of rest in between each set. There may be 6-7 exercises that repeat throughout the session with a period of warmups at the beginning and light stretching at the end, totaling anywhere from 15 to 30 minutes total.
You can build a custom "playlist" of exercises in the app, but I found that it's a cumbersome task, personally. I'd much rather just set a workout session and follow along.
The sessions have a full description you can bring up of what equipment is needed, how it needs to be configured — high or low anchor points — and what to expect in terms of which muscle groups are being targeted.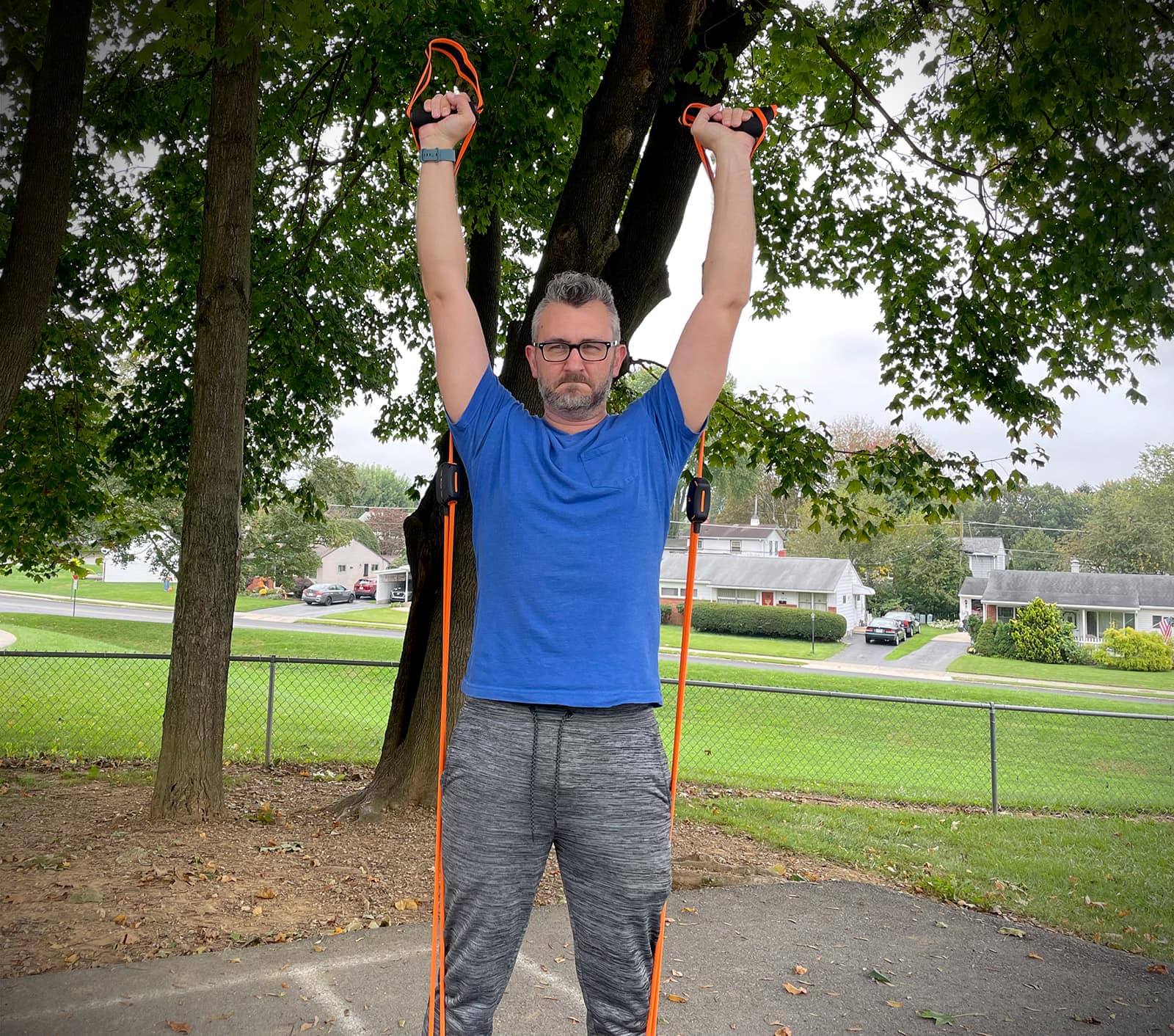 Once the session begins, you follow along with a looping video of the exercise. The videos offer a clear idea of what to do, whether doing arm motions, squats or lunges.
The reps are counted out aloud by both a voice prompt and a beep. At first I thought the counting was a feedback from the bands being pulled, the sensor in each band communicating each successful rep, but it turns out that the rep counts are automated and I was a little less than impressed by that.
The app does keep track of the time you spend in each session as well as the average and max weight of the resistance, and an approximate amount of calories burned. I'm not exactly sure how it calculates that calorie usage, perhaps it's just an average based on research, but it seems like it would fluctuate pretty significantly from person to person.
Also, the data the app offers from the built in sensors seemed, to me, ambiguous and lacking. Looking back at the training records, all I can glean from the information is the time I spent in the session and the maximum and average weight, and random figures called "Times #1 and Times #2", which I could guess are the number of times each band was pulled taut. Again, really not a lot of use.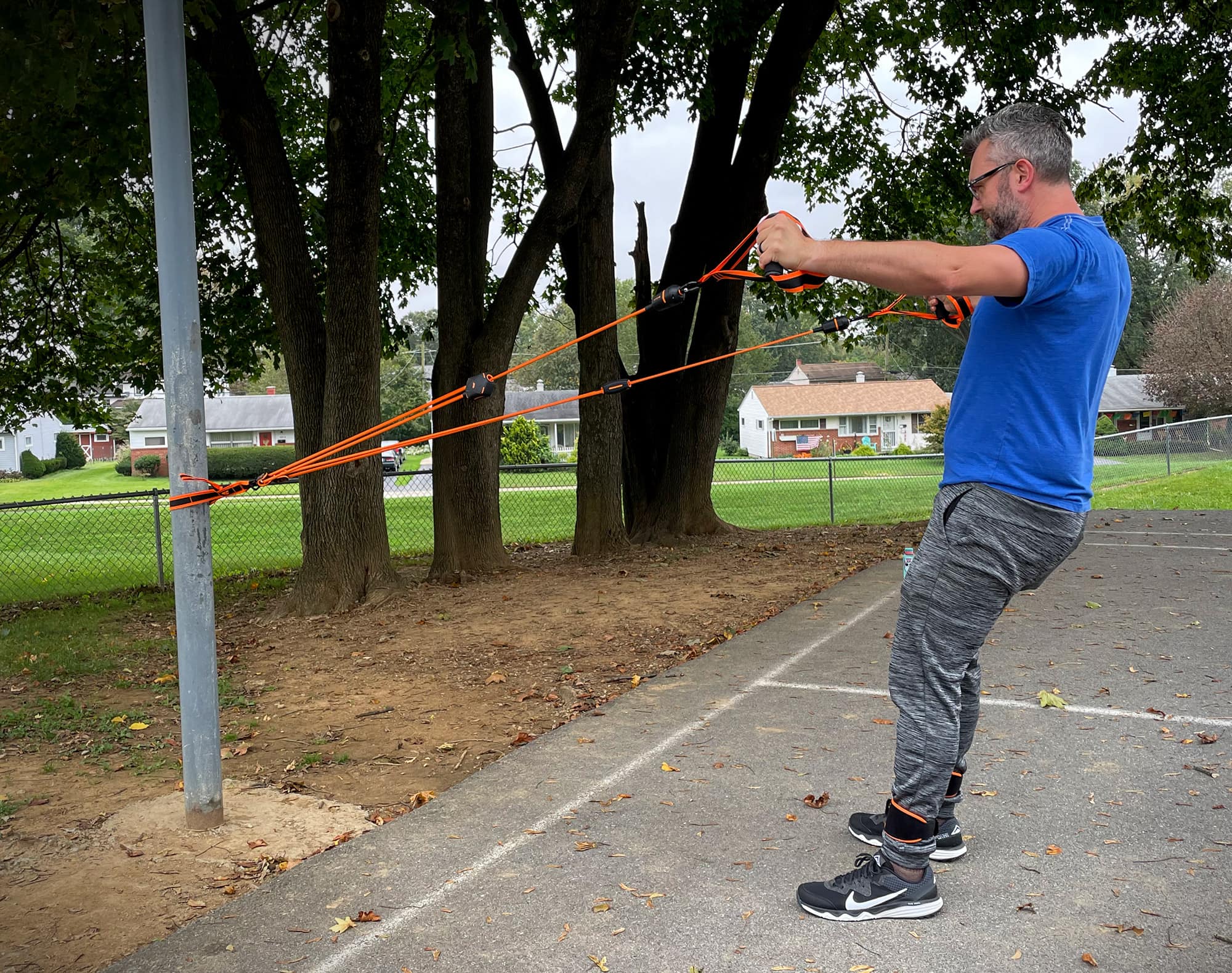 Another thing I thought about was more advanced users might not get a lot out of the bands. Someone like me who relegates his exercise to brisk 2-3 mile outdoor walks could get their heart rate up much faster than someone who is used to lifting weights.
That said, I found the pre-set workouts a nice level for beginners. Nothing was toodifficult, but I certainly felt the burn in doing movements my body wasn't used to, like stretching my arms into a T-pose, or back lunges with support from the bands. By the end of a 30-minute session, I was breathing hard.
It's tough to say how long it would take to really get some good results, I'd have to say maybe 6-8 weeks, but compared to nothing, these workouts are doing me good.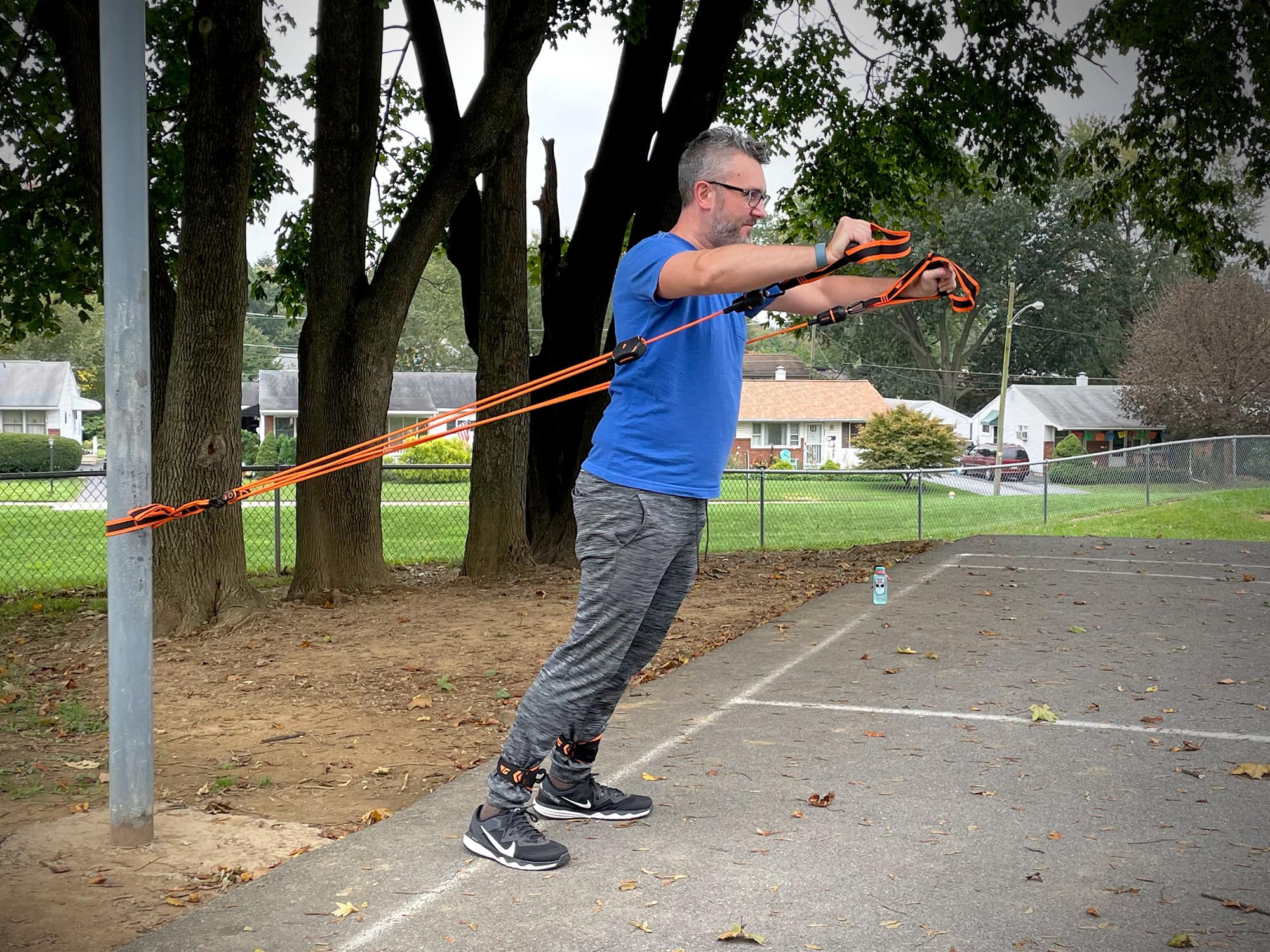 I do have to wonder how someone who is used to a more rigorous workout routine would find these resistance bands. A mere 40lbs of weight is good for muscle toning and increased heart rate, but serious muscle building would certainly require more weight for deadlift, curls or bench press type movements. I imagine it wouldn't take long to "outgrow" these bands and feel the desire for more challenge.
But for the beginner, and I'm certainly at that level, the WeGym sets a low barrier of entry to get off the couch and improve your health.
What I like
Great for beginners
Simple instructional video format and easy-to-follow workouts
Compact, use-anywhere design
What needs to be improved
More advanced users might not be challenged
Sensors add to cost but don't offer much data
Final thoughts
Overall, the construction and portability of the WeGym bands are very good. I would have much rather had a printed pocket guide of 2-3 step illustrations of everything you can do with the bands, and strung together my own workout sessions from that.
Following along in the pre-made sessions is fine, and keeps you moving with a brisk tempo and rep count, but the app isn't great to navigate and the data stored in the records makes me wonder if the sensors could have simply been excluded, dropping the price by about $50.
Lastly, more advanced fitness fanatics might find themselves longing for a bigger challenge. There are several gym franchises that offer a low monthly membership fee, like $10 per month low, that would far outstrip what the WeGym can offer, now that we're starting to see some light at the end of the pandemic.
It would be hard to recommend these bands to those types of people, but for the rest of us, the WeGym is an easy step to take toward a healthier, stronger version of yourself.
Price: $199.99
Where to buy: Amazon
Source: The sample of this product was provided by WeGym. They don't have an official website, but you can find out more on their Amazon Store.