We use affiliate links. If you buy something through the links on this page, we may earn a commission at no cost to you. Learn more.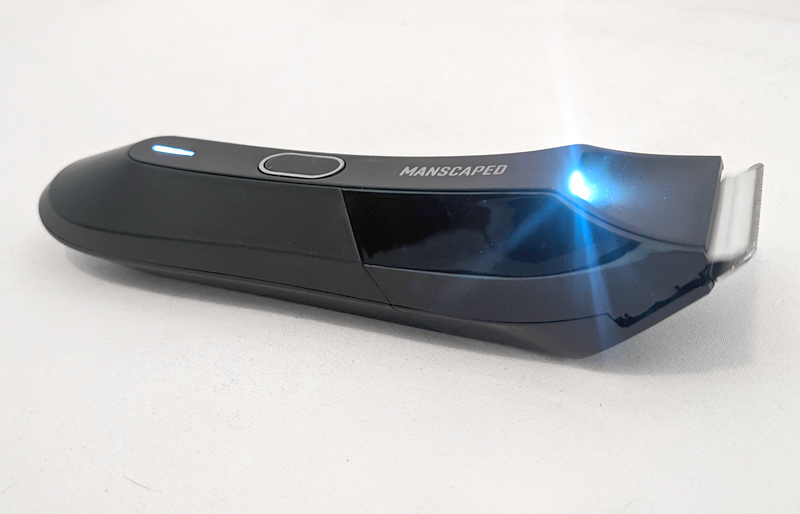 REVIEW – Say what? The Gadgeteer is reviewing a male grooming product? And I can hear you from here:  What the heck are the review pictures gonna look like??  Don't worry, we have high standards here at the Gadgeteer, so everything here is gonna be above board, so to speak. If you are a person who shaves at all, any part of your body, and you have purchased any of these products over the past several years, you are aware that shaving tools/gadgets are true technology products. This category of products is more technology feature-rich than ever before, so it's time here at the Gadgeteer to address the important gadget category of male personal grooming products. Let's get to it.
What is it?
Manscaped is a company that provides products for guys to groom every part of their body, from head to toe, and everywhere in-between, and they use kitschy marketing to name their products in a way that would appeal to guys. This product is a kit that contains an electric shaver called the 'Lawn Mower', an electric nose and ear trimmer called the 'Weed Wacker', a testicle anti-chafing deodorant cream (yes, I said the word testicle) called the 'Crop Preserver', a testicle spray toner called the 'Crop Reviver', a handful of newspapers called the 'Magic Mat' used to collect the hair that falls during grooming, and for good measure, they throw in a travel bag that holds everything that they affectionately call 'The Shed', and a free pair of Manscaped micro-fiber blend boxers. Do you see the kitschy theme here?  Each of these items can be purchased separately, but the kit is a much more affordable way to purchase all these items at a total cost of $119.99.
What's in the box?
'Lawn Mower' 4.0 electric shaver with charging base and small cleaning brush
'Weed Wacker' ear and nose trimmer with charging cable and small cleaning brush
'Crop Preserver' anti-chafing ball deodorant lotion
'Crop Reviver' ball spray toner
3 'Magic Mat' newspapers
'The Shed' water-proof zippered travel bag (9"x4"x6")
1 pair of Manscaped micro-fiber blend boxers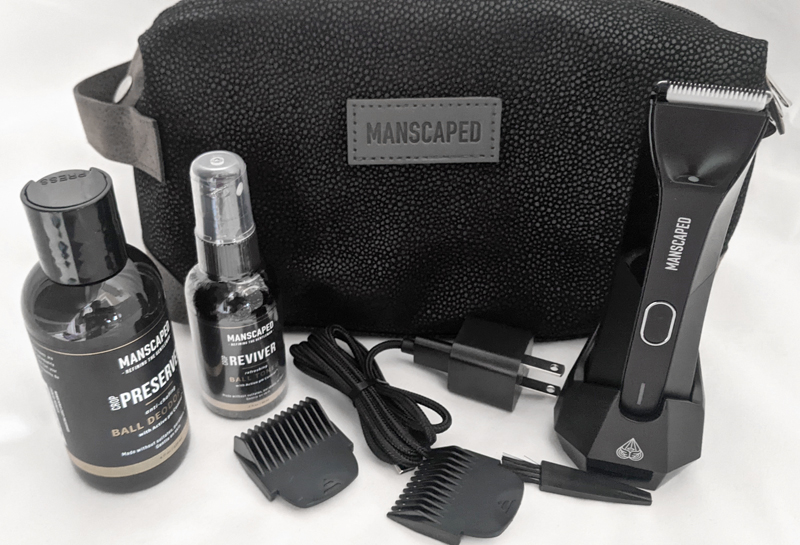 And here are the specifications:
The Lawn Mower has an internal 600 mA li-ion rechargeable battery, is IPX7 rated waterproof, has a 7,000 RPM motor, and comes with 2 different plastic guards to go over the blade that provide 4 different cut depths (3, 6, 10, and 13mm). The LED light is 4,000k. Battery has over-charging and over-discharging protection circuit. Multi-function power button.
The Weed Wacker has an internal 600 mA li-ion rechargeable battery, is IPX7 rated waterproof, has a 9,000 RPM motor, and a 360-degree rotary dual blade system.
Features and performance
So the first thing you'll notice when get your Manscaped product is the creative marketing. Slap terms like 'lawn mower', 'weed whacker', 'the shed', and 'crop preserver' on male grooming products and some guys will buy it just for that! I mean, the name of the company, Manscaped, is a direct reference to something that has been 'growing' (pardon the pun) for years, which is the increasing number of guys who groom the hair all over their bodies. Women have done this for generations of course, and the average guy is just now coming around to this way of thinking, that reducing the amount of hair you have in lots of different places does provide some benefits. Namely, less hair means better hygiene. Maybe I was ahead of my time because I started doing this over a decade ago.  I realized that my wife liked me better this way, so I just kept doing it. We shave our faces regularly, which provides lots of benefits like exfoliation, right? Clean shaven skin also feels better to the touch, right? So when I started reducing the amount of hair on my torso, armpits, and groin, things just got better. Manscaped would tell you: when you trim the shrubs at the bottom of the tree, the tree looks taller.  And that's the last bit of questionable humor I'll use in this review! The bottom line is that you can use all the creative names and kitschy humor you want for the product, but does it work?
The first thing I noticed about the Lawn Mower and Weed Whacker was the beveled edges around the main body of the shaver/trimmer.  I can't tell you how many shavers are actually round and end up rolling off the bathroom counter onto the floor or into the sink. With flat sides on these products they don't roll off the counter. The designer was paying attention on this one. Also, on the Lawn Mower there is an 4,000k LED light that shines directly at the blade so that you can actually see the area you are trimming.  I have struggled for years with having enough light when I was grooming. I mean, you are hunched over trying to take care of shaving various areas of your body and that often means you are blocking the light in the bathroom.  The light on the Lawn Mower is the feature I never realized that I couldn't live without.  Brilliant. You can also use the multi-function power button to turn on the 'travel lock' feature that prevents the shaver from turning on inside your travel bag. Nice touch.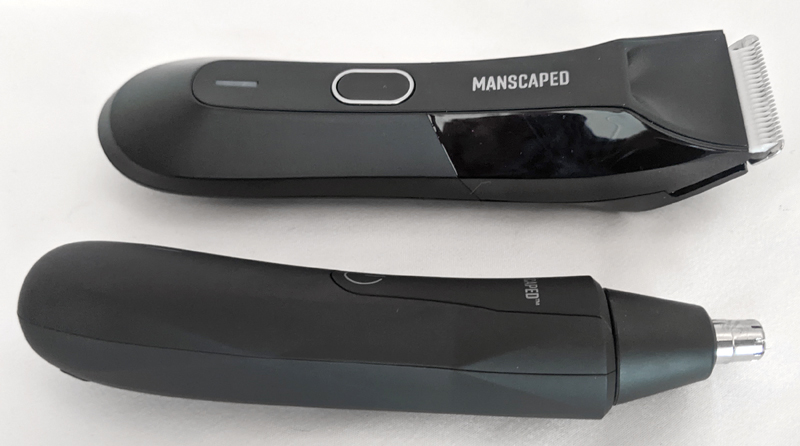 Both of them are really quiet, which is really nice.  I always get up in the morning before my wife and I use my grooming products right after a shower.  And I have some shavers that are almost as loud as a kitchen appliance, so loud in fact that it often breaks the morning silence and wakes my wife up. Not so with the Manscaped products.  They are very quiet.
The performance of the blades on the Lawn Mower is excellent. It literally 'mows' through any hair, no matter how thick. The name is actually quite appropriate! It's just smooth. The plastic guards that you can slip on the shaver to provide different levels of hair cutting also work very well. They easily snap on and off and the shaver I have came with 2 of them. You can replace the 'skin-safe' ceramic blades on the Lawn Mower for about $15 a pop, which I haven't had to do yet. The Weed Whacker is actually the best nose trimmer I have ever used.  After 1 use I trashed the other nose trimmers I had because I am never using them again. I looked very closely at the Weed Whacker to compare it to the other nose trimmers to see why it was so much better.  I imagine the blades are of a higher quality, but I think that the main reason is that the part of the Weed Whacker (the metal tip) that you insert inside your nose and ears has a slightly wider opening than other trimmers, so it just allows more hairs to be cut. Whatever it is, the product is excellent.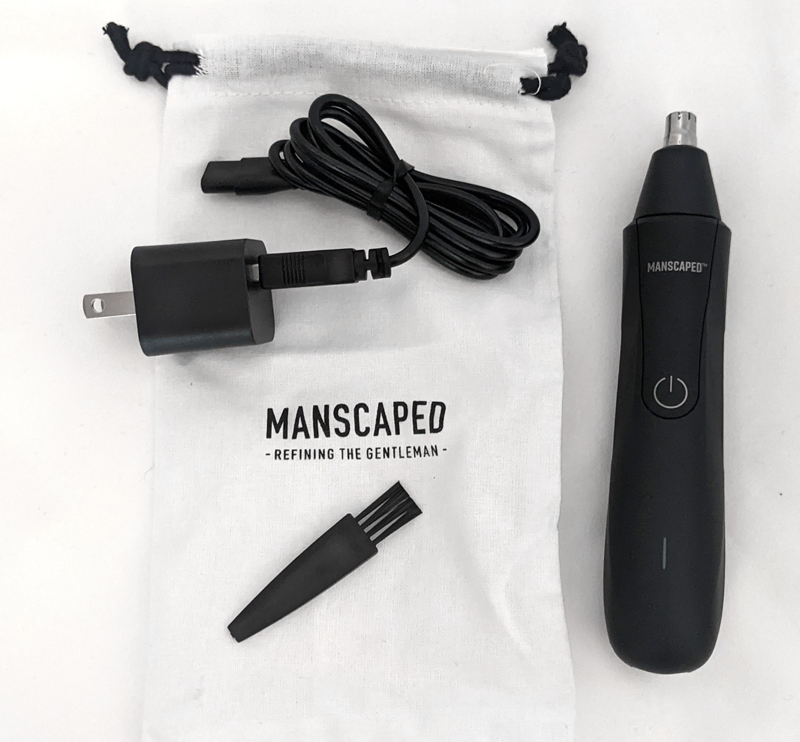 Manscaped uses numerous humorous references all over their website and marketing to refer to the 'balls' and how you are supposed to take care of them. But they don't just joke around about it, they do get serious about the problem of testicular cancer by partnering with the Testicular Cancer Society to raise awareness about and raise money for the most common type of cancer in men age 15-35. They jokingly say that 'We save balls', but they are serious about it, which is a great thing. And so that brings me to the part of the review that I tentatively wade into, but hey, we have to talk about it. How does their product work on testicles?  That's what you want to know, right?
So first let me say that testicles aren't actually perfectly round. If they were, this whole process might be easier. And the skin in the groin area isn't even remotely similar to any other place on the body. There are many, many folds of skin and bumps and ridges down there and if you have ever tried to use a straight razor down there you know the carnage that probably resulted. So Manscaped attempts to solve this problem by designing their Lawn Mower product with an ever-so-small gap between the actual blade that cuts the hair and the plastic that touches your skin. My first comment about the performance of the Lawn Mower on the groin is that I can confirm that not once did it pull or yank any hairs, which is painful. This shaver is just incredibly smooth and a pleasure to use. And I was able to get the job done fast and efficiently. When I used it on my armpits, neck, and torso I was also truly impressed with the quality of the cut that the blades provide. This is a premium product.
Finally, I will mention the 2 items in the box designed to take care of the skin down there in the groin area, or more pointedly, the skin on your testicles. If you shave any part of your body you know that you have to moisturize the area afterward to make sure that you don't get a rash or other skin irritations.  The same holds true with the testicles.  If you are going to shave them, you have to put something on the skin afterward.  That's where the Crop Preserver and Crop Reviver come into play. In the past I would use just any lotion I could find to moisturize the skin down there, which was a mistake.  Some lotions have too many fragrances and chemicals that can cause irritation and rashes.  So I can confirm that the Crop Preserver and Crop Reviver are a pleasure to use! Soothing and pleasantly smelling. A win.
What I like
Beveled edges on the shaver and trimmer make it easy to hold and they won't roll off the counter
The light on the Lawn Mower shaver is a dream come true
The blades on both devices are outstanding
The 600 mA batteries last a long time before needing a charge
What I would change
Nothing, actually.  Not a thing.
Final thoughts
Creative product naming aside, the Manscaped family of products is premium, no doubt.  The shaver and trimmer are designed from the ground up with the whole male grooming process in mind.  The quiet motors won't wake the house up. The beveled sides make it easy to hold and maneuver. The strategically placed light on the Lawn Mower is something I never knew I needed and now don't want to live without. The Weed Wacker is the best nose trimmer I have ever owned, bar none. If you want a gift idea for your male partner, this is a fun product that will make him laugh and he will love, and you will be the beneficiary of the results. All my other shavers have been tossed, so that pretty much says it all.
Price: $119.99
Where to buy: Buy on their website here.
Source: The sample of this product was provided by Manscaped.