We use affiliate links. If you buy something through the links on this page, we may earn a commission at no cost to you. Learn more.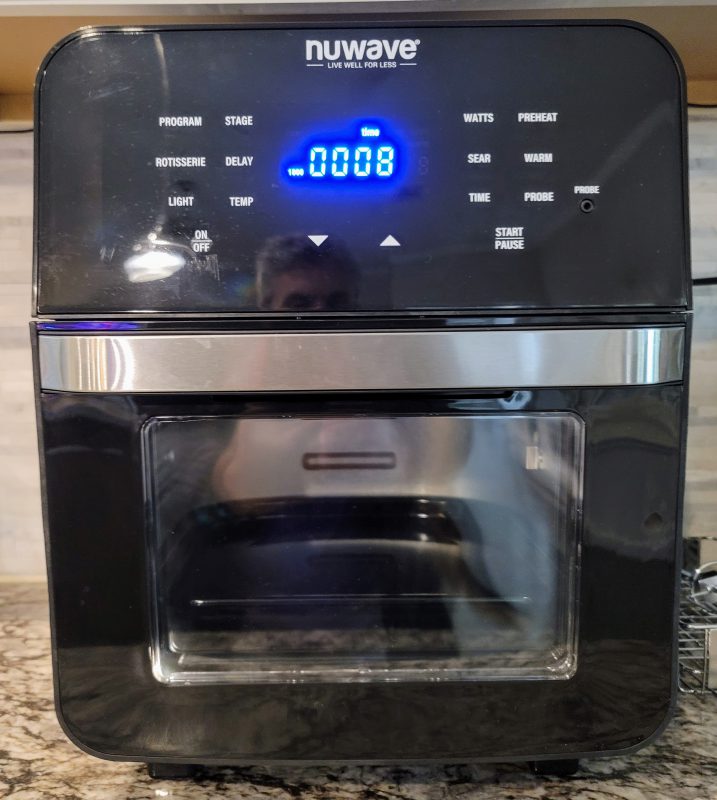 REVIEW – These things come in waves.  OK, that's my one dad joke per review.  Seriously, though, we tend to get a lot of similar products to review simultaneously.  Sometimes they are variants of robot vacuums, and on other days it is a collection of power distribution blocks.  The flavor of the day today is the air fryer.  Oops, two dad jokes – I expect a visit from HR soon.  Regardless, the NuWave Brio 15.5QT Air Fryer is my first foray into the exciting world of frying with little oil.  How well does this device stack up against the others?  Read on to find out…
What is it?
As the name suggests, the NuWave Brio 15.5QT Air Fryer is a convection oven that doubles as an air fryer in the right circumstances.  It is HUGE, though, when compared to the competition.  Most air fryers clock in at about 6 quart capacity, but the Brio has a whopping 15.5 quarts of air frying joy.  In addition, the Brio also sports a rotisserie attachment – but more on that in a minute.
What's in the box?
The NuWave Brio 15.5QT Air Fryer
A shallow and a flat wire rack
A drip pan
A rotisserie rod and cages to keep your food in place
A temperature probe
A recipe book
Various instruction and safety manuals
Design and Features
Did I mention how big this is?  Just in case I didn't, let me say it now: this is a HUGE air fryer.  It is just a tad over 13 inches deep, about 15.5 inches wide and 17 inches tall.  This will take up a LOT of counter space in your kitchen, and at 26 pounds, it self-discourages putting it in a cabinet between uses.  As you can see in the first picture above, there is about 2 inches clearance between the top of the Brio and the bottom of the upper bank of cabinets.  Thankfully the Brio does not exude a lot of heat when in operation (unlike other air fryers), so you should be safe – but remember, your mileage will likely vary.
The Brio has the standard temperature controls (the oven ranges from 60-400 degrees Fahrenheit) and gives a preheat mode to bring the oven to temperature before placing the food in.  There are 3 positions for the racks and one position on the bottom for the drip pan.  Because of the size of this fryer (did I mention it was big), the Brio also has a glass panel door and an interior light which is unfortunately placed above and slightly to the left of the ON/OFF button.  The button pad is very sensitive, and I can't tell you how often during cooking I would go to turn the light on or off and would accidentally shut the fryer off, making me try to figure out the right time and temp to finish cooking.
Let's get into the actual cooking.  When you think fried food, what's the first thing that pops into your mind?  I'm sorry, that's incorrect – the correct answer is tater tots.  And that's where we start – onion flavored tater tots.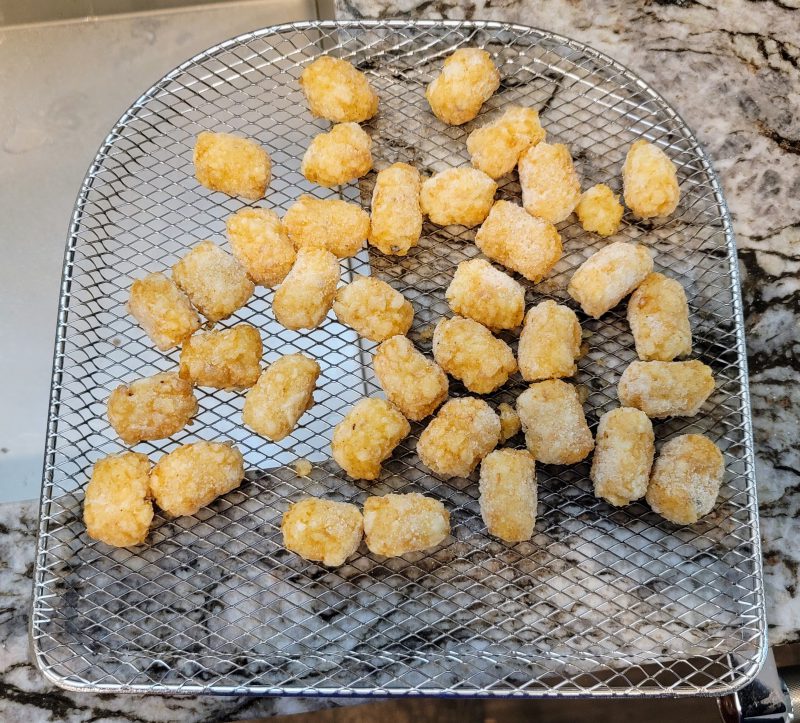 A quick hit of avocado oil and a pinch of salt, then into the fryer at 400 degrees for 10 minutes.  The rack with the tots sat on the second from the top position to keep it up where the heating element and fan to circulate the air would give the best effect.  Ten minutes later, I pulled them out, put them on a paper plate and went to clean the rack when this happened…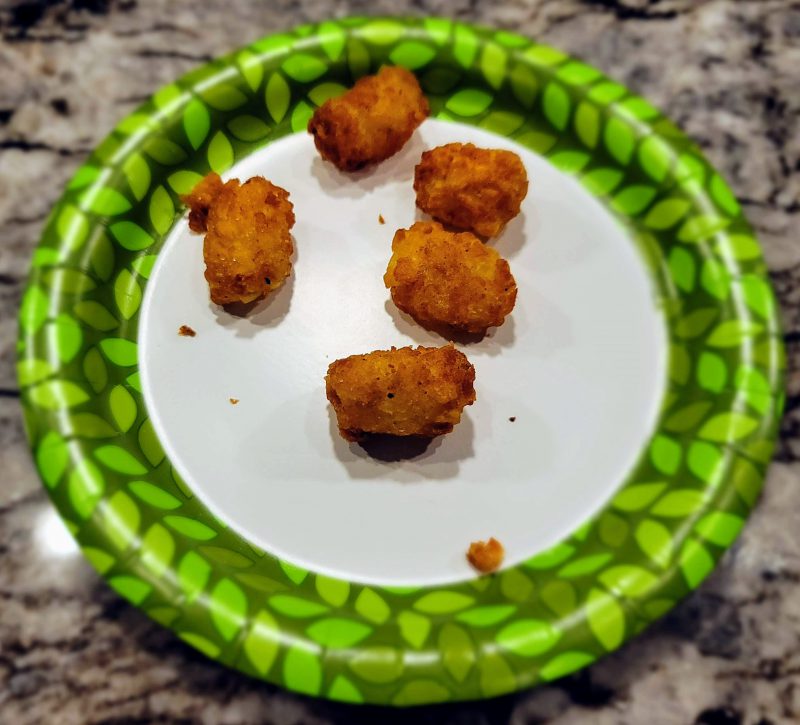 Apparently, they were perfect.  My wife and one of our friends took the bullet for the team and taste-tested the tots before I could get a picture.  At least they left me some.
So, assuming this test was successful, time to try something more interesting.  I wanted to rotisserie grill a chicken but I couldn't.  Why, you may ask?  Because even though this fryer is HUGE (I may have mentioned that), it is oddly smaller on the inside than you would expect.  It is a reverse TARDIS or perhaps just a real world object.  Going to 3 stores, I could not find a whole, fresh chicken that would fit on the rotisserie.  The rotisserie itself is about 10 inches long and I just could not find a whole chicken that would fit on the rod and not touch the sides of the oven.
Plan B.  Chicken thighs with salt and ancho chili powder.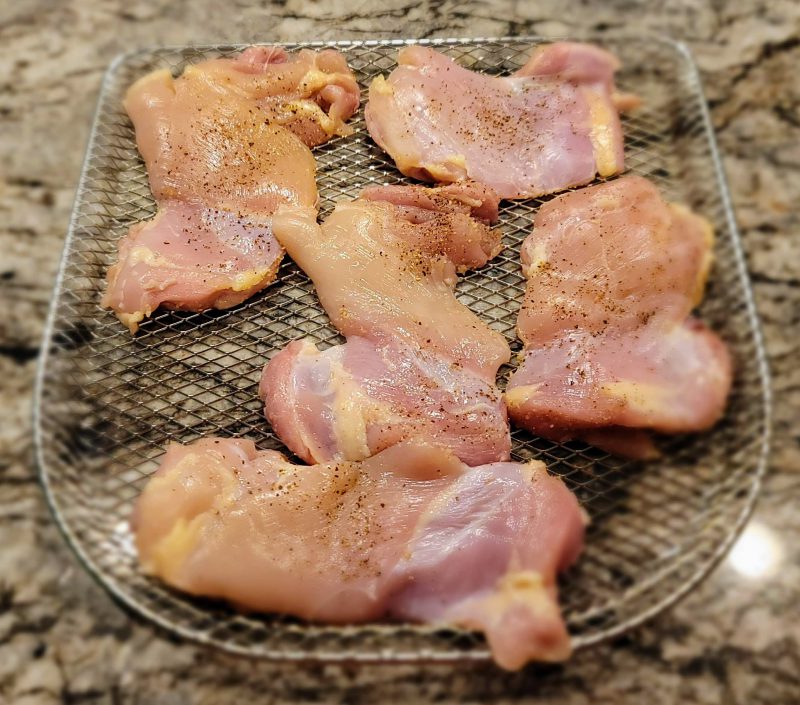 Again, a quick shot of avocado oil and into the oven with the help of the temperature probe.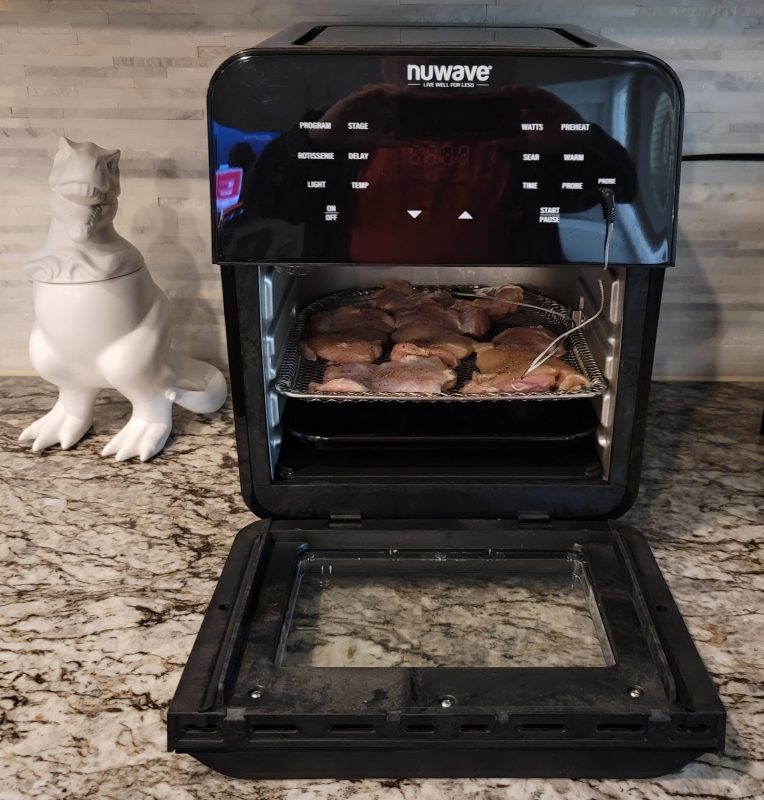 The probe plugs in the front panel and the door closes over it.  The PROBE button on the front sets the internal temperature target, so no guessing on time.  Set the probe temperature to 165 degrees, the oven temperature to 380 degrees and insert the probe into a thigh (the chicken, not mine).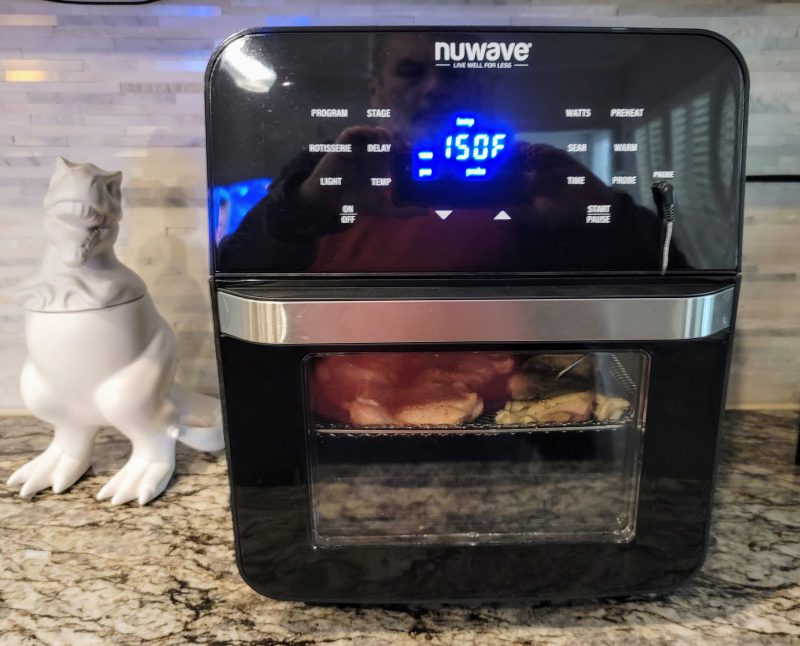 And here's where things started going off the rails.  After preheating and placing the chicken in the oven, the cooking cycle started.  A few minutes later, I hit the LIGHT button on the front to take this picture, and when I went to turn the light off, I very lightly grazed the ON/OFF button and shut the oven off.  I reset everything and started again.  Later in the cycle, I did it again.  I swear I am not this clumsy, the touchpad is very sensitive.
Regardless, when the thighs reached 165 degrees I took them out of the oven.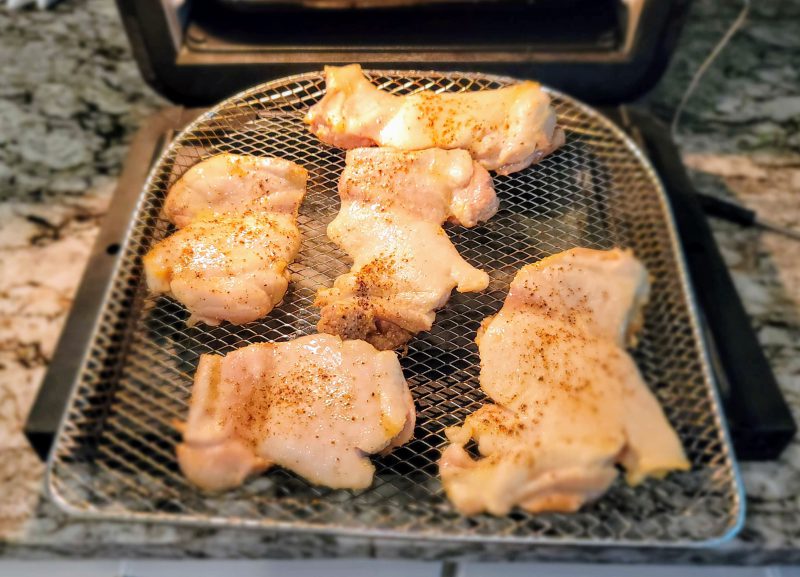 Frankly, they were some of the most unappetizing chicken thighs I have ever seen.  They looked almost boiled, not fried and not quite fully cooked.  A second meat thermometer verified they were in fact 165 degrees and cutting into a thigh, they appeared on the inside to be fully cooked.  Taste-wise, even though they had a fair amount of ancho seasoning, they were tender but bland.
What I like
The Brio is well made, regardless of the sensitive touchpad
The inclusion of the temperature probe is a nice touch
What I'd change
Being taller than wide, your choices in rotisserie foods are very limited
The SEAR button does not actually sear anything
Move the LIGHT button elsewhere on the touchpad
Final thoughts
It's hard to figure out who this air fryer is intended for.  First, its size would likely exclude it from the average person's kitchen.  To put it in perspective, we took my wife's Nespresso machine and my "space-saving" Keurig off the counter just to get this on.  And we just could not find the cabinet space anywhere to store it between uses.
Even with the huge footprint the Brio has, it feels oddly small when you want to cook something.  At 15.5 quarts I would have guessed I could make enough food to last 2 or more meals for my wife and myself.  Not so – because chicken thighs tend to be small, I was able to cook 5.  But if we wanted chicken breasts, we'd be hard-pressed to get 2 in the fryer at once.  So this isn't a great solution for a large family and mostly adequate for 2.
Finally, there's the appearance factor.  Fresh meats like beef or chicken (without breading or other coating) comes out looking unappealing.  Root vegetables came out OK, but others like Brussel sprouts (fried with bacon bits) came out looking like deflated versions of themselves.  Appearance is a major factor and unless you are cooking something that browns or crisps on its own, it is just something you will not get with this fryer.
When I first received the Brio to review, I was able to easily find it on the NuWave site.  Today, as I write this, the fryer no longer appears on their products page (its smaller sibling, the 14.4 quart version, still does).  The link below was only available via a Google search.  I just could not find the fryer through their own navigation and that's seldomly a good sign.
All in all, I like the idea of the air fryer for things like fries or frozen chicken strips.  I am just not sure what else I might make that would come out looking like something I'd want to eat.  And at $164.99 on Amazon ($199.99 on the NuWave site bundled with a pressure cooker, assuming that it is still available given how hard it was to find) along with the odd sizing issues, you could certainly find a fryer in a normal size that would not chew up your entire counter.
Price: $164.99 on Amazon, $199.99 at NuWave
Where to buy: Amazon
Source: The sample for this review was provided by NuWave