We use affiliate links. If you buy something through the links on this page, we may earn a commission at no cost to you. Learn more.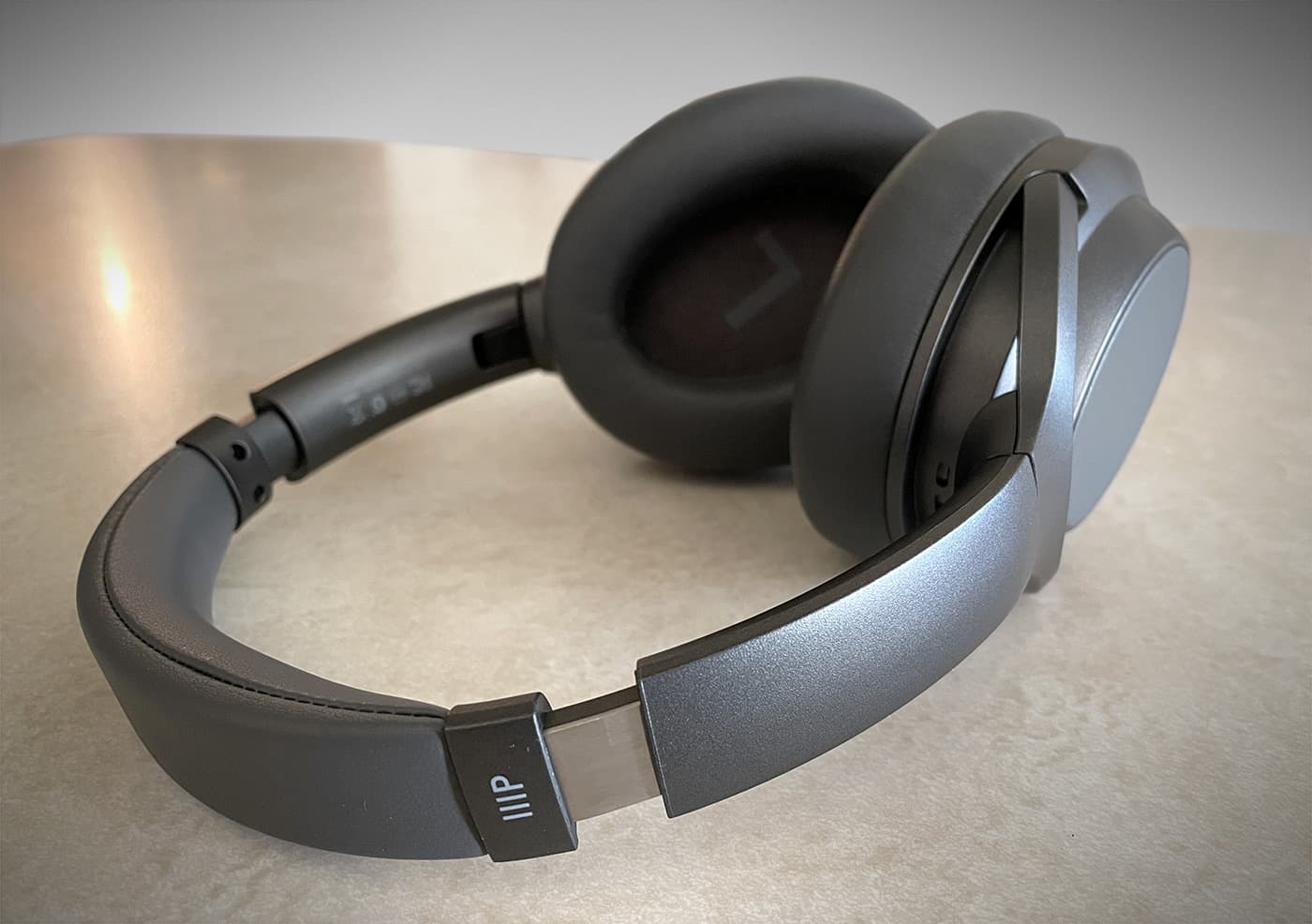 REVIEW – What do you get when you take an expensive pair of headphones and remove the haute couture and name brands? An ugly, feature-rich set of great-sounding headphones. That's what the Monoprice BT-600ANC Bluetooth Headphones are all about.
What is it?
The Monoprice BT-600ANC Bluetooth Headphones are a set of active noise-canceling wireless headphones with aptX™ HD Audio support.
What's in the box?
BT-600ANC headphones
24″ audio cable
10″ USB-A to USB-C charging cable
Carrying case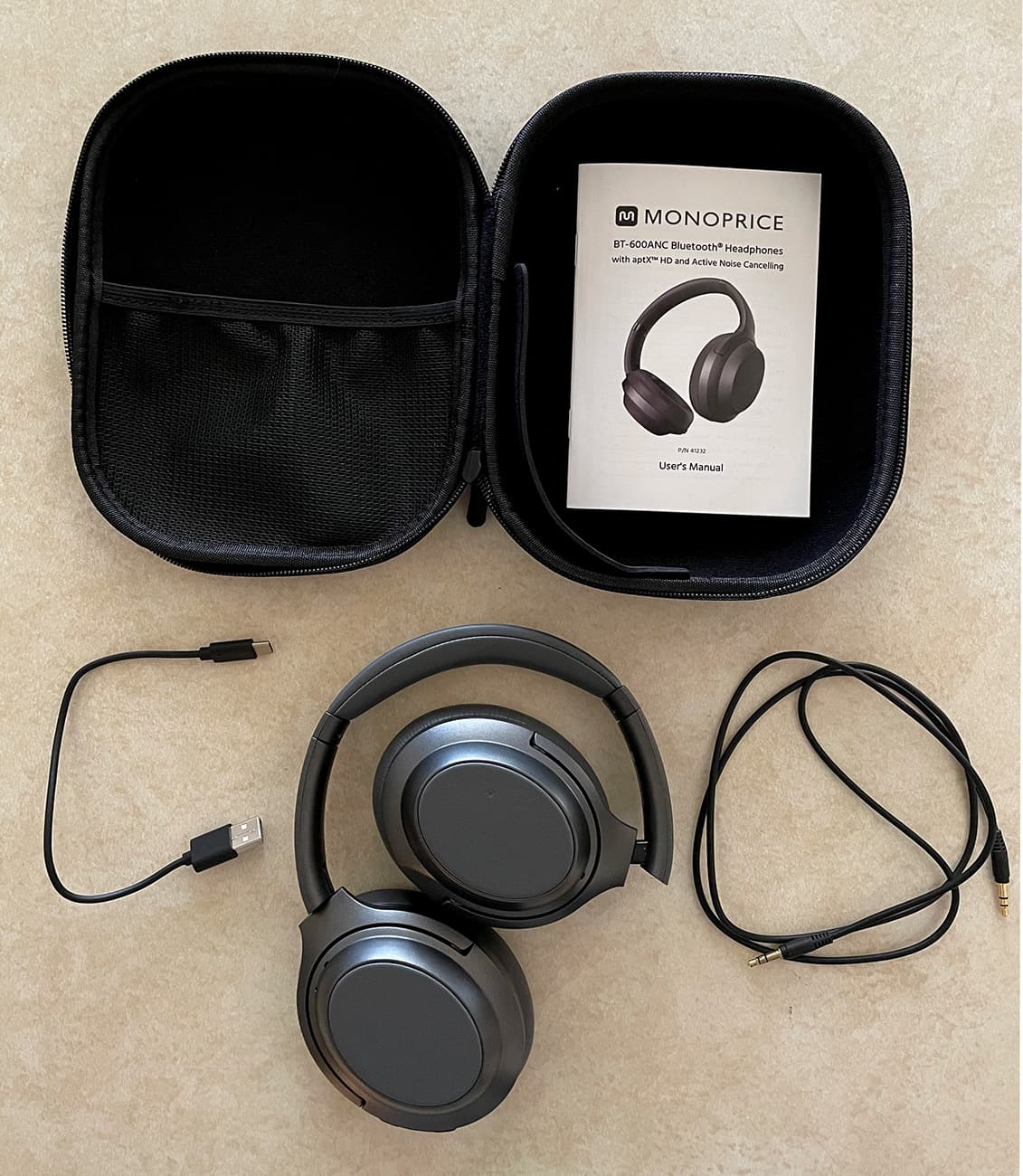 Hardware specs
Driver Size: 40mm with Neodymium magnets
Frequency Response: 20Hz ~ 20kHz
Sensitivity: 100 ±3dB (1kHz @ 1mW)
Bluetooth® Version: 5 with support for pairing to multiple devices
Audio Codecs: Qualcomm® aptX™ HD Audio, AAC, and SBC
Bluetooth Range: Up to 32 feet (10 meters)
Supported Bluetooth Profiles: A2DP, AVRCP, HFP, HSP
Noise Cancelling: Up to 35dB
3.5mm audio jack
Multifunction touchpad
Battery Capacity: 500mAh
Charging Connection: USB-C®
Audio Playback Time: Up to 40 hours
ANC Operating Time: Up to 25 hours
Talk Time: Up to 30 hours
Weight: 10.0 oz. (289g)
Design and features
To be honest, when I think of Monoprice, the first thing my brain does is draw a parallel between that name and "less expensive, generic version." I've owned a few of their products — HDMI cable, wired headset, USB adapters — and while cheap, they got the job done, and that's really all that matters.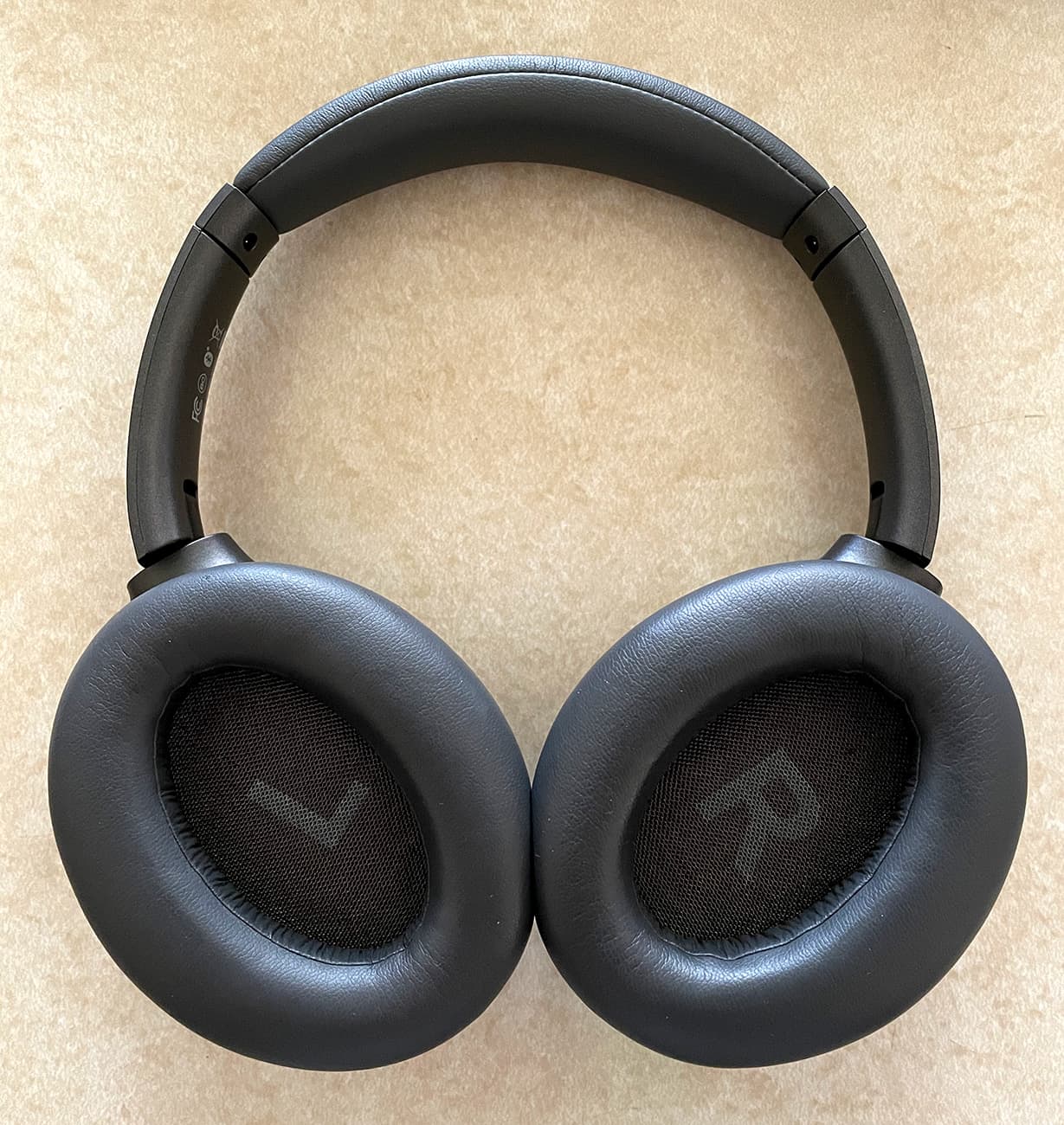 Sometimes, with all the big name brands out there, it's hard to disassociate "quality" with "expensive." It's the same assumption that sells Apple's $500 AirPods Max and $350 Beats Headphones.
I was pleasantly surprised by Monoprice's BT-600ANC Headphones, which I will hereafter refer to as the headphones. They took the old adage of "you get what you pay for" and flipped it on its head.
At first glance, the headphones, like many of Monoprice's other products, don't stand out as anything special. They're matte gray, barely branded, and certainly not coming close to flashy or fashionable. They look like the sort of headphones that would fit over a Lego minifig, or what you'd quickly draw if you were playing a game of Pictionary.
Think primer-colored Civic hatchback, but with a really good engine.
They're lightweight, only 10oz. The ear cups and top of the adjustable headband are wrapped in soft, cushy material, and feel really nice against the ears and top of your head. The inside of the earphones are labeled with a large L and R so you can easily orient them with your head.
There are 2 small LED lights, one to signify "power on and connected" and the to signal the headphones are charging.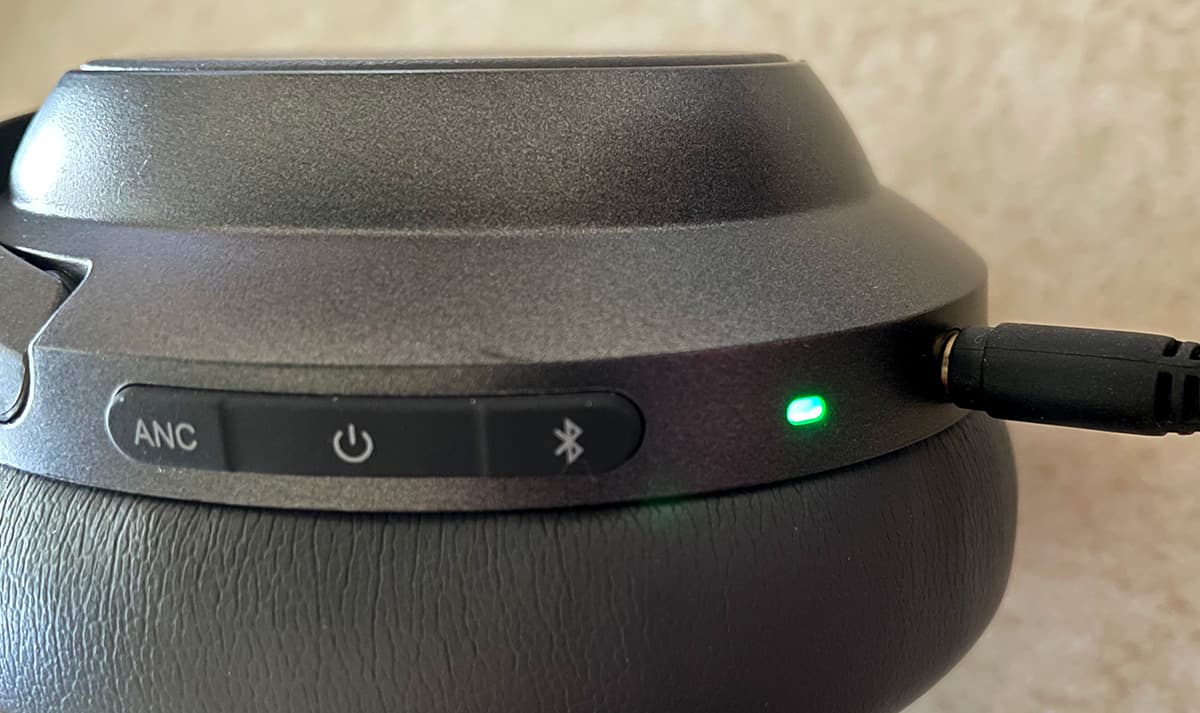 The large ear cups are large enough to envelop my big ears, and even without powering them on or music playing, they manage to block quite a bit of ambient sound.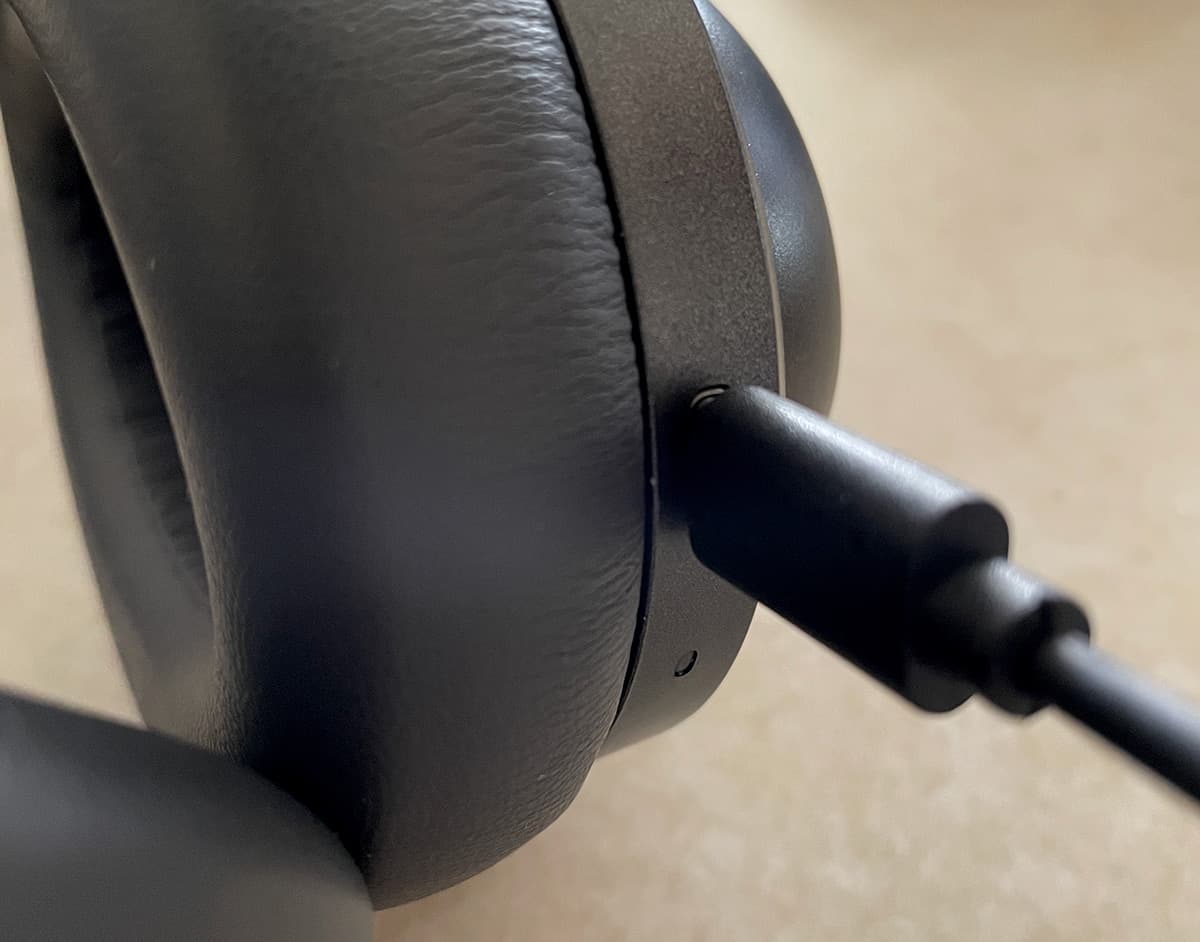 You can rotate and fold the ear cups to make them lay flat against a surface and fit within the included carrying case, reducing the overall size for easy transport. I always appreciate being able to fold any sort of headphone into "carry mode," so bonus points, there.
Really, the only other thing worth mentioning about the design is the 3-button group on the back of the right ear cup, which controls the power, active noise canceling, and Bluetooth pairing, and the touch-sensitive panel for controlling volume, track skip, quick ambient sound and call answering. Yes, the entire circular panel on the right ear cup is touch-sensitive and operates a number of features, but more on that in a bit.
Setup
Setting up the headphones is as easy as you'd expect from any Bluetooth headset. Turn on the headphones, hold the Bluetooth button for a few seconds to put it in pairing mode, and pair them with your device. Simple.
They can be paired with multiple devices and switch between them.
You can also fit a 3.5mm audio cable into the headset and connect them directly to your phone, computer, or gaming controller. They even work without being powered on, although you lose the volume settings, ANC, and touch controls. They operate based on the volume of your device.
It's worth noting that if the audio cable is connected while powered on, the Bluetooth functionality turns off, saving battery life, and the battery is used to power the ANC and touch controls. When the audio cable is removed, the headphones power off. Smart feature.
Even when the headset is drained of battery life, you can still use them with a regular analog connection. Thoughtful.
Functionality
The functionality and features of these headphones exceeded my expectations. For the price and the brand, I expected a basic set of wireless headphones with just-okay noise cancellation, but there's a lot more going on with these headphones.
The outer panel on the right headphone is a large touch panel. Swiping up or down on the panel operates the volume, with a short beep feedback sound. Left or right skips or reverses the track. A double-tap pauses the music or answers an incoming call.
The controls take a bit of time to get used to, practicing the proper speed and length, and angle of the swipes. It's a clever way of not overloading the outside of the headphones with buttons, but it can be tricky to get the gestures right the first time.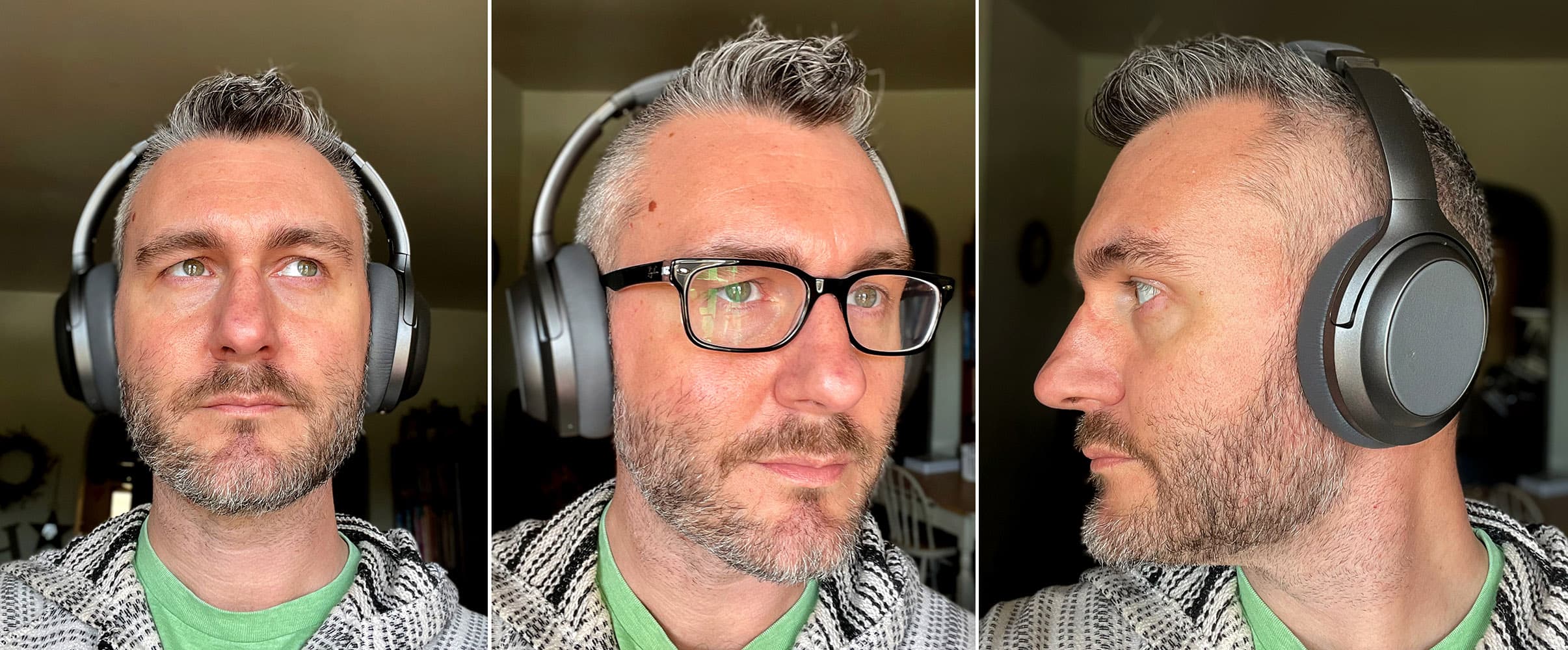 Holding the palm of your hand against the panel activates a surprising and extremely useful feature… it lowers the volume to 10% and turns on the ambient sound, so you can pop a hand against your ear and have a short conversation with external noise being pumped into the speakers. It's a very useful feature, especially when ANC is activated and inside-voice-volume conversations are basically nullified. Being able to briefly lower the sound and deactivate ANC that quickly is great.
There are 3 different modes for active noise cancellation: on, ambient noise, and off. For the most part, I'd recommend keeping ANC activated, as it will give you the best sound quality. Think of it like providing more of a blank slate for the music to be layered over, muting ambient noise and conversations in the room. It's not the best I've heard, I think the AirPods Pro handles the ANC a bit better, but they are also 3x the price.
Ambient mode is basically the opposite, using the external microphones to pick up nearby sounds to layer in with the music. This is useful for when you have to be aware of your surroundings like biking or walking in the city, or if you need to be sure you hear the phone ring, baby crying, or another important sound.
The last mode simply turns both of these features off, leaving you with decent noise isolation. The plus side of this feature is a sizable increase in battery life, as the ANC modes cut the battery life nearly in half, from 40 hours to 25 hours.
Performance
These headphones offer so much functionality for the price that I would be more forgiving than usual about the audio quality, but they actually sound really good. I tested them with a variety of music types, from bassy trap hip-hop to crunchy metal to podcasts, and the 40mm drivers handled everything I could throw at it quite well.
They could pump a bit more volume on the lows — they're not going to rattle your brain with bass — but they seem quite balanced in the mids and highs. With ANC turned on, the higher end of the treble is crisp, and that tends to keep most music from sounding too flat/muddy. Personally, I'd rather have it that way than too much bass.
Overall, I'd say they're a solid B in terms of sound quality.
What I like
Superb functionality for the price
Can be used in wired mode without battery power
Long battery life
Comfortable to wear for extended periods
What needs to be improved
A small knock, they have good but not excellent sound quality
Touch controls are a little finicky
Final thoughts
Don't let the name fool you. After spending a few weeks in these Monoprice, they're easily comparable to cans that are twice the price (or more!) It just goes to show that sometimes you really are paying for the name. These are a spectacular set of ANC headphones, cramming excellent functionality and very good sound into an unassuming package.
Price: $79.99
Where to buy: Monoprice and Amazon
Source: The sample of this product was provided by Monoprice.