We use affiliate links. If you buy something through the links on this page, we may earn a commission at no cost to you. Learn more.
Product Requirements:
Device:
Any touch-screen PDA

Are you still searching for a multi-pen that has all the writing-tip bases
covered? Yet, looks impressive enough that you wouldn't mind handing it to an
important client when it was time for them to sign on the dotted line? If so,
then this might be the one…
The Burberry
Knightsbridge Trio manages to hide three different functions inside a
simple, yet stylish exterior. This multi-pen is available in Cream, Red, Navy Blue, and Light Blue.
Like other Burberry pens, the Knightsbridge comes in an impressive blue gift
box; perfect for holidays, graduations, promotions, etc.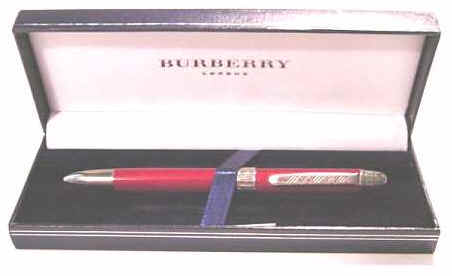 As you can see, I was presented with the Red Trio, which in my opinion is
more like a dark "coral-red", than a true "blood-red". This
pen manages to look classic, without being too stuffy.

What makes the Knightsbridge a "Trio", is the fact that underneath
its glossy exterior, exists a black ballpoint pen, a .5mm mechanical pencil, and
a red ballpoint pen. Stylus Central has replaced the red ballpoint with one of
their white stylus tips.
The lacquer finished exterior gives off  more than just a
one-dimensional sheen. It appears to have a depth to it, and almost seems to
sparkle. I think it is quite beautiful. Stainless steel accents break up the
pen's barrel and add to its good looks. 
The cap at the top of the pen unscrews, to reveal a hidden regular-sized
eraser for the mechanical pencil.

The Trio's pocket-clip is wide, and features the majority of this multi-pen's
decoration: a Burberry plaid design. 

The band across the Knightsbridge's barrel has BURBERRY engraved in a very
dignified and understated font. A stainless end piece finishes out this pen.
Now that you have an idea of the Trio's form, lets talk about its function…
The desired writing tip is selected by twisting the barrel's two halves in
opposite directions. This is my favorite method for tip selection, as there is
never a worry about the wrong tip appearing because you "held the pen
wrong".  
As mentioned before, the Knightsbridge has a .5mm mechanical pencil. This
being a multi-pen, one can fit about 3 or 4 leads max, in the miniature
barrel. This should be sufficient, unless the user was doing some heavy-duty
figuring.

I found the mechanical pencil's operation to be smooth – the lead is advanced
by clicking the entire top half of the pen in a downward motion.
The Stylus Central tip that is exchanged for the red ballpoint, is pure white
and slightly pointy. This type stylus tip writes equally well, whether on a
protected screen or not.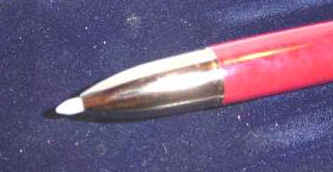 The black ballpoint that is in this Burberry is a little too fine for my
taste, but the good news is that it is a standard multi-pen refill (Pentel, for
those interested), and can easily be exchanged for a broader tip, should one
desire. For those that do like a fine tip, I found that with this ballpoint my
handwriting was smooth, and the ink did not skip.
The Knightsbridge is slightly larger than a Mont Blanc Ballpoint in weight
and size. Measuring 5.6" (14.3cm) tall, and .4" (1.2cm) at the grip,
it is comfortable for periods of extended writing.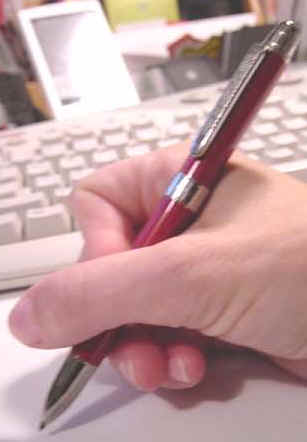 This is a pen that anyone would be pleased to either give or receive as a
gift. It truly appears neither masculine nor feminine, just classic. 
The Burberry Knightsbridge Trio is available at Stylus
Central, and other fine retailers.
Price:  $69.95
Available in Cream, Red, Navy Blue, and Light Blue
Pros:
Elegant, professional, and classic in design 
Has a comfortable heft and thickness
Includes a mechanical pencil 
Simple to operate twist mechanism
Cons:
Expensive, yet not too over the top…
Black ink cartridge writes too fine for my taste, but is easily replaced