We use affiliate links. If you buy something through the links on this page, we may earn a commission at no cost to you. Learn more.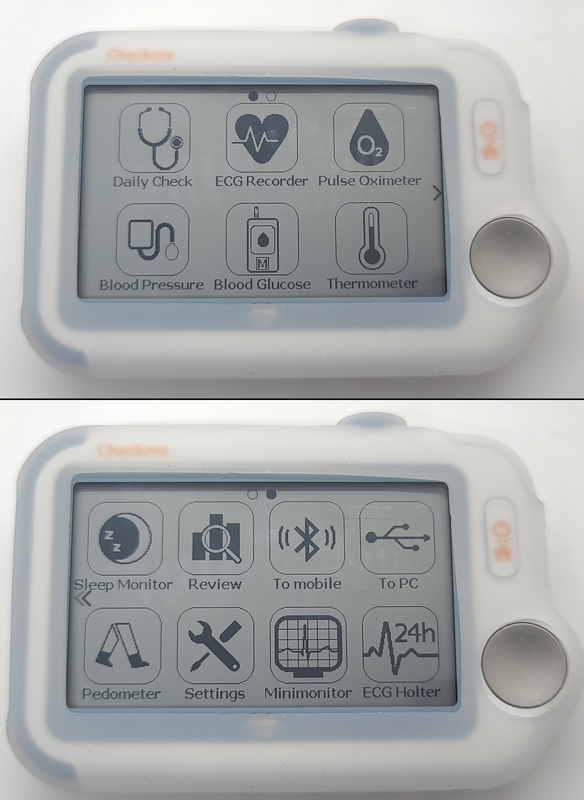 REVIEW – One thing you can never take for granted is your health.  Without good health, life gets a lot more complicated.  That's why they recommend a physical every year, preventative medicine, and routine monitoring.  This current Covid-crazy world we live in has complicated some of that with some medical professionals switching to telemedicine. That can make getting quality care a challenge as diagnostic tools for home use are typically limited to thermometers you pick up at the local pharmacy, a more high-tech thermometer like this, or perhaps a blood pressure monitor like this.  Wouldn't it be great if there were a comprehensive home diagnostic and monitoring tool that gives you the ability to perform a bunch of routine medical tests in the comfort of your own home?  And, wouldn't it be great if you could access those test results on your phone and/or PC and be able to send them to your doctor? The Wellue Checkme Pro wants to be your home health monitoring solution.
First, an aside…
The product I was to be sent is the Wellue Checkme Pro.  On Wellue's website, the product is listed as the Wellue Checkme Doctor but appears to be what I was sent, however, everything I was sent was branded with the name Viatom, not Wellue.  So, that will explain why the photos will have the Viatom name, not Wellue, but I still can't explain the Pro/Doctor name difference.  So play along when I say "Checkme Pro", as that will be the name I use in this review.
What is it?
The Checkme Pro is a comprehensive home health monitoring tool.  It supports the following tests:
Daily check (simultaneous pulse, pulse oxygen (SpO2), EKG, systolic blood pressure) by user
EKG by user
Pulse oxygen (SpO2)
Blood pressure (via wireless cuff) by user
Temperature
Blood glucose (with an optional kit – not tested) by user
Sleep monitoring (pulse, pulse oxygen over a full night)
Pedometer by user
Mini monitor (long term pulse oxygen plus EKG)
EKG Holter test (long term full EKG)
I should note that the documentation says "ECG", not "EKG".  An electrocardiogram or electrocardiograph (ECG or EKG) is the same thing. I choose to use "EKG".
What's in the box?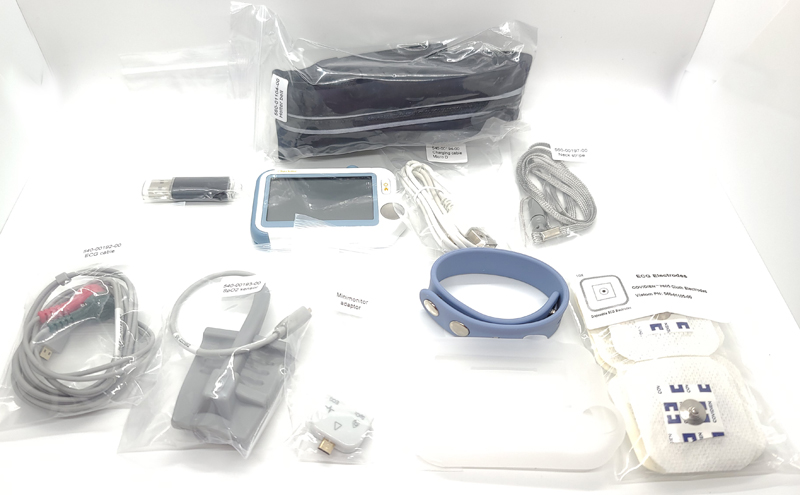 Top to bottom – left to right

Waist belt

USB drive with Windows PC software (not compatible with macOS)

Main unit with built-in sensors
Charging cable
Lanyard

EKG cables

SpO2 cable

EKG & SpO2 cable splitter

Wrist band

Protective cover

EKG electrodes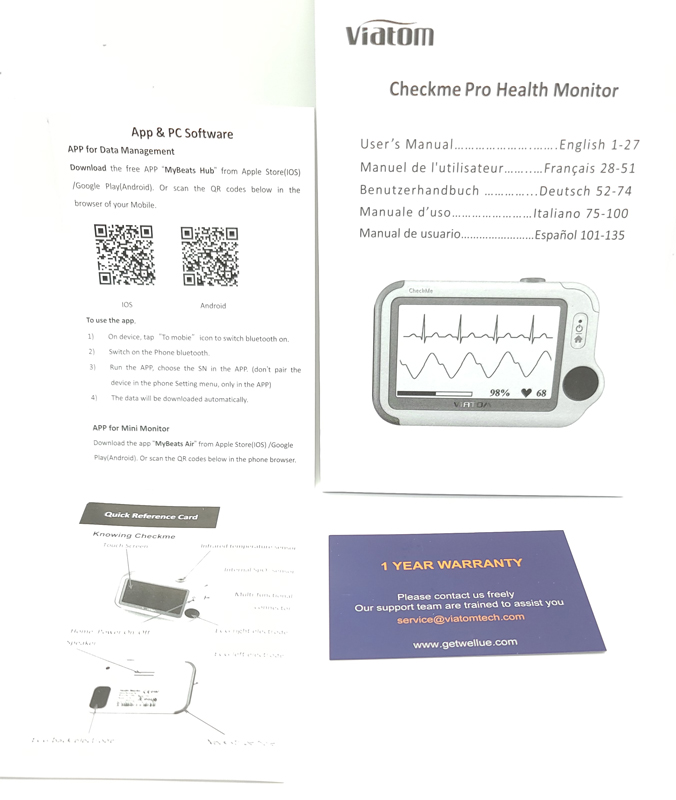 Software card with IOS and Android QR codes for data transfer and mini monitor)
Manual
Quick reference guide
Warranty card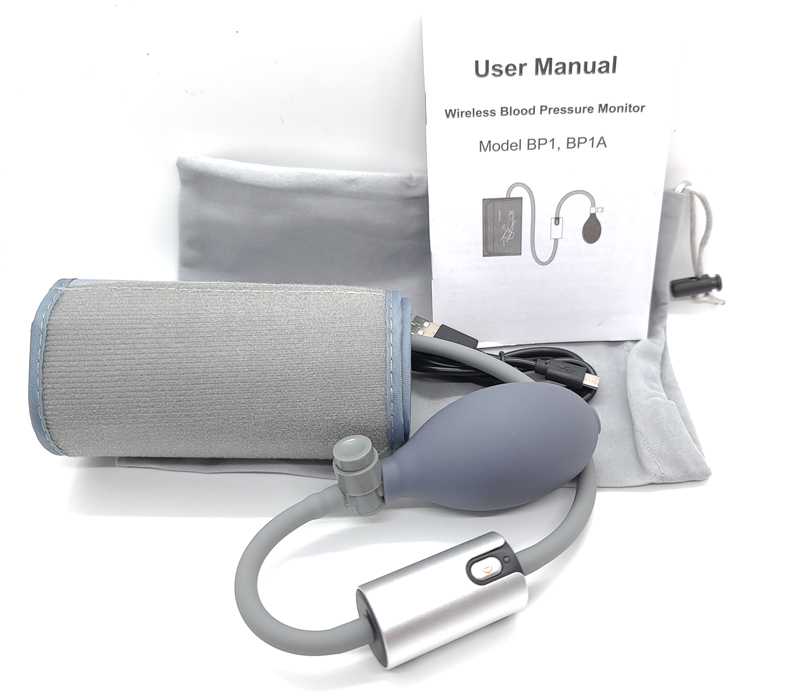 Blood pressure accessory

Cuff with Bluetooth module and manual inflation bulb
Charging cable
User manual
Carry bag
Hardware specs
Dimensions: 3.5" x 2.2" x 0.5" / 88mm x 56 mm x 13mm
Weight: 2.8oz /80g
Interface: touch screen

Cuff Size:

9" – 17"/22-42cm

Wireless:

Bluetooth 4.0 BLE

Recorded parameters:

Diastolic blood pressure, systolic blood pressure, pulse rate, mean arterial pressure, pulse pressure

Measuring technology:

Oscillometric method
Cuff pressure range: 0-300 mmHg
Blood pressure accuracy: ±3 mmHg
Pulse rate range: 30 to 250 bpm
Pulse rate accuracy: ±2 bpm
Dust and weather resistance: IP22 (Protected from touch by fingers and objects greater than 12 millimeters and protected from water spray less than 15 degrees from vertical)
Battery: Rechargeable lithium-polymer, DC 5V
Battery life: One charge for 1000 measurements or 12+ hours continuous monitoring
Main unit charging connector: mini-USB (seriously!)
Cuff charging connector: micro-USB
App compatibility: iOS 9.0 or above; iPhone 4s or above; iPad 3 or above, Android 5.0 or above, with Bluetooth 4.0 BLE
Design and features
This thing is tiny.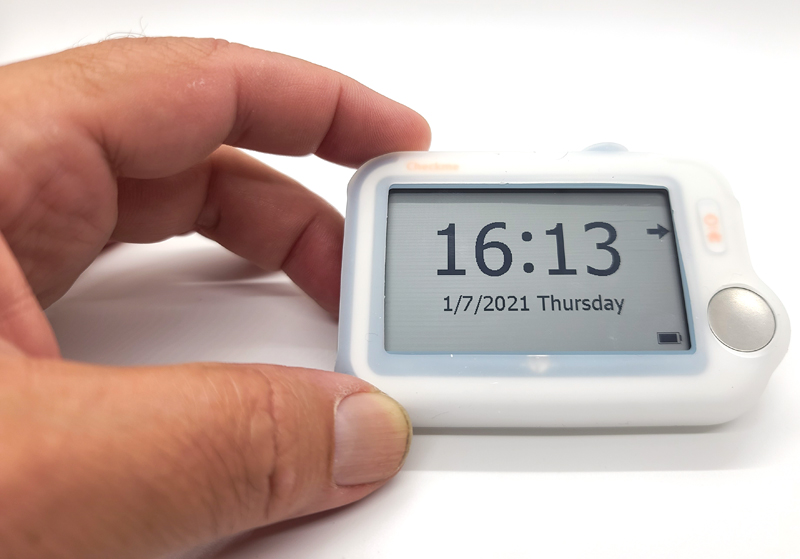 It's not like I have huge hands.  This is definitely a palm-sized device.  I have the silicone protective cover in-place so the edges of the device look a little blurry.  On the top-right of the face, we see the power and home switch.
There are three EKG contacts on the device itself.

We see the circular one on the right side of the front, the rectangular one on the back, and the oval one on the left side of the unit. Below that sensor, you can see the attachment point for the included lanyard that is interestingly labeled "Neck stripe".
On the top, we find the non-contact temperature sensor.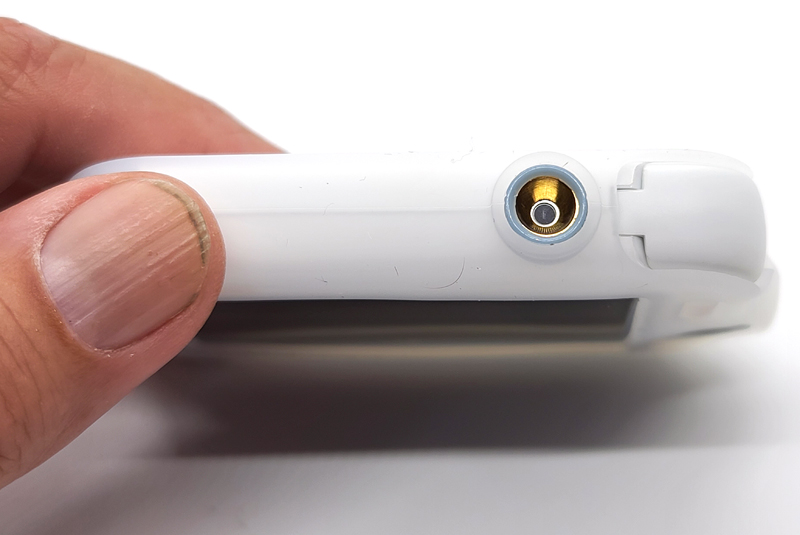 You can also see the flip-cover over the pulse oximeter sensor.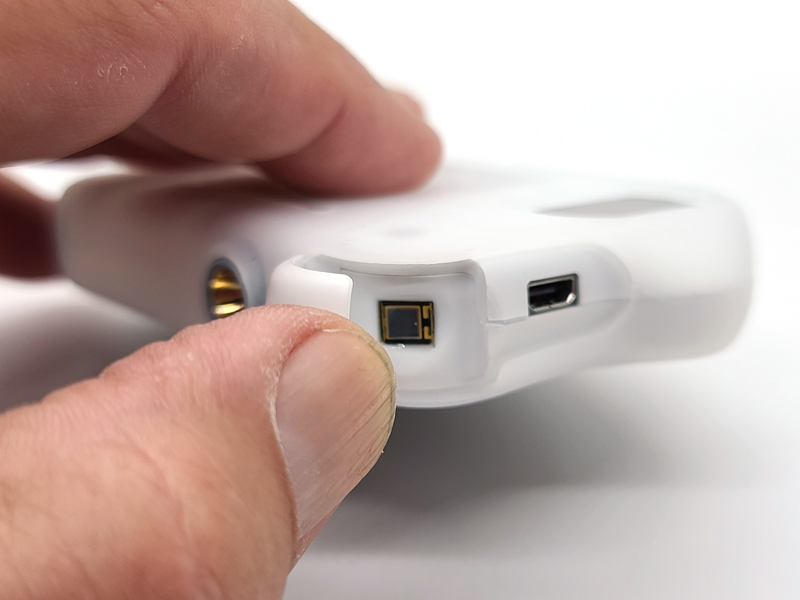 Below that, on the right side of the device, we find the mini-USB port for charging as well as attaching several of the accessory components. Seriously, in 2021, mini-USB.
The protective cover has a pair of slots on the back used to install the wrist band.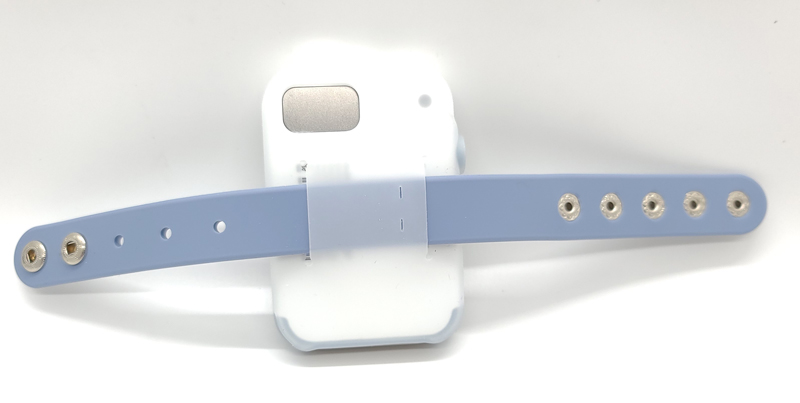 The blood pressure cuff has a pretty familiar look to it.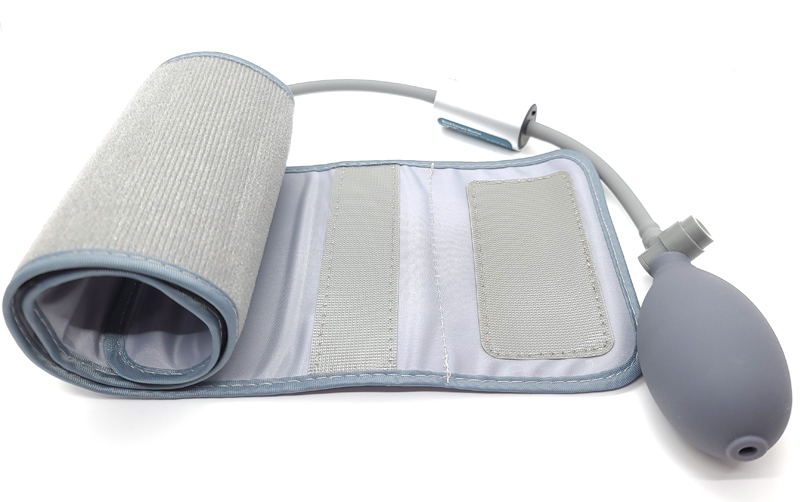 One difference is that the cuff portion is springy so it clamps onto your arm.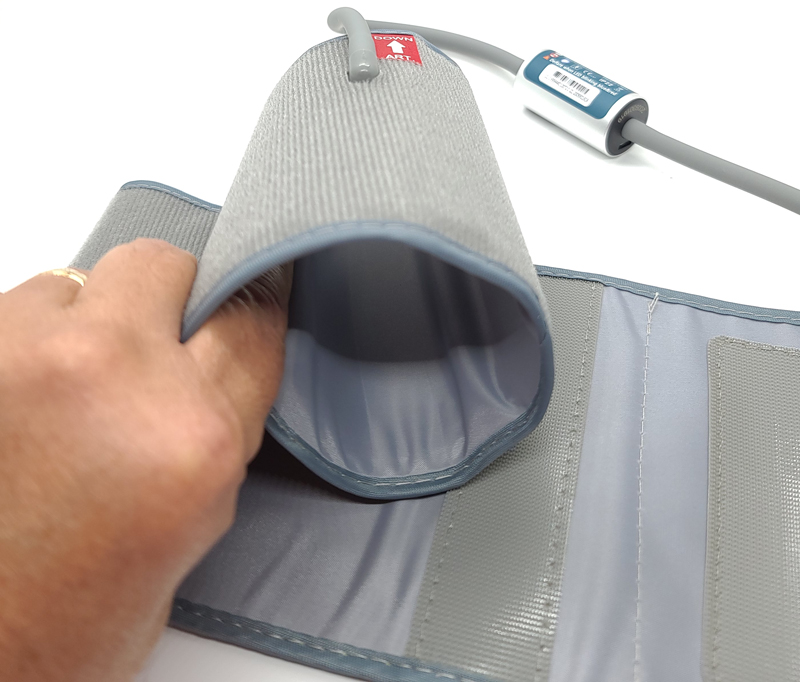 You then wrap the remaining fabric around your arm and use the attached Velcro strips to hold it in place.
To turn the cuff on/off, you use the button shown.  The blue light flashes when pairing with the app and then glows steady blue when connected. The mini-USB charging port is on there as well.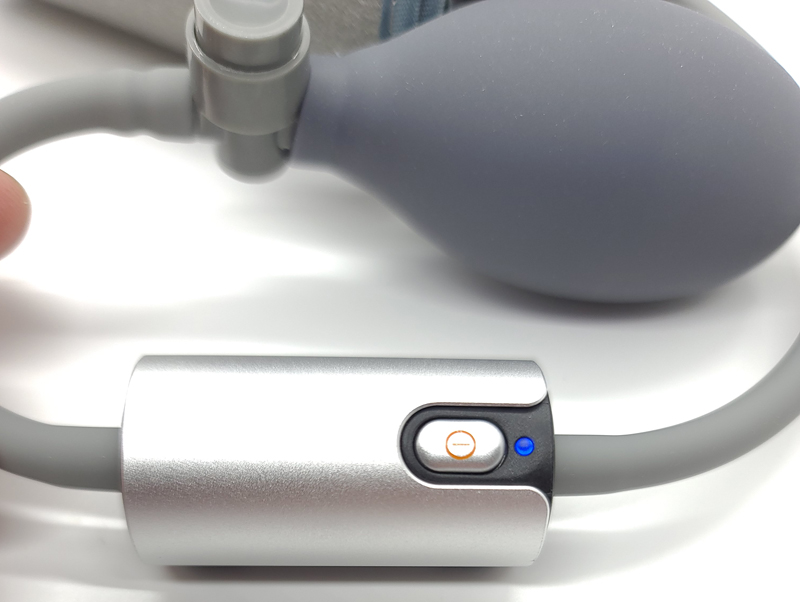 To inflate the cuff, you must repeatedly squeeze the attached bulb.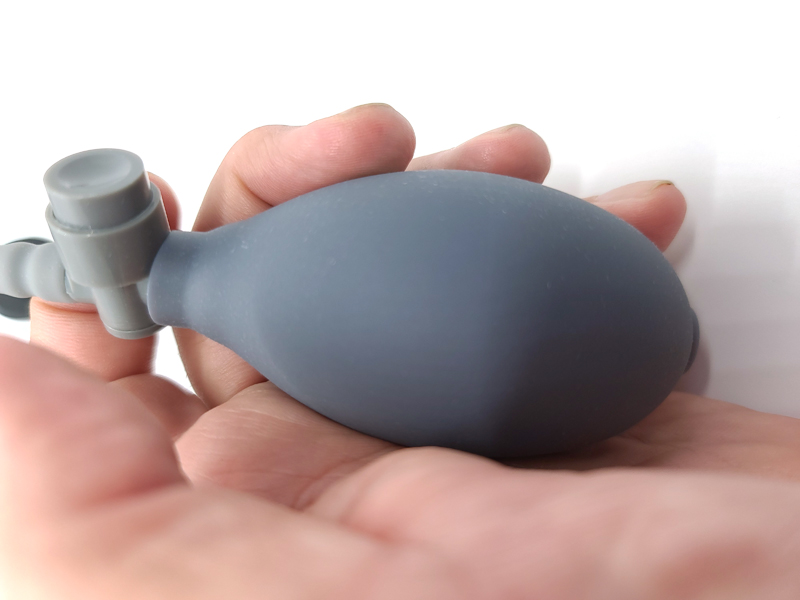 The air immediately starts to drain from the cuff, so you have to pump it fast.  The push-button is used to dump the remaining air after the test is complete.
Setup
The only setup involves setting up users.  The daily check, blood pressure, pedometer, and EKG features segregate data by the user.  The pulse oximeter and temperature functions do not separate data by the user. User setup includes gender, height, weight, and birthday.
You can also set the default language, volume, turning the voice guide on/off, date/time, and temperature scale (F/C).  If you don't have the optional blood glucose testing kit, you can disable that functionality from the menu as well.
Performance
The Checkme Pro is fairly straightforward to use. After turning on the device, you use the touchscreen to select the test and then follow the on-screen instructions.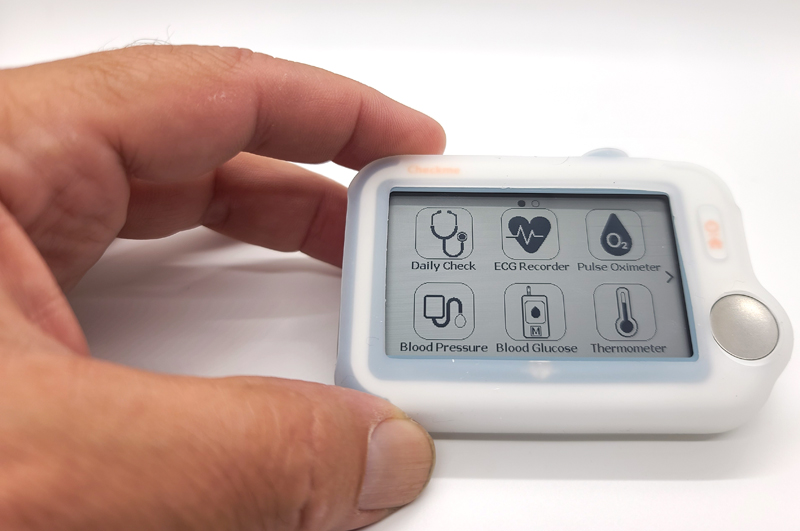 The first page contains the daily check, EKG, pulse oximeter, blood pressure, blood glucose (only available with the optional kit – I eventually disabled this test), and thermometer.  Swiping to the left, we get to the second page.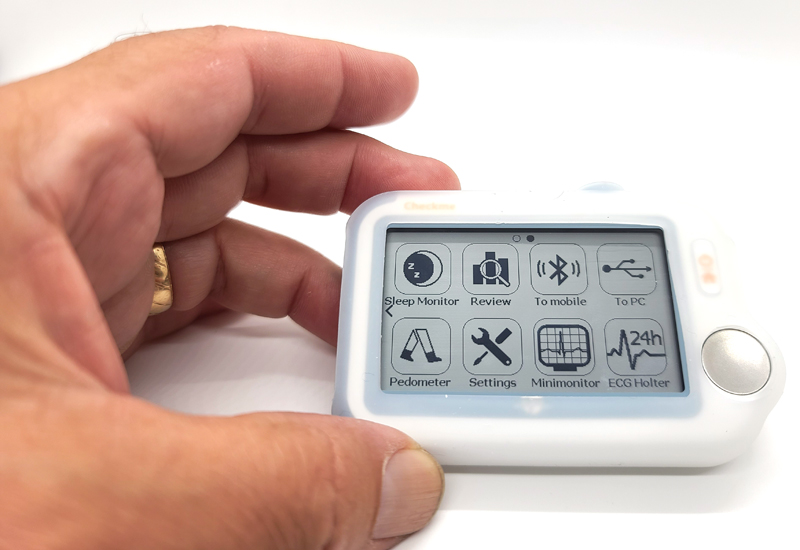 This page contains the sleep monitor, review icon where you can review saved results for all tests, Bluetooth – used to connect to your phone for mini-monitor or to transfer test results, PC connection  – used to connect to their PC software to transfer comprehensive test results, pedometer, device setup, mini-monitor for long-term SpO2 and EKG measurement, and Holter test for 24-hour EKG monitoring with the included waistband.
I started with a simple temperature measurement.  You choose the temperature icon and follow the on-screen and verbal instructions.  Put the probe at your temple, click the home button, and swipe across your forehead.  You hear a *beep* and your temperature is displayed.  It's fast and easy.
Here's a look at the Checkme Pro in action doing a daily check.
The blood pressure reading in the daily check requires calibration with the blood pressure cuff.  The steps are a little complicated and not intuitive, even reading the included documentation.  The calibration process needs to be made a little more straightforward.
Here's a blood pressure reading using the wireless blood pressure cuff.
This video shows me using the internal pulse oximeter to measure blood oxygen saturation.
You can also use the external finger cuff for SpO2 measurement.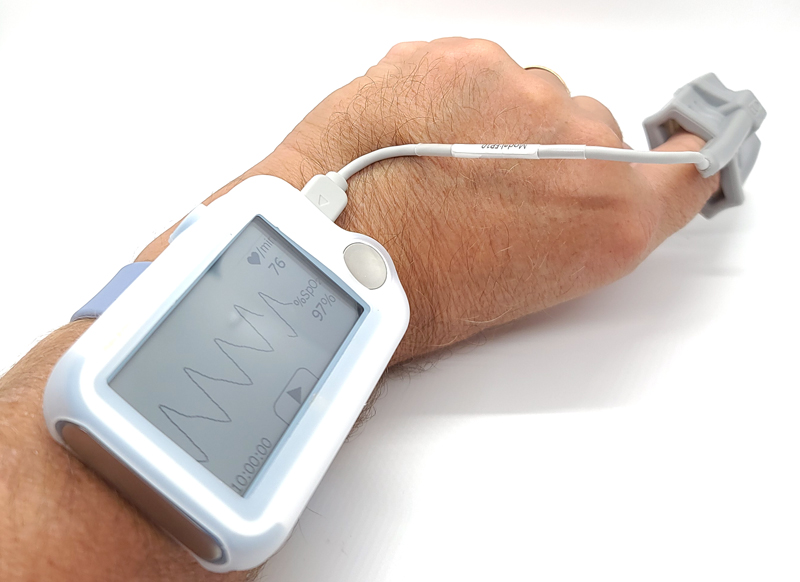 This is the same setup you would use for sleep monitoring.
And finally, here I am grabbing a quick EKG using the internal EKG sensors.
You can measure EKG in four different ways.  First, as I did above. Second, still using the internal sensors with your hand and abdomen.  Third, with the leads on each wrist, and fourth, with a lead on your chest and another on your abdomen.
You can review all the data on the device itself, but given the size of the screen, it's pretty difficult to really get a good look.  You have two options for better data viewing.  First, you can install the MyBeats Hub software on your phone.  Let's talk about that for a moment.
I didn't bother scanning the QR code for the Android software.  I just went to the Play store and searched for Wellue.  I found the Checkme software and installed it.  try as I might, it wouldn't connect to the Checkme Pro, even though the software recognized the device.  I was confused by this as the software was Viatom software and both the device and software use the Checkme name, but no matter what I did, nothing worked. I scanned the QR code and it took me to MyBeats Hub by YUANZHI.  Huh?  The description says it connects to a MyBeats Hub.  Nothing about Wellue.  Nothing about Viatom.  Nothing about Checkme.  OK – that's what the card pointed me to, so…I installed it.  Guess what?  It worked. So, now we have Checkme Pro, Checkme Doctor, Wellue, Viatom, MyBeats, and YUANZHI.  I honestly can't sort all this out.  There is a second download called MyBeats Air.  Guess what that does.  Hmm…air…blood pressure?  Nope. It is the monitoring tool for the mini-monitor for long-term EKG and SpO2 measurement.  Wow.
Once I got the right software installed, I was able to transfer all the data to my phone.  Using the app, I can view all stored data when not connected to the Checkme Pro, or, connect and download any new data.
Here's a list of general thermometer readings.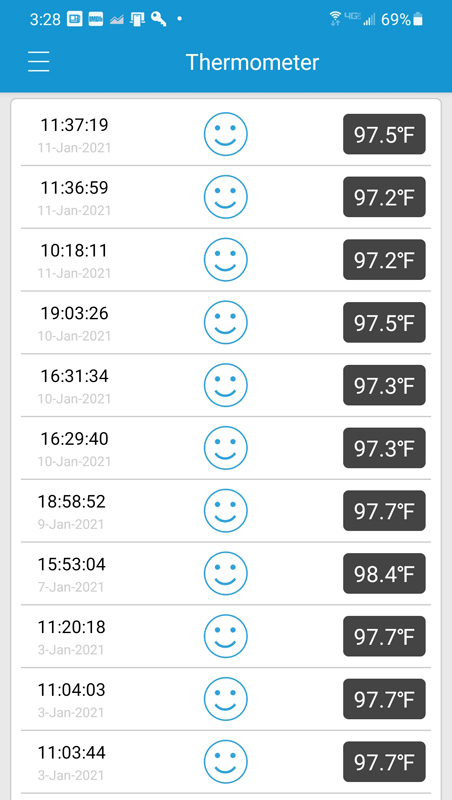 Here are my last blood pressure checks.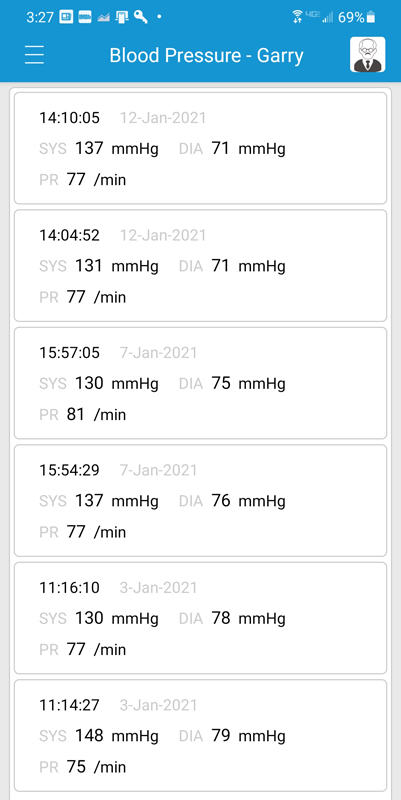 Here are my most recent daily checks.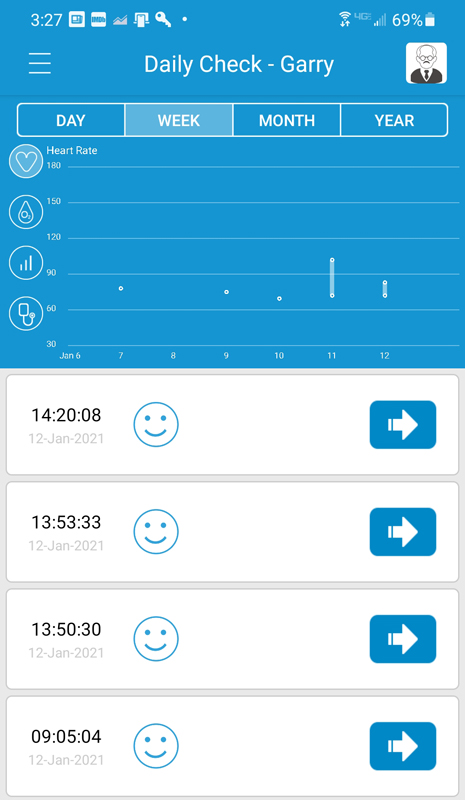 Clicking on the arrows opens up all the details from that test.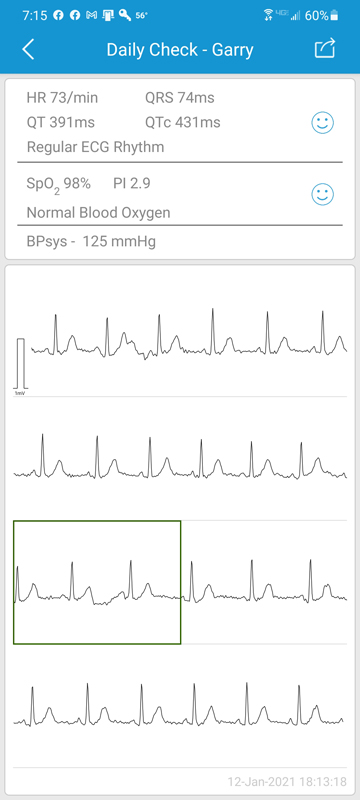 Reviewing a full EKG delivers a larger image.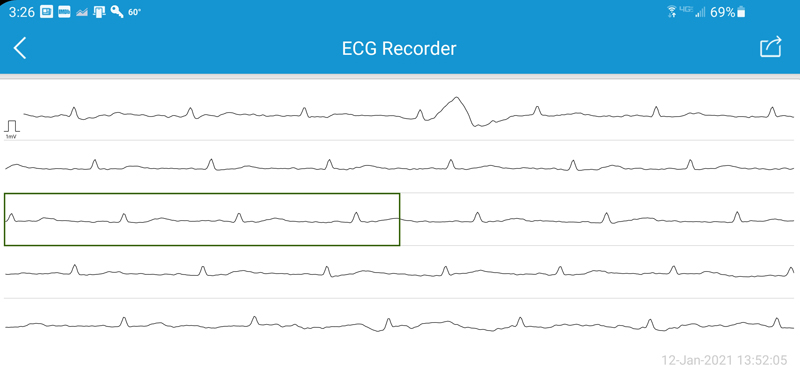 Any of these results can be saved to your image gallery or directly attached to an email or text message to be sent to your health care provider.
If you choose the mini-monitor, you hook up the mini-monitor splitter to the device and then attach the two-wire EKG leads and stick EKG sensors on your chest as directed.  You also plug in the SpO2 finger cuff.  The device will connect via Bluetooth to your phone and deliver real-time plots of oxygen saturation and EKG data to your phone screen as well as recording everything to share with a healthcare provider.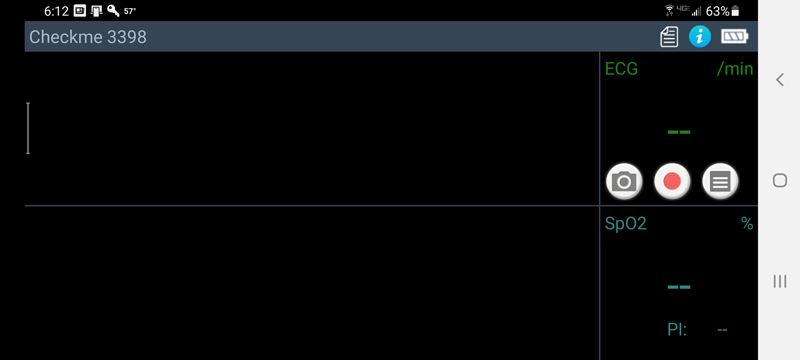 I didn't go through every possible test with the Checkme Pro.  I didn't do a sleep test, mini-monitor, or full EKG.
I also didn't take it out for a walk but did take a few steps with it.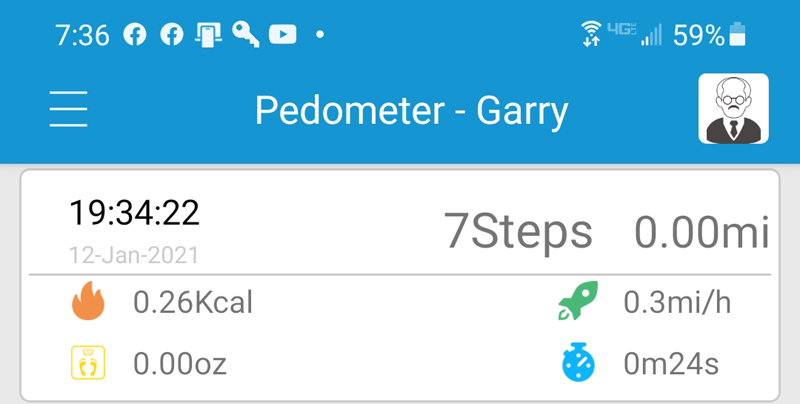 The device only comes with a few EKG electrodes.  I took a quick look on Amazon and generic EKG electrodes are available for about $18/100, so replacements are pretty cheap.
I installed the PC software to see what that brought to the table.  The only thing on the included USB drive was a .rar file.  Lucky for me, I use 7-ZIP and that can handle .rar file extraction.  Why they don't simply include an installer is beyond me.  The software was amazingly called…Checkme Browser Pro – the first name that has actually made sense! Anyway, after installing it, I connected the Checkme Pro to my PC via the included USB charging cable.
The software immediately recognized the Checkme Pro.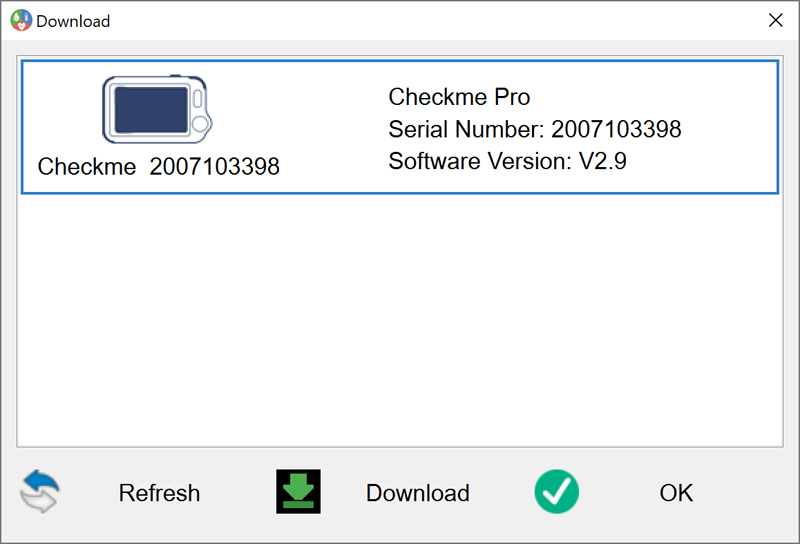 I downloaded all the data.  It showed me all the available data that I could view.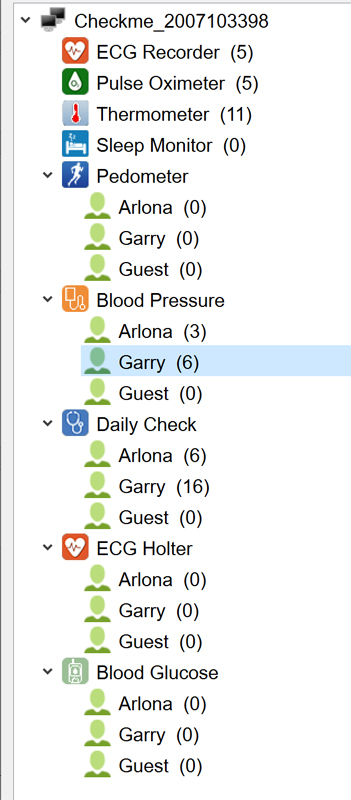 I opened an EKG measurement.  It overlays the measurement on a standard EKG graph background.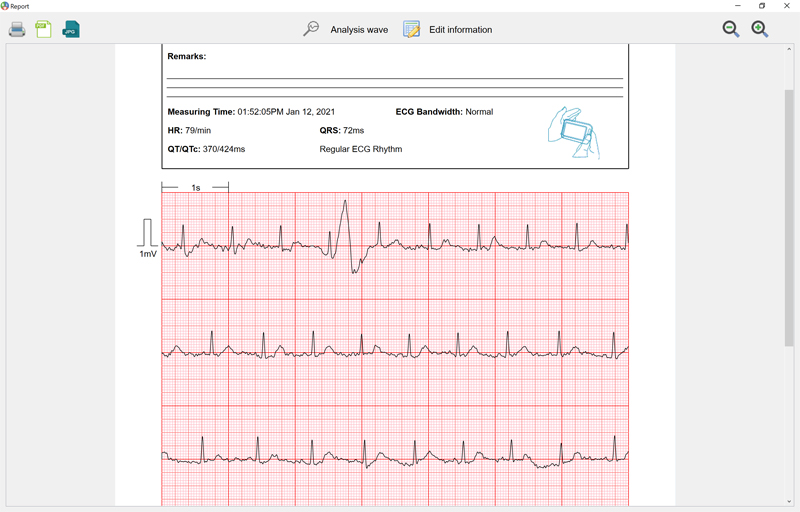 The data can be saved as a JPG or a PDF.  That makes it really easy to conduct a test at home and electronically deliver it to your healthcare professional.
What I like
Small size
A comprehensive set of tests is available
Easy to use
Great delivery options to send data to your healthcare professional
What I'd change
Change both the cuff and main unit to UBS-C connectors – at least go micro-USB on the main unit so you don't have two different cables
A screen backlight would be nice
Improve the process to calibrate the daily check blood pressure – the steps are not at all intuitive
Make the PC software installable without having to have an extraction tool
Have somebody figure out what the actual brand and name of this product is and be consistent with it
Final thoughts
I have to admit, I was blown away by everything this palm-sized device can do.  Electrocardiograms, oxygen saturation, blood pressure, temperature, pulse, blood glucose (with the optional kit), steps, 24-hour Holter EKG test, sleep monitoring – wow!  Being able to send medical results to your doctor in these socially distanced times really adds to the value that Checkme Pro offers.
If you're looking for a home health monitoring tool, Checkme Pro should be on your list.  Or perhaps Checkme Doctor, from Wellue, or is it Viatom?  Of course, be sure to look for the MyBeats software from YUANZHI to make it work with your phone.
Horrible naming/branding aside, this little device is a great addition to home health monitoring.  I definitely recommend it.
Price: $469
Where to buy: Wellue
Source: The sample of this product was provided by Wellue or Viatom – who knows?