We use affiliate links. If you buy something through the links on this page, we may earn a commission at no cost to you. Learn more.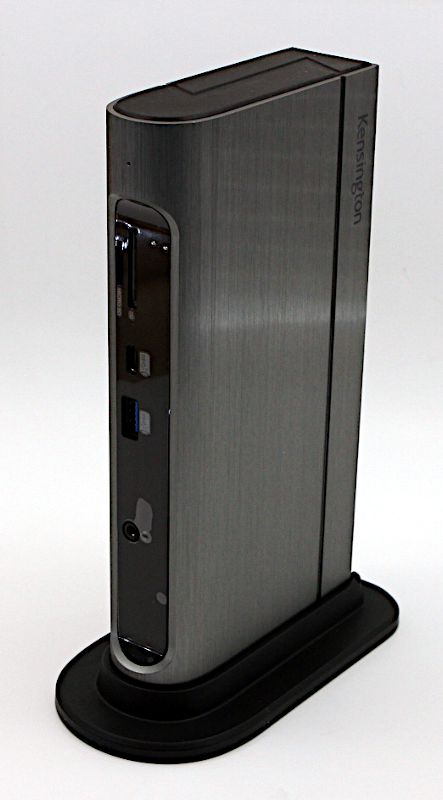 REVIEW – Earlier this year I was able to upgrade to a new 16-inch MacBookPro for my work computer.  I love this laptop; it's fast, powerful, and responsive, a perfect computer for programming and engineering work.  Like all Apple laptops, it suffers from a shortage of ports; it has four Thunderbolt 3 ports with USB-C connectors and (anachronistically) one headphone jack.  While the Thunderbolt 3 is a fabulous port, I need some other ports as well.  My keyboard and mouse are still USB-A, and I want to plug in an ethernet cable for faster networking speeds.  I also need a DisplayPort or an HDMI for my monitor, as my work computer shares a monitor with my personal computer, and the personal computer is already using the monitor's USB-C video port.  Where am I going to get all these extra ports from?  Obviously, I need an external dock.  My company already thought about this, but unfortunately, they chose to use Dell's W19.  It's not a bad dock, but it doesn't work very well with Macs, especially the video ports.  I'm going to try and solve my lack-of-ports problem using a new dock from Kensington, the SD5600T.
What is it?
The SD5600T is an external dock from Kensington that provides a Thunderbolt 3 connection with power delivery to a laptop.  It is primarily intended for people who are looking to power dual monitors (up to 4K resolution) using either DisplayPort or HDMI.  It has a host of other ports, including seven USB ports, two SD card readers, and Ethernet.  Unlike the W19, this dock works well with both Windows and macOS.  Kensington is a division of ACCO Brands, an American company that manufactures office products.
What's in the box?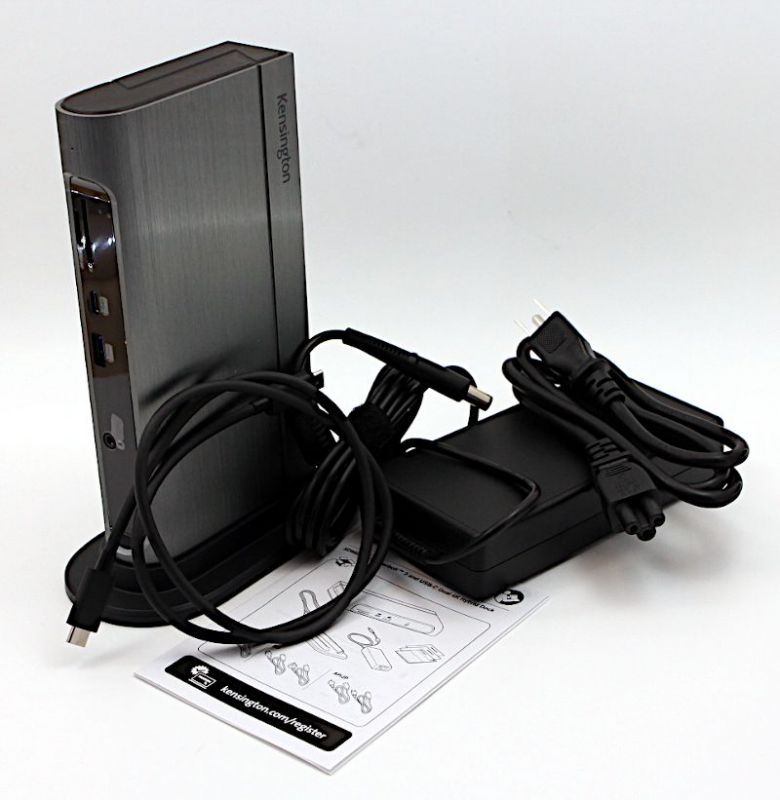 The dock
A base
A power brick
USB-C Thunderbolt 3 cable
A quick start guide
A support card
Hardware specs


USB-C to host:  100w Power Delivery 3.0 and 40 Gb/s max transfer speed (Thunderbolt 3)
Front USB-C:  5/1.5A charging and 10 Gb/s max transfer speed (USB 3.1 Gen 2)
Front USB-A:  5V/1.5A and BC1.2 charging and 10 Gb/s max transfer speed (USB 3.1 Gen 2)
Video ports:  2 x DisplayPort 1.2, 2 x HDMI 2.0
Max resolution:  4K
Rear USB-A ports: 5 (USB 3.1 Gen 1)
SD ports: 1 x SD card, 1 x micro SD card (UHS II, SD 4.0)
Other ports:  1 x gigabit ethernet, 1 x 3.5mm combo audio/mic port
OS support:  Windows and macOS
Security: Kensington standard and Nano security slots
Dimensions: 7.75 x 4 x 1.45 inches
Weight: 1.8 pounds
The complete set of specifications can be found in this product sheet.
Design and features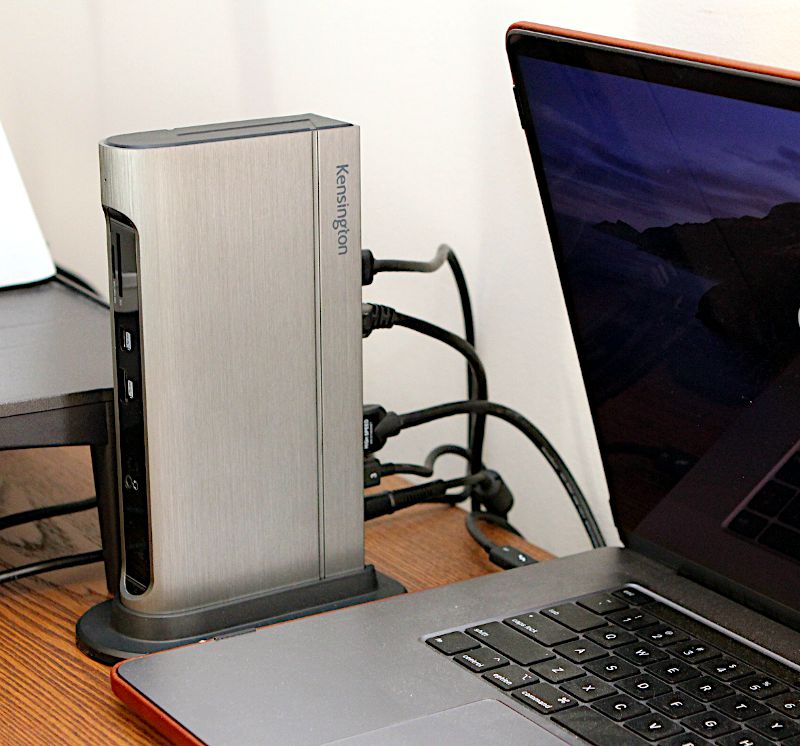 My first impression of the SD5600T is how very sturdy and heavy it is.  The external case is a brushed, grey anodized aluminum, and the base, though made of black plastic, has sheet metal inside.  Together, they give it a heavy-duty sort of vibe, like it will last a really long time.  The rounded front has an inset black panel with the six ports for those items that I'm most likely plug and unplug (like the SD card slots); the squared back has a similar panel and many more ports, those that I'm more likely to plug in and leave alone (like the ethernet port).  Overall, its design is somewhat aesthetically pleasing but mostly very functional.
Installation and setup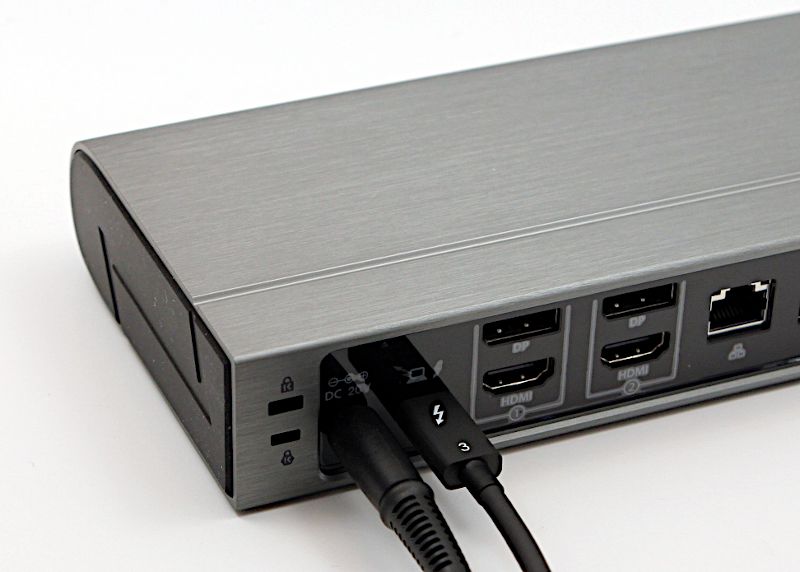 After I removed everything from the sturdy little box, the first step was to connect the SD5600T to the power brick via the DC port on the back and the brick to an outlet.  The second step was to use the included USB-C cable to connect the power delivery port to my MacBookPro.  Not all cables with USB-C ports support Thunderbolt 3 – don't confuse the ports (USB-C) with the underlying data transfer technology (Thunderbolt 3) – so it's important that I use the included cable for this purpose, if I want to maximize my laptop's ability to communicate with the dock.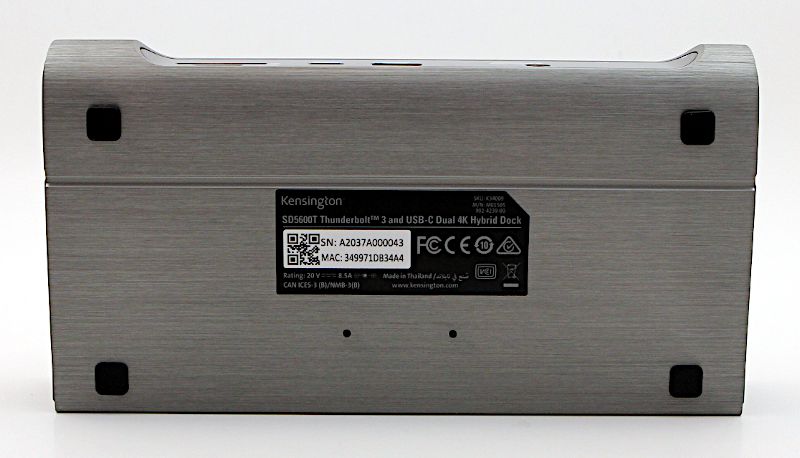 Third, I put one end of the SD5600T in its base, which moved it from a horizontal position to a vertical one.  Although the SD5600T has four rubber feet on the bottom and works just fine when horizontal, I prefer it to be vertical simply because it saves space on my desk.  Fourth, I connected all the external devices and cables.  This meant plugging in an ethernet cable from my router, a USB-A cable to my switch (which has the keyboard and mouse), and an HDMI cable to my monitor.  There's no power button on the SD5600T; if it's plugged in, then it's on, and there's a small blue LED in front to let me know.  I did not need to install any drivers, as my Mac was able to discover and install them automatically; furthermore, I did not need to install any software either.
And everything just worked.  Like magic.  That's exactly what a dock should do:  Just work.
The complete set of installation instructions can be found in this guide.
Performance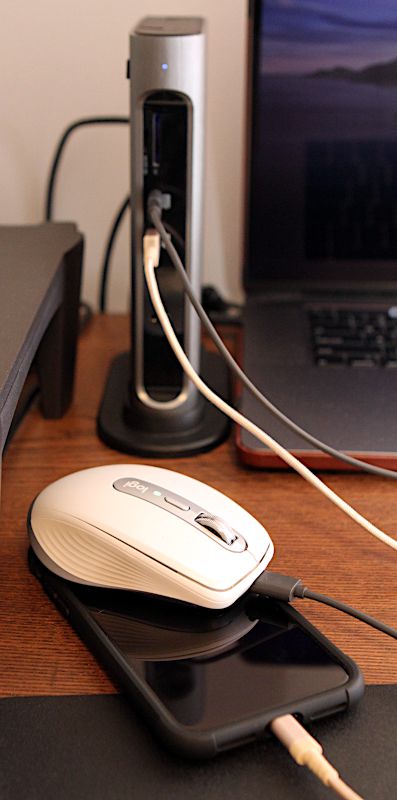 The connection between the laptop and the dock is Thunderbolt 3 via USB-C.  This allows the dock to charge my laptop while simultaneously displaying two monitors, charging two USB gadgets—like my iPhone XS and my Logitech MX Anywhere mouse—and reading data from all the other ports.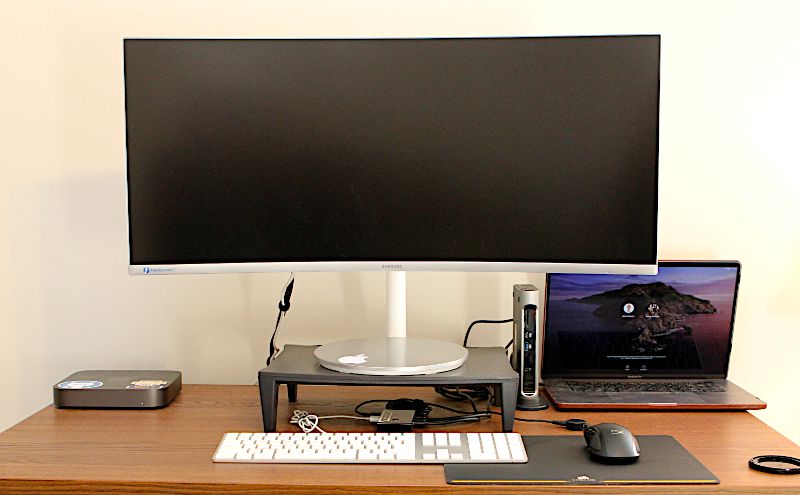 In my normal configuration, I use the SD5600T to drive one monitor (a 34-inch Samsung C34J79x) via HDMI while using the ethernet port and one USB-A port (for the mouse and keyboard).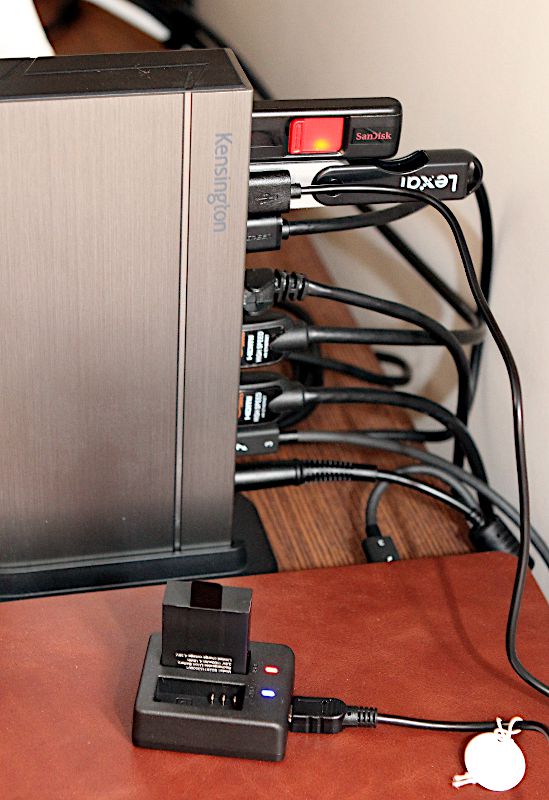 In an attempt to stress test, I simultaneously had it power a second monitor (a 27-inch Dell) via HDMI, read an SD and micro SD card, read two USB drives, and power a battery charger for an AKASO V50 Pro action camera.  The SD5600T didn't have any problems supporting all of these at the same time; it never even felt warm to the touch.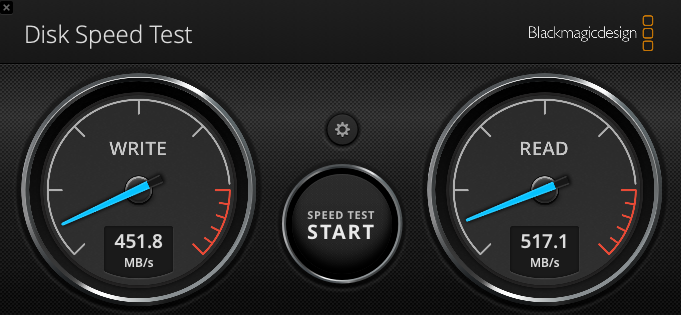 The front USB ports can support up to 10Gbps max data transfer speed.  I attempted to test this using BlackMagic's disk speed test and an older SanDisk Extreme Portable External SSD.  This drive only supports up to 550 Mbps, and the test measured 451 Mbps write and 517 read.  While the results were good for this drive, they are nowhere near the max capacity of the SD5600T.   To get better performance, I would need to use something like an NVMe M.2 SSD in an external enclosure.
The complete set of FAQs can be found on this support page.
Extra Features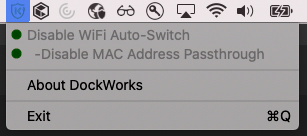 Although no software is required to use the SD5600T, Kensington's Dockworks software can be installed and used with it.  It transparently adds two non-configurable features:
Automatically switch between Wi-Fi and Ethernet
MAC address ID pass-through
I don't think most home users will need these features, though some corporate IT departments will find that second feature handy.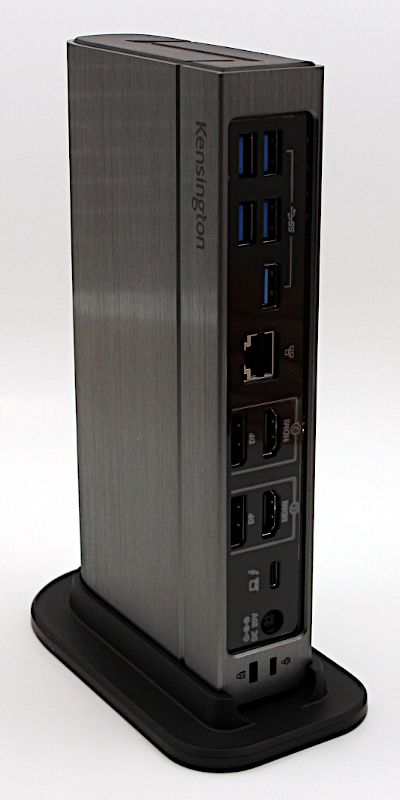 Like many Kensington products, the SD5600T has a pair of security slots (1 standard and 1 nano) that I could use to physically secure the dock, if I was worried about theft.  According to Kensington's lock selector, either the Keyed Laptop Lock (K65020EU) or the Keyed Twin Laptop Lock (K65048WW) will work.  Neither are included with the dock.
If I wanted to save some extra space on my desk, I could mount the SD5600T behind my monitor using a VESA mount.  The dock has VESA mount holes, but no mount is included.  According to the FAQ, mount K33959WW is compatible with the dock.
What I like
Durable construction
Support for dual monitors
Lots of ports
Thunderbolt 3 support to the laptop
What I'd change
Final thoughts
The SD5600T is an external dock that is macOS- and Windows-friendly.  It offers a Thunderbolt 3 connection with Power Delivery to the host laptop (via USB-C), support for dual 4K monitors (via HDMI or DP), and USB-C and USB-A ports on front for charging gadgets.  It has a super-study body, a stand for vertical positioning, and more ports than most people will need.  I really like this dock; it's everything that I was hoping it would be and more.  If you're looking for an external dock to drive a pair of monitors, I think you'll be very pleased with the SD5600T.
Price:  $279.99
Where to buy:  Amazon or Kensington's online store
Source: The sample for this review was provided by Kensington.