We use affiliate links. If you buy something through the links on this page, we may earn a commission at no cost to you. Learn more.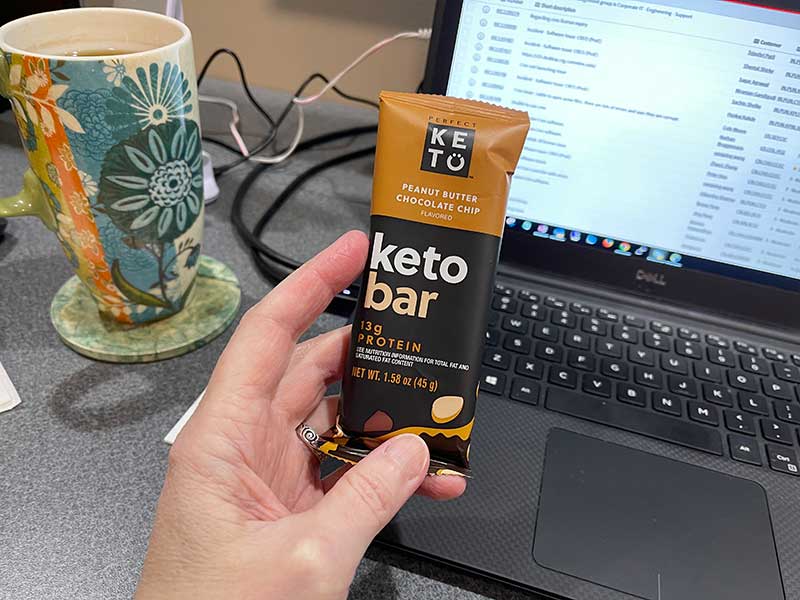 REVIEW – When I get interested in a topic, I go into full research mode and want to try every product in that category to find my favorite. I do that with software and apps, and lately, I've been doing the same thing with low carb protein bars. Why low carb? Because I'm pre-diabetic and have been more serious about what I eat after I picked up some bad habits while working from home (thanks COVID) for the last 10 months. Too many potato chips, sandwiches, and sugary snacks caused my A1C to go up by .2 points. Time to cut out the carbs and the products from Perfect Keto caught my eye. Let's take a look (and a taste).
What is it?
Perfect Keto is a brand that sells a variety of Keto-friendly products that include eight flavors of protein bars, four flavors of cookies, nut butters, protein drink mixes, collagen drink mixes, and more. They sent me a sampling of their protein bars, cookies, and collagen powders.
Perfect Keto protein bars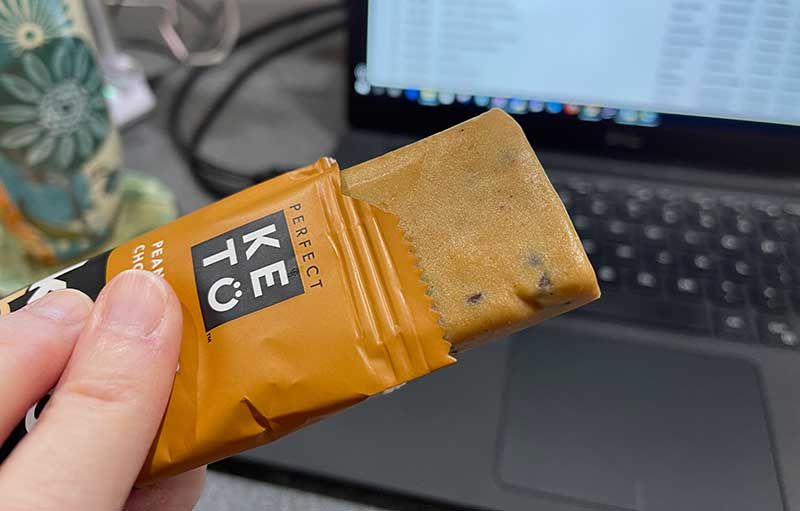 I was sent two of Perfect Keto's protein bar flavors. They sent me their Peanut Butter Chocolate Chip and Chocolate Chip Cookie Dough flavored bars.
Each bar is individually wrapped and is sold in boxes of 12 bars. Each flavor has its own set of ingredients and nutritional content, but here's the info for the Peanut Butter Chocolate Chip flavor.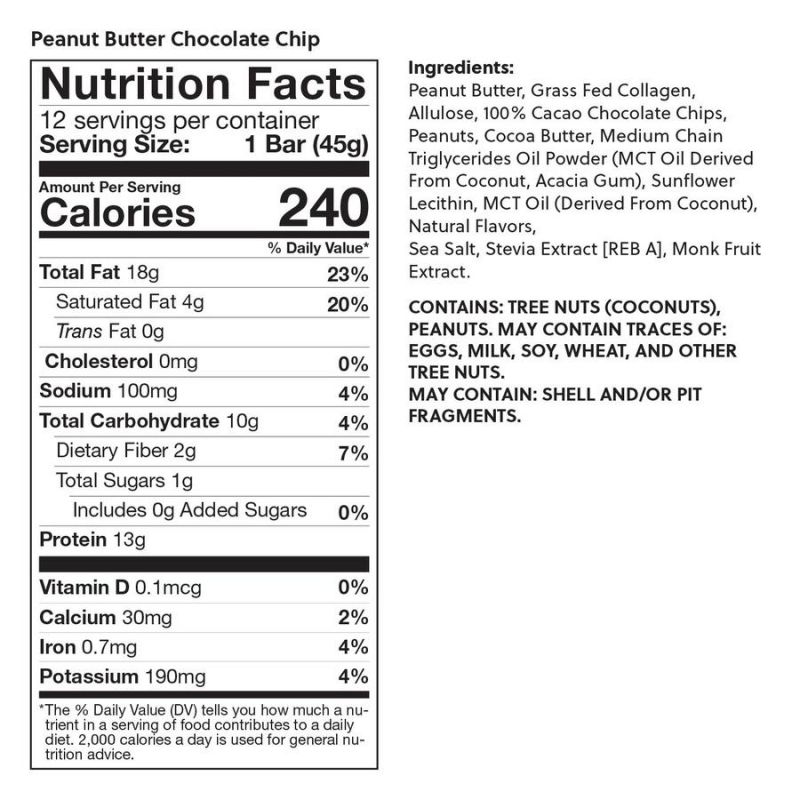 All of their bars have 2-3g of net carbs, more than 10g of protein, and no artificial sweeteners.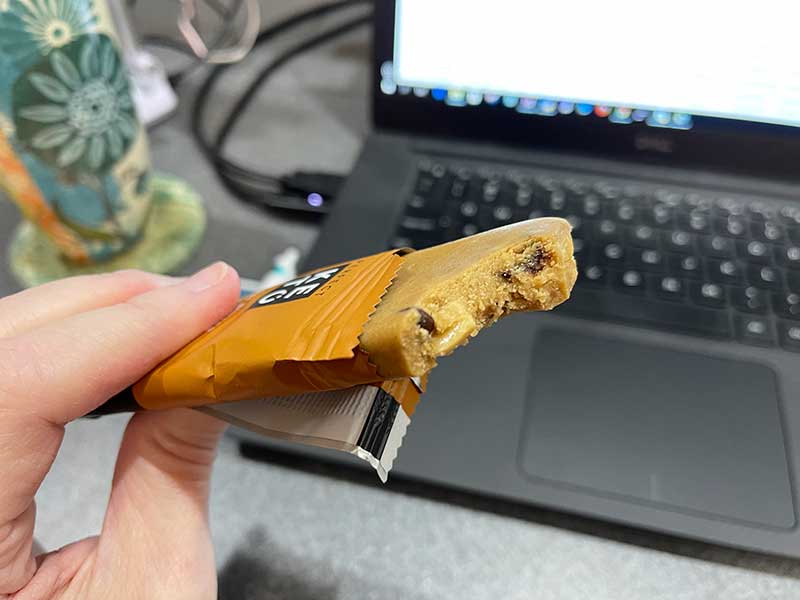 Of the two flavors that they sent me, I thought the Peanut Butter Chocolate Chip bar was AMAZING!!! It tasted just like the peanut butter fudge that my mom used to make right down to the chunky peanuts. SO good. It's really tough to believe that there are only 3-4g of carbs in each bar. I always feel like I'm cheating when I eat one as a meal replacement bar breakfast.
On another note, I wasn't as big a fan of the Chocolate Chip Cookie Dough flavor… but hey, I'm not usually a fan of any cookie dough flavored products. I would love to try all of Perfect Keto's other flavors to see what the rest of them are like. The cinnamon roll and almond butter flavors intrigue me.
Note that these bars have MCT oil in them, so touching them and then touching something else will invariably leave grease marks. This does not cause me to dislike these bars because again, so good!
Perfect Keto cookies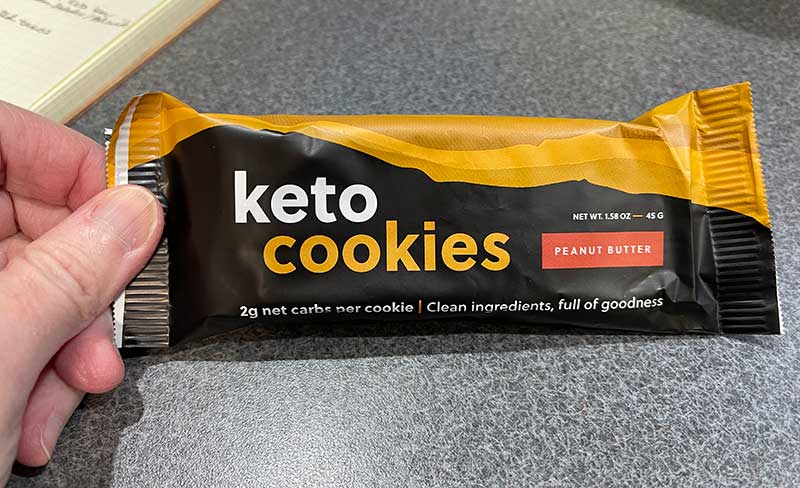 When it comes to snacks, I'd rather have a cookie than a candy bar. So I was equally excited to try Perfect Keto's Keto Cookies. They sent me samples of their Peanut Butter flavor and their Chocolate Chip flavor.
Each pack contains two surprisingly large cookies which is the full serving size and only 4g of carbs. Ok, they aren't huge, but they are pretty thick and you get two of them. Chocolate chip cookies are my all-time favorite cookies. I could eat them every day for the rest of my life. But when it comes to the Perfect Keto cookies, I prefer the Peanut Butter flavor.
I found the texture of the cookies to be moist, but a tiny bit mealy (maybe it's the coconut). The coolness of the Erythritol sweetener was pretty obvious in the Chocolate Chip cookies to my taste buds which is probably why I didn't like them as much as the Peanut Butter cookies. I'd really love to try their other flavors, especially snickerdoodle, which were a childhood favorite of mine.
Perfect Keto collagen protein powder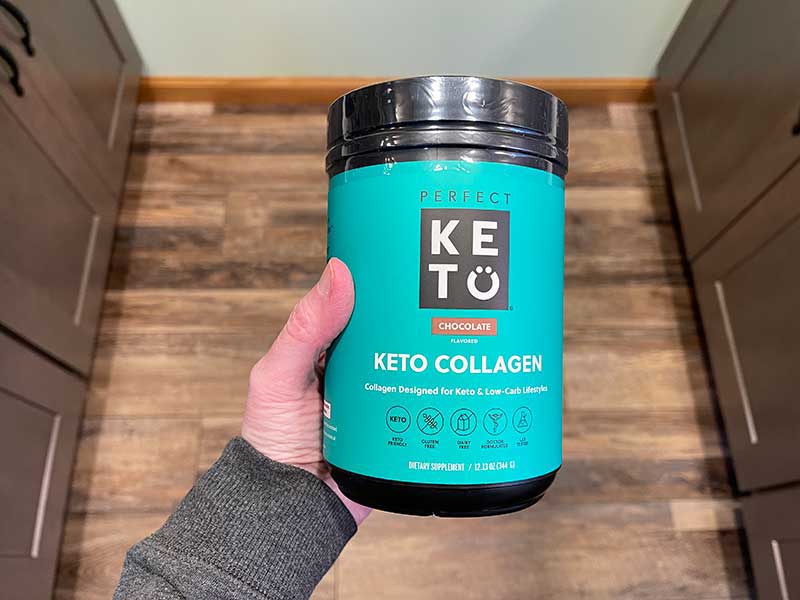 Powdered collagen is a popular daily supplement that supports joint health, hair, skin, and nails. Perfect Keto uses grass-fed collagen, dairy free, and MCTs to improve focus. They offer six flavors: Chocolate, Vanilla, Cinnamon Toast, Salted Caramel, Peanut Butter, and Unflavored. Each canister holds 20 80 calorie servings that have 10g of protein and about 1g of carbs.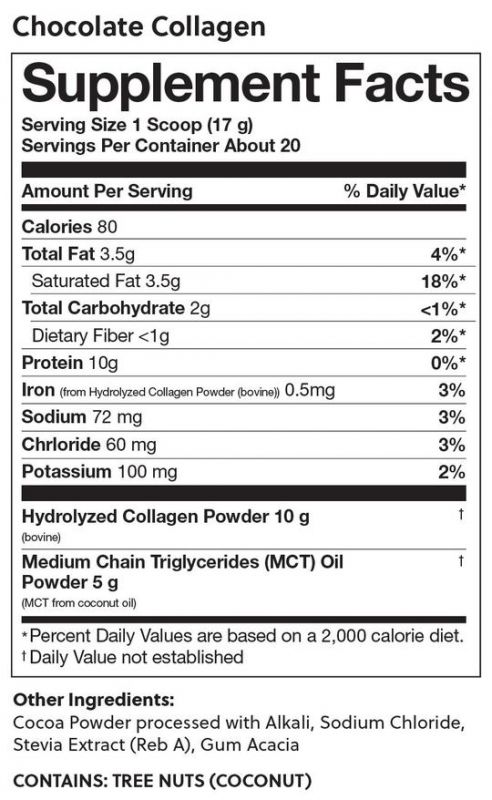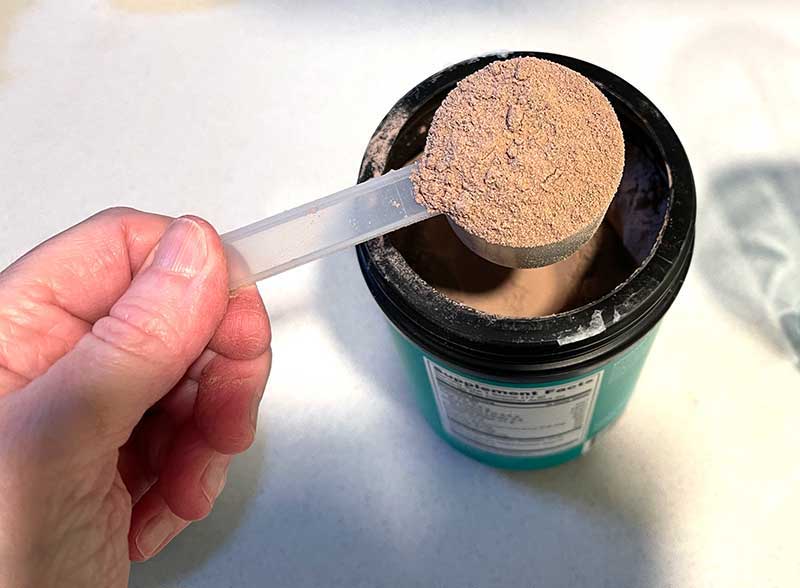 I was sent the Chocolate flavor. The fine collagen powder mixes easily in water or milk and the Chocolate version that I tried tasted like chocolate milk. Yum!
What I like
Clean ingredients
Variety of flavors and food/snack types
Great taste
Low Carb
What I'd change
Price per serving/bar is more expensive than some other Keto brands
Final thoughts
I've been reviewing Keto products and trying keto sweets like keto-friendly chocolate cookies for a couple of months now and I'm adding Perfect Keto's Peanut Butter Chocolate Chip bars to my shortlist of favorites. They are so delicious, low carb, and have clean ingredients. Their cookies also make a satisfying snack (especially the peanut butter cookies) and their collagen is a yummy post-workout shake to support your joints and recovery. Just realize that you will be paying more for their quality products when compared to the junk protein bars full of questionable ingredients and sugar that you find at Walmart. But as the saying goes, you get what you pay for and I think Perfect Keto products are worth it especially if Keto and low carb foods are and important to you like they are for me.
Price: $39.99 for a box of 12 bars, $34.99 for a box of 24 cookies, $36.99 for the collagen. All products are cheaper when you subscribe
Where to buy: Perfect Keto
Source: The sample for this review was provided by Perfect Keto.