We use affiliate links. If you buy something through the links on this page, we may earn a commission at no cost to you. Learn more.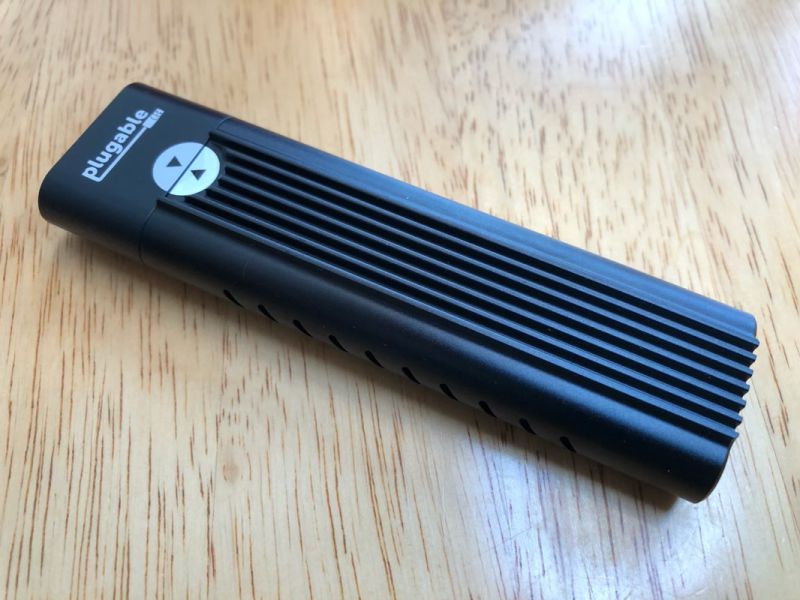 REVIEW – Last year I designed a custom gaming PC and had my local computer shop build it for me.  It was the first time that I had designed a computer that did not have a traditional hard drive; instead, it used a super-fast 500 GB Samsung NVMe SSD 960 EVO M.2.  To maximize performance, this little card—it looks more like a memory card than a hard drive—doesn't even use a cable; it connects directly to the motherboard.  But what if I decided to build a new computer and needed to quickly copy some files from the old SSD drive?  Or what if I worked in an IT shop where I regularly dismounted these SSD drives from old computers so that I could wipe them before surplus?  If you find yourself needing to quickly mount and dismount SSDs like this, Plugable has a gadget for you.
What is it?
The Plugable NVMe SSD Enclosure is an enclosure for NVMe M.2 SSDs.  It allows you to quickly mount and dismount them without having to use any tools.
What's in the box?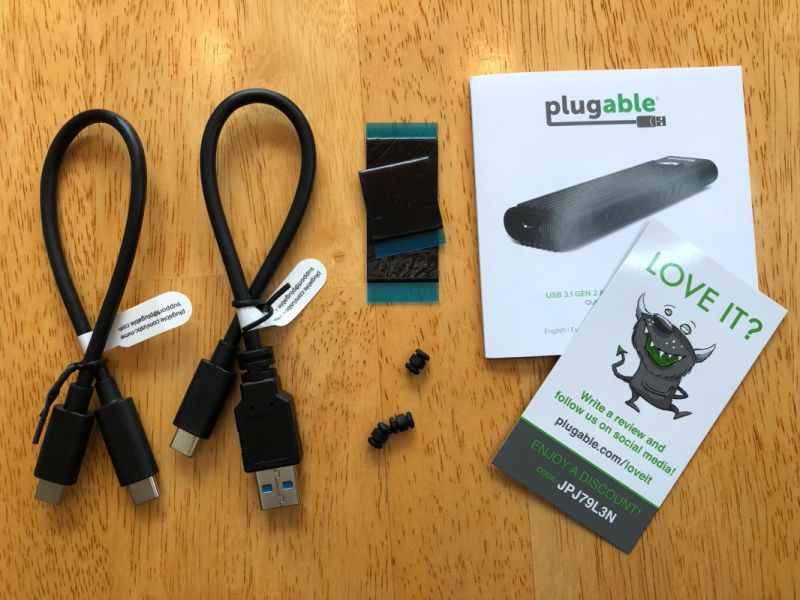 The enclosure
USB-C to USB-C cable
USB-C to USB-A cable
3 extra rubber standoffs
3 adhesive thermal pads
A customer care card
A manual with 1 page of English instructions
It should be noted that this enclosure doesn't come with an SSD; that has to be bought separately.  The Plugable site has several compatible recommendations, anywhere from 120 GB to 2 TB in size.
Hardware specs
The case is made of aluminum and looks a bit like a giant heat sync with holes cut in the side for extra ventilation.  When used for extended periods of time, SSD drives like this can get rather warm, so this design is intended to keep things cool.  It's probably a good idea to make sure it has plenty of air flow.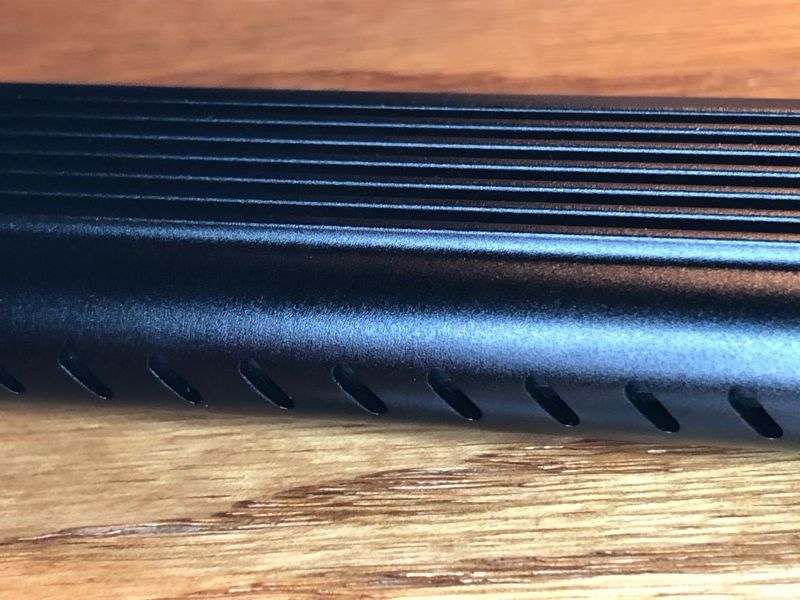 The enclosure is designed to work with SSDs that are of form factor 2230, 2240, 2260, or 2280.  M.2 SSDs come in a variety of widths and lengths, but Plugable's product only works with those that are 22 mm wide and 30, 40, 60, or 80 mm long.  If you look at the enclosure without an SSD, you can see that there are 4 holes, one for each of the four lengths.  The longest currently has a rubber standoff already in it.  To use a shorter SSD, move the standoff to the corresponding hole.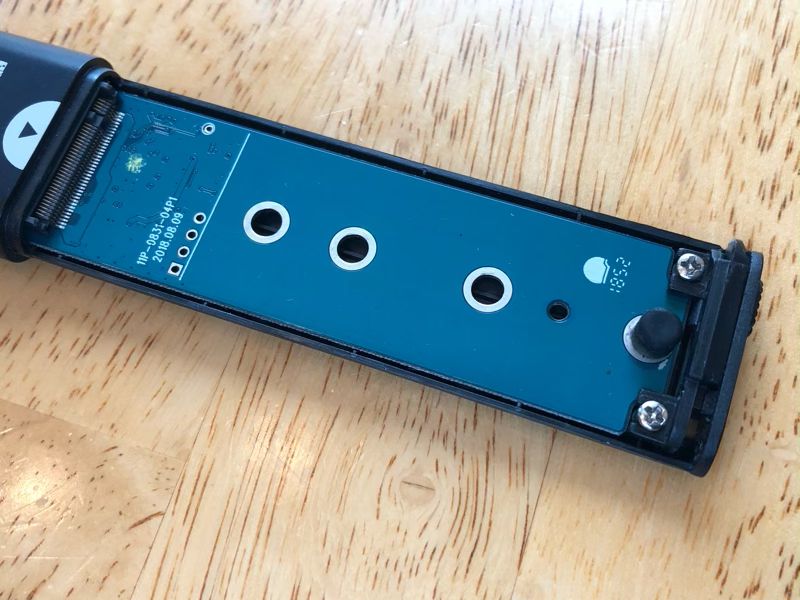 The drive should work equally well with Windows, macOS, or Linux.
Setup
To open the enclosure, push the unlock button on the end and then slide the cover off.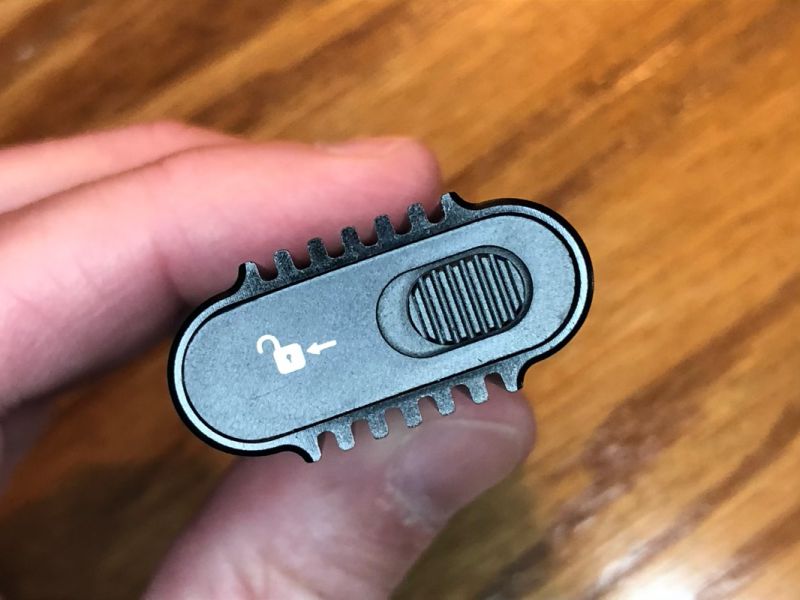 Carefully insert the SSD at a 30-degree angle.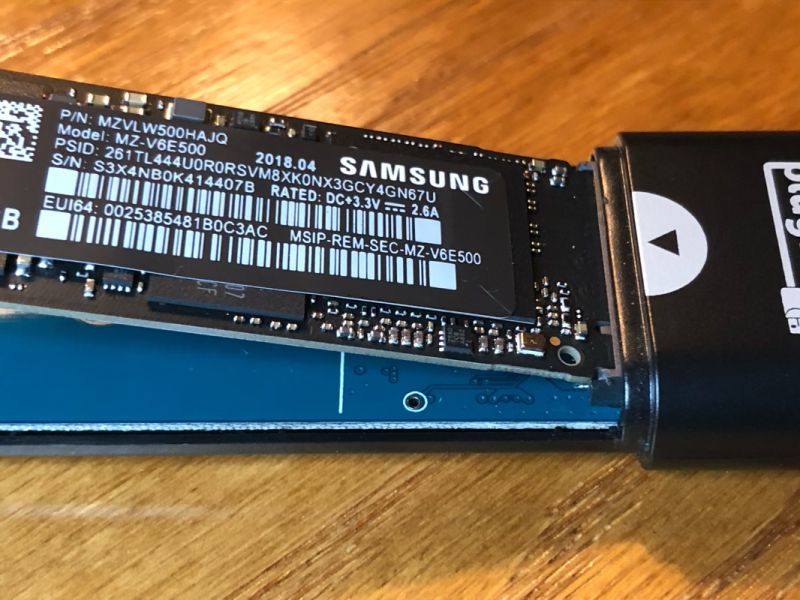 Gently push the other end down and use the rubber standoff to hold it in place.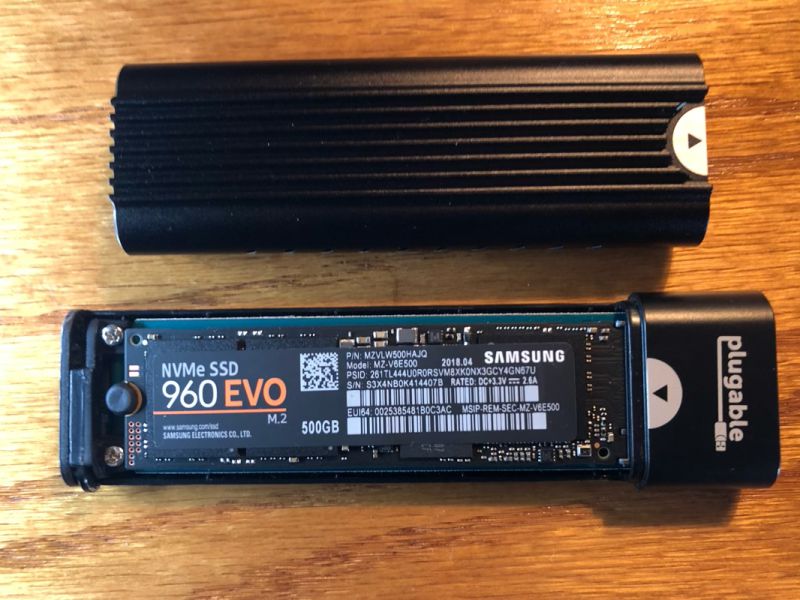 Slide the cover back on, and then use one of the USB cables to connect it to your computer.  Easy!
Design and features
Plugable makes a big deal about how fast their device is, so I decided to run a little speed test to see how it performed.  The host was a 2018 Mac mini with a 3.0 GHz 6-core Intel Core i5, a speedy little machine.  I installed BlackMagic's Disk Speed Test and ran it against Plugable's enclosure (with a Samsung 960 EVO NVMe M.2 SSD inside).  For comparison, I also ran it against a SanDisk Extreme Portable External SSD, which I use around the house for data backup.  I tested both using the 5 GB test file size while connected via the USB-C connector.
SanDisk's drive average write speed was 481 MB/s, and its average read speed was 527 MB/s.  The SanDisk has a serial ATA drive inside, and SanDisk estimates that its max read and write speed is 550 MB/s; thus, this is a respectable score for this gadget.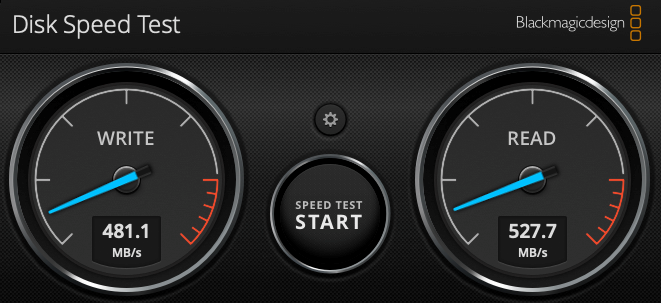 Plugable's enclosure smoked it.  Its average write speed was 1865 MB/s, and its average read speed was 2782 MB/s.  That write speed is slightly higher than Samsung's estimated max (1800 MB/s), though the read spec falls off a bit from its estimated max (3200 MB/s).  Plugable's gadget is allowing the speed of the SSD inside to come blazing through.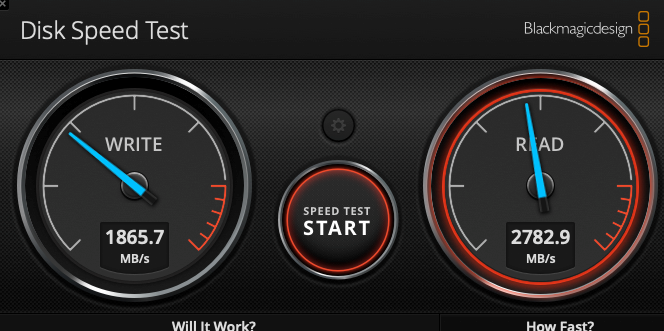 The enclosure comes with 3 extra rubber standoffs.  While these standoffs are the best thing about this enclosure—they eliminate the need for any tools—they may also be a cause for concern.  Why does it need 3 spares?  A couple possibilities come to mind.  One, they are small, so they might be easy to lose, especially if you're constantly moving them back and forth between the different lengths.  Two, they might wear out easily.  Though I personally didn't have any problems with them, it's something to keep in mind.
The enclosure also comes with 3 adhesive thermal pads.  If your enclosure gets hots, Pluggable gives these instructions:  "Locate the thermal pads included with the USBC-NVME, remove backing to expose adhesive, and affix to the controller chip and flash memory module(s) on your NVMe SSD."  This should improve heat transfer and keep your SSD cooler.
What I like
Quick and easy to mount and dismount
Super-fast
What needs to be improved
Final thoughts
The primary purpose of this gadget is to quickly and easily mount and dismount SSDs.  Other storage solutions may be smaller, cheaper, or more ruggedized, but Plugable's enclosure makes swapping SSDs a breeze.  It also helps that it's very fast.  It's the perfect solution for those who need it.
Price: $49.95
Where to buy:  Amazon
Source:  The sample for this review was provided by Plugable.