We use affiliate links. If you buy something through the links on this page, we may earn a commission at no cost to you. Learn more.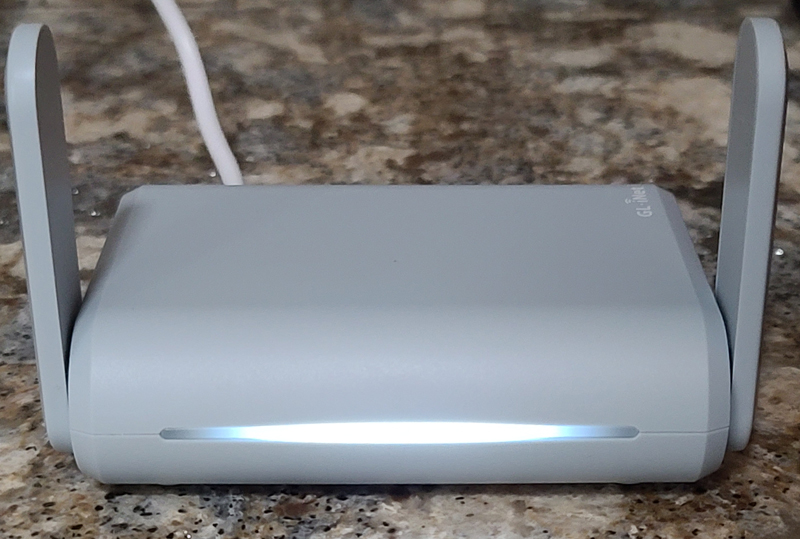 REVIEW – Open WiFi is a beautiful thing.  When traveling, you no longer have to carry an ethernet cable and be tethered to the desk in the hotel room.  Just about every hotel offers free WiFi so you can plop on the marginally comfortable bed or likely uncomfortable couch and surf away.  But today, you need to check on your mortgage, pay some bills, and make some speculative trades at your online broker. Do you want to do all of that over the hotel's sketchy WiFi, where anyone could be eavesdropping?  GL Technologies, makers of the GL-iNet series of routers (we've reviewed the GL-B1300 – Convexa-B dual-band mesh router, GL-X750 Spitz mini router, GL-AR750S-EXT Slate, and GL-MT300N-V2 Mango mini travel router) now offers the GL-MT1300 travel router, known more simply as Beryl. Does this belong in your travel tech kit?  Let's get into it.
What is it?
Beryl is a secure travel-sized network router.  It can be set up is one of four modes:
Ethernet hardwired
WiFi repeater
USB 3G/4G modem
Cellular tethering
What's in the box?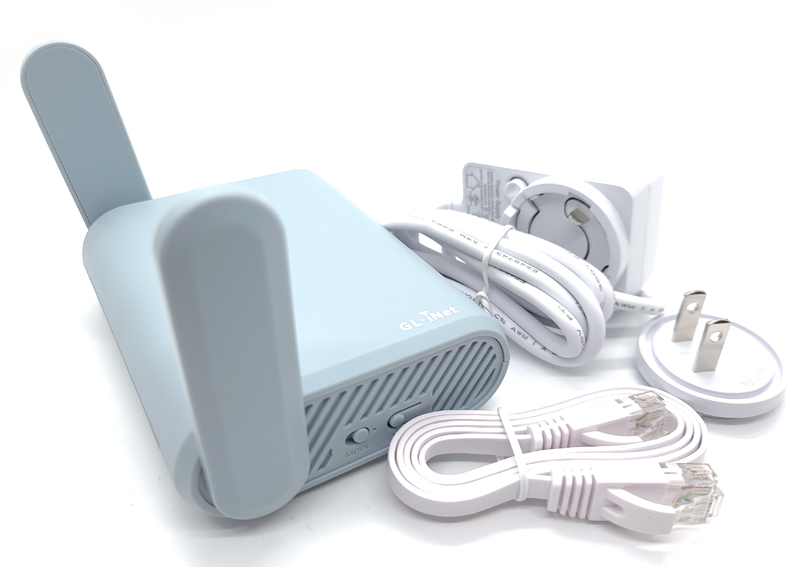 Beryl (GL-MT1300) router
Ethernet cable
5V/3A Type-C power adapter with US (default) or UK or EU or AU plug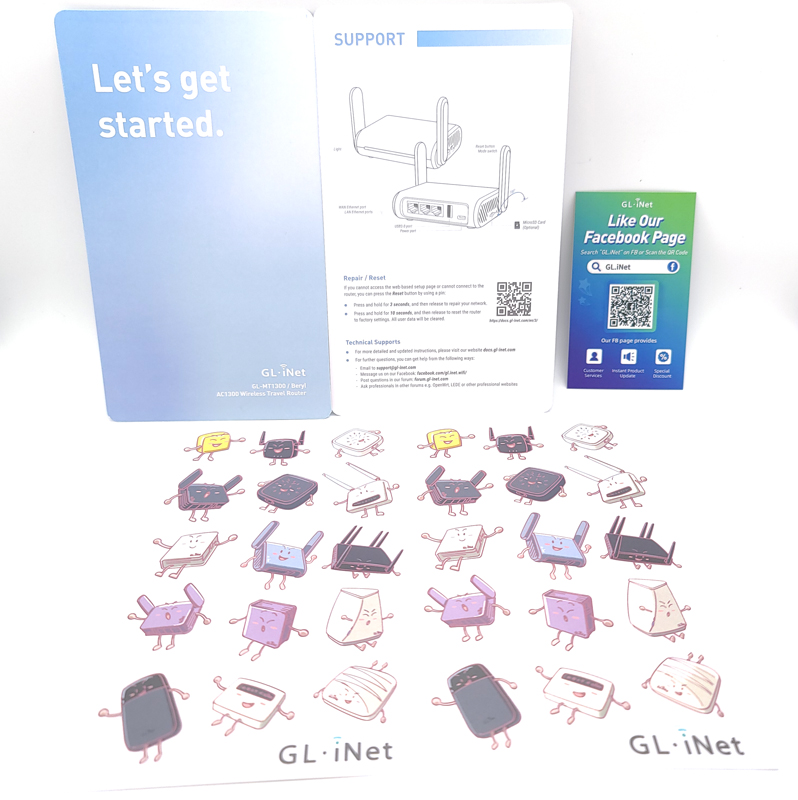 Get Started card
Support card
Social media card
Sticker sheets (2)
Hardware specs
Dimensions: 118mm x 85mm x 30mm / 4.65″ x 3.35″ x 1.18″
Weight: 184g /  6.5oz
CPU: MT7621A, [email protected]
Memory/Storage: DDR3L 256MB / FLASH 32MB
Ethernet ports: 3 x 10/100/1000Mbps auto-negotiation
WiFi speed: Max. 400Mbps (2.4G) + 867Mbps(5G)
WiFi protocols: 802.11a/b/g/n/ac
Interfaces: 1 x WAN, 2 x LANs, 1 x reset button, 1 x TF card slot (512GB Max.)
USB Port: 1 x USB 3.0
Antenna design: Dual, non-detachable
Design and features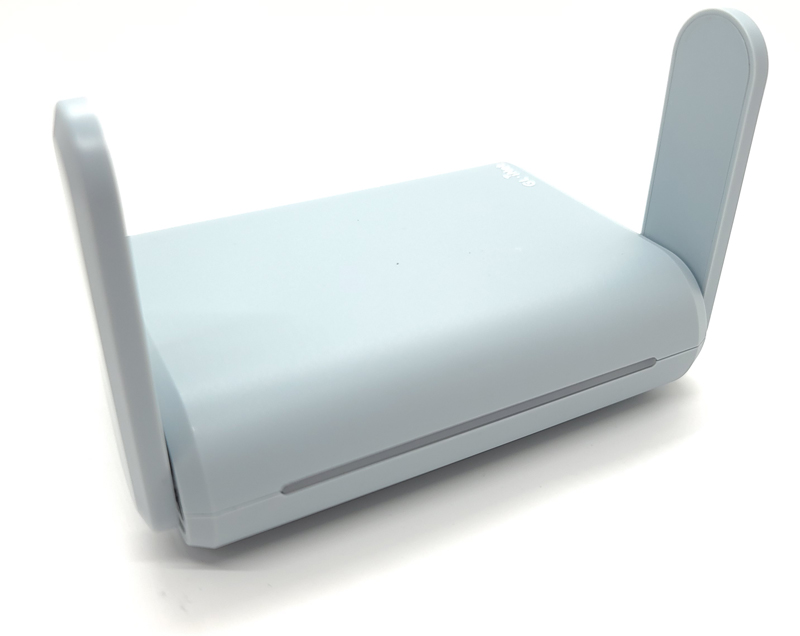 Beryl is small.  It basically fits in the palm of your hand.  That's important if it is to travel with you. The power cord is long enough so that you should be able to plug it in and have it up and available in most hotel rooms.  The router is encased in high-impact plastic that should be sturdy enough to survive being tossed in travel bags.
Each side features an antenna on a rotating base.  They are not removable and either swing down along the side of the router or swing up to the up position for best WiFi performance.
The status LED runs across the front of the router. It flashes when looking for a network and lights solid white when connected to WiFi.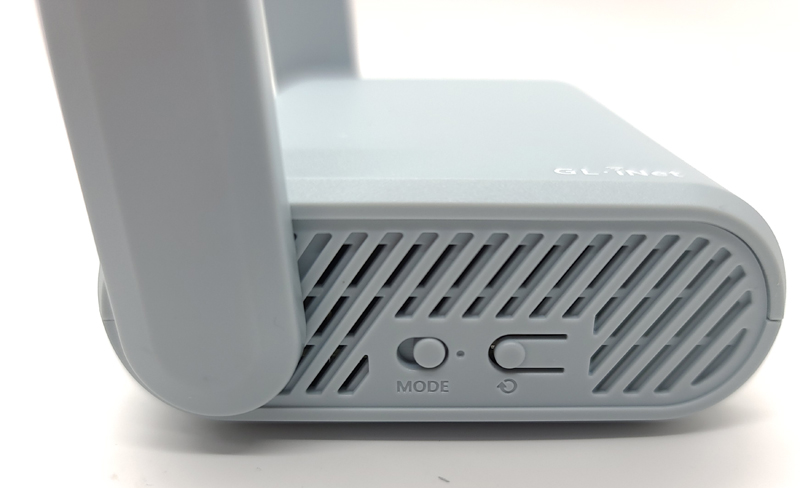 Along the right side, we find a configurable mode switch that can be used to turn VPN or TOR on or off as well as the router power switch.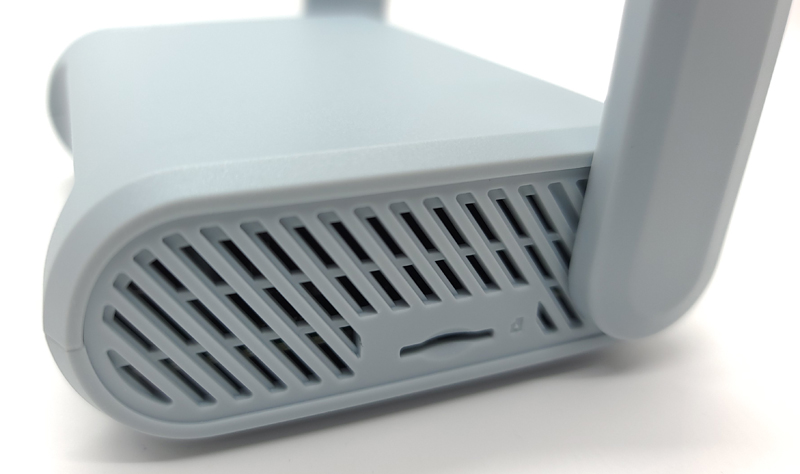 On the left side, there is a microSD card slot.  Files can be placed on the card and the router can share them between attached devices.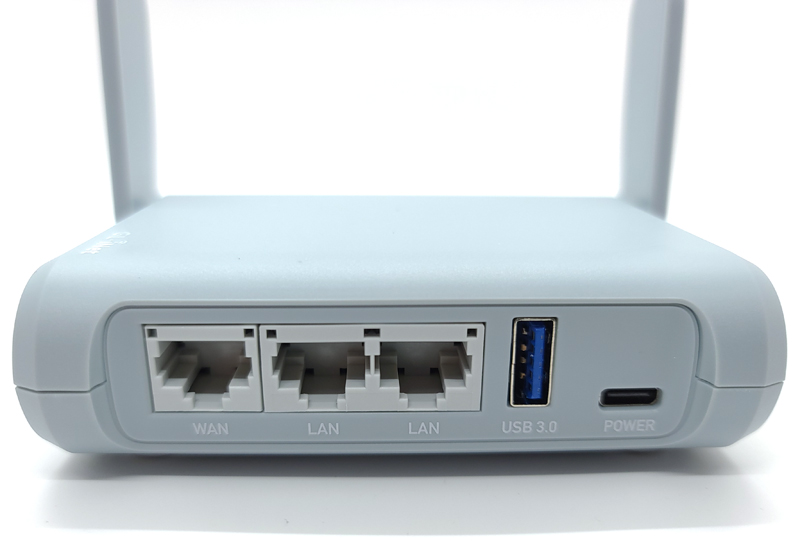 Along the back, we find three RJ45 ports for ethernet connections.  The WAN connection is used to connect to a hardwired LAN.  The two LAN ports are used to connect two network devices to the router. The USB port supports USB modems as well as USB drives for file sharing. .  The power port is a USB-C style port and is used to provide power to the router.
Setup
To set up the router, plug it in and turn it on.  In my testing, I will focus on the WiFI repeater functionality.  I will not be testing a hard-wired WAN connection, nor the USB modem or tethering options.
Once the modem has powered up, you need to connect to one of the two networks Beryl presents by default.

Beryl presents both a 2.4GHz and 5GHz network.  The documentation gives you Beryl's default WiFi password.  Once connected to the network, you can begin the setup process, including changing the default password (a good idea) and changing the WiFi network names, if desired.
First, you open a web browser and go to http://192.168.8.1.  This opens Beryl's admin panel.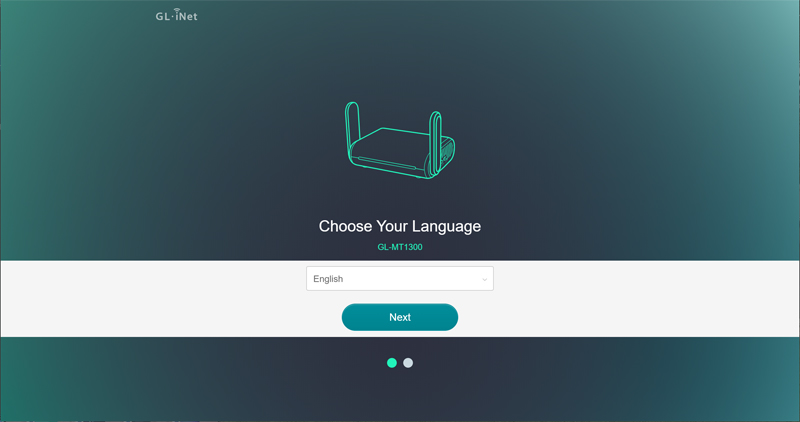 After choosing your language and hitting Next, you set up your administrative password to access the admin panel.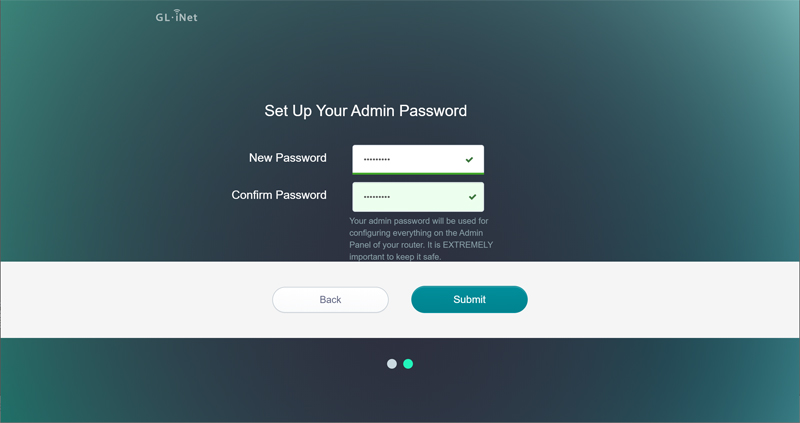 Once connected, you start by telling Beryl what configuration you will be using.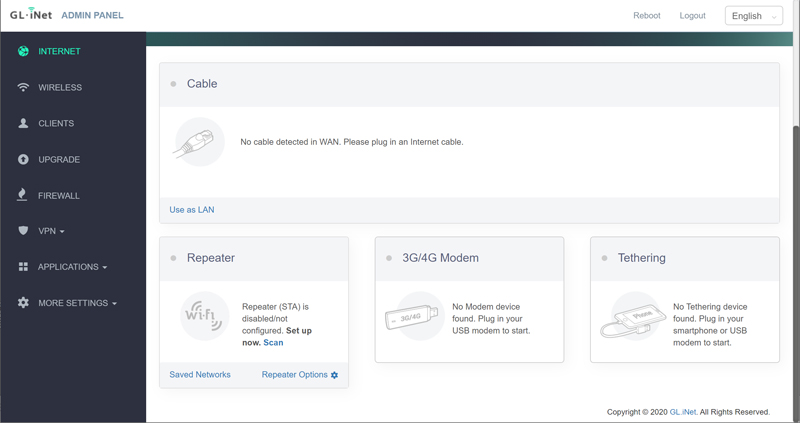 After connecting Beryl to my home WiFI as a repeater, Beryl was pumping out a strong WiFi signal and four new WiFi networks regular and guest 2.4 GHz networks, and regular and guest 5GHz networks.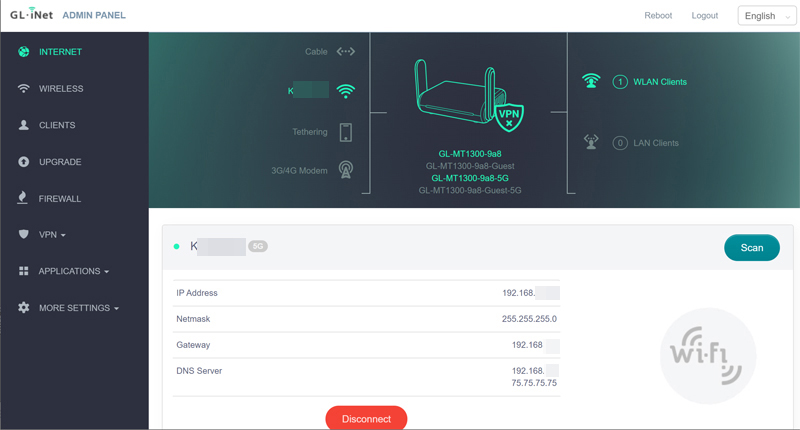 Now that Beryl is up and online, let's connect some stuff!
Performance
With my laptop already connected to the admin panel, I opted to add my cell phone.  I connected to the 5GHz Beryl network, entered my new password, and connected immediately.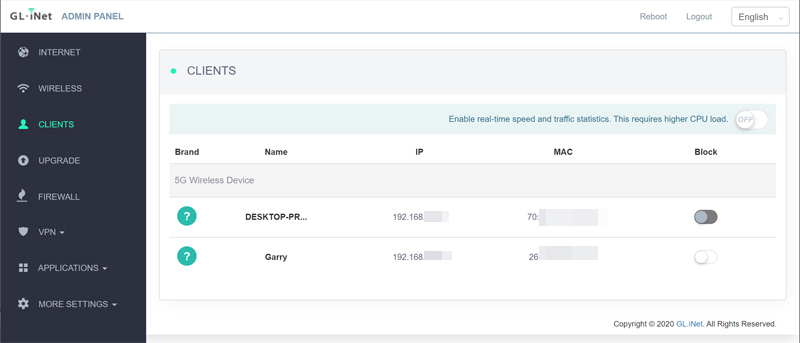 As you can see above, Beryl reports connected clients, and both my laptop and phone were shown.  I then looked on my Eero home mesh router and couldn't find my laptop nor my phone connected to my home network at all.  Beryl was isolating my devices from my network while still using my network to provide internet access to both devices. Perfect!
You can set up firewall parameters and port forwarding options if you need to.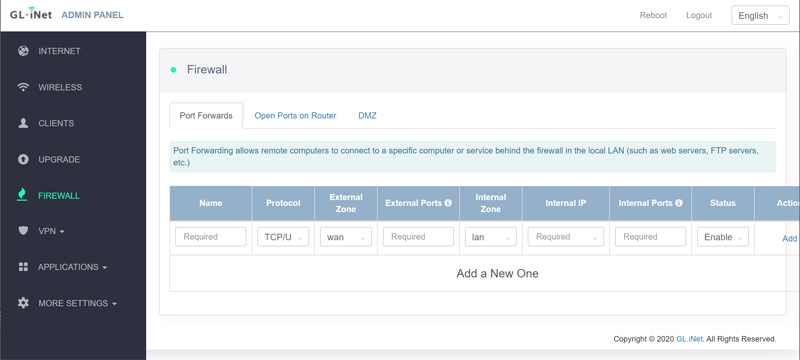 There are multiple VPN options baked into Beryl if a VPN is what you're looking for.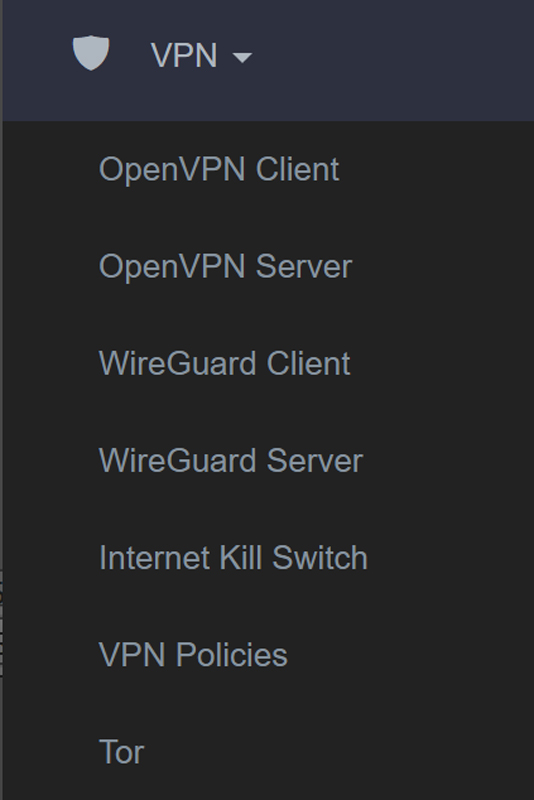 Other options include MAC address cloning, time zone changes, using specific domain name services, and so on.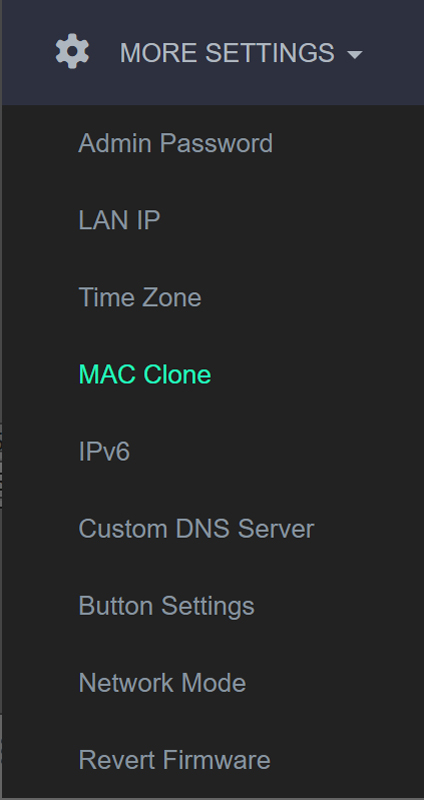 The Button Settings option is where you can configure that side switch to turn your VPN on and off.
I decided to see how much Beryl throttled my internet speed.  I ran a speed test over my home WiFi.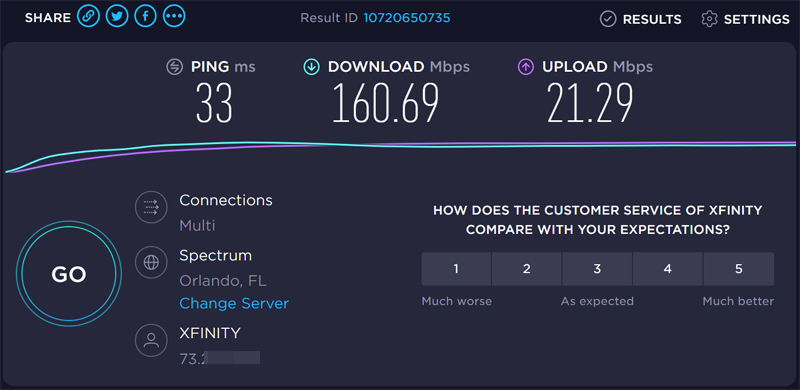 I then ran another test using Beryl.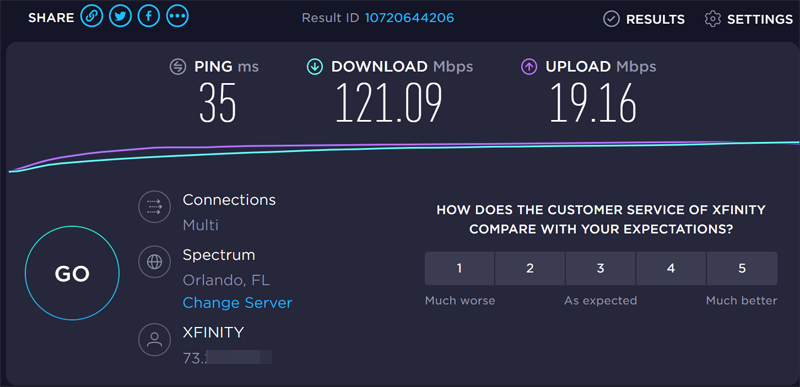 As you can see, my ping speed slowed by 2ms.  My download speed took about a 20% hit and my upload speed took about a 10% hit.  Adding another level of routing on top of my existing router has to add some overhead into the equation.  Honestly, opening Facebook, email, and such, I couldn't detect any slowness in response, so while there was a hit, it wasn't enough to make much of an impact.
What I like
Small size
Fast speed
Comprehensive included software and configuration options
What I'd change
Documentation is designed for experienced network pros and could be simplified
There isn't any real documentation included but you can find it online – a little more information delivered with the unit would be appreciated
Final thoughts
While I like open WiFi in hotels and on cruise ships, I always worry about security.  When we can travel again freely, I plan to include GL-iNET Beryl travel router in my travel kit as a means to allow me access to the network while hiding my connection and traffic from prying eyes.  Here's hoping that day comes soon.
Price: $69.99
Where to buy: GL-iNet store and Amazon
Source: The sample of this product was provided by GL Technologies.