We use affiliate links. If you buy something through the links on this page, we may earn a commission at no cost to you. Learn more.

REVIEW – For some reason, in a very short time I've gone from zero travel routers to three travel routers.  If you follow through my reviews, I initially purchased the TP-Link TL-WR802n, then to add further functionality I discovered the GL-iNet GL-300N-V2 and after reading my review, GL.iNet was kind enough to send me their latest model travel router, the GL-AR750S (Slate). It's worth noting that the Slate was awarded a CES 2019 Innovation Award HONOREE in the Cybersecurity and Personal Privacy product category. As such I'm going to do a review of the AR750S, compare it to their  MT300N and then demonstrate some of the advantages of using a travel router. Is this my last attempt to find the "ultimate" travel router? Read on…….
Once again I'm not going to go into all the technical details as you can get these at the GL-iNet GL-AR750S website.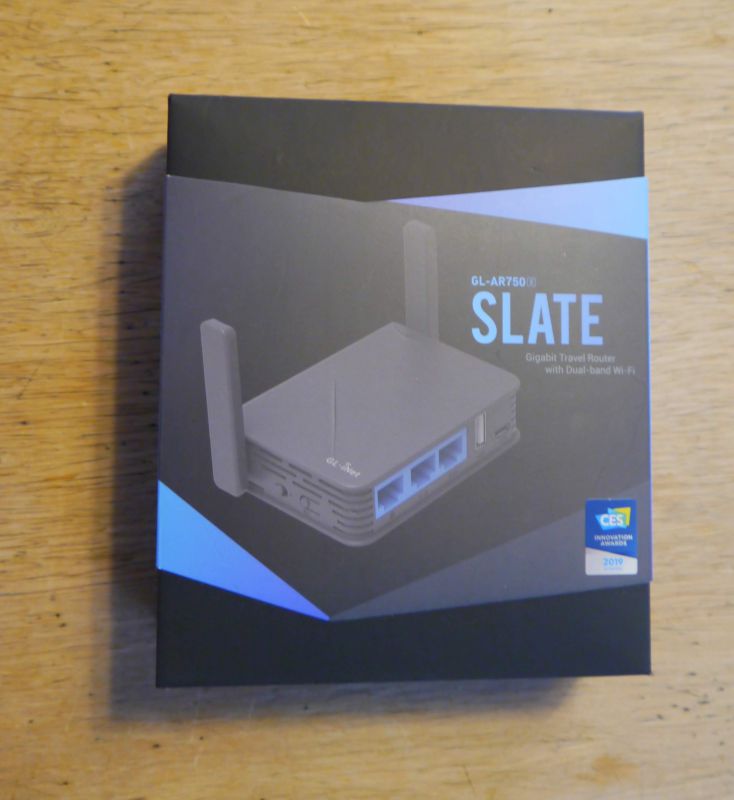 The slate is nicely packaged in a plain black box with a slip off sleeve.
What's in the box?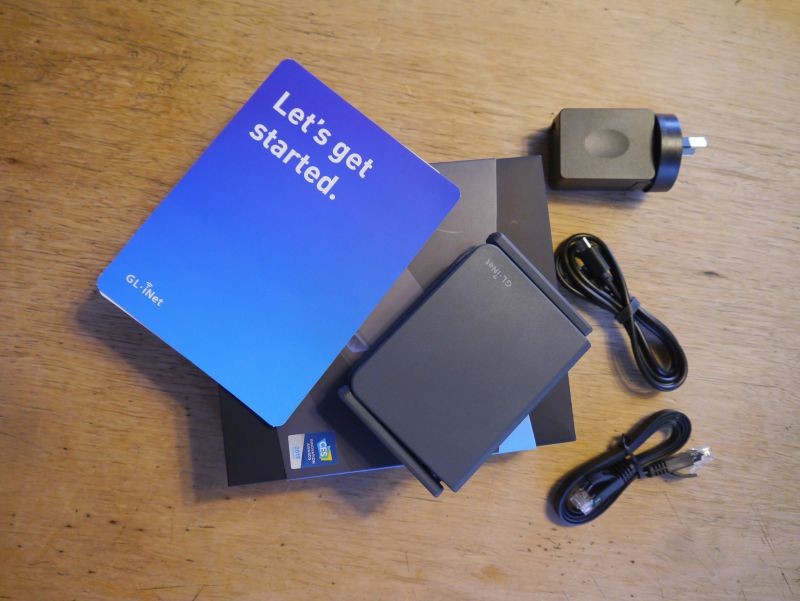 They include the router (funnily enough), a power 5V/2a power supply with appropriate country plug, a micro-USB cable and an ethernet cable, and some quick start guides. Personally while I love the packaging it's just gonna go in a drawer.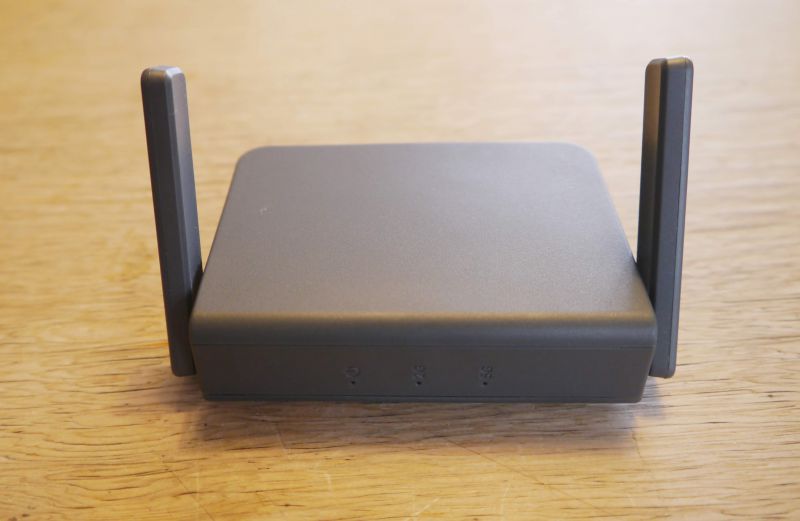 On the front, there are three discrete LEDs; power, 2.4Ghz activity, and 5Ghz activity. They're very discrete and you can only really see them when you're looking straight on to them, not like some disco light LEDs on "full size" routers. The unit has 2 x 2 dBi non-detachable (though you can if you disassemble the unit) but fold up/down antennae for better performance.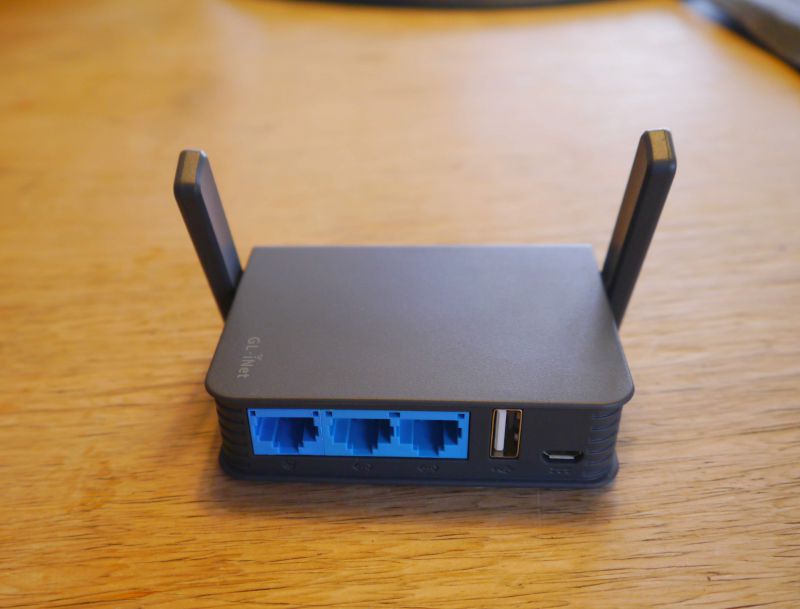 On the back, there are 3 GB ports that are as standard configured as 1 WAN and 2 LAN but you can make it 3 LAN ports.  This is currently the only travel size router that has GB ports, most of the rest only have 10/100.  Gigabit ports might be overkill in a hotel/free WiFi situation however if you need to plug in wired devices and shift large files like at a trade show or something, they will be a bonus.  There's a USB 2 port for USB stick or USB 4G MiFi device, and finally a micro-USB port for power. Unlike the small Mango, the Slate takes 5V/2A compared with 5V/1A.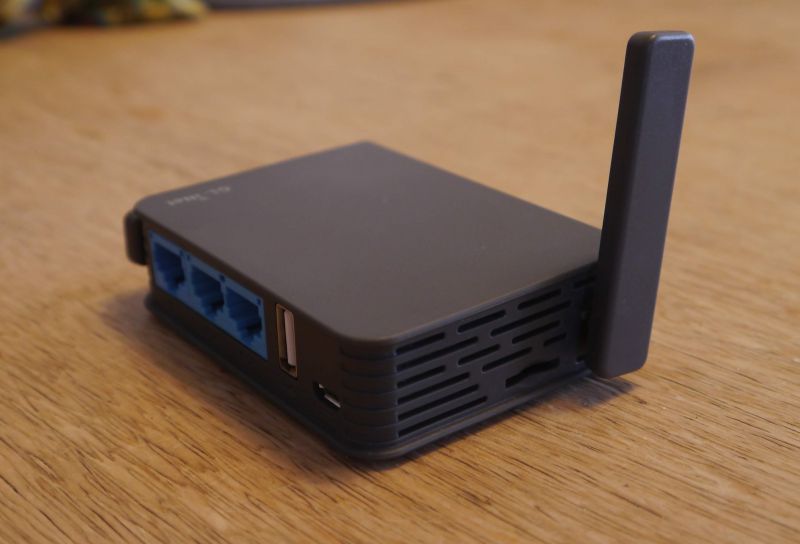 On the left-hand side is a micro-SD/Transflash slot which supports up to a 128GB card. Note you actually put the card in, what I consider, "upside down"  (contacts on the top) and there' s no indication on the unit as to which way to put it.  The slot isn't hot plug either, so if you insert a card you do have to reboot your router.  Again note the folding antennas.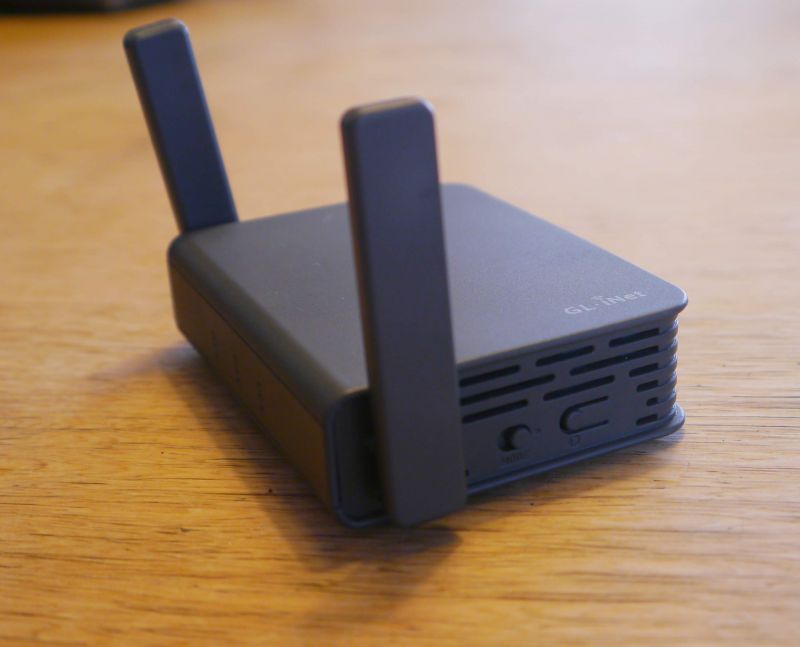 On the right-hand side, there's a switch which can be programmed (normally for VPN on/off) and a reset switch. A short press will attempt to "repair" your network and a long press will reset the router to factory default.
Slate versus Mango: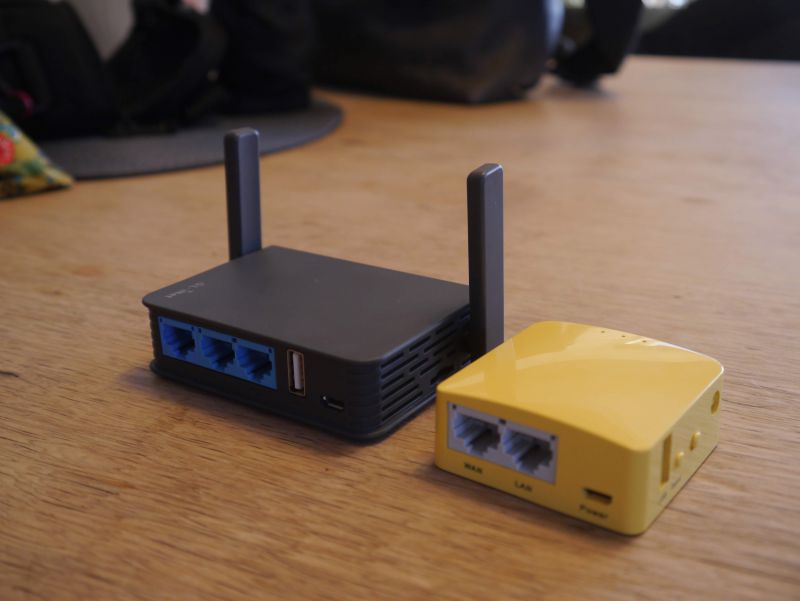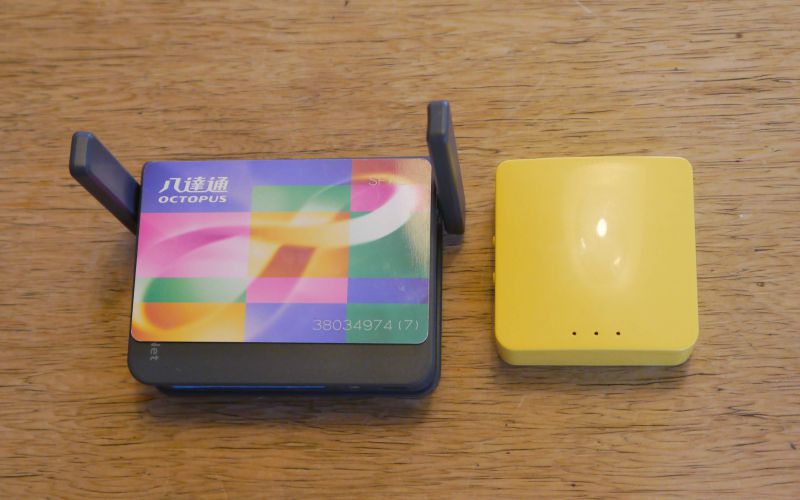 The Slate is 100mm X 68mm X 24mm and weighs in at 86g compared with the 39g of the Mango. While it's bigger than the Mango it's still small enough to throw into your gadget bag or even your pocket. The Slate has  the following major differences over the Mango:
Better processor (useful especially when using OpenVPN)
Micro SD slot
2.4Ghz and 5Ghz band
External Antennas
Gigabit ports
Setting up a WISP repeater session: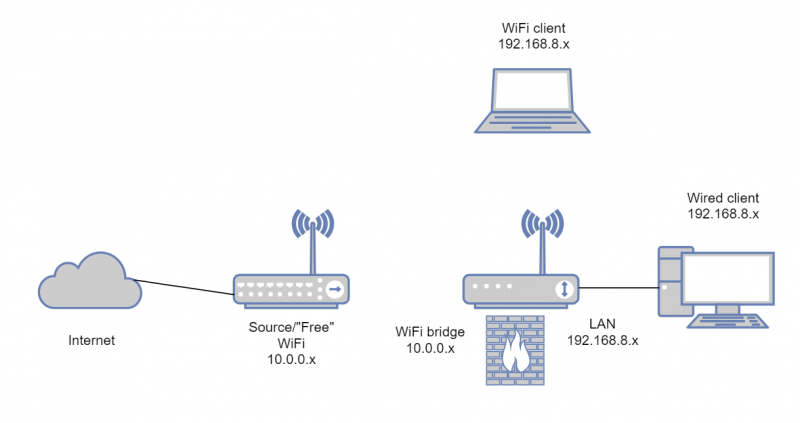 So here's a (very non-technical) diagram of what WISP mode does.  You connect to a WiFi network via WiFi on your mobile router and it creates a LAN on the other side with a firewall in between and clients on a different subnet. Your client devices are now on their own LAN segment and on a completely different subnet ( 192.168.8.x) from the source WiFi network (10.0.0.x). Only traffic destined for my own LAN will traverse the firewall on the AR750s. You can load things onto the travel router like perhaps an OpenVPN or Wireguard VPN service so all devices go through it,  a global ad blocker,  share a USB stick of music, movies or photos. Only people attached to the WiFi LAN will have access, especially important if you're on "free" hotel wifi or similar.
Setting up in WISP mode is easy as…
Login
Go to "Repeater" and hit "Scan"
The router will go off and scan for any available WiFi networks
You can then choose whichever network you need to connect to (note there's a 5G network as well)
Put in the password to the network you want to connect to
Click "Join"
And away you go.
If there's a login screen to validate your usage like many hotels or coffee shops have you should only have to do this once with your first attached device. After that, all your attached devices should just attach no problem (including things like Chromecasts, Fire Sticks etc).
Once again, it's the same overlay over OpenWRT as the Mango, so if you've got one GL-Inet device you can easily work out others.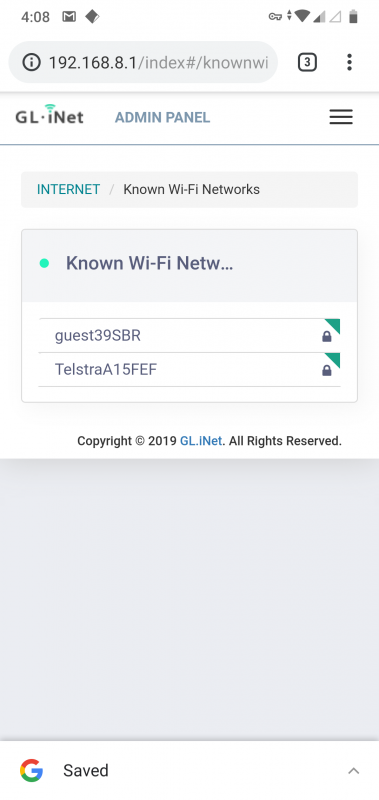 The other nice thing is there's an option which I didn't refer to in my last GL-iNet review, to remember your WISP networks, so if you bounce between regularly used ones you shouldn't have to set up again.  Personally, I would only be saving those that you do use frequently and that are a bit more "trustworthy" like at work or home. No need to rescan and set up all the time.
WISP Mode speed:
So what's the advantage of a dual-band router when traveling and using in WISP repeater mode?   In a single band router, you attach to your WISP source and your bandwidth is shared between repeating the source signal and transmitting your LAN.  People indicate that you'll probably lose half your bandwidth to the repeater however, in reality, I've seen about 1/3 bandwidth loss. Below are some Speedtest figures that show the advantage of using a dual-band router where you repeat on one band and transmit your LAN on the other.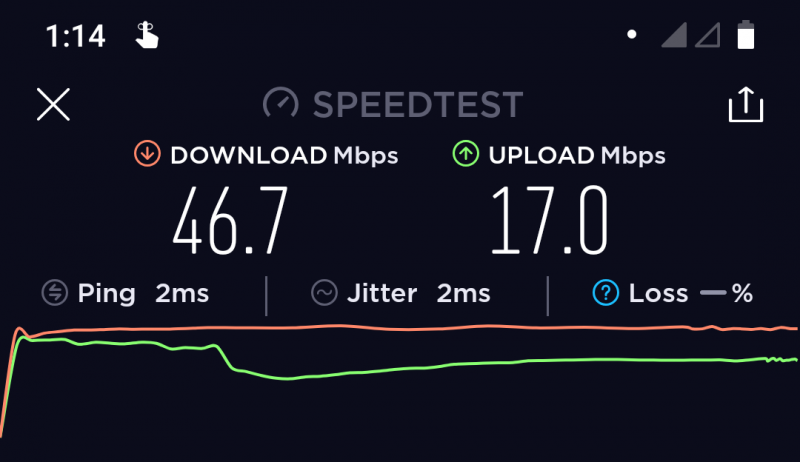 So here's my speed connected with my phone directly to the source WiFi router and standing right next to it on the 2.4Ghz band.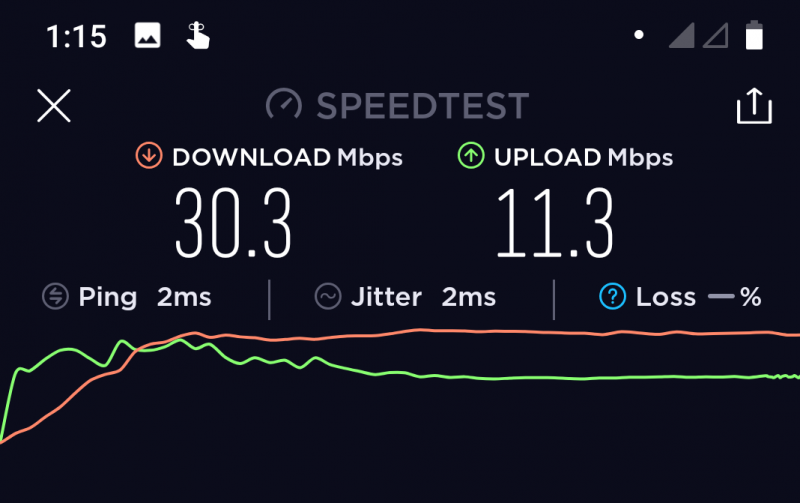 Here's my speed in a remote area of the house connected to directly to the source router on 2.4Ghz.  There's a few walls and doors between the device and the base router and you can see the effect it's having on my speed.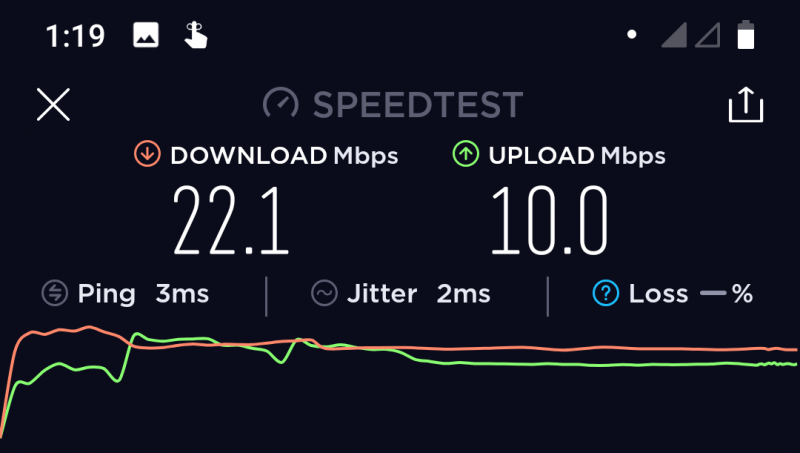 In the remote area I've used a WISP repeater connection to router on the 2.4Ghz band and then connected to the 2.4Ghz LAN network. You'll see there's a drop in speed compared with connecting directly to the base router.  Remember the 2.4Ghz on the AR750s is now not only servicing my WiFi LAN connection but also "bridging" between the two routers. I normally see about a 1/3 drop in speed approximately.  This is around the same speeds I'd expect from the Mango as this only supports the 2.4Ghz band. So the speed might not be there, in fact we've taken a drop,  but the security as described above is.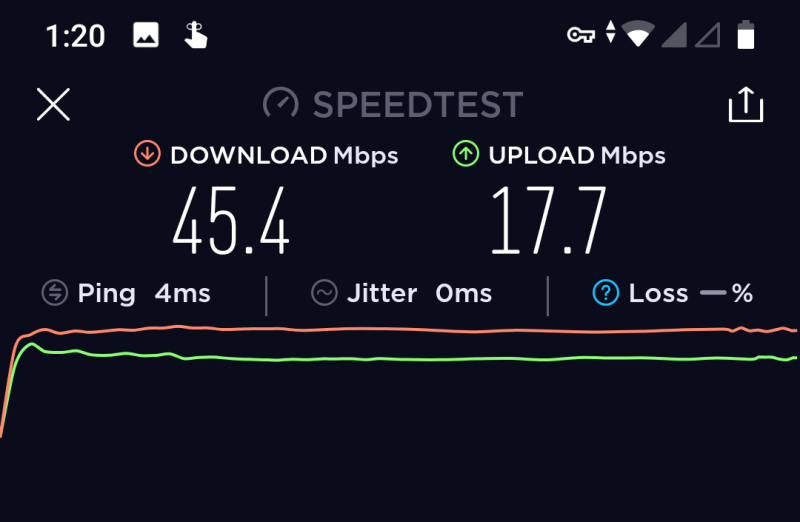 So what if you want speed AND security?  I'm in the same remote area of the house above however here I've got the WISP repeater attached on the  2.4Ghz band  and I am attached to my LAN on the 5Ghz bandwidth. The 2.4Ghz WiFi LAN network is turned off.  Here the 2.4Ghz band isn't doing anything except bridging between the two routers. This is the big advantage of a dual-band router when using WISP repeater mode; one band for bridging, the other band for LAN.
Summary:
I'm really impressed by the GL-AR750S. It's a faster processor, external antennae, micro-SD slot, and dual-band makes this not only useful for traveling but also at home. In fact currently, I'm house sitting and been moving houses quite a bit.  The GL-AR750s has been great for this as rather than having to connect all my devices to the house network each time we move I just connect my devices to the GL-AR750s and then WISP to the house network. That way I don't have to change anything except linking the Slate once to the house network.  Between my wife and I that's probably 8-10 different devices including things like a Chromecast and an Android TV media box.  When we move, we just connect the GL-AR750s once to the new house network and away we go. Additionally, I'm using the micro-SD to operate as an SMB media server and ad-blocking all connections on the router itself.
And my Mango?  Still a great functional little travel router.  It will remain my EDC travel router that's left in my gadget bag when I'm out and about.  It's smaller size and lower power consumption means it's easier to carry and will last longer on my powerbank or when attached to the USB port of my Surface Pro.  If I'm going on holidays though I'll be taking the AR750s even though it's bigger for its added micro-SD slot and better performance.
In my opinion, the Slate (GL-AR750s) is highly recommended especially as a travel router but is also useful for home use either as an access point or repeater or bridge or VPN Server or media server or even as the main router.  It's definitely very flexible and packs functions and features that punch well above its size.
I don't think I'll be looking for any more travel routers in the near future, think I might already have my "Goldilocks" pair 🙂
Price: $69.99
Where to buy: The GL-AR750S is available direct from GL-iNet and Amazon 
Source: The sample of this product was provided by GL-iNet