We use affiliate links. If you buy something through the links on this page, we may earn a commission at no cost to you. Learn more.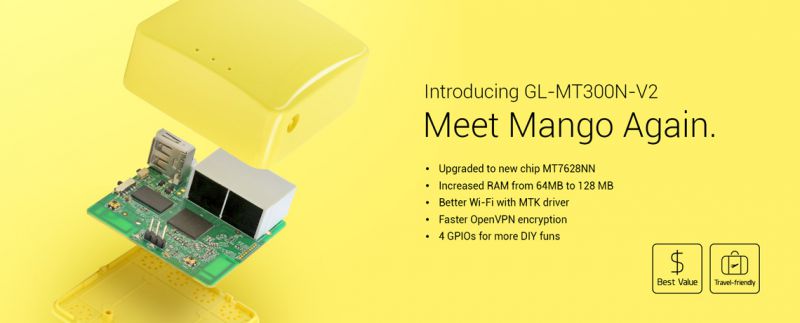 REVIEW – Since my last review of the TP-Link TL-WR802n , I found a few things that I wasn't happy with and went on the lookout for something to address the shortcomings. After searching high and low I came across the GL.iNet range of mini routers.  They have a whole series of mini routers with different specifications and their boxes are aimed not only those wanting mobile internet routers but also useful boxes to integrate into IOT type projects. In fact many of them have GPIO connectors (you can see them in the picture above).  After much ummming and ahhing and weighing up specification versus price versus my use case I ended up purchasing the GL-MT300N-V2 ( Mango). How does it differ from the TL-WR802n?  Read on.
What's in the box?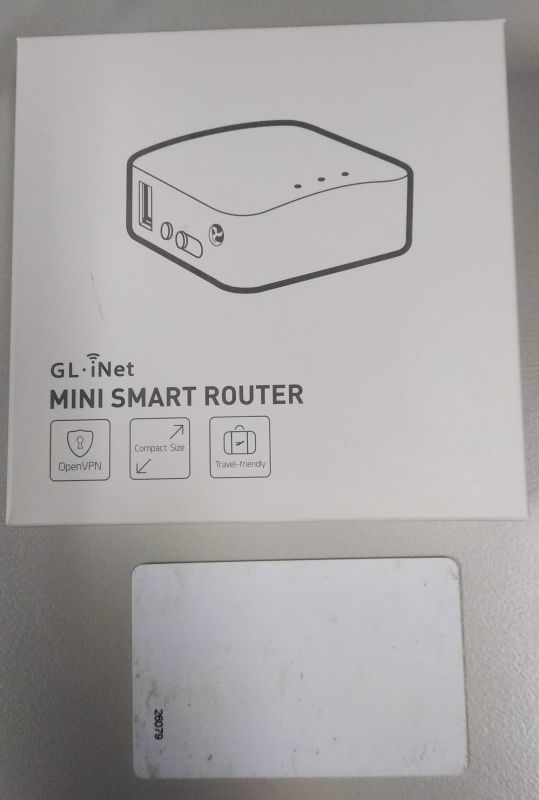 Note: Once again I'm not going to get into the technical side of things with this box. You can read the specs in the top graphic or from the web site.
The Mango comes in a nice small box with just basic graphics and without any fancy colours (very dirty access card for size comparison, the only credit card I had in my wallet without personal information 🙂 )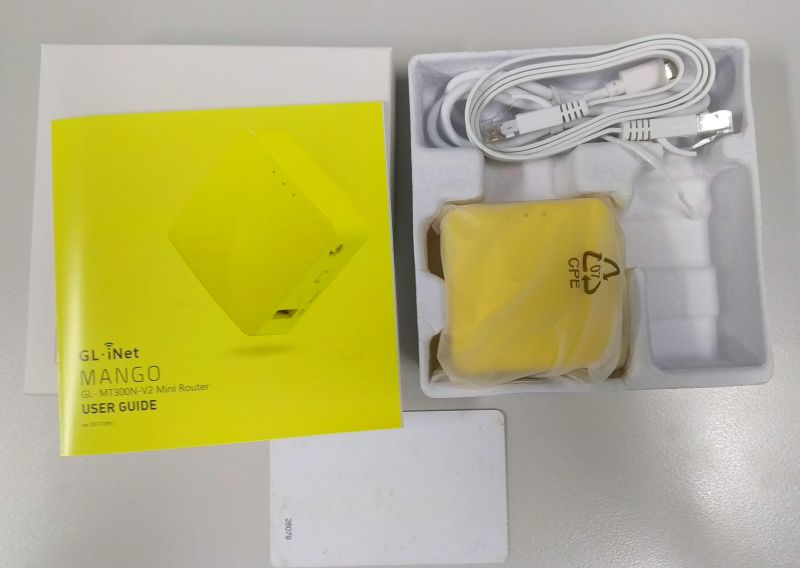 But once you open it up you get an eyeful of colour. Inside the box is an instruction manual, USB Micro cable, a nice quality Ethernet cable and an even smaller but very brightly coloured router. Everything  is cardboard and recyclable which is always nice (not sure about the cable ties? )
Size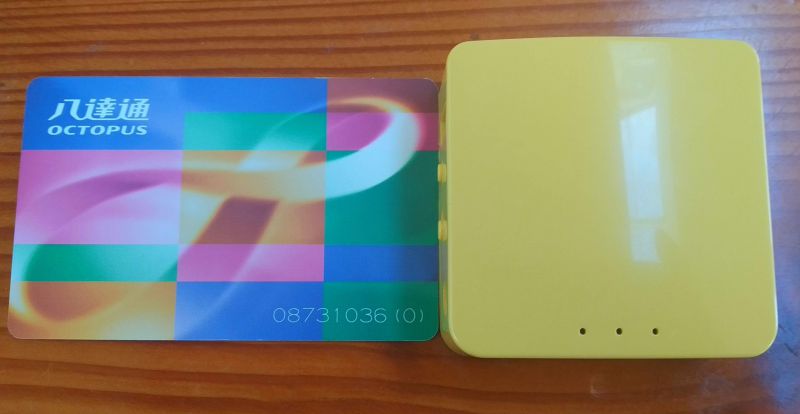 I'm still amazed by what can be fitted into this little box.  Here you can see it compared to a standard credit card.  At 58*58*25mm and  39g it's a very portable device and yet gives you all the functionality of a full size router. On the top all you have is a power, a customizable and a WiFi traffic LED.
Ports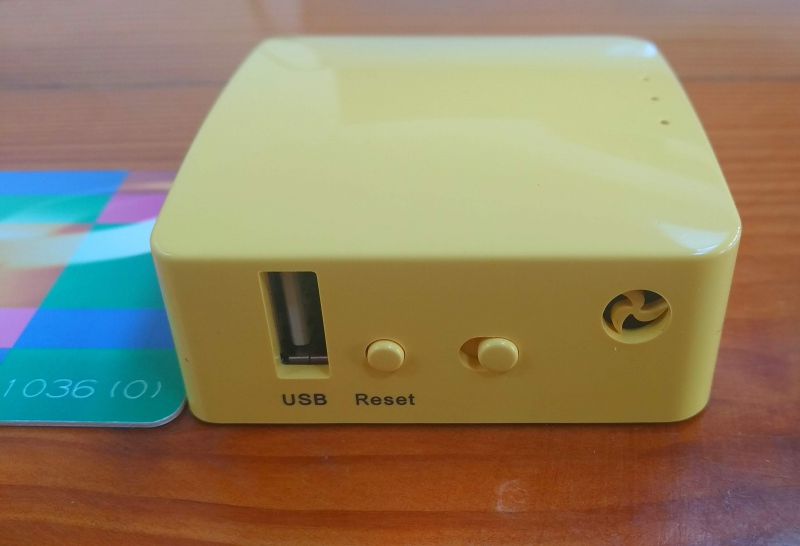 On the right hand side is a USB port, a reset switch and an on/off switch (more on that later 🙂 ). The little "propeller" is just a heat dispersion hole (there's a matching one on the otherwise blank side).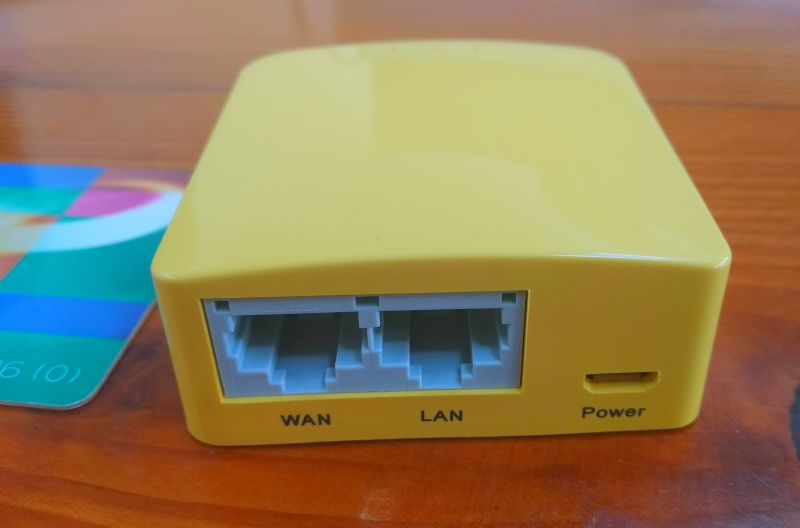 On the back is a 100 Mb WAN and LAN port. If you're using this to wirelessly connect and need an additional LAN port you can configure the WAN port to act as an additional  LAN port too for wired devices. On the right a micro USB port for power. From a WiFi perspective, it supports 2.4Ghz 802.11n only.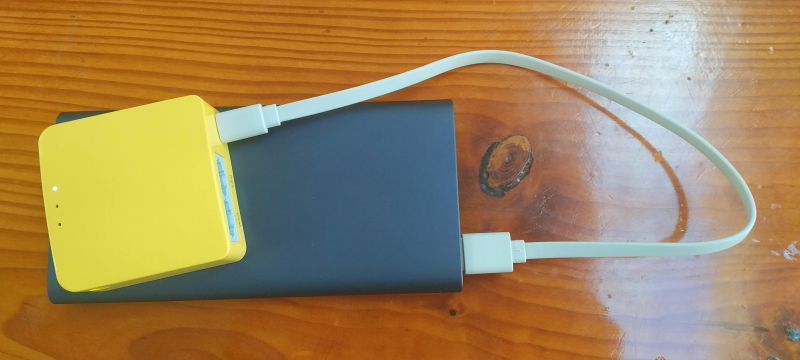 Because this is powered by 5V 1A, then you can easily power this by various methods: a 5V 1A AC adapter (like for your smartphone), via a USB port on a desktop/notebook/tablet or even via a powerbank.  Above you can see the Mango and my Xiaomi 10000MAh powerbank (must get a shorter cable 🙂  ).  I haven't timed exactly how long I get out of the powerbank but I can advise based on experience it would be at least a day.
Interface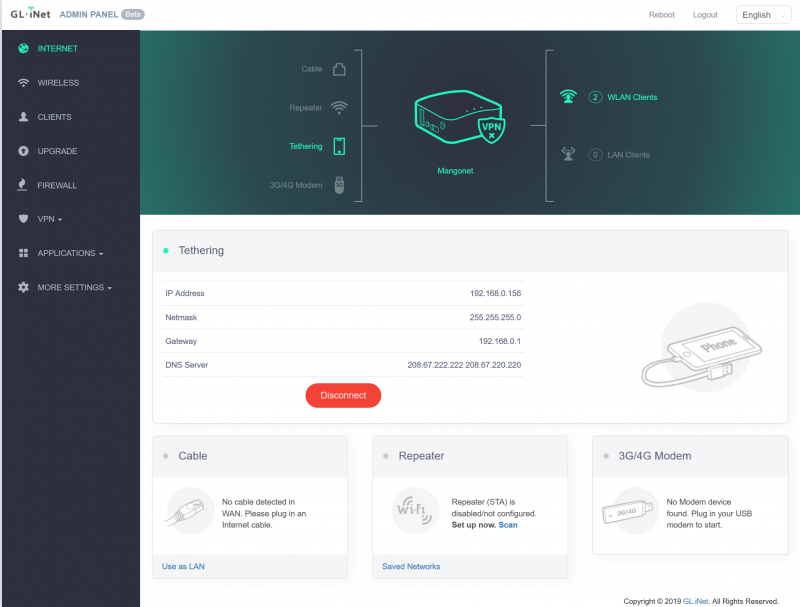 The Mango is running OpenWRT.  Anybody that's ever played with OpenWRT will probably agree that it's not as user friendly as the proprietary interfaces that most vendors place on their routers (mainly made for the "domestic" market).  That being said, GL.iNet has written a custom interface on the top of OpenWRT, that automates and makes things much easier to do than having to enter into OpenWRT. If you want to get rid of GL.iNet's interface you can flash it with native OpenWRT or there is also an option to load a TorGuard specific firmware.
GL.iNet has automated a lot of functions. You can see above where I've basically just plugged in my 4G MiFi device and the router automatically recognizes the device and sets the router up so that the  USB  just works as my WAN port. Normally with OpenWRT initially you'd have to research the relevant "packages" to load, use an SSH session or use the LUCI  interface to load and configure the packages and then test to make sure you've got everything right.
On the main screen, you can see that as default you can run as a standard wired router, a repeater, a Smartphone tether or a 4G dongle router. Where required these functions are all wizard driven.
In the settings on the right you can manage all your "standard routery stuff" ; WiFi settings, set time servers, DHCP, changing your DNS servers etc. without having to delve into OpenWRT's more complex interface.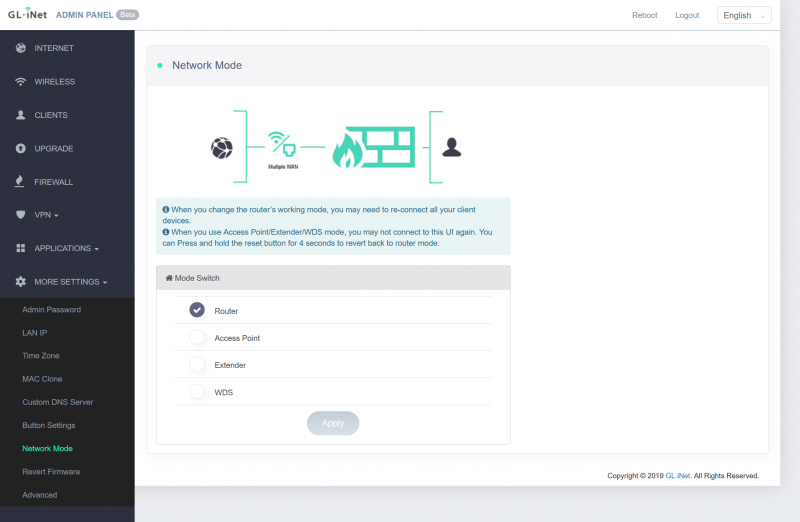 Additionally, there's easy access to change the unit into an Access Point, WiFi extender or a WDS bridge.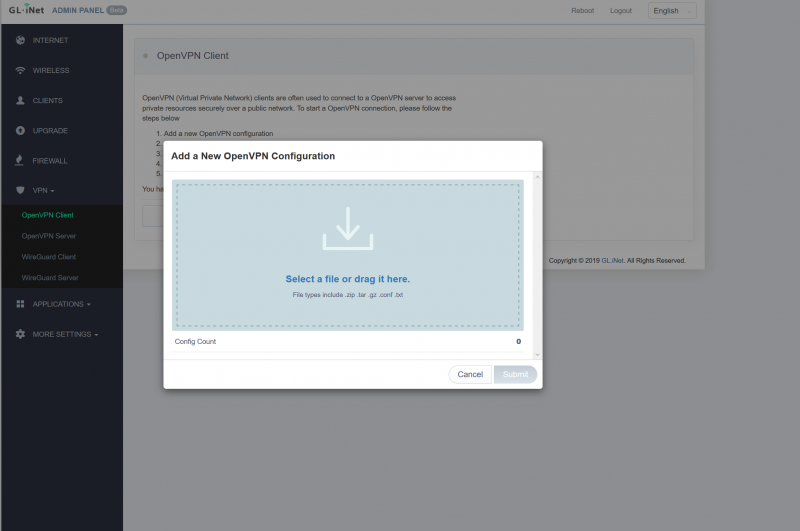 The unit supports both OpenVPN and Wireguard out of the box, and I'm guessing most people will use OpenVPN at the moment until Wireguard matures.  Most VPN providers will supply .cfg files for their various servers.  You just need to download and drop and drag your config files to the Mango. Much easier than using the OpenWRT native interface. By using your VPN at a router level, it means that you don't have to have a VPN client installed on all your endpoints, and is especially useful where your end point might not have a VPN client available. Alternatively, you could even make this a VPN server rather than a client.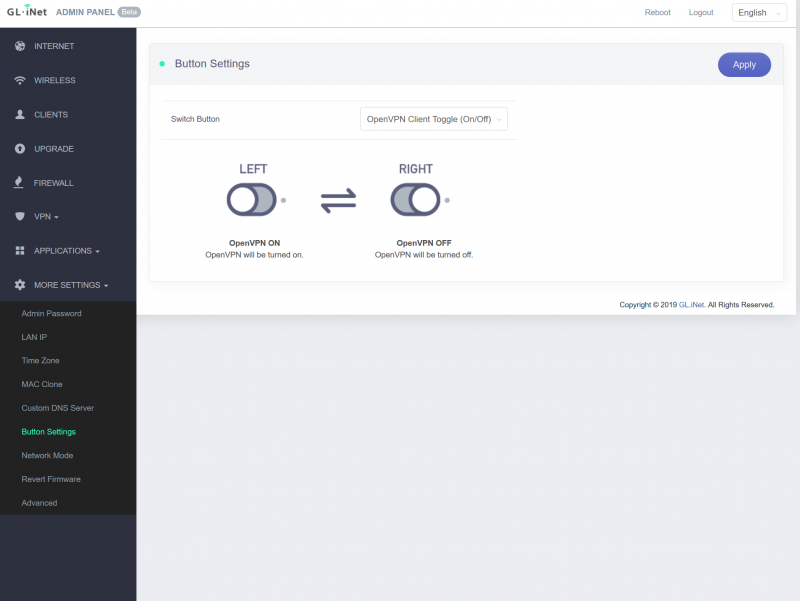 Remember that switch on the right hand side? It can be used as a physical switch to turn your OpenVPN or Wireguard Service off or on without having to enter the interface.

Plug in a USB drive and the unit uses SMB shares and you should be able to see your drive on most devices. Certainly works on both my Windows and Android devices easily. Useful while you're on holidays for streaming movies or music or for backing up your photos and sharing them with your holiday buddies on your local holiday LAN 🙂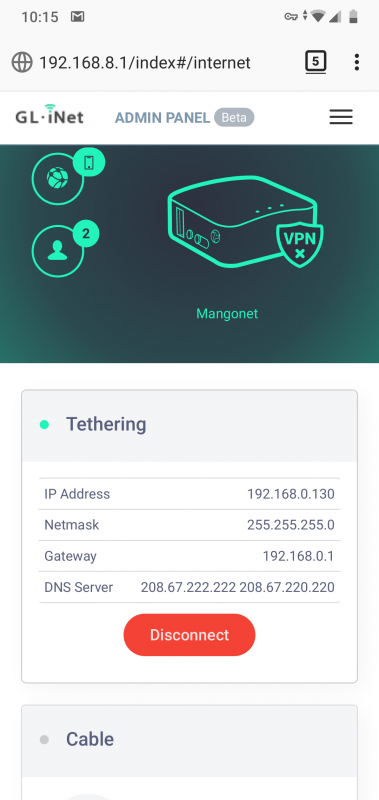 On top of that their interface scales nicely to mobile devices.  Looks neat and tidy and means you don't have to scroll all over the place like you do with some web based router interfaces on mobile devices.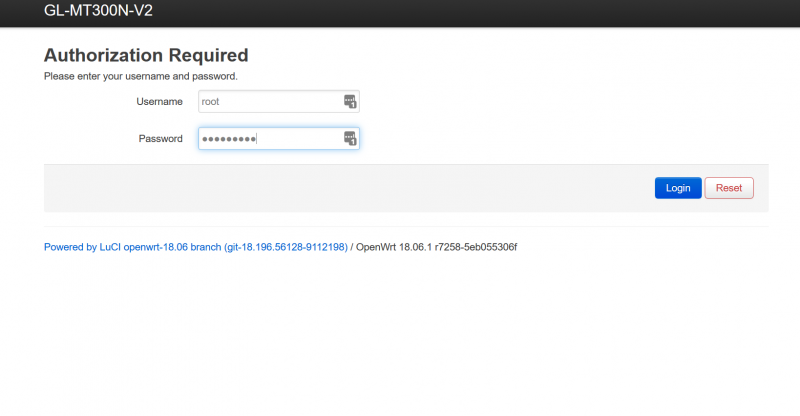 The custom built GL.iNet interface is nice and makes things very simple however if you're a bit more familiar with OpenWRT and you just want to use an interface you're familiar with or there are things the simplified interface won't do for you then if you go to the "Advanced" tab you get your familiar OpenWRT Luci interface.
Compared to the WR802n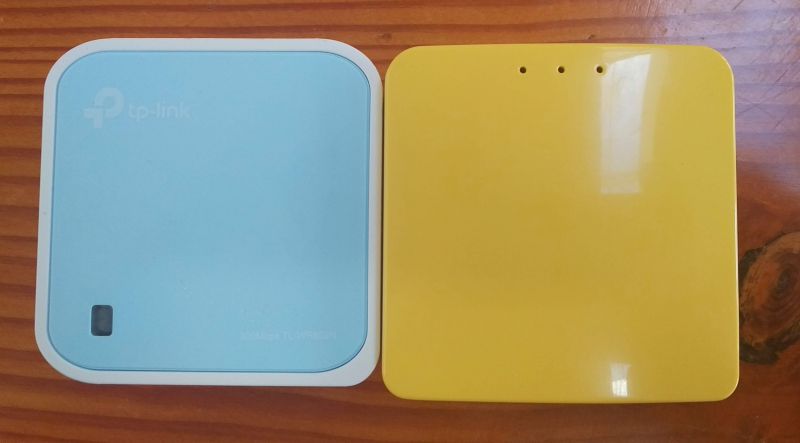 My last review was based on the TP-Link TL-WR802n nano router. I bought the Mango to address a few shortcomings I'd come across since buying the WR802n:
The firmware on the TL-WR802n is proprietary and hasn't been updated since April 2017
It doesn't support OpenVPN, the method that most VPN providers require now (you can of course still run a client based VPN client)
The Mango supports OpenWRT which gives me much more flexibility and I only need to load what I want
The Mango has a USB port to support USB media and USB 4G dongle tethering
You can see that size wise both units are very similar.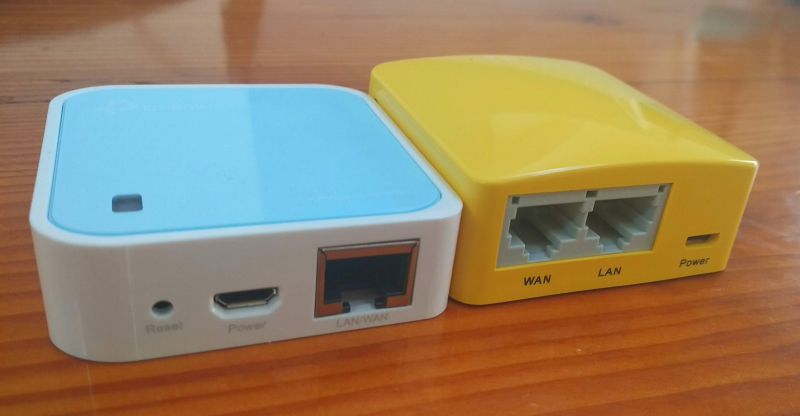 The Mango is ever so slightly taller.  But for the added WAN port, USB port and firmware functionality I'm willing to put up with the slightly larger size.
You can do all the things you can with the WR802n with the Mango but more.
Want a small video server to share? Want a small video server in your car to keep the kids happy on the long trip? Need to share a USB 4G Mifi wingle or tether a smartphone? Need to VPN your whole LAN (and hence all your devices) when you're staying in that dodgy little hotel overseas? Want to control your devices like a roller door via WiFi? Want to set quotas on the kids for that expensive overseas 4G service you had to purchase while on holidays? These are just some of the scenarios where the Mango could be used.
Don't get me wrong, the WR802n is still a great and tiny device and it does it's main 5 functions well, is easy to setup and if you'll be happy with the WR802n will all depends on your needs and requirements.
Support
I had a minor issue with my WiFi on my unit. There's an option to email support but I used the assistance chat line (which is basically Facebook Messenger) and received a reply within 10 minutes. The technician was helpful and solved my issue quite easily. Nice to know that support is readily available. (Don't forget time zones may, however, make a difference to response times).
What I like
Many of the reasons I liked the WR802n still stand for the GL-MT300N-V2; the size, the portability, the flexibility. However for around the same price the additional hardware ports on the Mango, the support for OpenWRT as well as it's customized interface and all it's functionality just expands the usage of this box so much more than the WR802n.
What I don't like
There's not much I don't like about the box. If I have to be really picky, the bright yellow/orange colour is……bright. In my WR802n review, I said that it was small and discrete and not something that the IT guys on patrol will be immediately drawn to.  The Mango isn't quite so discrete 🙂
Again like the WR802n, it's not the most powerful router in terms of processing power or WiFi range but it's not made to be a powerhouse be all and end all unit, but a portable, "spot solution" device.
Final thoughts
If you're in the market for a small, portable travel router it's really pretty hard to beat, and it's not only while you're traveling that it's useful either.  All the basic functionality you need is all there at your fingertips and is easy to set up with GL.iNet's custom skin over the top of OpenWRT. For me, the basic requirement is still around having my own firewalled LAN when using a public wired or wireless internet connection but the fact that I can do so much more if I want to just makes this a much more flexible solution. If you require more advanced functionality you've got the whole plethora of OpenWRT modules to play with and access to the OpenWRT interface. Sure I'd love a dual band AC Wifi router (WISP repeater on one channel and run my LAN on another to increase effective bandwidth) but that comes at a price (in both $$ and size). This bright little unit should see me through the next few trips away and serve me well.
Update
I've just loaded their latest Beta firmware on it and it includes a VPN Policy Manager in its custom interface. You can easily set a domain, IP or MAC address to either use or not use the VPN. Really handy for those devices mentioned above that might not have a native VPN client or maybe if you only want say your Netflix device to run through your VPN.  🙂 Nice to know that the custom interface is still being developed to make "common" functionality easy to deploy.
Price: Approx $21
Where to buy: GL-iNet and NewEgg
Source: The sample for this review was purchased with my own funds.