We use affiliate links. If you buy something through the links on this page, we may earn a commission at no cost to you. Learn more.

MINI REVIEW – Firstly let me clarify, this is not a "Spitz Mini" review, it's a Spitz  "mini review". That being said, just like all the GL.iNet  range of products this is small, not your normal size router.  Why a mini review?  Because unlike a normal router, there's a heap of different factors that will affect how well this unit will work for you including your country, your telco, etc.  That makes it really hard to say if this will work well because of the differing environments.  But if you're looking at using a small LTE modem router the Spitz (GL-X750) is well worth a look.  Read on below the break:
So why do you need an LTE modem router? In Australia, the National Broadband Network (NBN) hasn't quite met the expectations set for it (and let's leave it there and not get into any sort of technology or political discussions 🙂 ).  People are putting in landline broadband solutions and finding them inadequate for even the most basic requirements.  Australia is ranked about 60th in the World at the moment in the broadband speed rankings. That's not so good 🙁  That being said however we are ranked about 5th in the World for mobile broadband speeds. Many people are changing from fixed line to mobile broadband to attain better speeds for internet access especially as prices get cheaper for mobile broadband.
But that's not the only reason you might want LTE mobile broadband internet. Some examples are:
Maybe you want a 4g backup line for when landline provider goes down
When you're away from home  and don't trust the free/public wifi
When you're away from home and there's no free/public WiFi
When the public/free WiFi is slow
If you are moving house a lot
When the family needs internet while you're driving/touring in a vehicle
Like the other GL.iNet units I've reviewed, the X750 (Spitz) comes loaded with OpenWRT (with a neat little OEM wrapper on the front-end) and does all the WISP and router functions I've already covered so I'm not going to go over old ground and instead concentrate on the differences. Note that you could achieve the same solution using an LTE WiFi dongle attached to either the Slate or the Mango as I've discussed before in my previous reviews.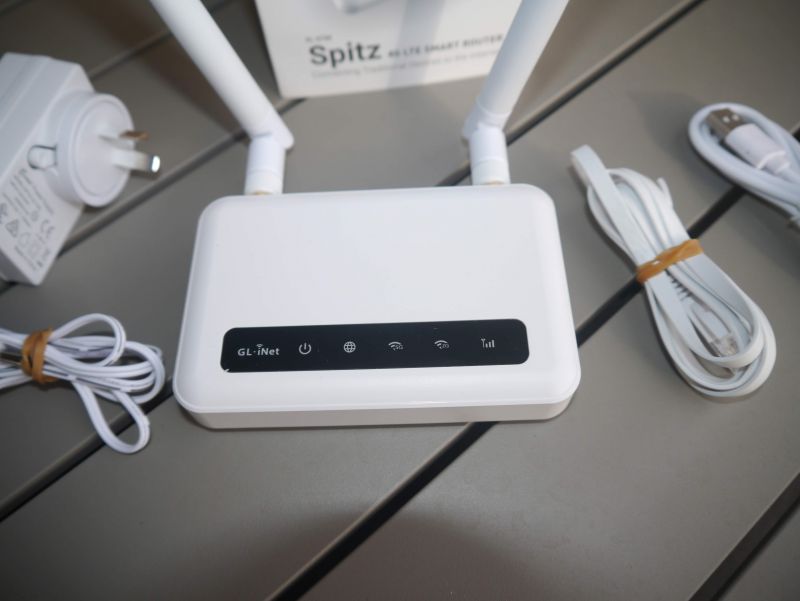 As I said in the beginning, the Spitz isn't your normal size router at 115 x 74 x 22mm / 86g it's still pretty small and can easily be thrown into your gadget bag. The Spitz comes with everything you need to get started.  A country-specific power supply, an ethernet cable, and a USB micro cable. On the front, there are 5 LEDs showing power, WAN connection, 2.4Ghz, and 5Ghz activity and LTE connection.  The Spitz is an AC750 WiFi router so supports both bands so all the advantages I mentioned in the Slate review hold if you just wanted to use this in a WiFi environment.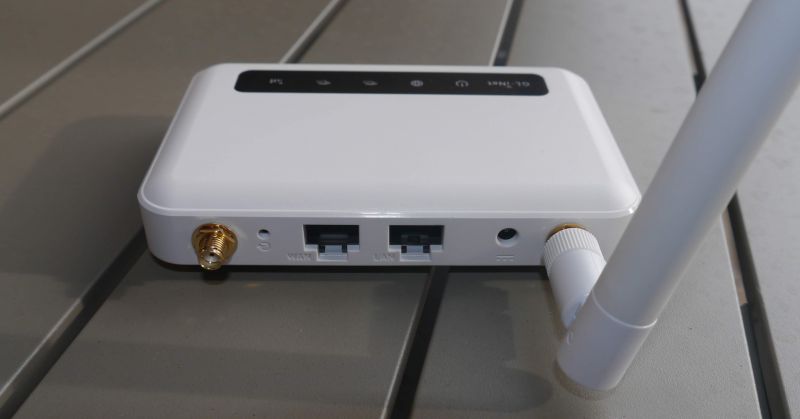 On the back are two removable antennas, they're two 5DBi antennas for LTE not for WiFi; both the WiFi antenna are internal to the unit. If you wanted you could replace the antenna with different ones like higher gain or maybe directional rather than omnidirectional. There's a reset switch, a 10/100 LAN and Wan port and a barrel power connector (12V/1.5A). So unlike the previous GL.iNet routers I've reviewed, it can't be run off a normal USB power adapter or via your notebook/computers USB port. With the correct adapter/cable/power bank however you could run this off a powerbank or the cigarette lighter port in your car.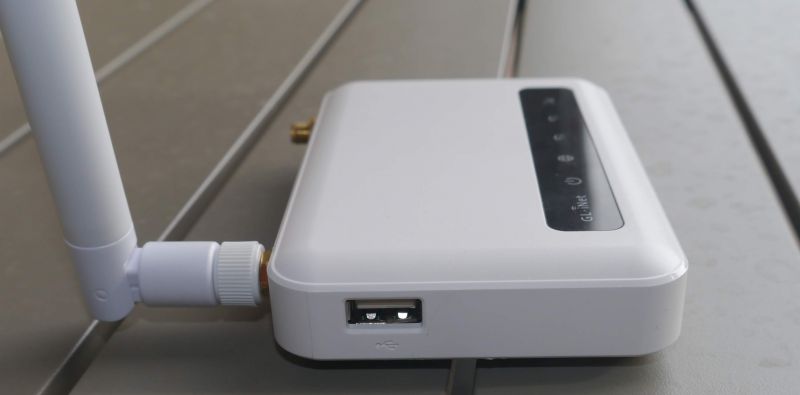 On the left is a USB 2.0 port for sharing a USB stick across your network.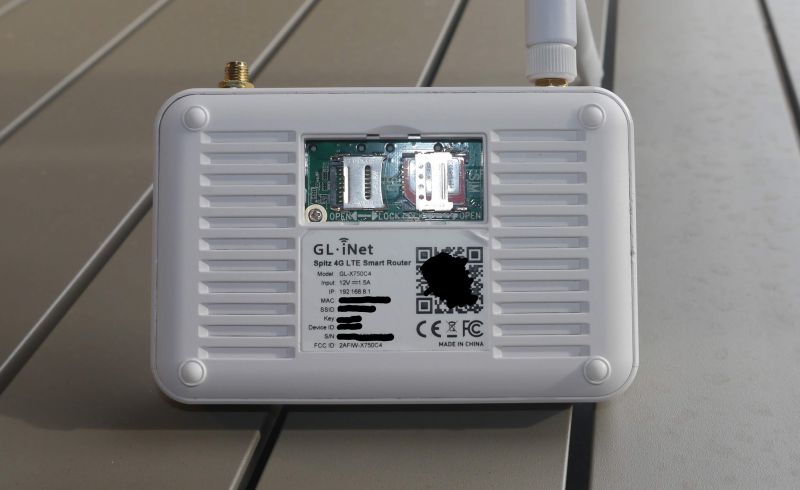 Underneath a cover on the back is a micro sd-card slot and a slot for your mobile SIM card.
The Spitz has a Mini PCIe slot underneath the bottom cover (user removable)  and currently, you can purchase with either a Cat 4 or Cat 6 Mini PCIe modem from Quectel. It can also use Mini PCIe LTE modems from other vendors as well as long as they're "recognized" by OpenWRT).  In theory, the Cat 6 modem will give you better speeds as it supports better Carrier Aggregation.  Because each country and each telco uses different bands for the LTE broadband, there's a number of different variations of the boards and you need to make sure you purchase the correct board for your country and telco when ordering.  They are user changeable as well if you needed multiple boards but you need to be willing to lose any warranty, use a screwdriver and one thing I really worry about is the delicate little uFL antenna connectors; you have to be VERY careful when removing and reclipping the antenna cables so as not to damage them.
The unit also allows for optional Bluetooth and Zigbee if you wanted to make this unit the "hub" for you IOT home automation system.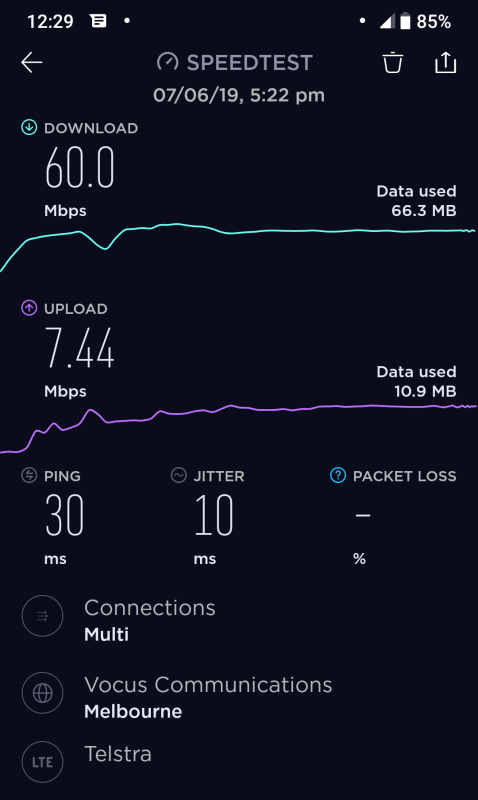 So here's the sort of speeds I am typically getting using the X750 on the main telco (Telstra) available here in Australia. They're known to have the best coverage and speeds (which comes at a price of course 🙂 ) .  That being said I've seen speeds from 24Mb to speeds up to about 190Mb depending on circumstances and yet, in many cases the 24MB is better than people are getting on their landlines.  My internet needs aren't complicated, at most a couple of streams of Netflix or other streaming service at the same time, so even the lower speeds will do me.  Other telcos (there are 2 main other ones) I've tested so far peak at around 40Gb, still a good result and normally adequate for my needs. If I got really serious I could start sending AT commands to the modem and start locking it to bands and forcing carrier aggregation depending on which telco and which tower and which band and…….. to try and get the best possible connection but I really don't have the time. These results are as it ships.
Final Thoughts
If you're looking at LTE mobile broadband for whatever reason, there's a number of things you need to take into account:
Country
Telco
Bands supported
Distance from Tower
Bands supported on that tower
Congestion (traffic) on that tower
Tower coverage
The list goes on and on for factors that will affect your final throughput….
But if you're looking for a small, flexible, well supported device, then the GL-X750/Spitz is well worth having a look at.  It's flexible both as a normal router with potentially a 4G link as a backup for your home or business, or as a portable LTE modem solution when you're out and about (and have the power to run it).  I am currently looking at building a house at the moment and knowing that there's only Fibre to the Node (FTTN) available there I am seriously considering just using mobile broadband and the Spitz (GL-X750) will definitely be a part of my infrastructure if that happens and most likely even if mobile broadband isn't the best option just as a standard router.
As mentioned though please do your research before you commit to one of these LTE modem units (whatever brand)  and ensure that the modem card you are purchasing suits the environment in which you're going to use it. As the old IT adage goes;  YMMV 🙂
Price: From $119 (US) depending on the configuration
Where to buy: GL-iNet
Source: The sample for this review was supplied by GL.iNet.