We use affiliate links. If you buy something through the links on this page, we may earn a commission at no cost to you. Learn more.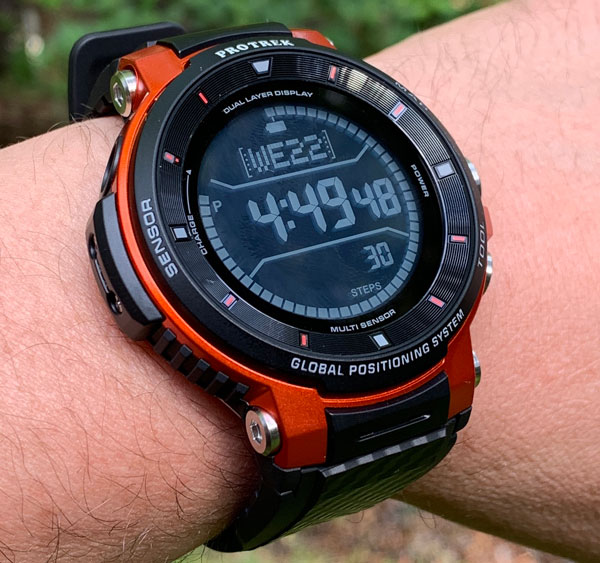 REVIEW – Casio manufactures a wide range of electronic goods, from calculators to musical instruments. But I would argue, Casio is best known for their wrist watches…particularly their G-SHOCK line. For decades the G-SHOCK has been one of the goto watches for rugged dependability. A watch engineered to survive a march thru hell and back without batting an eye. Well, this review isn't about any of Casio's G-SHOCKs but on their PRO TREK WSD-F30, a modern smartwatch with much of the G-SHOCK's DNA which is apparent the moment you lay eyes on it.
I am not going to be diving into WearOS in detail other than how well it works operating on this watch. Like the Apple Watch OS, Android's WearOS is a pretty well-known quantity these days. That said, my focus will be on the watch hardware and noteworthy features this smartwatch brings to the table.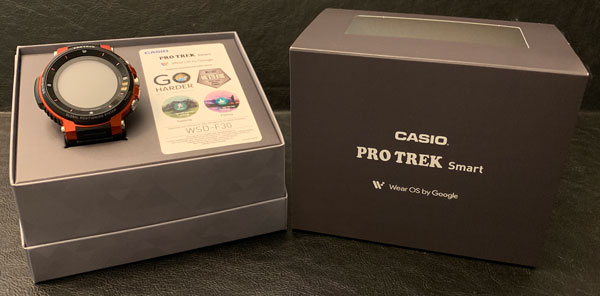 What is it?
The PRO TREK WSD-F30 is Casio's latest flagship GPS enabled smartwatch engineered for the outdoor enthusiast. The PRO TREK WSD-F30 runs on Android's smartwatch WearOS software, has a built-in compass/mapping/navigation/barometer/altimeter, and is hardened to MIL-STD-810G (United States military standard) survivability specifications.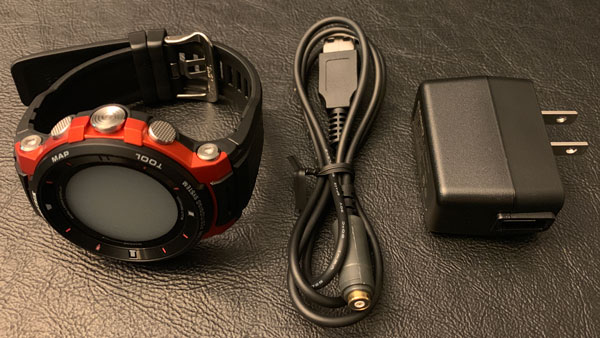 What's in the box?
Casio Pro Trek WSD-F30 smartwatch
USB charging cord
Power plug
Hardware specs
1.2-inch dual layer display, Color organic electroluminescence (EL) (390 × 390 pixels) + Monochrome LCD
Capacitive touch panel
Microphone
Vibration
Battery:Type: Lithium-ion battery
Charging time: Approximately 3 hours at room temperature
Bluetooth: Bluetooth® 4.1 (Low Energy support)
Wi-Fi: IEEE802.11b/g/n
Memory & storage: 768 MB RAM, 4 GB internal storage
Charging method: Magnetic crimped charging terminal
Measuring unit: 1 degree
5-bar (50-meter) water resistant
Environment performance: MIL-STD-810G (United States military standard issued by the U.S. Department of Defense)
Sensors: GPS, Pressure sensor, Accelerometer, Gyrometer, Magnetic sensor
INPUT: AC 100 V to 240 V 50 Hz/60 Hz
OUTPUT: 5.0 V
Charger cable: Length: Approximately 0.75 m (2.46 ft) Type: AC adaptor USB Type A
Operating temperature: -10℃ to 40℃ (14℉ to 104℉)
Crystal: Mineral glass (dirt resistant coating)
Approx. Size (Body H × W × D): 60.5 × 53.8 × 14.9 mm (2.4" × 2.1" × 0.6")
Approx. Weight (including band): 83 g (2.9 oz)
Included accessories: Charger (AC adaptor), Special charger cable
TOOL Apps:
Compass:
Measurement range: 0° to 359°
Measurement unit: 1°
Continuous measurement duration: 1 minute
North Indication hand, Magnetic declination calibration, Bearing memory, Gradient calibration
Altimeter:
Measurement range: –700 to 10,000 m (–2,300 to 32,800 ft)
Measurement unit: 1 m (5 ft)
Measurement accuracy: within ±75 m (within ±250 ft) (When frequent manual calibration is performed)
Shortest measurement interval: 1 minute
Altitude graph: Past 24 hours
Manual altitude calibration, Auto altitude calibration using location information*2*3
Barometer:
Measurement range: 260 to 1,100 hPa (7.6 to 32.5 inHg) Measurement unit: 1 hPa (0.1 inHg) Measurement accuracy: within ±3 hPa (within ±0.1 inHg)
Atmospheric pressure tendency graph: Past 24 hours
Barometric pressure measurement interval: 1 minute
Manual barometric pressure calibration
Tide and Fishing:
Tide graph: Past 12 hours + Next 12 hours
Fishing time (Calculated according to current location, and moon hour angle and age.)
Sunrise/sunset: Sunrise/Sunset times (Current location sunrise/sunset) Sunrise/Sunset directions: Accuracy depends on compass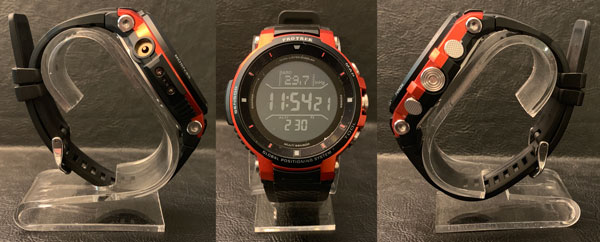 Design
As I mentioned, the PRO TREK WSD-F30 is Casio's latest and greatest Android WearOS smartwatch engineered for the great outdoors. The F30 is Casio's third generation flagship in the PRO TREK line. And even though this watch is massive and hardened against the elements, it does have a well thought out and refined design to it. The watch takes many design queues from the G-SHOCK line and is built to survive many epic adventures.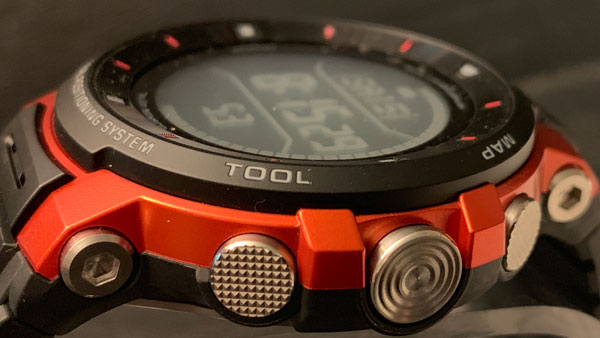 The fixed bezel is thick and raised well about the face of the watch to protect the WSD-F30's screen from impacts. The capacitive touchscreen has a mineral glass exterior layer with a dirt resistant coating. Shame Casio did not use a sapphire crystal instead for added durability, strength, and scratch resistance.

The case is well made from metal and hard plastic. The build quality is good but the design of this watch is much more about ruggedness than polish and finish…definitely a tool watch. The right side of the F30 has the main physical controls (aka the buttons 😉 ). The buttons are large and easy to find and press. The upper (mapping) and lower (tools app) buttons have a nice knurled pattern with the center button having more of a bulls-eyed pattern. The buttons work fine but are a bit squishy when pressed vs having a definitive click to them.

The left side of the watch has the magnetic crimped charging terminal and atmospheric/magnetic sensors. To add to the F30's rugged good looks, Casio uses stainless steel hexbolts and screws to hold the smartwatch together.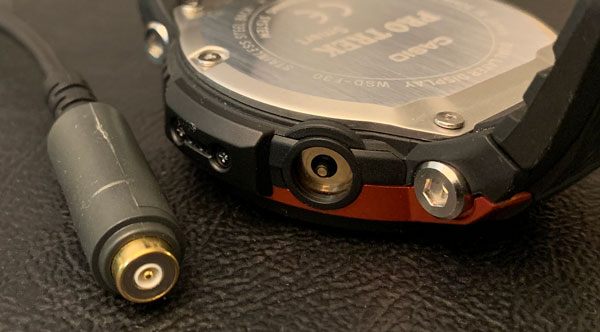 Here you can see the proprietary charging cable and magnetic crimped charging terminal.

The charging system works well though the cable does have a habit of popping off too easily. The back of the case is a large stainless steel plate held on by six screws.

The WSD-F30 has a dual-layer OLED/monochrome display. The monochrome display shows the time, power level, and either the day/date and your step count or sensor information (altitude, barometric pressure, and compass heading) while saving power by turning off the full color display. The 390 × 390 pixels OLED layer provides a vibrant viewing experience when using apps. The touchscreen's clarity and responsiveness is excellent.

Outdoor Features
Casio includes a handful of very outdoor-centric functions on this smartwatch including: digital compass, mapping & navigation, altimeter, and barometer telemetry. And even though this watch can provide you your notifications, music, current news, etc…one of its main missions is help you navigate and survive when you're getting back to nature, escaping the modern world. Even though the screen is pretty small, the mapping and navigation capabilities of the F30 are impressive with the ability to download offline maps, preset routes, and waypoints, backtrack, etc. Barometric pressure data lets you know of a potential change in the weather. And the usefulness of the compass and altimeter when you're lost in the middle of nowhere are pretty obvious.
Just one thing is missing…
I would say the most glaring omission on the PRO TREK F30 is the lack of a built-in heart-rate sensor. For being such a get out and get moving, outdoor and explore smartwatch not having an HR sensor could definitely cause the fitness crowd to pause when considering the F30 as their next wearable purchase. With the likes of Apple, Polar and many others doubling down on accurate, always monitoring fitness, I think Casio probably should have added this function by the third generation of this watch. That said, the F30 does count your steps, monitor activities, and does include Google's and other various fitness apps.
Setup
The Casio WSD-F30 is compatible with both Android and iOS devices. Setting up the F30 with my iPhone was quick and easy. Since I already had my Google WearOS app setup, getting the F30 talking to my iPhone didn't take long at all. The app configures all my preferences, info, and music nearly seamlessly, though music transfer did take a bit of time.
Performance
Overall the performance of the WSD-F30 is surprisingly good. I have tried/reviewed more than my fair share of smartwatches and most, if not all, of the WearOS devices fell well short in the performance category (especially compared to the Apple Watch). The F30 is relatively responsive with less lag than previous WearOS devices, apps don't crash, and the special features/tools actually work as advertised.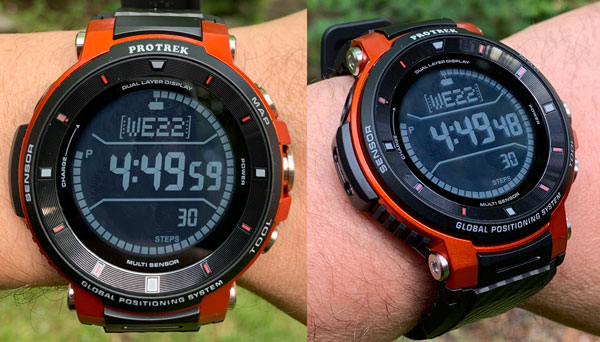 With its dual-layer display technology you can get one to two days of use out of the PRO TREK before needing to recharge it…pretty standard for today's smartwatches. The F30 has an Extended Mode for when you don't have power and need to stretch battery life for many days. Extended Mode does limit functionality but can be switched off when need be.
Comfort & Wearability
Even though the F30 is smaller than its predecessors, this watch is HUGE. The width is 54 mm with a lug-to-lug wingspan distance of over 60 mm. I typically wear 38 – 40 mm diameter watches with a lug-to-lug distance under 50 mm, so this watch does feel large and a bit cumbersome. Here you can see the watch on my 7 inch wrist and the lugs overhang the sides of my wrist. The F30's dual layer display measures 1.2 inches with much of the watch's overall diameter coming from the thick bezel.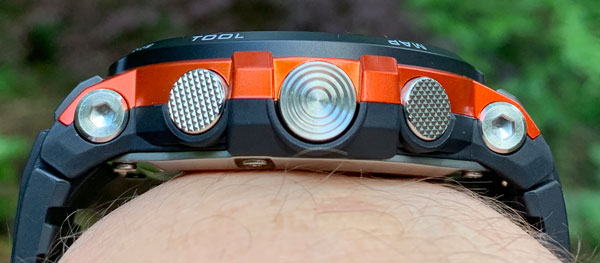 The WSD-F30 is pretty thick as well. The watch sits 14.9 mm high on the wrist and does occasionally bump into things while moving through the world. Though at 83 g / 2.9 oz, the WSD-F30 feels light on the wrist especially when you consider its overall dimensions.

Here you can see the WSD-F30 compared to the 42mm Apple Watch, Polar Vantage V Pro, and Mobvoi TicWatch S2. The PRO TREK wears bigger than the other three though it is pretty comparable to the TicWatch in size.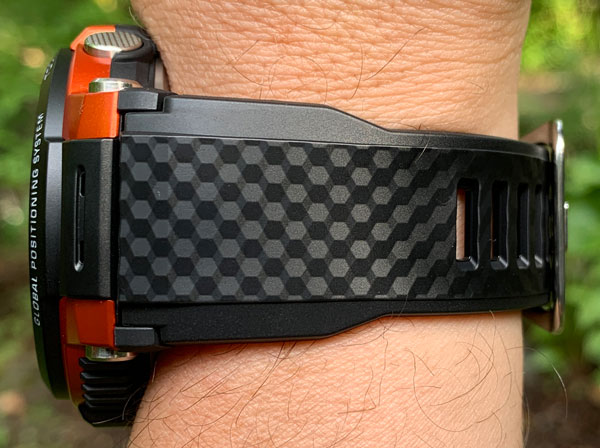 The band is made from a black plasticky rubber material with a carbon fiber-like look on the exterior. The watchband is OK, definitely not my favorite, feeling more like plastic than rubber. The band wears fine but not nearly as comfortable as my Everest or RubberB watchbands or even the bands of my Apple and Polar watches.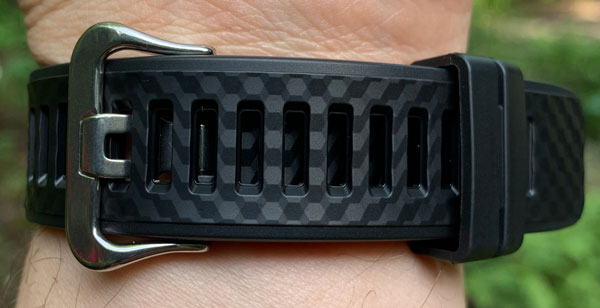 The F30's watch band has many notches for a precise/better fit as your wrist expands and constricts due to weather conditions and effort level.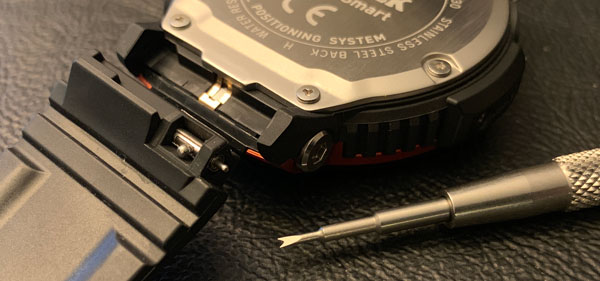 A nice feature of the WSD-F30 band is that Casio uses a quick release spring bar system for easy tool-free removal/swapping of the wristband. Funny thing is, the tiny quick release slider is recessed into the band and after a minute or two I gave up trying to make it work with my fingernail. My spring bar tool made quick work of getting the band on & off of the watch. But in reality, if your fingernail wasn't working a paperclip or toothpick would work just as well.
What I like
Well made rugged design
Solid build and material quality
Created for the outdoor enthusiast
Pretty responsive for an Android WearOS smartwatch
Feature rich
Offline navigation and compass
Good dual layer screen design
Decent battery life
What I'd change
Make it smaller
Lower the price
Watchband is too plasticky
Include a heart-rate sensor
Charging plug disconnects easily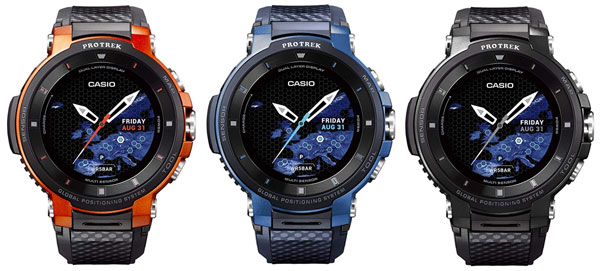 In addition to the orange-red color I received, the PRO TREK WSD-F30 is also available in blue and black.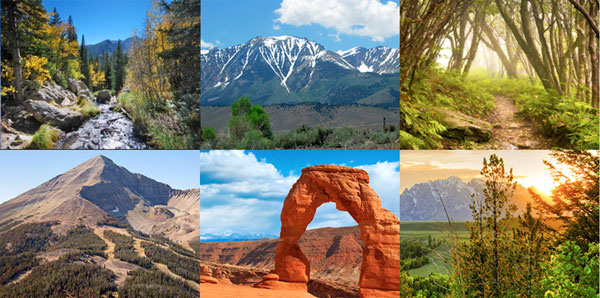 Final thoughts
Even though it is not perfect, I really like the PRO TREK WSD-F30 smartwatch. It is unapologetically big, bold, and engineered to weather whatever Mother Nature throws at it. Casio has done a good job combining the latest wearable technology and navigation/survival tools into a rugged, mil-spec watch. This smartwatch provides the outdoor enthusiast tools to get around the middle or nowhere with confidence. It would have been nice if the F30 had a built-in heart rate sensor but if I had to choose, I'd rather have a map and a compass than know my calories burned when lost out in the woods.
One more thing: the Gadgeteer Kid is heading off to college soon and will be attending the Colorado School of Mines, located in Golden. Along with studying engineering, he plans on embracing all that Colorado has to offer: skiing, hiking, rafting, etc. while he's there. I can't think of a better tech-tool to hand him as he walks out the door and heads off to God's country.
Price: $549.99
Where to buy: Amazon or directly from Casio.com.
Source: The sample of this product was provided by Casio.