We use affiliate links. If you buy something through the links on this page, we may earn a commission at no cost to you. Learn more.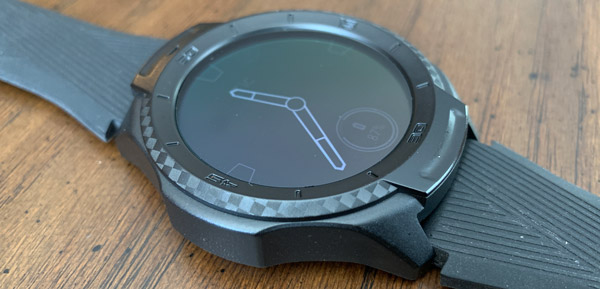 REVIEW – Along with being a tech junkie, I'm definitely a watch guy thru and thru…mechanical, quartz, digital, fitness, smart, luxury, beater, etc. I have tried many flavors of timepieces and enjoyed the experience of wearing them all. Currently I waffle between nice mechanical watches and their high-tech, smartwatch brethren. Late last year Julie reviewed the TicWatch Pro, an android/WearOS smartwatch that Mobvoi released as their flagship device. Recently Mobvoi released several less expensive variants, the TicWatch E2 and S2 of which they have sent me the more hardy, sport version the S2 to checkout.
Backstory and details: I have used more than my fair share of smart-/fitness watches over the years from simple stopwatch function to GPS/speed/distance/heart rate monitoring to the latest Wear OS, Tisen, and Apple Watch. My current smart devices of choice are the iPhone Xs Max and Apple Watch Series 3 amount others. So, this review will be more skewed towards an iOS Apple user's experience of the Mobvoi TicWatch S2 and Wear OS.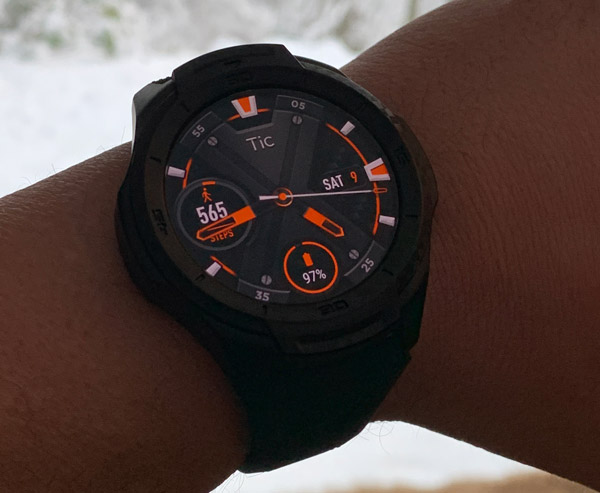 What is it?
The Mobvoi TicWatch S2 is a sport-centric smartwatch powered by Google's Wear OS with a built-in heart rate monitor, internal GPS, and hardened to military specifications, all combining for a smartwatch ready for whatever epic workout you throw at it.
What's in the box?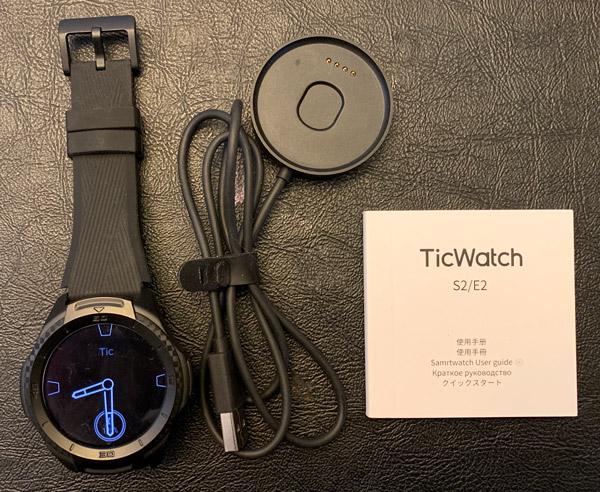 TicWatch S2 android smartwatch
TicWatch Charging Dock
User Manual

Design and features
The TicWatch S2 has a 1.39-inch diameter, 400 x 400 pixel AMOLED display. The screen pops and is bright enough to see outdoors, rain or shine. Its resolution is sharp and you'll have to strain to see individual pixels. The overall viewing experience is very good. That said, it lacks an ambient light sensor so you'll have to adjust the brightness manually. Though at moderate brightness, battery life easily lasted a day of normal use with an hour or two of exercise (with GPS and streaming music via Bluetooth). To save/extend battery life, the S2 has an always-on display mode (far left pic), which shows basic time and battery percentage when the watch is by your side or is not in use. When you rotate your wrist, the watch face comes back to life. According to Mobvoi, the S2 has two days of battery life and for the most part I agree.
Specifications:
| | |
| --- | --- |
| Dimensions (mm) | 46.6 x 51.8 x 12.9 |
| Colors | Black or White (coming soon) |
| Watch Case | Polycarbonate |
| Watch Strap | Silicone (interchangeable), 22mm |
| Operating System | Wear OS by Google™ |
| AI Technology | Google Assistant™, Mobvoi TicMotion |
| Phone Compatibility | Android, iPhone |
| Platform | Qualcomm® Snapdragon Wear™ |
| Display | 1.39″ AMOLED (400 x 400 px) |
| Connectivity | Bluetooth v4.1, WiFi 802.11 b/g/n |
| GPS | GPS + GLONASS + Beidou |
| Sensors | Accelerometer, gyroscope, heart-rate sensor, low latency off-body sensor |
| NFC Payments | No |
| Battery Capacity | 415mAh (up to 2 days of battery) |
| US Military Standard 810g | MIL-STD-810G: Operational between -20ºC to 55ºC; resistant to humidity, dust, and salt fog. |
| Waterproof Rating | 5 ATM (swim-ready, up to 50m) |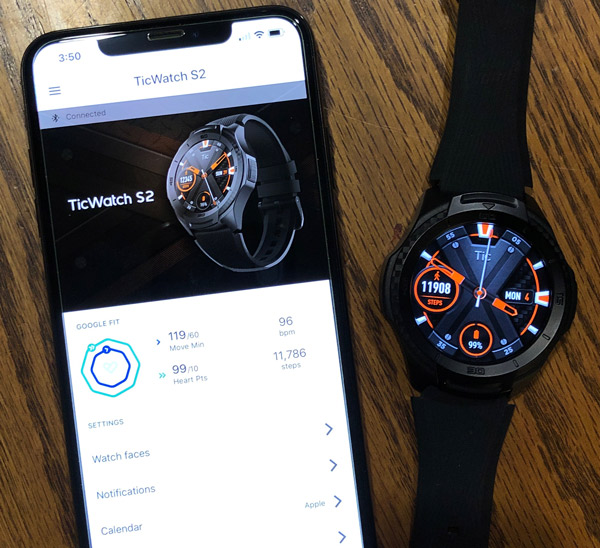 The Mobvoi TicWatches are compatible with both Android and iOS devices. Setting up the TicWatch S2 with my iPhone was easy enough though a bit frustrating compared to an Apple Watch. The Mobvoi iOS app epically failed and has yet to work. I finally gave up and used the Google Wear OS app that got me up and running without too much hassle. Though using the two together isn't as seamless as living completely in the iOS ecosphere but it does work.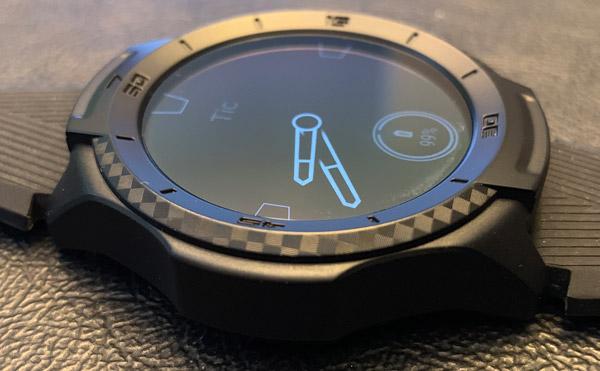 The TicWatch S2 case is made from a rigid black polycarbonate that is not only durable but lightweight as well. The overall build quality is good for a plastic smartwatch. The TicWatch S2 is relatively hardy, built to a MIL-STD-810G U.S. Military rating for durability and ruggedness. The bezel has a nice carbon fiber look with minutes numbers (15/30/45/60) and tick marks etched into the plastic…but since the bezel does not rotate, they are more for show than anything else.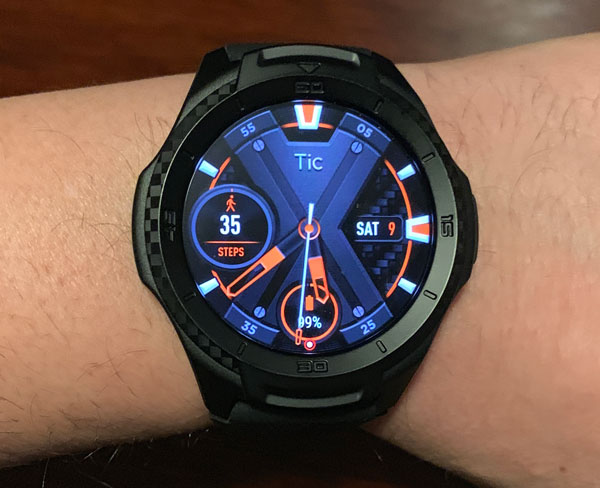 The TicWatch is a large smartwatch measuring 46 millimeters in diameter…that's Breitling big. The lug to lug wingspan is nearly 52 millimeters. I have a 7 inch wrist (relatively average IMO) and the lugs hang over my wrist by a few millimeter on each side.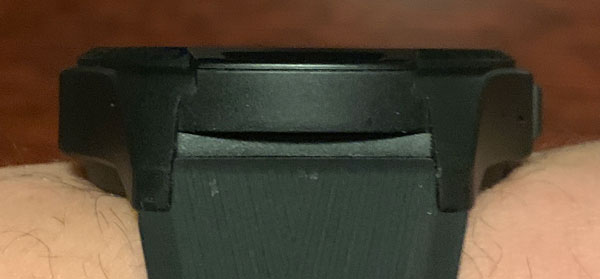 The S2 sits 13 millimeters tall on the wrist. The overall dimensions (46.6 x 51.8 x 12.9) make the TicWatch pretty clunky.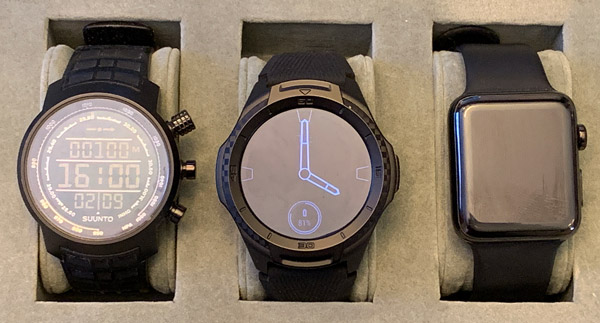 Here you can see the S2 compared to the Suunto Elementum Terra and 42mm Apple Watch Series 3…definitely not small or petite.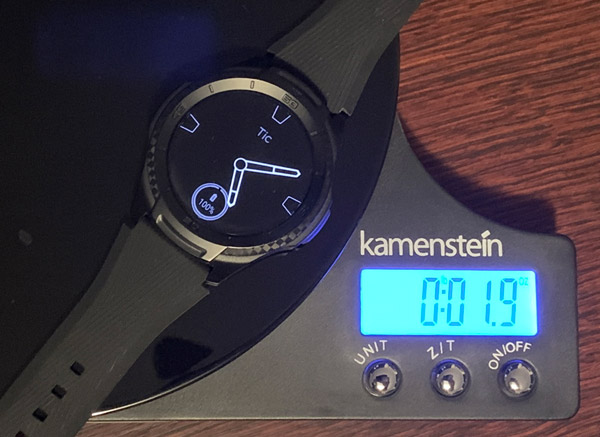 That said, at less than 2 ounces the S2 is lightweight and comfortable to wear. When exercising, you hardly know this fitness watch is on your wrist.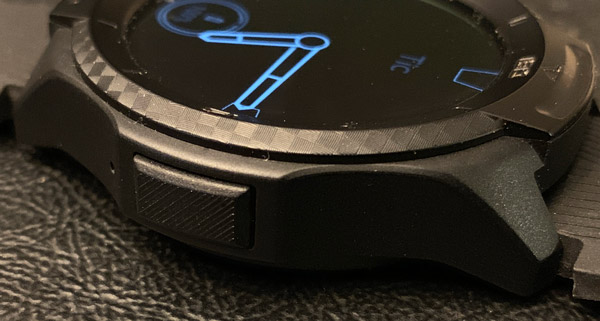 In addition to the watch's face being a touchscreen, there is a single button on the right side of the watch to help you navigate the operating system.

The band is made from a soft, silicone rubber that is comfortable and flexible.

It's length fits my wrist very nicely.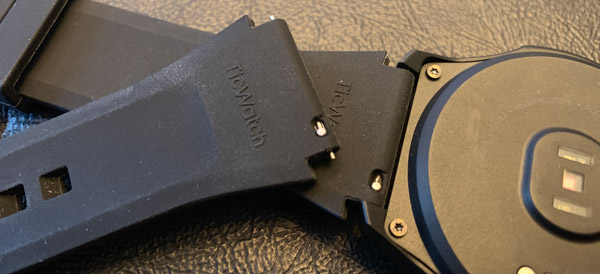 The bands lug width is 22 millimeters and has an easy removal pin, making swapping the band effortless.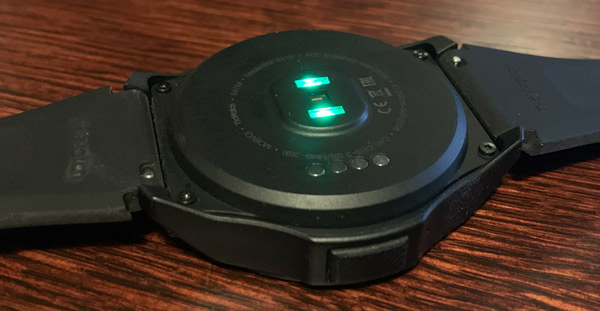 The heart rate sensor is solid and compares nicely to both my Apple Watch and sensors on my elliptical machine. The GPS function and accuracy also compares well to my known routes and GPS on my Apple Watch. It is quick to locate and lock onto the satellite's GPS signal.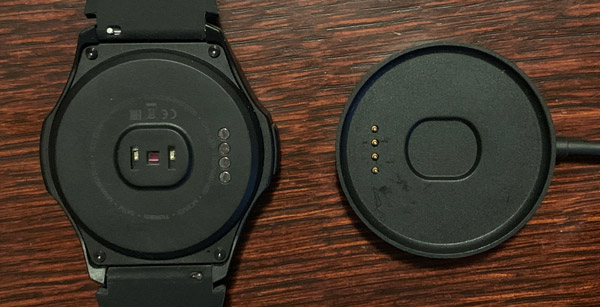 The S2 charges via a propitiatory charging pad with four metal pins that must make contact with the four points on the back of the smartwatch. This is a bit old school compared to the standard wireless charging that most smartwatches use today.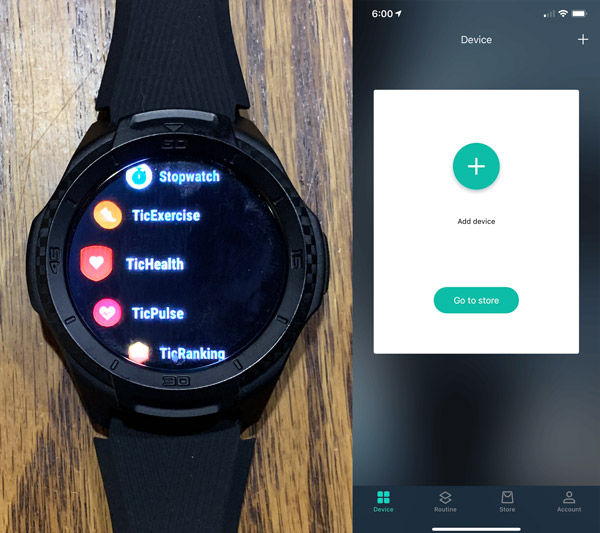 The TicWatch S2 is powered by a Qualcomm Snapdragon Wear processor, running Wear OS. My main criticism of this watch is definitely how laggy and glitchy it is. Many apps took multiple attempts to get them to activate/startup and that was the standard vs the exception. I found the Tic exercise apps mediocre at best. I ultimately downloaded Google's fitness and media apps. That in of itself was a painful experience, then downloading my running music/playlist took forever with several crashes.
What I like
Inexpensive Wear OS device
Solid utilitarian design
Bright clear touchscreen
Sweat-/weather-/waterproof
Heart rate and GPS sensors
Solid battery life (nearly 2 days)
MIL-STD 810G durability certification
What needs to be improved
Laggy, mediocre performance
Regularly crashes
No NFC or LTE
No Google Pay
Doesn't wirelessly charge
Mobvoi software is completely unnecessary
Final thoughts
I hate to say it but the TicWatch S2 is fine and that is where the sentence stops. That said, it does work and gets the job done just with a few bumps along the way. It is clunky in form and operation, definitely irritating/frustrating to use at points. But from what I have read, mediocre to [email protected] performance applies to every Wear OS smartwatch available today. You can find the Apple Watch Series 3 and Samsung Tisen watches at or below $200 these days, both with better performance. At $179, the TicWatch is not a great value considering other options currently available.
Price: $179.99
Where to buy: The TicWatch S2 is available on Amazon or directly from Mobvoi.
Source: The sample of this product was provided by Mobvoi.