We use affiliate links. If you buy something through the links on this page, we may earn a commission at no cost to you. Learn more.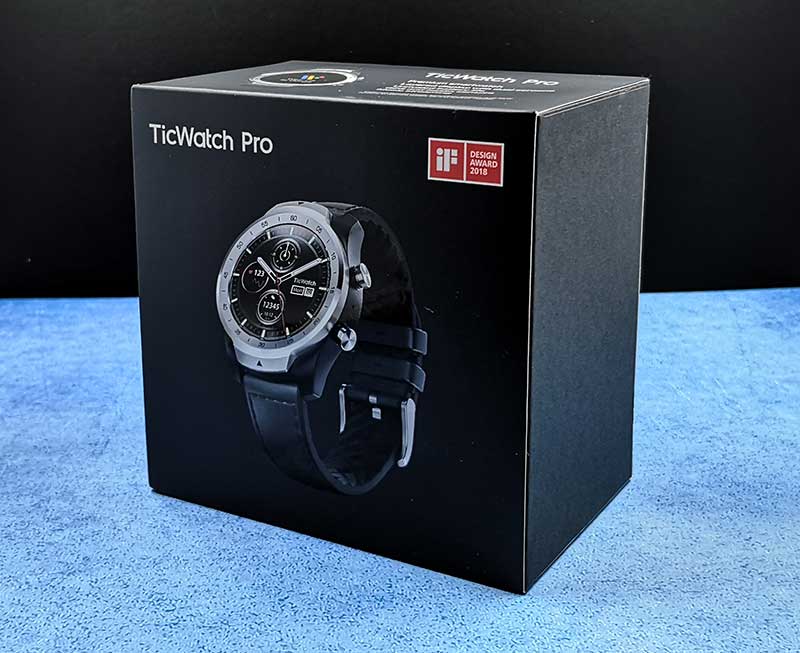 I enjoy looking at watches and reading about watches, but I don't actually wear a watch. Weird right? I used to wear a watch every day but that was back before smartphones. Now I don't really need one. Or do I? That's a question I planned to answer by reviewing the TicWatch Pro from Mobvoi. For the answer to that question, keep reading.
What is it?
The Mobvoi TicWatch Pro is a smartwatch powered by Google's Wear OS that runs for 5-30 days on a single charge due to it utilizing two different display technologies which are layered on the watch face.
What's in the box?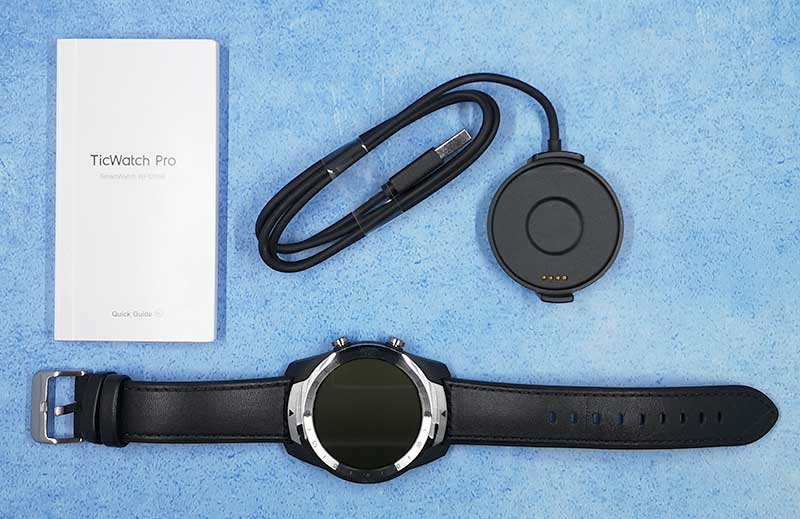 TicWatch Pro smartwatch
TicWatch Pro Charge Dock
User Manual
Hardware Specs
Operating System: Wear OS by Google™
Dimensions: D45mm x 14.6mm
Display: 1.39" AMOLED 400 x 400 + FSTN display
Chipset Qualcomm® Snapdragon Wear™ 2100
Memory RAM: 512MB / Storage: 4GB
GPS / AGPS
NFC payments: Google Pay™
Connectivity: Bluetooth: 4.2 / Wi-Fi: 802.11bgn 2.4GHz
Sensors: Accelerometer, Gyro, Magnetic Sensor, PPG Heart Rate sensor, Ambient Light Sensor, Low Latency Off-Body Sensor
Battery and Charging Capacity:415mAH Charging method: Dock with USB cable
Battery Life Smart Mode: 2 days;
Essential Mode: 30 days
Mixed usage: between 5-30 days
Water and Dust Resistance: IP68
Design and features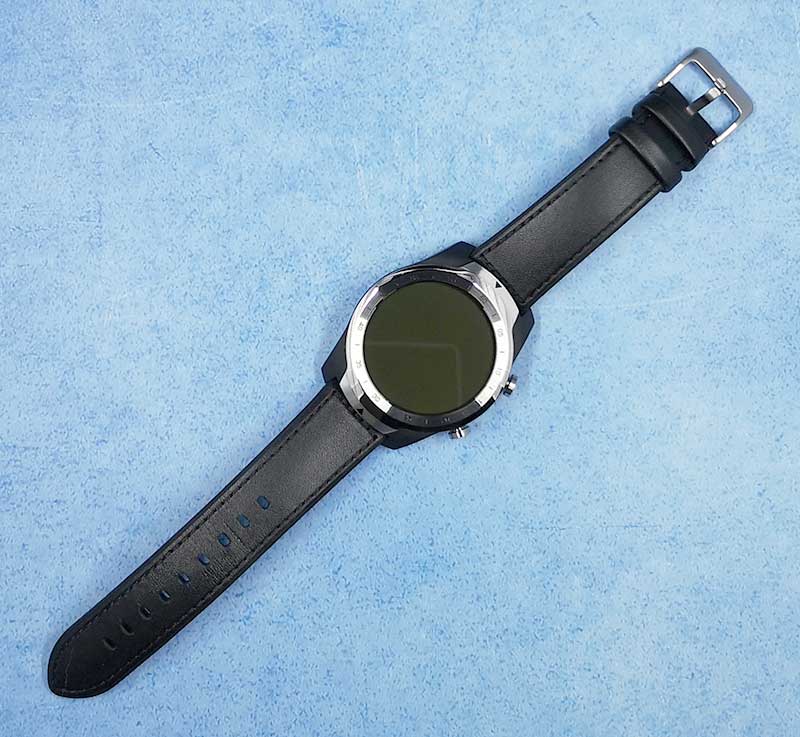 The TicWatch Pro is available in two colors. A silver and black version like the one that was sent to me and is shown above, and an all-black version. I think the silver and black version is a nice looking premium smartwatch. Most of the silver metal part has a brushed finish and the nylon and glass fiber black part has a matte finish, so you won't have to worry too much about fingerprints and smudges.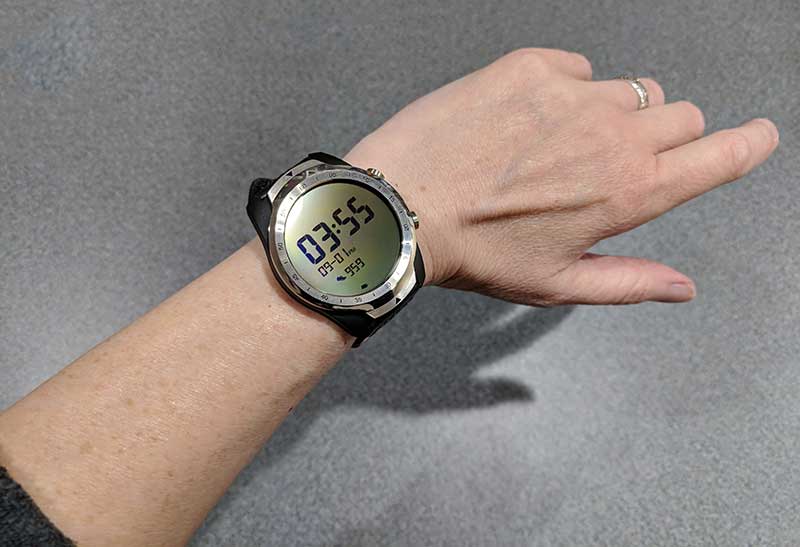 The smartwatch comes with a 22mm leather and silicone buckle style wrist strap that is easy to use and comfortable to wear. As you can see from the image above, the TicWatch Pro swallows my puny wrist, so it's not the most flattering watch for women. It's also chunky and heavy. But even so, I wore it for a couple of weeks and didn't notice the weight and bulk most of the time.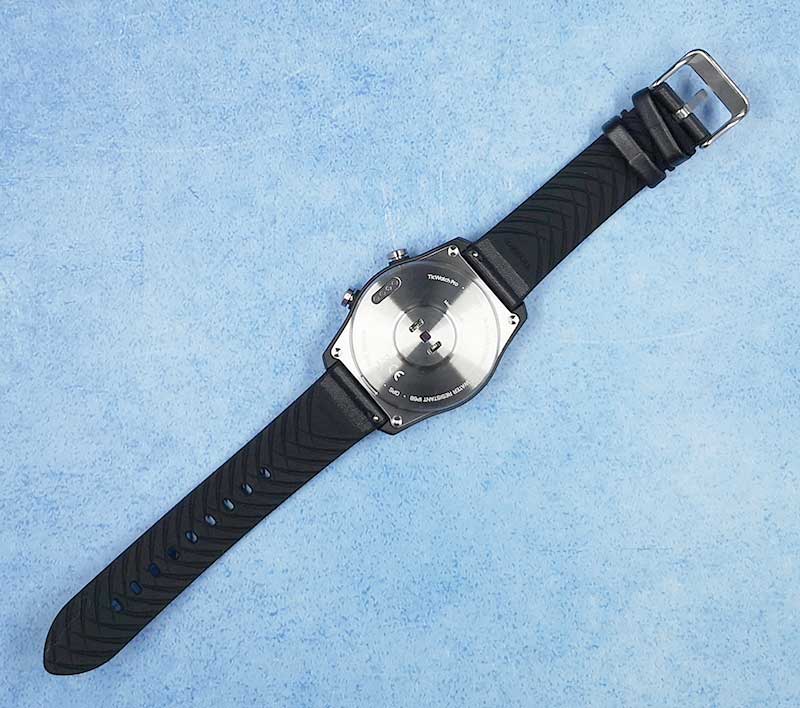 The back of the watch has a built-in heart rate sensor in the center and electrical contacts on the edge for the included charger. There's also a speaker on the back of the watch near the connection point for the left side of the watch band (non-buckle end).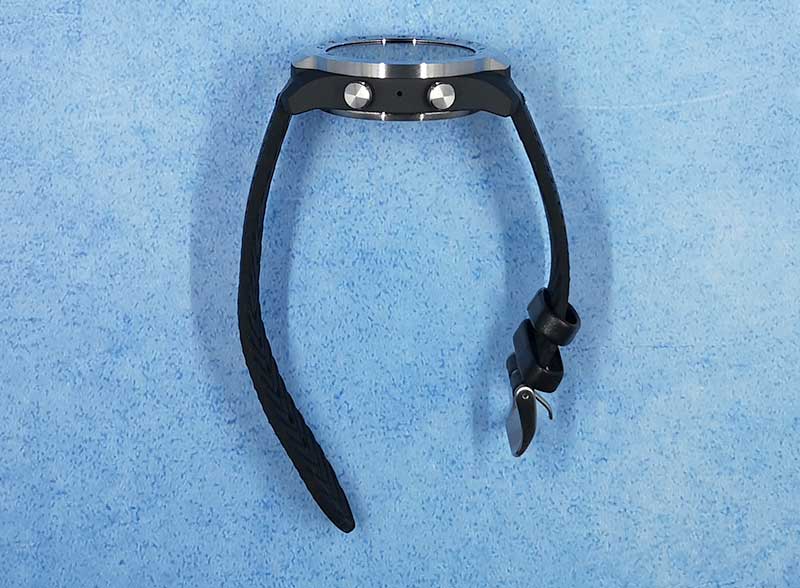 There are two large easy to press buttons on the side of the watch. The top button is the power button, voice assistant activation button, and app list view button. The bottom button can be programmed to launch a favorite app when pressed once, double-clicking the button launches the payment app, or pressing and holding the button will launch the shortcut menu.
The tiny hole between the two buttons is the TicWatch Pro's built-in microphone.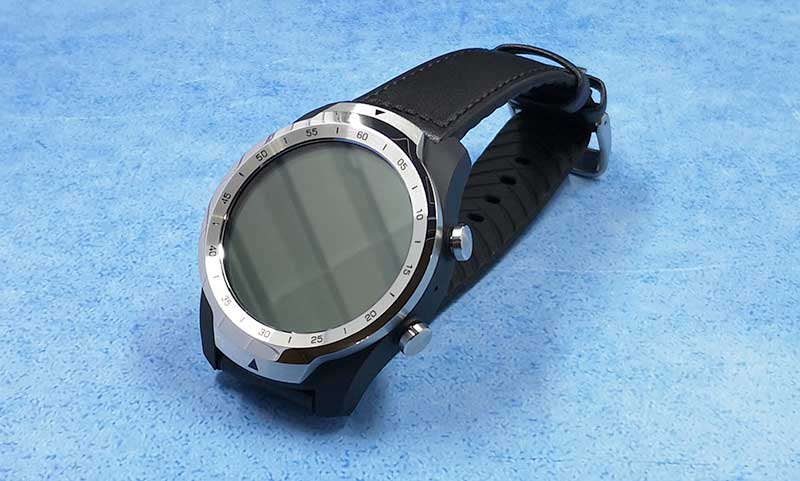 The TicWatch Pro's most notable feature is its dual-layer AMOLED/FSTN display that enables you to continue to use this watch even after the battery is too low to power the watch in Smart mode. A typical smartwatch can be used for a little over 2 days before you have to charge it. But with the TicWatch Pro, you can continue using this watch in what Mobvoi calls Essential mode for an additional 27 days.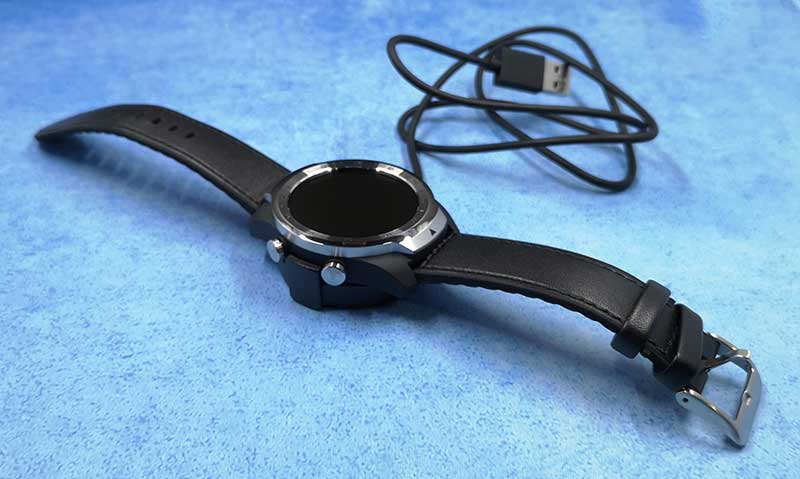 Of course, you won't be able to interact with the Wear OS apps when the watch is in Essential mode, but it will still function as a regular watch with a step/activity counter and a heart rate sensor. So it doesn't turn into a totally "dumb" watch when it switches to Essential mode.
Charging the TicWatch Pro is quick and easy with the included magnetic charger. Just click it in place and it recharges to 100% in about 2 hours.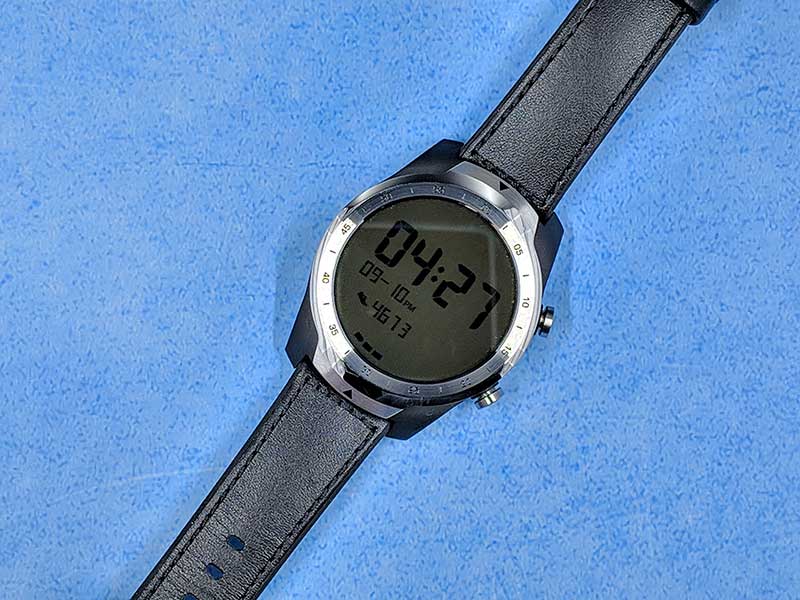 Here's the watch in idle/Essential mode. It looks like a "dumb" LCD watch with an always-on display that shows the time, date, and step count. Pressing the button on the side while in Essential mode will turn on the heart rate sensor and will show your current heart rate above the time.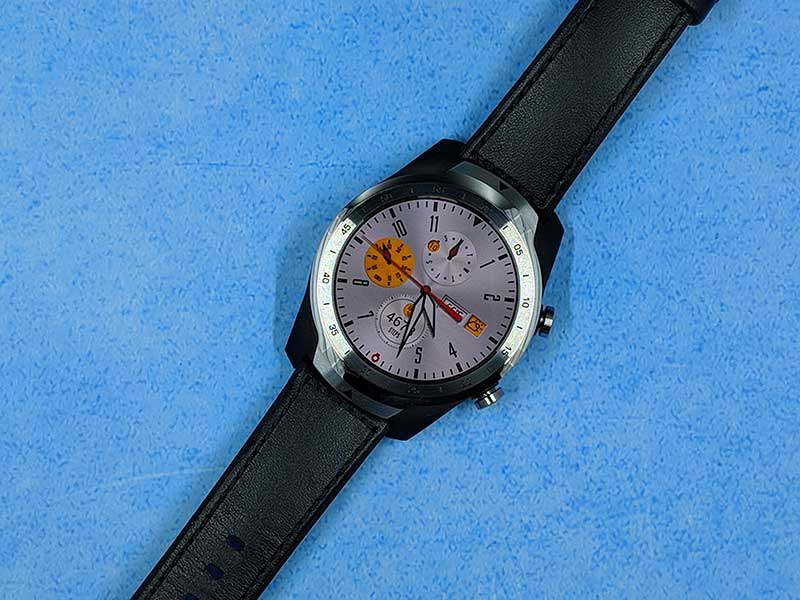 When the battery has enough juice, it will operate in Smart mode which will show the AMOLED display in full color when you either press one of the buttons on the side of the phone or tilt your wrist to see the watch face.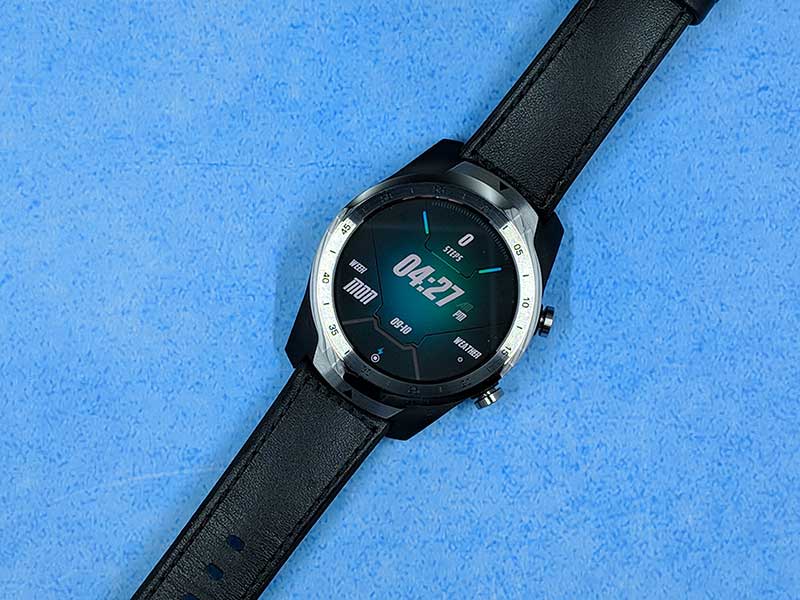 A swipe across the watch face from left to right will let you choose from a variety of watch faces like the ones you see here.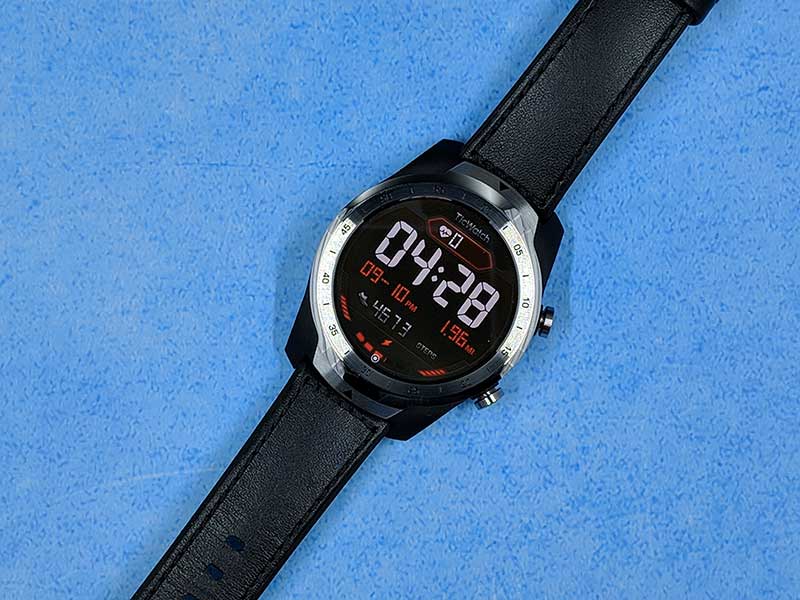 You can find more watch faces by using the Wear OS app on your phone.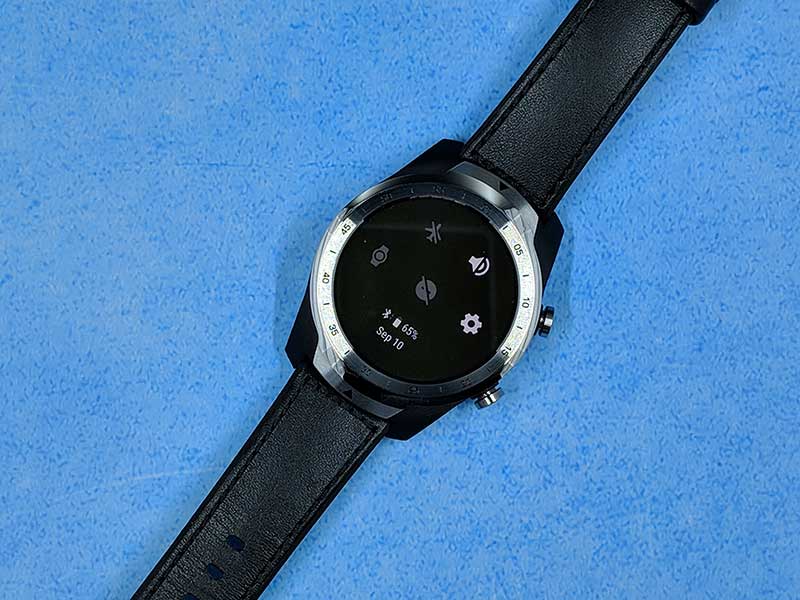 Swiping the watch face from top to bottom will show the settings icons and will let you see the battery capacity if the watch face you're using doesn't already show that info.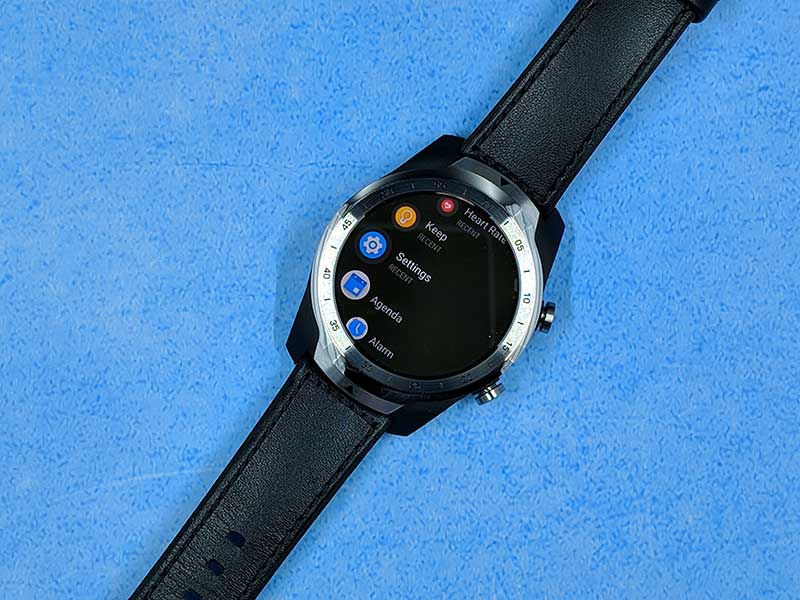 Clicking the top button on the side of the watch will bring up the app list that you can scroll through to launch the apps that you install through your Android phone on to the watch. Pressing the top button while you're in an app will exit back to the main clock screen.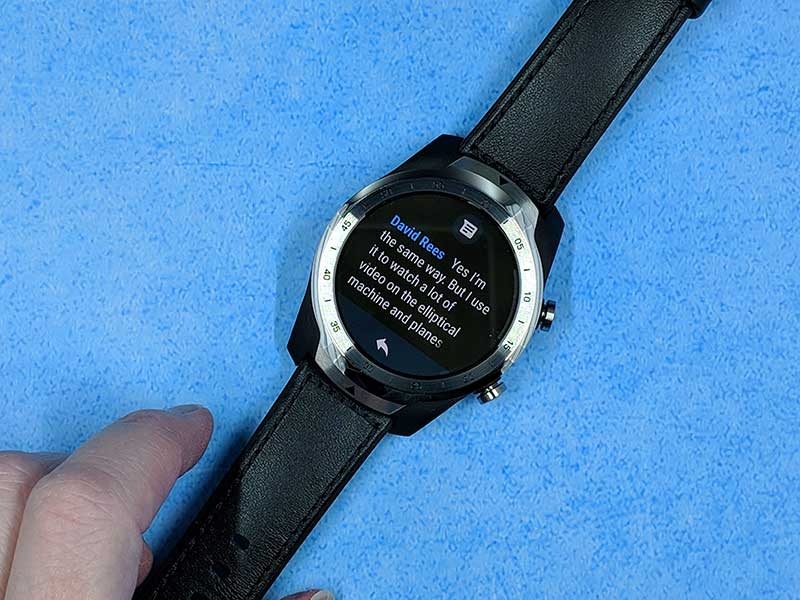 When notifications pop up on your phone, your watch will vibrate so you don't have to take your phone out of your pocket to see the notification. Just swipe up from the bottom of the watch face to scroll through the notifications from apps, text messages, etc. You can even interact with text messages and read emails, etc. You can swipe individual notifications away to remove them, or you can scroll through all of the notifications and click the Clear All button to remove all of them at once.
It's probably obvious that due to the small size of the watch face, that you're not going to want to read all your emails on the watch. But it's handy to be able to have that option if you can't get access to your phone for some reason.
Mobvoi App
To use the TicWatch Pro you'll need an Android smartphone and you'll need to install the Wear OS app on that phone. But you're also required to install the Mobvoi app which is kind of weird because the app really doesn't offer much functionality at all.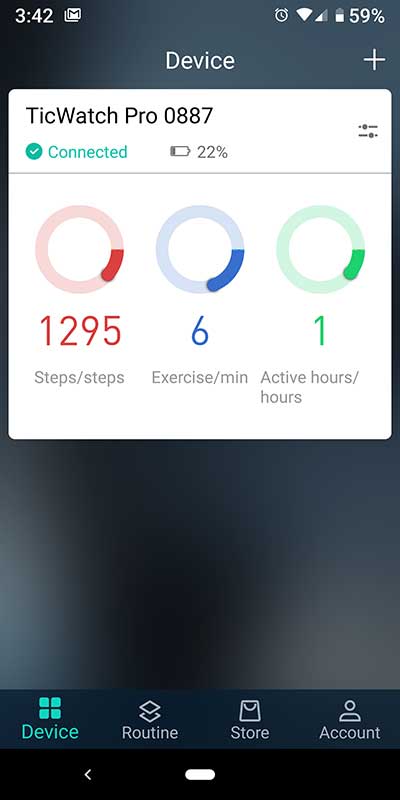 It will let you see your fitness data and it has an online storefront if you want to buy other Mobvoi products, but other than that, it's pretty meh. There is a Routines option that seems to allow you to create some automation macros, but from what I could tell, it doesn't work yet.
Making and receiving calls with the TicWatch Pro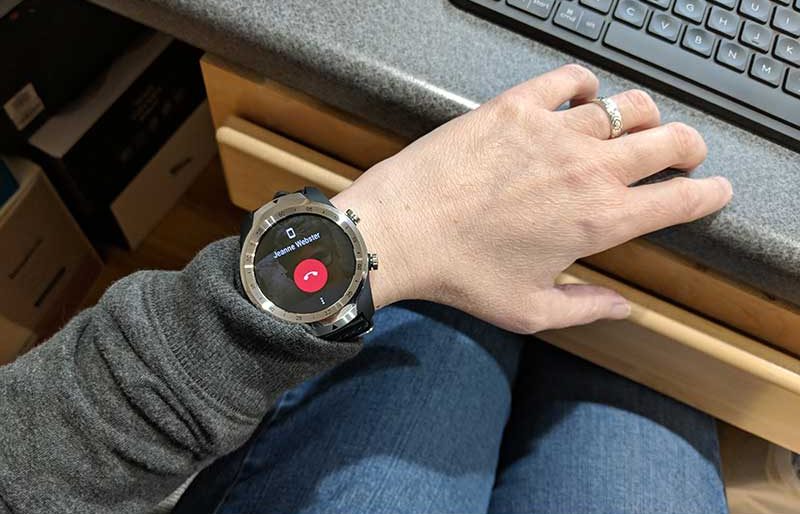 Yes, you can use this watch to make and receive phone calls. Of course, you have to have your smartphone in your pocket to do this because the watch is just acting as a hands-free Bluetooth speakerphone. How's the sound quality? The sound quality isn't horrible but let's just say I am not going to be using it for calls on a regular basis.  Mainly because I'd look like a dork talking to my wrist. But, if your phone is on your desk and you're a short distance away when a call comes in, it does work just fine in a pinch.
Other ways to use the watch for more than checking the time
Read notifications
Check alarms
Listen to music with paired Bluetooth earbuds without needing your phone
Use it as a fitness tracker with built-in GPS features
Battery life
I've tested the Smart mode battery life a few times so far with this watch and am finding that it lasts around 2 – 2.5 days. After that, the watch will automatically change over to Essential mode. Mobvoi says that the watch will work in Essential mode for an additional 27 days or so for a total of 30 days of use on one full charge.
What I like
Doesn't become useless once the battery is too low to power the smartwatch functions
Can be used up to 30 days before charging
Even in Essential mode, the watch still offers a few smart features like activity tracking and heart rate sensor
What needs to be improved
Mobvoi app isn't useful
Notifications don't show up in the Essential mode
Final thoughts
I think most people are in one of two camps. They are either in the smartwatches are awesome camp or they are in the why do we need a smartwatch when we already have a smartphone camp. Which camp am I in? I'm still in the why do we need a smartwatch camp. I'd rather just pull my phone out of my back pocket and interact with it instead of a watch on my wrist because it's much easier to interact with the larger touch display on a phone vs. a watch.
But hold on a sec… let me say that I do like the TicWatch Pro smartwatch quite a bit. I liked using the TicWatch Pro with the Google Keep app while shopping for groceries because having the watch on my wrist to tick off items is more convenient to use than my phone. I also like using it to check the time while in a theater or while talking to someone as it isn't as conspicuous as using a big smartphone. I also like using it to check notifications while on a daily walk.
If I was in the market for a Wear OS smartwatch, I would seriously consider the TicWatch Pro over other brands for the main reason that it is still quite useful as a regular watch (with extra features) even after the battery is too low to use the smartwatch features.
Price: $249.99
Where to buy: Amazon
Source: The sample for this review was provided by Mobvoi.