We use affiliate links. If you buy something through the links on this page, we may earn a commission at no cost to you. Learn more.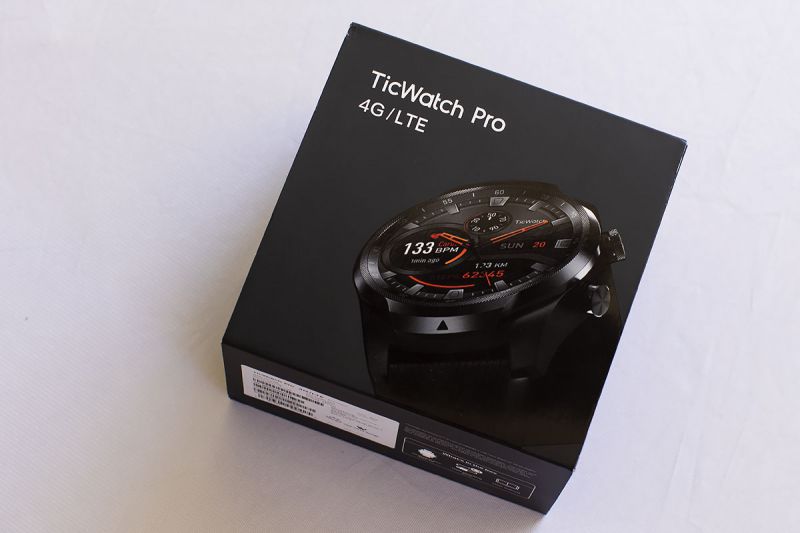 REVIEW – The Mobvoi TicWatch Pro 4G/LTE is not your grandfather's wristwatch. OK. I have nine grandchildren, so there is that small possibility. Julie knew I was looking for a smartwatch that has fitness tracking features. Mobvoi offered their latest model up for review and I jumped at the chance to try it out.
What is it?
This is Mobvoi's latest smartwatch using the Wear OS by Google. This watch has built-in cellular (which sets it apart from the previously released TicWatch Pro), so it can take calls, text messages, provide email notifications, etc. — all independently from your phone. It can also operate as a Bluetooth extension to your phone.
What's in the box?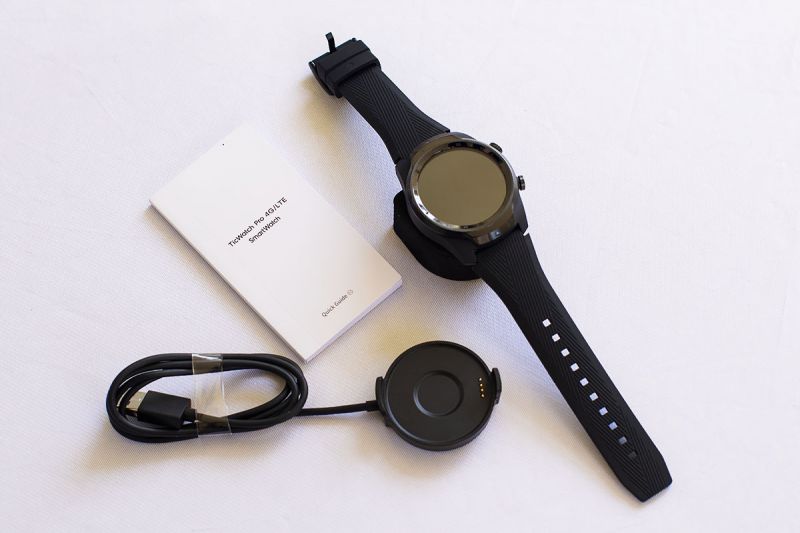 Mobvoi TikWatch Pro 4G/LTE
Charging Dock
Quick Guide
Hardware specs
Operating system: Wear OS by Google
Platform: Qualcomm® Snapdragon Wear™ 2100
Display: 1.39″ AMOLED (400 x 400 px) + FSTN LCD
Memory: 1GB RAM; 4GB ROM
Connectivity: BT v4.2+ BLE, WiFi IEEE 802.11 b/g/n
GPS: GPS + GLONASS + Beidou
SIM: Preloaded SIM
Network: 4G LTE FDD
Sensors: PPG heart rate sensor, accelerometer, gyroscope, e-compass, ambient light sensor, low latency off-body sensor
NFC payments: Google Pay via NFC
Dimensions (mm): 45.15 x 52.8 x 12.6
Weight: 27.4g
Screen glass: Corning® Gorilla® Glass 3
Watch case: Polyamide & glass fiber, stainless-steel bezel, aluminum back cover
Military Standard 810G: Withstands temperature shock of between -30℃ to 70, operational between -20℃ to 55, 57kpa pressure, 44℃ solar radiation, 95% humidity, salt fog, sand and dust, shock
Watch strap: Silicone (interchangeable), 22mm
Waterproof rating: IP68 + pool swimming suitable
Design and features
The initial setup was pretty easy (see Setup heading below for a bit more info). Getting Google Fit to start transferring data from the Smartwatch to phone took a few days and that continues to happen by fits and starts. Full disclosure, the following illustration and all of the similar images that follow in this review are actually screen grabs that I took using the Wear OS 'Take a screenshot of watch' function. I created a Photoshop action to put the screengrab onto a photo I had taken of the watch.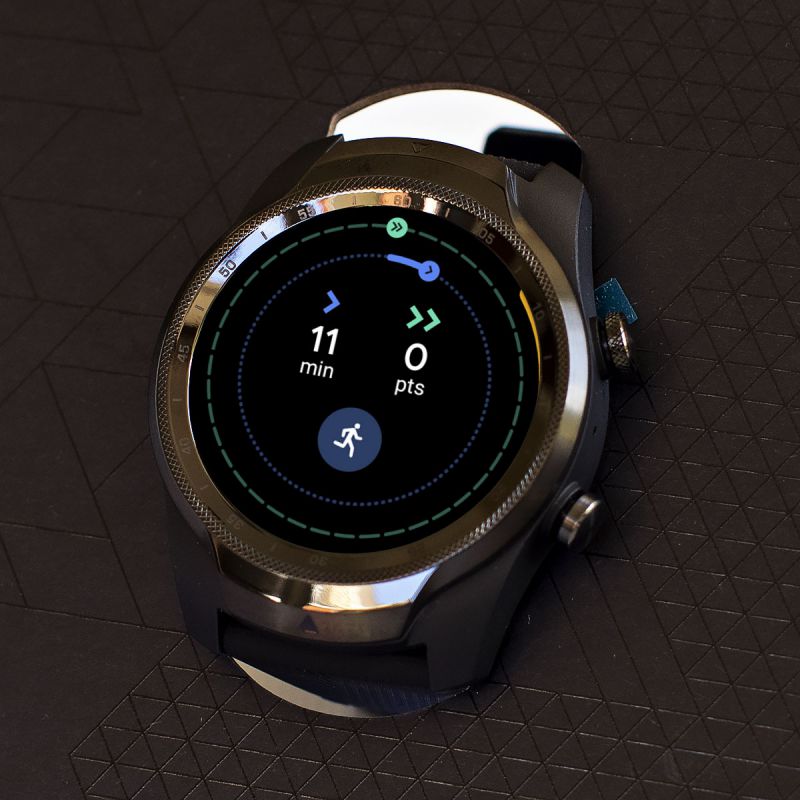 The Pixel 2 cellphone and Mobvoi TicWatch Pro 4G/LGE smartwatch are rarely very far apart physically and yet the heart rate data seems to go missing on the phone for days at a time — then suddenly the phone updates. Over the first few weeks, the watch was missing hours and even days of data, but as of today, the last four weeks (length of time I have been reviewing the smartwatch) are complete. I was initially annoyed when I thought it was losing data, but don't really mind now that I see that it will eventually catch up. If you want real-time data you just have to look at the watch.
Here is the real-time snapshot of the heart rate monitor immediately before a workout.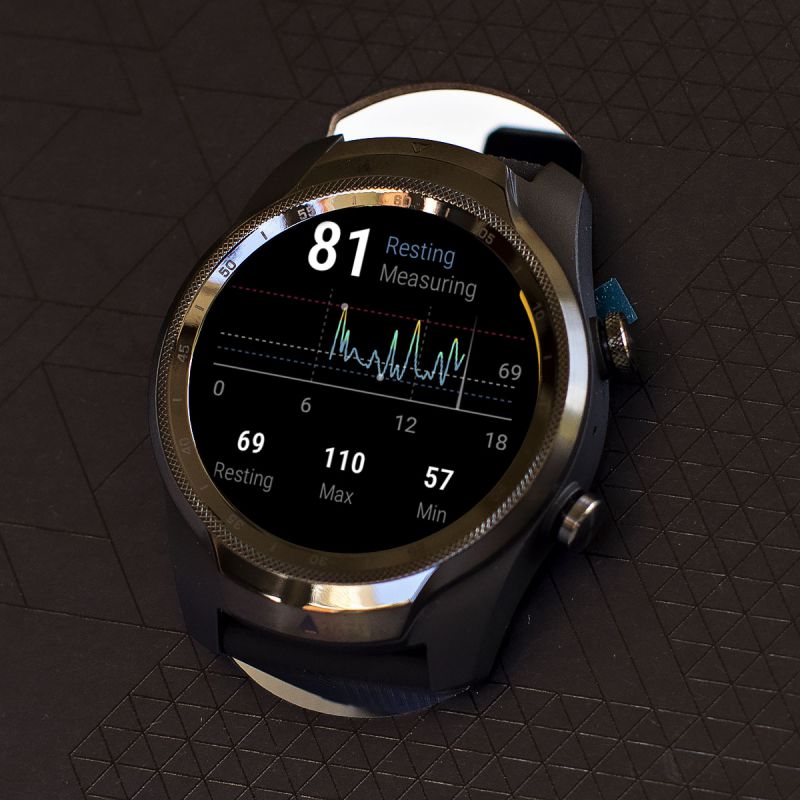 And here is the snapshot immediately after a workout.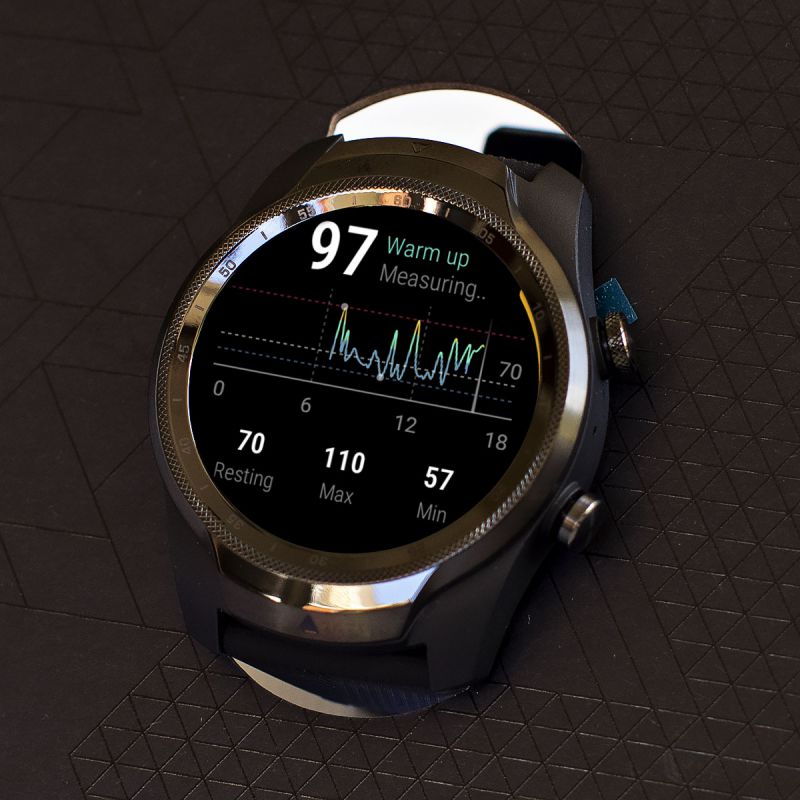 Here is a screengrab of a day's worth of heart rate data as displayed on my Pixel 2.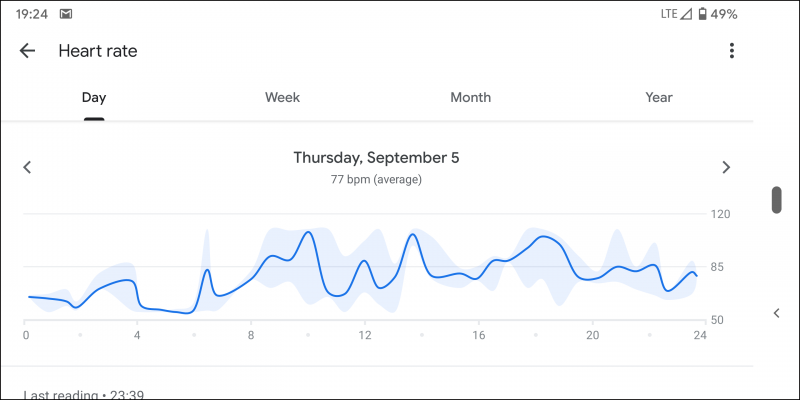 It is also worth noting that since both the phone and the watch have built-in step counters, Google Fit seems to just allow each device to keep its own step count.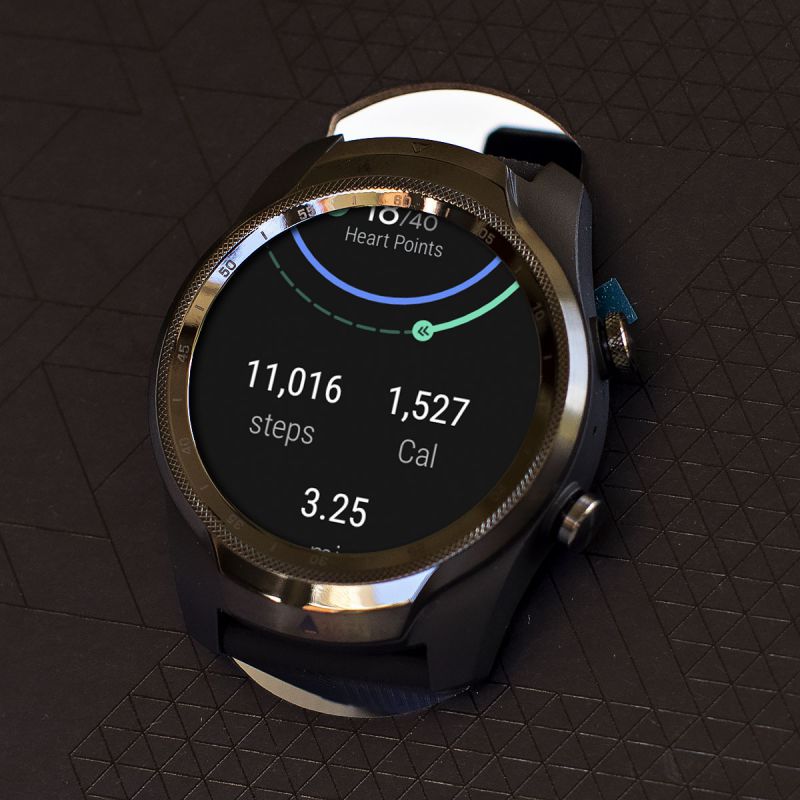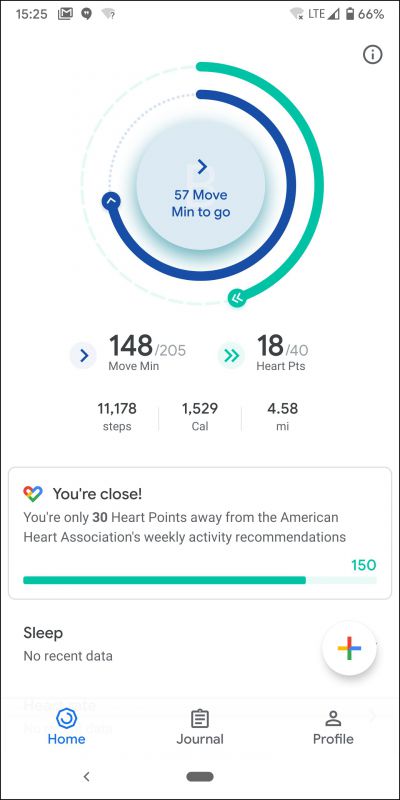 The step counts stay pretty close together, but the phone gives me a lot more credit for mileage. I tend to agree with my phone on this because more is almost always better.
The Mobvoi TicWatch Pro 4G/LTE is, as its name would indicate, a stand-alone cellular device. This means you can take and make cellular calls without your phone. If you have ever left your phone somewhere and discovered you had missed an important call while the cellphone was not in your possession, this feature could have saved you. This feature is only currently available for Verizon customers. Verizon charges $10/month for the device and appx. $20 to initially connect the device. You can access your google account contact list right on the phone.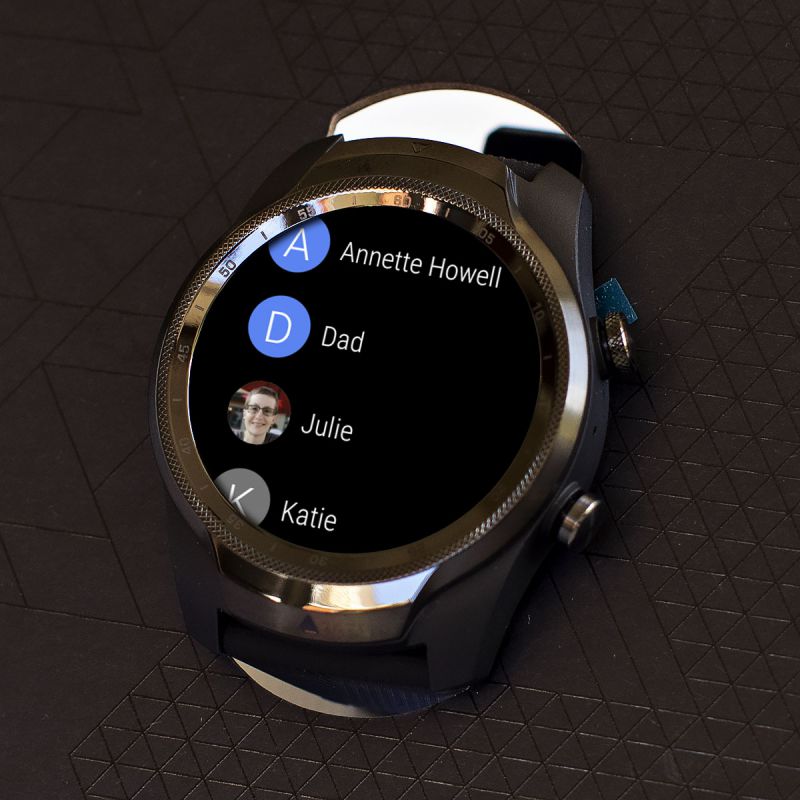 The test calls I made were clear to the person on the other end and I was able to hear the other person clearly as well. It s a pretty cool feature of the watch and I took a couple of calls when I had accidentally left my phone in the car. If the watch is connected to a cell phone with Bluetooth it will allow you to answer a call, but you have to actually use the phone for the conversation. I did experience one glitch when I was in my car and took a call through my car radio's Bluetooth connection to my phone. The watch continued to ring until the call was disconnected. I was not able to repeat this one-time occurrence.
Anyone ever misplaced their phone with the volume turned down or completely off? OK – a rhetorical question. Of course, you have. Since this phone has built-in cellular capabilities and a 'Find Phone' function, it can help you with that problem. I misplaced my cell phone one day with the volume turned completely off. I selected the 'Find Phone' function on the apps screen of the watch and viola! My phone started ringing in the other room.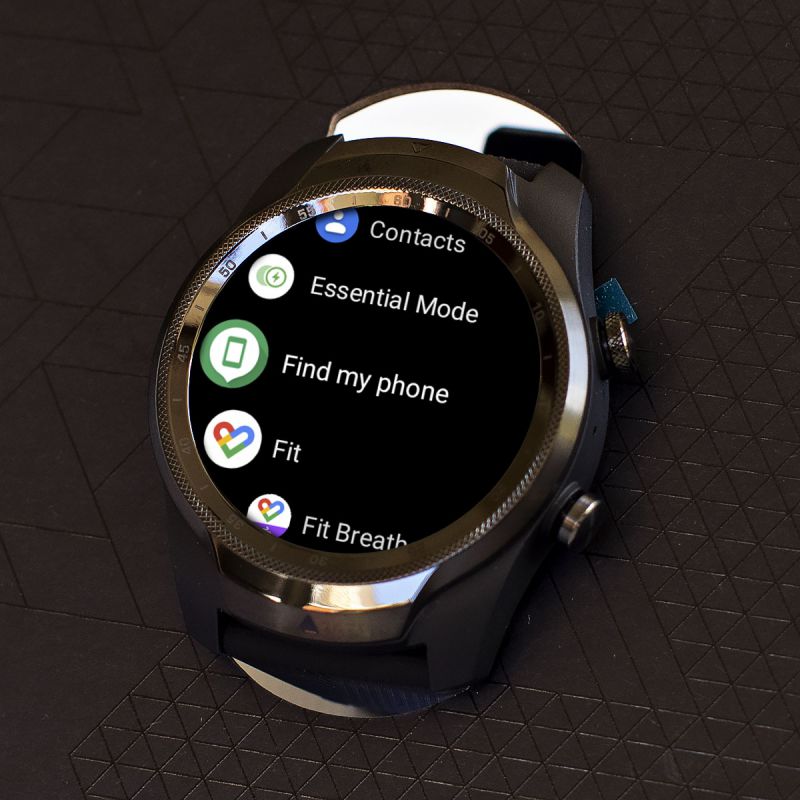 Speaking of the apps screen (accessible by clicking the top side button twice), I noticed a message at the bottom of the list that tells you how to move your favorite apps to the top of the list.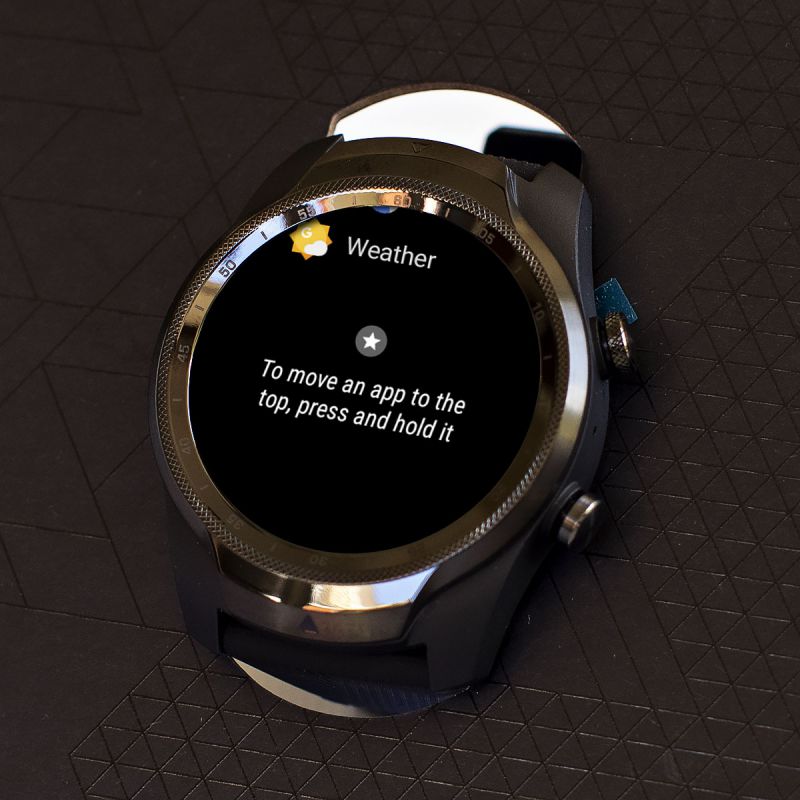 Another fairly unique feature for a smartwatch is the 4G/LTE's IP68 + pool swimming suitable waterproof rating. The watch comes with an app for tracking a swim workout. As of the time that I write this review, I still haven't had a chance to test this feature (yes, I can swim if you are wondering).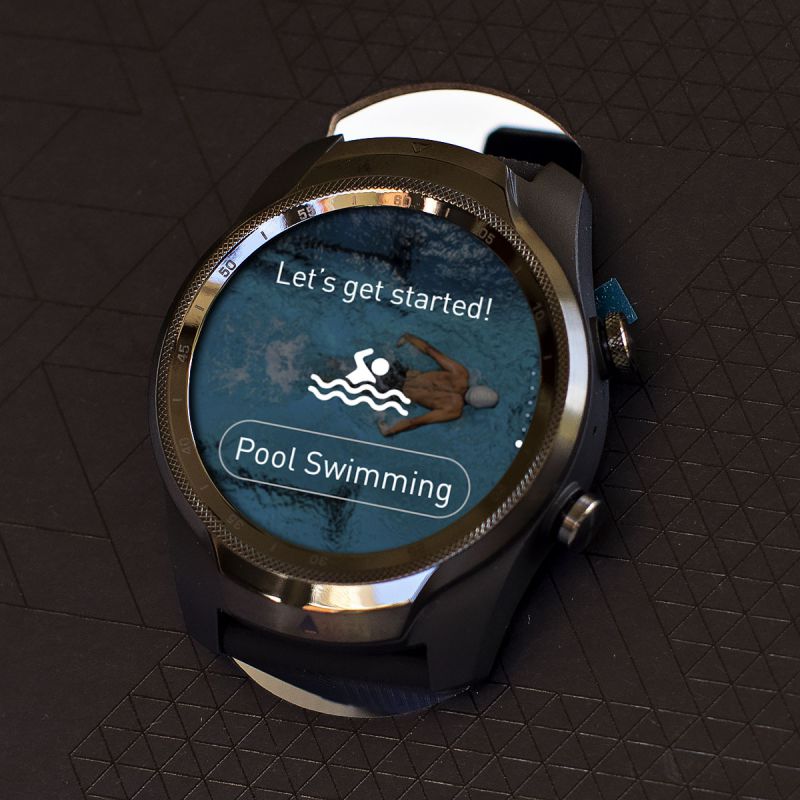 I do intend to try this out and I will update the review after I take it for a few laps. If the heart rate monitor works in the water, I expect to set a personal high.
I was also looking forward to getting some sleep data — a feature of fitness watches that kind of appeals to me. As I had noticed advertising for automatic sleep tracking, along with some other activities, on the Mobvoi page for the Mobvoi TicWatch Pro 4G/LTE, I was quite naturally a little disappointed when no sleep data was reported in Google Fit.

Upon reading the fine print (see that tiny text just below the large attention-getting graphics?), I discovered that two of the five prominently advertised features of this watch will be available sometime in the future via software updates.
Bummer.
The watch comes with a media controls app that works with any audio/video app on your phone. Here I am using Amazon Prime streaming music app.
In the Mobvoi app that you will have already installed as part of the phone setup process you can set the watch to automatically pull up this app anytime you are playing media on your phone.
As Julie mentioned in an earlier Mobvoi smartwatch review, this app doesn't really have a lot of features, but there are a few cool settings. It is worth a look. I used it to select this cool watch face.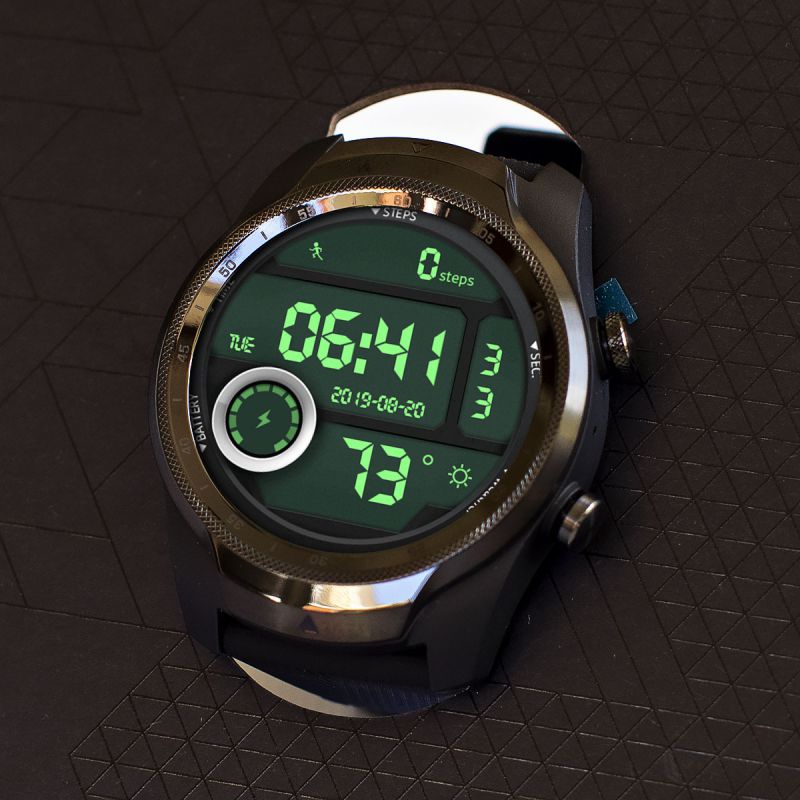 The app comes with 19 different digital watch faces and more can be downloaded from the Google Play Store. The digital watch face does not stay on for very long. You can set it to automatically light up when you rotate your wrist to look at it, but I found that feature (turned on by default) a little distracting, so I turned it off. I can light it up by clicking the top button once or touching the watch face. Interestingly, when an email or text message comes in, the screen comes on to show me a summary of the message if I rotate the watch around to my face — even with the auto display setting turned off. This is actually a pretty cool override of my auto display setting (off).
While we are on the subject, let's talk about the dual-display watch face. When the watch times out of Smart mode (AMOLED — like the jazzy green display above), it reverts to Essential mode (FSTN LCD display with fitness-focused features and high sunlight readability). When the battery gets down to a certain point — after nearly two days for my usage level — it will switch to exclusively using the Essential mode to conserve power and get you more than two more days of use. Mobvoi estimates 30 days of use on a full charge in Essential mode which includes the step counter and heart rate monitoring. As that was the entire length of my review period, I was not able to test that battery life estimate. I do wish you could set the smart mode to stay on a bit longer by default (couldn't find a setting for this), but that probably would greatly reduce the battery life.
Let me show you a couple more cool apps that came installed on my watch and then I will wrap this up. The smartwatch comes with a pretty decent stopwatch app.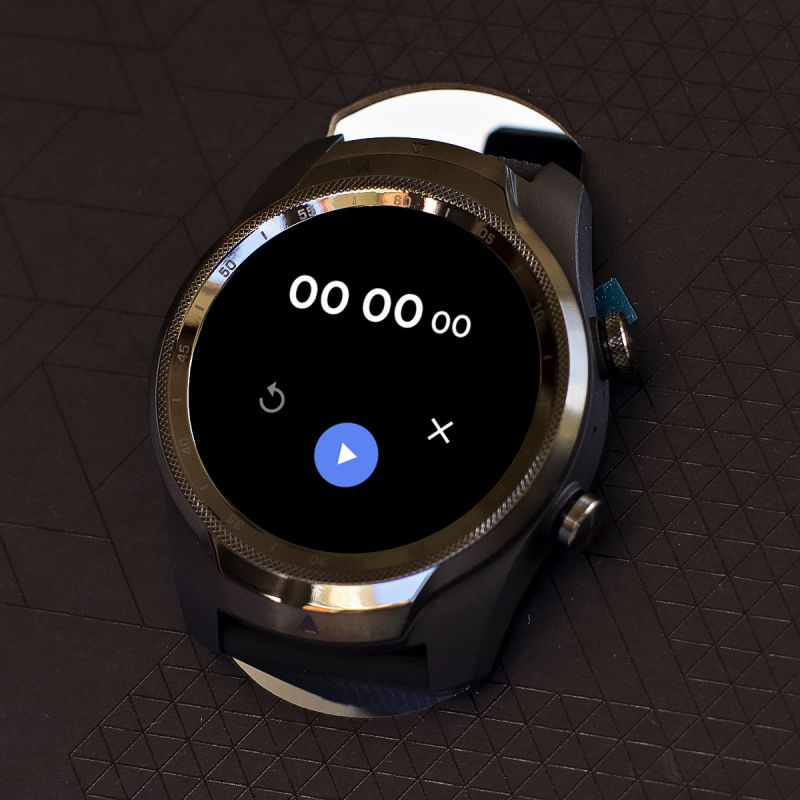 Maybe the coolest app as far as I am concerned is the Google Translator app. You can access it on the app tile.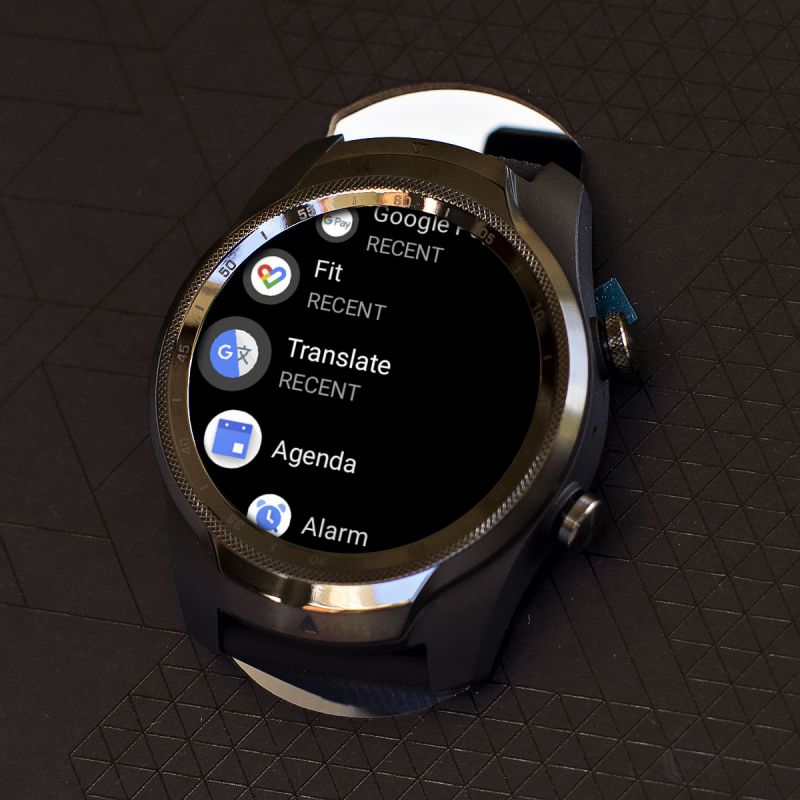 Set  input and output languages…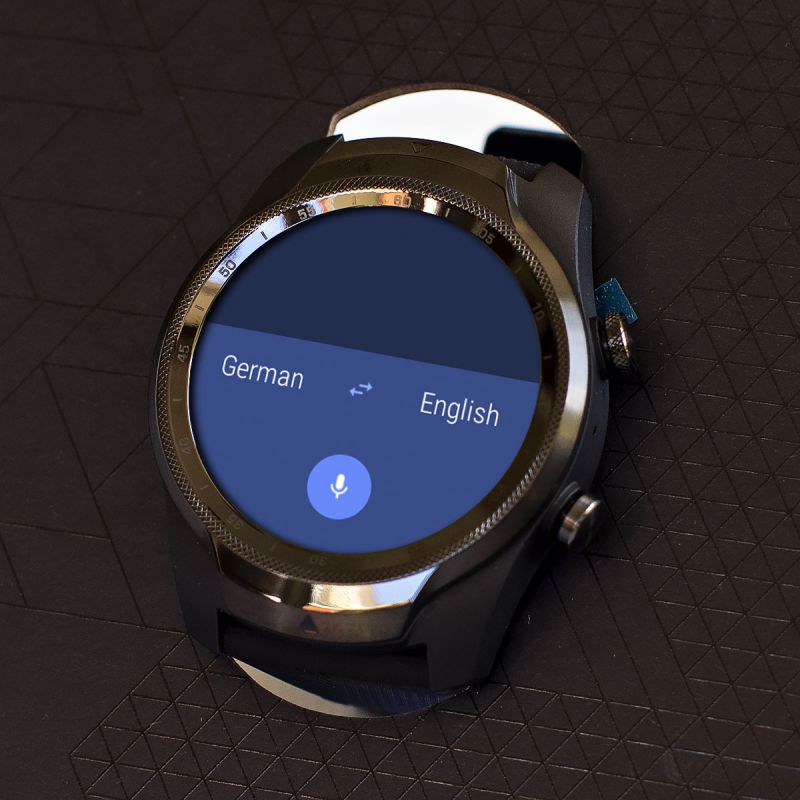 Speak the words you would like translated (Jetzt spechen means, "Speak now")…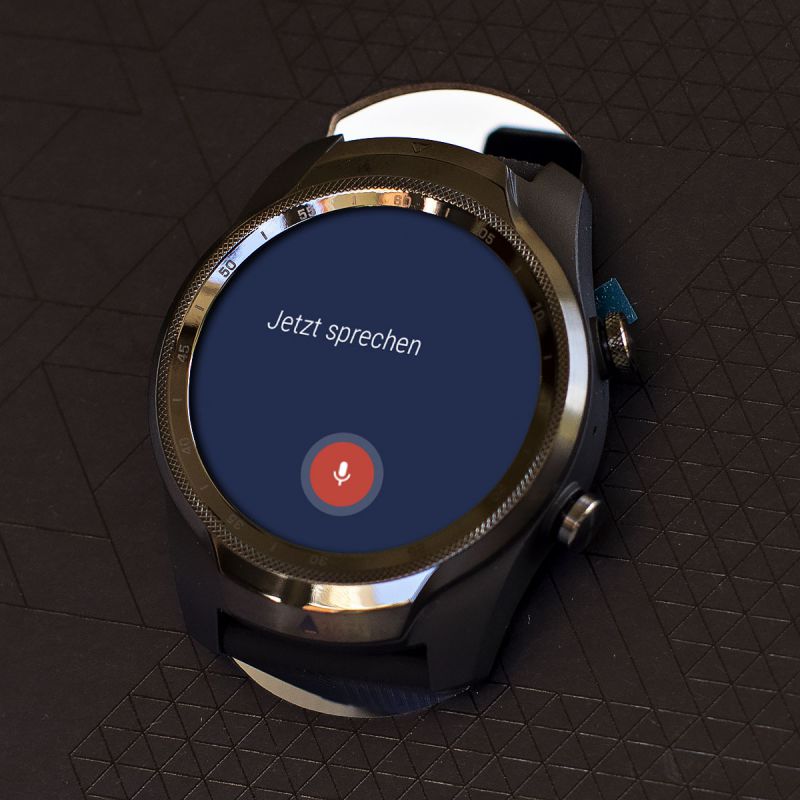 And through the magic of Google voice recognition and translation, the German words are translated into English. If you rotate the watch face away from you (to show it to the other person in the conversation), the watch will show just the translation in large letters on a plain background. Pretty slick.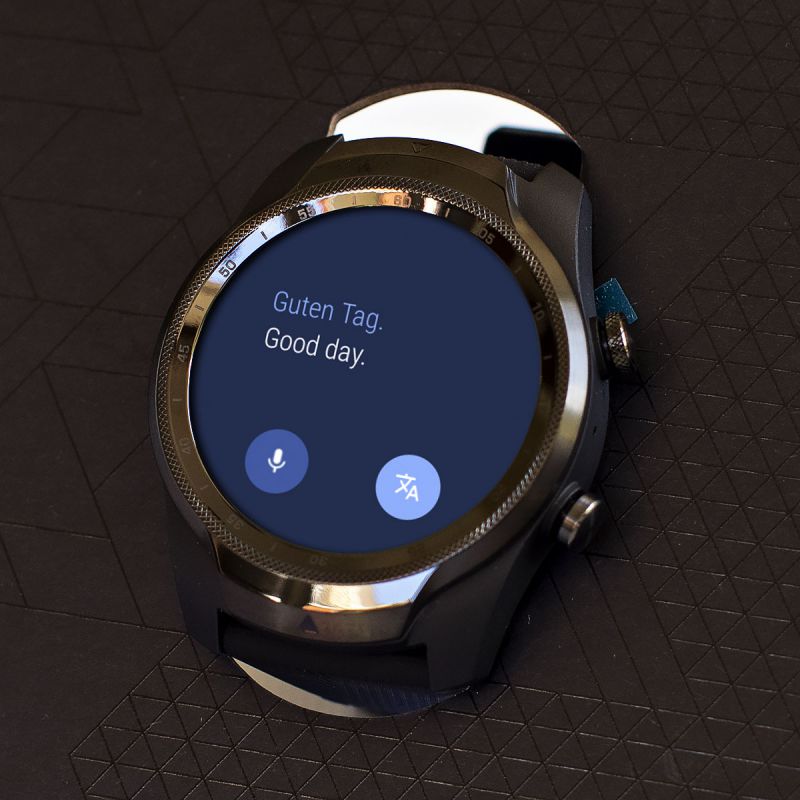 There really are a lot of other cool features. Check out Julie's previous review for more Mobvoi smartwatch capabilities.
Setup
Initial setup of the TicWatch Pro 4G/LTE was pretty simple. I put it on the charging cradle and waited for a full charge. Then I powered on the watch.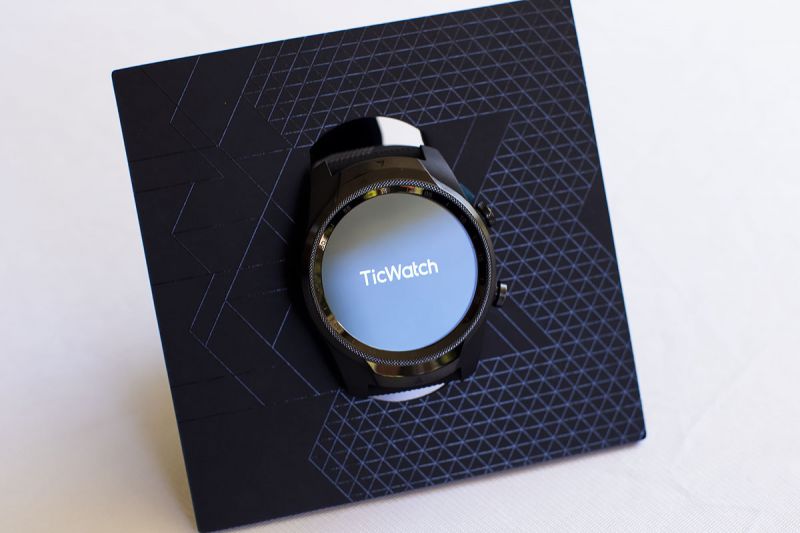 It quickly ran through a typical startup sequence and then asked the all important language question.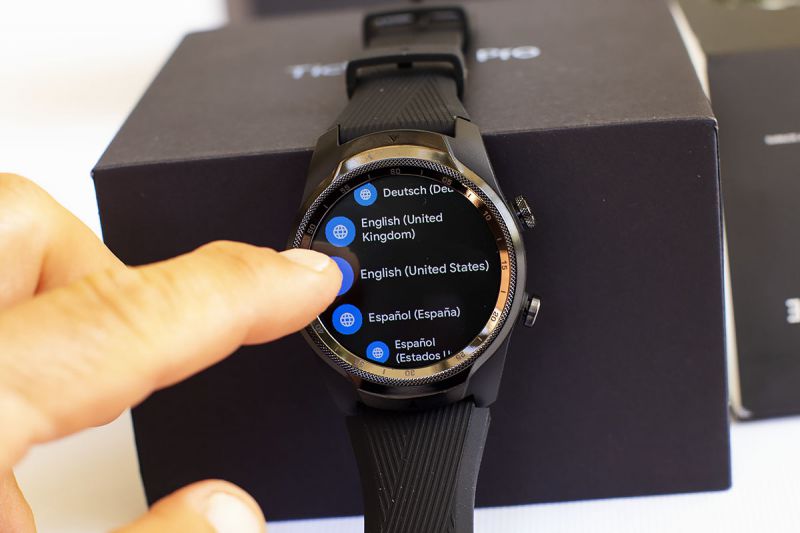 I also downloaded and installed the Wear OS by Google and Mobvoi app onto my Pixel 2.
The Wear OS provides a pin code to ensure you are connecting to the right phone.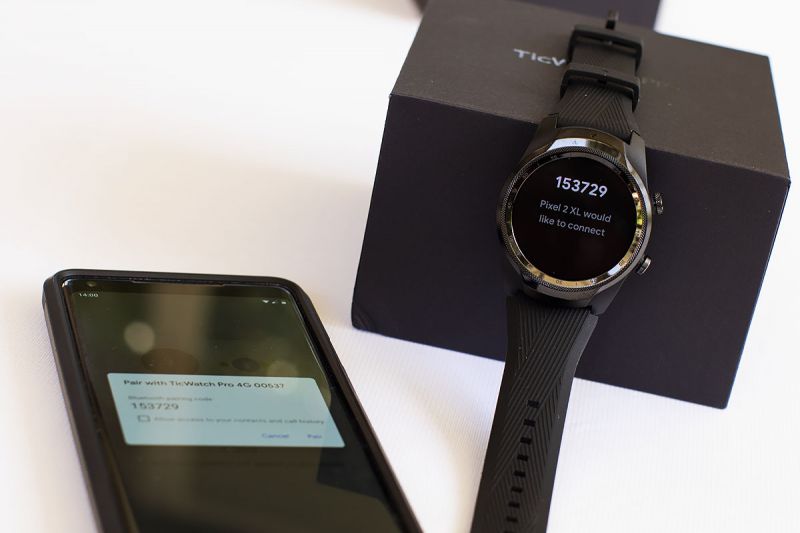 And then the watch shifts you back to your phone to complete the setup. Given the limitations of the tiny watch digital keyboard, this seems sensible enough.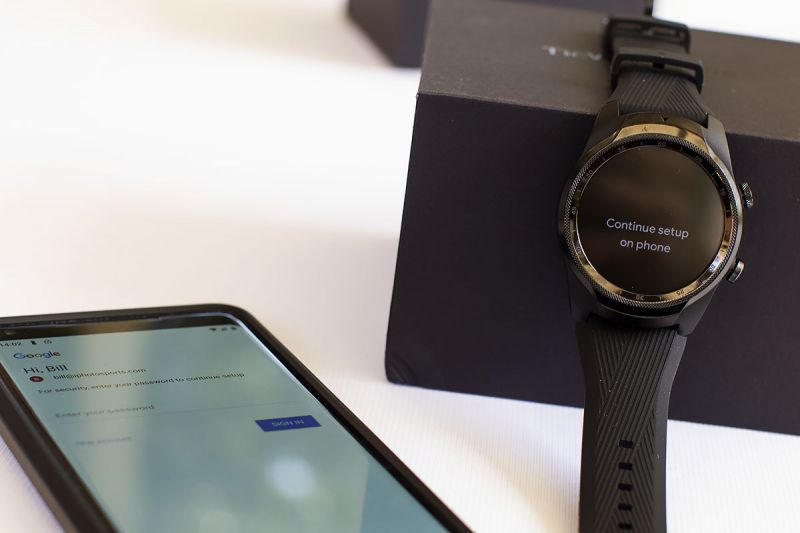 Simple enough for any self-respecting reader of The Gadgeteer.
What I like
Stand-alone cellular capabilities
Find phone function
Cool digital watch faces
Heart rate monitoring
Step counter
What I'd change
Better real-time transfer of heart rate data to phone (but not if it would sacrifice too much battery life.
Google Fit to take the best of the two-step counters as my company fitness app uses the value stored on my phone.
Final thoughts
I have not worn a watch for many years — more than a decade. After wearing the Mobvoi TikWatch Pro 4G/LTE for one month I think I will be wearing it for the foreseeable future. I like the way it looks on my wrist and some of the features are really helpful.
Price: $299.00
Where to buy: Mobvoi and Amazon
Source: The sample of this product was provided by Mobvoi.