The Gadgeteer is supported by readers like you! If you buy something through links on our site, we may earn an affiliate commission at no cost to you. Thank you! Learn more.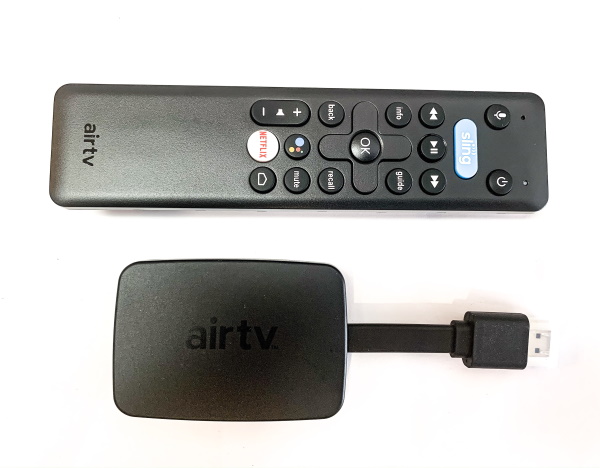 REVIEW – Sometime last year, I reviewed the AirTv Streaming Box and I used it with the Sling TV account and app and with an OTA antenna. I really enjoyed using it then and I still really like the ability to get OTA channels in HD especially when I experience issues with my pay Cable TV service and need to still have TV viewing for the kids and for me to watch the news. etc. These types of devices have been advancing their technology and capabilities in an effort to provide consumers with truly acceptable options that would allow them to cut the cord. In this review, I am testing the  AirTV Mini 4k Streaming Stick.
What is it?
The AirTV Mini 4k Streaming Stick allows you to add Sling to any TV, and to stream your favorite content and streaming services all in one place. Its features include 4K capability, access to apps via Google Play and if you connect an AirTV box and an Over the Air HD antenna you, can access all the local OTA available channels wherever you are.
What's in the box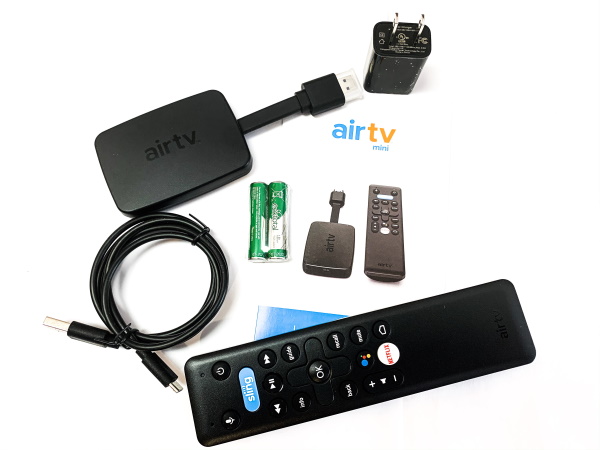 1 x AirTV Mini 4k Streaming Stick
1 x Remote Control
1 x AC Adapter and Micro USB Cable
2 x AAA Batteries
1 x User Guide
Design and features
Specifications
Connectivity: 802.11 b/g/n/a/ac 2.4G/5G 2T2R
Memory: 2GB DDR4 RAM and 8GB eMMC Flash
Graphics: ARM Mali-G31 MP2 GPU
Power: DC Power Adapter 5V/1.0A
Video Resolution: 480i/p, 576i/p, 720p, 1080i/p and 4Kx2K
Connections: HDMI, HDMI CEC
Digital Assistant: Built-in Google Assistant
Wireless Video: Chromecast Built-in
Video Compression: HDMI CEC, MPEG2/MPEG-4 H.264/AVC, H.265/HEVC 4K UHD video decoding
Bluetooth: Bluetooth 4.2
Features
One Platform, all your favorite shows, and movies: AirTV Mini integrates all your streaming services–Sling TV and Netflix–all in one place. And because AirTV Mini is supported by Android TV™, you also get instant access to a world of content and apps through Google Play.
Beautiful 4K picture quality: AirTV Mini supports 1080p HD and 4K Ultra HD.
Entertainment beyond TV: Discover apps, games, music and more from Google Play.
One remote to rule them all: Say goodbye to juggling multiple remotes—the Bluetooth-connected AirTV Mini remote will control your AirTV Mini, your TV, and your sound system. And with voice integration and one-touch access to Netflix and Google, the AirTV Mini remote makes it easy to find the entertainment you're looking for.
Bluetooth integration: Compatible with most Bluetooth devices such as headphones, headsets and game controllers.
The AirTV Mini 4k Streaming Stick is a small, compact and simple looking dongle. On the surface there is the AirTv branding, at the end of the attached cable, there is an HDMI jack. On the other end of the dongle, there is a micro USB power input port.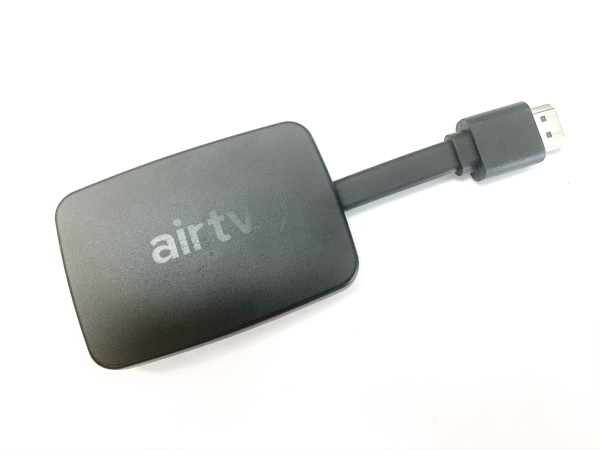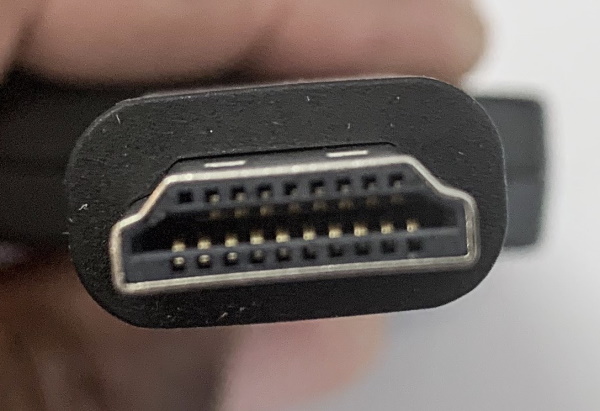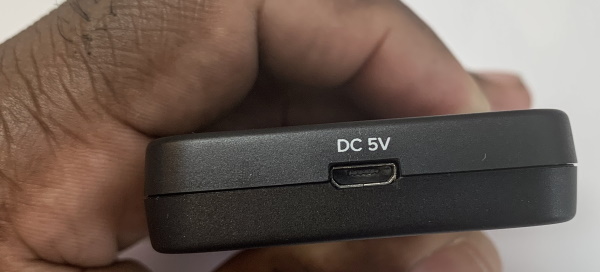 The included remote has all of the required buttons for easy control of the functionality.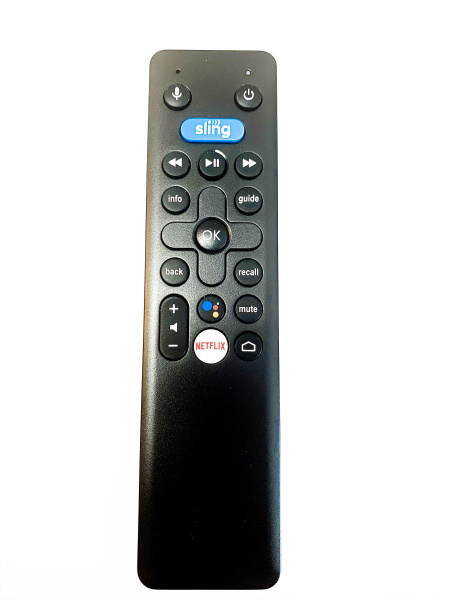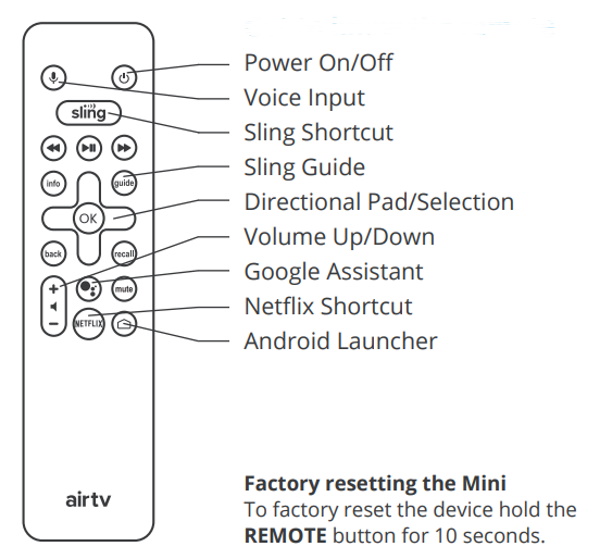 Performance
Important Note: For access to local channels, you need an AirTV streaming box connected to your network with an attached HD antenna.
Click here to read previous AirTV review.
This device is very easy to connect to your TV and to set up. As the following diagrams show, you plug the AirTV mini into an HDMI port on your TV, connect the micro USB cable to the other end of the dongle and the wall adapter to the USB-A end of the cable. You then simply plug in the AC adapter into a power outlet, and within seconds, the setup process appears on the TV screen.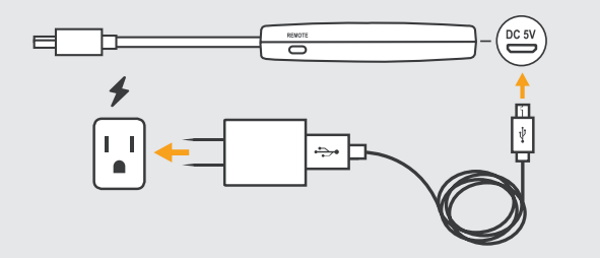 Once the AirTV mini is connected there is a brief graphic start-up splash screen that includes branding like the name Android, etc and then it prompts you to pair the remote by pressing the "OK" button on the remote. It took about 5 seconds to pair and does not require line of sight. Once the pairing is completed, you then get the option to choose a language. After that, it prompts you to add it to your wireless network and shows all of the available wireless access points nearby. I really like that for the process of entering the wireless password and actually for all occasions when you have to type in any information. You are presented with a full onscreen keyboard that includes all letters in upper and lower case, the numbers and the most common symbols. There is no need to click on a shift button to toggle between the upper and lower case or to select symbols or numbers.
Once you add the device to your network, it performs any necessary software updates and them prompts you with the option to log in and link your Google account which I did. Then, it searched for devices and it found my AirTV streaming box that is connected to my network. That box has the OTA antenna. In the next step, it asked for the model of my TV and went through the process to set up the AirTV mini remote to control the volume of the TV. In the next step, it looked for other devices like my audio receiver, etc to do the same. I allowed it to be able to control the TV, but I skipped allowing it to control any additional devices. This decision was just my preference.
Once that part of the setup is completed, you are prompted to log in to SlingTV or to create a SlingTV account. There is also an option for guess access if this is your first time using SlingTV. It is a free trial that you sign up for. I no longer pay for the SlingTV programming, but I do still have a free SlingTV account that allows me to sign into SlingTV and use my AirTV box to view the OTA channels and gives me access a programming guide. Once you have signed up with SlingTV, you have a programming guide and the ability to add apps to the AirTV mini. You can add apps like Netflix, YouTube, Disney, HGTV, etc. There is a "Featured" selection that works via Google, that gives you access to lots of movies and other types of shows. The movie choices include movies currently in the theaters that can be rented for as little as $4.99 or purchased for a bit higher price like $14.99 ~ $19.99. You can also see a listing of movies that will be coming to the theaters, and you can add movies that you want to see to your watch list. Each time I use the AitTV mini I discover additional programming, either by just snooping around or via the search function. The AirTV mini also includes voice control for search and commands. I also must mention that the picture quality is great including the 4K experience.
The following are pictures of several of the screens that are a part of the experience. I took them from in front of the TV with my smartphone: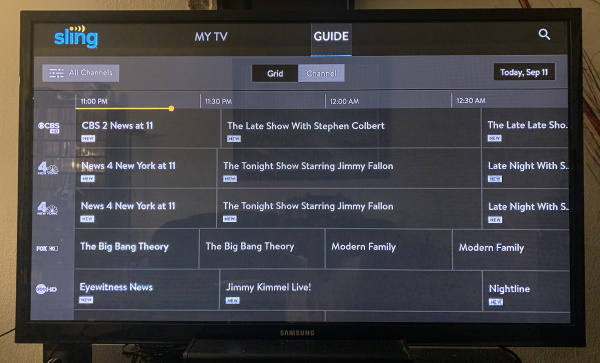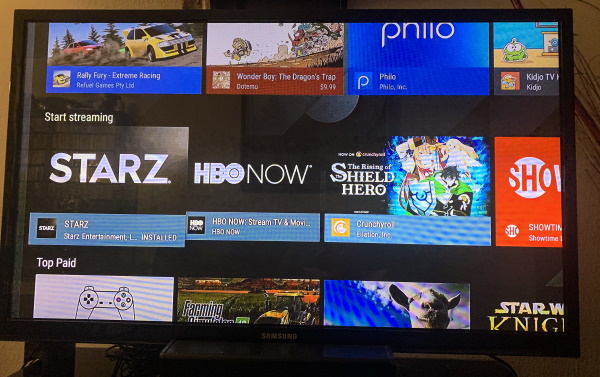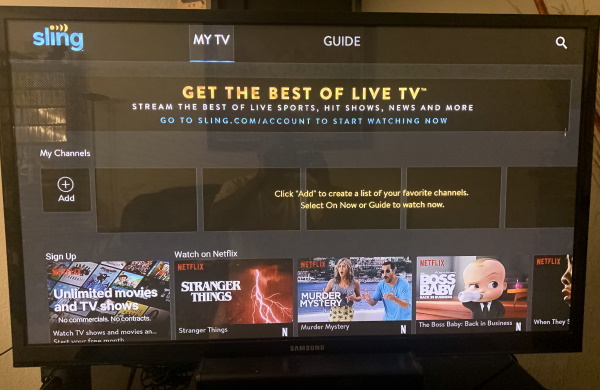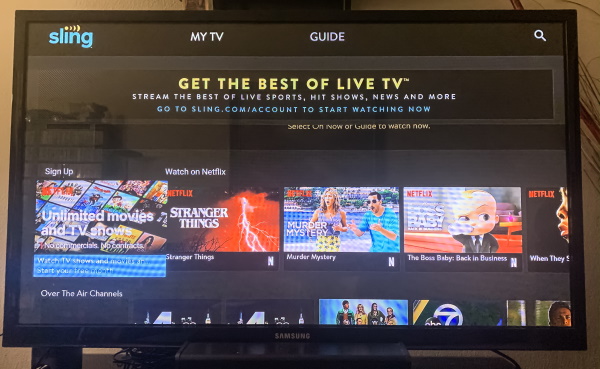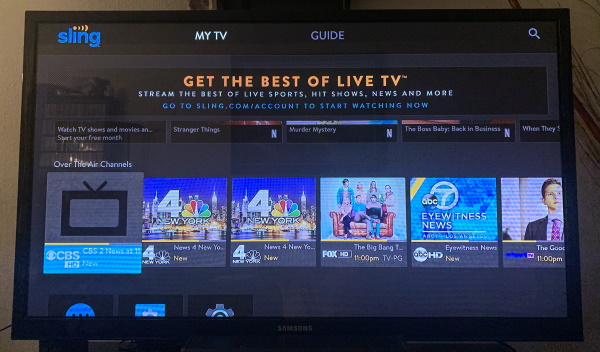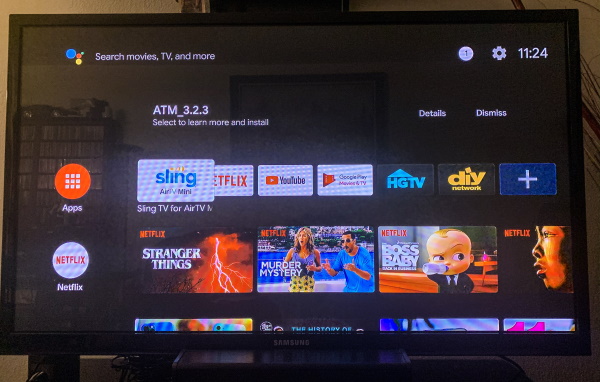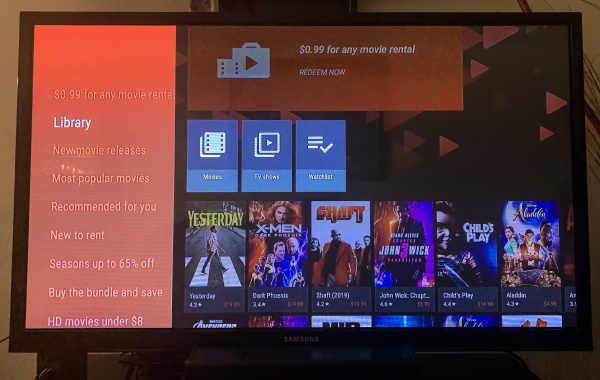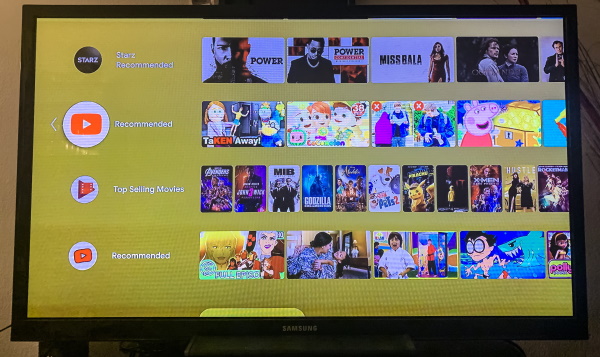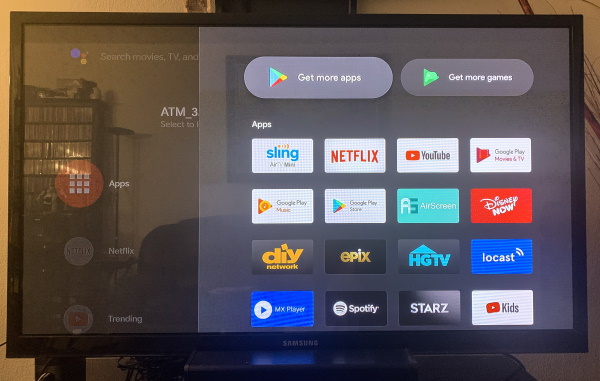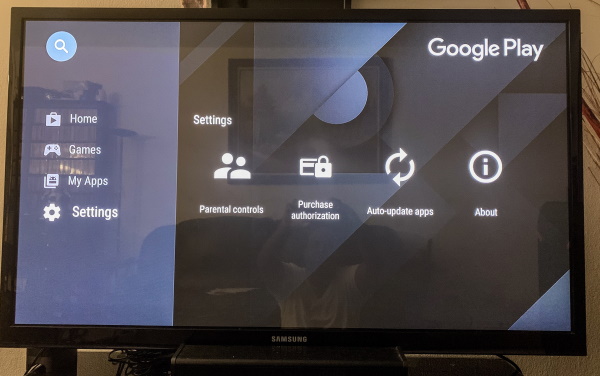 What I like
The small and compact size
The up to 4K capability
The viewing options via apps
The ease of setup and use
What I'd change
Personally, for what it is, I really like it
Final thoughts
I have several streaming boxes including the 4K Roku box and the 4K Fire Stick. When I first set up the AirTV Mini 4k Streaming Stick I was not expecting it to be much different than the others that I already own. However, I was wrong. It is quite different since it seamlessly integrates with the AirTV streaming box to add OTA channels to its guide. I think that if you are looking to cut the cord from pay cable TV this device is a great option and paired with the AirTV streaming box it is even a better choice.
Price: $79.99
Where to buy: AirTV website and Amazon
Source: The sample for this review was provided by AirTV.