We use affiliate links. If you buy something through the links on this page, we may earn a commission at no cost to you. Learn more.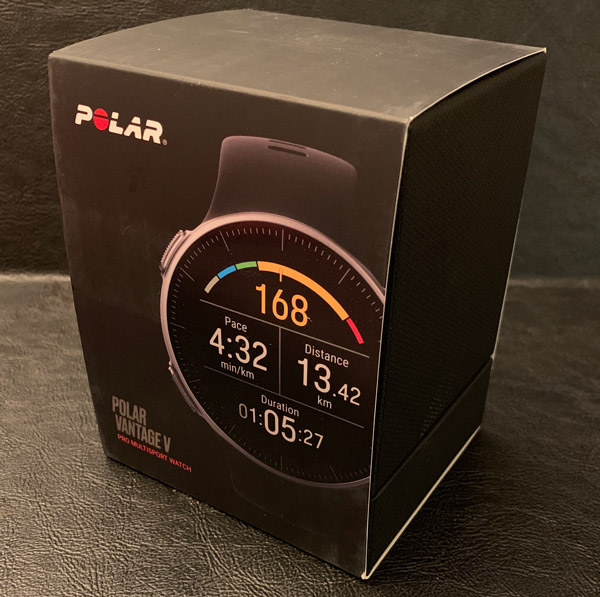 REVIEW – I love receiving new fitness gear to review…nine times out of ten, it amps up my desire to get/be/stay in-shape, workout, pound pavement, etc. As the years roll by, it gets increasingly difficult to be epic but I am a firm believer in that you get what you sow. Today's tech-world gives us countless gadgets, websites, apps, and support systems to exercise more efficiently and effectively. Hopefully motivating and empowering each of us to reach our goals from wanting our pants to fit to gaining a six-pack. In this case, Polar has sent me their latest and greatest professional multisports training watch: the Vantage V to checkout for this review.
This review will be coming from the perspective of a fifty-something who isn't nearly as energetic as they use to be back in the day. I will never run a marathon or do a triathlon but do try to workout daily, including running, walking, stairs, elliptical, weights, tennis, etc. For me the key is the long-game, to enjoy exercise but not to the point of injury. Typically I wear a mechanical watch throughout my day and swap it out for a fitness device when I workout, usually an Apple Watch for music and pace/duration. But for the next month or so, I'll be focusing on the Vantage.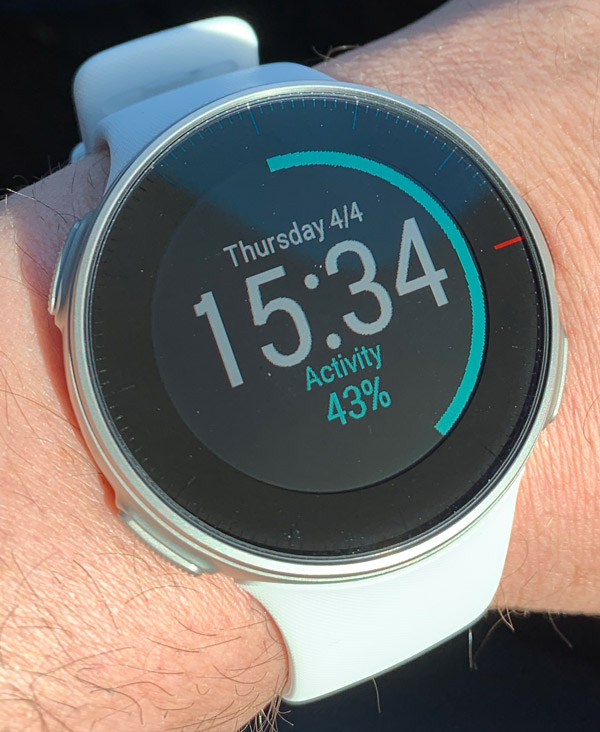 What is it?
The Vantage V is Polar's flagship multisports training watch engineered to help top-level triathletes, marathoners, hardcore runners, etc. improve their performance and achieve their goals. The Vantage V is Polar's replacement for the V800. In addition to upgrading the technologies within, Polar has change the overall aesthetics of the watch, going from a rectangular, utilitarian design to a the more classic round form factor.
What's in the box?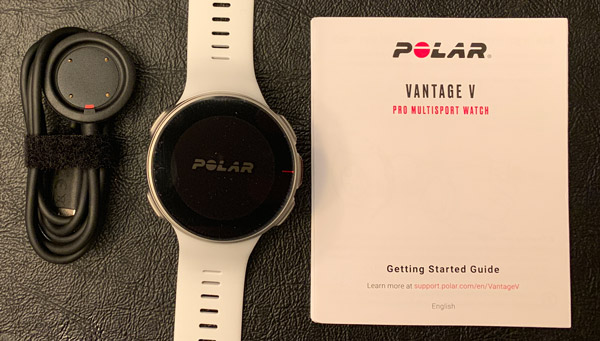 Polar Vantage V pro multisport watch
Charging cable
Polar Vantage V user manual
Information note
Specifications:
Measurements: 46 x 46 x 13 mm
Weight:

68 g

Display: Always on color touch display with Gorilla Glass. Size 1.2", resolution 240 x 240.
Battery: 320 mAh Li-pol battery. Battery life up to 40 h in training mode (GPS and wrist-based heart rate).
GPS & Barometer: Integrated GPS & GLONASS. Assisted GPS for fast fix times. Barometric altitude, incline, ascent and descent.
Connectivity: 

Bluetooth Low Energy. Custom USB cable for charging and data synchronization.

Watch: Time & date. Alarm with snooze.
UI languages: English, German, French, Italian, Dutch, Norwegian, Spanish, Portuguese, Swedish, Finnish, Danish, Polish, Russian, Turkish, Indonesian, Czech 
Sensors: Compatible with Polar BLE heart rate sensors.
Water resistance: Waterproof (WR30)
Wristbands: Durable and comfortable silicone.

Sizing:

Small: wrist circumference 130-185 mm

Med/Large: wrist circumference 155-210 mm
Design and features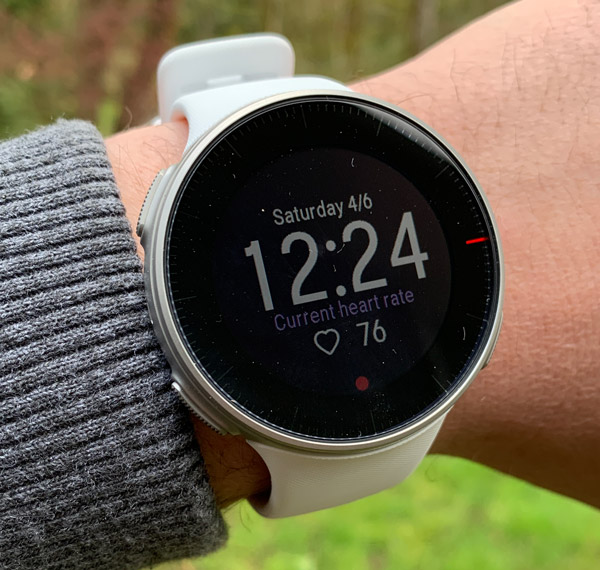 As I said, the Vantage V is Polar's flagship, GPS enabled sports watch engineered to track nearly any and all sport and fitness activities: running, swimming, cycling, elliptical, yoga, martial arts, tennis…to name a few. Like a majority of past and present Polar products, their latest & greatest can also track your daily activities including heart rate, steps taken, and calories burned.  But like it's predecessor, using the Vantage "as a fitness band would be like taking a Ferrari to the grocery store to buy milk". It works and you'll look getting there but there are certainly lower priced, just as effective alternatives 😉 .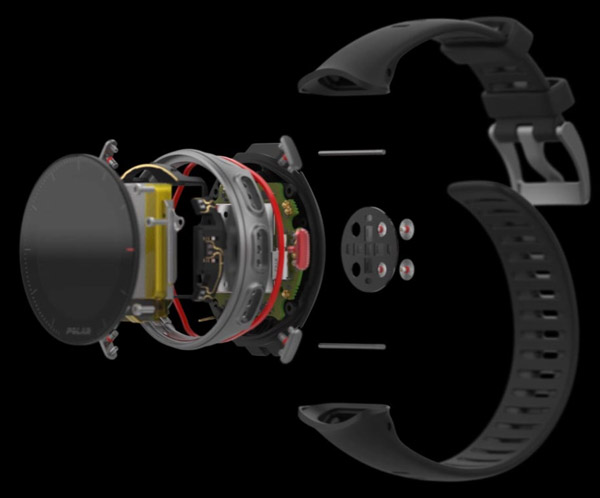 The Vantage V is definitely a well-made device, constructed from aircraft aluminum, gorilla glass, and solid yet comfortable rubber. These premium materials combine to give this multi-sport watch a quality look and feel. The 1.2 inch 240×240 color touchscreen is protected by gorilla glass and is surrounded by the aluminum case that flow nicely into its rubber back.
Fit and comfort
As with a majority of fitness watches, the Vantage V comes on rubber strap.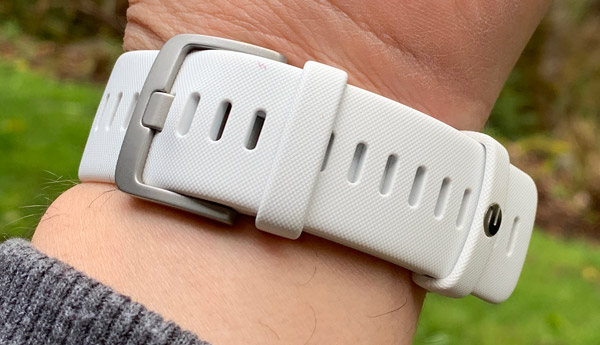 The rubber is soft, flexible, and overall the band is very comfortable to wear. The strap has a knurled texture to it with a standard buckle and locking, logoed free loop to keep the end of the strap in place.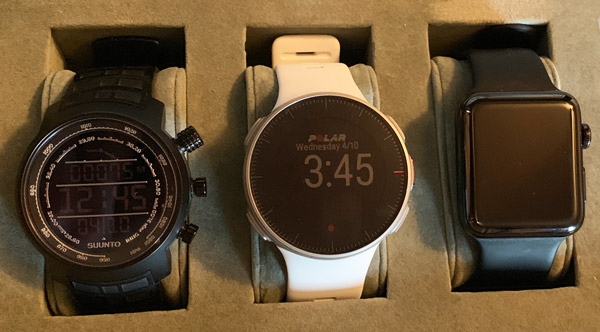 For being a 46mm watch that sits 13mm high, the Vantage V doesn't wear too big or heavy on the wrist. Here you can see it in comparison to the Suunto Elementum Terra and larger of the two Apple watches. The Vantage wears very nicely on my 7 inch wrist and compared to a stainless steel watch, it's so light I barely know I have it on.
Setup and Configuration
The first step I did in the setup process was to charge the Vantage using its proprietary charging pad.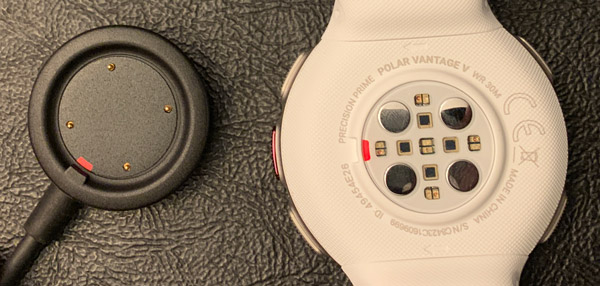 There are four metal plates on the back of this fitness watch engineered to make contact with the corresponding pins on the charging pad. This is definitely a bit old school when many of the big players in smartwatches use inductive charging that can be done on any wireless charging pad.

The watch has to sit in a specific orientation to charge. There is a red tab on both the Vantage and charger that align.

The watch and pad are held together magnetically.
As the watch was charging, I (re)downloaded the Polar Flow app onto my iPhone and logged into my account I setup for previous reviews. All of my preferences were still there, so other than confirming all my info hadn't changed…getting everything dialed in was quick and easy. That said, 99% of configuring the watch happens either in the app or on the Polar Flow web-interface (I recommend the website. I found it easier).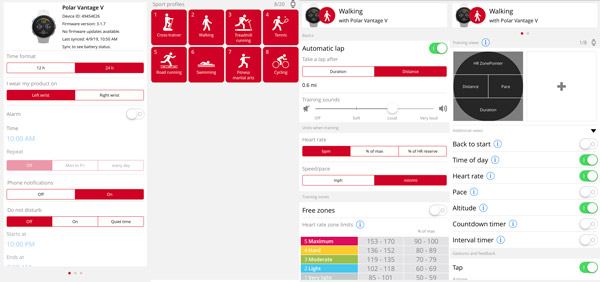 Setting up your Polar world can be anywhere from a relative short effort to a long and detailed one. The Polar Flow app/website enables you to tweak many facets of that ecosystem, down to how your watch face presents your data and what sensors are being used/enabled during each specific activity.
Once you have your activities arranged and personalized as you want them, you simply sync your watch and smartphone or computer. For you newbies to Polar, I can almost guarantee you that you'll continue to tweak your profile and watch configurations as you become more accustomed to how you use your multisport watch and what data/stats are important to you as you workout. The more time, effort, and thought you put into this, the more you ultimately get out of using the Polar experience.
Operations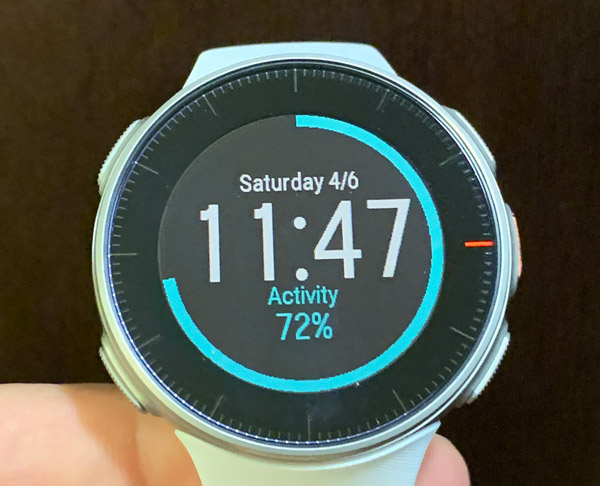 The Vantage V can be controlled by it 1.2 inch touchscreen or 5 physical buttons along the sides of the case. The Vantage products have an MIP display (memory in pixel) with a resolution of 240×240. When I reached out to Polar regarding the Vantage's screen this was their response:
We decided to go with the MIP display instead of OLED, because an OLED display consumes a lot of power and is not very readable in bright sunlight. We figured extended battery life and the ability to see the display continuously when training (during indoor and outdoor sessions) are important for athletes.
After using various Apple, Samsung, Android Wear watches (not to mention smartphones) over the years, I've become relatively accustom to OLED displays and how much they pop especially in low light. But I 100% agree with Polar on this one, I'd rather not have to charge my watch every night and be able to see my time on a bright summer run.

Like its casing, the Vantage V buttons are constructed of aluminum with a ridged pattern machined into their surface. The buttons are easy to find and use while working out. The left side has the LIGHT and BACK (pauses/ends the workout) buttons.

The right side has the page UP and page DOWN buttons for navigating thru the user interface and the red START/SELECT button is for beginning activities, laps and selecting/confirming objects in the various menus.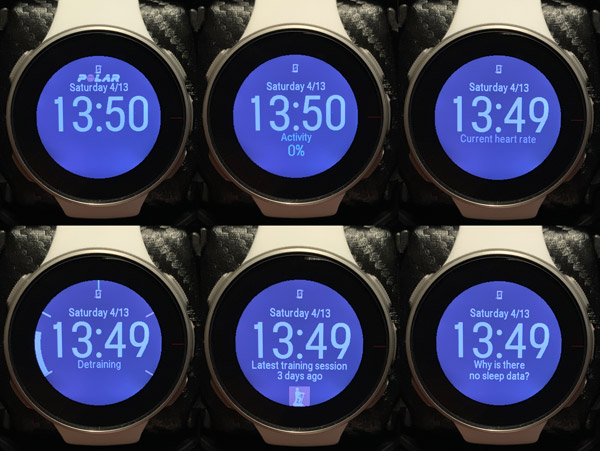 The six main screens all display time, day, and date. The other information you can have at the glance at your wrist is: percentage of your daily activity goal, heart rate, training arch, nag reminding how long it's been since you last worked out, and sleep data.
In a recent firmware update, Polar has enable smartphone notifications which works very well across the board from my emails and messages to when my security cameras detect movement.
Performance
The Vantage V works as you would expect in today's high tech world. The Polar OS, while be it a bit old school, is zippy enough, lag-free, and gets the job done. I'd call it direct, usable, and to the point.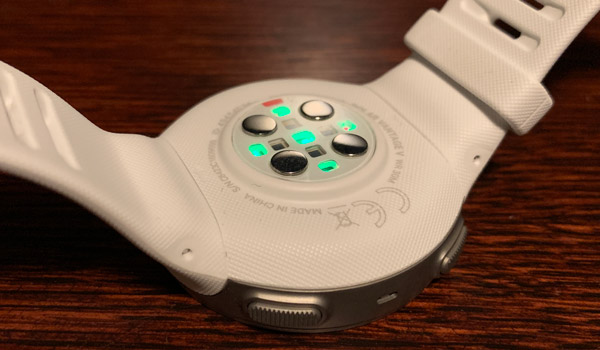 The Vantage series has Polar's new Precision Prime fusion heart rate sensor engineered into back of the watch.  The sensor array has 9 LED that accurately monitors your heart rate during your workout or 24/7 throughout your day. I tested the Vantage's accuracy against my Apple Watch and elliptical's handle grip sensors and on average all correlated nicely though there was a bit more variability in the wrist sensors when compared to the fixed grips.
The Vantage V can also calculate Running Power using the heart rate monitor, GPS and barometer data from the wrist – no additional foot pods or sensors needed. This calculation is done with Polar's proprietary algorithm and it helps you monitor the external load of your running (aka during intervals, hills, or to maintain a constant effort level during a race). The Vantage V can also use Running Power to calculate your Muscle Load, the load that your training session puts on your joints and your muscular and skeletal systems.
GPS distance and pace both seemed relatively accurate from my initial survey standpoint. I ran or walked several known routes and the distances & times were within a few percentage points of what I believe it should have been.  I hope to review this and a few other features more in-depth this summer as I workout more out side.

Polar's Sleep Plus feature automatically detects the timing, amount, and quality of your sleep in hopes of better rest to ultimately improve your recovery and performance. Or in my case, Sleep Plus let's me know when my wife's snoring interrupts my sleep.
Battery life is incredible… Compared to my Apple, Samsung, or Wear OS smartwatches I have used thus far, the Vantage lasts many times longer than the any of the competition. In addition to using the GPS during my outdoor workouts, I had the watch continuously monitoring my heart rate 24/7 and my sleep quality at night and it still latest nearly a week before needing to be recharged.
To conserve power, the Vantage V doesn't automatically sync with your smartphone, 99% of the time I had to force the issue by long pressing the lower left button on the watch.
Ecosystem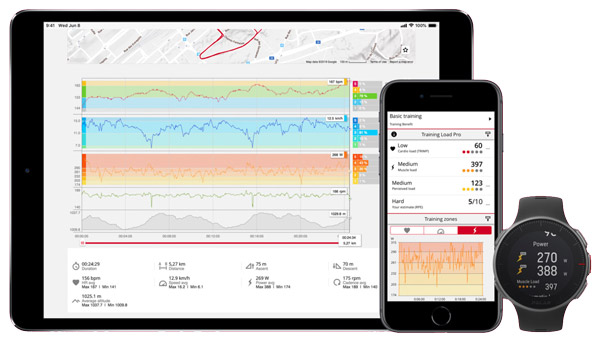 If I had to select the best part of the Polar experience, it would be the Polar Flow ecosystem it creates for its users. I grant you a system is only as good as the data being fed into it. But Polar engineers work diligently to not only provide you a worthy training companion but a place to nerd out over the data it collects.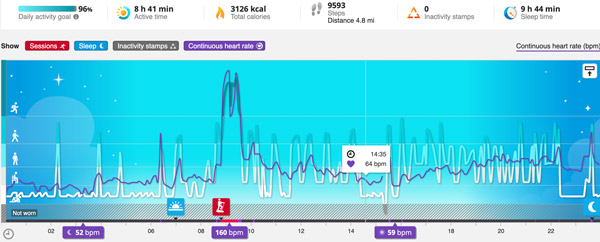 The Polar Flow app/website enables you to dive very deep into the details of your training and performance metrics.
The Vantage V wirelessly syncs data from the watch to your mobile device which then updates your flow account with your most recent efforts. Without the app, data syncing must be done by plugging the watch into your computer via the charging cable.
Is It a Smartwatch…
That is a question I have been asked about this watch more than once during this review…and my answer is sort of. It doesn't do apps or pay for stuff or even play music while you run. But like I mentioned above, it does give notifications, provides pace/distance/HR/etc on the fly, and does a great job gathering fitness and physical performance data then transferring it back to the mothership (aka Polar Flow) for further, more detailed analysis. As a modern day digital watch goes, the Vantage V is smart enough and does everything that I need, less music while pounding pavement. That said, I believe Polar will ultimately have to get on the bandwagon like others and produce less niche devices and cater a bit more to the mainstream. Cause lets face it, Apple is kicking @$$ and taking names. But that is just my 2 cents…
What I like
Well made hardware
Comfortable, light-weight form factor
Very sport-/training centric design
Polished, integrated fitness ecosystem
Smartwatch functionality has been added thru firmware updates
Collects huge quantity of data and presents it in a well thought out Polar Flow interface
Excellent battery life
What needs to be improved
Expensive
Can't stream music
Isn't a true "smartwatch"
Bottom Line
For this review, I wore the Vantage V nonstop for nearly two weeks then on and off when I exercised for approximately a month. I hate to say it but the Polar Vantage V is out of my league…that is the cold hard truth of it. For how I use a fitness smartwatch, this bad-boy is definitely overkill. It has been fun to try out but the realist in me knows I'll never truly use many of the features of the Vantage or Polar Flow ecosystem. I'm definitely more of an Apple Watch, Samsung, or Wear OS kind of athlete. I like my motivational tunes streaming thru my earbuds and I would trade that over the differential the Vantage V gives you over the more mainstream fitness/smartwatches.
Final thoughts
The Vantage V and the Polar ecosystem that support it are an extremely powerful training tools that really anyone could use to improve their personal best in whatever sport or exercise regime they live in. That said, this flagship fitness and training watch is tailored more for the true athlete wanting to optimize their performance at the very far end of the curve. Though Polar, via firmware updates, has and continues to add smartwatch functionality to both variations of the Vantage. The Vantage V is impressive, with really have zero complaints other than no wireless music capabilities but that is a known quantity going into it.
As I said, I'll continue to use the Vantage V this summer and will hopefully have a follow on review that discusses its accuracy and niche capabilities this Fall.
Price: $499.95
Where to buy: The Vantage V is available directly from Polar and Amazon
Source: The sample of this product was provided by Polar.