We use affiliate links. If you buy something through the links on this page, we may earn a commission at no cost to you. Learn more.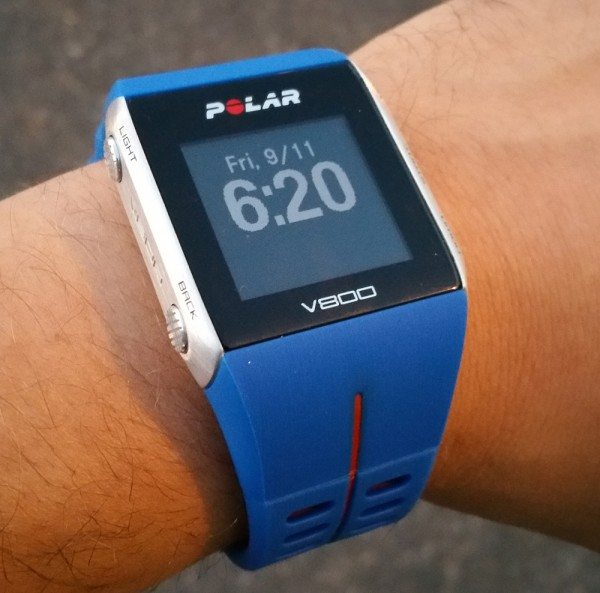 Earlier this year I reviewed the Polar M400 sport watch and was pleased with how feature packed and fitness oriented it was. I have used it on and off throughout 2015.  When Polar gave me the opportunity to put their latest flagship training device through its paces, I jumped at the chance. The Polar V800 is one of THE best sport watches on the market today, engineered to not only track your workouts but take your fitness training to a whole new level.
Note: Images can be clicked to view a larger size.
Like I said, the V800 is Polar's flagship, GPS enabled sports watch engineered to track the gauntlet of sport activities…running, swimming, cycling, yoga, martial arts, tennis, CrossFit, etc. Like the Polar m400, the V800 can also track your daily activities including steps taken and calories burned.  However, in many ways, using the V800 as a fitness band would be like taking a Ferrari to the grocery store to buy milk.

The V800 is definitely a premium device, made from stainless steel, gorilla glass, and thick rubber. These premium materials give this multi-sport watch a high-quality look and feel missing from many of its plastic counterparts. The screen is protected by gorilla glass and is surrounded by aluminum sides that curve nicely into its stainless steel back. The V800 has a quality feel and heft to it, but not so much that it gets in your way of being epic 😀 .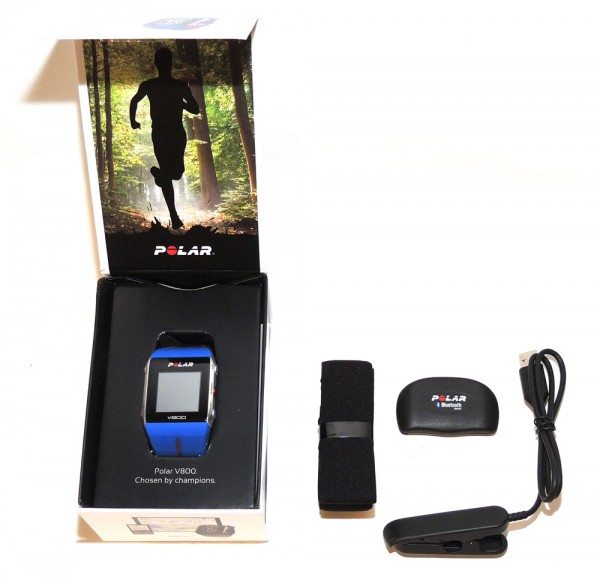 In the box:
Polar V800 training computer
Polar H7 heart rate sensor
Custom USB cable
Polar V800 Getting Started Guide

The V800 buttons are constructed of aluminum with a knurled pattern machined into their surface. The buttons are easy to find and use while working out. The device and button names are machined into the metal as well. In addition to V800 being etched into the left side, the LIGHT and BACK (pauses/ends the workout) buttons labels are there too.

The right side has the page UP and page DOWN buttons for navigating thru the user interface and the red START button is for beginning activities, laps and selecting/confirming objects in the various menus.
Setup:
Before you head out to put in the miles, laps, or whatever you do to stay in shape, you should setup the V800 to get the most out of it. To begin, download the Polar software onto your computer and create or sign-in to your Polar Flow account, the main interface for managing your watch and analyzing your workout data. While not absolutely necessary, you should also download the Polar Flow mobile app to your smartphone or tablet. With the app, the V800 can wirelessly sync data from the watch to your mobile device which then updates your flow account with your most recent efforts. Without the app, data syncing must be done by plugging the watch into your computer via the charging cable.
Overall, the V800 is the best running and multi-sport watch I have ever used. Its GPS accuracy is outstanding, with insanely good battery life.  It is relatively easy to use and navigate through its many interface screens.  The Polar Flow software does an excellent job analyzing your data.  And these are just a few of the countless functions it can preform.
Similar to the M400, the V800's internal accelerometer tracks vigorous activity, walking, inactivity, and sleep, throughout your day, 24/7.  It will also remind you to get up and move when you have been inactive too long. The V800 monitors your daily activity goals as well. According to Polar, the V800 does not use the internal accelerometer to give you cadence while running nor pace/distance on a treadmill – a footpod is needed for both of those tasks, but more on that in a bit. Though the V800 still collects effort level (HR monitor) and duration with all activity/exercise.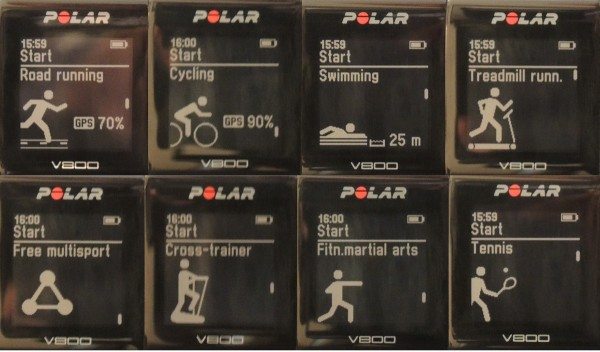 Running:
I started out as a diehard runner many decades ago, but now I pound pavement (aka putt along) to stay healthy, eat and drink what I like, and to make sure my pants fit. As I stated above, the V800's GPS accuracy really is spot on, enabling you to know just how far and what overall pace you have run.  That said, the watch's ability to measure your current/instantaneous pace with GPS signal alone is not very accurate at all. This data is inconsistent and all over the place.  However, that is more a limitation of GPS technology than the watch itself. To mitigate this, the V800 is able to pair with the Polar Bluetooth Stride Sensor to give you more accurate pace data. Sadly, the V800 is not able to pair with older sensors so my Polar RCX5's footpod cannot talk to it.
Cycling:
The V800's cycling mode gives you the same functionality as when running (aka GPS based speed and distance), plus the ability to pair other sensors like cycling speed, cadence sensors and power meter. Like running, there are profiles for both indoor and outdoor cycling. I only ride occasionally to put a bit of spice in my workout routine, but if you want to use it as an adhoc bike computer, I would say it is worth the minor expense to get a handlebar mount; such as the Polar Universal Bike Mount For Wrist Unit for the V800 to make viewing easier while riding.
Swimming:
While in swimming mode, the H7 heart rate strap can track your pulse in the water, an impressive feat considering I have never heard of any similar HR straps having that functionality. In open water, the V800 can track your progress via GPS. While in the lap pool, it can monitor strokes per minute, etc.
Triathlon:
After using the V800 for nearly two months, I can see it being one of the top training tools for hardcore athletes, especially triathletes. Its ability to accurately track data from so many activities and then help you analyze them makes it the perfect workout companion.
Multi-sport:
Other than running, I play a good deal of tennis, study martial arts, and spend many hours on the elliptical machine. The V800 does a good job at tracking, recording, and analyzing these efforts but (like the M400) is definitely more accurate monitoring the stress I am putting on my body and calories burned when I have the HR strap on.
GPS:
Along with being very accurate, the Polar V800's GPS is very quick to find/lock onto enough satellites to giddy up and go without having a long wait to begin your workout session. Even with being surrounded by many trees or in the urban canyons of downtown Seattle, most of the time the V800 had a lock and was ready to go in a minute…definitely the fastest GPS enabled watch I have tested to date.
Usability: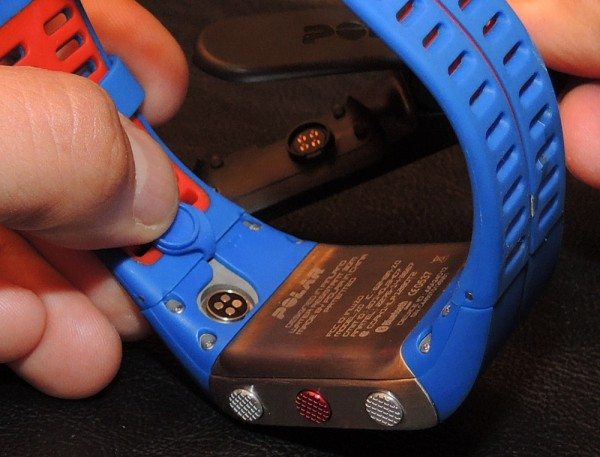 The V800 uses a proprietary charging/USB cable. The cable has a clip on one end, similar to an old wood clothing pin, that attaches to a charging port on the back of the watch.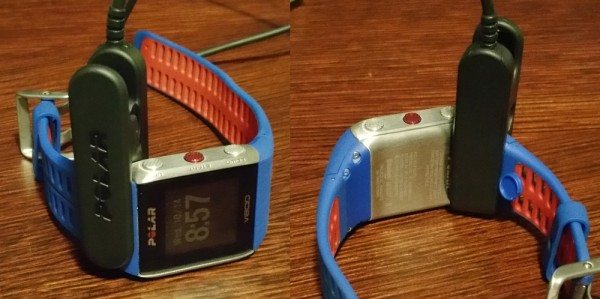 Initially it took several attempts to accurately connect the clip to the watch and even then the hold it had on the watch was not the greatest. If you nudged or moved the two the connection was occasionally disrupted.
The V800 is waterproof to approximately 30 meters.  I have used it for several months, with MUCH sweating involved, plus a few outings in the rain. There has been zero impact due to moisture. As you would expect being engineered for in water use (aka swimming).
Even though it is chalked full of features, the V800's operating system is relatively easy to use, pair with, and navigate.
I was extremely impressed with the V800's battery life. Unlike the latest smartwatches with their high-def color screens that only last mere days at best before needing to be recharged, the V800 lasted a month of solid use. During this time, I used the V800 almost daily, using the GPS function during runs and bike outings and Bluetooth heart rate strap both in and outdoors. According to Polar, the V800 will last 13 hours in normal GPS mode before it needs to be charged. Overall, the battery life of the V800 has been stellar to say the least.
The V800 has a backlit monochrome 128 x 128 pixels LCD screen, which Polar classifies as a "high resolution display". In this case I have to disagree, the screen is definitely not high definition by today's standards but is high contrast and sharp, easily viewed in daylight, with the digits large enough to see while working out. The strap has a nice soft rubber feel to it, more comfortable than other more rigid plastic watchbands.
Smart Coaching Features:

I love several of the V800's "Smart Coaching" features, specifically the recovery status and orthostatic test data the watch gives you after a workout. They help you track where your fitness is and where it is going and to optimize your efforts vs rest to get the most out of your training time. This is especially true and helpful for those of us older athletes that are not superheroes anymore ;).
Fit and finish: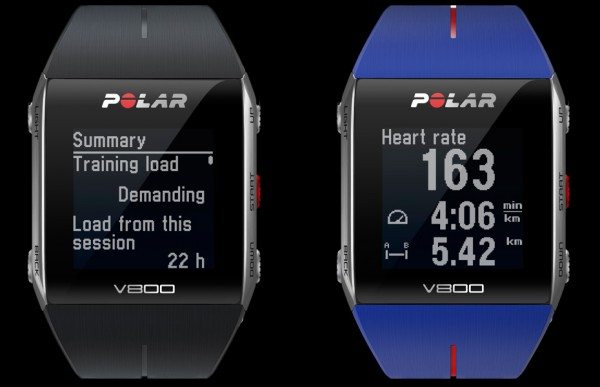 The V800 is available in two colors: black with grey accents, and blue with red accents (the Gadgeteer Kid and I call it the Superman color scheme…). Even though the V800 is relatively big with a boxy, utilitarian design, it sits comfortably on my wrist.
Polar Flow Ecosystem: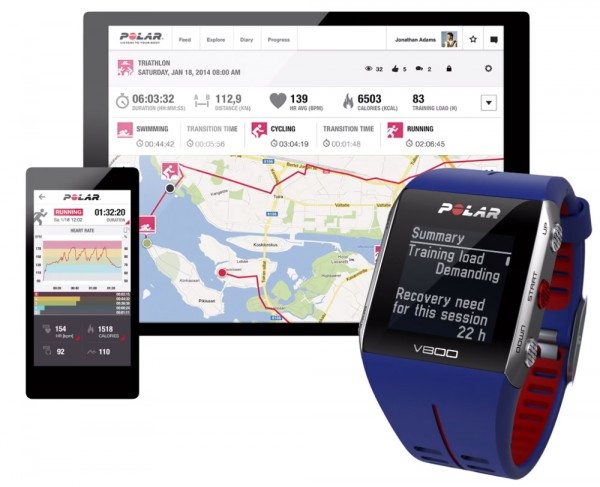 The V800 updates your Polar Flow account with new workout data every time you sync it with your smartdevice or connect it to your laptop via USB cable.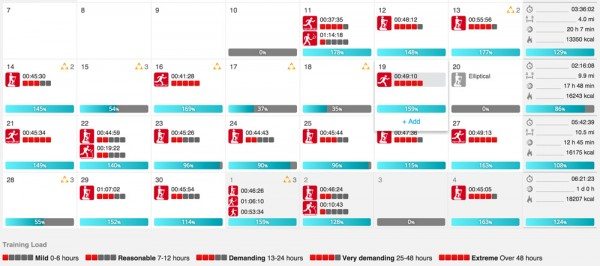 Since I reviewed the M400, the Polar Flow ecosystem works much better with far fewer data glitches and hiccups than it had back in early 2015. The Polar website enables you to not only track your workouts but analyze your data, monitor your overall fitness, and help you design a training program that will hopefully optimize your efforts and time spent.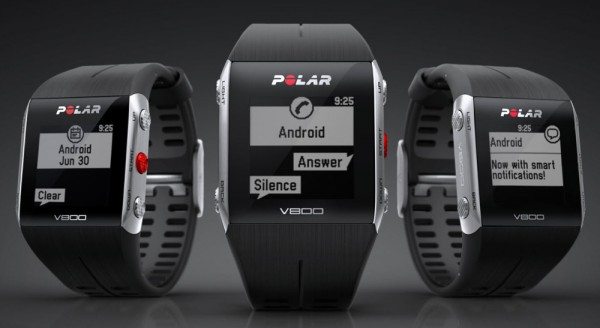 Recent firmware and smartphone app (Polar Flow) updates mean it is now capable of  alerts when synced with most smart-devices. iOS has had this feature awhile now but those of us Android users just received it this month. You need the latest firmware on the watch and latest app on your smartphone. Once you have that, simply sync the two and you'll have the option in the notifications settings in my smartphone app. But to be honest, having notifications in my fitness tech is unnecessary as I never carry my phone with me while running or biking. I would much prefer the ability to store and stream motivational music on my workout companion but that is just me.
Bottomline:
The Polar V800 is the best running, multi-sport watch I have ever used…hands down, walking away. I can see a true athlete using this feature-rich 'smart' watch and its accessories as a powerful training tool enabling them to push themselves to even greater performance and fitness. But sadly, I can also see it falling short in the eyes of the fitness-crazed masses. While very well made and is definitely designed to get the job done, it does not have many niceties folks are expecting these days: high-res color screen,  apps, music streaming, etc. Polar is doing its best to increase functionality but there are some things it will simply never do. At $400-500, it is more than the cost of the latest and greatest fitness skewed smartwatches from Apple, Samsung, LG and the list only continues to grow. As with many things, it comes down to what you want…a rock solid training tool for the hardcore athlete or a device designed to please everyone who wants to get more fit.
Source: The sample for this review was provided by Polar. Please visit their site for more info and Amazon to order one.
Product Information
Price:
MSRP $450 / $520 w/HR strap (less through other online retailers like Amazon)
Manufacturer:
Polar
Retailer:
Amazon
Pros:

Excellent build quality
Stellar battery life
Water-/sweat proof to 30 meters
Good feature set
Easy to use interface
Predictive GPS
Accurate heart rate and distance/pace data
Large easy to view screen

Cons:

Proprietary charging system/USB cable
No ability to wirelessly stream music
Not compatible with older Polar sensors