We use affiliate links. If you buy something through the links on this page, we may earn a commission at no cost to you. Learn more.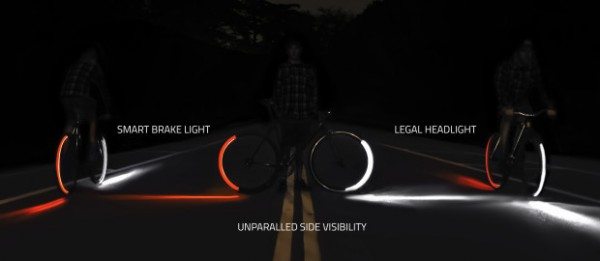 Riding a bike at night can be a dangerous task; even with the proper lights and reflectors, motorists may have difficulty seeing you. Fortunately, there is a new IndieGogo project that will make your bike stand out no matter how dark it is.
The Revolights Eclipse+ is a set of rings that connect to your bike's wheels. Each ring has 24 LED lights, white in the front and red in the rear. The LED's are powered by a USB rechargeable battery pack. The Eclipse+ tracks your speed and flashes the red LEDs when it determines your stopping. The white LEDs meet the requirements to act as a headlight and illuminate the road in front of you.
When paired with its app, the Eclipse+ can also act as turn signals to alert drivers which way you'll be heading. Additionally, the app can provide weather alerts, track your ride and achievements, and provide battery status.
The Bluetooth enabled Eclipse+ can be purchased for $219. The project's estimated delivery date is June of 2016. For more information visit the device's project site.