We use affiliate links. If you buy something through the links on this page, we may earn a commission at no cost to you. Learn more.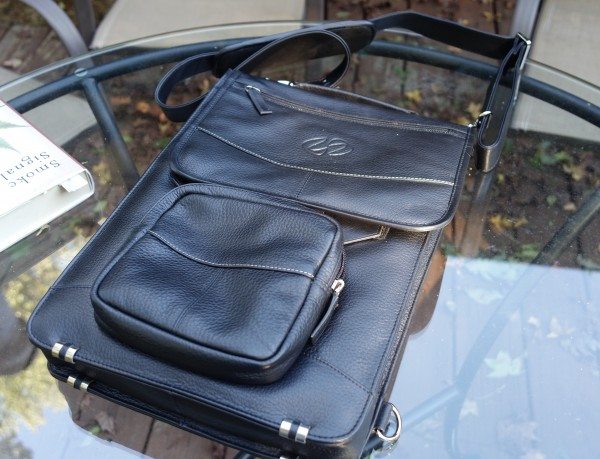 I used to carry a backpack when traveling. Everywhere. I had decided that with the two laptops I used for demos (a Mac and a Windows machine, before the days of Intel Macs and virtual machines!), their chargers, hard drives for content and backup of presentations for the products I was training on, a single-shoulder bag was just out of the question. These days, however, I can carry all that capability in a much smaller format. Laptops have shrunk as they've increased in power, and battery life is no longer measured in hours and minutes, but in productivity-days. As a result, few of us need power adapters, at least if we're just out for the day, and we're using anything made in the last few years. Enter the MacCase Premium Leather Briefcase. I was sent the black version for testing.
Note: Photos may be tapped or clicked for a larger image.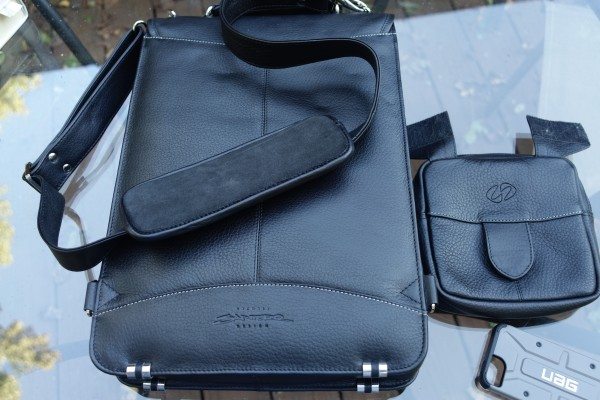 This satchel doesn't disappoint. It looks and feels like the namesake bomber jacket. The first look is very impressive – a chrome metal lock, matching D-rings for the shoulder strap, handle, and optional backpack straps, as well as matching metal bottom scuff guards, all attached to rich, pebble-grained leather with tight stitching and a few tasteful flourishes. You just want to touch it.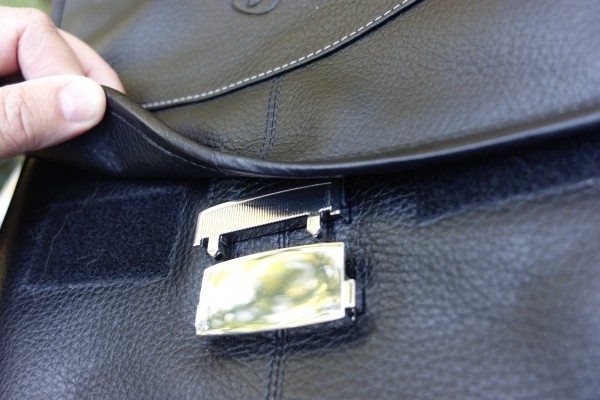 The black-on-black stitching for the logo is subtle and elegant, while the white top-stitching across the front flap smiles at you with perfectly even stitches.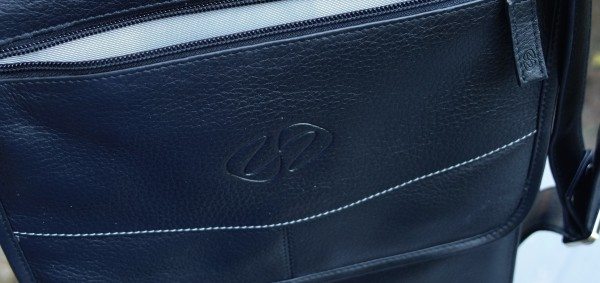 Across the back are two more lines of top stitching, outlining the flat document pocket.
Centered below the latch on the front is a leather loop sewn into the seam of the reinforcement piece of leather across the bottom. This and two patches of black hook-and-loop material (hidden beneath the flap when not in use) allow for attaching a 6.5″ square pocket with the same attention to detail. At about 1.25″ wide, it's single interior pocket is perfect for cords, power supplies, and video adapters. On days when you're not going to need these items (or when you're visiting the client and want to leave them in your hotel room) you can leave this pocket off.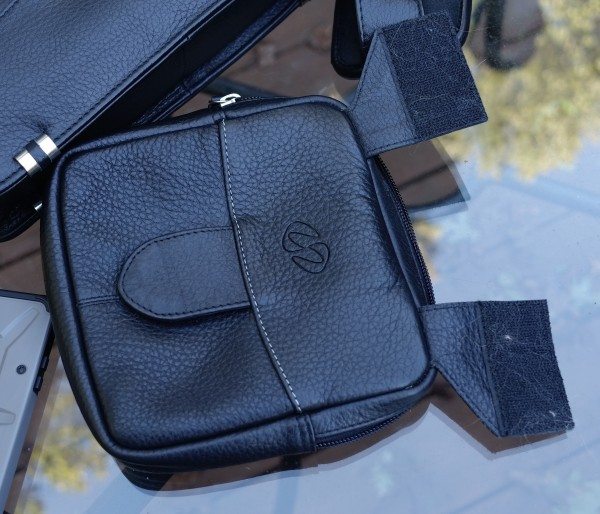 You'll still have the two full-depth inner pockets lined in suede-like microfiber and padded on five sides. These pockets are actually one large pocket with a foam-core dividing tray. If you're needing to haul a thicker laptop, or if you already have a padded sleeve you'd like to use, just slide this out, and you have the full 2″ depth to use.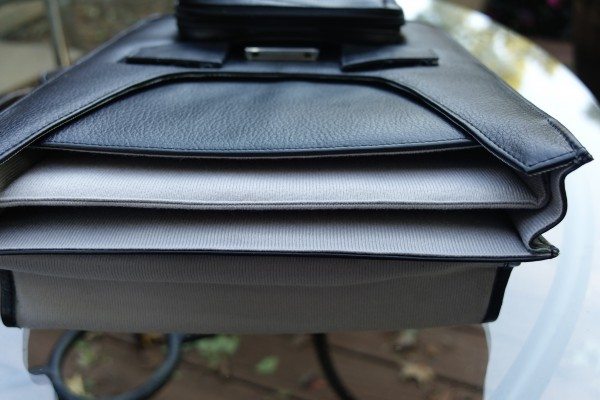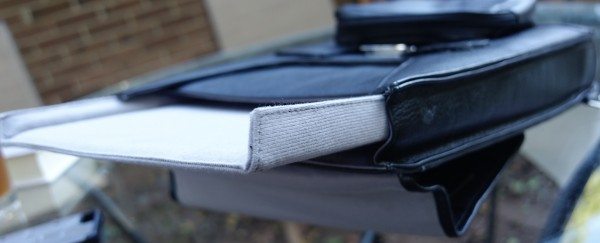 In front of this full-depth slot, there is a slash pocket that is scooped almost down to the latch. While this sounds like it would be too narrow to be of use, it will hold a full-sized iPad Air 2 with a cover and hide it almost completely. About a half-inch shows above the scoop.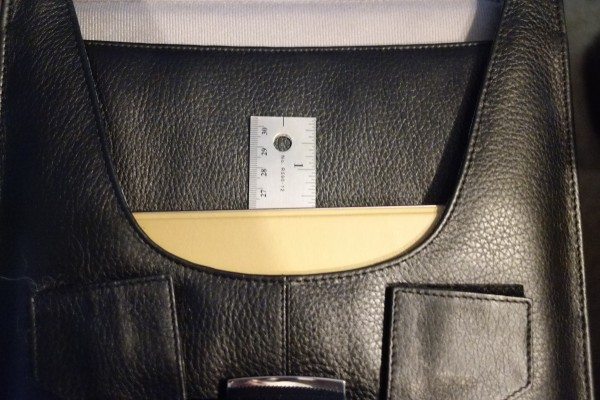 Although I can't verify this, given the published specs for the iPad Pro (12″ x 8.6″), and the fact that the iPad Air 2 (9.4″ x 6.6″) can fit in sideways (photo above) with only a slight tightness, I'm fairly certain Apple's new top-of-the-line monsterPad will fit nicely in this pocket.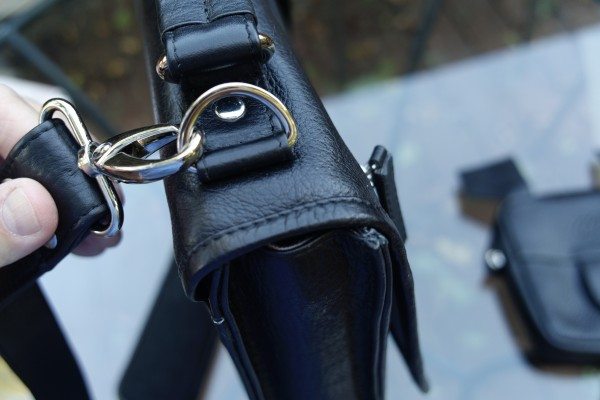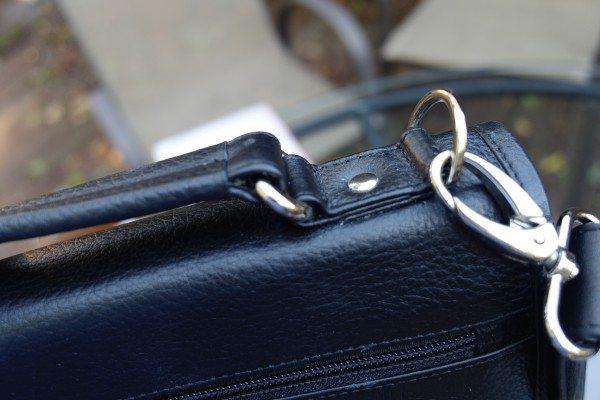 The grab handle is padded and riveted into the top flap so that most of the weight-bearing happens on the rear of the case. This (and the vertical orientation) prevents picking up the case by the handle and the top yawning open. You can almost use it without clicking the fluid, dual-hook clasp. With or without the add-on pocket, this shiny jewel is easy and quiet to operate, closing with a satisfying click and only opening (silently) with a two-finger pinch. The only hook-and-loop on the entire bag are the two patches holding the external pocket on.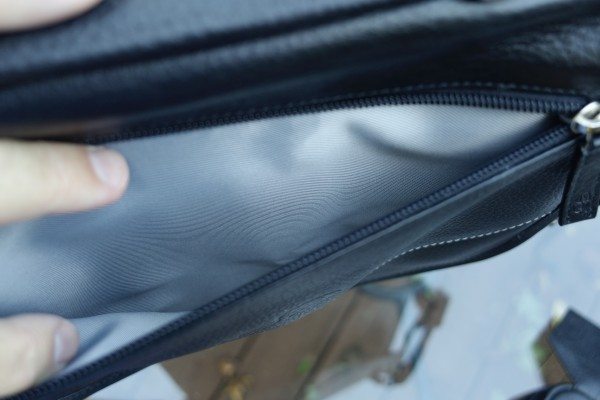 Some may complain that there are no specialty pockets for phones, business cards, or even pens on this bag. Although there is a well-proportioned, lined pocket (8.5″ x 6.5″) on the flap that can hold any or all of these items (photo above), this is not the bag for the gotta-have-everything self-reliant road warrior. This is a bag for those who only need their one or two screens, maybe a power supply, and maybe a video cable. If you're in the boardroom, you don't want to be pushing aside your Altoids, your lockblade, and your three portable hard drives to get to anything. You just want to reach in and pull out your trusty MacBook Pro, connect it to the projector/ChromeCast/AppleTV, and knock their socks off.
Modern laptops and even ChromeBooks have freed us from the tyranny of worrying about power, if we're just out for the day. So, unless we're going out of town for several days, we no longer have to worry about carrying along those large power supplies. The MacCase Premium Leather Briefcase  allows you to streamline your bag when you take these devices, and look good doing it.
Source: The sample for this review was provided by MacCase. Please visit their site for more info and Amazon to order one.
Product Information
Price:
$299
Manufacturer:
MacCase
Retailer:
Amazon
Requirements:
Pros:

Amazing materials, fit, and finish.
Roomy compartments for thin, modern screens.
Add-on pocket easily removes for power supply, wires, etc.

Cons:

Not an EDC-type bag.
Expensive.
Few pockets for the little things.