We use affiliate links. If you buy something through the links on this page, we may earn a commission at no cost to you. Learn more.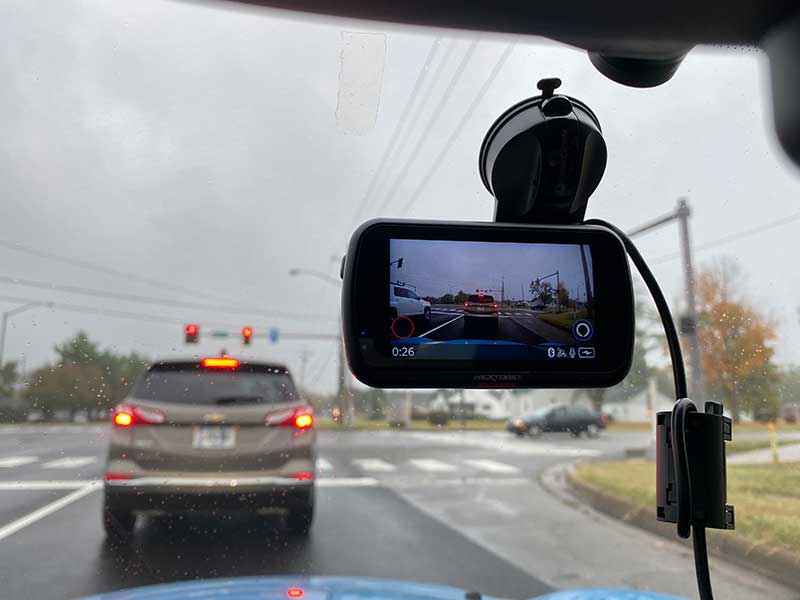 REVIEW – Do you have a dash cam in your vehicle yet? A dash cam is a type of gadget that you install and then forget about it. The hope is that you'll never need it unless it's to review some fun footage that it captured instead of accident footage.
Choosing a dash cam can be similar to choosing a laptop or a smartphone. There are so many dash cams available that it can be difficult to choose one. To make things even harder for you, I'm going to tell you about the 622GW dash cam from Nextbase. Buckle up and let's take it for a ride.
What is it?
The Nextbase 622GW is a dash cam that mounts on your windshield and captures your automotive adventures (and hopefully no misadventures) in 4K resolution.
What's in the box?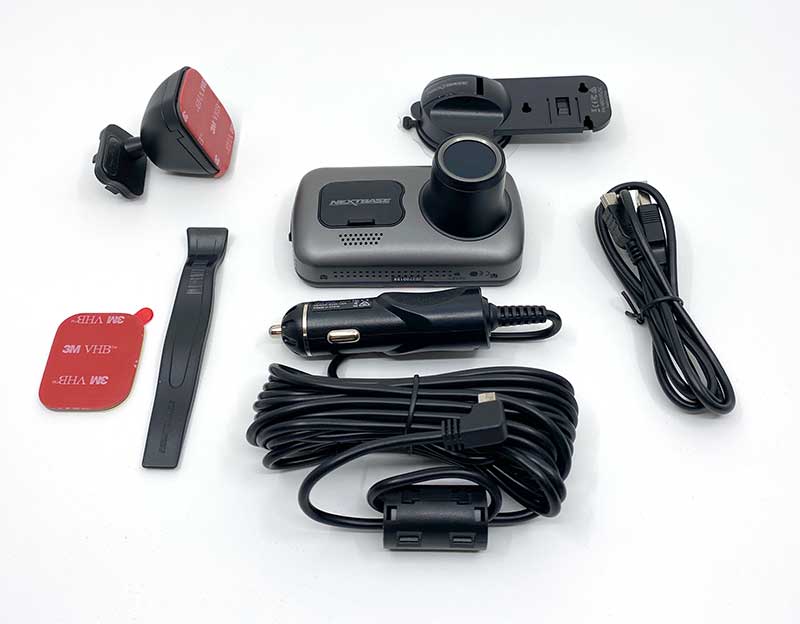 Nextbase 622 GW dashcam
Window suction mount
Window stick-on mount
Extra 3M adhesive
Removal tool
12V power adapter
mini USB cable
Hardware specs
Resolution: 4K @ 30fps, 1440 @ 60fps, 1080p HD @ 120fps
Lens: 6 layer f1.3
Viewing Angle: 140°
Screen: 3″ HD IPS Touch screen
GPS: 10Hz
Bluetooth: Bluetooth 5.0
Design and features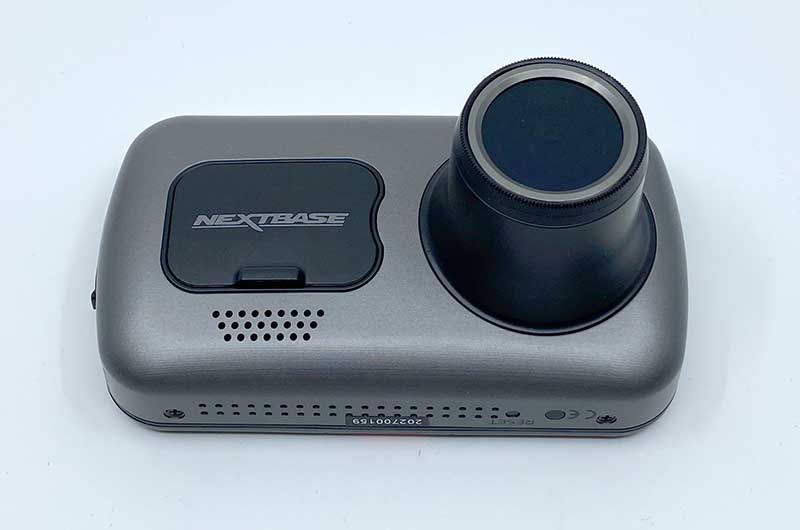 The 622GW dash cam is a sizable dash cam. I'm not going to say that this is a bad thing, but it does mean that it will be easily noticed if someone looks at your windshield. It can also be a little distracting depending on where you mount it on your windshield.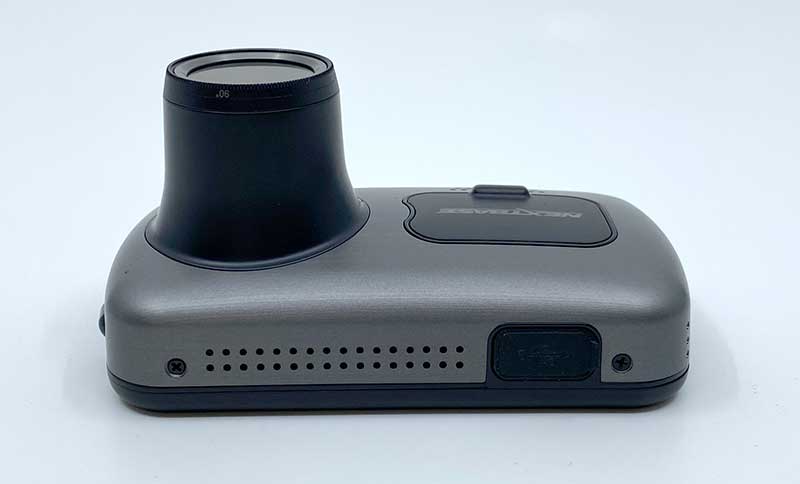 As you can see, the lens sticks out from the body of the dash cam quite a bit. If you look closely at the images above and the one below, you can see that the front edge of the lens has an adjustable polarizing filter ring. You can turn this ring to reduce any glare coming from your vehicle's dash.
There's a magnetic cover on the front of the camera that protects a connector for the included Click & Go GPS windshield mount.
You will also notice the USB port. This can be used to connect the camera to your computer in order to view footage with the myNextbase Player desktop application.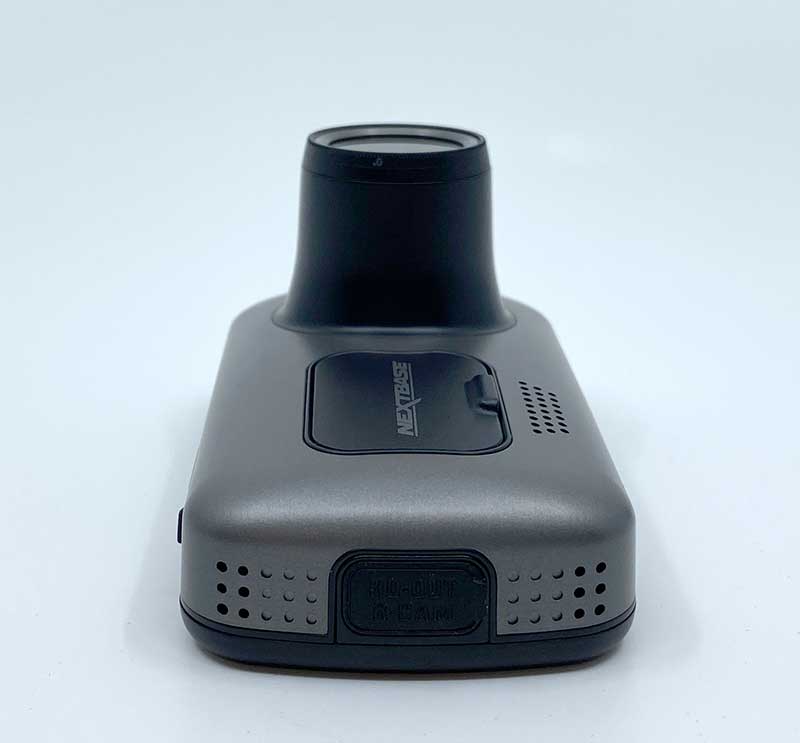 On one side of the camera, there is a covered port that can be used to attach an optional rear camera or connect the camera to a larger monitor using an HDMI cable if you want to view the captured videos that way.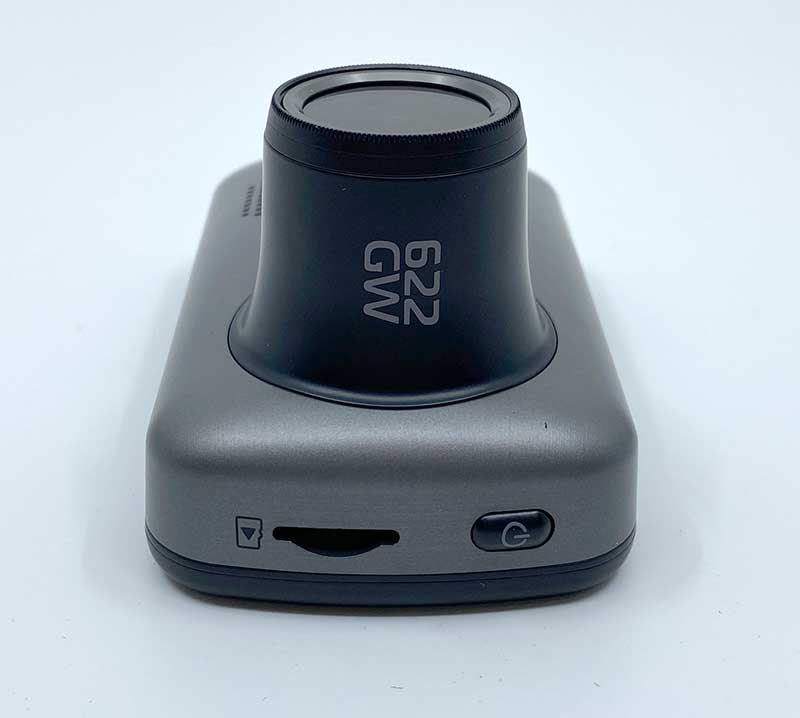 The other side of the camera has a power button and a micro SD card slot. Note that the dash cam does not come with an SD card, so you'll need to purchase one as the camera does not have its own built-in file storage.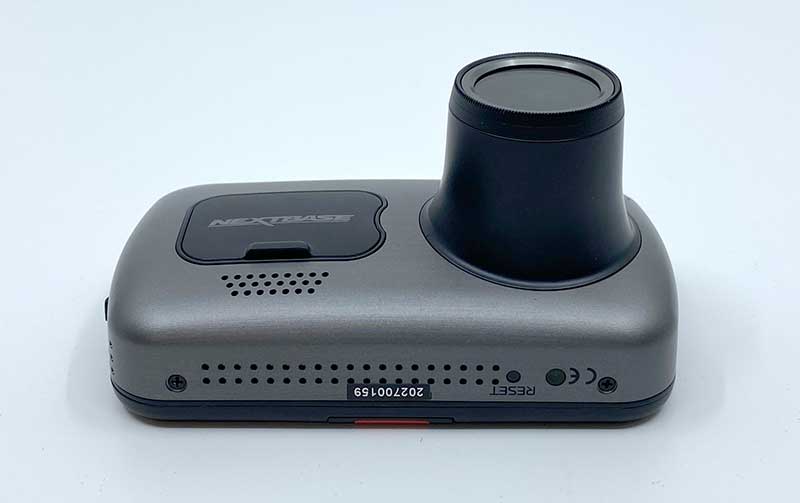 On the bottom of the Nextbase 622GW dash cam you will find a light sensor for the Screen Dimming feature and a reset switch.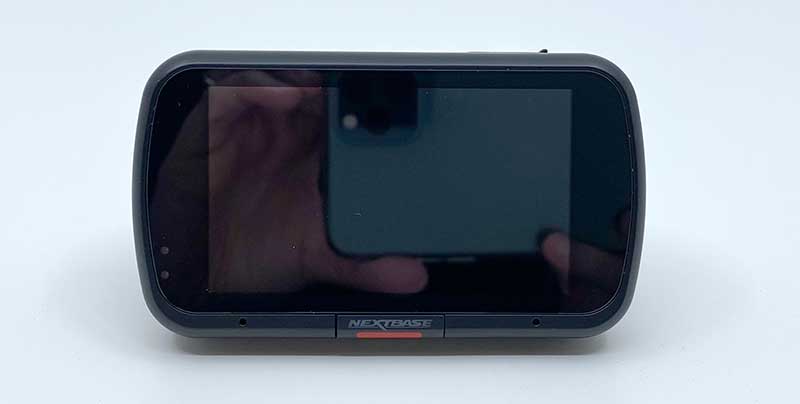 The back of the camera has a large color touch screen that you use to set up the camera and customize the various settings. You can also do this through the myNextbase Connect mobile app as well which I recommend over trying to do it through the menus on the camera itself.
The display can also be used to see a live view of the camera in order to orient it correctly. The screen is probably one of the main reasons why this dash cam is so large and it should be noted that the live view can be accomplished through the MyNextbase app, so a built-in screen really isn't needed. But having said that, for some reason, I have been unable to get a live view through the app. I can watch captured views through the app and modify settings, but the live view does not work with this camera. It worked fine with the 522 GW dash cam which I reviewed previously.
Below the display is a red button that you can press to make a separate video file containing 10 seconds prior to the button press and 20 seconds after the button press. This video file is saved to the Protected folder on the micro SD card. Why would you need that feature? It's just an easy way to make a separate video in case something notable happens while you're driving and you don't want to search through footage later.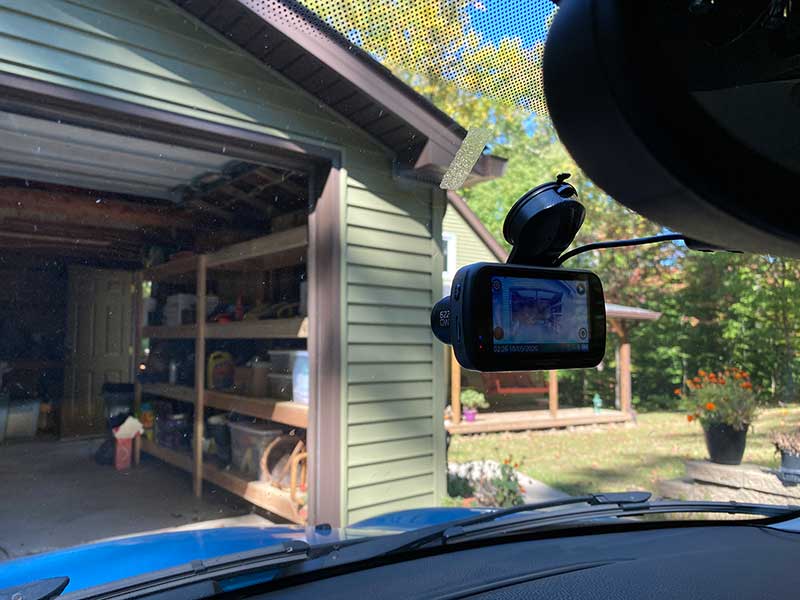 The Click & Go GPS mount is a windshield mount that uses 3M adhesive. But if you're like me and prefer not to stick a strong adhesive directly to your windshield, you can remove the adhesive part of the Click & Go GPS mount and attach the included suction mount and use that instead.
The suction mount has a lever that makes it easy to stick and unstick the mount from the windshield.
Once the dash cam is installed on your windshield, the power cable can be routed and hidden under the car's headliner and plastic molding around the windshield using the included tool. This tool helps you wedge the cable under the plastic for a much neater installation.
The myNextbase Connect app
You don't have to use the myNextbase Connect app with this dash cam, but doing so makes it easier to configure the camera's settings and watch/download recordings without removing the microSD card from the camera.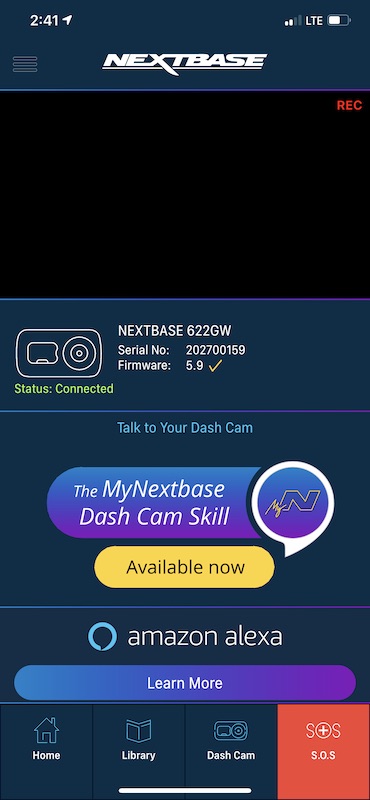 Setting up the app is easy, but it should be noted that it connects to the dash cam via Bluetooth and WiFi. Initiating the connection can take a few seconds, but it's not nearly as slow as I remember when I tested the Nextbase 522 GW dash cam with an Android phone. I've found it to be a lot more stable with my iPhone but with a few exceptions.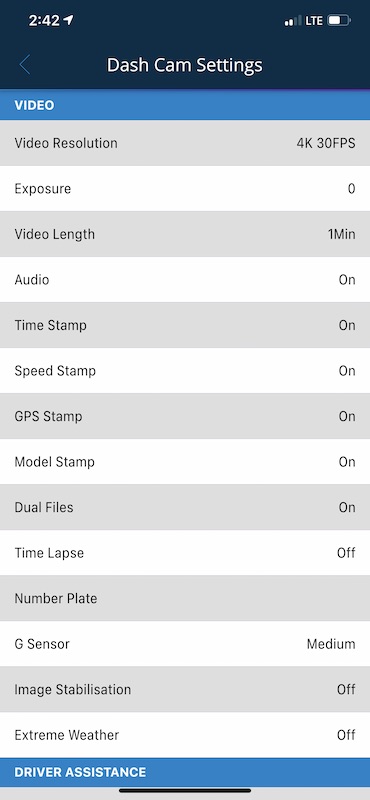 There are many settings that you can adjust and features that can be toggled. Some of these settings include:
Video resolution
4K @ 30fps
1440 @ 60fps
1080p HD @ 120fps
Video length
1, 2, or 3 min
You can also toggle the screensaver so that your speed is shown on the dash cam's display instead of the camera's live view.
Accessing the video from the dash cam is easy with the app. I like that the Nextbase app collects speed, and GPS info so that it can show an animated map of your travels for each video clip.
Some of the other features of this dash cam include:
Intelligent Parking Mode (Incident Aware)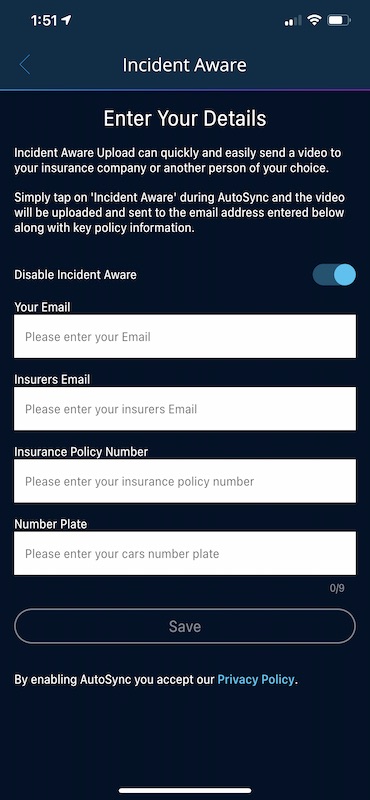 When this feature is enabled, it records any bump or physical movement on the vehicle when left unattended. Of course, this means that you'll need to provide power to the camera at all times for it to work.
I didn't crash my car on purpose to test this feature, but it was activated when I drove over a pothole and it saved a locked video that wouldn't be overwritten.
Emergency SOS
In the event of an accident where the driver is unresponsive, the Nextbase Emergency SOS feature can alert the emergency services of your location along with important medical details that you add to the app.
When an accident is detected, the Emergency SOS feature will do some checks before contacting emergency services. This includes calling your phone. If you answer it, it will cancel the action to contact emergency services.
Nextbase gives you 12 months of this service for free with the purchase of the camera. After that time has expired, you will have the ability to renew the service.
The pricing here in the US:
Monthly (Auto Renew): $4.99 / month
Annual (auto renew): $49.99 / year
3 years (one time charge): $99.99
what3words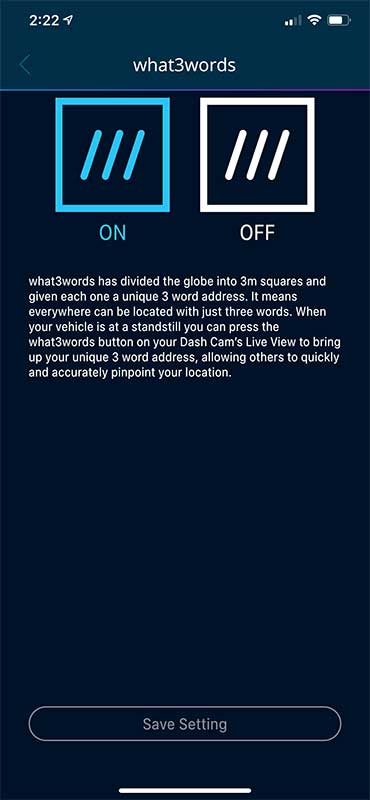 Nextbase has partnered with what3words to allow pinpointing of your exact position to a 3 meter squared location without needing a data connection (it uses the dash cam's GPS module). This can be shared with the emergency services or roadside assistance to help them quickly and easily locate you.
You just tap the icon with the 3 red lines on the dash camera's display to use the feature. You can look up the 3 words online by going to the what3words site.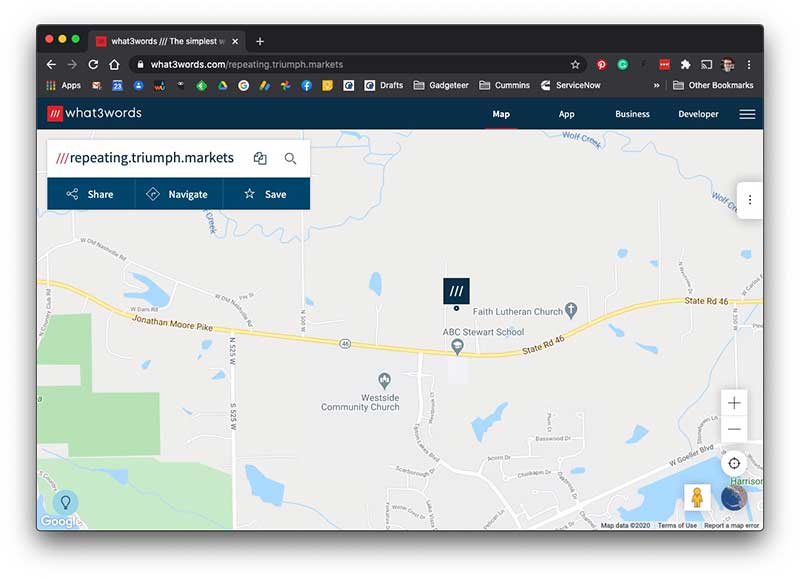 Alexa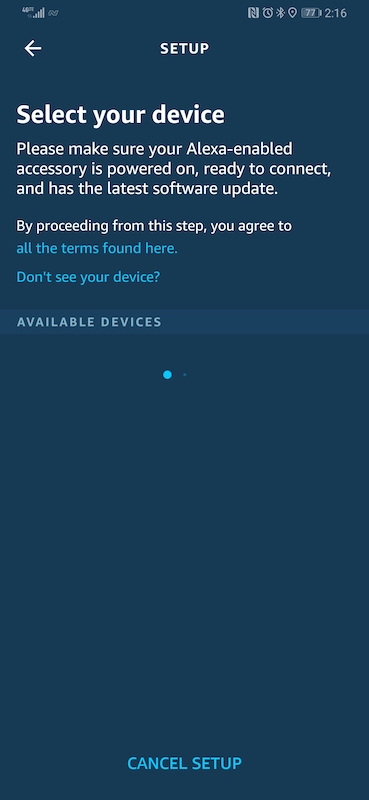 This feature requires that you also install the Alexa app on your phone and have it running when you want to use Alexa with the dash cam.
I questioned the people at Nextbase as to why an Alexa feature would even be necessary or desirable when you could just use the Alexa app on your phone and be done with it. This was the response that I received.
Here is why you would want Alexa in the Dash Cam rather than just on your phone:

1 – The Nextbase Dash Cam has two inbuilt microphones specifically tuned to pick up speech in a car – making the recognition of your voice commands significantly better than through a single microphone on a phone. Having 2 very sensitive microphones near your head is very beneficial to voice recognition.

2- In order to make Alexa work on a phone you need to "press" the Alexa symbol on the phone to activate it. With the Dash Cam you don't need to touch the screen

3- You can have your phone in a bag/pocket and still control Alexa – to then play music through your car speakers etc
I really don't see the point of this feature and although I tested it, I didn't use it after those tests.
Video quality
Let's see some video clips from the Nextbase 622GW dash cam.
If you don't want all the info to be shown at the bottom of each video, you can toggle off the various stamps like time, GPS location, and speed.
Desktop app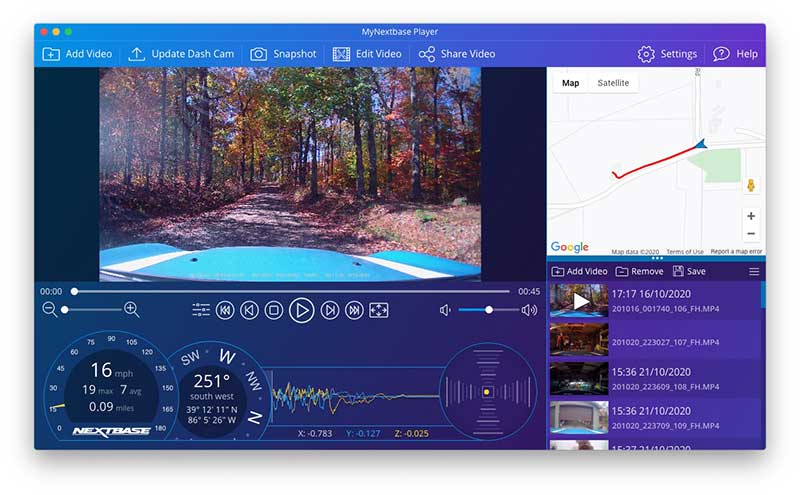 Nextbase also offers a MyNextbase Player desktop app for Windows and Mac that will let you load the videos from the micro SD card to see the same info that you can see when you watch them through the mobile app. Importing the files with the camera connected to your laptop is really slow.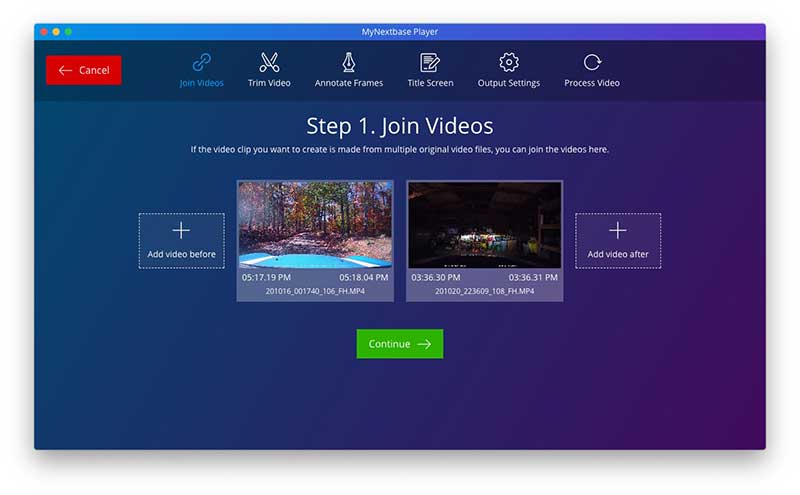 The desktop app also has some rudimentary video editing tools that allow you to trim and splice video.
What I like
4K
Built-in GPS
Expansion capability for rear cameras
Trip info in the apps
Mounting options
What I'd change
Improve app speed showing thumbnails and importing video with the desktop app
Final thoughts
The Nextbase 622GW is an extremely nice dash cam with a ton of features not available with other cameras. It worked very well for me except for a few little issues like seeing a live view through the app and importing video clips from the camera with the desktop app. The camera has exceptional video quality in day time and night time.
I will say that this is the best dash cam that I've ever reviewed based on features and video quality, but it's also $400, which for a lot of people is going to be a budget buster. I've seen other 4K dash cams for much less money, but none that include all the features of the Nextbase 622GW.
Price: $399.99
Where to buy: Best Buy
Source: The sample for this review was provided by Nextbase.