We use affiliate links. If you buy something through the links on this page, we may earn a commission at no cost to you. Learn more.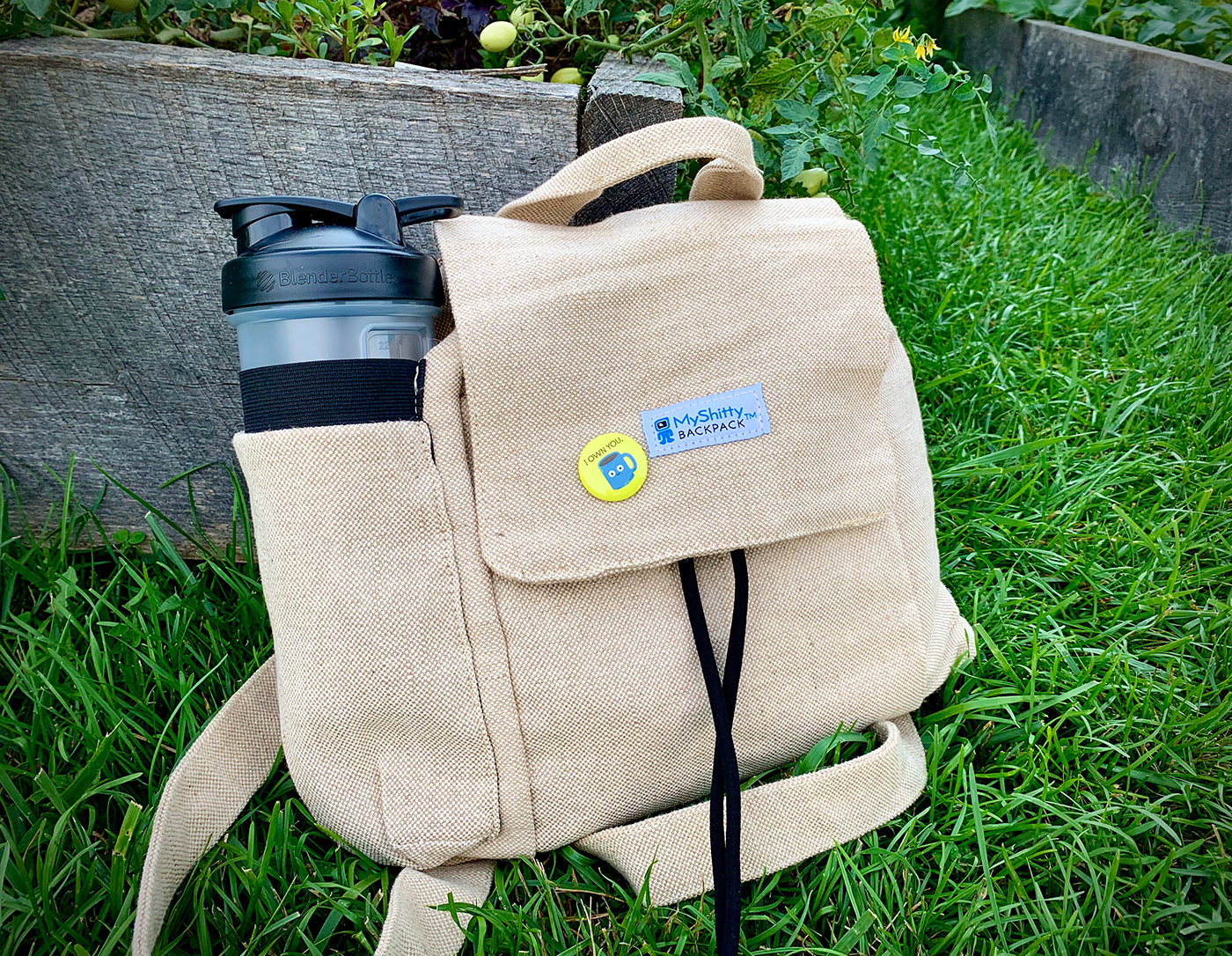 REVIEW – Now I know what you're thinking… "What's up with that brand name?" But the GoApe Multi-pocket Backpack from MyShittyBackpack isn't even close to being as bad as the name would suggest.
What is it?
The GoApe Cotton/Hemp Backpack is a medium-sized multi-pocket bag recommended for everyday carry, day trips, short hikes or beach days. It has a hemp/cotton blend exterior and weather-resistant soft cotton interior, with space for everyday needs.
Hardware specs
Exterior material: 55% hemp/45% cotton blend
Dimensions: 14.1″ tall x 13″ wide x 2″ deep (36 cm tall x 33 cm wide x 5 cm deep)
Weight: 1.2lb, 560g
1.5″/4 cm wide adjustable straps with 31.5″/80cm maximum strap length
water-resistant cotton lining
4 magnets to hold clasp closed
top handle
internal zipper pocket
side cellphone pocket
external umbrella/water bottle holder with elastic top
external key organizer
detachable card wallet
Design and features
If you'll indulge me for a moment, let's talk about that brand name. MyShittyBackpack is a small business based in Baja, Mexico that makes just this one hemp/cotton blend bag. The name of the company started out as a joke between founder Chestelle Day and her then-teenage sons, when asking them what she should call the product. Their response? "Shitty backpacks." After some minor adjustments, the name stuck, and despite some people's reservations to the name, it turns out that a lot of people love it!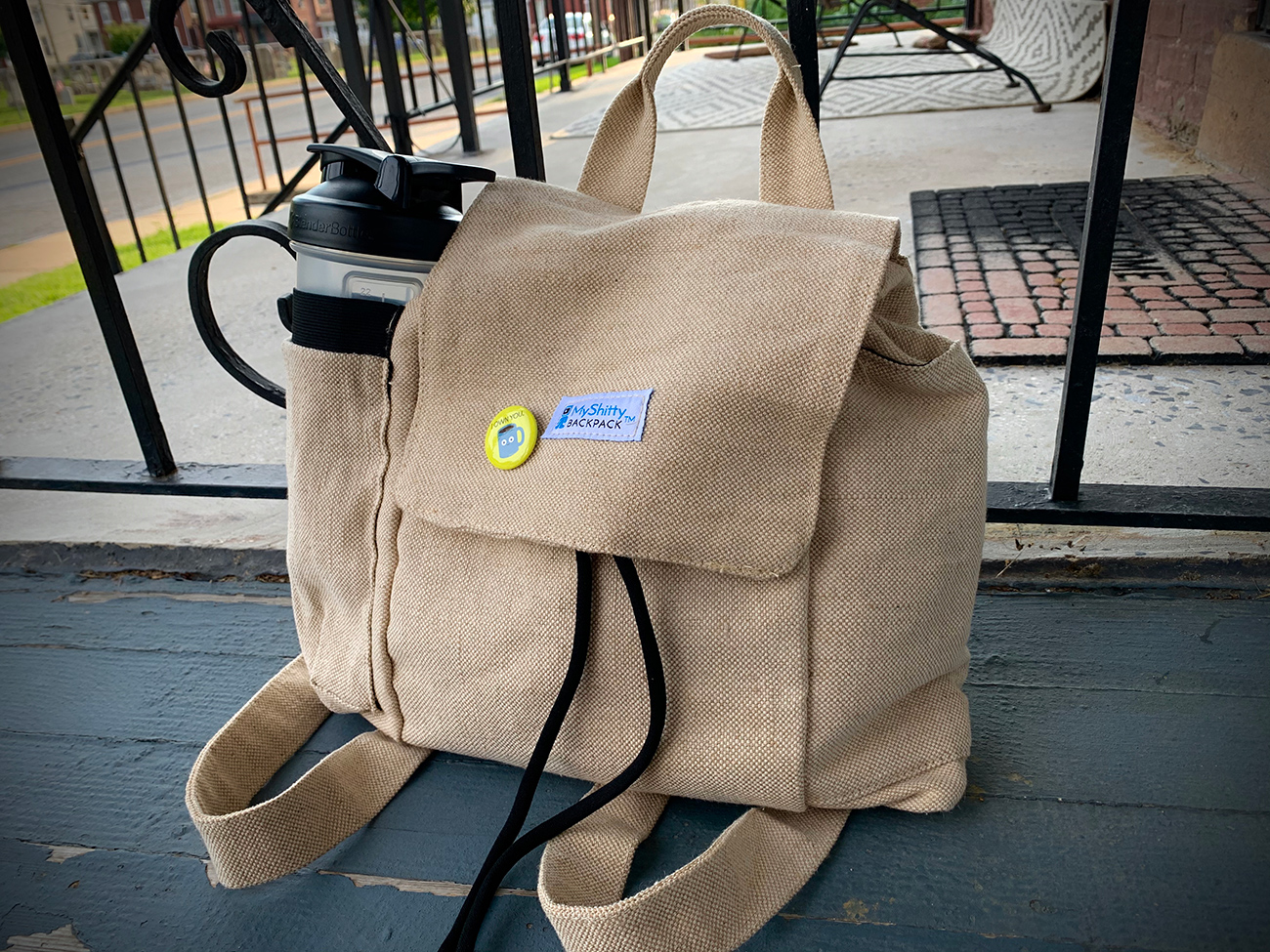 The GoApe Backpack was a personal project of Chestelle to create what she felt was her perfect medium-sized day pack. It had to have pockets for the things she didn't want to forget, long key fobs to keep her keys within reach, and enough room for her every-day-carry necessities. After several prototypes, this backpack was born.
At first glance, the GoApe has a very natural look to it, like something you'd see hanging on a rack in a beach or surf ware shop. It's extremely casual, neutral hemp color goes with almost everything. Very bohemian. The exterior is a near half-hemp/half-cotton blend that creates more durability than 100% cotton, and a tighter knit than straight hemp fibers would allow.
The interior pockets and main compartment are just black cotton, so it's nice and soft, and somewhat water resistant. It would certainly get soaked through with extended exposure to rain or submersion, but it's good for a quick drench.
Right on the top of a the bag is an extra-large loop to make picking up the entire pack quick and easy.
Never miss one of our posts again. Sent MON, WED, and FRI with the latest gadget reviews and news!
The straps are made of the same hemp/cotton blend as the exterior of the bag, and seem a little narrow. They're soft and comfortable enough, though, as long as you're not overloading your bag and making it too heavy. But that goes against the nature of the GoApe… it's just a small day pack, not for week-long hiking trips.
Personally, I wouldn't mind a few more inches of strap length. I'm 6'0″, had the straps fully expanded, and the pack seemed to lie a little bit high on my back. I think I would want it slightly lower, and a bit looser under my arms, especially stretching my arms in certain ways. It didn't cut into my armpits or anything like that, but felt as if it came close enough to make it noticeable.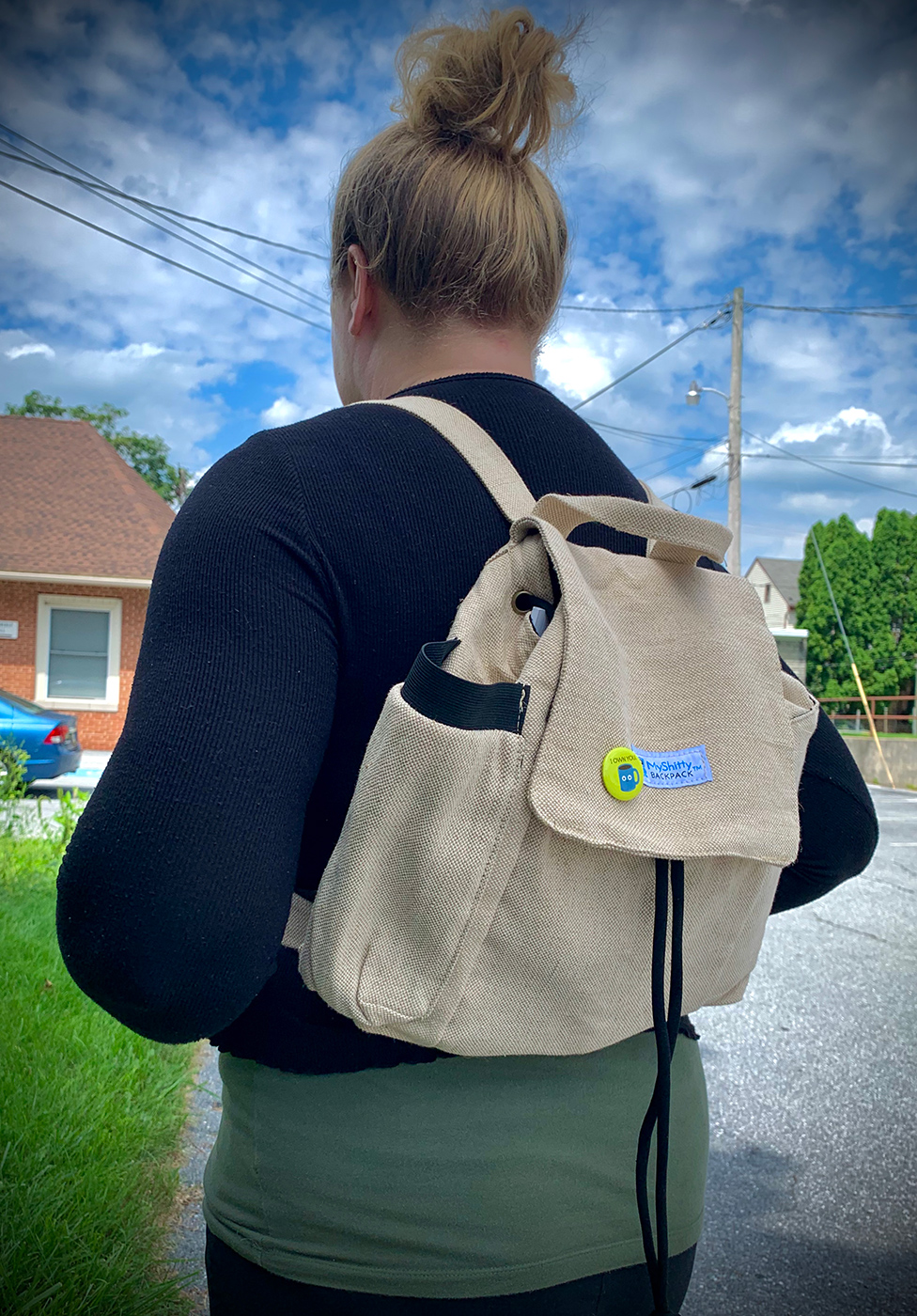 My wife, who is around 5'10", has been using the GoApe and she said it felt fine.
On the side of the pack is an extra-large, elastic-topped pocket which can accommodate a collapsible umbrella or large water bottle. I managed to fit my protein shaker bottle in there, so it would certainly handle most water bottles.
The front flap of the GoApe is held firmly in place with 4 strong magnets that stay closed even when the pack is full. You have to tug quite hard at the flap to open it, giving peace of mind that your contents will stay stashed away.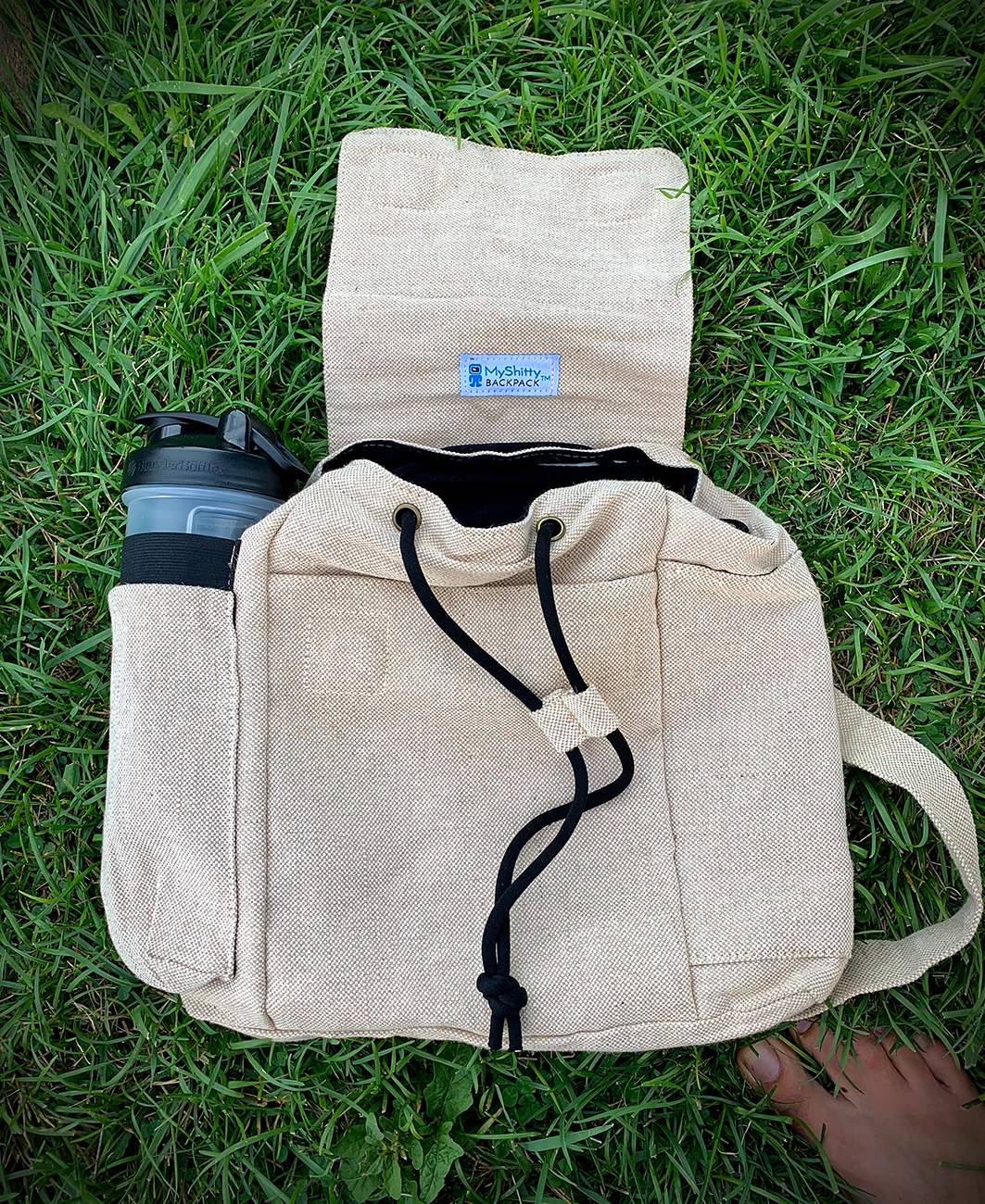 Just under the flap, for even more security, is a drawstring that holds the main compartment closed. When pulled taut, the string does hang down below the flap, actually quite a bit, but I sort of like this look. The string can always be tied up or tucked into the main compartment.
Just inside the top of the main pocket is a small zippered pocket that is, I believe, specifically designed for a passport, but could hold other small items that you don't want bopping around inside the larger area. Since the zippered pocket is right next to the lip of the bag, under the drawstrings, it's actually easy to overlook, which may add some security to that pocket. I actually missed it altogether on my first inspection of the bag.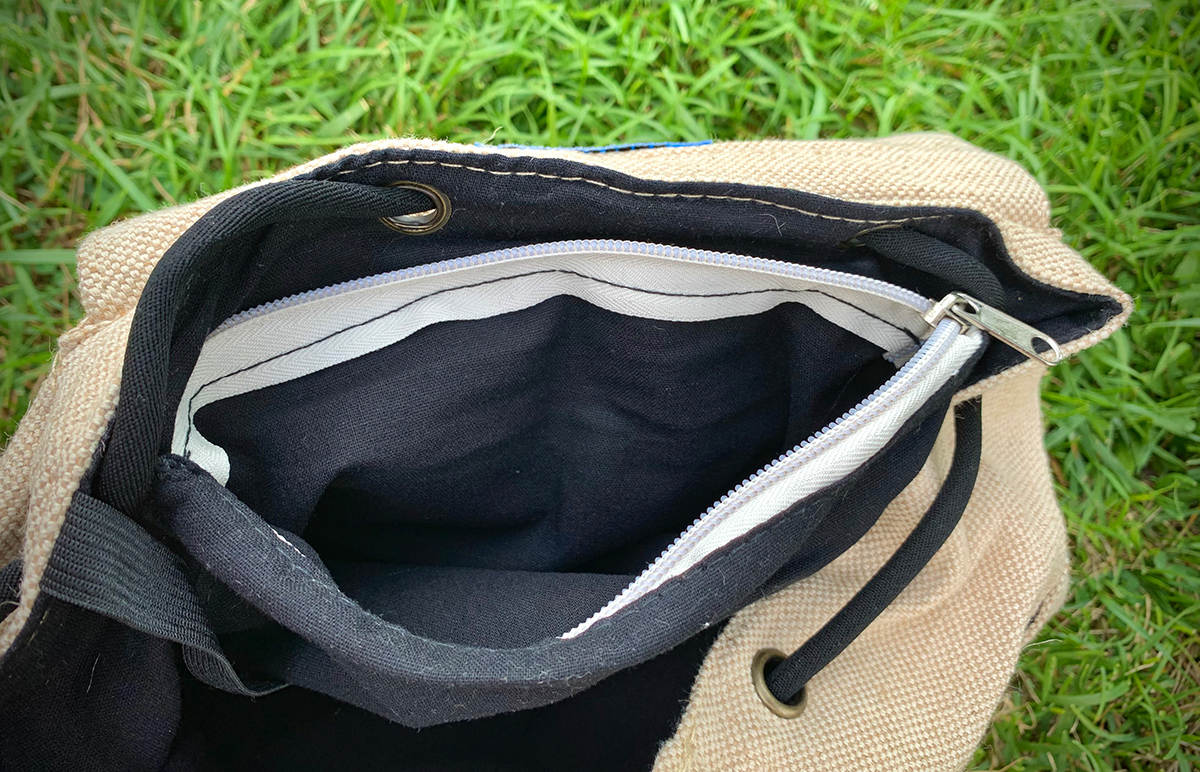 Included with the GoApe is a simple zippered card wallet bearing the brand label and made from the same materials as the bag. The wallet sports a d-ring latched to a hook and stretchy cord, stitched to the lip of the main compartment for easy retrieval.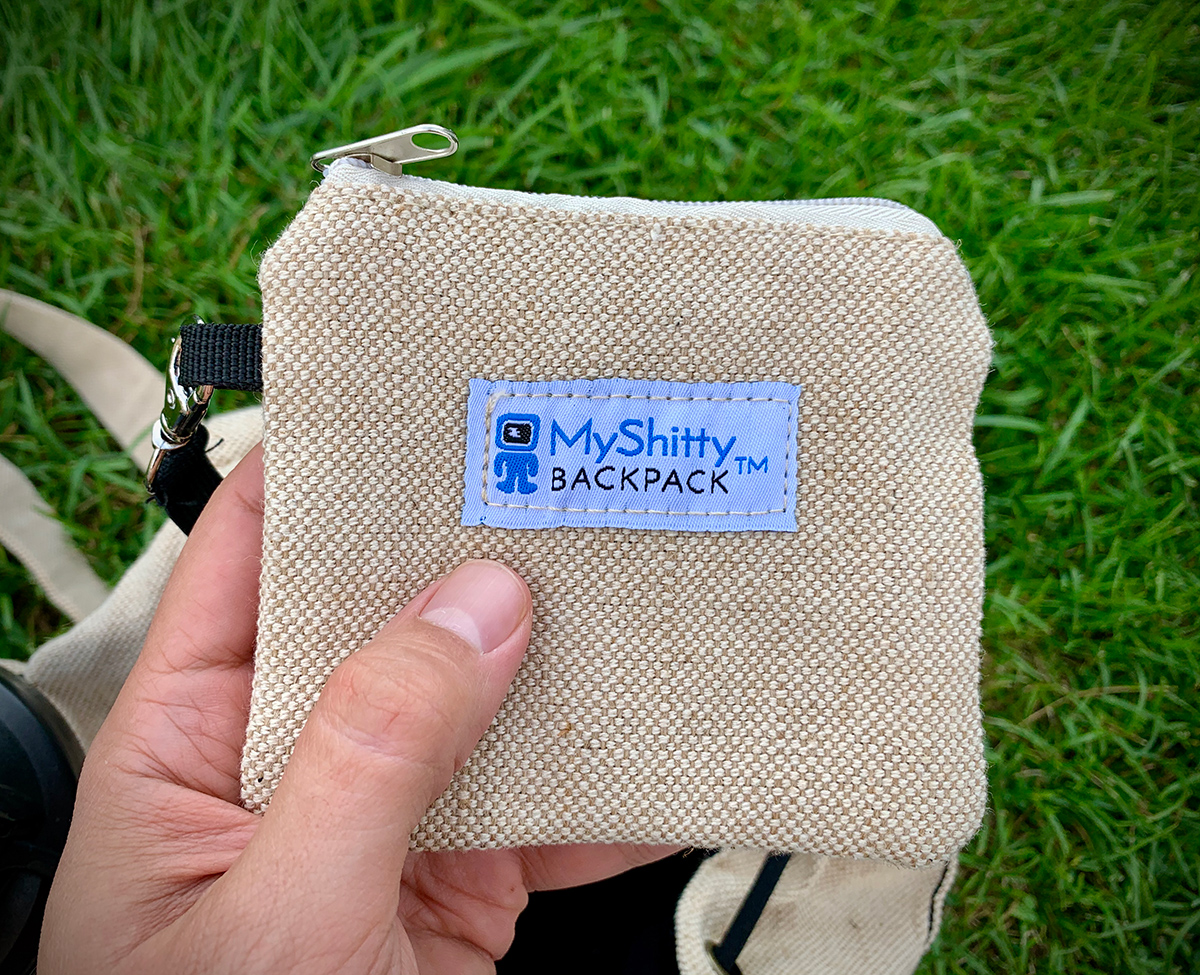 One more small, zippered pocket is located on the opposite side from the bottle pocket, and is designed for your cell phone and earbuds. Sure enough, my iPhone XR fits in there quite nicely.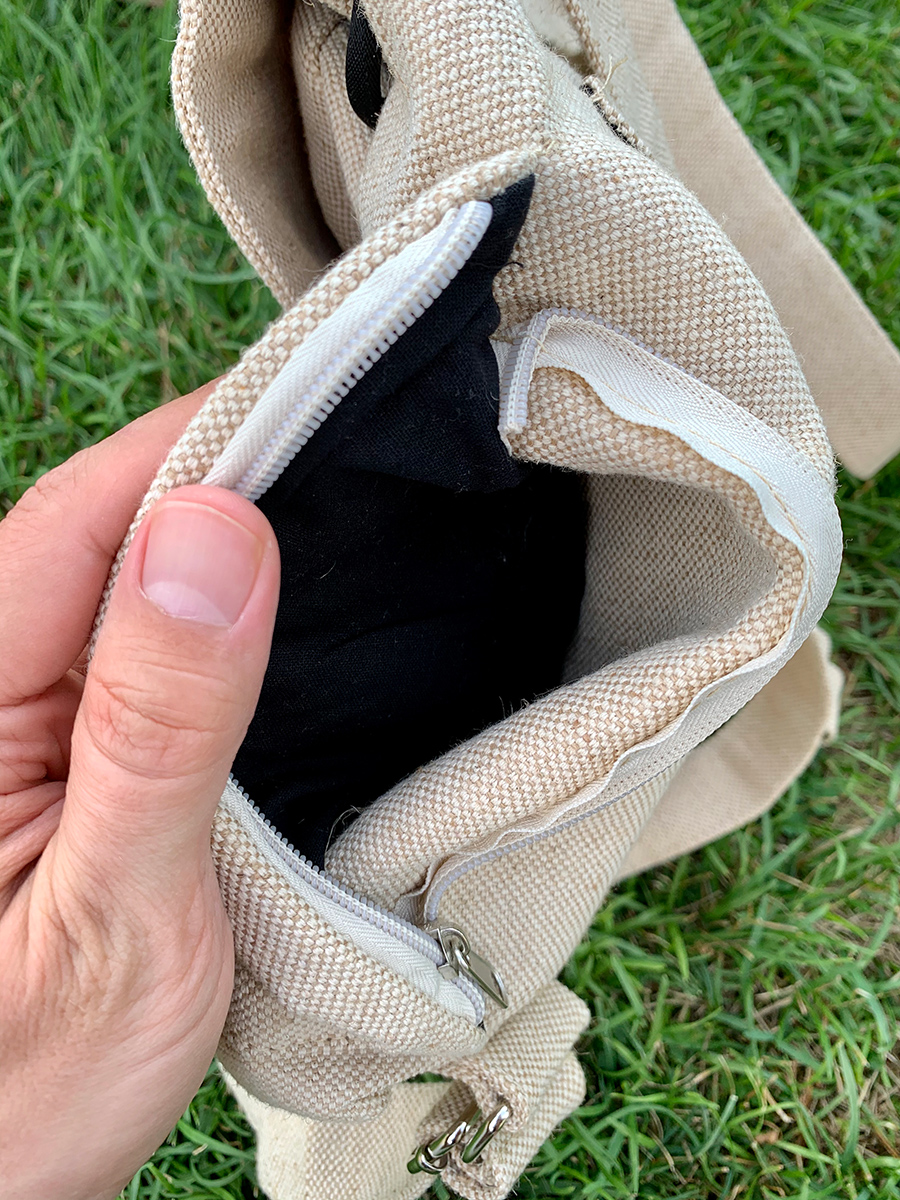 The last features are on the "back" of the bag, or rather, the side that would rest against your back. There is a large open pocket with a very long, stretchy cord that splits into 2 key hooks, meant for your house keys, car keys, USB thumb drives, or anything you'd need to quickly access for a moment and then put back into the bag. The thought behind this key ring system is that if one places their keys on the cord, and never takes them off, then they'll always know where they are.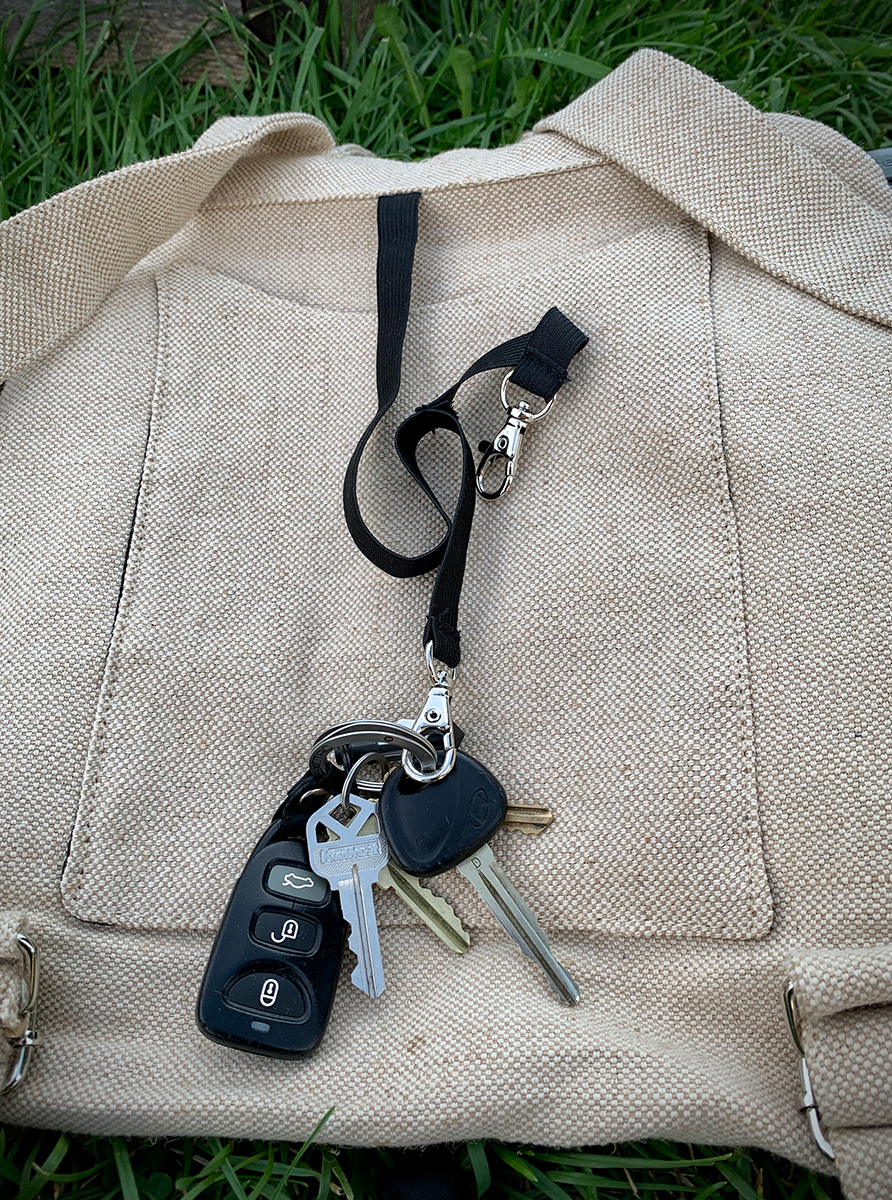 I don't know that I'd never take my keys off, but I imagine it's possible for some, especially if it's just a house key or something like that.
The GoApe is basically a customized organization system… your keychain, wallet, purse and backpack all on one. As is the case with many products that fit into the "thing I've always wanted but never found, so I made my own" category, it's bound to be polarizing. Certainly, a hemp backpack with stretchy keychains, detachable wallet, magnetized flaps and draw-string closure isn't going to be for everyone. In fact, it's one of those bags you'll either love or hate.
I'm in the first camp. The GoApe is fantastic. It's got all the things I look for in a small day bag. I love the look and feel and the concept behind the organization system. It's perfect for a coffee run, day at the beach, dog walk, or short hike.
And, finally, if you're not a fan of some swears on your brand labels, or labels in general, those blue-man brand patches are stitched on and easy to remove with a seam-ripper.
What I like
Easy to pack up and carry quickly
Long and stretchy key fobs
Natural, durable and vegan-friendly materials
That brand name!
What could be improved
Shoulder straps could use a bit more length so the bag hangs lower on the back for tall people
Final thoughts
I really love the personality of the GoApe backpack and appreciate the thoughtfulness behind the details like the long key fob and wallet strap. It's a bag that was very clearly defined by a specific set of preferences, and while that might be divisive, I think the people who appreciate what it has to offer will like it very much. Check out the company's blog posts for more tips, they're great.
Price: $59.00 ($20 shipping)
Where to buy: Grab your own GoApe from MyShittyBackpack directly from their website.
Source: The sample of this product was provided by MyShittyBackpack.