We use affiliate links. If you buy something through the links on this page, we may earn a commission at no cost to you. Learn more.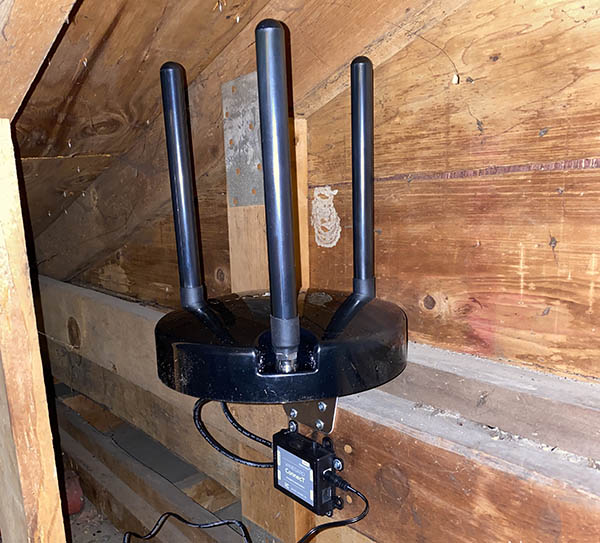 REVIEW – We live on a pretty big piece of property with several large outbuildings…all sadly outside of the house WiFi bubble. One of these buildings is where we park our cars, workout, and occasionally throw a party or two. So internet access in those places is either cellular or not at all, which most of the time is less than ideal. So, when Julie offered up the Winegard RW-2035 Extreme WiFi Extender I quickly raised my hand to see if it lives up to the promise of greatly extended WiFi range and internet access.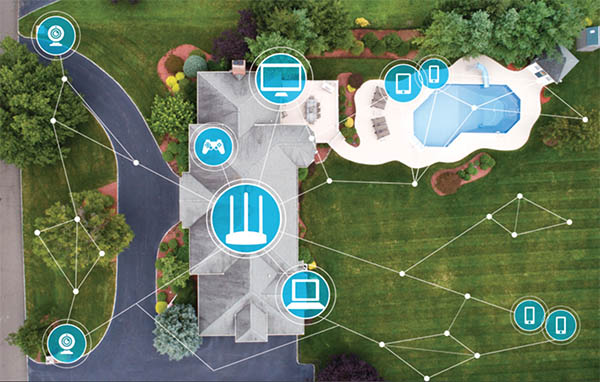 What is it?
The RW-2035 is a high powered WiFi extender that enables you to expand your wireless network bubble up to 1000ft. The RW-2035 connects to your home network and uses three amplified omnidirectional, high-gain external antennas to broadcast your network much further than a normal router.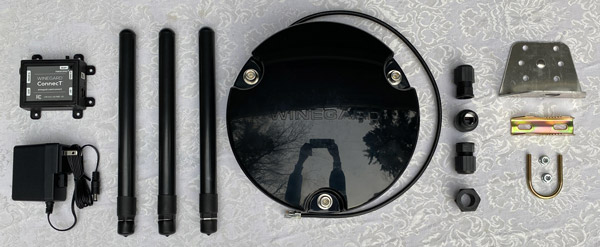 What's in the box?
Long Range Outdoor Unit (ODU)
(3) Outdoor 2.4ghz Antennas
Power Adapter
Mounting Hardware
Printed Documentation
Hardware specs
Reception Types:

WiFi

Wireless Standard: 802.11a/b/g/n
Wireless Security: WEP, WPA, WPA2, WPA mixed
Max WiFi Range: 1000 ft.
Ports: (1) RJ45 10/100
Power Rating: Switching, AC Input 100/240v, 1.5A
Frequency Band: 2.4 GHz
Amplifiers: (3) 2.4 GHz Amplifiers
Antennas: (3) Detachable high gain 5dBi antennas
Height: 12.4″
Diameter: 10.3″
Weight: 3 lb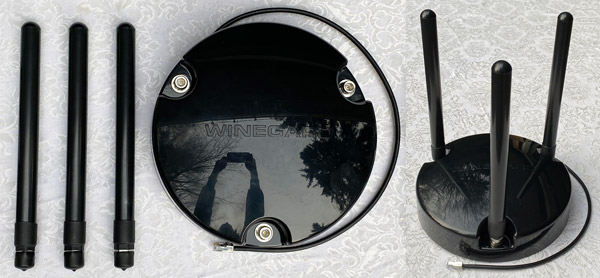 Design and features
The RW-2035 is comprised of three components: the Long Range Outdoor Unit (ODU), (3) outdoor 2.4ghz antennas, and the power adapter. The ODU looks like a small spaceship or really thick frisbee. It is made from a thick, rigid black plastic, engineered to withstand the elements. The three detachable high gain antennas are coated in a rubber and screw into the three connection points on the ODU. They're also meant to survive in the great outdoors. The power adapter is not weatherproof and designed to be installed indoors with an ethernet cable running from it to the ODU for PoE and connectivity.
Features
High Performance – The Extreme WiFi Extender connects wirelessly to your home network and uses three amplified omnidirectional, high-gain external antennas to broadcast to devices farther away than your network's main router can reach.
Increased Range – With an expanded WiFi range of up to an additional 1000 feet, the Extreme WiFi Extender is perfect for extending your network signal to outdoor recreational areas, outbuildings, security cameras, and more.
Streamlined Installation – Connect the Extreme WiFi Extender to the Power Inserter (PoE) using a single ethernet cable (not included). Set up your secure network once and you're done!
Guest Network – Set up an extra WiFi network that allows you to provide guests with a separate password to use when accessing your network while still maintaining a secure system.
Proven Dome Design – Rigorously tested for outdoor environments.
Setup
Physically installing the Winegard RW-2035 Extreme WiFi Extender is relatively quick and easy, if you consider a few hours and crawling through your attic in that realm. According to the instructions, the RW-2035 can be installed indoors or outdoors. But considering the dumping rains we get in Seattle, I thought it best to see if the indoor option would work for me. Winegard provides the mounting bracket but the Universal Antenna Mount for attaching the RW-2035 to your house is a $15 optional accessory. But in my case, I installed the RW-2035 at the far corner inside our house, nearest the two outbuildings I want connectivity. I just screwed the mounting bracket to an existing wooden 4×6.

To get the best performance out of the RW-2035, I ran an ethernet cable from our office router through the attic to the ConnecT power adapter of the WiFi Extender. Then the short ethernet cable from the underside of the RW-2035 to the ConnecT for signal and (PoE) power. Since I already had power up in our attic, running power to the adapter was the easiest part of the operation. Once everything was connected, all you have to do is click the power switch on the adapter.
Once powered up, you log into the RW-2035 Extreme WiFi Extender to configure and lockdown the new high powered node in your network.
Performance
The Winegard RW-2035 Extreme WiFi Extender's performance is good but not incredible. Now I grant you I'm making the WiFi Extreme Extender work pretty hard…through the side of my house, approximately 250-300 feet to the outbuildings, then through not only wood sheeting but 3/8th inch concrete siding and a massive metal roof. Plus I have the SSID hidden, so sometimes my iPad takes a few seconds to find the stealth network before I can stream my latest Netflix shows while on the elliptical machine. But it works nonetheless.

There is definitely a trade off in speeds when you increase distance (and obstructions). For example, in my house I get 125+mbps out of my WiFi router connected directly to our Xfinity modem. In the open spaces between buildings, the Winegard RW-2035 Extreme WiFi Extender gives me somewhere between 15-20mbps, 100 feet away from our house. Once in the concrete and metal clad garage, the speeds drop down to single digits but that is still enough connectivity to stream everything I watch from Netflix to the Seahawks (GO HAWKS!!!).
What I like
Well made
Impressive range (aka works as advertised)
Easy installation & setup
Weatherproof
What needs to be improved
A bit expensive
Limited data speed with distance
Final thoughts
While not perfect, the Winegard RW-2035 Extreme WiFi Extender works as advertised. It does a solid job of significantly extending your internet bubble. Though I think conditions would have to be ideal to get the full 100o foot range Winegard promises. But I would bet/argue, hundreds of feet would get the job done for most folks. Once the (Ark lifting) rains stop here in the Northwest, I may mount the antenna on the outside of our house for the spring and summer to see how that improves the signal strength and throughput speeds. If you have the need, the Winegard RW-2035 Extreme WiFi Extender is a quick and easy way to expand your connectivity where and when you need it.
Price: $349.99
Where to buy: The Extreme WiFi Extender is available on Amazon or directly from Winegard.
Source: The sample of this product was provided by Winegard.