We use affiliate links. If you buy something through the links on this page, we may earn a commission at no cost to you. Learn more.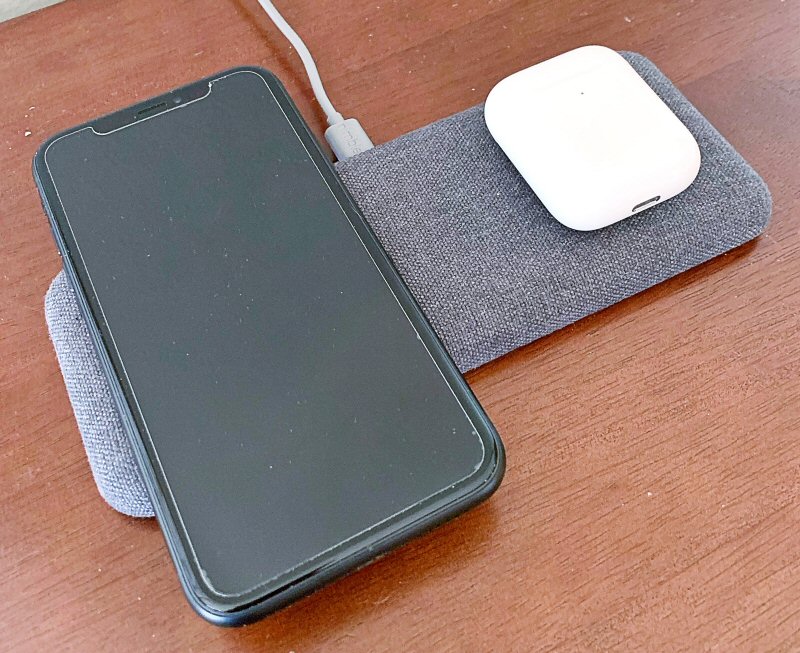 REVIEW – The proliferation of wirelessly-charged devices has led to a growing market for devices to wirelessly charge them.  We currently have four Qi-enabled devices in our home, and I expect that number to continue to grow in the years to come, so I'd been on the lookout for a charging pad that can charge two or more devices wirelessly.  When the Nimble Wireless Dual Pad charger became available for review, I was interested, but even more so because of the Nimble's professed sustainability in their products.  Let's check it out.
What is it?
The Nimble Wireless Dual Pad charger is a flat-style charger that can charge two wireless charging-capable devices simultaneously and is build from environmentally-sustainable materials.
Packaging

Nimble's boxes are made of 100% recycled scrap paper with no plastic or harmful inks or dyes and with no extra bulk and are fully compostable. They also minimize the size of their shipping cartons, which ships the least amount of air possible, reducing fuel needed during transit and bottom line costs.
What's in the box?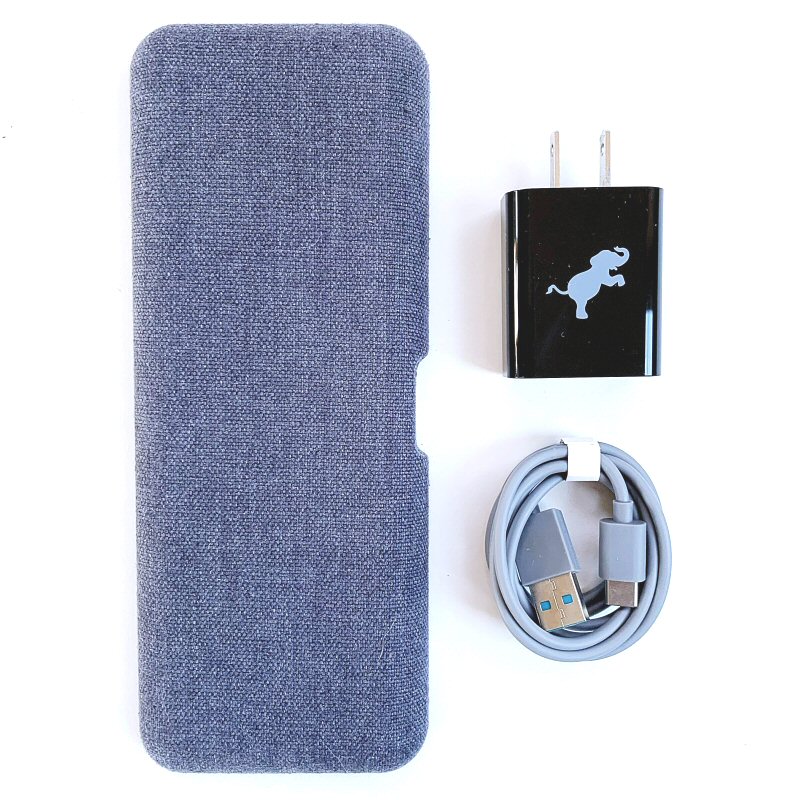 Wireless Dual Pad charger
1 meter length USB-C to USB-A Cable (BPA & PVC Free)
QC 3.0 AC wall adapter
Instruction booklet
Hardware specs
Dimensions: 7.71″ x 3.03″ x 0.6″
Weight: 9.0 ounces
Exterior Fabric: Sustainable blend made from recycled water bottles & organic hemp
Compatibility: iPhone 8, iPhone X/Xs/Xs Max/XR, iPhone 11/11 Pro/11 Pro Max, Samsung Galaxy Note8/Note 9, Samsung Galaxy S7/S8/S9, Other Wireless-Enabled Android Smartphones,& Qi-Enabled Wireless Charging Devices such as AirPods
Input: USB-C / QC 3.0 (5V, 2.0A / 9V, 2.0A)
Output: Wireless: 5W, 7.5W, 10W (max – 2 devices at 5W each)
Design and features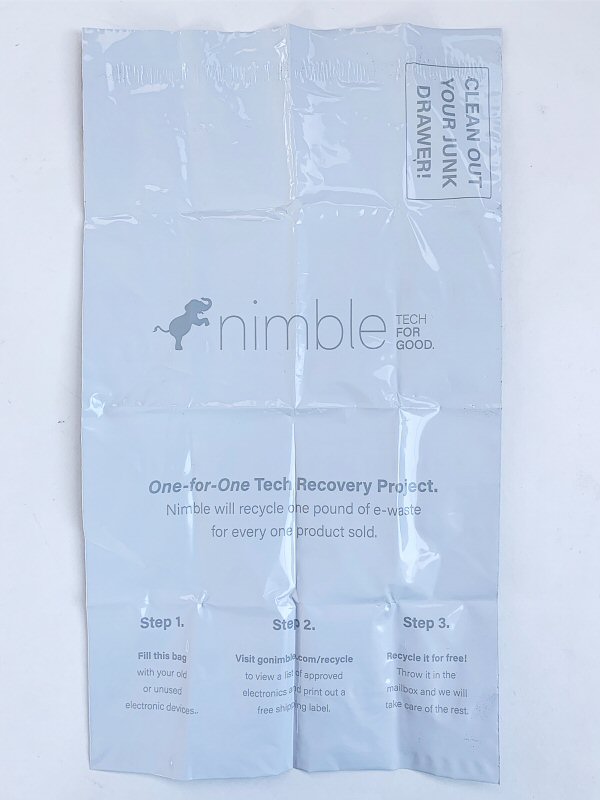 Nimble takes environmental stewardship very seriously.  Inside the package was included the above sealable plastic bag that is intended for you to place up to one pound of unused electronic devices, visit their site to print a shipping label and ship it to them to recycle.  I really appreciate this effort to help properly dispose of the ever-increasing number of unused electronic devices in our world, most of which include not-so-environmentally-friendly materials that shouldn't end up in a landfill.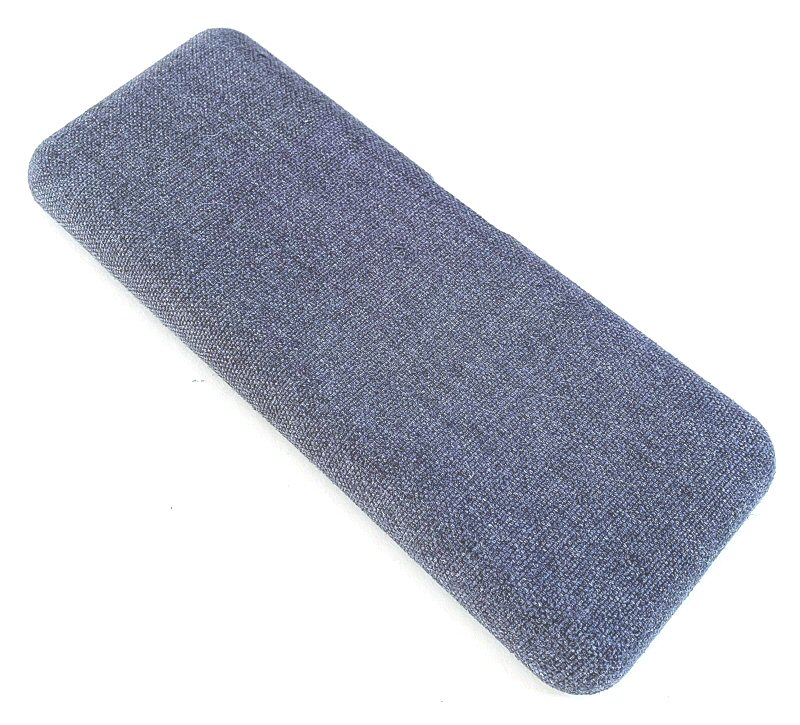 Never miss one of our posts again. Sent MON, WED, and FRI with the latest gadget reviews and news!
The Nimble Wireless Dual Pad charger is rectangular in shape, with rounded corners and edges, and its top and sides are covered with a soft charcoal grey colored fabric.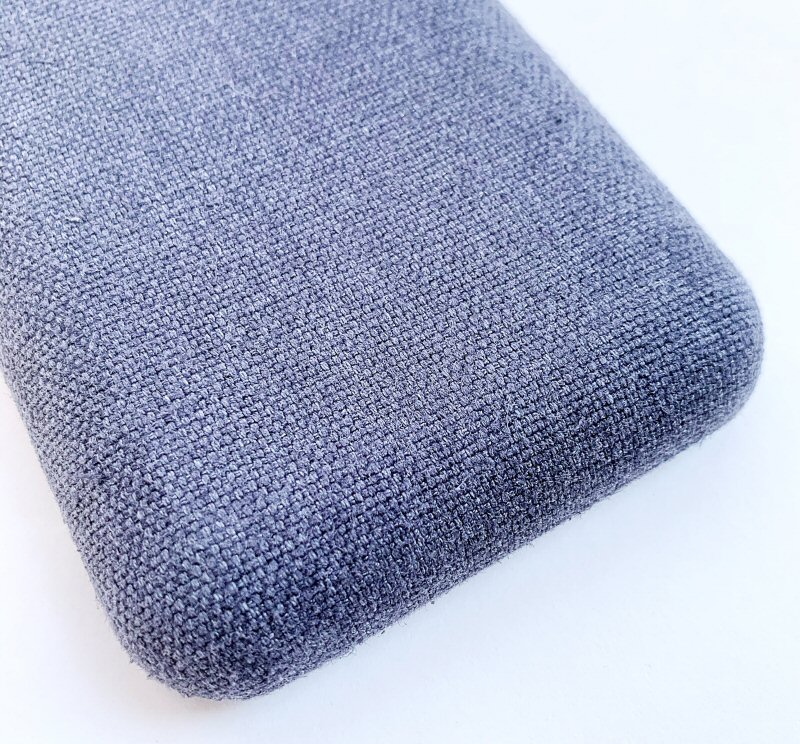 The soft fabric is actually a sustainable blend made from recycled water bottles and organic hemp.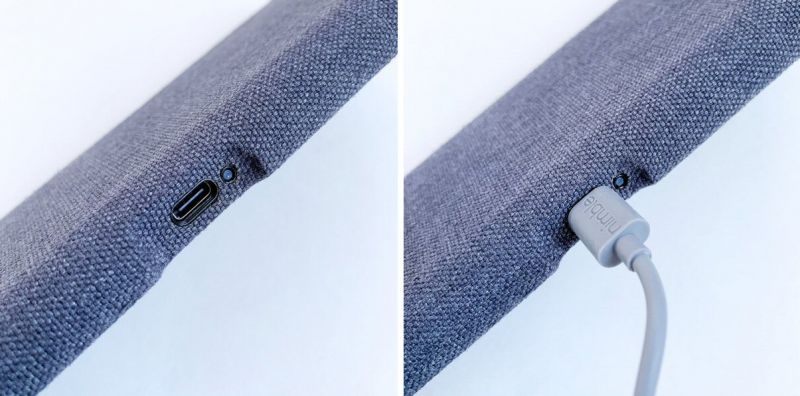 The charger has a USB C port in the rear, into which the included USB C to standard USB cable is plugged.  There is also a small white LED indicator light just to the right of the USB C port.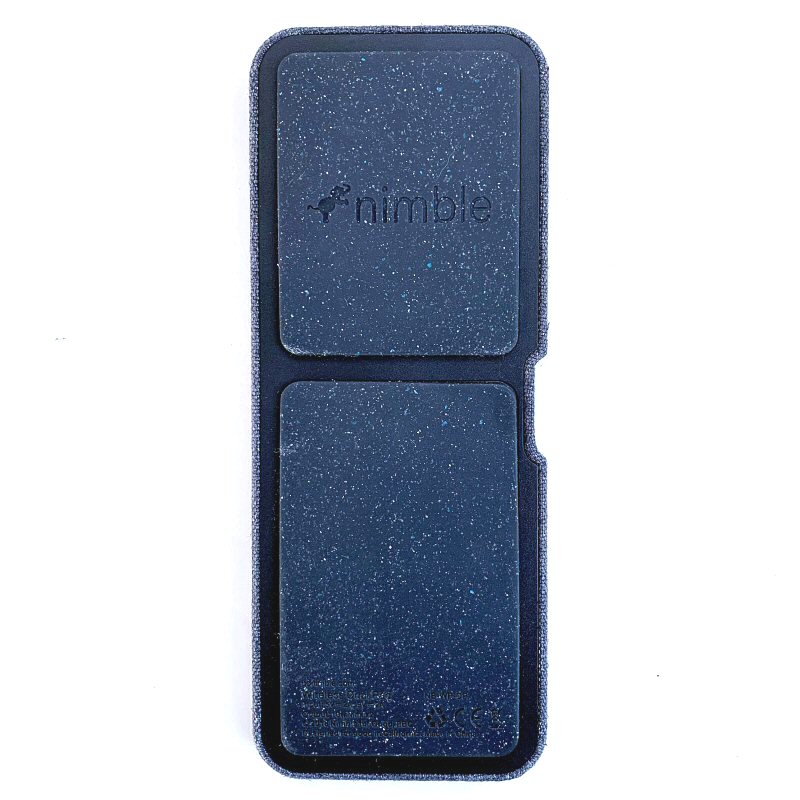 The charger sits atop two rectangular but unequal length pads.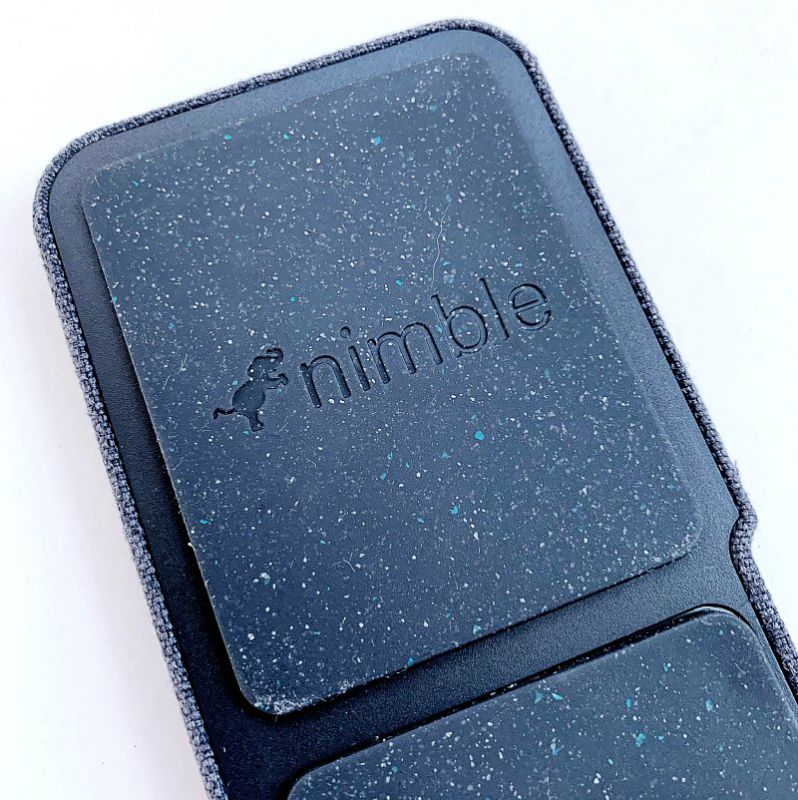 The pads provide a rubberized, grippy bottom that helps keep the charger in place and prevent it from slipping around if you place it on a particularly smooth surface.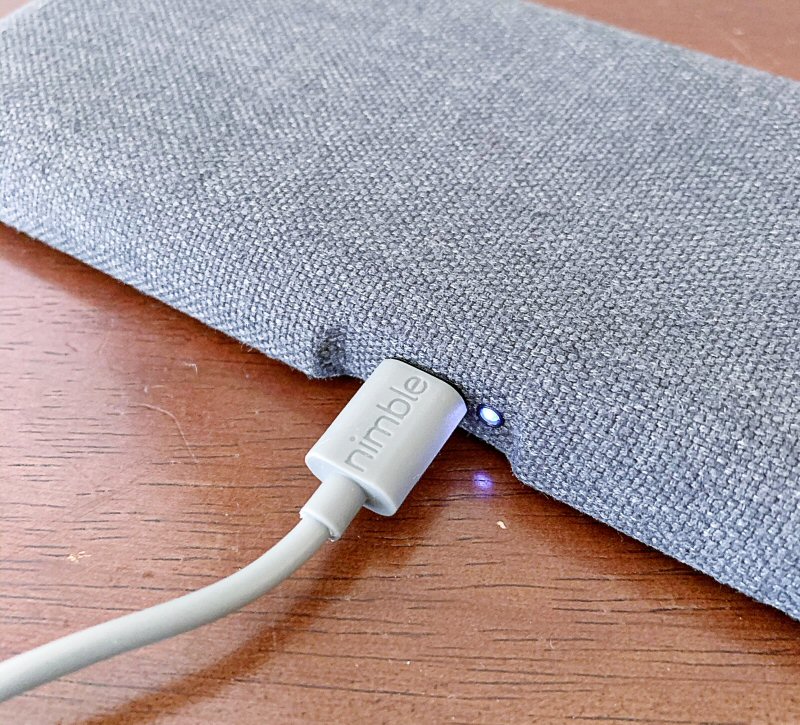 The small LED on the rear next to the USB C port illuminates for a second when the pad is initially connected to power and also when a device is placed on it for charging.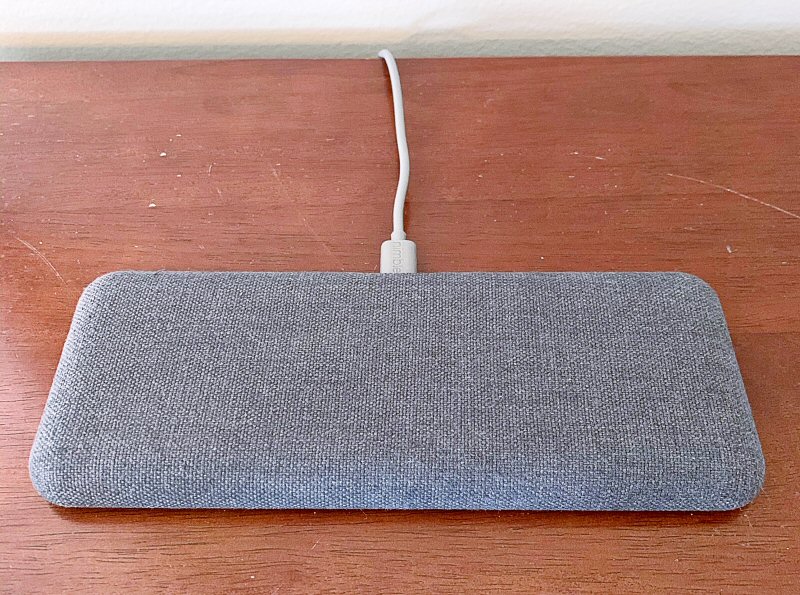 The pad's exterior fabric gives it an organic, classy appearance.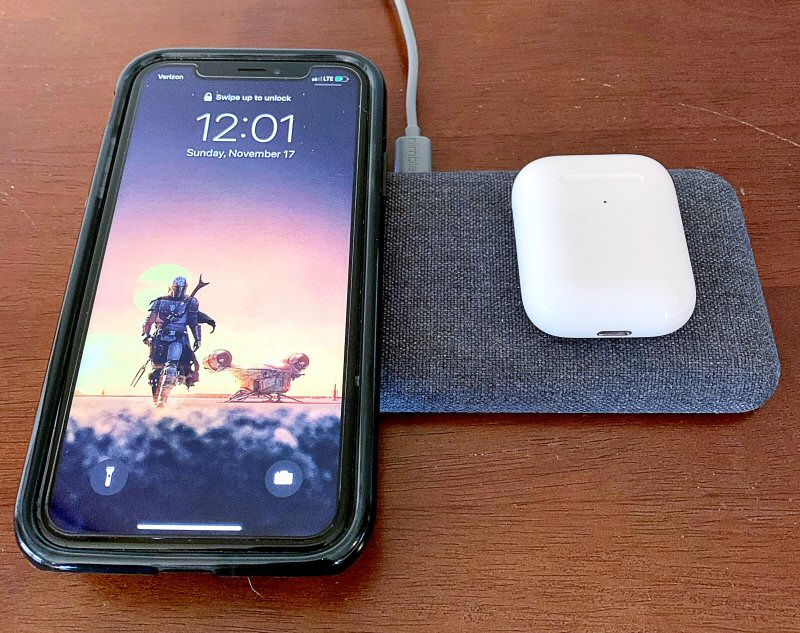 I placed my iPhone XR on the left side, and my wife's Apple AirPods in their wireless charging case on the right.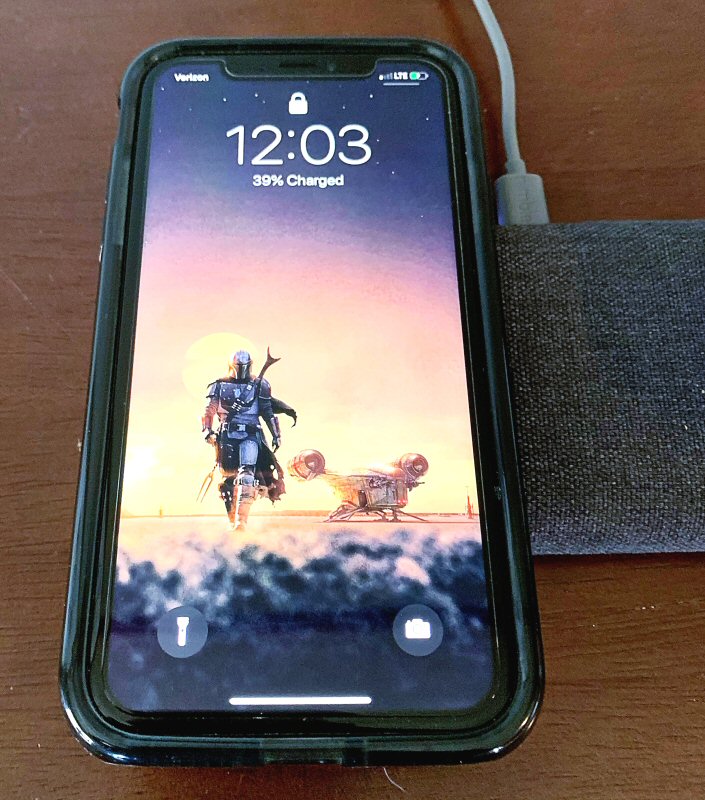 I had to move my iPhone around on the pad a bit before it was aligned with the pad's charging coil and began charging.  Once it did, it seemed to charge my iPhone at a rate that was typical of other wireless charging pads that I've used, which means slower than with a direct cable connection.  The pad charged by iPhone XR both with and without a case.  Here, my iPhone is inside my tech21 EVO Check case, and it charged just fine, though it did seem to get a bit warm.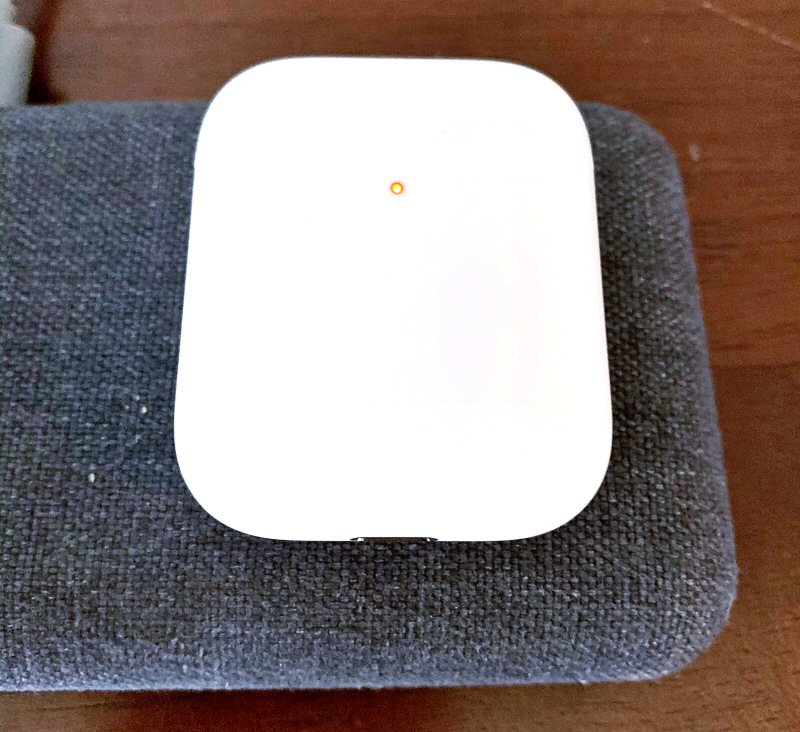 I had to move the Airpod wireless charging case around quite a bit on the pad before charging was activated.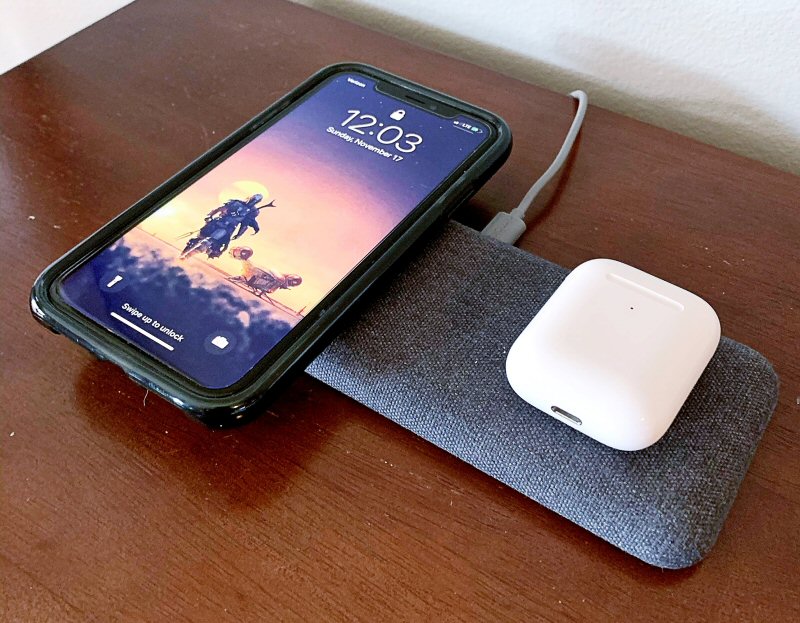 What I like
Charges two devices simultaneously
Environmentally-friendly product and packaging
Classy style
What I'd change
It wasn't easy to align a device on the pad to activate charging
Final thoughts
The Nimble Wireless Dual Pad charger combines several desirable features including charging two Qi-enabled, wireless charging capable devices simultaneously.  Its exterior fabric material is made from recycled water bottles and organic hemp.  However, I did have some issues with aligning devices on it to activate charging, which was quite challenging.
Price: $69.95
Where to buy: gonimble.com and Amazon
Source: The sample of this product was provided by gonimble.com