We use affiliate links. If you buy something through the links on this page, we may earn a commission at no cost to you. Learn more.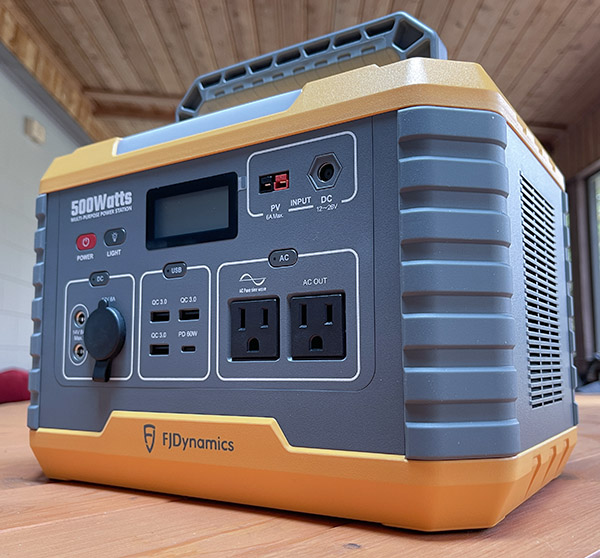 REVIEW – Before the two hurricanes hit my Central Florida home in 2022, I liked the convenience of portable battery power stations. After the flooding of my backyard and work studio, I now really like them and depend on them to get us through inevitable blackouts. So, when different power stations come up for review, I'm always one to put my name on the list. Now I am reviewing the FJDynamics PowerSec MP500 Portable Power Station. It may not be the best or modern looking battery out there, but it has a couple of cool features—one that could make a big difference to the user.

What is it?
The FJDynamics PowerSec MP500 Portable Power Station is a 500-watt lithium-ion battery that will charge many devices, such as smartphones, tablets, fans, small appliances, CPAP machines, outdoor projectors, and many more.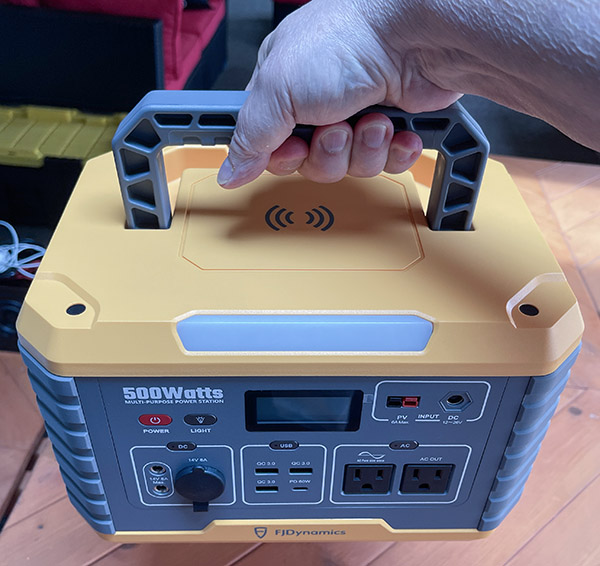 The FJDynamics PowerSec MP500 is the right size for easy portability while having enough power to handle a weekend camping trip or a short home power outage. It's rated at 519.4-watt hours. A watt-hour is how many watts are used in an hour. For instance, a 100-watt device can be used for 5 hours.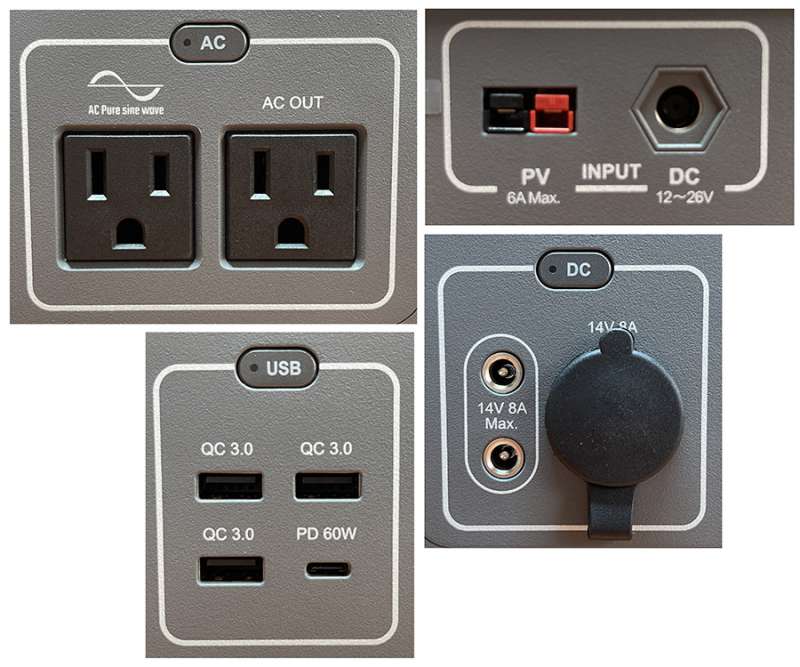 It comes with a decent array of ports: 3 USB A, USB-C, 2 AC outlets (one is pure sine wave), a car 12V "cigarette" outlet, and two 14V DC ports. There are four ways to charge the FJDynamics PowerSec MP500: AC outlet with included power brick, DC port, car cigarette lighter, and solar (with optional solar panel). Solar has an MPPT controller. The top of the unit also houses a 10W wireless charger. All functions are conveniently located on the front panel.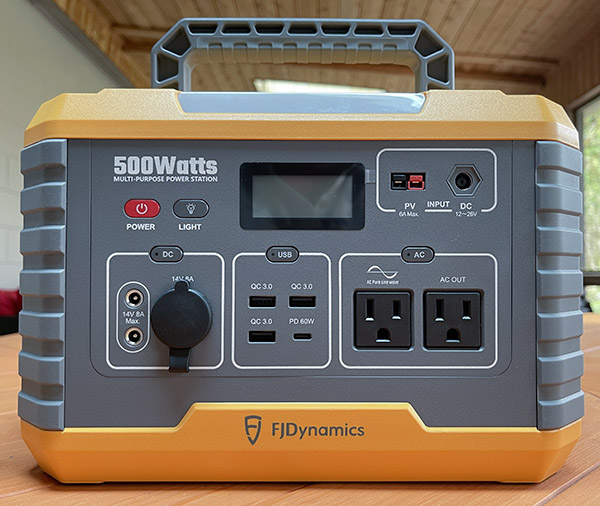 The case is an easy-to-spot deep yellow with gray accents. A comfortable fold-down handle is included. The top front edge contains a bright LED light. There are several safety factors: Temperature, short circuit, overcharge protection, and 13 other built-in protections. 
Note that the FJDynamics PowerSec MP500 is generic looking because it may be identical to the Crafuel Alto, the EBL 500W, or UFO Power 500W power stations. At least the cases are identical.

Hardware specs
Size: 11.5 x 8 x 7.6 inches
Weight: 15 lbs

 

Capacity: 519.4-watt hours/3.7V/140400mAh
Recharge power: 100 watts
Pure sine wave AC output
Solar charge: 105 max output

Design and features
As I said, the FJDynamics PowerSec MP500 Portable Power Station isn't the pretties power station, but it's functional, rugged, and easy to carry. In fact, that's one of the best features of the power station. It weighs only 15 lbs. Those who are not used to power stations may think it's fairly heavy, but nope, that's kinda light for a 500-watt power station.
Another good feature is its price of $349. Not cheap, but it smashes the $1 per watt rule as prices are coming down for this technology. 
Using the FJDynamics PowerSec MP500 is as easy as it gets. Once fully charged (recommended as the first thing to do when new), all that needs to be done is turn it on and plug in what needs charging. It has separate ON buttons for each port group as well as a master ON button. A monochrome screen shows battery life, output watt usage, and charging input wattage. It's nothing innovative, but it tells you what you need to know.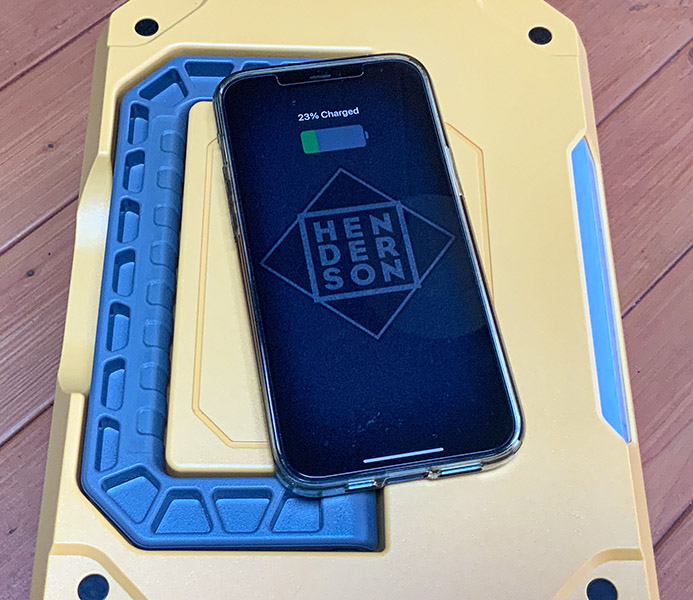 Probably, the most used ports will be USB. The combination of 3 USB-A and single USB-C ports is outdated. As USB-C becomes more of a standard, 2 USB A and 2 USB-C ports would have been a better mix. 
There are also two grounded AC outlets. These are great for camping refrigerators, fans, or laptops with their large AC power bricks. Plus, the outlets are pure sine. This means they are safe for electronic devices that can be damaged from surges.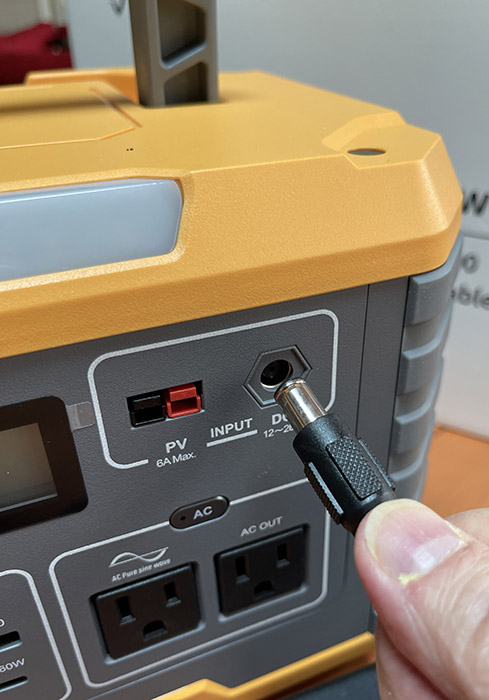 I hardly ever use the DC cigarette lighter port and never use 14V DC ports, but it's good that they are there for those who do.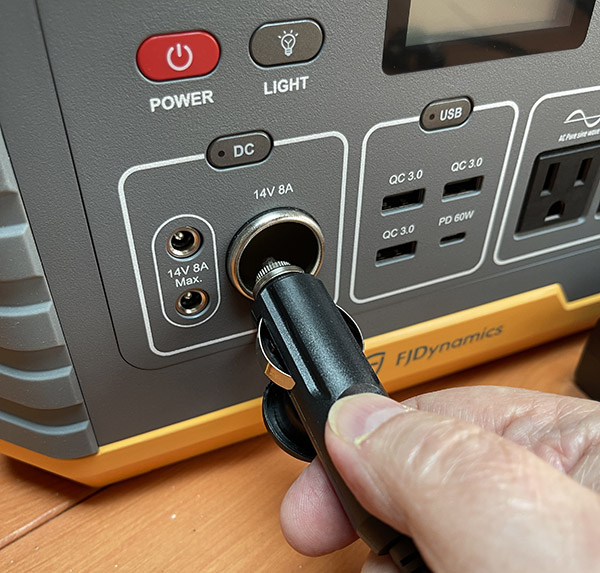 When the FJDynamics PowerSec MP500 needs to be charged, I usually plug it into any outlet in my house. However, a solar panel input allows for off-grid charging. Note that FJD offers solar panels, but they are an extra-cost option—and they cost more than the PowerSec MP500 itself. I have some solar panels, but only bring them out if power is out for an extended period. Solar is a great option in places where the sun shines almost all the time. But in Florida, it's cloudy as much as sunny, so solar charging can take quite a long time.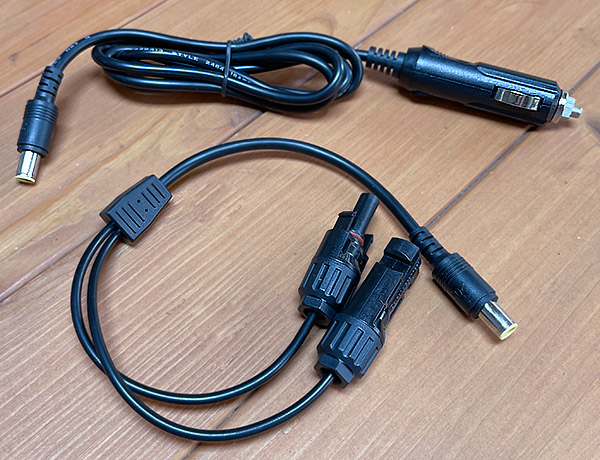 Charging can also be done with a supplied 12V charging cord for a car, but a home outlet is by far, the most efficient charging method.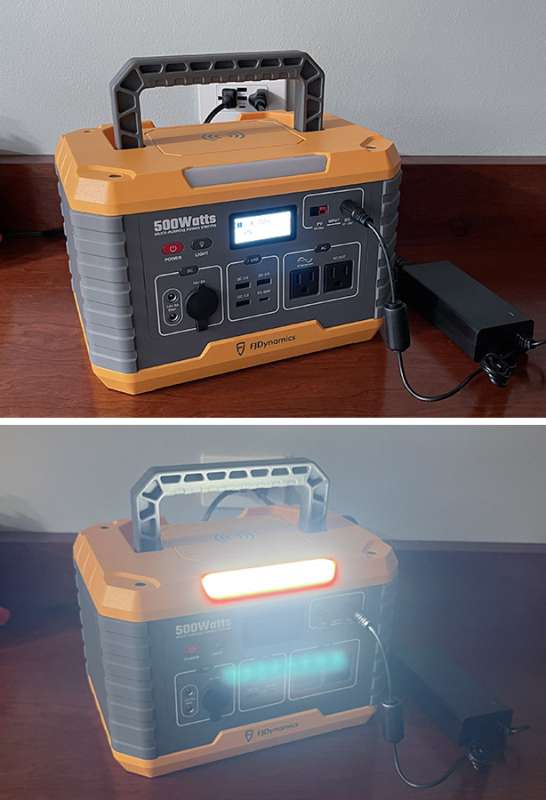 The LED light fitted into the front top edge is bright. It can easily light up a room or camping tent. It also can be set to flash an SOS morse code if needed—a handy safety measure if you need to announce your location in the dark.

What I like
Affordable
Handy to have around
Fast USB charging
Lightweight (for a 500W battery)
Single ON buttonSolar charging compatible
Pure Sine outlets

 
What I'd change

Final Thoughts
The FJDynamics PowerSec MP500 Portable Power Station is perfect for having around the house for that intermittent power outage or places where you need an outlet or don't feel like dragging out an extension cord. 500 watts goes a long way for occasionally used household items. The sturdy build means it can be knocked around without worrying too much. I found it to be great for plugging in my pump used for adding air to my car tires. And let's not forget that price.
Price: $499.00
Where to buy: FJDynamics and Amazon (Save $200 with coupon code: MP500SPR (expires 6/30/2023))
Source: The sample of this product was provided by FJD.