We use affiliate links. If you buy something through the links on this page, we may earn a commission at no cost to you. Learn more.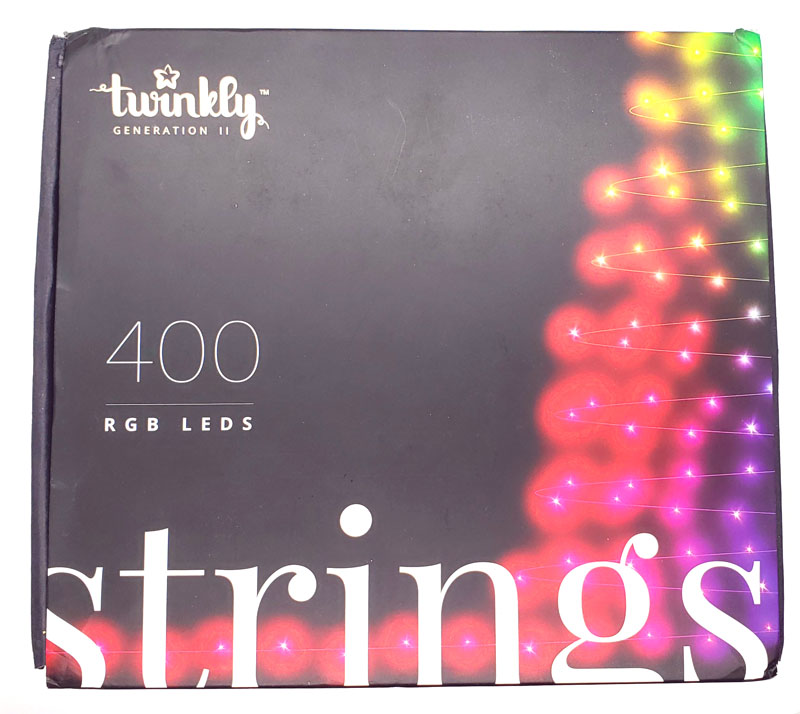 REVIEW – It's that time of year where we risk life and limb to decorate for the holidays.  For many of us, that involves lights and the requisite swearing that comes from burned-out strings.  LED lights have definitely reduced that, but they're still just lights, right?  Twinkly says "NO"!  Lights can be more!
What is it?
Twinkly Strings lights are app-controllable lights that offer a wide variety of lighting styles.  You can also create your own still or motion patterns and set them up to turn on and off on schedule. There are several types of Twinkly lights available including multicolor (RGB), multicolor plus white (RGB+W) and gold edition featuring metallic tone lighting.  Most are available in different length strings as well as icicle-style and curtain-style. I was sent the RGB 400-LED string for this review.
What's in the box?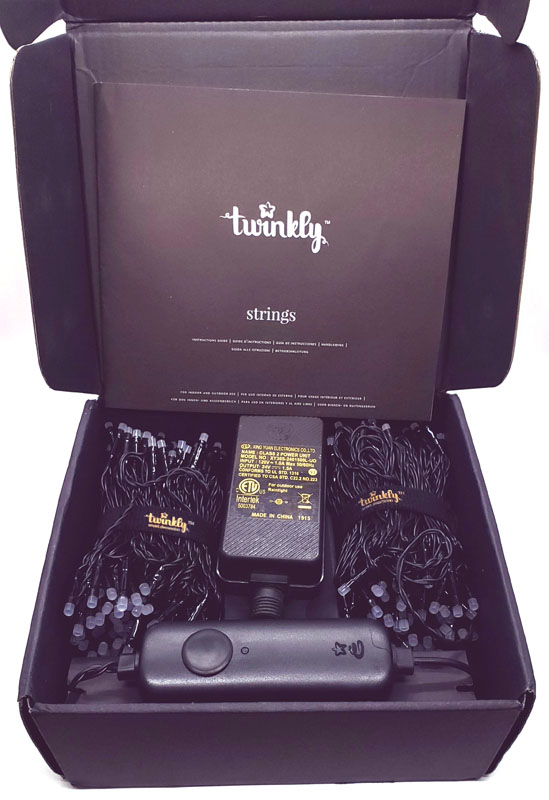 400-lights in two strings of 200 each
Power brick
Controller
Instructions
Hardware specs
Model: Generation II
Water resistance: IP44 (protected against solid objects that are bigger than 1mm and water splashing from all directions)
Controller connections: Bluetooth, WI-Fi
Number of lamps: 400 in two strings of 200 each
Lamp lens type: diffused flat lens
Lamp diameter: 4.3mm / 0.17in
Lamp spacing: 8cm / 3.15in
LED style: RGB
Electric wire color: black
Lead length: 3.5m / 137.795 in
Lighted length 32 m / 1,259.84 in
Adater input:  120V – US; 240V – EU/UK; max 50/60Hz
Adapter output: 24 V (1.5A)
Warranty: 1 year
Life span: Over 30,000 hours
Design and features
The strings-style lights come in two strings with the controller in the middle.  They are designed to be placed on a Christmas tree starting in the middle and wrapping one string around and up and the other string around and down. The controller and power brick connect together with a water-resistant plug.
Setup
The physical setup is simple. You just plug the controller into the power brick.  The model I was sent looked like it had been around the block once or twice.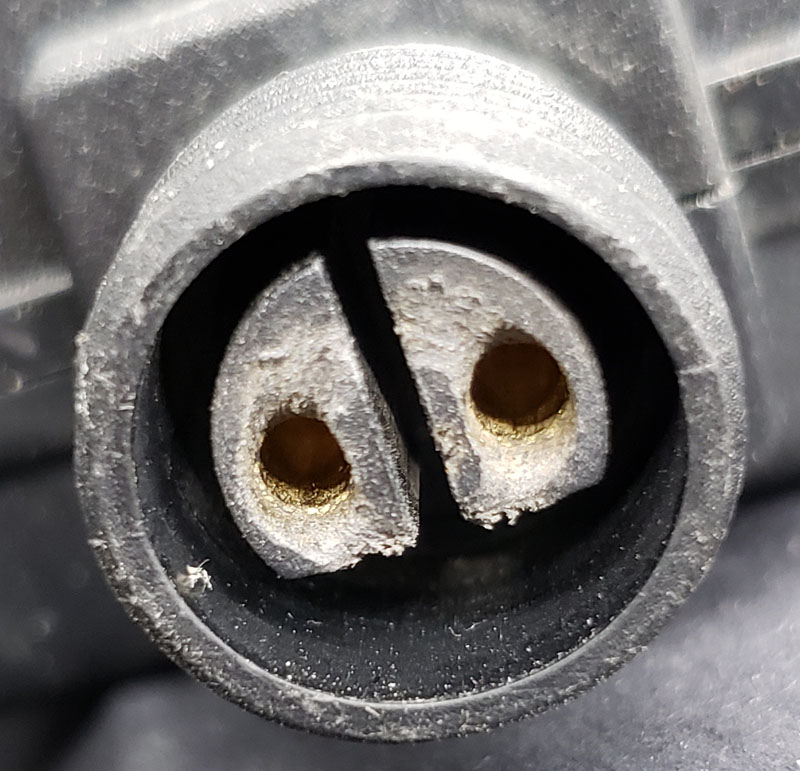 You can see the wear on the power adapter.
In addition, the controller was cracked, so I had no faith in its water resistance.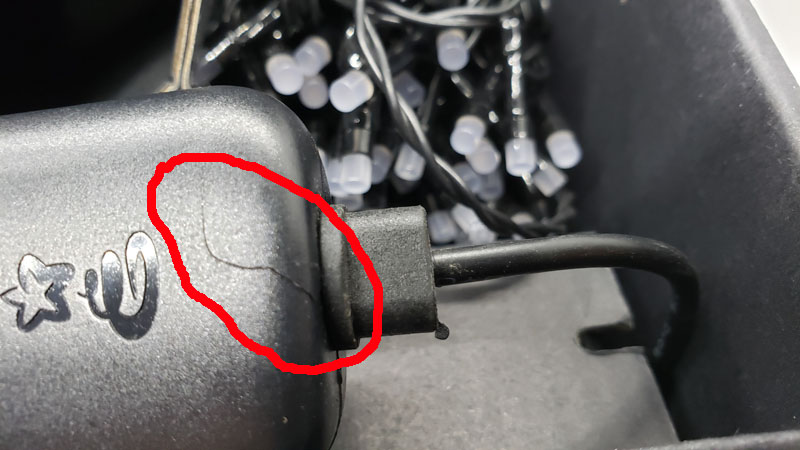 I smeared a bit of clear silicone caulk over the crack as I planned to test this outdoors.
The remaining setup involved installing the Twinkly app (IOS and Android), creating an account, and getting the string added to the app.  This can be handled via Bluetooth or WiFi.  I went the WiFi route and added the string to my home WiFi.  It all went without a hitch.
A light on the controller lit solid blue, indicating that I was up and online.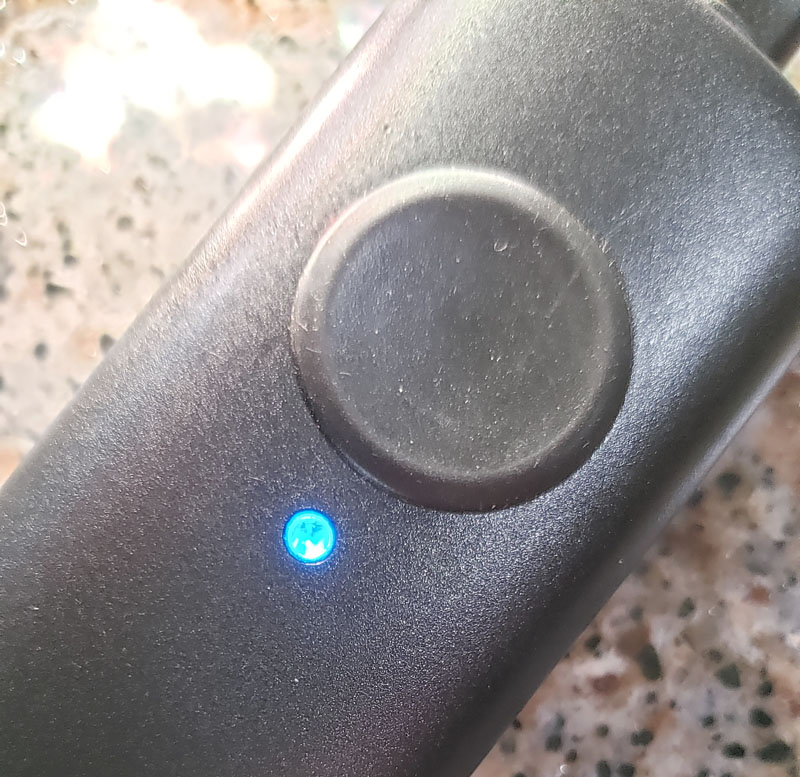 Performance
When you fire up the app, you are presented with a scrolling list of included display patterns. This photo won't do them justice as they are animated.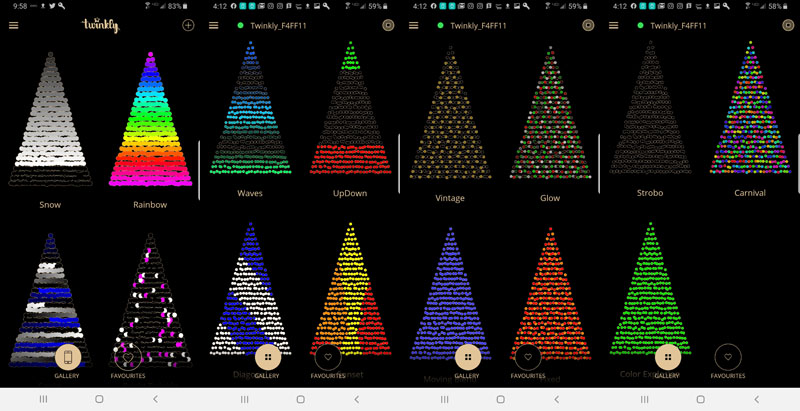 There are also a ton of available effects in the Twinkly store, accessible from the app, and all appear to be free to download.
You can edit any of the included effects, changing the colors to your liking.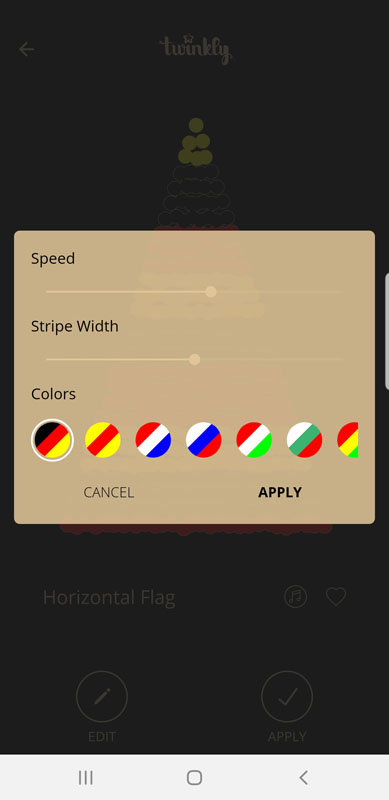 You can also create your own style by hand.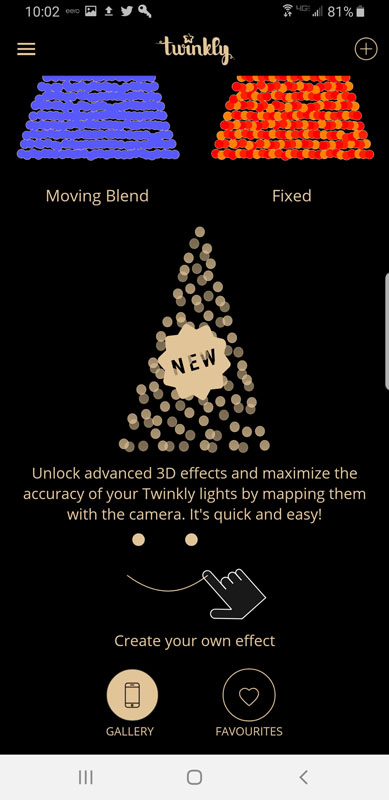 You swipe your finger across the tree image and the associated lights will change to your chosen color.  You can make still designs or motion loops.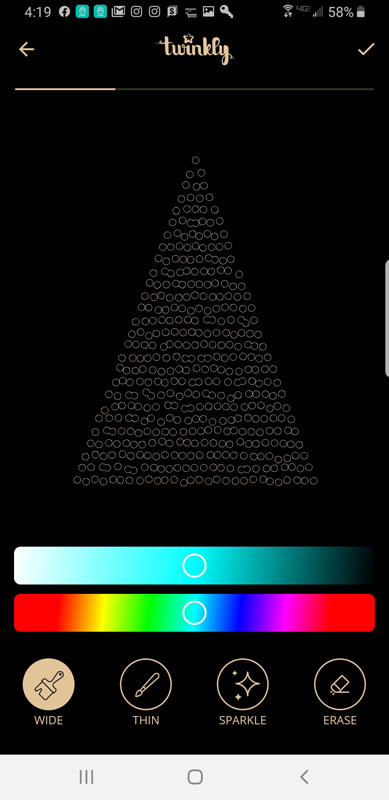 You can also map the lights on your tree so the app knows exactly where each light resides.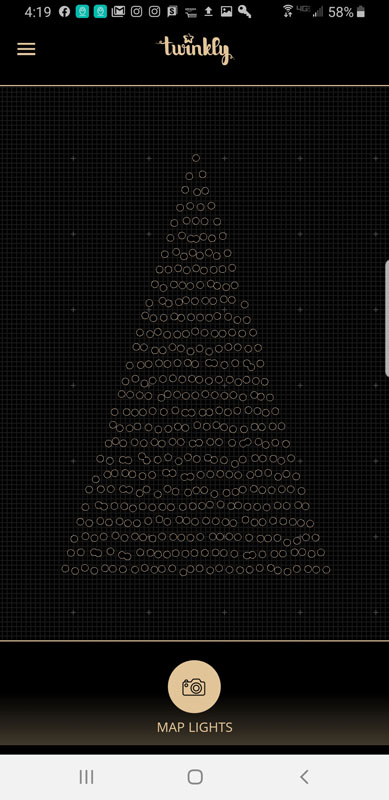 I do not have a small tree that I could use for this test. Here are four short videos showing different effects while the lights were still rolled up.  It's not the same as seeing it on a tree, but it gives you a sense of how the lights produce the effects.
Since I live in Florida, I decided the appropriate venue for these lights would be a palm in front of our house.  It wasn't big enough to support all 400 lights, so I continued across three adjacent bushes. Here is my favorite effect – Color Explosion:
You can set the app to use "Effect Carousel" where it cycles through the effects.  While cool, it got a little busy for me so I went back to Color Explosion.
Here are a few more animations – these are just a sampling of the available animations.  These would also look even better on a traditional tree. (Sorry about the vertical format –
I used the app to set up automatic start and stop times.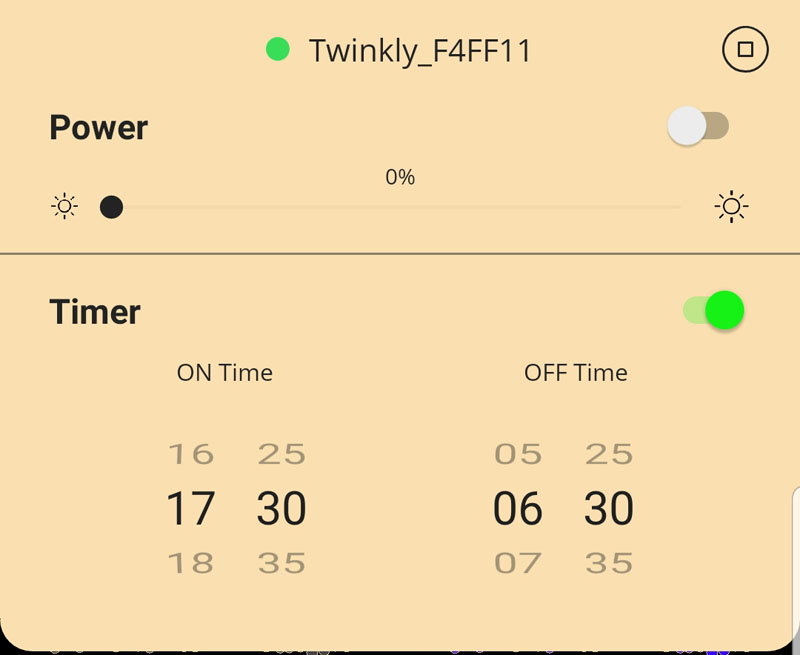 Since Twinkly offers both Google Home and Alexa integration, I figured I'd try that too.  Wow, it didn't go well.  While Alexa found Twinkly, every time I tried to do anything, Alexa said that Twinkly wasn't responding.  Looking at the app comments, that seems pretty common. Google Home couldn't even find Twinkly.  Voice assistant integration was a complete bust. But then…I looked in the settings and discovered that Twinkly needed a firmware update.  I updated the firmware and ta-da, I was able to add Twinkly to both Alexa and Google Home.  Both can turn the lights on/off and change color and brightness, but you can't pick an animation effect via voice. There is no IFTTT integration currently available.
I went ahead and mapped my lights.  It only takes a minute as the app turns lights specific colors. You point your camera at the "tree" or wherever you have the lights installed and the app records the location of each light, based on the image.  You can map a 2D (lights only on the front of the tree) or 3D (lights all the way around) configuration.  The app then provides a map of what it saw.  Here's the mess that is my palm and the bushes.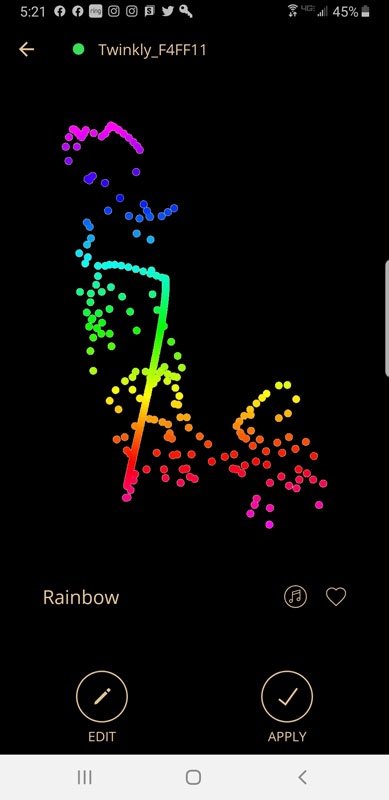 From there, you can customize your own design or choose one of the presets.
You can also sync the lights to music. The colors change based on the intensity of the music.
Finally, Twinkly understands that a single string may not be enough. If you install multiple strings, you can configure the strings as consecutive strings. This means that if it takes three strings to cover your tree, all three can act as a single, really long string for animations. The other option is to configure each string to sync with the others, so all strings would flash together.
What I like
Awesome effects
Bright colors
Can be scheduled via the app or voice assistant
Different ways to combine multiple strings
What I'd change
Lower the price
Allow Google Home and Alexa integration to choose effects
Add IFTTT integration
App doesn't show what effect is selected and active
Final thoughts
I like these lights.  They are really cool and can perform lots of visually interesting animations. The fact that you can map the lights for your specific application is a great feature. All this coolness comes at a price, specifically $269 for the 400-light set. Prices start at just under $150 and top out at $329 for a set of 40 festoon lights. To put it in perspective, I'd need four sets of the $159 icicle lights to cover the front of my home.  That adds up to $636 – not a small sum. According to their online calculator, for a "fabulous" tree, it would take four 400-LED strings ($269) plus one 250-LED string (on sale for $178) to cover my nine-foot tree.  That adds up to a rather tidy $1,254 for tree lights and nearly $1,900 for everything. If you have the means, Twinkly can absolutely up your holiday decoration game.
Price: $269.00 for the 400-LED string – prices vary by length and style
Where to buy: Amazon
Also available for $319.00 from Walmart
Source: The sample of this product was provided by Twinkly.