We use affiliate links. If you buy something through the links on this page, we may earn a commission at no cost to you. Learn more.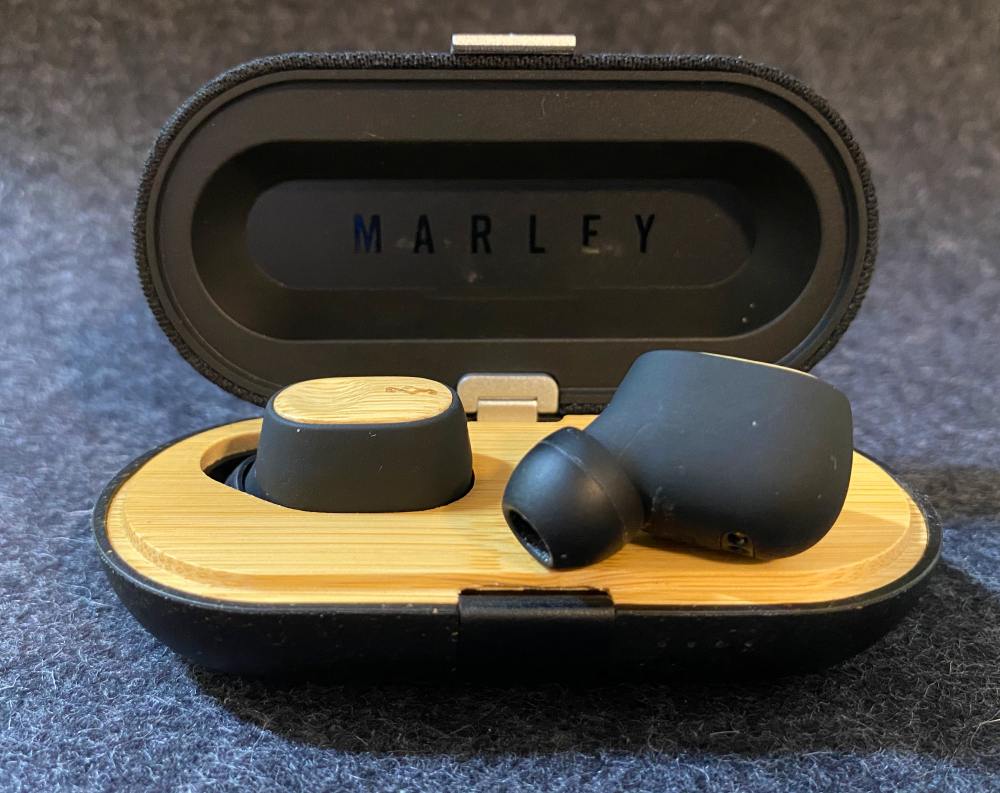 REVIEW – Truly wireless earphones used to be hard to find and expensive as well. They're now widely available and at all price points. House of Marley has entered the game with the Liberate Air. If you're not familiar with House of Marley, it's brand created in collaboration with the Marley family that focuses on quality, sustainability and charitable causes.
What is it?
The Liberate Air earphones are truly wireless earphones with a battery enabled storage case and a sustainable materials story.
What's in the box?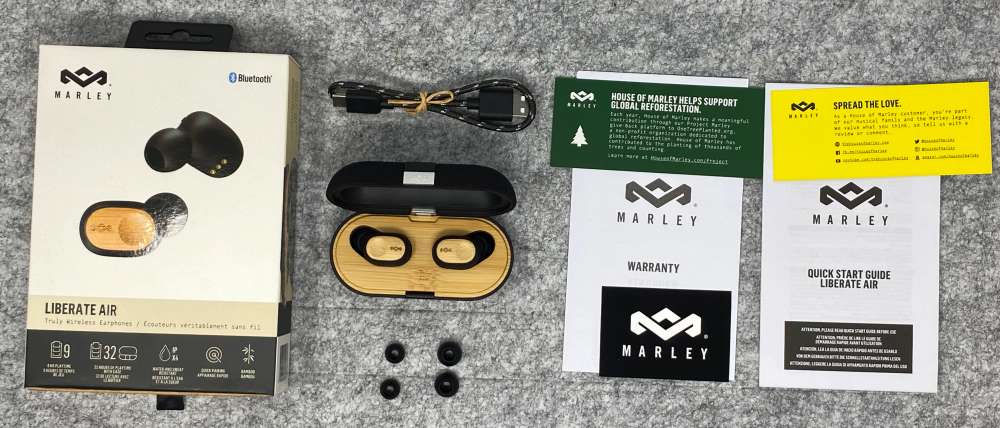 Liberate Air earphones
Storage case
Charging cable (USB-A to USB-C)
Extra ear gels S(2), L(2)
Literature (Quickstart, Warranty, Info cards)
Hardware specs
Driver Size:5.6mm
Frequency Response:20hz – 20Khz
Impedance:16ohms
Sensitivity:103B +/- 3dB @ 1Khz
THD:<3%@1Khz
Microphone Sensitivity:-10dB ± 3dbAt 1KHz
Bluetooth Version:5.0 (range of 10m)
Battery:60mAh (Earbuds), 500 mAh (Case)
Battery Life:Max 9hrs (32hrs with Case)
Charge Time:2hr (Earbuds), 2hr (Case)
Dimensions: Earbuds 14g, Case 58g
Design and features
House of Marley has designed some great looking earbuds in the Liberate Air(s).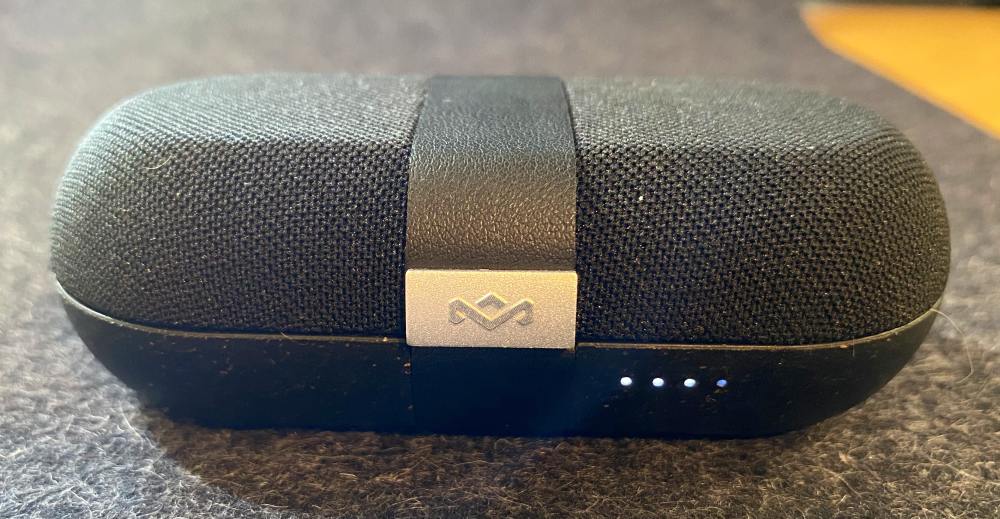 The case uses a combination of materials that roll well together. The fabric top has a synthetic leather center stripe leading to the metal magnetic latch. The lower half uses a recycled plastic that has a cool speckled look to it.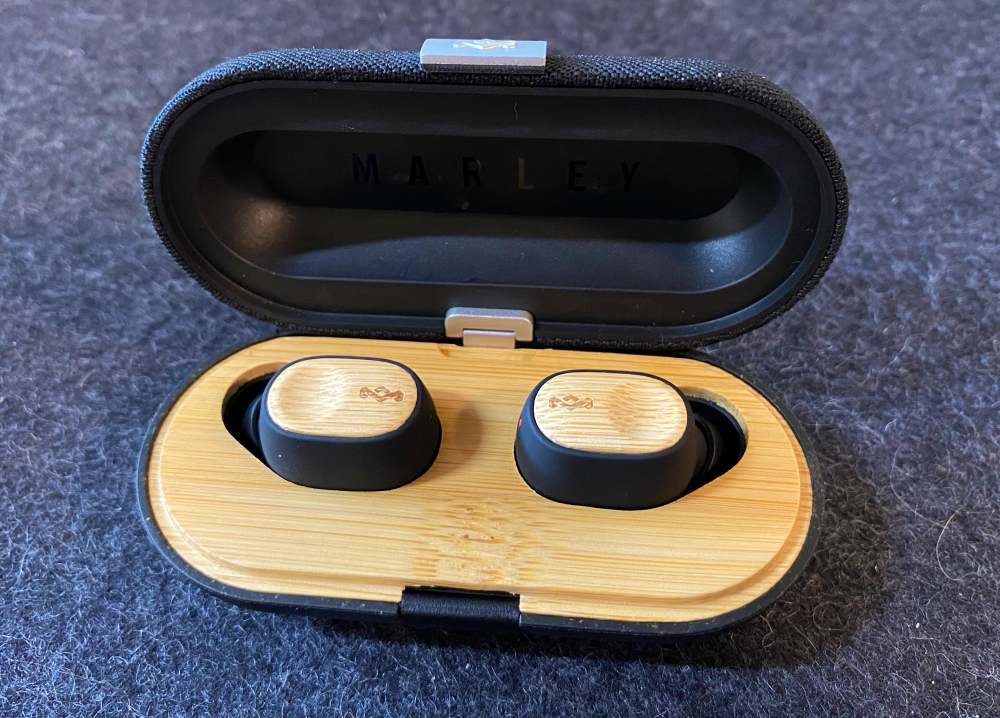 Inside the case is a bamboo face with cutouts for the earbuds which have bamboo panels themselves.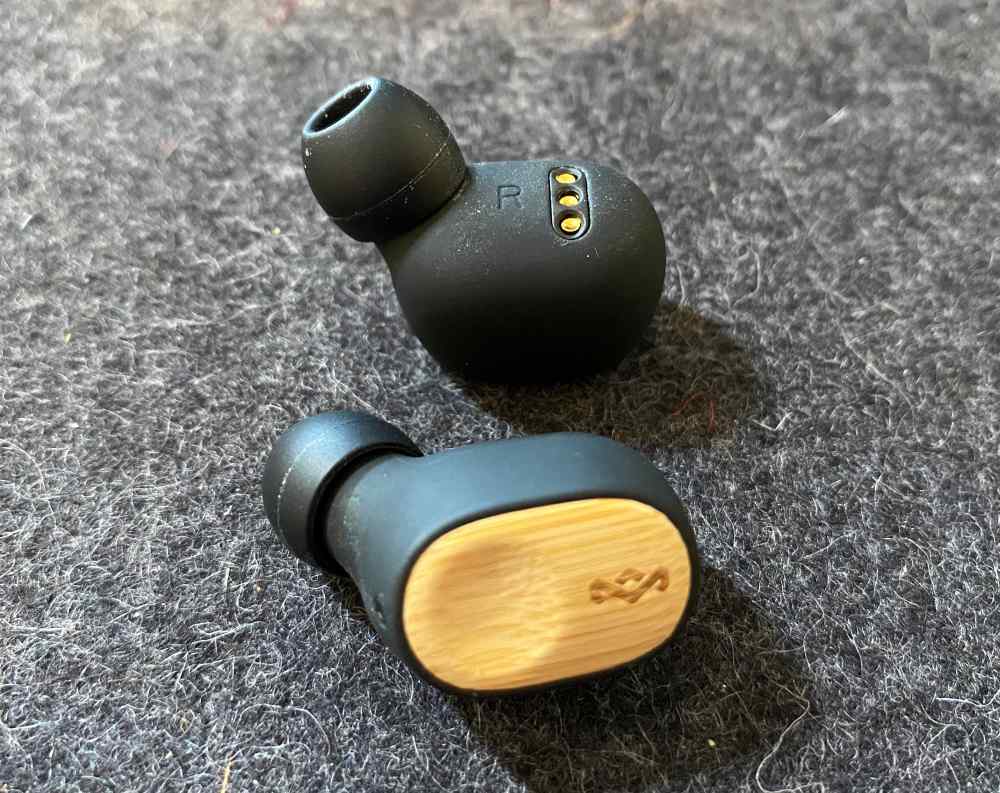 The charging contacts are on the underside of the earbuds and the mating contacts are down in the wells of the case with magnets to pull the earbuds down into place. The earbuds automatically charge any time they are placed in the case meaning they're almost always ready to go when you want to use them.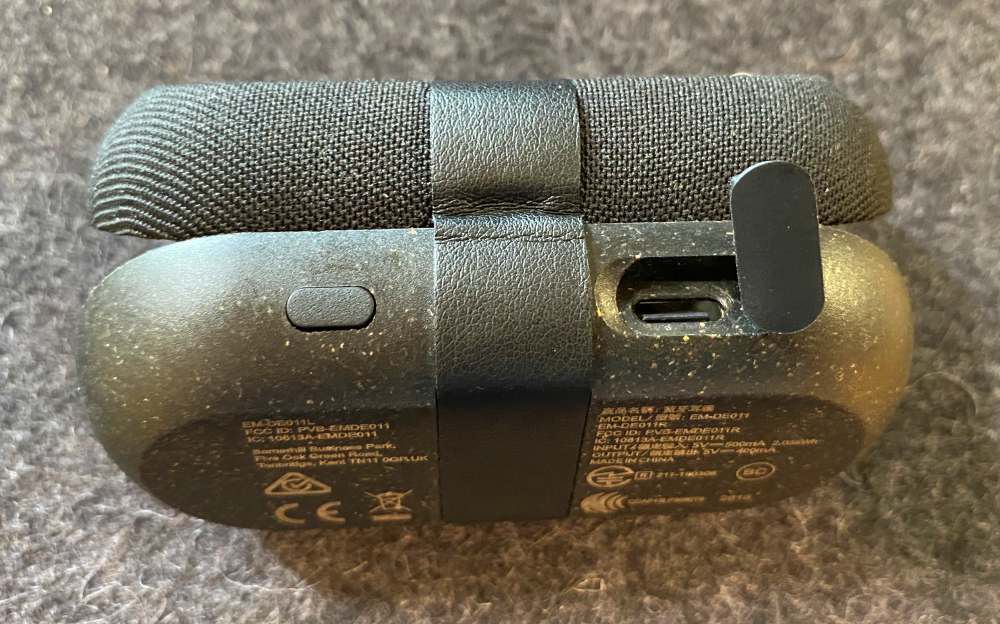 On the back of the case you'll find the USB-C charging port behind a rubber seal and the button that you'll use to check the power level of the case or force-start bluetooth charging.
Setup
As with any battery enabled product, the first step is to fully charge the battery. Go ahead and connect the charging cable to the USB-C port on the back of the storage case and to USB power. The LEDs on the case will tell you when its fully charged.
The next step is pairing to your device. Open the case and the earbuds automatically go into pairing mode. Navigate to the bluetooth settings in your phone and then take one of the earbuds out of the case and put it in your ear. Look for and select Liberate Air L or Liberate Air R depending on which one you picked up. You will get a voice confirmation that it is paired followed by a pop-up on your phone that the other earbud is requesting to pair. Confirm that this is okay and your set is now paired.
You may need to swap out the ear gels if the installed medium size tips don't fit.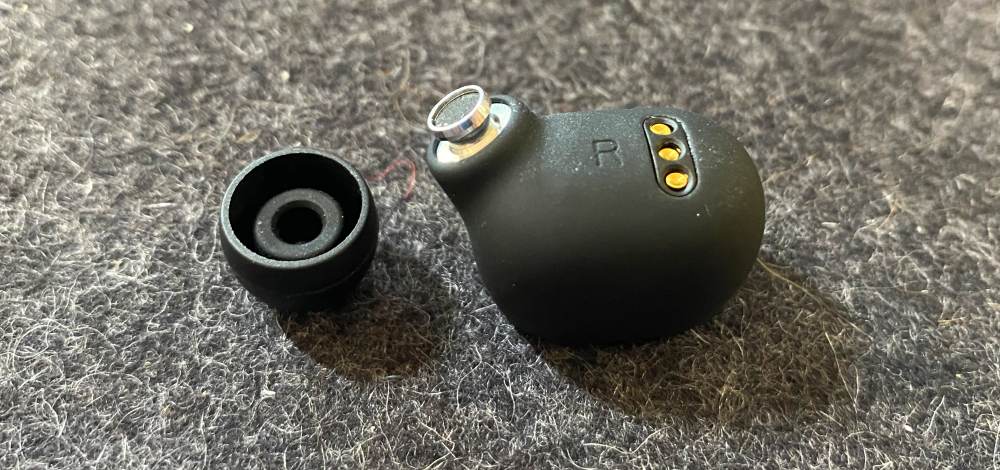 Just pull them off and push on the size that works for you until it pops over the flange.
If you need to pair to another device, place the earbuds back into the case and then press and hold the small button on the back of the case for a few seconds. This puts them into pairing mode and you can pair as before. It also clears the memory which is used to automatically pair to the most recent device. More on this in a bit.
Performance
The Liberate Air earphones are a well rounded package. They're relatively small and have a big sound. The case is small enough to easily fit into pockets. I used these on a recent flight from San Francisco to Taiwan. It's a 13 hour flight so there was plenty of time to discover everything about a set of earphones.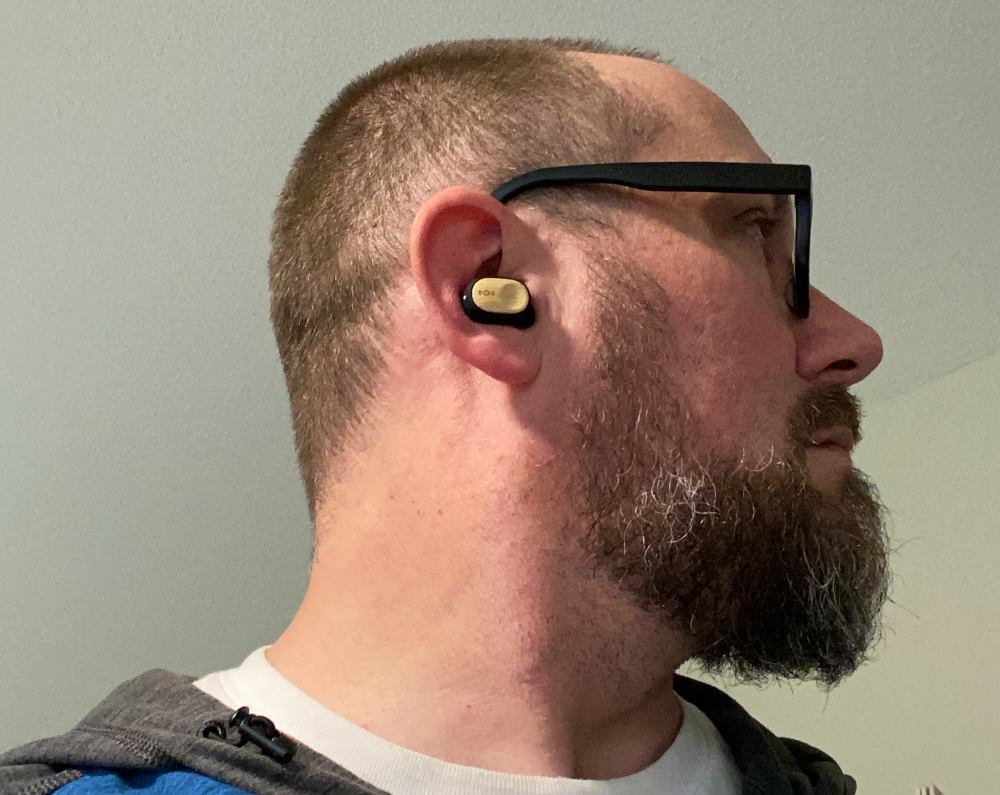 The good news. They fit in my ears really well with the medium gels. They sealed my ear canal well and blocked enough airline noise that I did not have to raise the volume to dangerous levels. This is not a trivial thing. I was able to wear them for extended periods without discomfort. I didn't try longer than 4 hours as my hearing needs a rest by that point, but that did let me test the battery life which was still going strong at that point. Marley claims nine hours which seems likely given that experience. It's hard to actually check because anytime you place them back into the case, they charge again.
I like the fact that these charge with USB-C. Between my iPad Pro and some back up batteries, I already have these cables in my kit, so it just makes things simpler. The case seems to charge quickly as well which helps all around.
They also support single earbud use which is super helpful. Whichever earbud is handling the connection to your phone will pass it off to the other if you put it in the case. This auto-switch is pretty seamless and at most has a second or two of pause as the handover happens.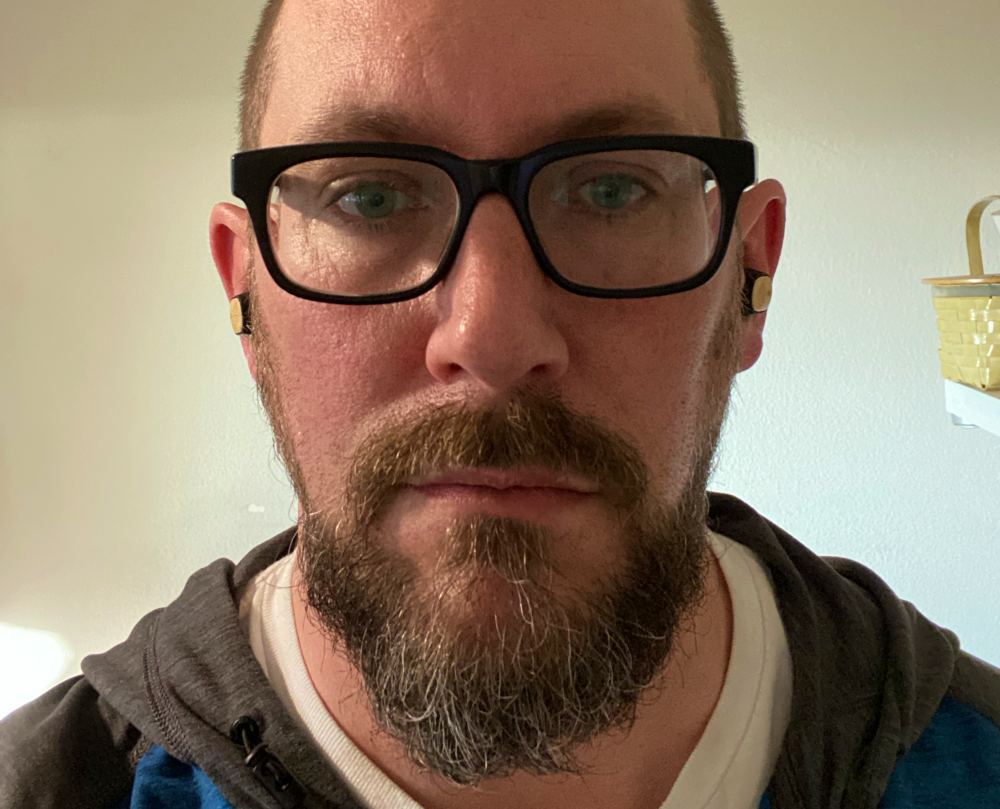 They didn't protrude from my ears very far and because none of the touch controls are single tap I did not get any misfires from resting my head in my hand which has happened with some other earbuds.
The less good news. Pairing and connectivity just aren't up to par. They either paired perfectly as described, or you went down a 15 minute exercise of trial and frustration. Frequently only Liberate L would appear and connect and the right earbud just kept blinking white and would not connect no matter what. The solution appears to be resetting them by holding down the button on the case for about 8 seconds or until both earbuds flash red/white. Then the pairing seems to work properly. Sometimes the right earbud just shows up in your settings as headset, not Liberate Air R.
If you only pair to a single device (likely your phone) then you probably won't run into this issue. If you bounce between your phone, your laptop, an iPad and even your watch, these are not for you. The process of connecting to a 2nd device boarders somewhere between selecting them on the new source and sometimes having to turn bluetooth off on the current device. Frustrating to say the least.
I'm not sure what the fascination is with touch controls on headphones and it's a contention point here. Tapping or touching earbuds tends to push them further into your ears which just isn't comfortable. Even if not, touching can mess with the seal and therefore the sound.
Then there's the controls themselves. Everything is a combination of taps on either the left or the right earbud. Play/pause, answer call/end call are all 2x taps on the right ear, but to decline a call is 2x tap on left ear as is activating your device assistant be it Siri or something else. Track back is 3x tap on left while track forward is 3x tap on right. It's a lot to remember and I just ended up making all adjustments from my phone which is where you have to control the volume anyway.
Listening is a great experience though. The sound is full and sounded so at all volume levels. They're a bit on the bass heavy side which I prefer so take note if you like a true flat tone. Taking phone calls was also easy and anyone on the other end had no issues understanding me.
What I like
Size, fit and sound
Battery life
Case size and charging speed
What I'd change
Lose touch controls
Support multiple device pairing and fast switching
Final thoughts
The Liberate Air earbuds from House of Marley are great earbuds that suffer from pairing and connectivity issues. If you're pairing with more than one device it could be a deal-breaker. The touch controls don't help in my case, but you could feel differently. They do look and sound really nice and the use of sustainable is commendable.
Price: $149.99
Where to buy: House of Marley or Amazon
Source: The sample of this product was provided by House of Marley