We use affiliate links. If you buy something through the links on this page, we may earn a commission at no cost to you. Learn more.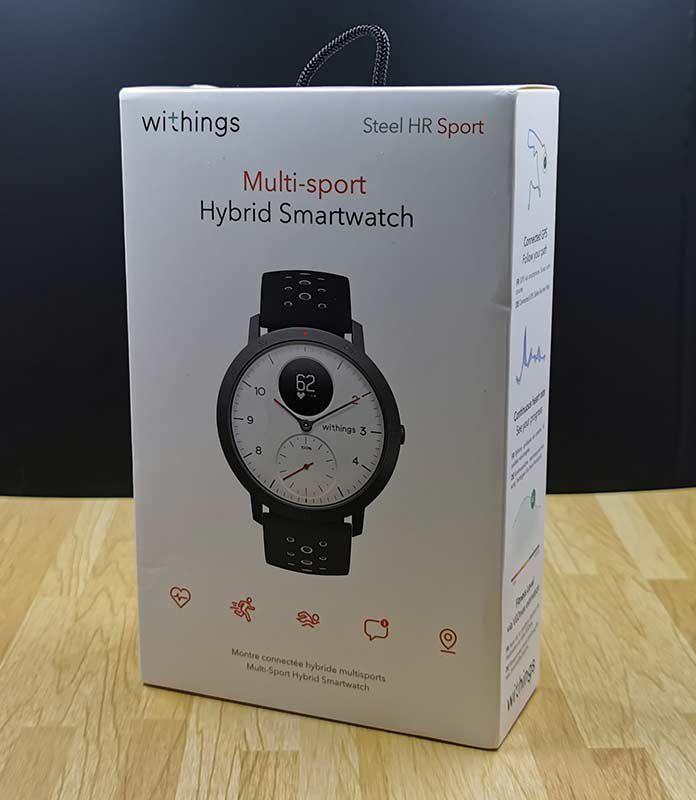 REVIEW – I try to walk at least 7000 steps a day for a minimum level of activity and to earn points for insurance incentives for my day job at Cummins Inc. The app I use tracks steps by using the sensors in my phone, but I always seem to leave my phone sitting on a table when I'm home on the weekends and as you can guess, my steps don't get counted.
To solve this problem, I went looking for an alternative to carrying my phone in my pocket that wasn't a bulky feature bloated smartwatch. I've yet to jump on the smartwatch bandwagon because I just don't care or need all the features of a smartwatch and I also don't want to charge it every night.
I've been a big fan of Withings fitness devices for many years, so I was happy when they offered to let me review their Steel HR Sport watch that has smart features while offering amazing battery life and a traditional analog watch face. Let's check it out.
What is it?
The Steel HR Sport from Withings is a hybrid smartwatch/fitness watch that doesn't look like your typical fitness watch/activity tracker/smartwatch although it has some smartwatch features. It looks like a traditional analog watch with a minute and hour hand, but it also has a small circular OLED display on the face where it shows your fitness and notification info.
Hardware specs
Dimensions & weight
Diameter: 39.5mm (1.6″)
Thickness: 13mm (0.51)
Wristband width: 20mm (0.79″)
Weight (watch only): 49g (1.73 oz.)
Water resistant up to 165 feet deep (50 m, 5 ATM)
Battery
Up to 25 days in normal use, Up to 5 days in workout mode
+20 additional days in power reserve mode (time and activity tracking only)
Charging time Approximately 2 hours to 100%
About 1 hour to 80%
What's in the box?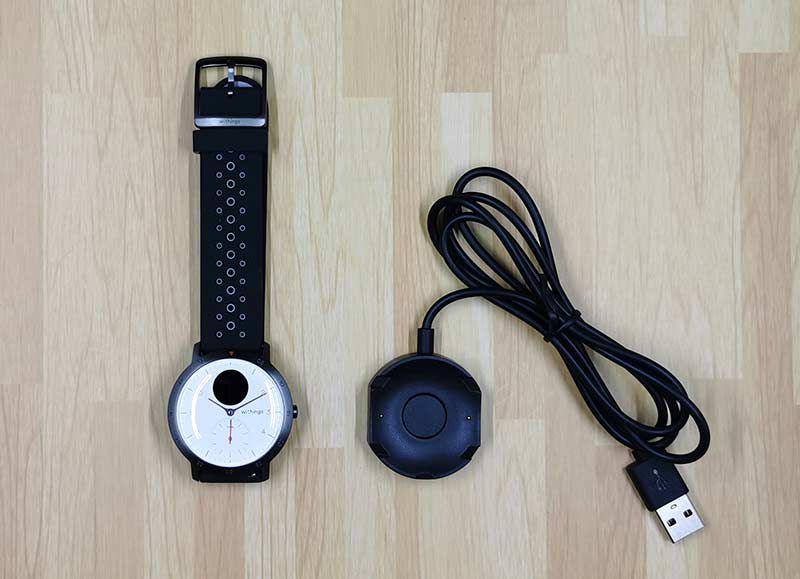 Steel HR Sport
Magnetic charging dock
Design and features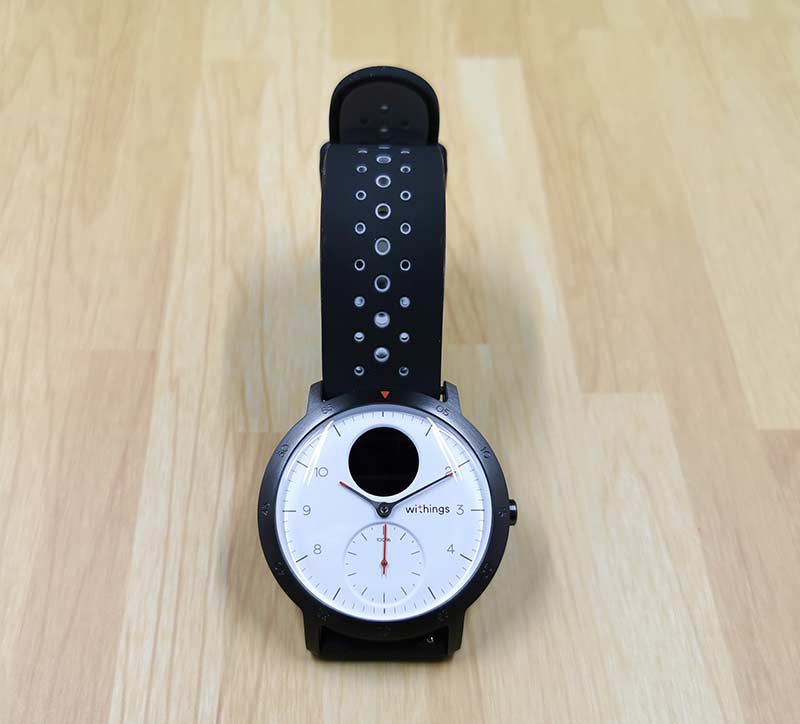 So many of the fitness trackers on the market don't hide the fact that they are a fitness tracker. But Withings packs fitness features in a watch that anyone can wear in any environment and with any type of clothes. That's because Withings fitness watches feature a traditional analog watch style.
The Steel HR has a brushed dark gray stainless steel case and is available with a white or black watch face. I was sent one with a white watch face, which makes it very easy to see the hands and numbers in most lighting conditions.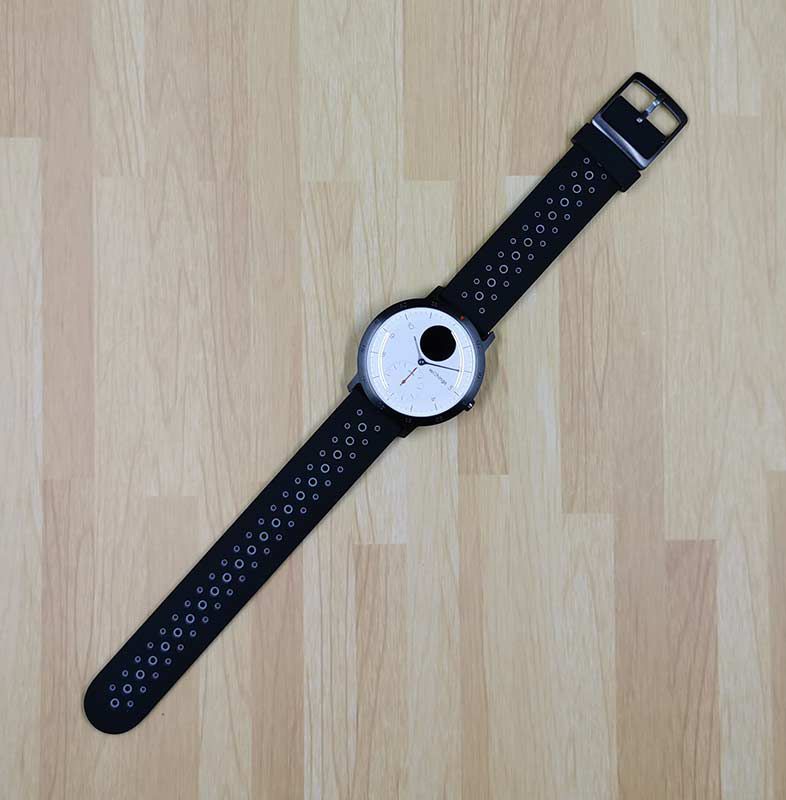 Along with a standard minute and hour hand, the face of the watch, there is also has a smaller dial that shows how far along you are on your daily fitness goals.
There's also a small round white on black OLED display at the top that shows how many steps you've walked, battery status, heart rate, and notifications from your phone.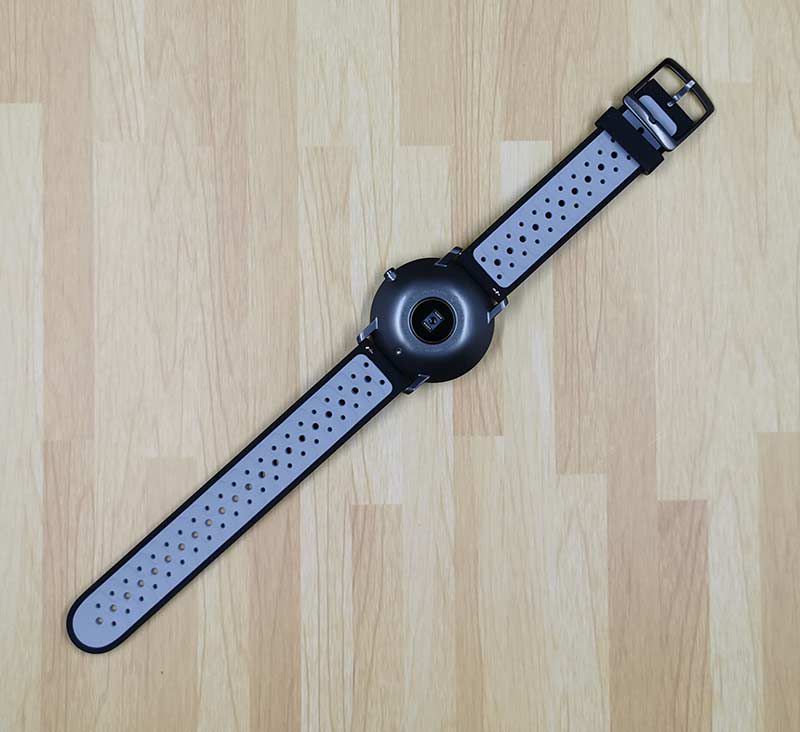 The back of the watch has a built-in heart rate monitor and contacts for the included magnetic charger.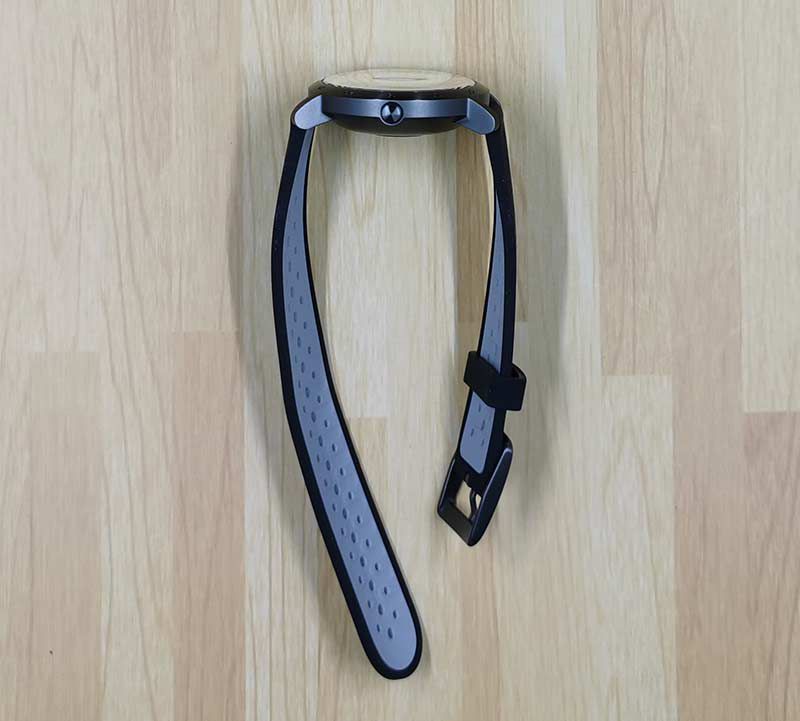 The Steel HR's case is chunky, but the watch is comfortable to wear (a LOT more comfortable than most smartwatches that I've reviewed) due to the comfy silicone wristband that has an actual buckle instead of an annoying tab and slot style wrist strap.
The watch comes with a black and grey wristband but you can customize the watch by paying extra for other silicone or leather wristbands.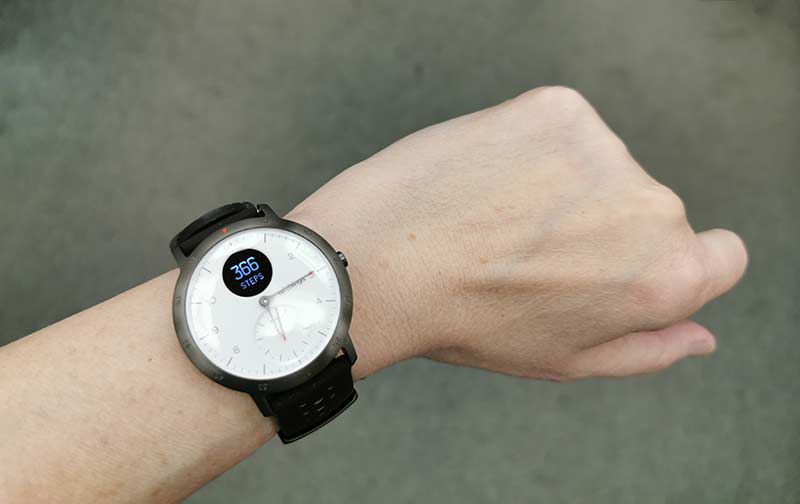 What metrics can the Withings Steel HR fitness watch track? Steps, distance, calories burned, heart rate beats per minute, VO2 max estimation, swimming session duration, and sleep phases and interruptions.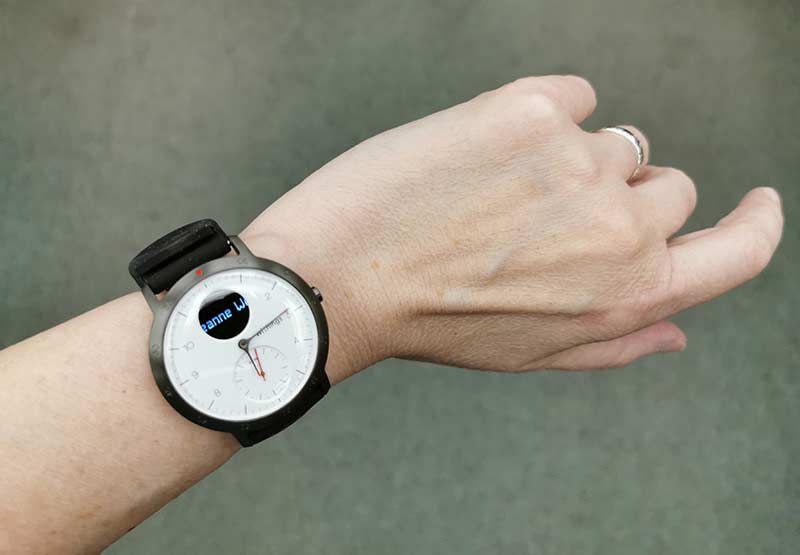 The watch also uses the small OLED display to show alerts from your phone for calls, texts, email, calendar events, plus smart notifications from all your favorite apps. The message scrolls across the small display at a speed that is relatively easy to read while you're on the go.
Notifications automatically scroll across the OLED display when they come in, but all other times, the display is turned off until you press the crown. Pressing the crown once will show the date and the time. Continued pressing will show other info which you can customize in the Health Mate app. Holding in the crown will let you choose from a list of 5 workouts that you might want to track. You can customize which workouts you want to have access to on the watch by using the Health Mate app.
Health Mate App
When you set up the watch in the Health Mate app, you can customize which app notifications will display on the OLED display and the order in which the different metrics will display when you press the crown.
The only thing missing is an option to turn on the OLED display with a flick of your wrist.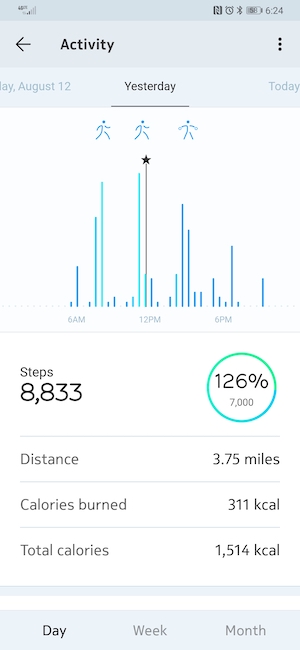 All of Withings products are configured in their Health Mate mobile app. I have data from the first Withings scale that I reviewed almost a decade ago, so you can trust you'll be able to access your data for a long time to come.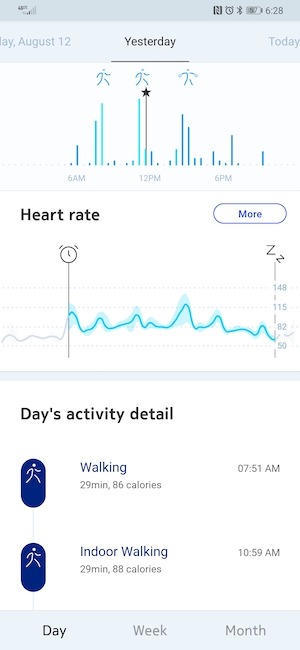 For the Steel HR Sport watch, you'll be able to see how many steps you walked each day, a graph of when you did the walking, the total distance that you walked, the calories you burned and your heart rate data thoughout the day.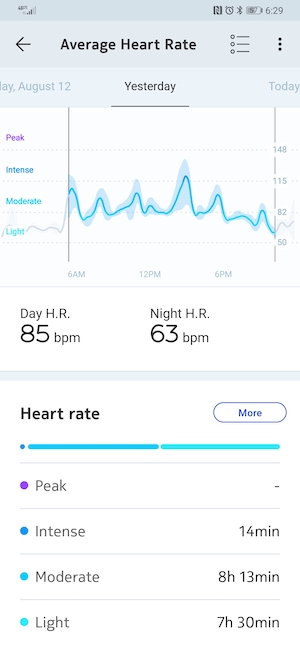 You can also drill down into the heart rate info that shows your average heart rate during the day, during the night while you're sleeping, and how long your heart rate was in different zones.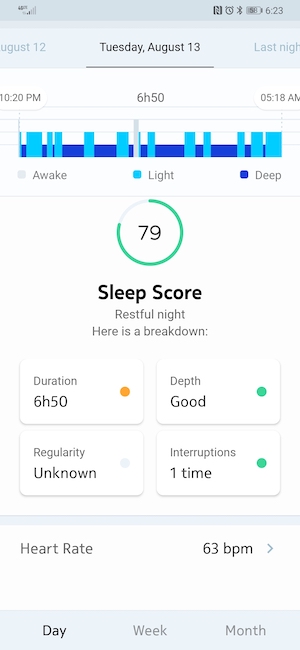 If you wear the watch while you're sleeping, it will record sleep data. It knows when you fall asleep, how long you slept during the night, how many times your sleep was interrupted, and a sleep score which is a high-level score of how well you sleep each night. You can then use this data to determine if you need to adjust your sleeping schedule or other factors that can improve your sleep score to help you feel energized each day.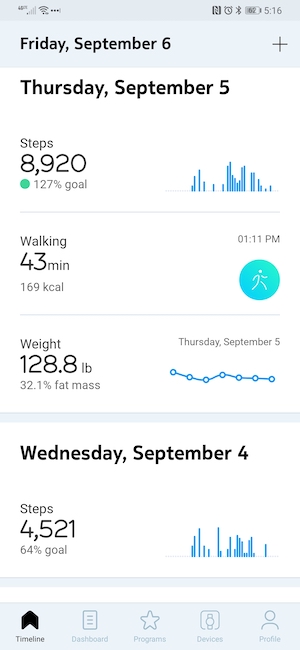 I like to scroll back through the timeline to see how I've been doing with all my health stats day after day and week after week.
Let's get fit!
As I mentioned at the beginning of this review, I mainly wanted to try the Withings Steel HR Sport watch to track my steps without keeping my phone in my pocket all the time. It's done a fine job with that task. Now my steps are counted during the weekends which is great!
If I was a runner, I could use the Steel HR Sport to track my runs including mapping them using the GPS from my phone. To use this feature you have to have your phone with you while you're running, a Bluetooth connection to the phone from the watch, and you have to have location services turned on.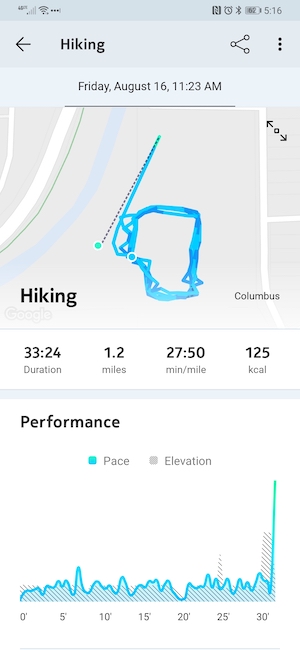 I was happy to see that I could use the GPS info to track hikes and walks too. The image above was actually from an indoor walk and it still worked which was cool.
The Steel HR Sport also offers runners a feature that assesses their fitness level based on maximal oxygen consumption (VO2 Max) while working out. The higher your level is, the more fit you are. I'm not a runner and never have been, so I wasn't able to test this feature. But you can learn more about it here.
What I like
Long battery life!
Easy to use
Just the features you need to track your activity along with some smart features
What I'd change
Add a gesture to show the data on the OLED display without pressing the button
Final thoughts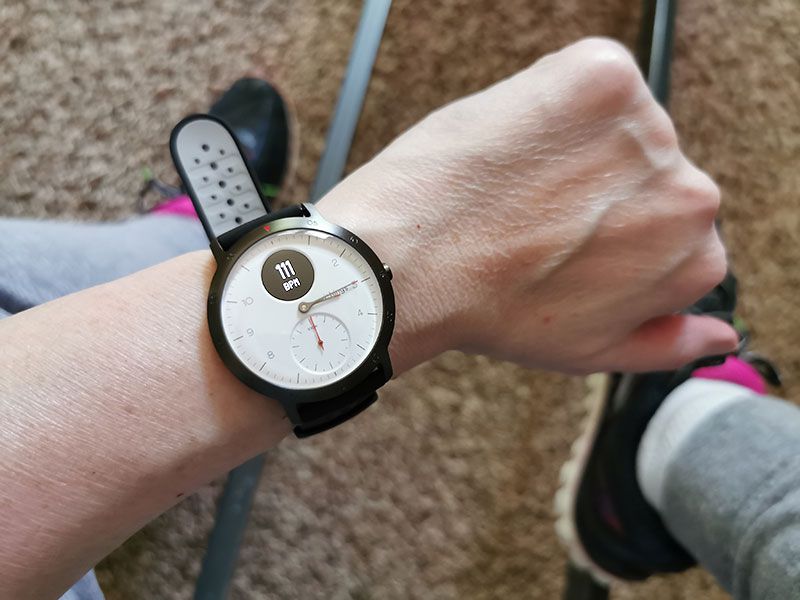 I've tried several smartwatches and fitness trackers over the years and when it comes to smartwatches, I find them to be too bulky both physically and digitally. I don't want to run apps on my watch. I already have a phone with a much larger display that is easier to read and use. I also don't want a watch that I have to charge every night or one that requires me to take a special charger with me when I go on vacation. With the Withings Steel HR Sport watch, I don't have to do that because a charge will power the watch for up to 25 days!
But even more importantly, I want a watch with fitness tracking and basic notification features that just works and isn't fiddly. The Withings Steel HR Sport is that fitness watch.
Price: $199.99
Where to buy: Withings and Amazon
Source: The sample for this review was provided by Withings.