We use affiliate links. If you buy something through the links on this page, we may earn a commission at no cost to you. Learn more.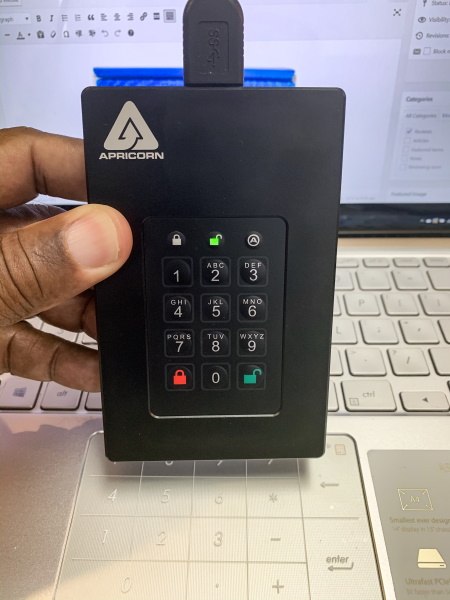 REVIEW – When I am on location for a photo or video shoot, I have a strict practice of backing up all of my media before I leave so that I have redundancy just in case of any mishap. For years I have done this using portable hard drives that have been plug and play without any ability to ensure that no one else on my team accidentally erases, overwrites or copies files without my permission. Encrypted hard drives that allow me to set up access PINs at various levels easily solve this issue. The Apricorn Aegis Fortress L3 – USB 3.1 / 3.2 Portable Drive touts the ability to provide what I need for my workflow process requirements as well as for much more advanced needs, requirements, and environments.
What is it?
The Apricorn Aegis Fortress L3 Portable Drive is a Rugged, Fast – USB 3.1 / 3.2 hardware-based 256-Bit AES XTS Encrypted drive that does not require software for setup and features Onboard Keypad Authentication.
What's in the box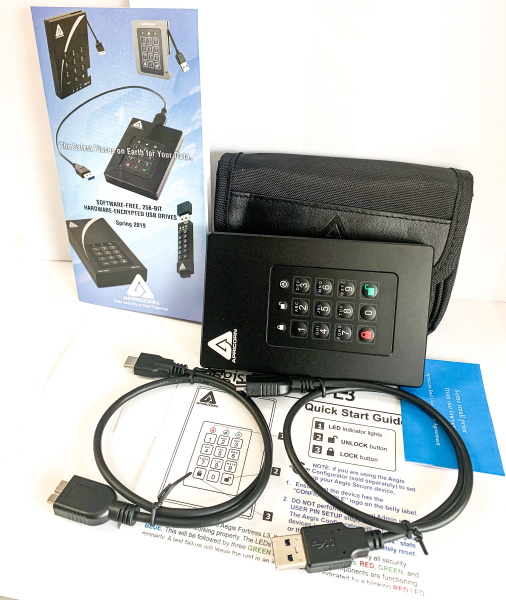 1 x Aegis Fortress L3 – USB 3.1 / 3.2 Portable Drive
1 x USB-C Cable
1 x USB-A Cable
! x Storage Case
1 x Quick Start Guide
Design and features
Specifications
ATA Transfer Rate: USB 3.0 – up to 5 Gbps
Power Supply: 100% Bus Powered
Buffer Size: 8MB
Interface: SuperSpeed USB 3.1 3.2 type A and C (Type A is Backwards compatible with USB 2.0 and 1.1)
RPM: 5400 HDD
Average Seek Time: 12 ms
Shock Non-Operating: 650G 1ms
Shock-Operating: 300G 2ms
Dimensions: 500GB / 1TB / 2TB models: 16.5mm X 77mm X 122mm (0.65" X 3" X 4.8")
Dimensions: 3TB / 4TB / 5TB / 8TB / 16TB models: 24.5mm X 77mm X 122mm (0.97" X 3" X 4.8")
Weight: HDD 500MB – 2TB: 9.9 oz | 3TB – 5TB: 13.7oz | SSD 512MB – 4TB: 7.6oz | 8TB – 16TB: 11.9oz
Warranty: 3-year limited
System requirements: Compatible with all Operating Systems, including Windows, Mac, and Linux. It Requires USB port
SSD SPECS
Data Transfer Rate: USB 3.0 – up to 180 MB/sec | *To achieve these data transfer speeds, your computer's internal drive must be solid state. In the case of your computer having a hard drive, the speed will be limited by your internal HDD
Power Supply: 100% Bus Powered
Buffer Size: 8MB
Interface: USB 3.0
Average Seek Time: 0.1 ms Access Time
Shock-Operating: 1500G/0.5ms | Virtually shock and vibration resistant
Encryption: 256-bit AES Hardware Encryption
Operating Temperature Range: -40°F to 158°F (-40°C to 70°C)
Operating Humidity Range: 95% humidity at temperatures under 131°F (55°C)
Vibration: 20G/20-2000Hz
Features
AegisWare: Patent-protected firmware combined with the industry's most advanced feature set
FIPS 140-2 level 3 Validated (pending Q3 2019): The highest level of FIPS validation granted by NIST
Fast Read / Write Speeds: The Aegis Fortress L3's new chipset delivers SSD write speed increases of up to 150% and read speeds of up to 180% in comparison to previous Aegis Fortress models
Aircraft Grade 6061 Aluminum Alloy Enclosure: Tough enclosure is milled from a solid block of aluminum alloy and sealed closed with tamper-resistant/evident uni-directional breakaway security fasteners which are driven and cemented in place with hardened epoxy
Separate Admin and User Mode: Admin (Device Configuration) Mode and User Access Mode
Admin Forced Enrollment: Unique PIN Must be Established at Time of Setup. Eliminates Factory Default PIN Vulnerability.
User Forced Enrollment: One additional user PIN can be generated to access the device's data. This PIN can be set up by the admin at initial configuration, or the device can be deployed in a state of User Forced Enrollment, where the intended user must first establish his or her own PIN prior to using the device
Data Recovery PINs: Creates State of User Forced Enrollment that Restores Access to Drive, if a User PIN is forgotten.
Aegis Configurator Compatible: Windows-Based App that sets up multiple devices simultaneously
Polymer-Coated Wear-Resistant Onboard membrane Type Keypad: Drive is Unlocked by Entering a PIN on Keypad and not the Host Computer's Keyboard. Until the device is unlocked via its keypad, it remains invisible to the host
Two Read-Only Modes: Global All Access Settings Controlled by Admin, and User Mode Controlling Individual Settings. The two Read-Only modes are the Universal Read Only which is set by the admin from within the admin mode and can't be modified or disabled by anyone but the admin. The second read-only mode can be set and disabled by a user but can also be enabled or disabled by the admin as well
Programmable PIN Lengths: Admin Designates Minimum and Maximum PIN Lengths (between 7 and 16 Characters)
Brute-Force Defense: Select the Number of Consecutive Invalid PIN Attempts Permitted (4-20) Before Crypto-Erase
Unattended Auto-Lock: Programmable Length of Time of Inactivity Permitted Before Drive Locks Itself. All Aegis Secure Drives will automatically lock once disconnected from a computer's USB port or the power to that USB port is interrupted or after a pre-programmed period of inactivity
Lock Override: Allows Drive to Remain Unlocked During USB Port Re Enumeration (Virtual Machine, Remote Boot)
Drive Reset Feature: Device can be Reset and Redeployed Over and Over. Drive reset clears both the User and Admin PINs, destroys the data, creates a new randomly generated encryption key and allows the drive to be reused repeatedly, with an infinite number of randomly generated encryption keys, allowing the admin and or user to reset the drive as often as is needed
Self-Destruct PIN: When Programmed and Activated, Performs a Crypto-Erase and Becomes New Access PIN
LED Key Press Indicator: Visually Confirms Successful Button Presses via the Device's LEDs.
On the top surface of the drive, there is the logo branding on the top left and the keypad in the middle.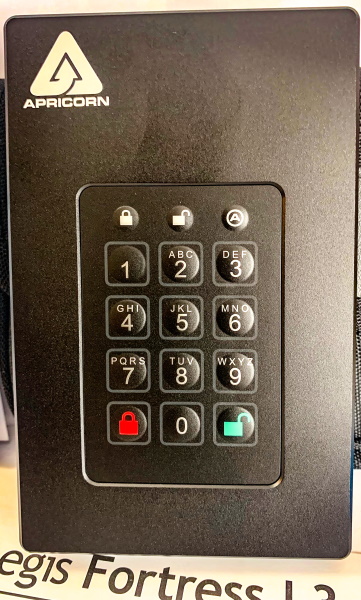 The diagrams below show the keypad functions and LED status indicators.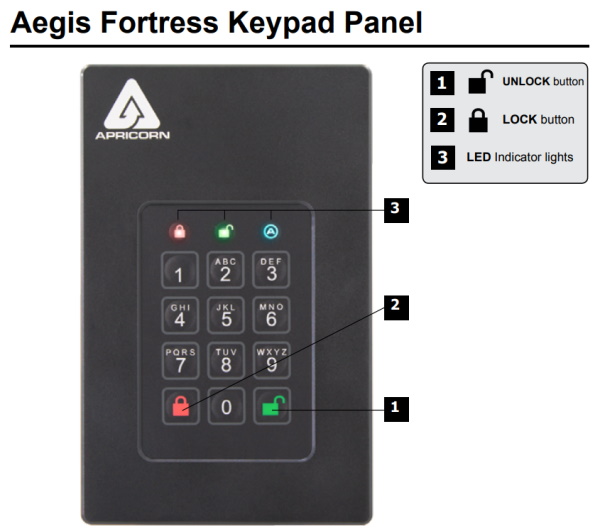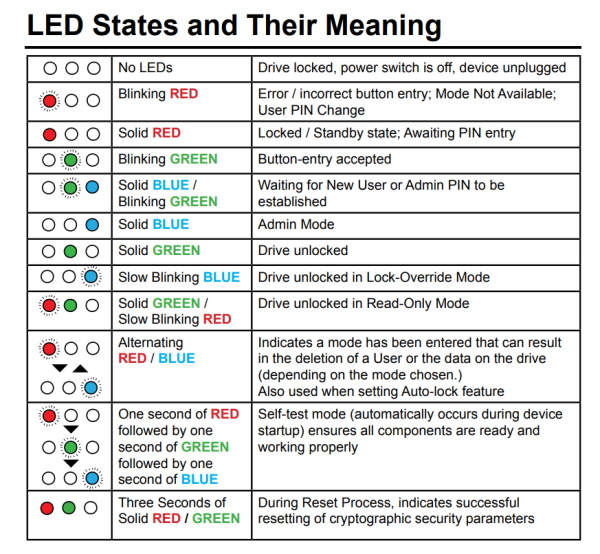 On one edge of the device, there is the USB connectivity port. There are no other ports on the device.


Performance
The Aegis Fortress L3 is plug and play right out of the box. The instructions for setting up a new PIN for both Admin and User are very clear and straightforward, and the process worked the first time I tried it. When I connected it to my Asus Zendesk laptop, it was seen as soon as I entered my PIN and pressed the unlock button. Access to the drive both for retrieving and writing is very fast and it is so nice just to be able to press the lock button whenever I walk away from my laptop knowing that my files are private and secure. I must admit that as I read through the manual, there are several additional features and capabilities that I do not need or use, but are fantastic if the drive is used in more public or high-security environments for securing highly confidential/classified and critical files.
It is also great that no software or drivers need to be loaded in order for the drive to work and you can just take it from one computer to another and access your files. It is also compatible with MAC and Linux which makes it perfect for any of my work environments. I just recently upgraded my iPad 12.9 Pro to the public beta of the new iPadOS, and I was hoping to see the drive pop up when I connected it to my iPad. The drive seems to connect, but I could not see any of the files on my iPad. Oh well!! maybe one day soon. 🙂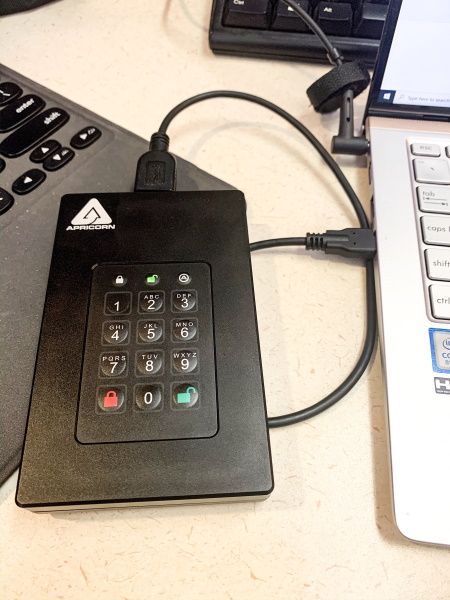 There is also the ability to use combinations of keys for functionality. The following reference guide shows the combinations: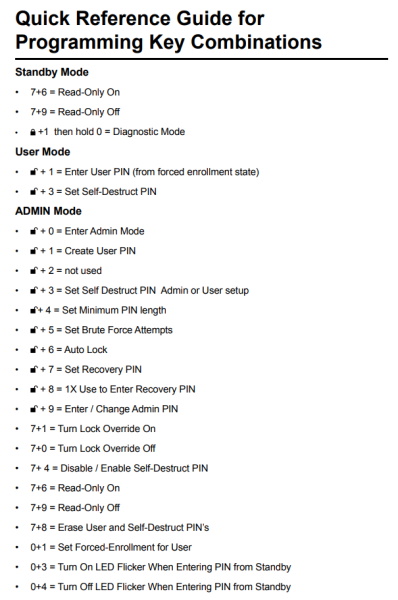 For more detailed information, click here to read the manual.
What I like
The build quality
The USB-C/USB-A cables that are provided
The fact that the drive is SSD
The compact size
The drive size options
What I'd change
Possibly the type of keypad. I am concerned about how strong it is and how many presses it can successfully endure?
Final thoughts
I really like secure/encrypted drives primarily for data security which in my case includes clients photos and videos. This is the second such device that I have tested and reviewed, and the fact that this one is an SSD drive really works well for me including the read/write speeds. I also love that it is USB 3.1/3.2 compatible. The device is solid and compact yet lightweight, and if you want to use the basic functions for enabling an access PIN it is very easy to setup. It also offers additional security features that you can use depending on your need and environment. While I do have a bit of concern while pressing the keys that they may eventually wear out, that may happen long after the drive is relevant. In my opinion, this Apricorn Aegis Fortress L3 gets a well done and two thumbs up!!
Price: Available in sizes of 500GB – 16TB starting at $239 and increases as size increases
Where to buy: Apricorn website and Amazon (Not all sizes)
Source: The sample for this review was provided by Apricorn