We use affiliate links. If you buy something through the links on this page, we may earn a commission at no cost to you. Learn more.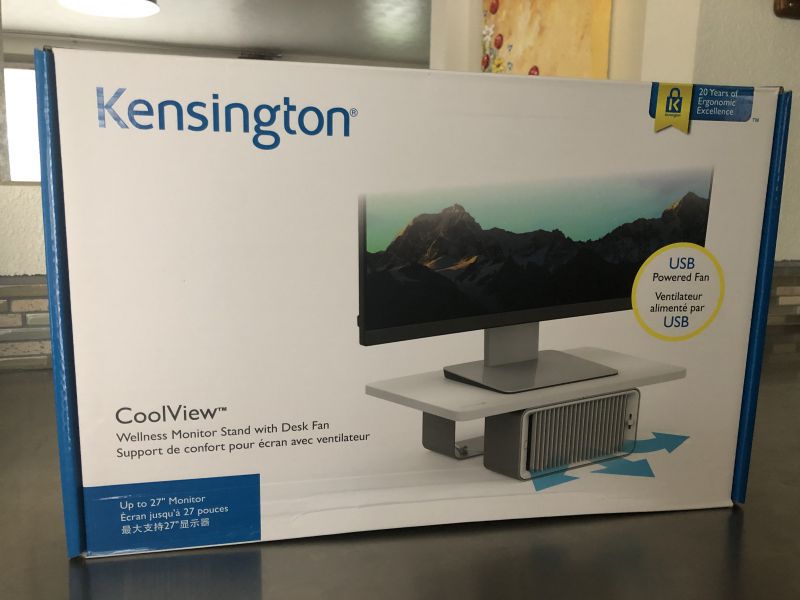 REVIEW – I am a warm-natured person and I work in a very busy office cubicle environment these days. With going from cube to cube, meeting with various people in my area and with this extremely warm summer, it gets tough to stay cool most days. I had found a nice cool empty office to escape into from time to time for a phone call to cool off. But after getting the Kensington CoolView Monitor Stand, it's no hyperbole that it's made my workday easier.
What is it?
This is a monitor/laptop stand that has a built-in frame in its support legs for modular fans, heaters, and air purifiers. This version has just the cooling fan – with a future air purifier and heater module scheduled to be received soon – so stay tuned for an update.
What's in the box?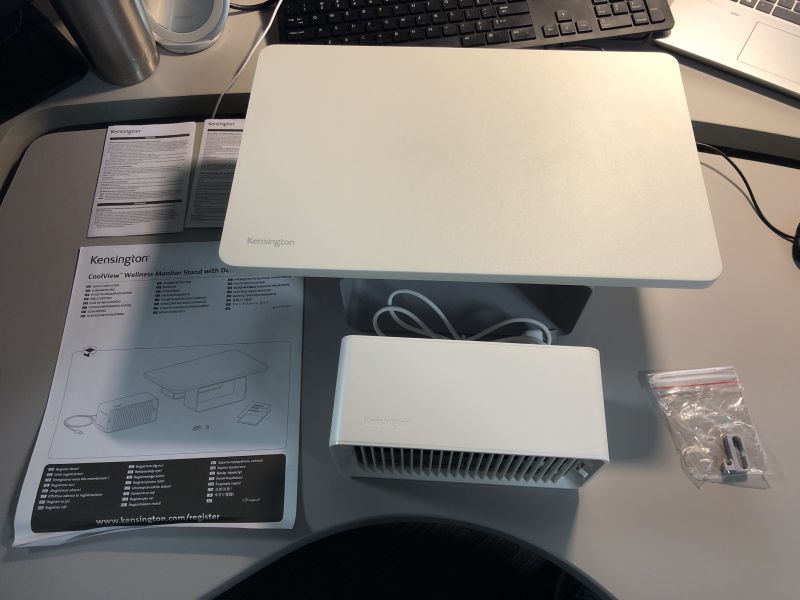 Stand
Cooling Fan
Optional cable guide clips
Instructions
Design and features
The stand comes in a very simple design with a 3.5″ rise from table height and a 200lb weight capacity. The rectangular frame supports allow for the insertion of the modular units: cooling fan, heater and/or air purifier. These are USB powered units with a lengthy cord, so you aren't limited to keeping them within the base of the stand. I put my laptop with dock on the stand with the cooling fan below within the unit.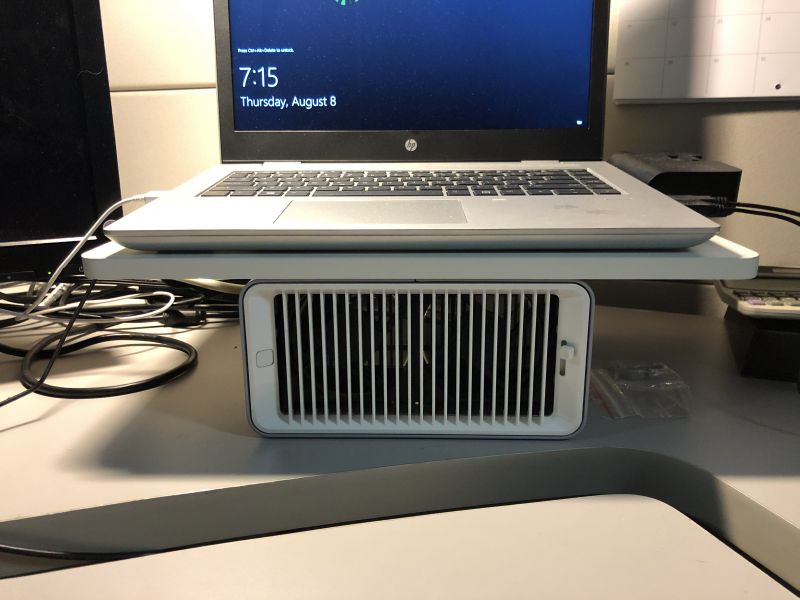 The button on the left is the power control with the fan having a High and Low speed. On the right is a sliding adjustment that controls the airflow to the left/right.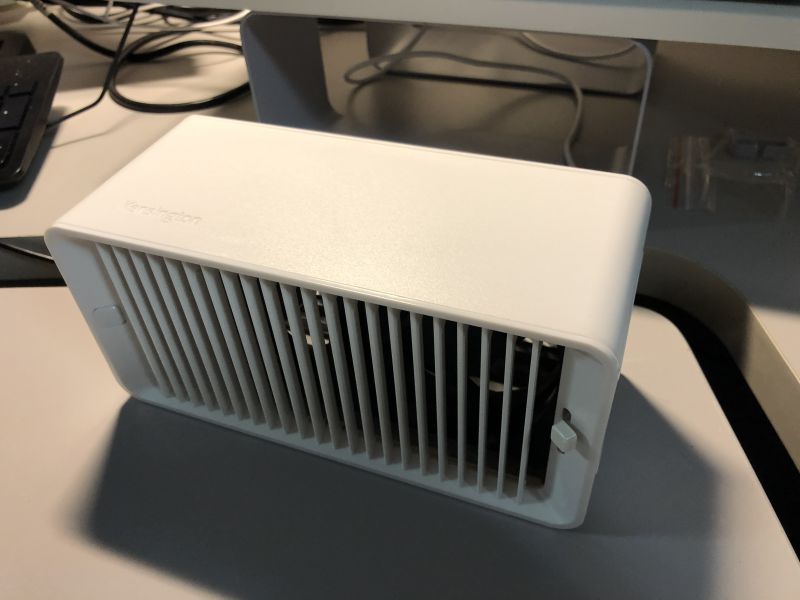 Performance
The stand does bring my laptop into a much more consistent eye-level with my other monitors – while the fan provides a great cooling airflow when I start getting warm. It doesn't make a lot of noise, even on High power but I wouldn't really notice since I have my headphones on most of the time I'm at my desk anyway. The cooling is great in that it provides a steady but not overly forceful flow of air, that I can adjust as needed throughout the day.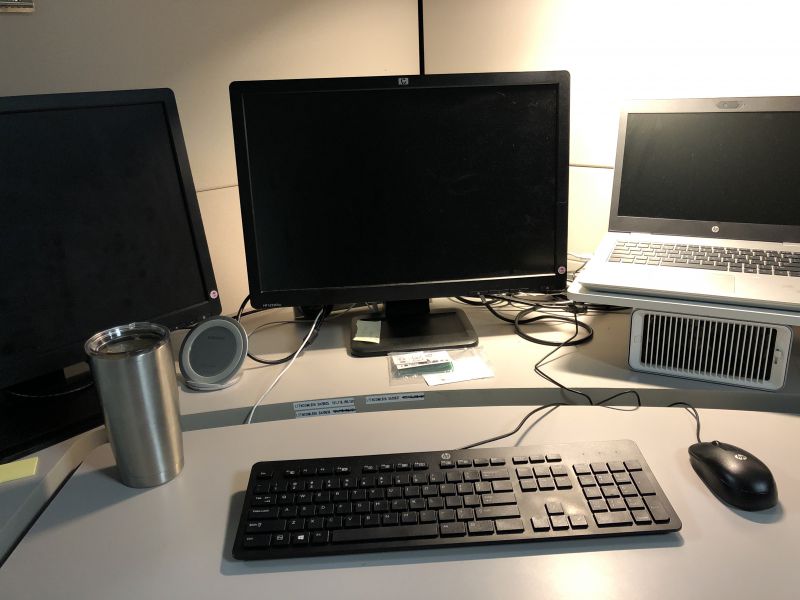 I am very excited to eventually get the heater and air purifying modules to test as well. While warm-natured, I do still get cold in the winter, especially my feet – so the fact I can move the unit to the floor if needed would be great. And for the air purifying unit, I want to see if it helps with my allergies this fall and next spring!
What I like
Sleek design fits in perfectly in the modern office
Cooling fan works great
Brings my laptop to eye level with my other monitors
What needs to be improved
The only change I would like to see is additional controls to move the vents up/down as well as left/right for a bit more customized control. Granted, I could take it out of the stand and put it on its side to be able to adjust up/down – having only one of these controls overall is the slightest of limitations.
Final thoughts
I'm a huge fan of, well… this fan. Get it? Ok, bad joke. But seriously, the stand and cooling fan have made my workspace all that much more comfortable and that's a big deal considering how time we spend in our offices these days. I didn't realize how much I was having to adjust my neck as I visually moved between monitors either until I no longer had to do so. And for the price, it really can't be beat. I would highly recommend this to anyone needing a monitor stand – the cooling fan and other modules are a bonus that pushes this over the top in terms of value.
Price: $39.98
Where to buy: Amazon
Source: The sample of this product was provided by Kensington.