We use affiliate links. If you buy something through the links on this page, we may earn a commission at no cost to you. Learn more.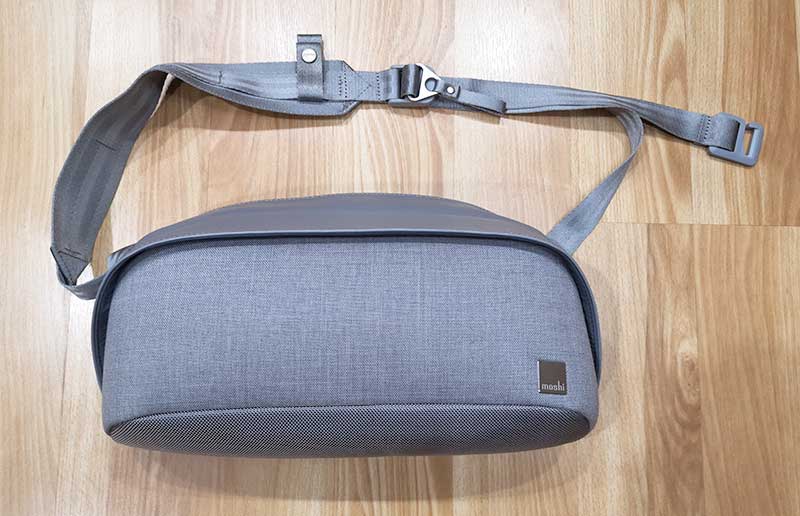 REVIEW – Messenger style bags are my favorite type of gear bags. I sometimes think I want to try switching to a backpack, but as soon as I do, I go right back to a messenger bag. I like them because they have one strap that you can wear cross body and they typically have a large flap that you can flop back for full access to all the stuff inside. But what about when I want to travel light and don't want a full-sized messenger bag hanging off my back? For those times, I'm trying to find something smaller like the Moshi Tego Slingpack. Let's check it out.
What is it?
The Moshi Tego Slingpack is basically a miniature (12.8″ x 3.54″ x 9.45″ (32.5 x 9 x 24 cm)) messenger bag that is available in 3 colors including the stone grey version that was sent to me.
Design and features
The Slingpack is small. Much smaller than my everyday messenger bag. But the Slingpack isn't designed to hold a lot of gear, it's designed to allow you to carry just the essentials.
It's made of a weather-resistant material that is cut resistant and has a 3M Scotchlite reflective strip so people can see you at night.
The front of the bag has a small metal Moshi badge on one corner but that's all. There aren't any zippers on the front because the bag has been designed to be theft resistant.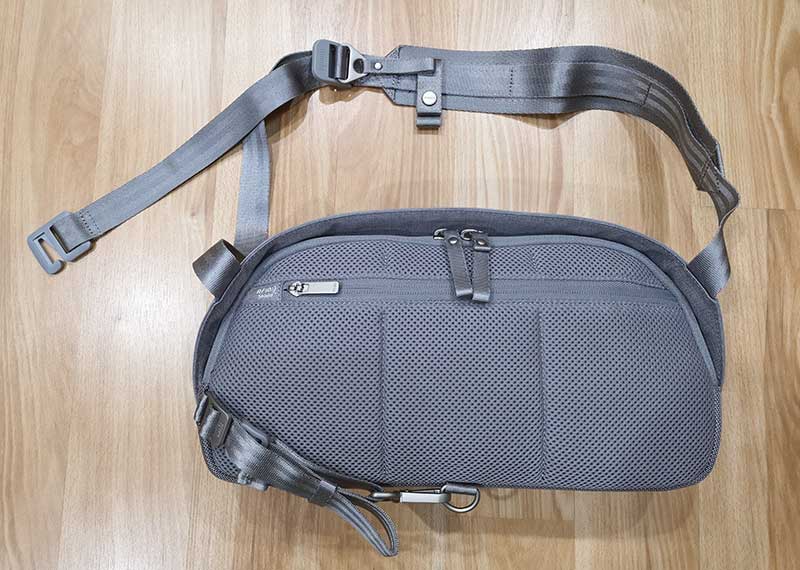 The zippers are located on the airmesh padded back side of the Slingpack which will be against your body when you're wearing it.
There are two sets of zippers. There are dual zippers that open the main compartment and there's another zipper which provides access to a flat RFID protected pocket that you can use to hold your wallet or credit cards.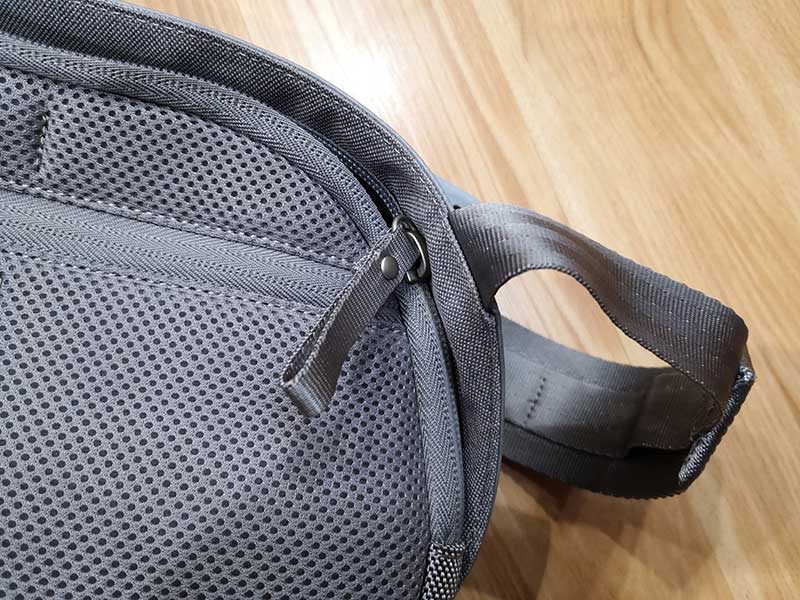 I immediately had a problem with the Moshi Tego Slingpack when I tried to unzip the main compartment. Although there are two zippers with handy pull loops, pulling the zippers around the corners of the bag is awkward and close to impossible while wearing the bag and it doesn't seem much easier if you take the bag off to unzip it. I tried pulling and twisting the zipper in different ways but no matter what I tried, unzipping around the corners is not quick and not easy.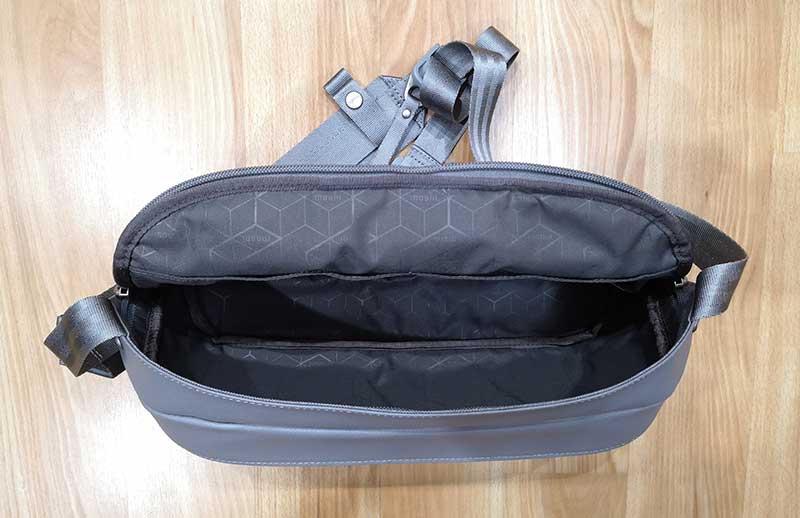 Once you are able to fully unzip the main compartment, you'll be greeted with a deceptively small but roomy storage area with two organization pockets on the back wall of the bag.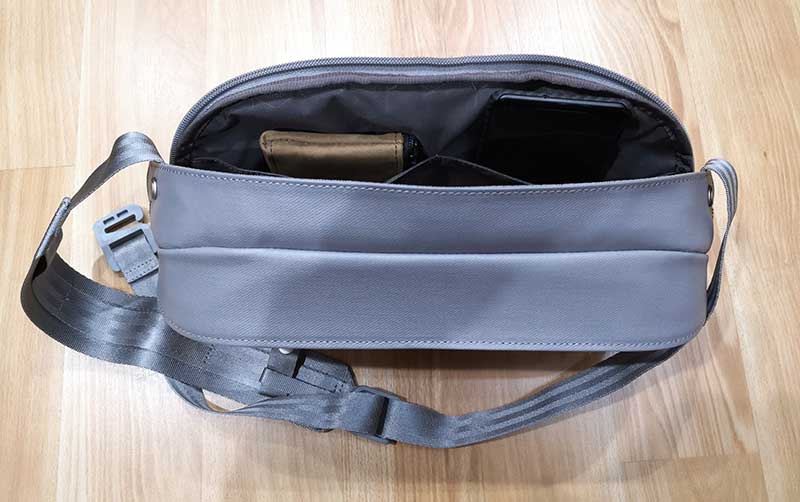 The pockets are sized to be able to hold a phone, wallet, etc. Shown in the image above, I have a Waterfield Design Finn Access wallet in the left pocket and a Pixel 2 XL smartphone in the right pocket.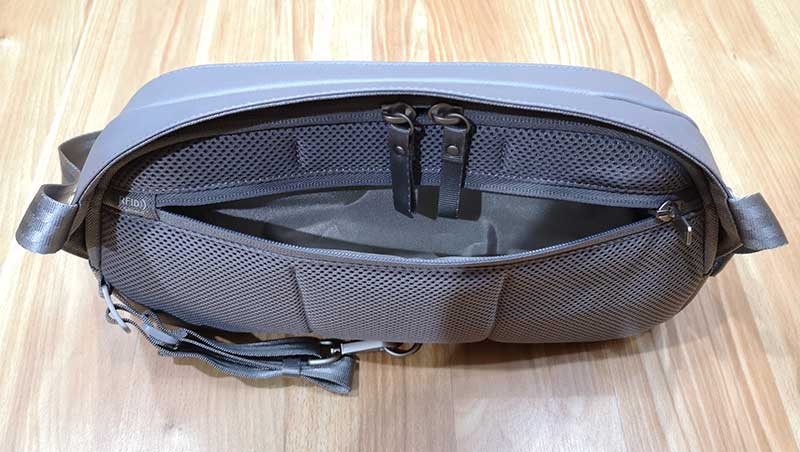 The other zippered pocket on the back of the Slingpack is RFID protected, so it's handy for storing your wallet or passport so people can't steal your info.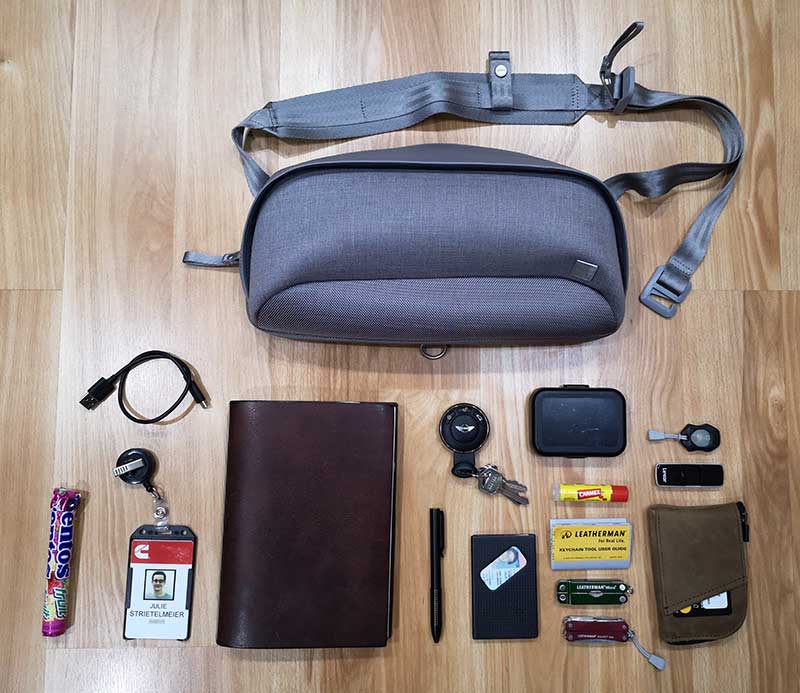 To give you an idea of what this bag can hold, here's a picture of what I've been carrying in it while I've been testing it. This little bag can hold quite a bit of gear.
From left to right: Mentos fruit candies, short USB-C charging cable, Cummins badge, X47 journal, Big Idea Design TI Pocket Pro pen, MINI Cooper car fob, Identity wallet, Dunu Titan-1 earphones, Carmex lip balm, Leatherman Micra user guide, Leatherman Micra, Leatherman Squirt, Photon X-Light Micro LED flashlight, Lexar USB flash drive, and a Waterfield Design Finn Access wallet. Not pictured is my Pixel 2 XL.
If you have an 8-inch or smaller tablet, Moshi says that it will fit in the Slingpack. I don't have a tablet that small so I wasn't able to test this claim.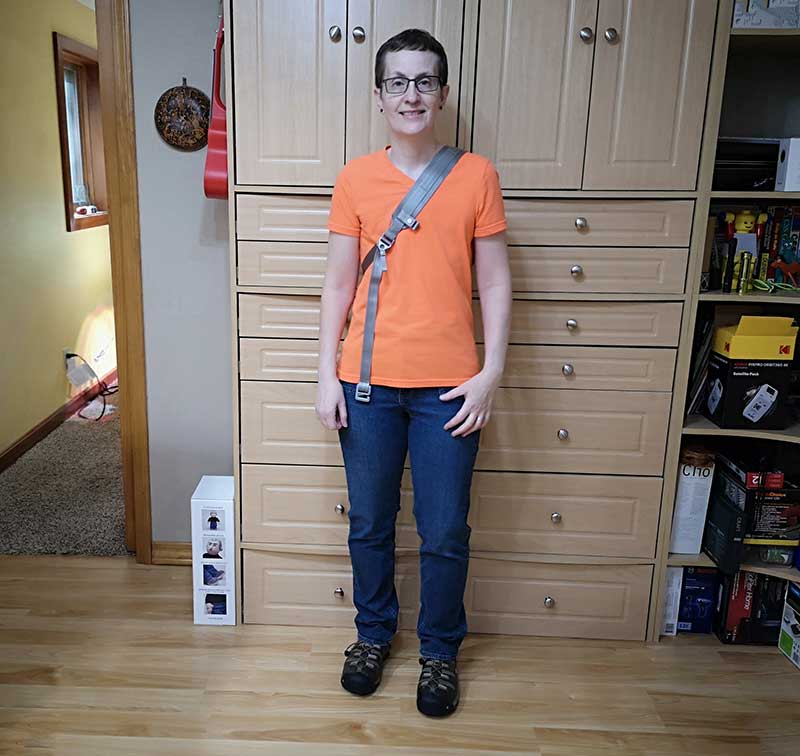 The Moshi Tego Slingpack is designed to be worn crossbody style like you can see above. To give you an idea of the size of the bag vs. my size. I'm 5 foot 6 inches and weight about 129 lbs.
The adjustable seatbelt style shoulder strap is comfortable and features a quick release system that makes it easy to loosen and tighten with just one hand. Note that the bag is configured to be worn across your left shoulder and can't be switched.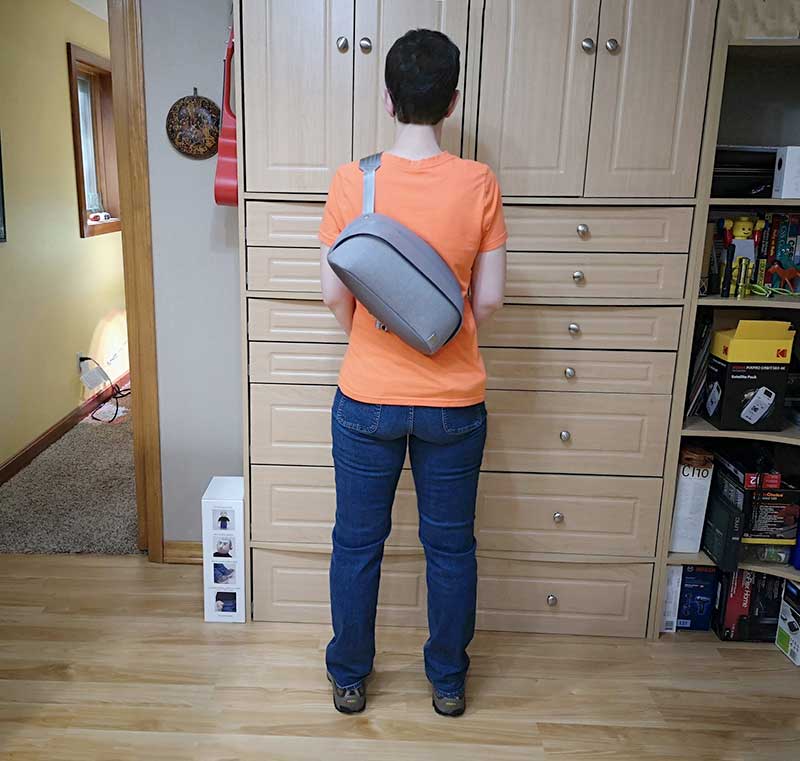 There's also an ActiveStrap that can be used to provide extra stability if you wear the bag while riding a bike and don't want it to shift around. Note that the ActiveStrap can be removed if you don't want or need to use it.
What I like
Attractive and compact
Comfortable to wear
Despite the small size, it can hold a lot of gear
RFID pocket
What needs to be improved
Zippers to the main compartment are difficult to fully unzip
Final thoughts
The Moshi Tego Slingpack is well made and looks great. If it wasn't for the awkwardness of the zippers for the main compartment, I'd say that it is a great little crossbody style bag. But the zipper problem pretty much killed it for me. If I can't quickly get to the contents in my bag then I'm not going to use the bag.
Price: $119.95 MSRP
Where to buy: Amazon
Source: The sample for this review was provided by Moshi.