We use affiliate links. If you buy something through the links on this page, we may earn a commission at no cost to you. Learn more.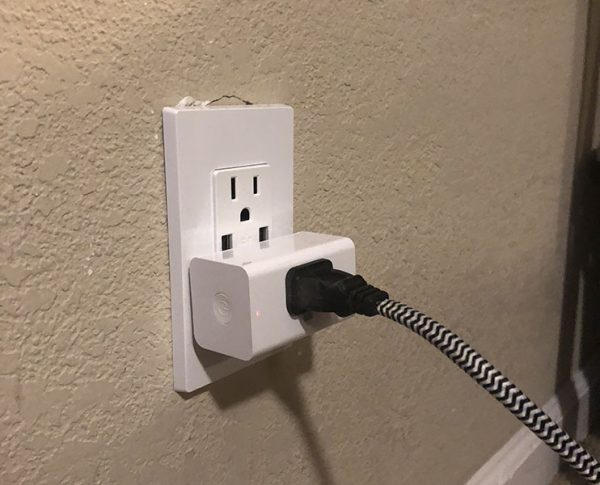 REVIEW – Aukey has entered the home automation market with its new WiFi smart plug. Let's take a look at how it works and why it might be the entry point you've been looking for.
What is it?
Aukey's smart plug is basically a WiFi enabled switch that you place in between your wall outlet and the device that you want to be able to control. As far as home automation goes, it's a very easy first step and when paired with a home assistant like Amazon Alexa or Google Assistant can be quite powerful.
Hardware specs
Input / Output: AC 110–125V 15A
Maximum Power Output: 1800W
Dimensions: 63 x 37 x 33mm / 2.48" x 1.46" x 1.3"
Weight: 79g / 2.78oz
What's in the box?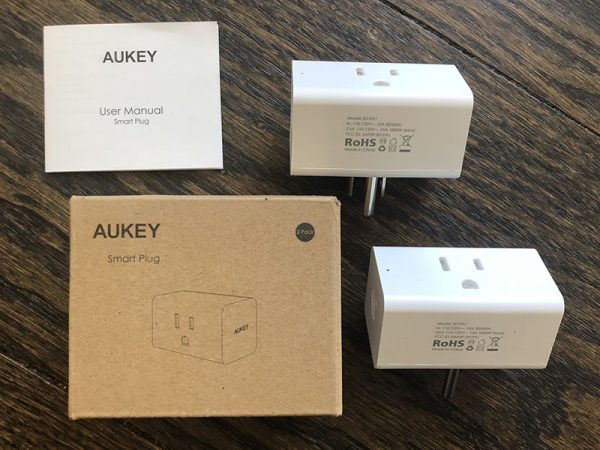 The review sample was actually their dual pack which makes a lot of sense as you start kitting out your home, and it's nice to see the minimal packaging. Here's what's included…
2 WiFi smart plugs
User Manual
Design and features
From an aesthetic point of view the smart plugs are minimalistic and are meant to not draw your attention. Their minimal width keeps them inside the dimensions of most wall plates. Keeping the height down allows you to place one above another on one double wall outlet. This particular outlet I've connected it to has USB ports which are now blocked by the unit, but that's an outlet problem, as connecting USB cables frequently interferes with any AC plug.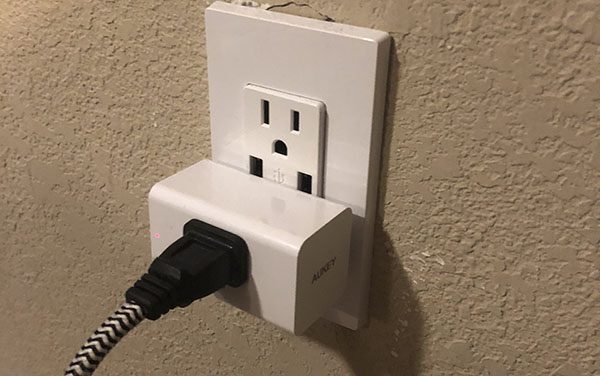 Staying consistent with the minimal approach, There's very little else on the smart plug. On the left end, there's a power button and a simple LED light on the front edge next to it.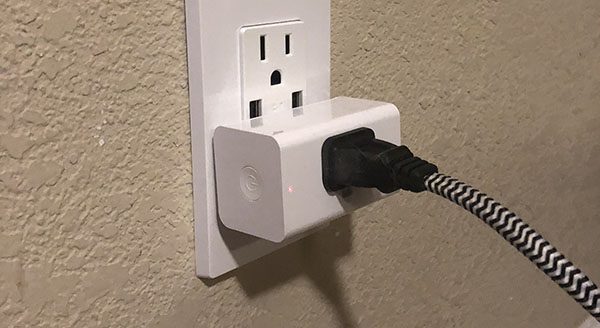 Setup
Getting started is a similar process to most WiFi enabled, app-controlled accessories. Download and launch the AUKEY Home app from the app store for your device. Bounce over to your WiFi settings and connect to the WiFi that the device is broadcasting, and then back to the app to enter your home network information. The app then does the connection for you which in my case took maybe 30 seconds. It was really fast and worked first try on both smart plugs which is something I cannot say for some other smart plugs that I've tried.
Never miss one of our posts again. Sent MON, WED, and FRI with the latest gadget reviews and news!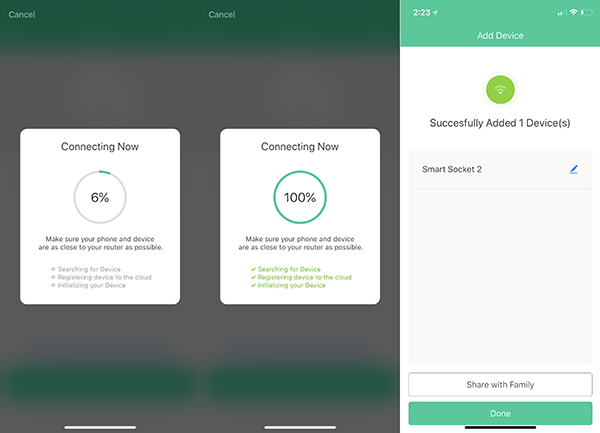 So at this point, the smart plugs are set up and you will see them (and any others you may have set up) in the app as seen here. If all you want to do is launch an app and turn things on and off, you can read the next paragraph and then skip ahead to performance.
The power button icon on the right of each smart plug lets you toggle power to whatever device you have plugged in. You can see above the language changes 'Turned on' vs. 'Turned off' as well as the icon on the left is highlighted in blue when a device is on. Clicking into the device also lets you toggle power with the center icon or the bottom 'switch' icon (redundancy) and the visual is even more clear as to its status.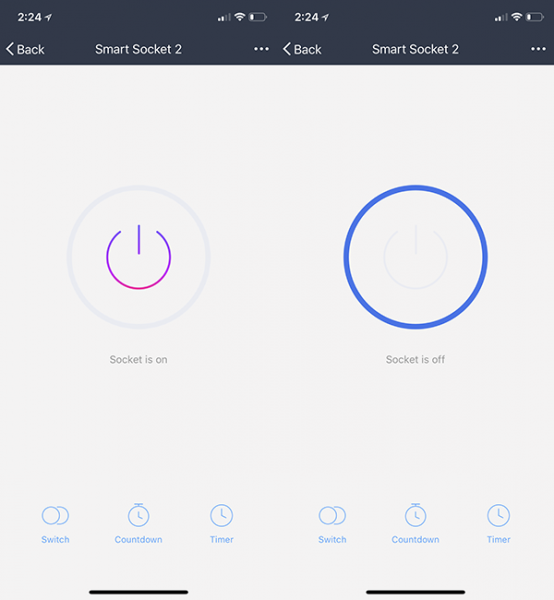 You'll also see the two other icons across the bottom of the screen where you can start to customize further. Countdown lets you set an expiration time in case you might fall asleep while reading as an example. Timer lets you set an event to turn on or off at a specific time and have it recur or be a one time need.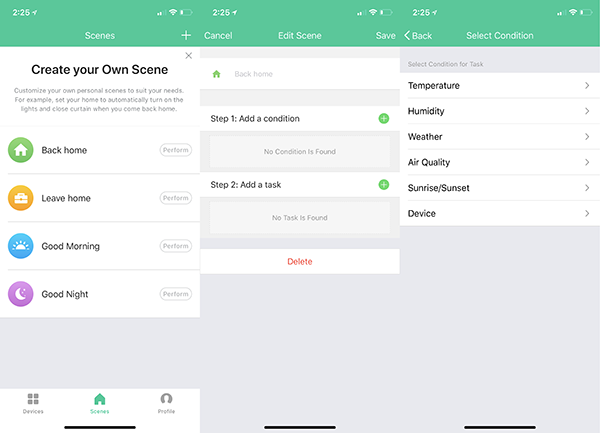 Creating 'Scenes' lets you activate multiple smart plugs (and of course the devices connected to them) and set conditions that trigger them. There are four scenes built in as you see above, but you can choose a condition and have it perform a task which is typically toggling a smart plug.
So want your floor lamp to come on at sunset? Choose sunset and the smart plug connected to your floor lamp, and then give the scene a distinctive name. This is important as if you connect an assistant like Alexa you want it to easily understand.
That brings us to the last part of setup if you want to connect it to your Alexa device should you have one. In the profile section (icon in the leftmost image above) you'll see a selection called integration. Once there, you'll see these three options.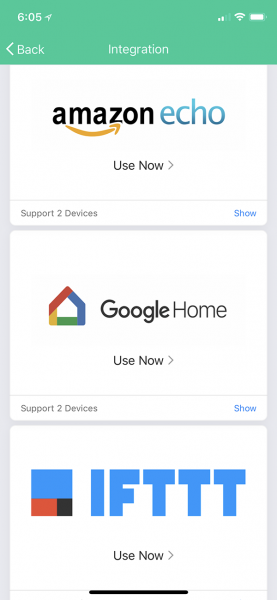 Amazon and Google are pretty self-explanatory, but if you haven't heard of IFTTT (IF This, Then That) you should definitely check it out. That may be your solution when you wish you were able to automate something that otherwise doesn't look to be supported by whatever system you're using. As for connecting your Amazon Echo, here are the instructions that Aukey provides in app and while this crowded screen may make it look time-consuming, it's super fast and works first try.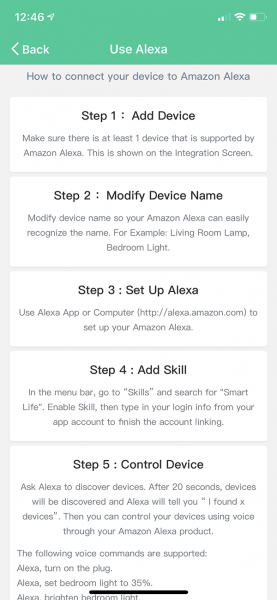 Okay, enough with the setup already. How does it work?
Performance
As I've mentioned a couple of times above, Aukey's smart plugs just plain worked. It's something that I've come to be surprised by in today's 'ship it and fix it with firmware later' mentality. I have 10 (yes ten) smart plugs and switches from an established brand and every time I add a new switch the app forgets some of the earlier ones and let's not even get into updating wifi passwords (ugh). Aukey's app is clean, simple and controls devices in a logical way. The integration with Alexa is great with Amazon taking the naming convention directly from Aukey without a problem.
So what's the catch? None really, just a couple of things to keep in mind.
First, choose distinctive device and scene names. If you're using Alexa and all your devices are 'something lights' there's a good chance background noise will cause Alexa to only hear 'lights' and you'll get a 'there are multiple devices with that name' response which is annoying. You can double this issue when you add scene names as well. The second part of this is just making sure that they're memorable and not too lengthy. This is an 'assistant' problem and not a flaw of Aukey or their device.
Second, the smart plug like all the others on the market, are toggling power only. This means you can't connect just any device and have it work. Lamps and any other lighting with an AC cord work great (remember the lamp itself needs to be on). A coffee maker, on the other hand, would only work if said coffee maker automatically starts brewing when the power switches on. Similarly, a computer that needs a password after startup, or a TV that always defaults to the input you don't use won't work so well.
Lastly, please be careful automating something that could be dangerous, like a space heater. Asking Alexa to turn something on while you're home is one thing, but if it's set to come on at 6am to warm up the house and the dog has dropped a toy or pushed their dog bed too close, nothing is going to catch that and decide maybe it's not a good idea to turn on right now.
What I like
Small and compact
Two unit bundle
They just work
Integration with assistants like Amazon and Google
The low cost
What needs to be improved
Would like to see native Apple HomeKit support
Final thoughts
I'm going to sound like a broken record here, but again, these just work. I've spent a few hours mucking around with products like this only to get frustrated or resort to full WiFi reset up. This was as simple as it gets and again I found myself surprised. If you're looking to have control of a few lights or other compatible devices and want a low-cost way to do it then look no further. The other players in the space are twice this cost and don't function this well.
Price: $27.99
Where to buy: Amazon
Source: The sample of this product was provided by Aukey.