We use affiliate links. If you buy something through the links on this page, we may earn a commission at no cost to you. Learn more.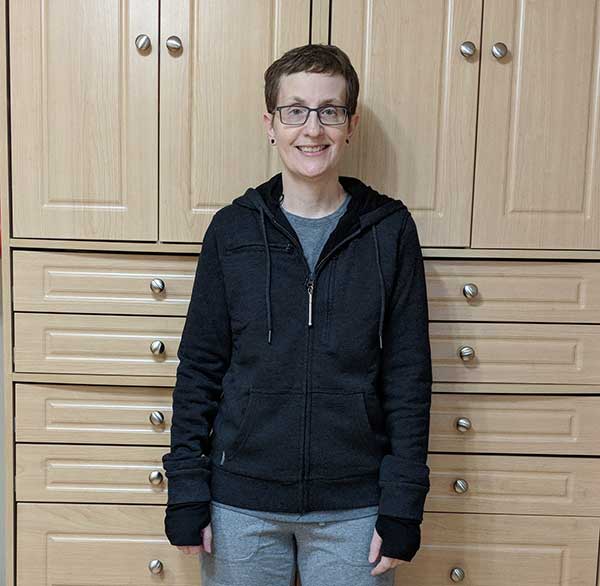 I'm a big fan of comfy clothes and that extends to my outerwear. Hoodies and other short jackets are my preferred type of jacket when the weather is cool. Of course, any old hoodie just won't do when you're the Gadgeteer, so I want my hoodies to have extra features over and beyond a hood and two handwarmer pockets. I heard about BauBax almost 3 years ago when we told you about their crowdfunding campaign. Recently they offered to send me one of their original women's sweatshirt jackets which I've been trying out for the past few weeks. Let's check it out.
What is it?
Designed in the USA, the BauBax Women's Sweatshirt is a 60% cotton 40% polyester, machine washable hoodie style zippered jacket that comes in three colors (charcoal, black, and blue) and in men's and women's sizes XS up to XXXL for men and XS up to XXL for women.
Design and features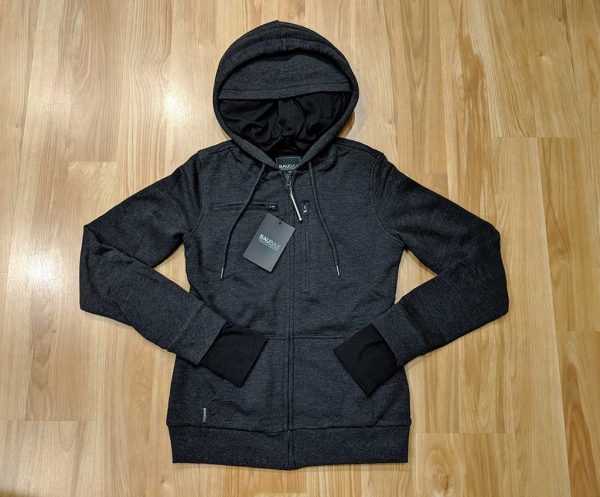 At first glance, the BauBax Women's Sweatshirt looks like a traditional hoodie jacket that most of us already own. But when you take a closer look at it, you'll discover several extra features.
First of all, the jacket has two open handwarmer pockets like most hoodies. But the jacket also has two additional zippered pockets on the front. There's a horizontal pocket on the upper right chest and a vertical pocket on the left chest.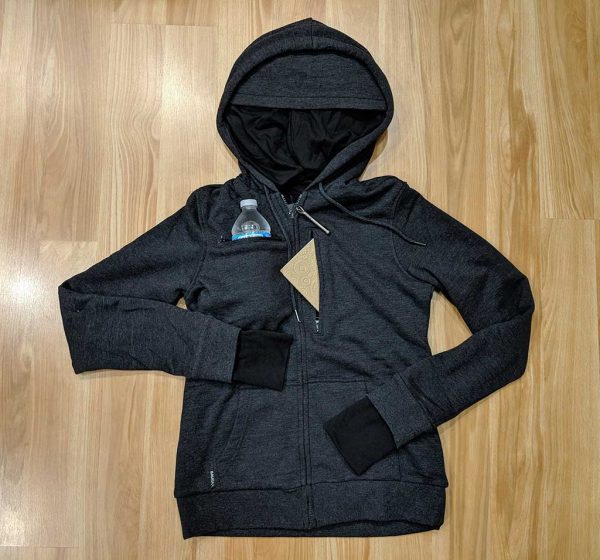 The right pocket is the drink pocket and it has been designed to be large enough to hold a regular sized soda can or bottle of water. The vertical pocket has been designed to be large enough to hold a passport. I was too lazy to find my passport for the photo above, so I substituted a Field Notes sized notebook which fits great.
If you need something to write with or a stylus, BauBax has you covered because they include a telescoping combo pen/stylus that clips on to the jacket. They also include 3 extra ink refills for the pen.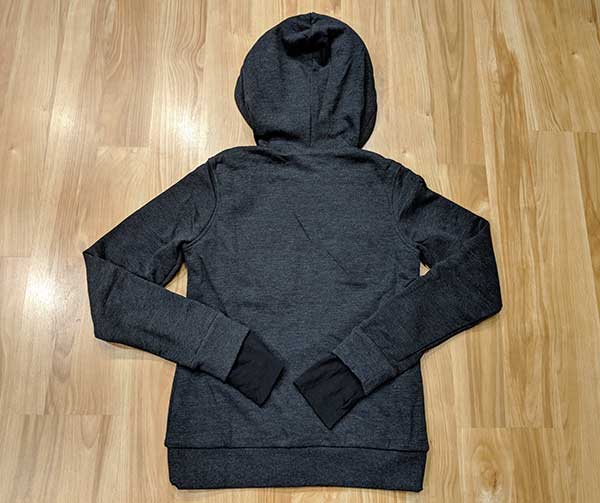 If we flip the jacket over and look at the back, we don't find anything special, but you can see that the cuffed sleeves look longer than is typical.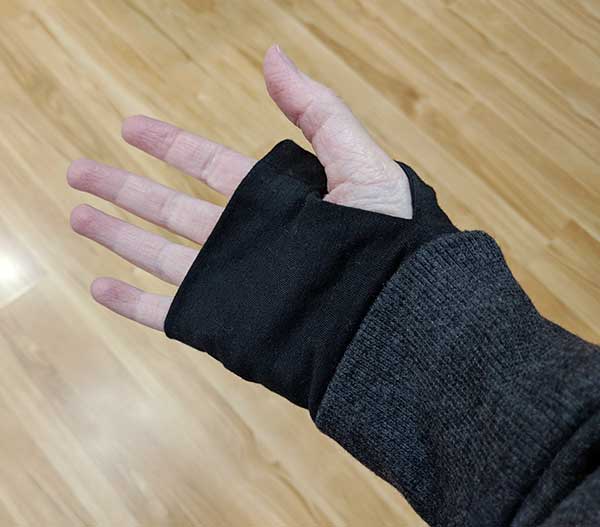 That's because the sleeves have built-in slidegloves that you can use to keep your hands a bit warmer than with no gloves at all, and it helps to keep the sleeves from sliding up your arms.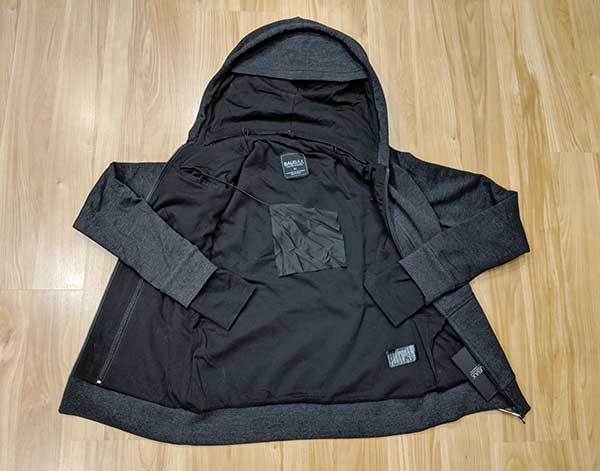 When you unzip the jacket, you'll find a black lining and additional pockets. First about that lining. I do wish that they had used either a satin lining or regular fleece lining because the lining is a lint magnet. Since it's black, you can see every little piece of lint, every cat hair, etc. It's also thin and stretchy so I don't know how it will wear over time.
As for the pockets, there are 5 interior pockets (not including the hood, but more on that later). There's an open-topped sunglasses pocket on the upper right lapel that holds an elastic tethered eyeglass cleaning or screen cleaning cloth.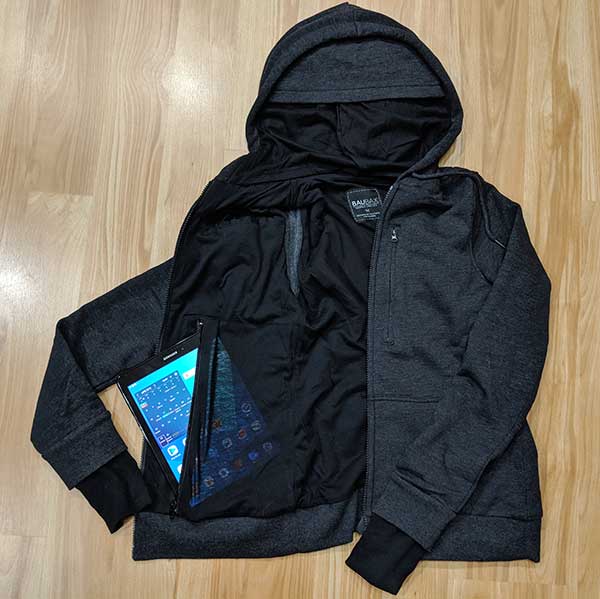 Below the sunglasses pocket is a long vertical zipped pocket that is large enough to hold a tablet. It's just big enough to hold a Samsung Galaxy Tab S3 shown here.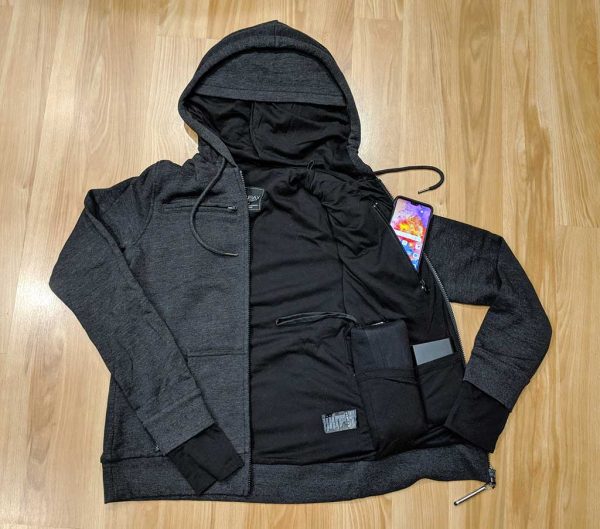 On the left inside lapel, there is a vertical zippered satin lined pocket for your phone and along the waistband area, there are two open-topped pockets. One is for the optional blanket and the other is for a power bank.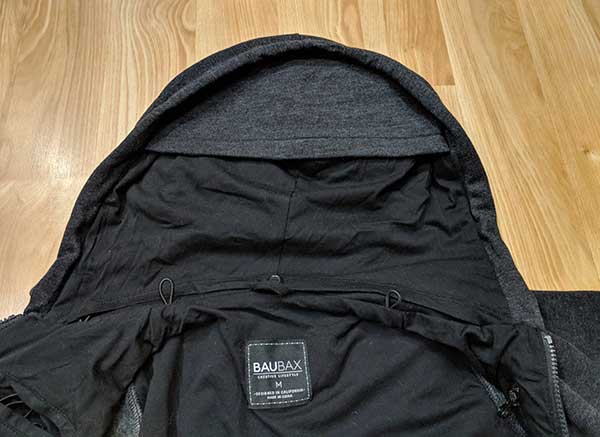 The hood of the BauBax Women's Sweatshirt jacket had a built-in eye-mask. There's also a built-in pocket that holds the inflatable neck pillow and you'll notice in the image above that there are elastic loops that you can use to route your earbud wires.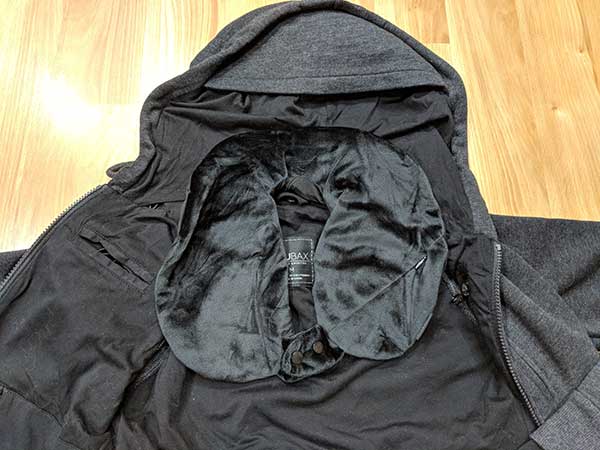 The inflatable pillow stores in the hood. To remove it you can just unbutton the hood's pocket and pull it out.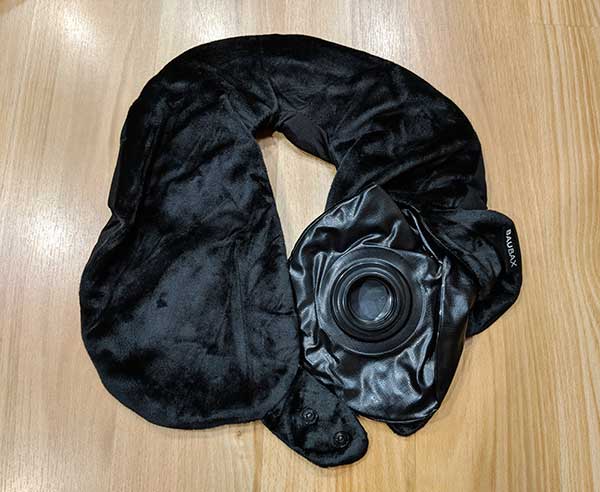 The pillow has a soft plush cover and a zipper reveals the air valve. The cool thing about the port is that it takes barely any air or effort to inflate the pillow. Just place your mouth over the valve and blow a few puffs of air to inflate it. You don't even have to quickly plug the valve because as soon as you stop blowing, it automatically closes on its own.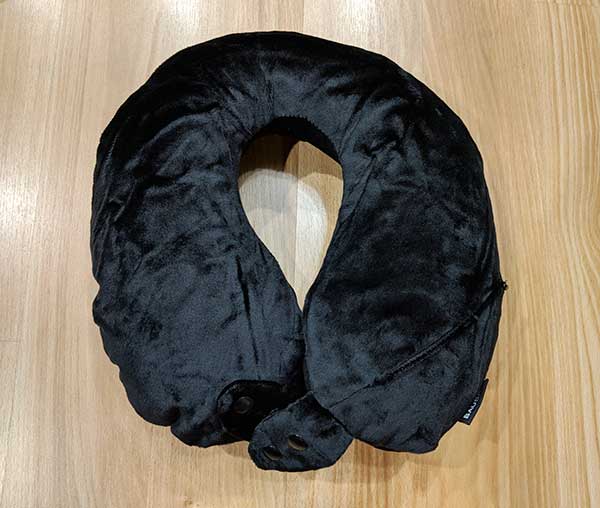 To deflate, you just press your finger in the air valve to open it and press out the air. It's quick and simple.
How does it fit?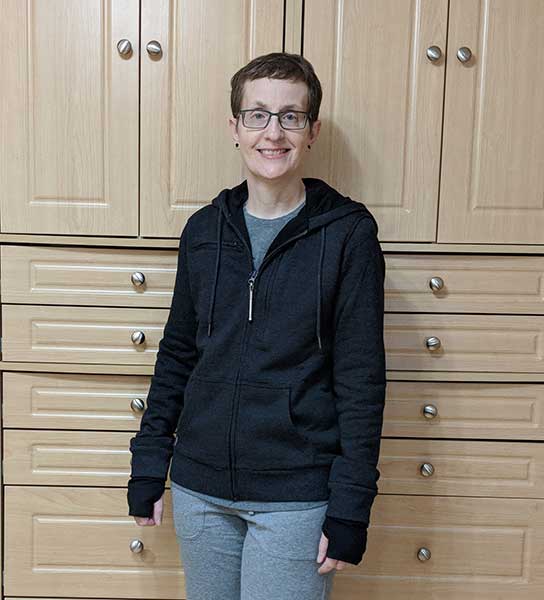 I originally asked for the jacket in small, but it felt too tight, so I traded for a medium which is a perfect fit for my 5ft 6in 130 pound frame.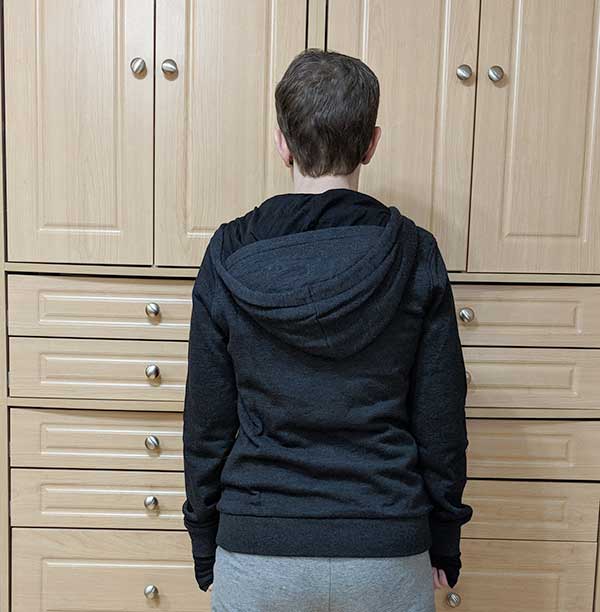 The jacket is soft and comfortable. The only part of the jacket that I didn't like was the pillow stowed in the hood because it caused the hood to tug on my neck from the weight and bulk.
Oh look, I'm Mr. Robot. 🙂 You can click the images for a larger view. The hood with the built-in eye mask is actually useful when you're not trying to sleep as it gives your head a bit more protection if it's raining.
Accessories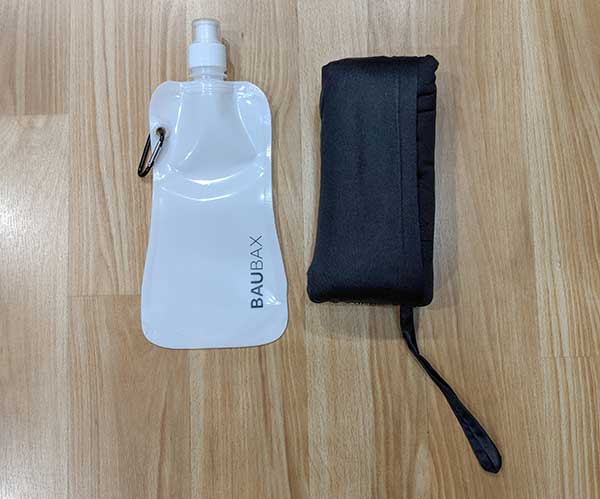 The BauBax Women's Sweatshirt jacket comes with the combo pen/stylus, but if you want the 55x37inch 100% Polyester pocket blanket, it's an optional purchase with a price tag of $25. You can also get a collapsible BPA free bottle that runs $10. I think both of these accessories should be included with the jacket.
What I like
Comfortable like a traditional hoodie
9 pockets
Hood has a built-in eyemask and can hold a neck pillow
What needs to be improved
Expensive
Blanket and bottle should be included with the jacket
The lining is thin and attracts lint.
Final thoughts
When it comes down to it, I think the BauBax Sweatshirt is too pricey compared to my favorite hoodie (the SCOTTeVEST Cotton Hoodie). That said, I do like the little extras that come with the BauBax, like the combo stylus/pen and pillow, but I think asking people to pay an extra $35 for the blanket and bottle is too much considering that the jacket already costs $150.
When it comes to clothing, personal style is a huge part of the selection process. Some people aren't "hoodie people". But if you are a hoodie person and would like to have a jacket that offers more ways to carry your gear besides the two handwarmer pockets, the BauBax Sweatshirt jacket for men and women is one option to consider.
Price: $149.99
Where to buy: BauBax and Amazon
Source: The sample for this review was provided by BauBax.