We use affiliate links. If you buy something through the links on this page, we may earn a commission at no cost to you. Learn more.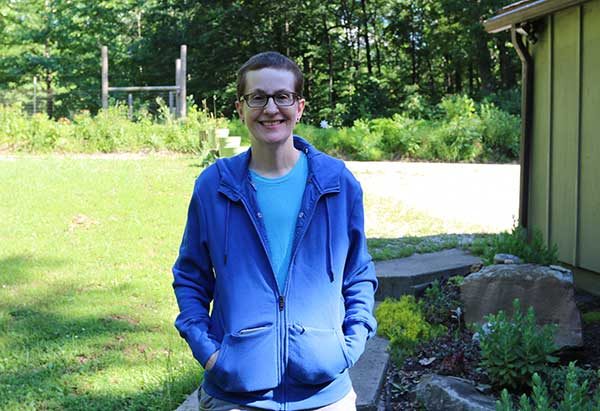 What's better than a cozy hoodie jacket on a cool day? How about a cozy hoodie jacket that has lots of pockets for your favorite gear? Sound good? Then you will want to read this review of the SCOTTeVEST Hoodie Cotton jacket. Is it too soon in the review to reveal that I love this jacket?
What is it?
The SCOTTeVEST Hoodie Cotton jacket is a cotton fleece zippered jacket with a hood, and 21 pockets.
Design and features (pockets, pockets, and even more pockets)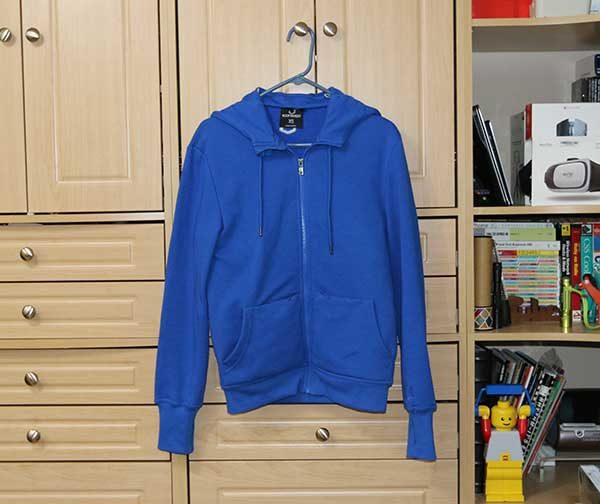 The hoodie is made of a cotton/poly blend fabric and comes in Black, Cobalt, Ash, or Maroon. I was sent the jacket in Cobalt. Note that this jacket only comes in men's sizes. I was sent the jacket in size XS, but sizes go up to an XXXL.
The jacket has a typical hoodie design with long sleeves, a zippered front, and two traditional hoodie pockets on the front.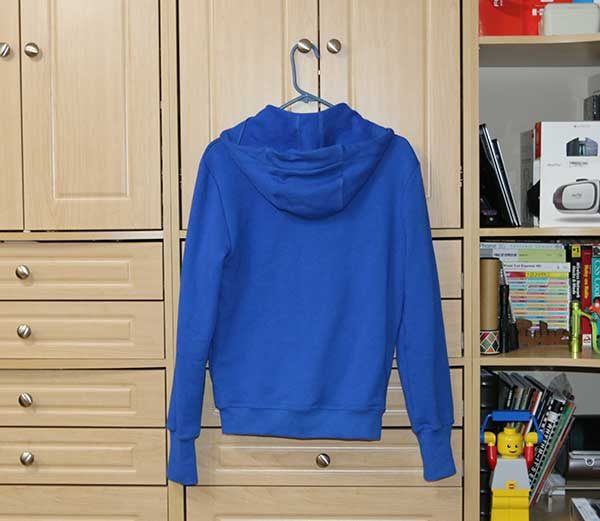 SCOTTeVEST's branding on the jacket is minimal, with an embossed logo on the back (it's actually under the hood in the image above).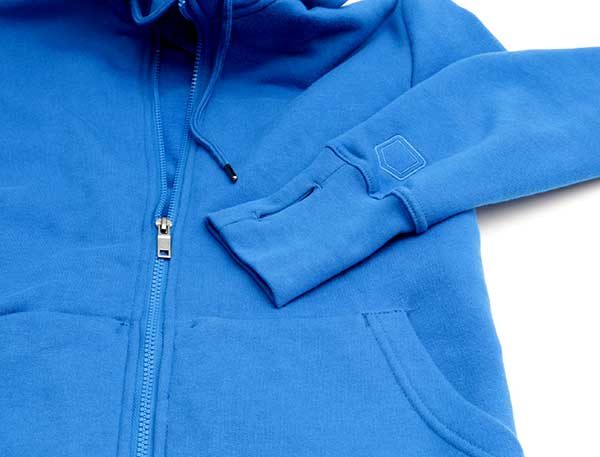 And another logo on the left arm.
In the image above you'll notice the nylon zipper which matches the color of the jacket and has smooth zip and unzip action. The zipper pull is made of metal with a dark gray finish. The hood drawstrings have the same type of metal on the ends.
You'll also notice the slit in the ribbed cuff. That's a thumb hole.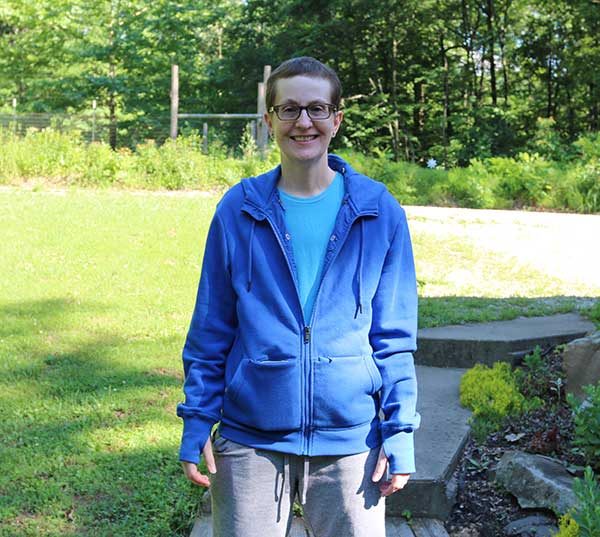 Thumb holes help keep the sleeves in place and keep part of your hand warm in cold weather.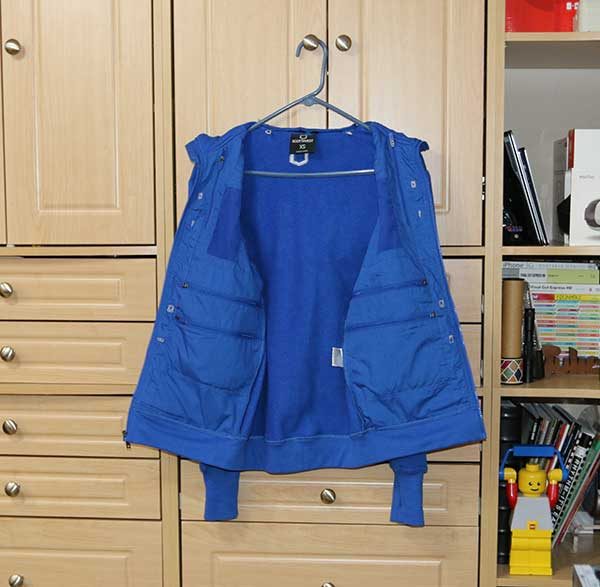 When you unzip the Hoodie Cotton jacket, you'll be greeted with a panel of pockets on both sides. If you're familiar with SCOTTeVEST jackets, the Hoodie has a similar layout with some of the same features.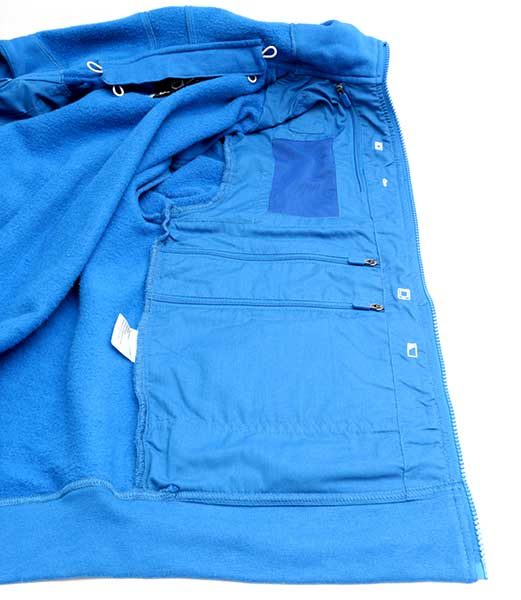 Let's start on the left side of the jacket. Up at the top at the neckline are SeV's PAN (Personal Area Network) loops and a CollarConnect covered cable run to help you manage the wires of your headphones. There's also a BudBucket Pocket on each side at collar bone level to hold your earbuds.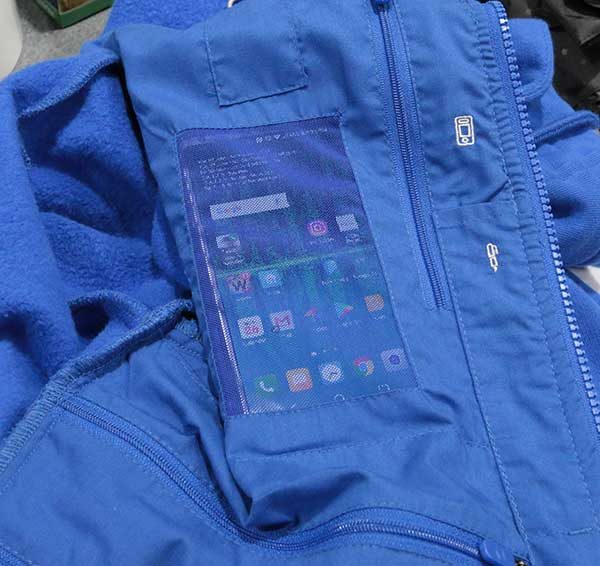 Along the edge is a pen or pencil slot and next that is a vertical zippered pocket for your phone that has a mesh panel that allows you to see the screen and even interact with it. I will say that it's not "easy" to interact with the phone through the mesh panel, but it's possible.
Below the phone pocket is a zippered pocket that is large enough to hold a tablet like an iPad mini. The pocket is actually large enough to almost hold my Samsung Galaxy S Tab which has a 10″ display, so a 10.5 inch iPad might fit too.
There's another pocket layered over the tablet pocket what is the perfect size for a Field Notes notebook or a passport.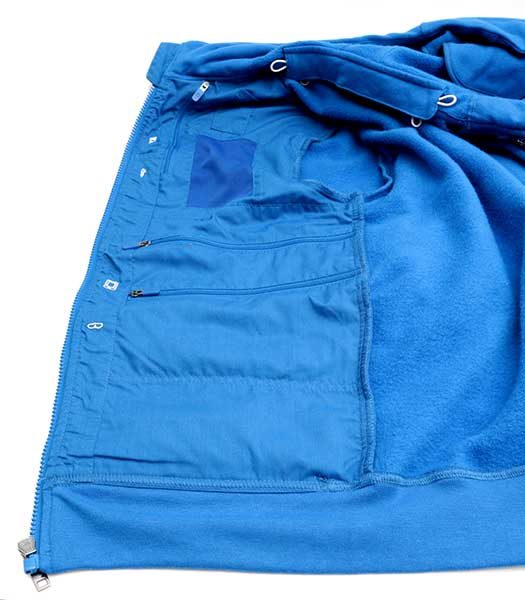 The right side panel of pockets is almost identical to the left side except that the bottom pocket is smaller and sized more for a pair of sunglasses which is suggested by the embossed icon beside the pocket.
Note that all of the inside zippers are locking zippers. The pull folds over to lock in place to prevent accidental unzipping.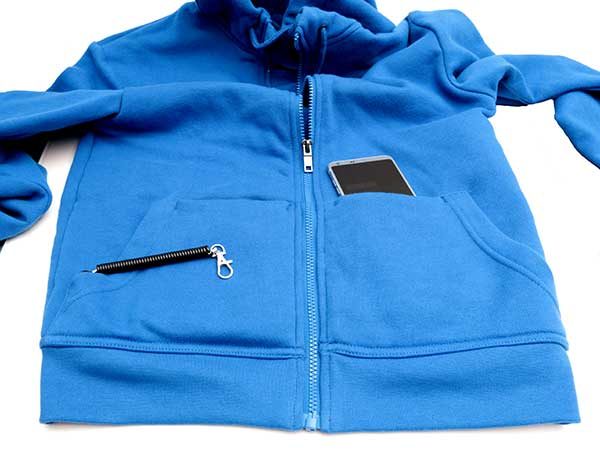 As mentioned before, there are two front pockets on the Hoodie Cotton that look like classic front hoodie pockets, but they hide a few extras. First of all, each one has a top drop zippered pocket that is perfect for your phone, a wallet, and even a small bottle of water.
The main handwarmer pockets have a separator panel so you can put items like your keys in front the panel and your hands in the back or visa versa.
There are also some small Velcro pockets for coins or a key. And the right pocket has a lanyard coil for your keys.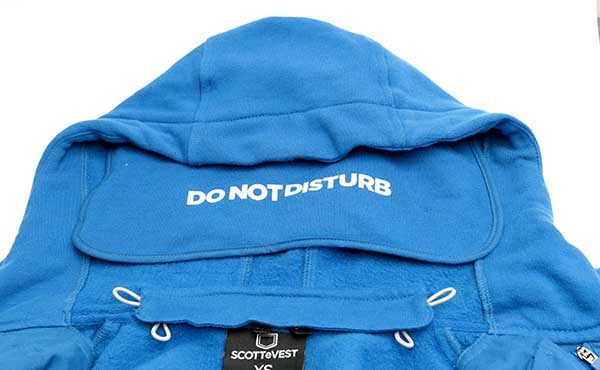 The large hood has a built in do not disturb eye cover so you can take a nap on a train, plane, etc and not worry about someone bugging you. I really love this feature, but I do wish that the do not disturb eye cover had some small magnets or velcro to keep it attached to the inside of the hood. As it is designed, only one edge is attached to the front of the hood. The rest of the eye cover just floats inside the hood.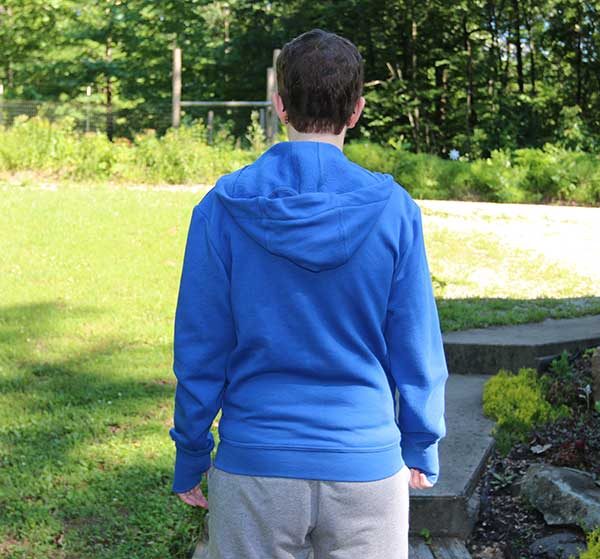 The SCOTTeVEST Hoodie Cotton fits well even though it only comes in men's sizes. I am 5'6″, 128 lbs give or take and the XS fits me fine.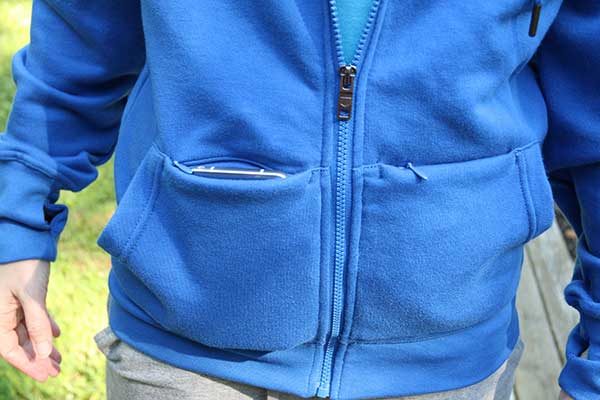 My favorite feature are the top down zippered pockets because they let me quickly access my phone.
Final thoughts
As I already said at the very beginning of this review, I love the SCOTTeVEST Hoodie Cotton jacket. It's warm, soft and cozy enough that I could easily sleep in it. It's kind of a bummer that it's summer because I haven't had a lot of opportunities to wear it now that it's warmer outside. I did wear it a few weeks ago when I was on vacation and visited Indiana Caverns for a cave tour. The cave was about 50 degrees and this jacket kept me at the perfect temperature and kept all my gear organized in their own pockets.
Next to the SCOTTeVEST Lola jacket, the Hoodie Cotton ranks right up there as one of my all time favorite SeV garments. The price is nice too. If you love hoodies, I know you'll love this one.
Source: The sample for this review was provided by SCOTTeVEST. Please visit their site for more info and Amazon to order.

Product Information
Price:
$95
Manufacturer:
SCOTTeVest
Retailer:
Amazon
Pros:

Soft and cozy
21 pockets!
Well made

Cons: