We use affiliate links. If you buy something through the links on this page, we may earn a commission at no cost to you. Learn more.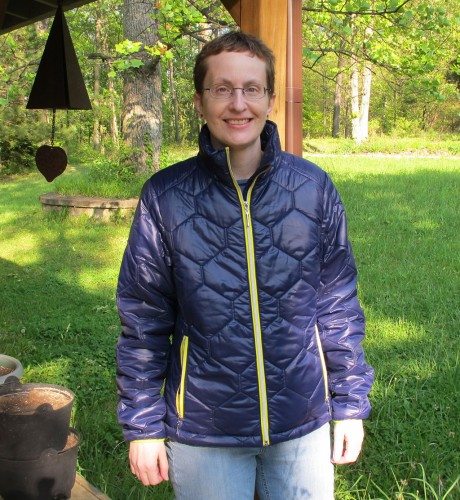 Although it's the middle of May here in Indiana, we are still having a few 40 degree mornings. Instead of dragging out my winter coat, I've been enjoying the comfort and gadget storage of the SCOTTEVEST Lola Jacket. Wearing this jacket allows me to hide all my gear in the jacket and leave my shoulder bag at home. Let's take a closer look.
Note: Click the images in this review to see a larger view.
The Lola jacket is made of 100% quilted nylon with DuPont Teflon fabric protection that repels both water and oil based spills, while remaining machine washable. It is available three colors: Rhapsody, Sparkle and Fluff. The jacket is sized for women and comes in X-Small up to XX-Large. Guys don't need to feel left out. SCOTTEVEST has a men's version of this jacket called the Puffer which is available in Red and Black and sized from Small – XXX-Large.
I was sent a medium sized Lola in Rhapsody, which is a stylish Purple/Blue color with bright Yellow trim.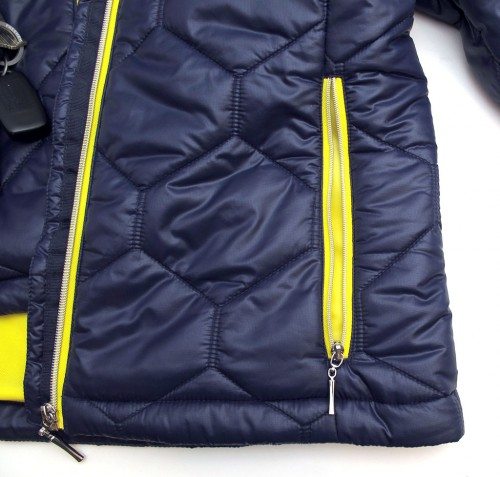 SCOTTEVEST products are famous for their pockets, so the Lola jacket lives up to that tradition. This jacket offers 16 pockets that allow for great gear organization.
With the jacket zipped (btw: I love the long metal zipper pulls), you have access to two zippered hand warmer pockets.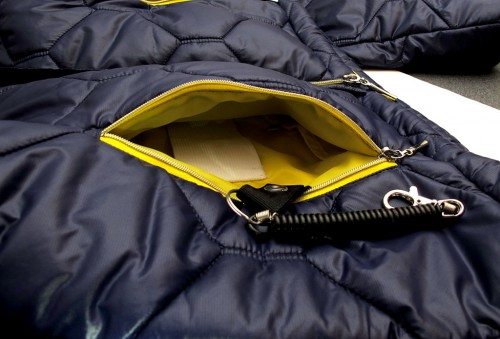 Inside the Right pocket is a removable extendable key holder, a wide elastic bottle holder and a lipstick / chapstick pocket.
In the Left pocket you'll find a small change pocket.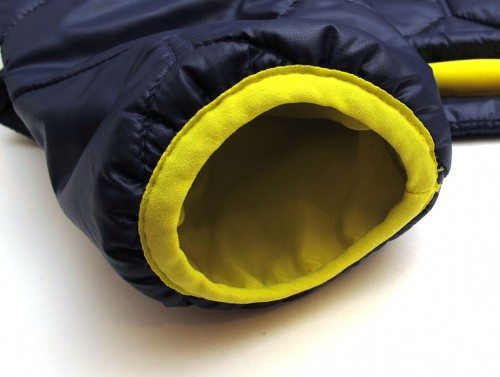 The cuffs have a narrow elastic band to keep them from shimmying up your arm.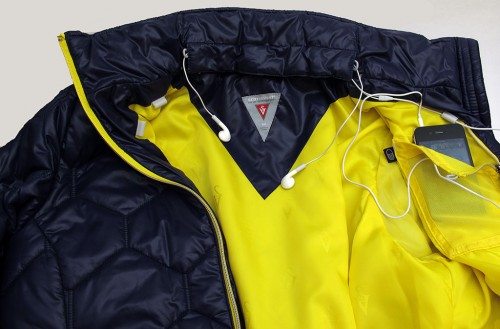 Like other SeV jackets, the Lola has a built in PAN – Personal Area Network that you can use to route your earbud cables. In the inside collar area, a flap of the quilted material is held in place with Velcro. Opening this channel will allow you to place your earbud cables so that you can easily access your music while on the go. Small rubber holders add additional cable management. This system works fine, but I did notice that if you don't arrange the flap correctly, that the Velcro in the collar might scratch your neck. For this fact, I'd prefer just having a hole that I could fish the wires into, instead of a flap. I like the SeV Chloe jacket PAN system design a little better than the Lola's design.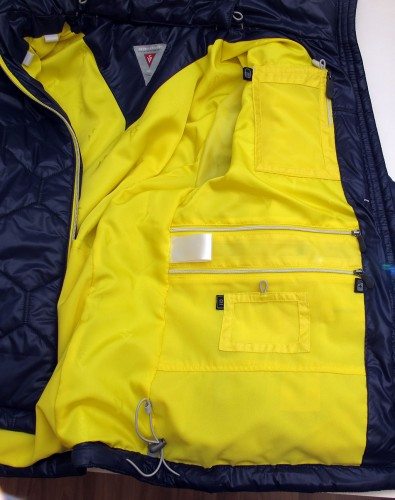 The pockets on the Left side of the jacket include a Cellphone / MP3 player pocket at the top, with a pen pocket next to it near the zipper. This pocket is large enough to comfortably hold an iPhone 4S or Motorola Droid X with room to spare. There's a conduit in the pocket to route the connector from your earphones.
A little lower is a zipper that opens into a large 8.5 x 8.5 inch pocket that extends to the bottom of that side. This pocket can hold a small tablet or ebook reader like the Amazon Kindle Fire.
Another zipper allows access to a smaller 8.5 x 4 inch pocket on top of the 8.5 x 8.5 inch pocket. This pocket is meant to hold your passport and your ID (in the small pocket on the outer layer). The pocket works great for holding a Field Notes notebook or Moleskine Cahier notebook too.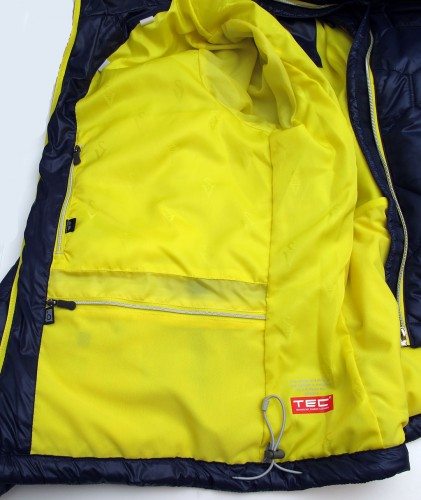 On the Right side, you'll find two large zippered pockets.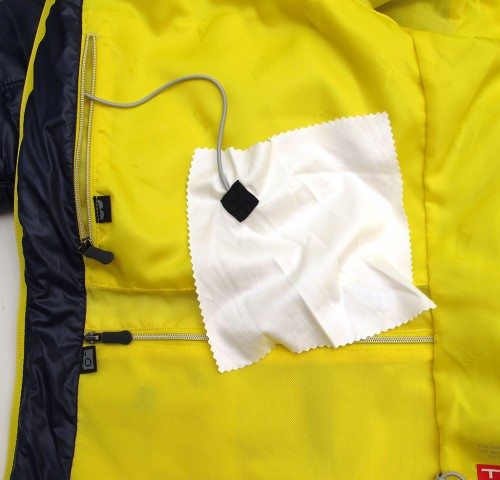 The upper pocket, which is accessed with a vertical zipper holds your sunglasses and includes a handy chamois cloth that is attached to an elastic cord.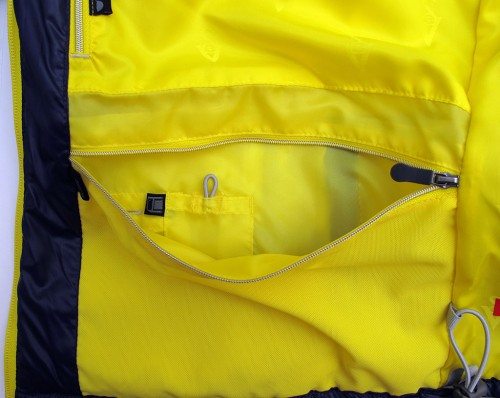 A horizontally zippered pocket below the sunglasses pocket is meant to hold your digital camera. There's even a smaller pocket inside which you can use to hold extra SD flash cards. It's possible to place a CF sized card in that slot, but you won't be able to Velcro the top closed.
I should note that all the interior pocket zippers have nice hard plastic pulls on them, while the exterior zippers have metal pulls.
You'll also notice that there's an adjustable bottom cinch cord that will help keep the wind and cold from blowing up your back.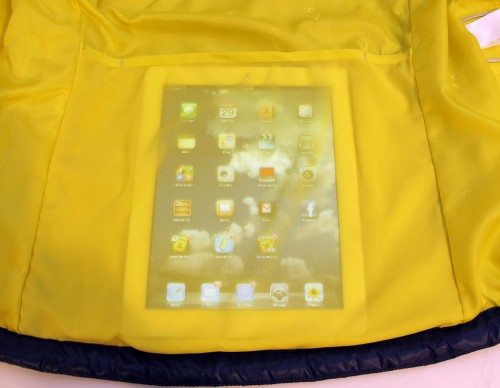 Speaking of the back, that's where the largest pocket of this jacket is located. It's an open topped stretchy mesh pocket that is large enough to hold an iPad. I don't think I'd want to walk around with an iPad bouncing against my back, but it also works great for holding a standard sized magazine.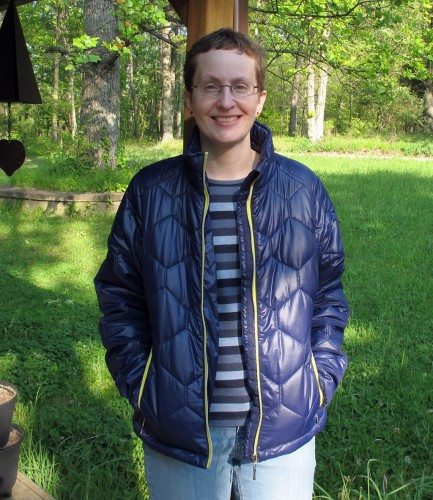 I love the Lola jacket. It allows me to carry quite a bit of gear without having it all stuffed into two side pockets, which is what I usually end up doing with non-SCOTTEVEST jackets. I don't carry tons of gear, but it's nice to have my keys, wallet, phone, earbuds, lip baum, sunglasses clip, pen and a Field Notes notebook all stowed in the jacket so I don't have to carry a bag. I also like that the jacket doesn't have a lot of SeV branding. What it does have is subtle… the SeV logo on the interior lining and then a rubber SeV logo sewn into the back of the collar.
I was very surprised by how comfortable and light weight this jacket is, while still providing adequate protection from cool weather. It's so cozy that I keep hoping for more cool mornings so I can wear it to work. It seems like the perfect weight for Fall and Spring weather, but not quite heavy enough for the dead of Winter… unless of course the winters in your area are not too cold.
The Lola jacket is made very well. I could not find any defects in the material or construction. I'm a fan of this jacket and expect it to hold up to everyday wear and tear for many cold seasons to come.
Updates 03/19/15
This jacket is still holding up after almost 3 years of wear. In fact, I wore it to work this morning. It is my favorite jacket to wear when the temperature is between 30-50 degrees. It's warm enough even when it's windy and not too warm when it's 50 degrees. It's almost time to put it back in the closet since winter will officially end tomorrow, but I know it will be there waiting for me again this fall/winter.
Updates 12/14/15
It's winter again and I'm wearing this jacket for yet another season. I thought I'd leave another update to let everyone know that even after running it through the wash, it still looks and feels good as new. A few weeks ago I splattered butter all over the back and one arm (don't ask…) and immediately threw it in the washer and then the dryer. It's still going strong, keeping me warm and providing places to hold my gear.
Update 3/13/21
It's been over 5 years since my last update and guess what? I'm still wearing this jacket. As a matter of fact, I'll be wearing it today when we go running around town later. I'm very tempted to go to SeV and buy another one of these jackets because it's been a favorite of mine for so long. I just love the pockets and not having to carry a bag when I go shopping or adventuring!
Source: The sample for this review was provided by SCOTTEVEST. Please visit their site for more info.
Product Information
Price:
$190
Manufacturer:
SCOTTEVEST
Pros:

Comfortable
Stylish
Storage capability

Cons:

Velcro cord channel in collar can be itchy on your neck
Expensive